What is the best wood for outdoor furniture? Industry experts share their views
Looking to update your backyard? Then discovering the best wood for outdoor furniture is an all-important starting point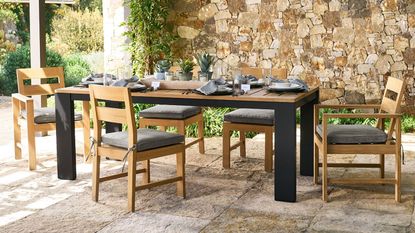 (Image credit: Pottery Barn)
With so much choice around, discovering the best wood for outdoor furniture can make a huge difference to how you spend your cash. The type of material you go for can often be a matter of personal preference, but it's fair to say that some types of timber perform better outside than others.
Different types of wood can all weather and age differently, and some require more maintenance than others. These are all things you need to take into consideration so you can ensure you chose the best outdoor furniture to suit your needs, space and budget.
We've called on our favorite experts – ranging from outdoor living specialists, landscape designers to furniture retailers. All have gained years of experience working with clients and keeping abreast of industry developments, so they are well placed to provide insight into which wood is best for outdoor furniture.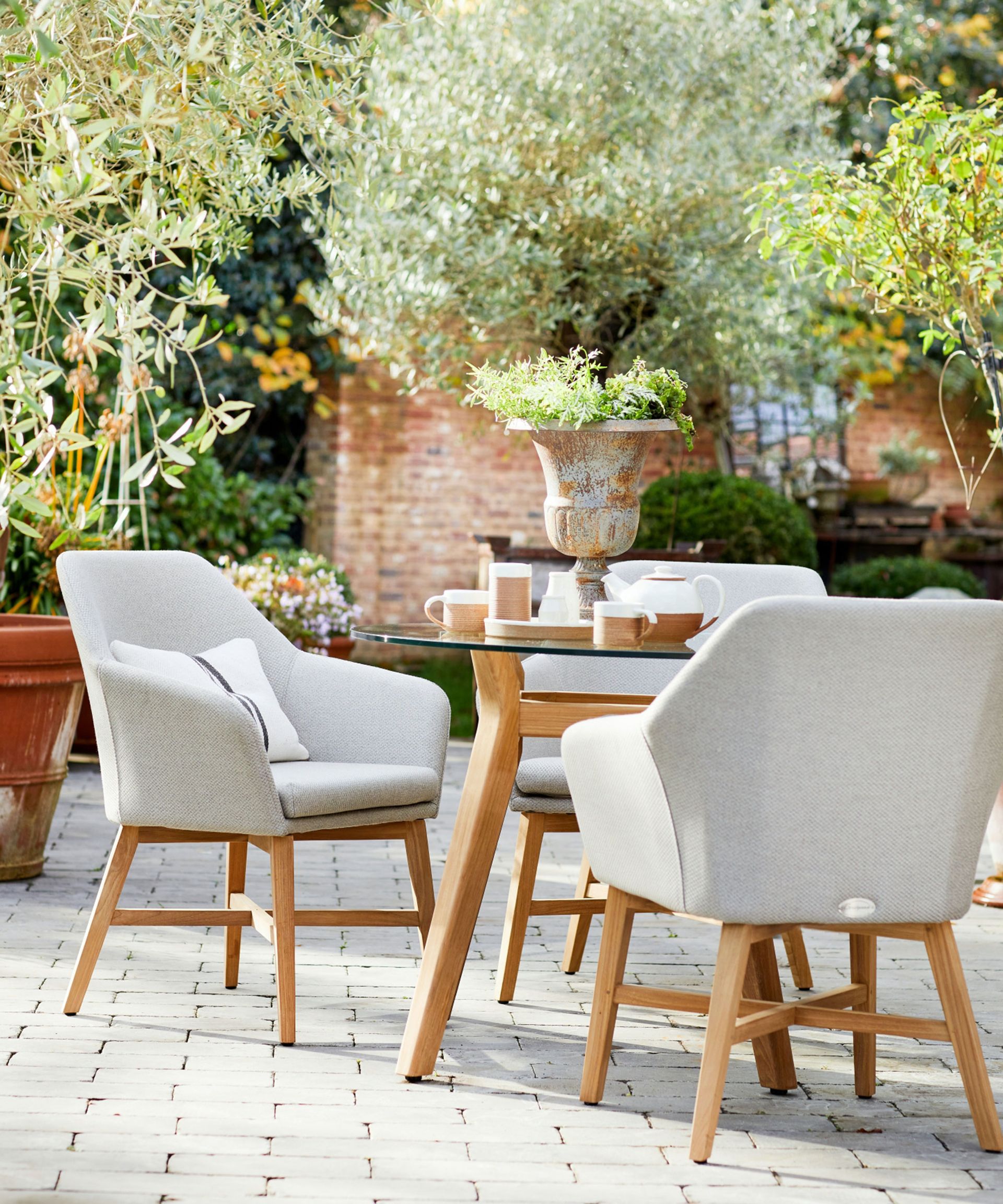 Choosing the best wood for outdoor furniture
Confused as to which wooden furniture is most suited to life outside? Leading experts share their top tips so you can find out exactly why each timber is so well suited to being made into wooden outdoor furniture.
Avoid making a costly outdoor furniture mistake by ensuring the material you choose will suit your space, and that you are happy with how it will weather with age.
Ipe
You may not have heard of this timber, but ipe has long been used in interior décor. Finally emerging onto the outdoor living stage, it has a growing number of firm followers. Jay Richey, Assistant Manager of outdoor furniture retailer Christy Sports is one. 'In my opinion, the best wood to use for outdoor furniture is ipe (pronounced EEEE-PAY). This wood is native to rainforests of South America. It is a very dense wood. It holds color and smoothness against weather and sun very well. It is also a wood that is very water resistant.'
Taking up to a century to mature, these trees produce a dense timber that is twice as strong as teak and is exceptionally stable in changing climates. Resistant to cracking and warping, it's ideal for making outdoor furniture.
Naturally a deep chocolate color, the wood can be left to silver gracefully over years outside, or restored to its original rich shade with gentle sanding and finishing oil. 'It is very low maintenance for wooden furniture, and therefore highly recommended for patio furniture,' add Jay.
This timber does come at a cost though. Slow growing and hard to work, furniture prices tend to be high. This species is also relatively scarce, so always research and check the product and manufacturer's FSC (Forest Stewardship Council) credentials before buying.
Eucalyptus
Australia's native tree, so adored by koalas, is fast becoming prized for its versatile and beautiful timber. Smooth, close grained but fast growing, it naturally has a high oil content making it resistant to rot and decay and ideal for outdoor furniture.
Robert Martinez, landscaping expert and author at Yardenz explains, 'Eucalyptus is a relatively new option that is quickly becoming popular due to its affordability and natural protection against UV rays and decay. Both teak and eucalyptus are good choices, with teak providing more durability and eucalyptus being a more budget-friendly option.'
This timber has warm and elegant reddish hues that gradually fade to silver if left untreated. One disadvantage of this timber is that it is not frost resistant, so is best avoided if you live in cooler climes and wish to leave your furniture outside year-round. Properly cared for, eucalyptus products can last up to 25 years.
The Indio furniture collection from Pottery Barn is made from FSC-certified eucalyptus and includes everything from tables and armchairs to sofas and loungers. We love the look of the Indio classic rocking chair from the collection, and think it would make a smart addition to patios big and small.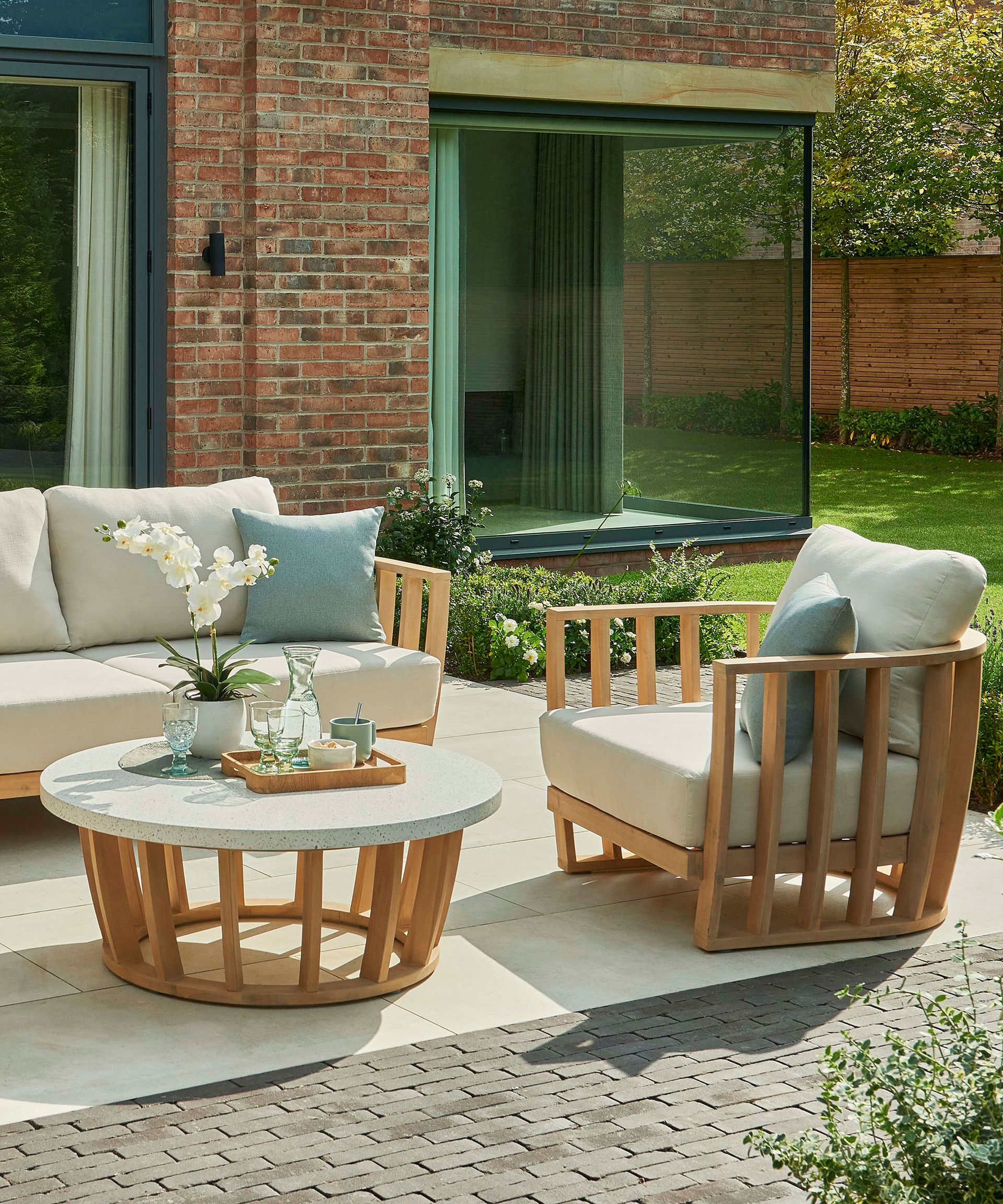 Mahogany
Recognised for its close, vertical grain and rich gold to red coloring, mahogany has an alluring charm. A hardwood indigenous to South and Central America, many species are now grown in Asia, Indonesia and New Zealand, often in tightly regulated and controlled plantations. This practise helps to support and protect local wildlife and maintain ecological stability. Maturing in just 25 years – a relatively short time for a hardwood – this timber is considered an investment but tends to be more affordable than most teak products.
Extremely hard wearing, this dense timber will not warp, shrink or split when left outside, and if regularly maintained – lightly sanded and sealed – it will retain its deep hues. Some mahogany species are more insect and rot resistant than others so do check before purchasing.
The Porto outdoor collection from West Elm is made from kiln-dried mahogany wood and comes in a choice of two finishes.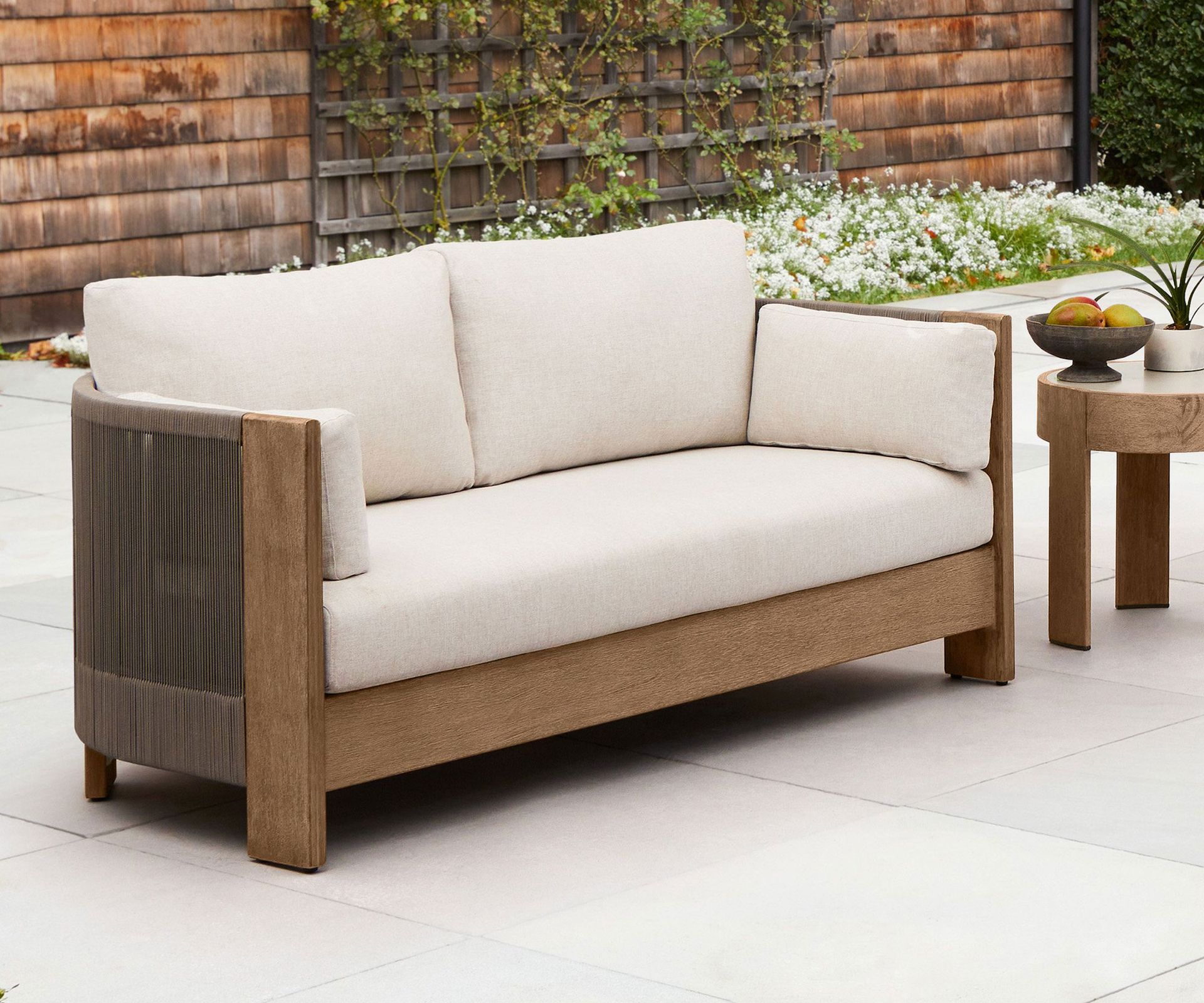 Redwood and cedar
Both these softwood timbers have 'a natural resistance to decay and insects, making it an excellent option for outdoor use,' says Tammy Sons, CEO of TN Nursery. Lightweight, strong and durable, these timbers have an attractive red coloring with a pronounced, straight grain.
Cedar is instantly recognisable not just for its looks but for its distinctive spicy scent too. This is down to the high levels of natural oils present in the timber, which help preserve and protect this coniferous wood from insects and moisture. Oil quantities vary depending on the particular species used and whether the section of cut timber features dense heartwood or more open-grained sapwood.
Redwood lumber has many similar qualities to cedar. A softwood, it has a beautiful rich grain laden with protective natural oils and is well suited to making outdoor furniture.
There are different grades of timber to look out for. Each have their own level of moisture, rot and insect repellence and price tag. Timber specialists Forever Redwood offer various products ranging from California redwood, which is from trees aged 50-80 years and includes open grained sapwood that has a guaranteed lifetime of 15 years, to rare old-growth redwood. 'We source this exceptional quality wood from trees over 200 years old. Forever Redwood's Old-Growth comes from logs left on the ground when the forest was first logged between 1880 and 1970,' says Raul Hernandez, CEO. 'We guarantee our Old-Growth Redwood against decay for 30 years, and in most cases it will last longer. Old-Growth Redwood is in a class of its own with regards to decay resistance and easily outlasts plantation-grown teak.'
---
'Each wood has its unique properties and benefits, such as natural insect resistance or resistance to rot and decay,' says Sahil Mehra, outdoor furniture retailer and writer for timber specialist website Lonelyaxe. 'Ultimately, the best wood for outdoor furniture will depend on your preferences and budget, as well as the specific climate and weather conditions in your area.'
Making sure you choose a material that is most suited to your location is one of the top outdoor furniture buying rules to follow, so make sure you bear this in mind.
Sign up to the Homes & Gardens newsletter
Decor Ideas. Project Inspiration. Expert Advice. Delivered to your inbox.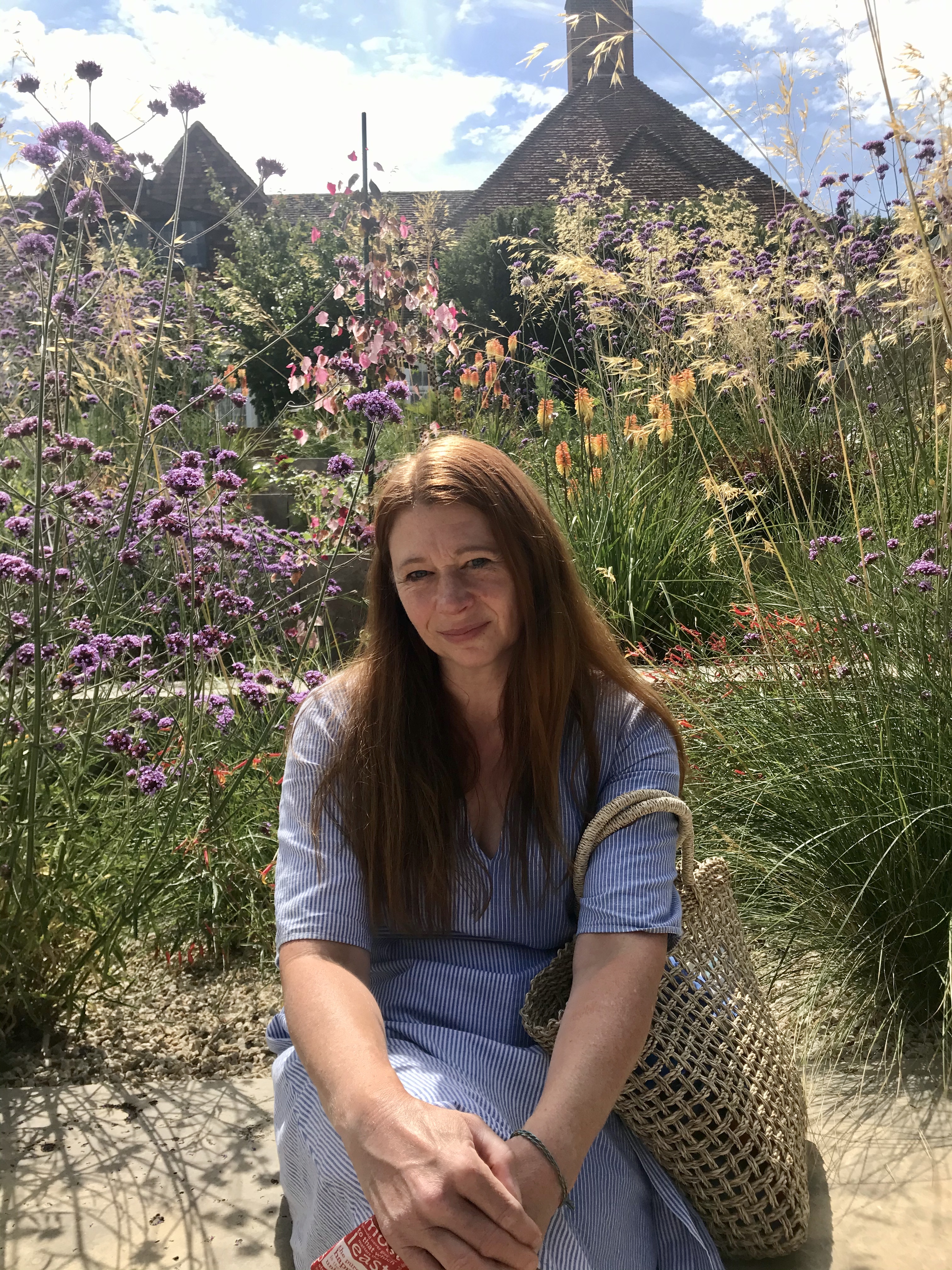 Jill Morgan has spent the last 20 years writing for Interior and Gardening magazines both in print and online. Titles she has been lucky enough to work on include House Beautiful, The English
Home, Ideal Home, Modern Gardens and Gardeningetc.com. Although much of her career has involved commissioning and writing about reader homes and home improvement projects, her
everlasting passion is for gardens and outdoor living, which is what she writes about for Homes & Gardens.