Outdoor furniture buying rules – essential knowhow for choosing well
Follow the outdoor furniture buying rules from the experts and select pieces with durability and style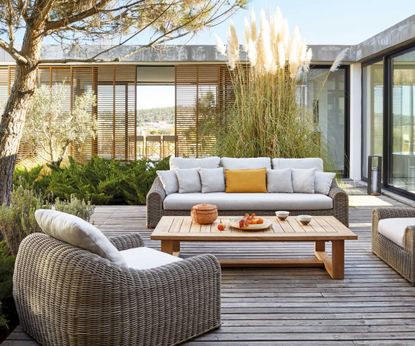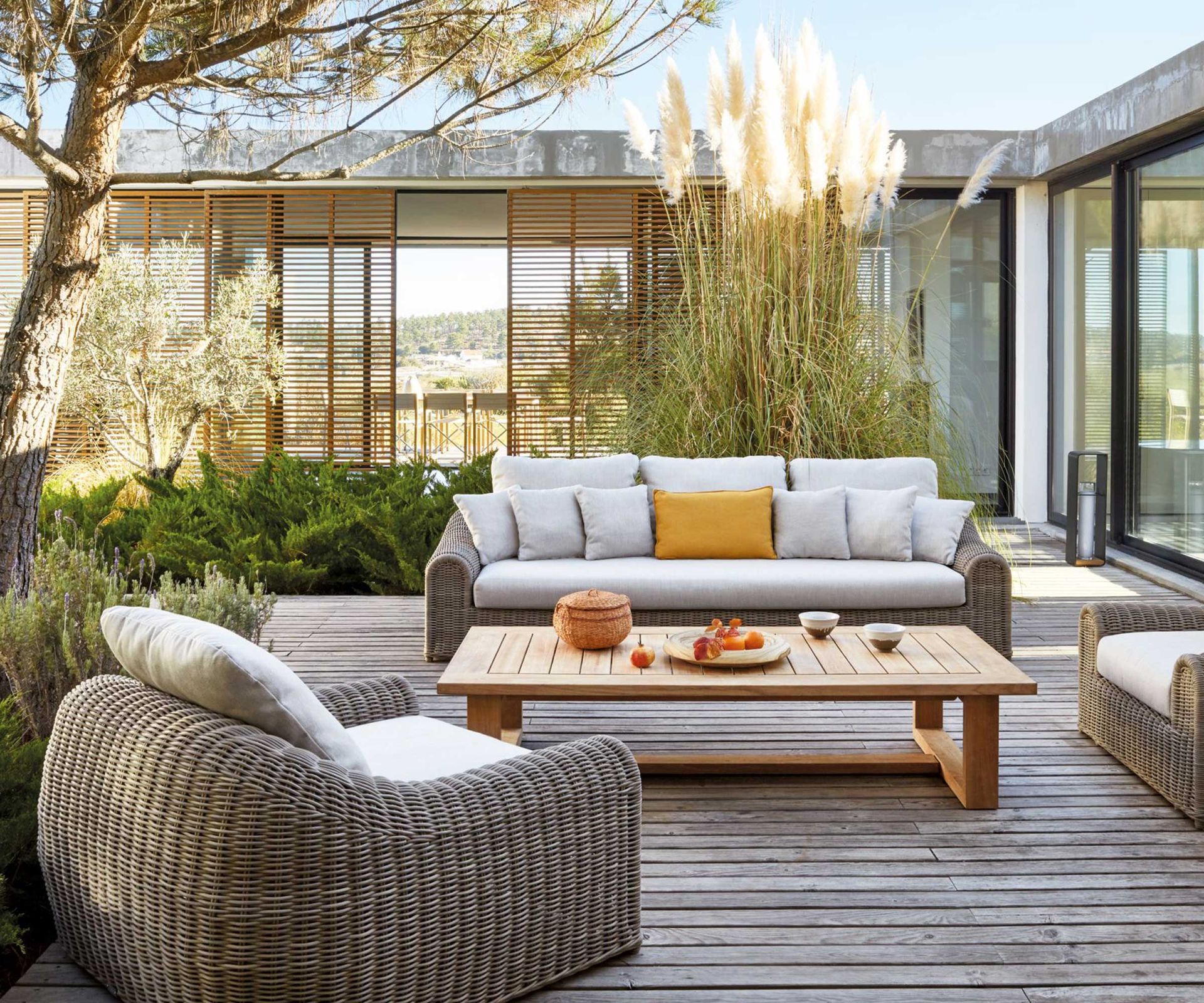 (Image credit: Go Modern Furniture)
Selecting furniture that expands your living space onto a deck, patio or porch is as pleasurable as choosing pieces for the interior of your home. But the outdoor furniture buying rules have a few additional elements you need to take into account.
The best outdoor furniture, like that for your interiors, needs to be the right size and style as well as provide comfort. But it also has to stand up to the climate where you live and be suitable for its particular exterior location.
We've put together the outdoor furniture buying rules the experts advise you to follow here, so you can make the right choice.
Outdoor furniture buying rules
To make the very most of all your outdoor spaces, they need the right furniture. Seating everyone in comfort is key, as is choosing a style of furniture you'll love for years to come.
But crucial, too, are a number of factors including those determined by where you live and what the climate is there, and where the furniture is going to go within your property, and these are the outdoor furniture buying rules you should bear in mind.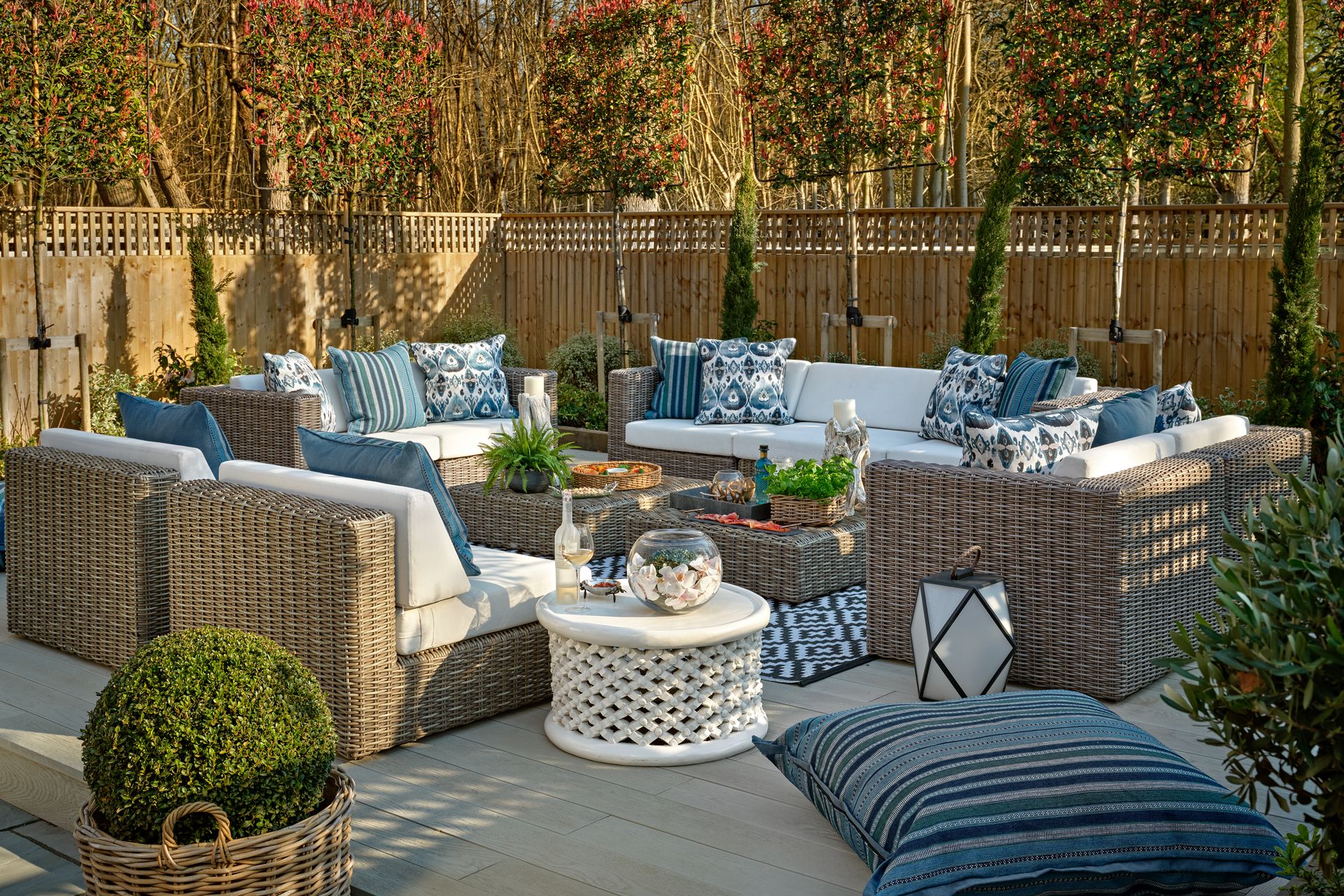 1. Take climate into account
Thinking of your local climate is one of the essential outdoor furniture buying rules. 'Different materials thrive well in different places,' says Laura Honey, outdoor furniture expert at Homes & Gardens. 'For example, wicker is better suited to cooler weather, so if you live somewhere warmer, it's not for you. If you live somewhere hot, hardwoods and rust-resistant aluminum are good options to go for.'
Bear fabrics in mind, too, especially if they are going to be exposed to long hours of sun. 'It's a good idea to have weather-resistant and durable fabrics on your outdoor furniture,' says Laura. 'Look for UV-protected materials.'
2. Factor in outdoor furniture location
Where you will position outdoor furniture is also an important element when buying. If the furniture is out in the open you will want more robust fade-proof designs than you need if it will remain under cover.
Think of the surface below the furniture, too. Moisture from lawns can rot softwood furniture quickly and may result in rust on metal furniture.
'A sheltered location is ideal,' says Laura Honey of Homes & Gardens. 'That way, it'll have less wear and tear from harsh weather conditions. It's great having your sunbed by the pool, but that'll mean that it gets more splashed and so is more likely to rust. You can always put your furniture near the barbecue or pool when you want it and then store it further away when it's not in use. I would always advise starting by putting an outdoor sofa next to a wall: it's a good grounding space.'
3. Size to fit the location
Whether we're talking patio furniture ideas or those for a deck or elsewhere, the size of the pieces also needs to abide by the outdoor furniture buying rules.
'Dimensions are crucial since it is essential to ensure that the furnishings you choose fit the available space, be it a veranda, terrace, or lawn,' says interior designer Artem Kropovinsky of Arsight.
'It's important not to clutter the area with excessive items, nor leave it too sparse. A useful tip is to measure the space and maintain a minimum of three feet of clearance around each furniture item for ease of movement and relaxation.
'Rugs, plant pots, or other embellishments can be employed to demarcate the boundaries of seating or eating zones.'
4. Complement your style
The style of outdoor furniture is a crucial consideration. 'Your patio furnishings should embody your preferences and harmonize with your home's architectural style and landscaping,' says Artem Kropovinsky.
'There isn't a single correct approach to designing your outdoor furnishings, but some general suggestions can guide you toward achieving a balanced appearance. Firstly, consider the color palette and ambiance you wish to establish. Are you drawn to vivid, lively hues or more subdued, calming shades? Do you seek a laid-back, comfortable atmosphere or a sophisticated, elegant one?
'Secondly, ponder the materials and textures of your furnishings and how they relate to your home and yard. Do you want the style to match your home's exterior or offer a contrasting element? Are you inclined toward natural materials like wood, wicker, or metal or synthetic options such as plastic or resin? Would you like to incorporate cushions, pillows, or blankets for added comfort and warmth?'
5. Provide maximum comfort
Of course, however good outdoor furniture looks, it needs to deliver when it comes to comfort, too.
'Your garden furniture should cater to your needs and desires, whether for eating, relaxing, socializing, or working,' says Artem Kropovinsky. 'Consider the frequency of your furniture usage and its level of comfort.'
Think about the hardness of the surface you'll be in contact with, advises Laura Honey of Homes & Gardens. 'A lot of outdoor furniture is a little less than inviting to rest and relax on,' she says. 'If you'll be spending lots of time outside, it's good to have a chest or collection of throws and pillows which you can bring out to add a little softness to your space. Think about making the chairs inviting, too, if you have a few in the shade and a few in the sun, you can choose where to settle and when in the day.'
6. Think storage requirements
The question of whether outdoor furniture is weatherproof is a good one because it allows you to think about storage. Outdoor furniture made from materials such as teak, other appropriately treated wooden outdoor furniture, aluminum, and synthetic rattan can remain outside in winter, but some materials are best stored away in colder weather.
Meanwhile, furniture cushions and pillows are best kept indoors then, too. And even furniture that can remain outside can be lightweight enough to be moved by the wind during winter and is therefore best moved indoors for winter.
The takeaway? Think about its storage requirements before buying furniture to avoid being caught out at the end of the season for spending time outside. As well as how much space it will take up, do take into account how heavy the pieces will be to move and how much of a burden you'll find it to avoid choosing a furniture type that doesn't suit.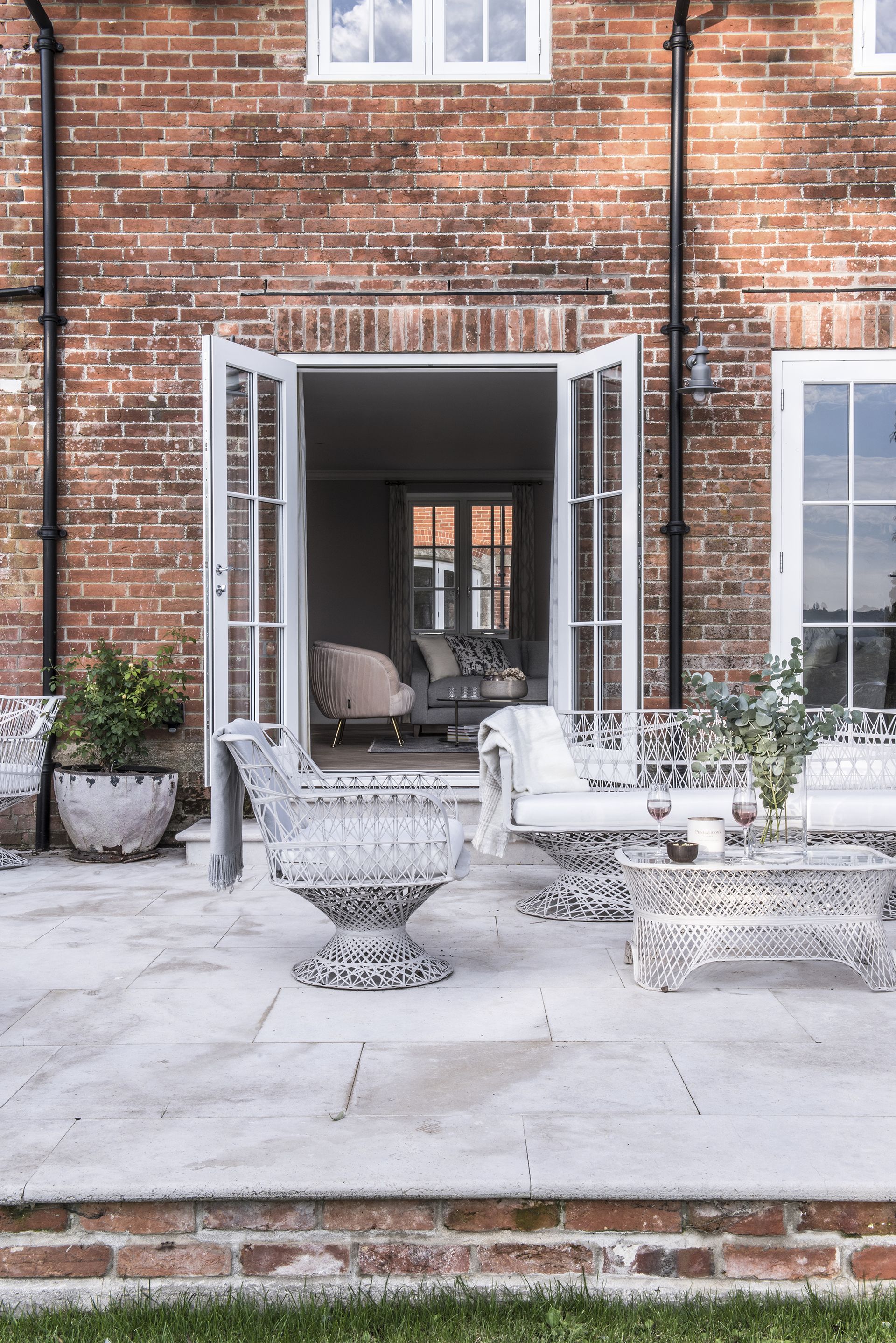 FAQs
Do you have to bring in patio furniture when it rains?
Patio furniture and outdoor furniture on decks and other areas don't have to be brought inside when it rains. Summer showers shouldn't cause any problems for good quality furniture even if it's made from a material that should be stored inside in winter.
However, if you know that heavy rain is in the forecast, it is worth covering furniture up to maximize its lifespan over the long term and make it ready to use when the weather changes. Investing in furniture covers allows you to shield it quickly and take a seat again when conditions change.
What should you avoid when buying outdoor furniture?
There are a few things you need to avoid when buying outdoor furniture – including some of the same things you should swerve when buying furniture for the interiors of your home.
In common with buying for rooms inside, think size so all outdoor furniture fits the patio or other area it's destined for, and allows space for sitting down and standing up – especially around dining tables – as well as leaving space for moving around. Consider comfort, too. The longer you are likely to spend in a particular area, the more yielding seats should be.
Think about how much maintenance the furniture requires before investing. A material that needs care you don't have time for won't last as it should or look as good so should be avoided.
Finally, don't forget to match your choice to your circumstances. 'Evaluate the practicality and resilience of your furnishings in relation to your lifestyle and weather conditions,' says interior designer Artem Kropovinsky of Arsight. 'Is it necessary to have furnishings that can withstand precipitation, snow, or sun exposure, or that can be easily stored or relocated?'
Sign up to the Homes & Gardens newsletter
Decor Ideas. Project Inspiration. Expert Advice. Delivered to your inbox.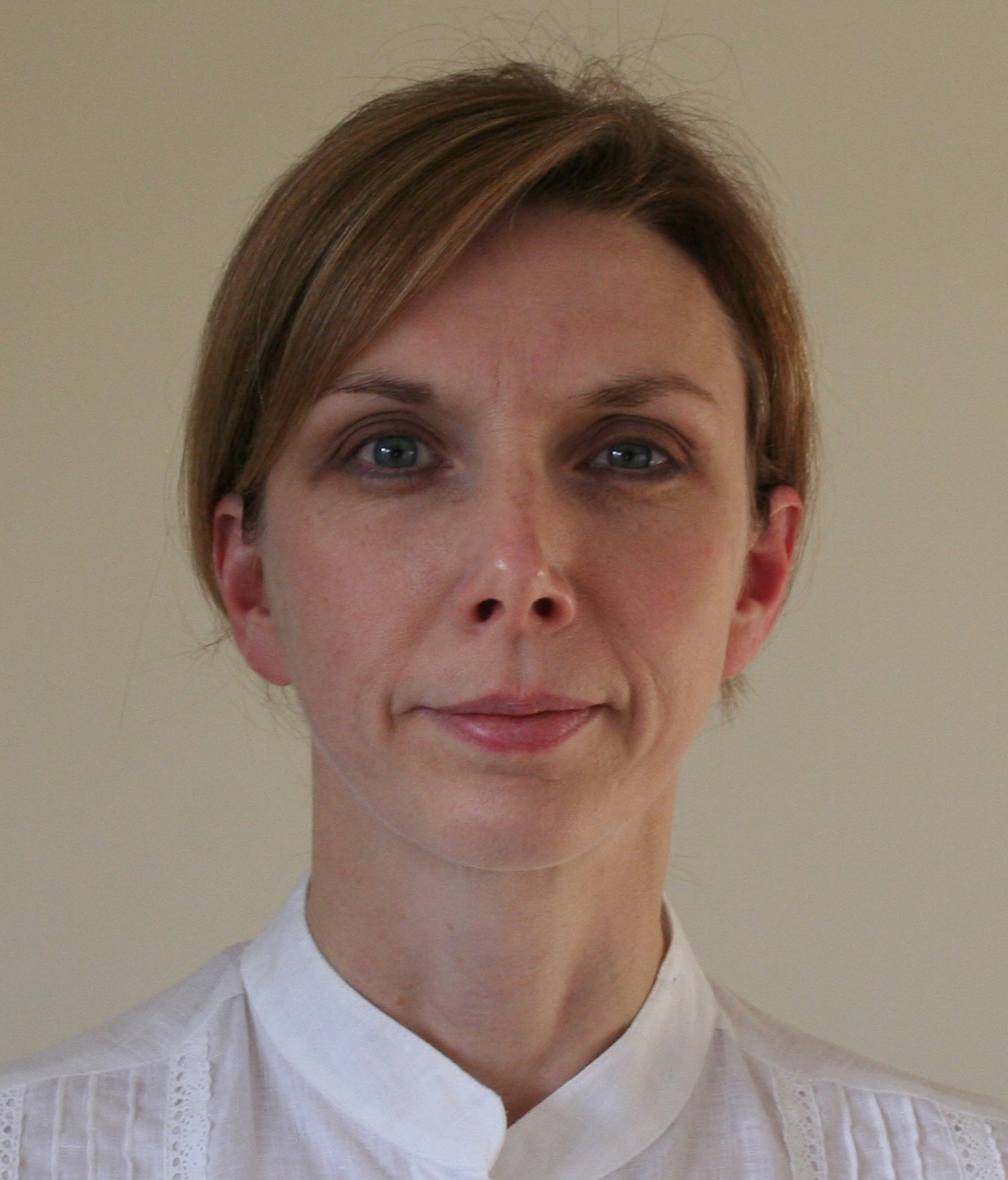 Sarah is a freelance journalist and editor. Previously executive editor of Ideal Home, she's specialized in interiors, property and gardens for over 20 years, and covers interior design, house design, gardens, and cleaning and organizing a home for H&G. She's written for websites, including Houzz, Channel 4's flagship website, 4Homes, and Future's T3; national newspapers, including The Guardian; and magazines including Future's Country Homes & Interiors, Homebuilding & Renovating, Period Living, and Style at Home, as well as House Beautiful, Good Homes, Grand Designs, Homes & Antiques, LandLove and The English Home among others. It's no big surprise that she likes to put what she writes about into practice, and is a serial house renovator.