Small patio ideas – 10 effortless ways to make the most of a compact space
These gorgeous designer-led ideas will refresh any small patio and give it a new sense of purpose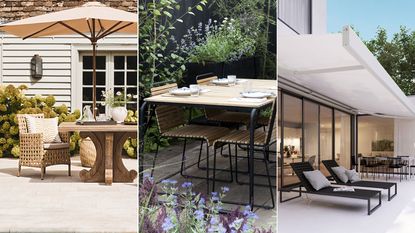 (Image credit: OKA/Future/Roché Awnings)
The most successful small patio ideas are those that make your outdoor space work just that little bit harder. Clever design tweaks can make a compact space more multi-functional, or even trick the eye into thinking the patio is bigger than it actually is.
With a little thought, you can easily reconfigure your current set-up so you're making the most of your small patio. It could simply be a case of switching things around or adding some fresh new accessories. Or maybe you feel the planting is a little underwhelming at the moment and you need to come up with some innovative new ways of styling up patio greenery for maximum impact.
When it comes to a small space, it definitely pays to get creative with your patio ideas to ensure you're making the most of every inch of it. Just because it's compact in size doesn't mean it can't be a year-round destination for dining, entertaining and relaxing in style.
10 space-enhancing small patio ideas
'The three elements to consider when designing a patio for any size are lighting, warmth, and comfort,' says Jessica Shaw, director of interiors at Tribeca-based The Turett Collaborative.
Keep these pointers in mind when planning how to design a patio for a fabulous but functional small outdoor space.
Jessica Shaw received her BFA in Interior Design from Ryerson University's acclaimed School of Interior Design. With experience in retail and residential design, live events and art direction for film, Jessica's past experience has fused and informed what her interior design skills embody today. She is Director of Interior Design for the The Turett Collaborative, working closely with TTC's architecture team. She is often looked to as a leading voice in New York's design scene, providing insight and tips for designers and design lovers alike in various publications. Jessica lives in Fort Greene, Brooklyn.
1. Make practical furniture choices for a small patio
Having a small patio doesn't mean you need to skimp on style when it comes to your patio furniture ideas, but flexibility is key and that's where folding or stackable furniture comes in.
'Rather than a fixed layout with heavy furnishings, consider purchasing several folding lounge chairs to move around as needed,' says Bethany Adams of Bethany Adams Interiors in Louisville, Kentucky. 'Add a couple of garden stools to use as side tables or as extra seating for a larger get-together.'
Modular furniture designs are gaining traction too. 'These are becoming more popular with our clients due to their flexible and user-friendly design,' says Lori Morris founder of The Selah Group, an exterior home improvement company in the Dallas-Fort Worth area. 'Individual pieces can be changed to meet your unique needs, so this type of furniture is ideal for small backyard patios.'
Choose furniture that fits into the available space without crowding it, selecting items that are lightweight, stackable and can be easily moved out of the way when not in use. 'Opt for multi-functional furniture, such as a storage ottoman that doubles as seating, to also help make the most of your patio's small footprint,' says Kerry Sherin, consumer advocate at Ownerly. 'For larger seating pieces, such as loveseats and sectionals, opt for lightweight materials like wicker or aluminum.'
Bethany Adams is an NCIDQ-Certified Interior Designer, a member of ASID (American Society of Interior Designers), AIA (American Institute of Architects), and a Certified Interior Designer with the Kentucky Board of Architecture. Bethany holds a B.F.A. in Interior Design from Harrington College of Design. With over 15 years of experience designing and project-managing high-end residential projects, Bethany is as skilled a decorator as she is an interior designer. Bethany opened her eponymous design firm in Louisville in 2015.
2. Boost limited patio planting space by going vertical
Consider adding a vertical garden to a small patio area to green up the space and at the same time squeeze more plants into your yard. It will create an immersive experience so you really feel like you're getting the therapeutic benefits of being outside in nature.
'Disguising walls with fresh greenery is a great idea for a small patio,' says Miguel Palma owner of Jardin Tienda. 'Vertical gardening softens the space and disguises the walls. It also helps free the floor space for patio furniture. It's especially beautiful when the lighting and greenery complement each other.'
Living walls are becoming more popular for small patios as an alternative to traditional fencing and privacy screens. 'They provide a unique, natural aesthetic to your outdoor space and can be used to create a customized look for a small patio,' says Conny Karavolias, interior designer and founder of Colorfuldesigner.com.
Hanging gardens are another way to bring a touch of nature to your patio planting. They are perfect for growing herbs and vegetables too if you're interested in including a herb garden or kitchen garden area on your small patio.
3. Shade a small patio with a space-saving awning
Shade is important for any outdoor space, and there are several options that would work as a patio cover for a small paved space.
'A retractable awning or umbrella can provide shade during the hottest parts of the day, while a pergola or trellis can be used to create a shaded area that also adds to the overall design of your patio,' says Robert Moors, interior decorator at Kittol.com. With a small space, a single patio umbrella should offer enough shade and takes up hardly any space when folded away.
You can also use an awning to make a small patio feel bigger. 'Awnings are a de facto roofline extension, giving you a lot more patio to work with,' says Spencer Bryson, owner of Sun Peak Shade & Screen. They're not inexpensive ($5k for a 10ft width), but they're significantly cheaper than framing out a whole new roof.' You can also motorize them, connect to wifi, and add sun and wind sensors.
While awnings extend horizontally, patio shades drop vertically. 'They cut out 90% of the sun's rays, and while you can see out your neighbors can't see in, so they are great for urban environments where neighbors are close,' explains Spencer. You can even use them to screen out bugs.
4. Pick matching accessories to unify a small space
A few carefully chosen accessories can transform the look and feel of a small patio. 'Upgrade the look of even the smallest patio with chic outdoor pillows,' says Carlin Van Noppen, CEO and head interior designer at Fig Linens and Home in Westport, Connecticut. 'These decorative pillows are designed with the wear and tear of the weather in mind, so are easy to wash. Well-coordinated pillows can take your patio from a functional space to an intentionally designed home element.'
Think also about adding a small sculpture, artwork or water feature to personalize your space and create an inviting ambiance. Arrange accessories according to the key purpose of your patio such as entertaining or relaxing. 'Keep the layout simple and functional, ensuring there is enough room for movement, and avoiding clutter to make the most of your small patio,' says Brad Smith, interior designer and co-founder Omni Home Ideas in Delaware, New Hampshire.
In terms of using accessories to enhance the layout for a small patio, Carlin also recommends defining the space with an outdoor rug. 'This delineates the patio and gives it that intentionally decorated feel. In a small space, open design is your best bet for making the most of the floor plan.'
5. Play tricks with mirrors to make a small patio feel bigger
Incorporating mirrors into the design of your small patio can create the illusion of more space and add depth. Mirrors can reflect the area and make a small garden look bigger than it actually is. You can also use them to create a false perspective by pretending there is another area of the patio when there isn't. It's simply a reflection.
'Nothing makes a small patio look bigger than strategically placed mirrors,' says Carmelo Carrasco, interior designer and co-founder of Axel Property Management. 'When placed near plants and furniture, mirrors can reflect the natural elements for a more spacious feel.'
Placing mirrors strategically on walls or in between plants reflects light and creates the illusion of more space. You can also put mirrors near windows or doorways to reflect the indoor space so the patio feels more like an extension of your home.
6. Introduce screening to an urban patio
If your small patio is overlooked by neighbors, it's worth considering some patio privacy ideas such as ornamental screens or trellises to help create a more secluded feel. Add climbing plants for another cushioning layer.
'Plants can work wonders in this respect by offering a natural screen,' says Liam Davis, a creative director and visual curator based in Brooklyn, New York. 'Another possibility is to install a trellis and cultivate climbing plants like jasmine or clematis, such as this vanilla-scented 'Mayleen' variety from Nature Hills, which can help to create an additional layer of seclusion.'
You can also combine vertical planters with privacy screening in a townhouse backyard. 'I used this vertical planter screen from Gardeners.com in an outdoor design project recently,' says Lisa Cole, founder and lead designer at One Door Home. 'In this case it provided visual interest in an otherwise under-utilized corner, but it could also be used to offer privacy in a more open patio area.'
7. Create a focal point with a small fire pit
Adding the right fire pit design is essential for creating a welcoming outdoor space that transitions smoothly from day to night. 'I find that people spend the most time on their patio after the sun has gone down,' says Jessica Shaw. 'An affordable fire pit can create a huge difference, and makes being outdoors at night a lot more enjoyable.'
But if you think your patio is too small for gathering round a fire pit think again, as there are plenty of backyard fire pit ideas you might not have considered.
'Choose a round fire pit as it occupies less space, both physically and visually,' says Miguel Palma. 'There are plenty of stylish small fire pit designs to choose from that will help you make the most of your space.' I love this sleek round concrete propane design from Wayfair.
Alternatively, opt for a small stainless-steel version that uses either pellets or traditional firewood. 'You can still enjoy open flames and the smell of woodsmoke with a tabletop fire pit,' says Bethany Adams. This stainless-steel wood-burning design by Solo Stove at Amazon would fit the bill.
8. Opt for neutral tones to enhance the feeling of space
Natural materials such as wood, stone, linen, and cotton always work well for a small patio. Too many bold and clashing colors could make the space look fussy and crowded. Hardwoods like teak are beautiful and durable, and can add texture and warmth to any space.
'Choosing a neutral color scheme for cushions and throws ensures a timeless, always-trending space,' says Emma Putrimas, VP of product and design at Teak Warehouse. 'Stick to colors such as white, beige, gray, or black to create a calm and timeless atmosphere that can be easily blended with natural materials.'
'As more organic designs emerge this year, natural fiber outdoor rugs are starting to gain traction again,' says Zach Dannett, co-founder at Tumble Living in California. 'Homeowners are looking for patio accessories with natural elements, and their usual go-to is a natural fiber rug. Designs made of jute, wool, bamboo, and sisal are the most popular options due to their bold texture, relaxed vibe, and the way they accentuate the outdoors with their earthy tone.'
In terms of hardscaping materials for patio flooring, consider using light-colored materials in pale and neutral shades such as stone or concrete pavers, as they will reflect light and make the space feel larger.
9. Use lighting to visually extend the patio
The right patio lighting ideas can make your space feel bigger by drawing the eye to different areas of your backyard. What's more, it can take you from day to night, and your small patio will be transformed into an atmospheric place after dark.
That being said, make sure you don't clutter or overwhelm your small space with lots of lighting. Instead, opt for subtle and relaxing schemes that cast intimate pools of light and don't take up too much space.
If you're working with an overhead space for your patio, adding outdoor string lighting or lanterns to the ceiling contributes to ambiance and creates a more enjoyable glow than harsh patio lighting, according to Jessica Shaw. 'Even if your space does not have a covering, lights such as these can be strung along vertical walls or corners, illuminating the space without taking up space on the ground.'
10. Design bespoke features to fit the space
When furnishing and designing a small patio, first consider what your essentials are and hold these in mind always. Do you also want to include a small outdoor kitchen, or are you just looking to have a comfy seating area, for example? Once you have a list of must-haves for your small patio, work out how best to incorporate them into the space, as well as how to add personal touches to customize the look.
'The goal is to furnish your small patio space in a chic and comfortable way without compromising the space to maneuver,' says design expert Kathy Kuo.
Commissioning a bespoke piece of furniture can be a clever way to create a unique space that really maximizes the square footage. I love how this simple timber bench seat is made from the same materials as the raised planter behind it, creating a snug spot for reading that's surrounded by leafy foliage. Not only does it look stylish, but it's also a really smart use of the space.
And if you want to be really clever, you could design the seat of the bench so that it lifts up to reveal a handy storage space beneath for outdoor cushions and accessories.
What is the best way to lay out a small patio?
'Thoughtfully consider how the space needs to support your lifestyle and prioritize accordingly,' suggests designer Lisa Cole of One Door Home. 'Start by determining the purpose of the patio – will it be used for entertaining, relaxing, or both?
'If you plan to serve lots of meals in a limited patio space, forgo the outdoor lounge furniture and prioritize dining space with plenty of clearance around the chairs for guests to move around comfortably. On the other hand, if all you need is somewhere to lounge with a book and a drink, don't worry about trying to squeeze in a bistro table and chairs as well.'
Flow is important. Choose pieces that will fit comfortably within the available space and set them up in a way that allows for easy movement through each area. 'Create a layout that encourages conversation and movement, with dining and lounging areas,' suggests John Linden, an LA-based interior designer at Mirrorcoop.com.
---
Taking the time to carefully plan a small patio will pay dividends in the long run, ensuring it's both a practical and enjoyable space to spend time. While it can be tempting to try and fill your outdoor area with lots of furniture or planters to make the most use of the space, squeezing more in than the space can functionally allow is one of the most common patio mistakes.
Instead, ensure there is room to move around with ease, and place any furniture in such a way that you can sit and enjoy a view of the rest of the backyard too. You'll quickly find that opening up the view is one of the easiest ways to enhance the feeling of space on a small patio.
Sign up to the Homes & Gardens newsletter
Decor Ideas. Project Inspiration. Expert Advice. Delivered to your inbox.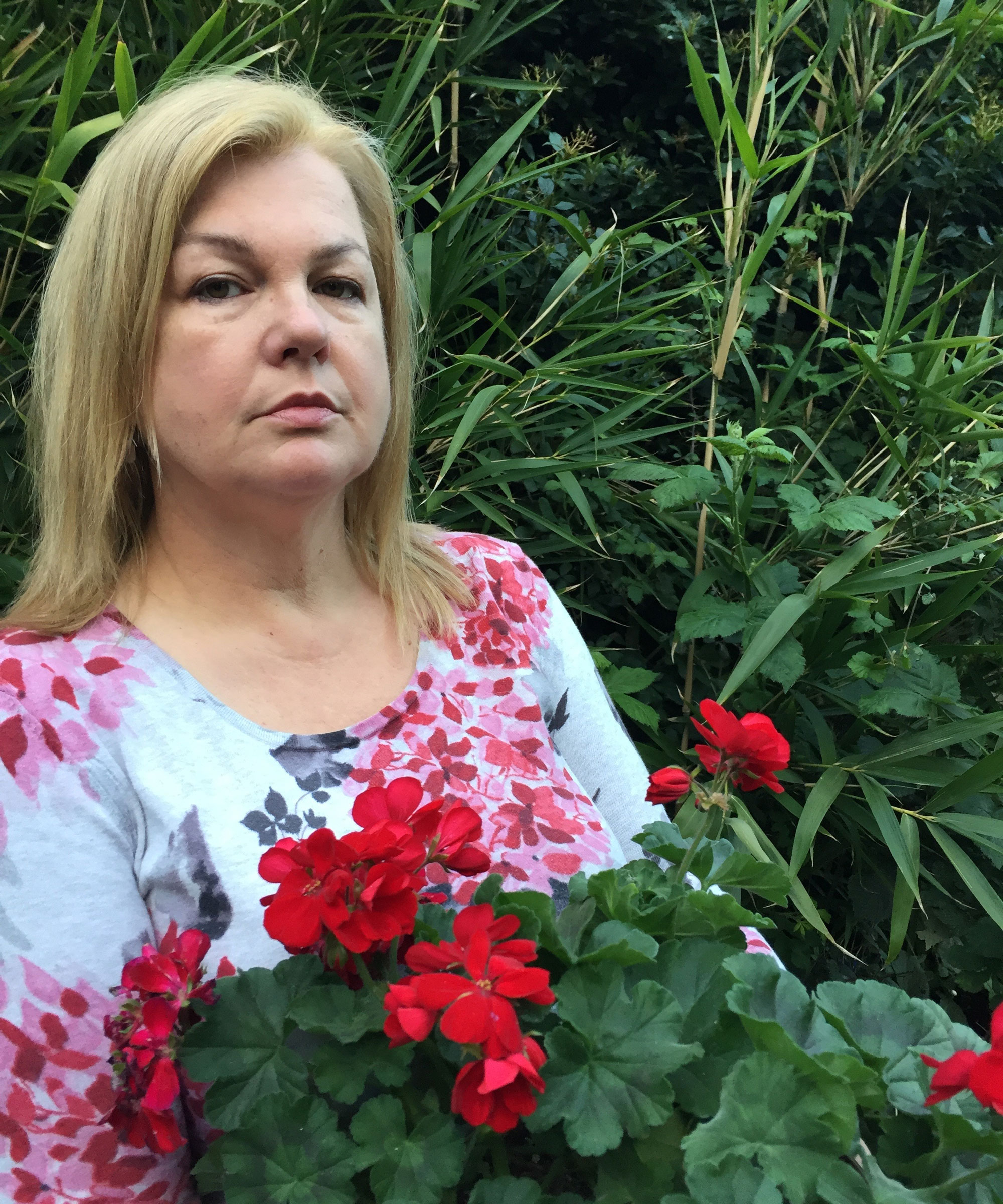 Lifestyle journalist Sarah Wilson has been writing about flowers, plants, and garden design and trends since 2015. Having already studied introductory garden and landscape design as well as a course in floristry she is currently adding to her list of qualifications with an RHS Level 2 course in the Principles of Plant Growth and Development. In addition to homesandgardens.com and livingetc.com she's written for gardeningetc.com, Modern Gardens and Country Homes & Interiors magazines.