8 essentials of fire pit design – for a safe but stylish focal point
Create a cozy hub in your backyard with these fire pit design tips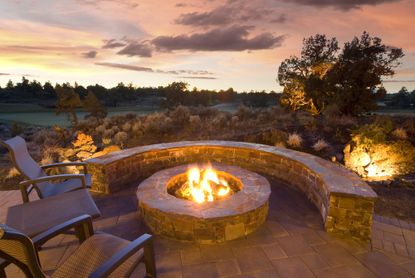 (Image credit: Getty Images)
Warm and welcoming, the right fire pit design will prove an invaluable addition to the backyard. Encouraging you back outside after the sun has set, a fire pit will extend the use of your yard well into the night.
From choosing your favorite backyard fit pit ideas to the adding ventilation and drainage, it is important that you consider all the practicalities to ensure success.
Once your fireplace is in situ, pair it with comfortable seating, outdoor lighting, and a basket of blankets to really elevate your backyard ideas.
8 things you need to know about fire pit design
When considering backyard landscaping ideas, fire pits prove an invaluable addition. More than just a practical way of keeping warm outside, a fire pit brings a social and intimate element that is essential when designing an entertaining garden.
Furthermore, you'll be thrilled to discover that a built-in fire pit is also a fairly straightforward addition to install in your garden. Just make sure you know the basics of safe design before starting.
1. A sunken or raised fire pit – which suits you most?
Your main option when it comes to fire pit design is deciding whether you create a raised-up pit, in which bricks create a wall around the flames (perfect as an outdoor grill station) or a sunken one, where your fire pit is constructed below ground in a purpose-built hole.
'A raised fire pit provides a dramatic focal point in any outdoor space – particularly small backyards. They are easy to clean and maintain and can provide a great area for grilling or roasting food. They are also great for keeping your guests warm during colder months,' says Alex Federo, Co-Owner of FTW Concrete Contractors.
'However, if your soil is too wet or rocky, a raised fire pit design may not be the best option for you. In these cases, a sunken fire pit design may be better suited.'
'A sunken fire pit will provide more heat on your legs – whereas your legs are shielded from the heat with a raised pit. That being said raised pits are often better for families with small children. My favorite fire pit bonus is to design a raised fire pit that has a removable tabletop so that it can be used as a serving table when not being used as a fire pit,' explains Kryssie Maybay, PLA Manager at Landscape Architect. A raised fire pit will also be easier to install.
2. Fire pit or fireplace?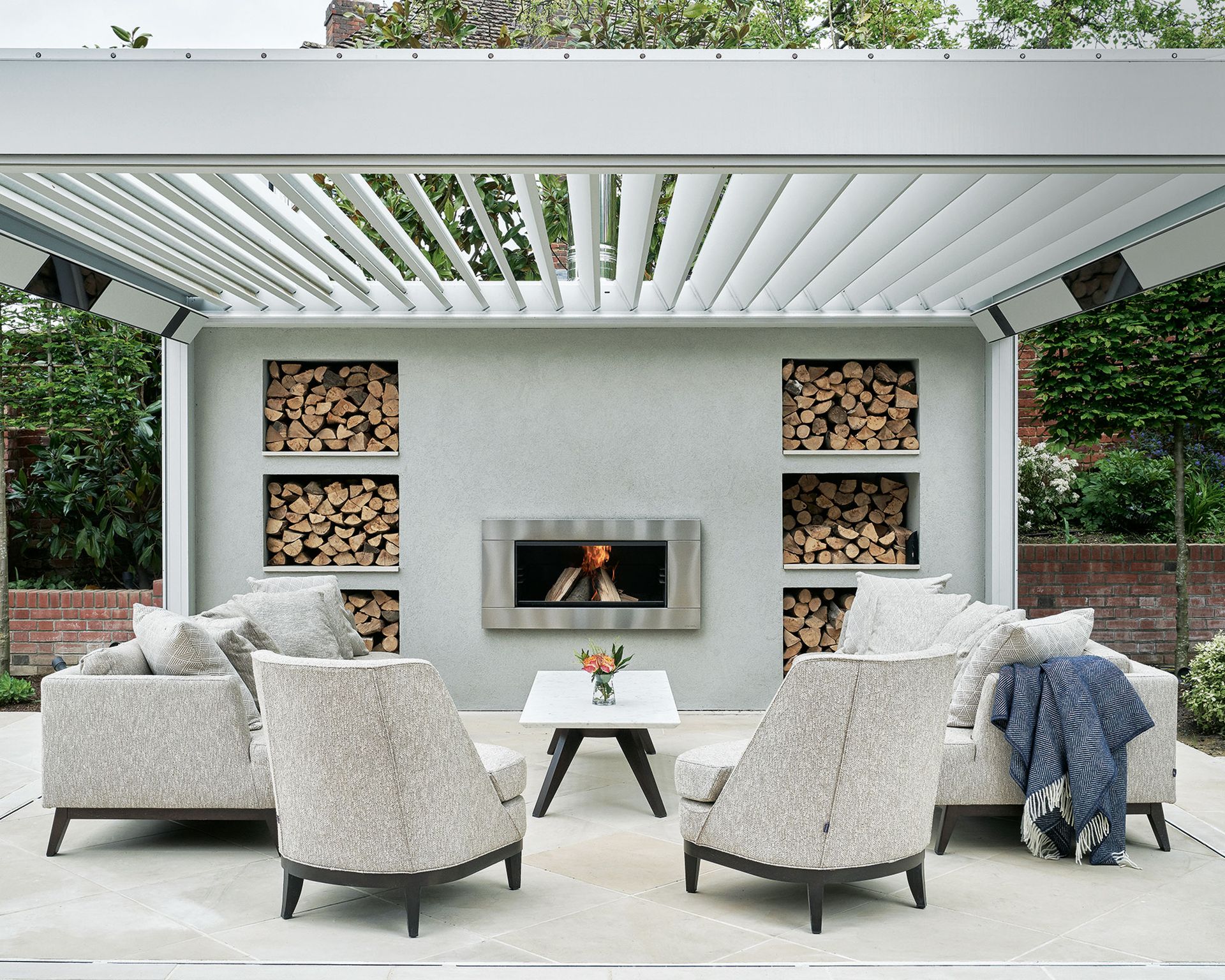 The difference between a fire pit and an outdoor fireplace is the ambiance that you want to create.
A fire pit has an instantly cozy, relaxed atmosphere evoking fireside chats and family gatherings, aiding conversation. A fireplace has a more formal, aesthetic look, usually built into a faux wall that demarcates an outdoor living room comprising sofas or dedicated chairs.
Both options will provide welcome heat and ambient lighting, encouraging you to spend time outside once the sun has set.
3. Position is crucial for safety and ease of use
Safety is the first consideration for location. It needs to be far enough away from the property and neighboring properties. 'It is also important to keep the fire pit a safe distance away from any flammable materials such as decks, buildings, or trees. A distance of at least 10 feet is recommended,' says Neil Thomas, expert at Firepit.
However, you also need to consider the use. 'There is a strong temptation for homeowners to push the fire pit far away to make it a destination. I find that a more centrally located pit will get the most use and enjoyment. Just be sure to be mindful of the surroundings to keep from locating the fire pit too close to any structures or overhanging vegetation,' says Kryssie Maybay.
'It's also important to consider the wind direction and position the fire pit accordingly to prevent smoke from blowing into the seating area. If possible, it's best to place the fire pit in an area that is protected from the wind, for example as part of your patio ideas or near a wall,' adds Neil Thomas.
4. Materials must be fit for purpose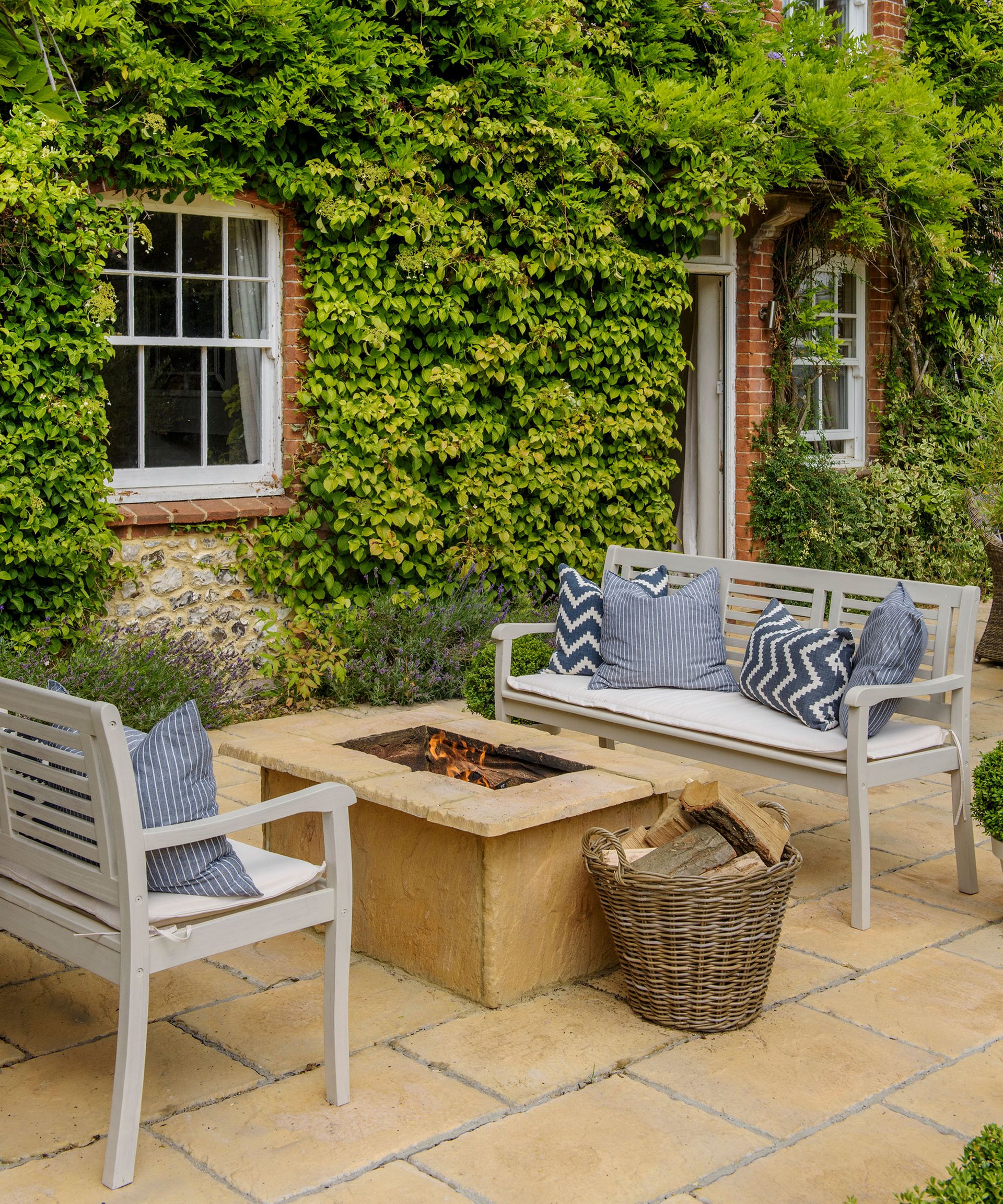 The materials you choose to build your fire pit will depend on what you intend to burn. However, regardless, it is important that you opt for a fire-resistant material that can withstand high temperatures – the average fire pit can easily exceed 1600°F. It is important to line both the sides and base of the fire pit.
'Use a bed of sand or gravel under the base to prevent shifting or cracking,' says Neil Thomas, expert at Firepit.
'Fire bricks, also known as refractory bricks, are an ideal choice for lining a fire pit as they are designed to withstand high temperatures. Another option is to use natural stone as many types can withstand high temperatures. Stones that are perfect for fire pit liners include granite and limestone,' says Neil Thomas.
'Heat-resistant concrete is another option. It can be poured and shaped to fit the desired fire pit design. However, avoid traditional concrete as it could crack under high heat.'
'For sunken or raised fire pits, a concrete foundation and lining are best. The foundation must be buried down below the frost line, so the fire pit doesn't sink and become lopsided from repeated freezing and thawing of the surrounding ground,' says Mike Reedy, owner of QualityBuilt Exterior.
5. Drainage must be factored in
The enemy of fire is water and a waterlogged fire pit will be of little use. There are two approaches to managing this. The first is a cover. If water can't get into the fire pit (whether sunken or raised) then no drainage is required. There are many covers online – such as this heavy-duty Porch Shield Fire Pit Cover on Amazon – so it will be easy to find one that fits. Metal covers are preferable but if opting for a plastic or canvas cover, only use this once the fire is totally out and cold. Covering your fire pit will also reduce the risk of rust and weathering.
Alternatively, you need to include a drainage system.
'Put a drainage layer underneath your fire pit. If the base of the fire pit insert is solid, you'll need drainage holes. If the bottom is a grate, you won't need drainage holes. You can use lava rocks, fire pit glass, or gravel to create the drainage layer,' says experts from Walden Backyards. 'The layer should be about 12 inches deep.'
6. Ventilation is a must-have
Regardless of the fuel, ventilation is essential.
For wood-burning fire pits, ventilation will help to reduce smoke – as will only burning dry seasoned wood and keeping your fire pit dry with a cover when not in use.
For gas, ensure that your fire pit has been checked over by a gas engineer before lighting as incorrect ventilation could be fatal.
Ventilation is easier to accommodate in a raised fire pit design, you can: lay your bricks in a pattern that features gaps; opt for a fireproof air brick – these can be purchased or you can drill your own – or add a grate or flue pipe will increase ventilation. These ventilation holes, in any form, need to appear on at least two sides of the fire pit, if not more to prevent smoke pooling and your fire extinguishing itself.
When it comes to sunken fire pit design, ventilation is more complex. 'Depending on depth, a sunken fire pit will require a pipe typically running from the base of the pit and dug through the ground away from the fire, with a right angle at the end and stuck up out of the ground,' explains Chris Harrington founder of Harrington Porter Garden Design.
7. Be careful what you burn
Your choice of materials is exactly the same as traditional fireplace ideas: coal, wood, gas, and bio-ethanol. Gas offers very little benefit in terms of heat, though will create an aesthetic display with no sparks or smoke.
'As with all gas appliances, these must be installed by qualified gas engineers if connected to natural (mains) gas. If you opt for a bottled gas (LPG) burner no specialist install is required, provided the gas supply is installed as supplied and not modified in any way,' clarifies experts from Planika.
The most popular options are coal and wood. These are simple to use and offer great heat output. Wood is the more sustainable choice but you should only burn well-seasoned wood to prevent needless smoke.
'Bioethanol fires produce real-burning flames that give off plenty of heat, making them an excellent alternative for traditional gas or wood fires for heating homes and gardens,' says Neil Thomas, expert at Firepit. However, they are more complex to install than wood or coal fire pit designs.
8. Safety must be factored into your fire pit design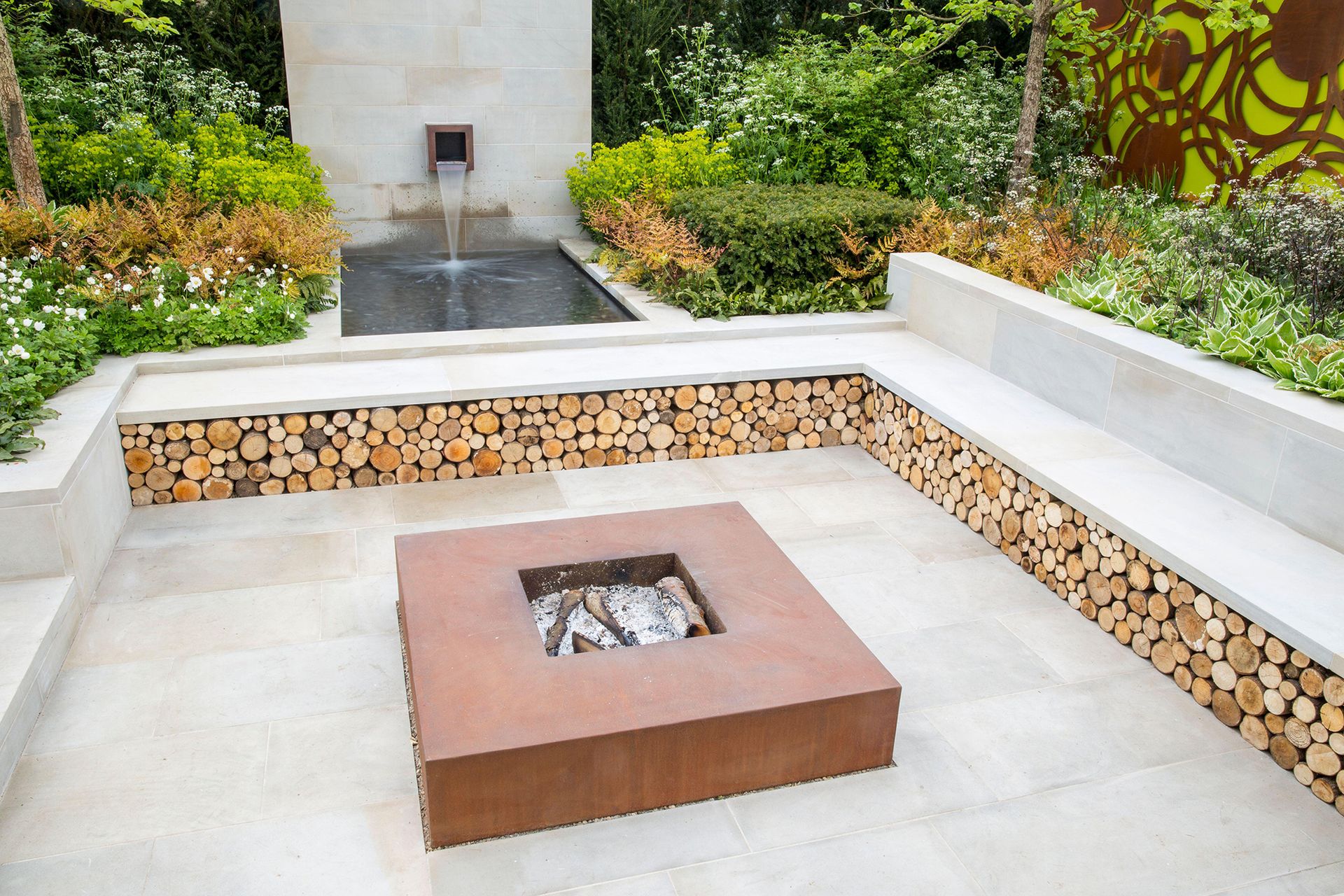 Any activity that involves fire will need to be accompanied by safety regulations.
'When selecting bricks for your fire pit, make sure they are at least 18 inches tall and 12 inches deep. This will ensure safety while allowing enough air circulation around the flames. You should also use bricks that have been treated with an approved mortar or cement; otherwise, your fire pit will not be safe to use,' explains Alex Federo, co-owner of FTW Concrete Contractors. If in doubt always seek professional assistance and guidance.
If your fire pit is below ground, ensure that it has a guard to prevent anyone from getting too close. 'To reduce the risk, a spark guard or fire screen also helps prevent embers from escaping the fire pit and have a bucket of water or fire extinguisher on hand. It is also important to supervise the fire at all times and never leave it unattended,' adds Neil Thomas, expert at Firepit.
Finally, fire pits are legally in most locations across the US but do check local rules and ordinances to ensure you are building and using yours within the law. And, obviously, if the season is dry and the area prone to wild fires, do not light yours. More on this, below.
Does a fire pit add value?
Yes, the right fire pit design will add value to your property.
'Fire pits are much sought after and make your property more attractive to buyers as well as adding value to your home. Typically, sellers can expect to recoup 60 to 70% of their investment. Adding a fixed fire pit in a style that fits with your property and meets local requirements is the best choice. However, a small portable fire pit will not add any value to your home as essentially you can take it with you when you move,' explains Catherine Mack, co-owner of House Buyer Network.
Are there any rules and regulations that must be followed?
The rules and regulations will vary from state to state. 'In most US states, fire pits are generally legal, as long as you follow local rules and regulations. There are varying fire pit laws depending on the state, city, county, and even neighborhood.
'There are also temporary burn bans you need to consider, where all outdoor burning, sometimes, including indoor burning, isn't allowed. Typically, burn bans are enacted when the air quality is poor and when there's a high risk of wild fire in the area. Burn bans can change from time to time, so it's best to check with your local agencies and fire department,' reveals lawyer Collen Clark, founder of Schmidt & Clark, LLP.
Sign up to the Homes & Gardens newsletter
Decor Ideas. Project Inspiration. Expert Advice. Delivered to your inbox.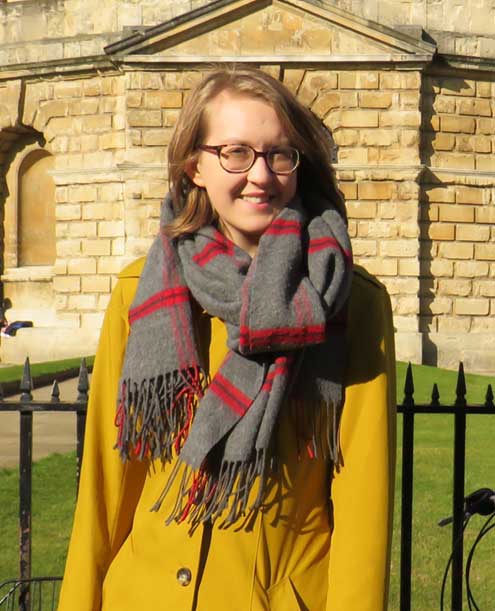 Content Editor and Sub-editor
Having graduated with a first class degree in English Literature, Holly started her career as a features writer and sub-editor at Period Living magazine, Homes & Gardens' sister title. Working on Period Living brought with it insight into the complexities of owning and caring for period homes, from interior decorating through to choosing the right windows and the challenges of extending. This has led to a passion for traditional interiors, particularly the country-look. Writing for the Homes & Gardens website as a content editor, alongside regular features for Period Living and Country Homes & Interiors magazines, has enabled her to broaden her writing to incorporate her interests in gardening, wildlife and nature.