Outdoor grill station ideas – 10 ways to elevate your summer BBQs
Your outdoor grill station will be the envy of the neighborhood with these beautiful and innovative ideas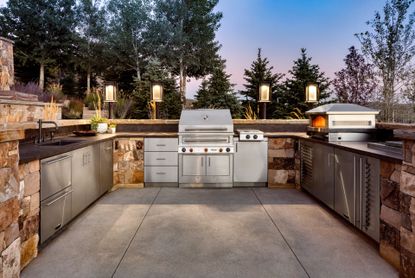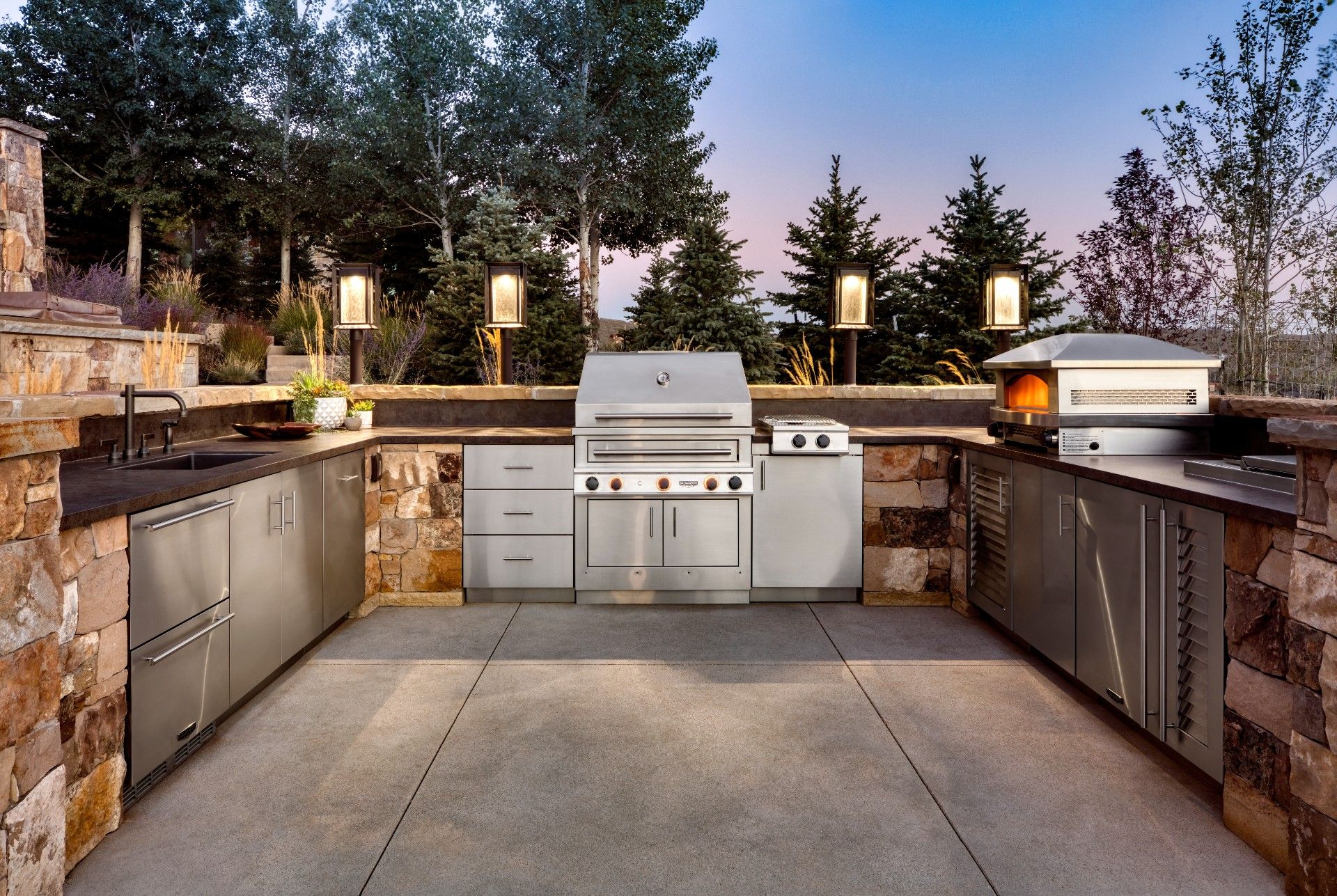 (Image credit: Kalamazoo Outdoor Gourmet)
The right outdoor grill station ideas can turn a so-so backyard into your family's favorite warm weather gathering spot.
Beyond just installing the best grill or best gas grill on the patio, a grill station offers added conveniences that uplevel the entire barbecue experience. Think outdoor kitchen ideas, but purely dedicated to grilling: food prep areas, built-in sinks, extra electrical outlets to plug in small appliances, and even shelter from sun and rain.
Outdoor grill station ideas
From planning an outdoor kitchen dedicated to grilling to shopping for souped-up standalone barbecues, these grilling stations span a range of price points, styles and backyard sizes.
1. Find the right spot for your grill station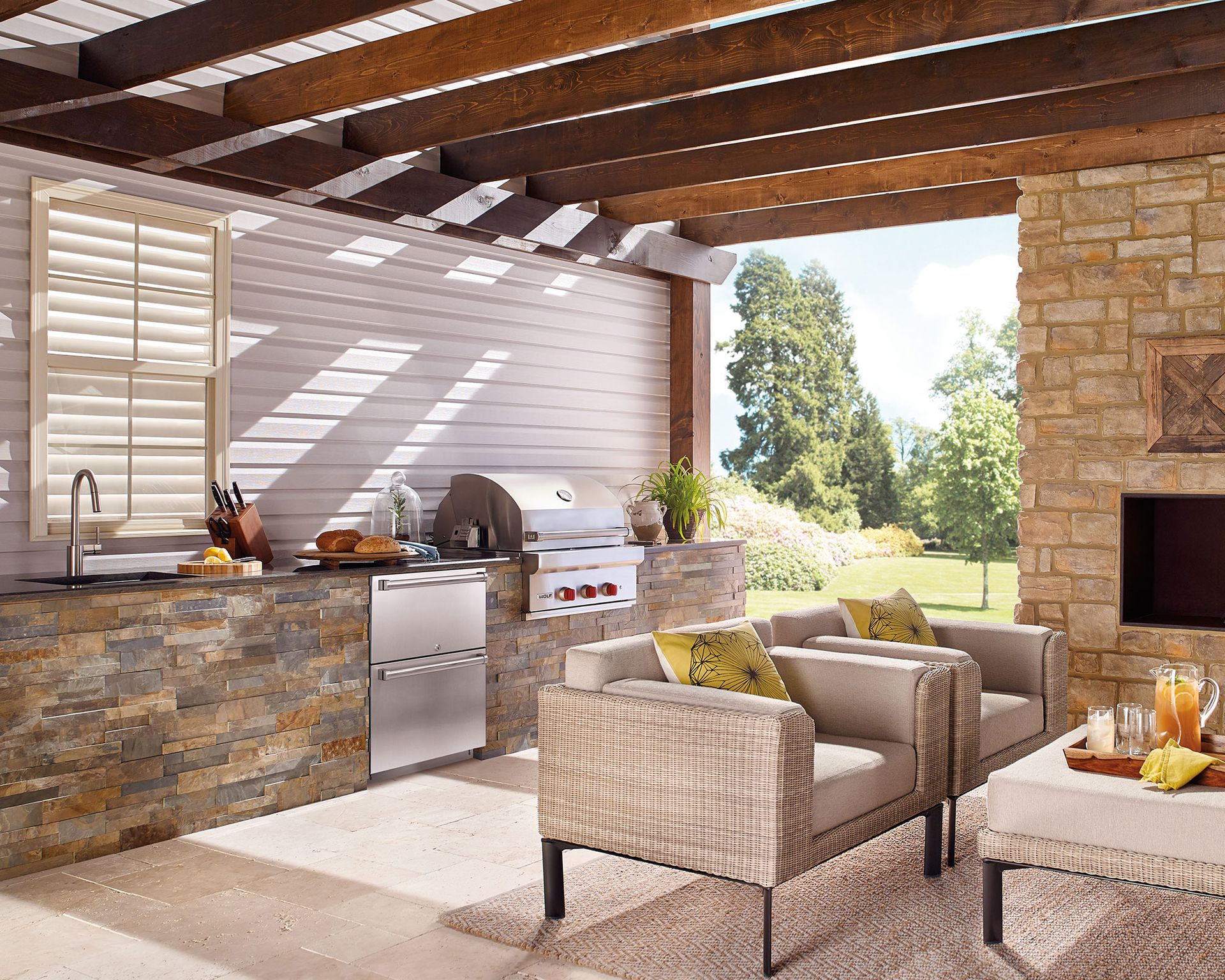 One of the most important things to consider when planning an outdoor grilling station is where to put it so it works best for your lifestyle, says Russ Faulk, Chief Designer and Head of Product at Kalamazoo, a luxury outdoor kitchen provider.
'As a year-round griller in the Midwest, I like to make sure my grill is close to my kitchen door and located such that I can keep an eye on the lid thermometer through the kitchen window,' he says. 'Within that context, you need to factor in utility locations. Is the gas and electric already in a good spot, or should you invest in moving it to your ideal location?'
2. Add a rotisserie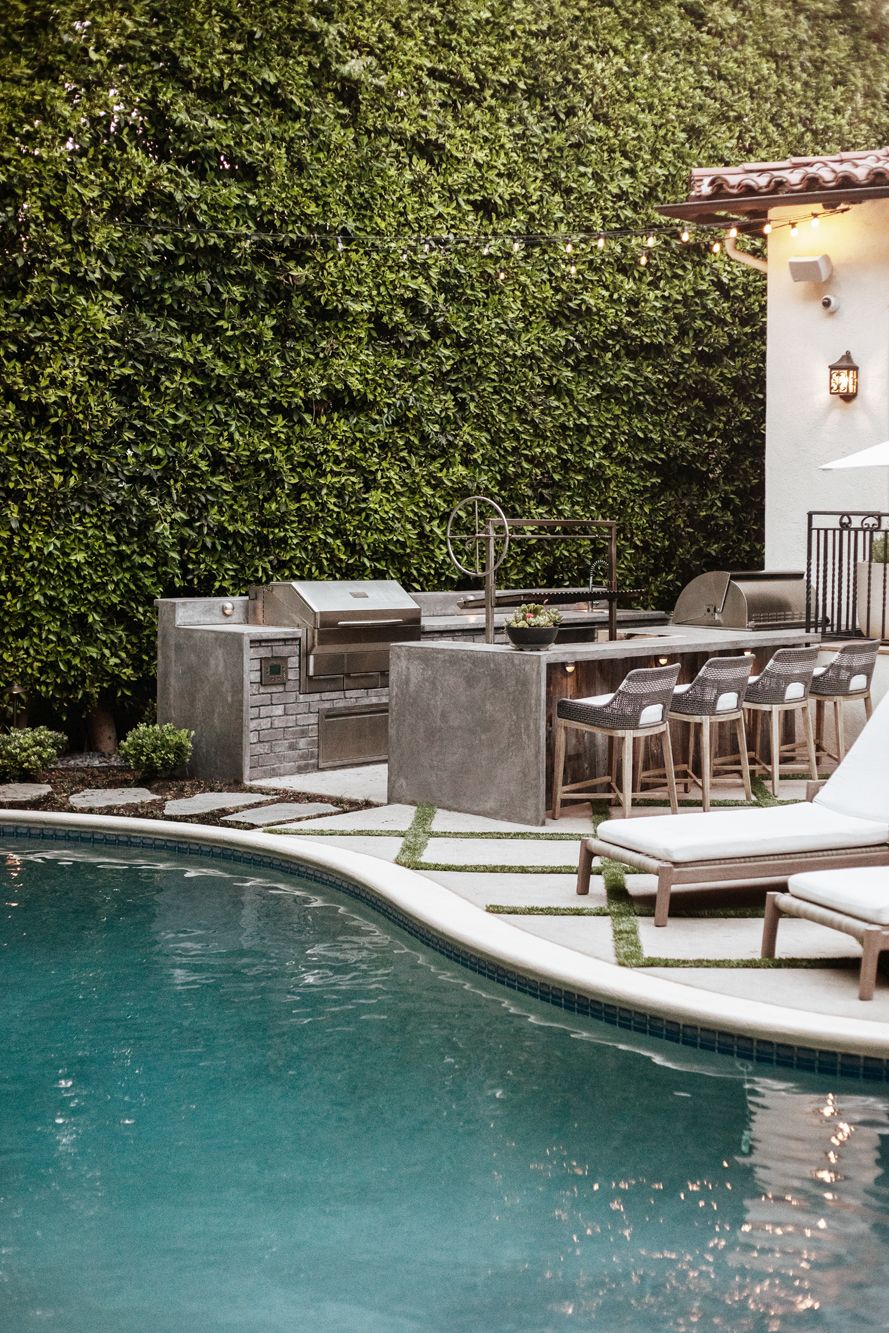 If there was an award for the best grill station upgrades, this Los Angeles spread would be hard to beat.
'This particular client was a true grill master and regularly grills for his family several times a week,' says Kate Gross, whose firm Kate Anne Designs created this outdoor kitchen. 'We included a proper Argentine grill that raises and lowers over burning logs, a smoker to infuse and slow cook meats, and a grill to sear meats before they're slow-cooked, so as to preserve the juices inside the meat.
'The grill also has a rotisserie feature for rotisserie chicken, for example, but it's also great for cooking up hot dogs and hamburgers on a leisurely pool day. We also have a prep sink, dual refrigerated drawers to store ingredients, a drink fridge, and a "Sonic" ice machine for perfectly crunchy ice, just like you used to get at Sonic as a kid.'
Note how garden bar ideas are incorporated into the grilling station layout.
3. Use a pergola to house your grill station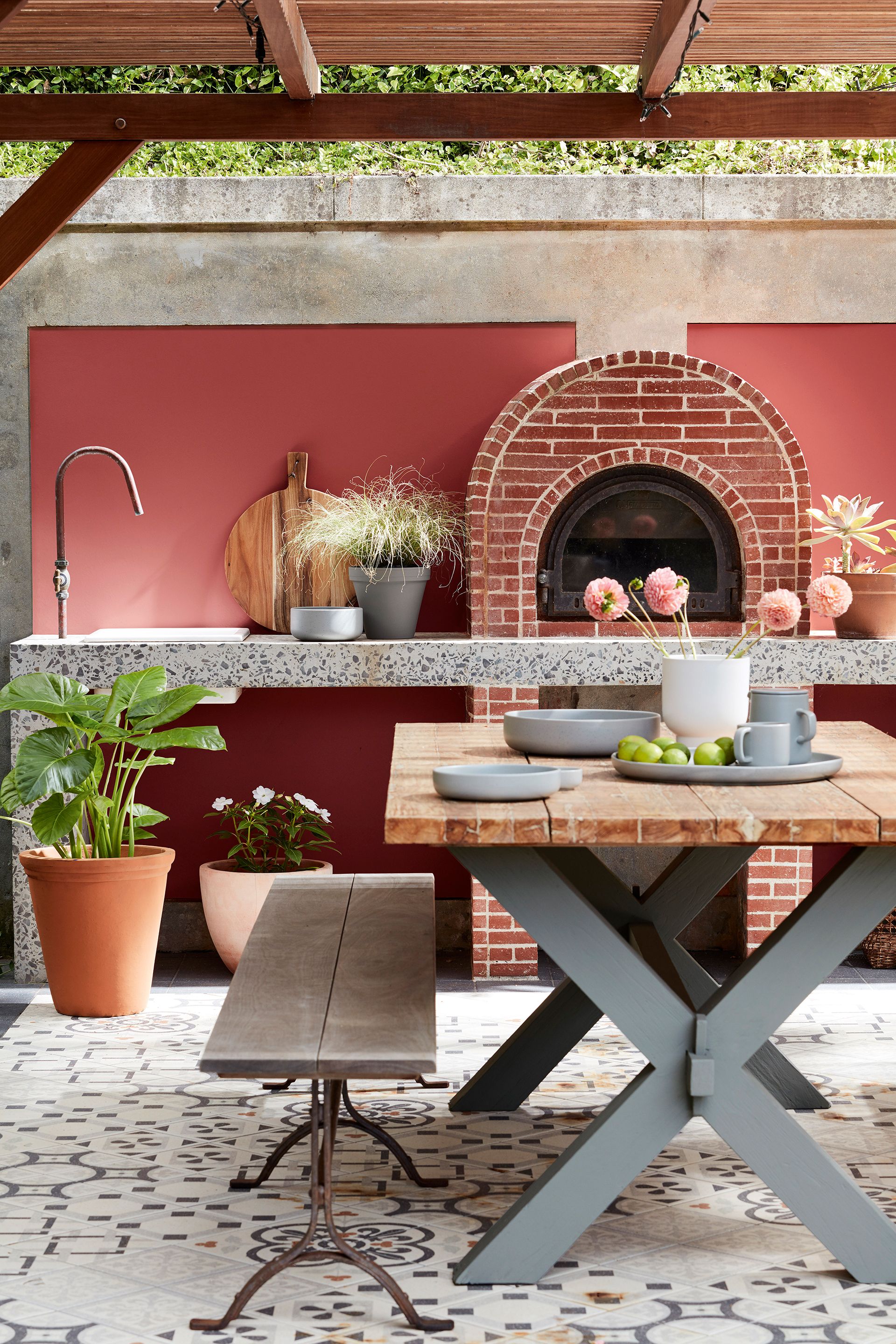 A pergola can elevate the average outdoor grilling station in a few ways.
For one, it offers shade from the sun on a hot day, which is especially welcome while standing over a fiery barbecue. Depending on the type of pergola ideas you choose, it can also create surface area for creating a small bar or serving station. And, you can use your grilling station to add ambience to your whole backyard by outfitting the pergola with string lights.
4. Install a brick surround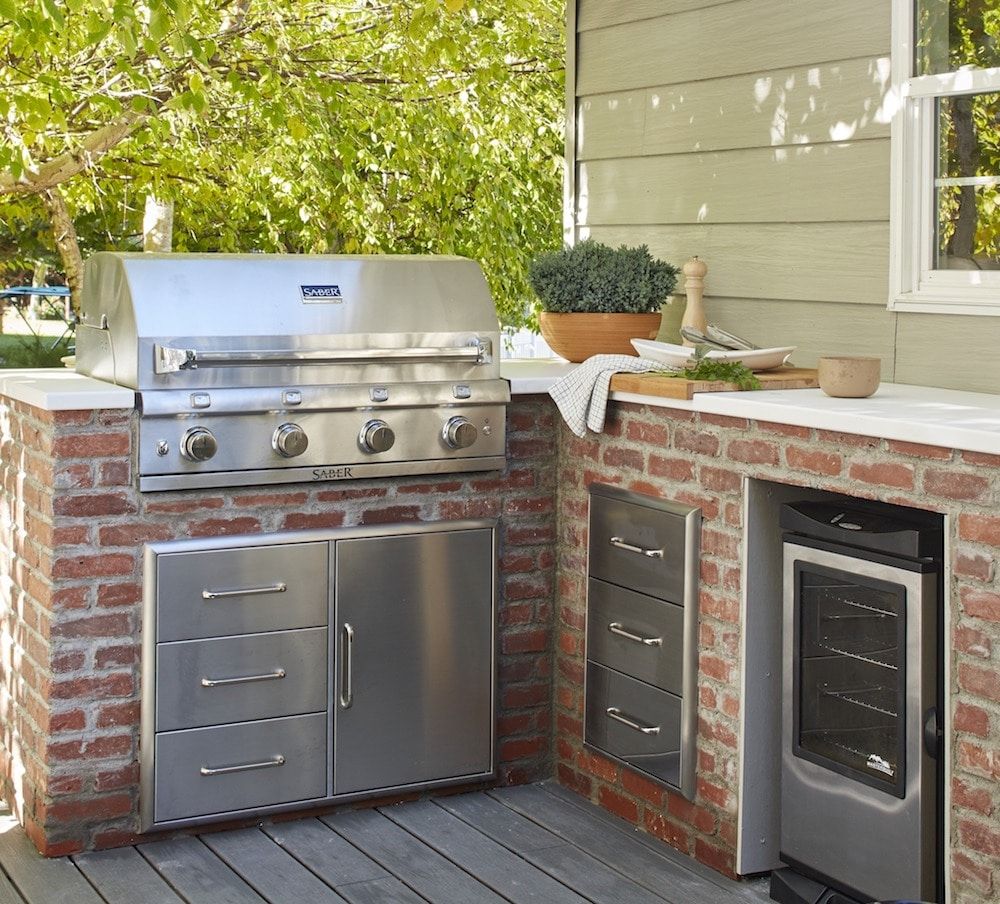 A built-in grill station is a polished way to create a cook space outdoors, especially when it's covered in brick, like the one above by bloggers Chris Loves Julia. The designing duo DIY-ed this gorgeous brick surround, but if you're not quite as handy, tap a landscape architect, contractor, or outdoor kitchen company to create something similar.
5. Plan for the elements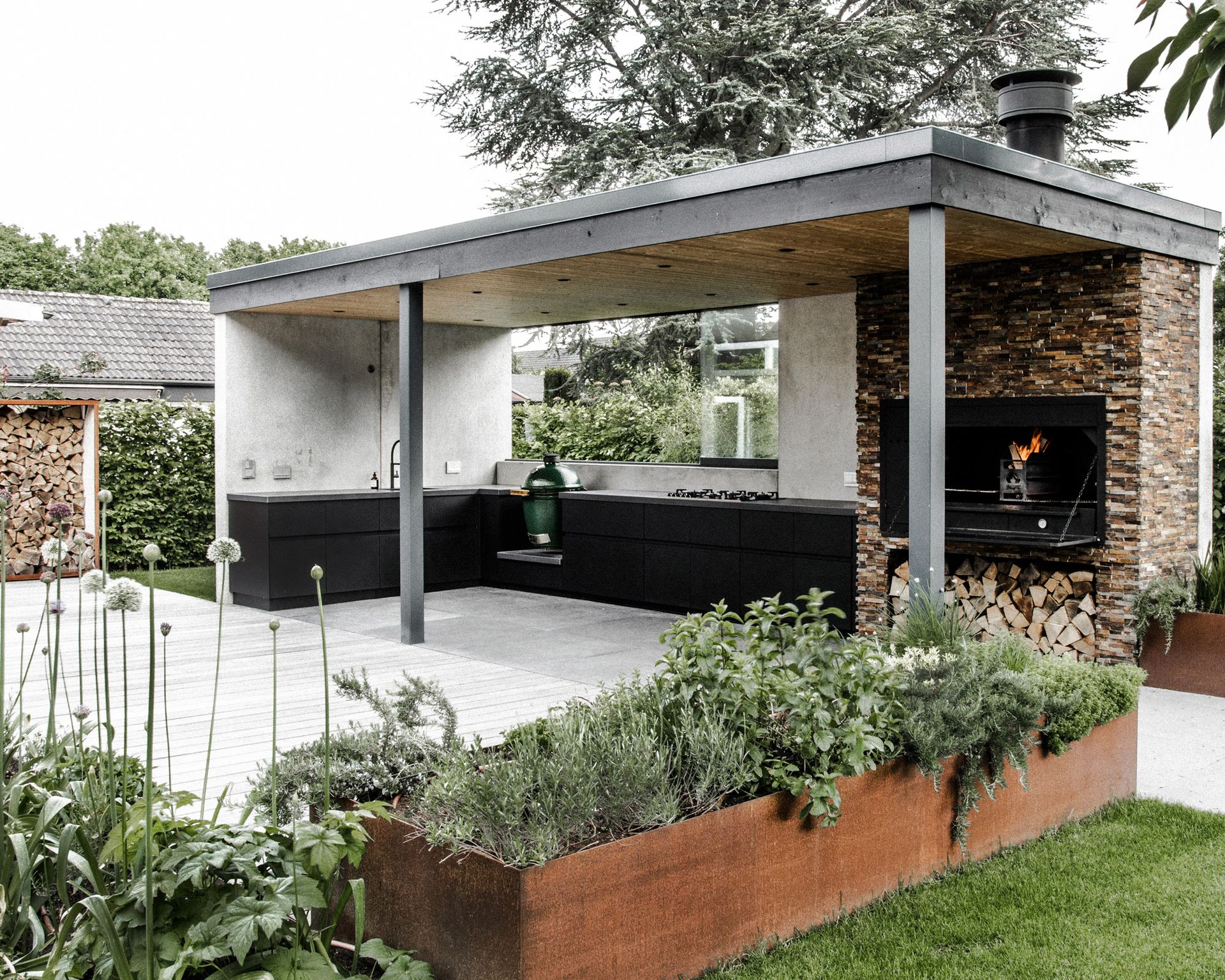 Since your outdoor grill station is, well, outside, there are a number of factors to consider when planning for it. 'Considerations such as solar orientation, view, and cover for weather (sun/rain depending) are issues that are specific to outdoor kitchen design,' says Matt Baran of Baran Studio Architecture.
6. Create a freestanding grill station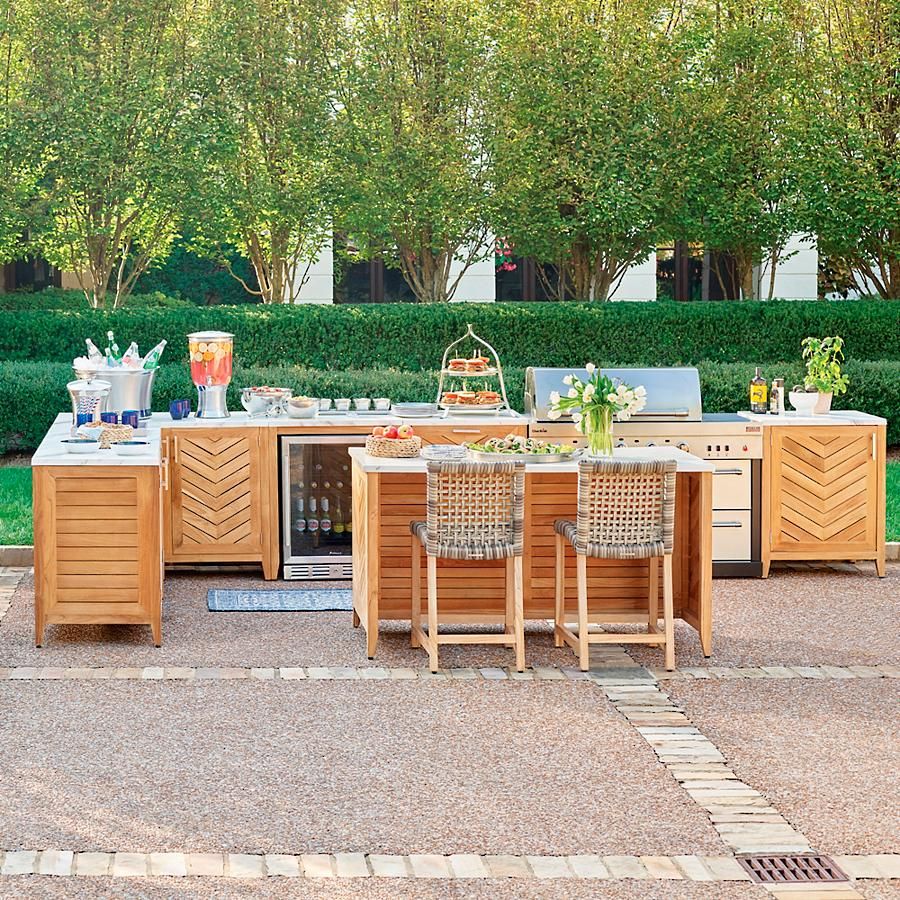 An outdoor kitchen doesn't have to be hardscaped into your backyard. If a built-in grill station isn't in your timeline or budget this year, look for freestanding outdoor kitchen carts, islands or cabinets to create your own custom grill area.
7. Add a pizza oven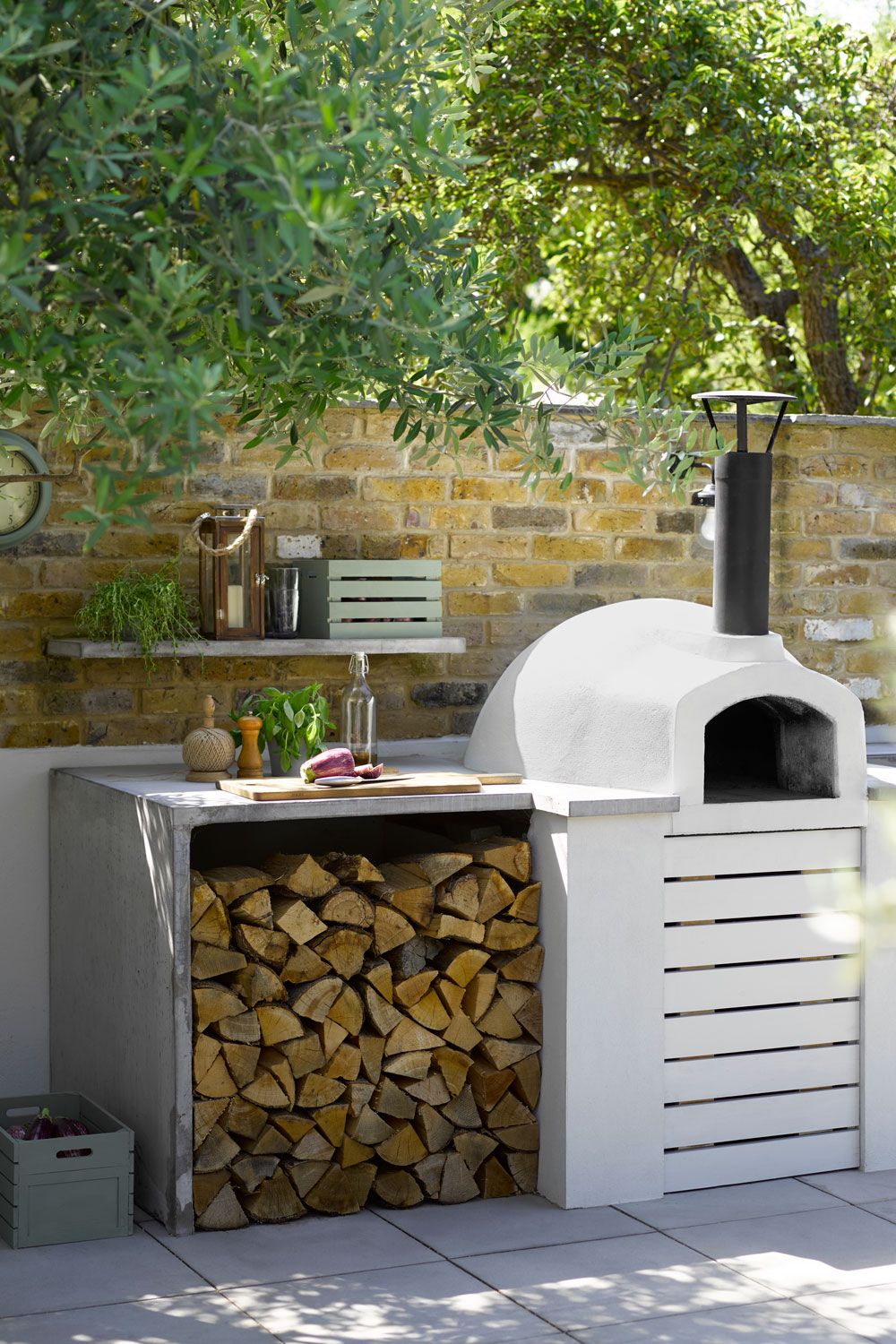 Consider yourself a true grilling enthusiast? Then you'll need more than just a grill.
'Smokers and pizza ovens add their specialty cooking prowess to your repertoire,' says Faulk. 'Refrigeration can make entertaining more fluid. And a sink is a critical element for washing your hands during food preparation.'
8. Get the basics right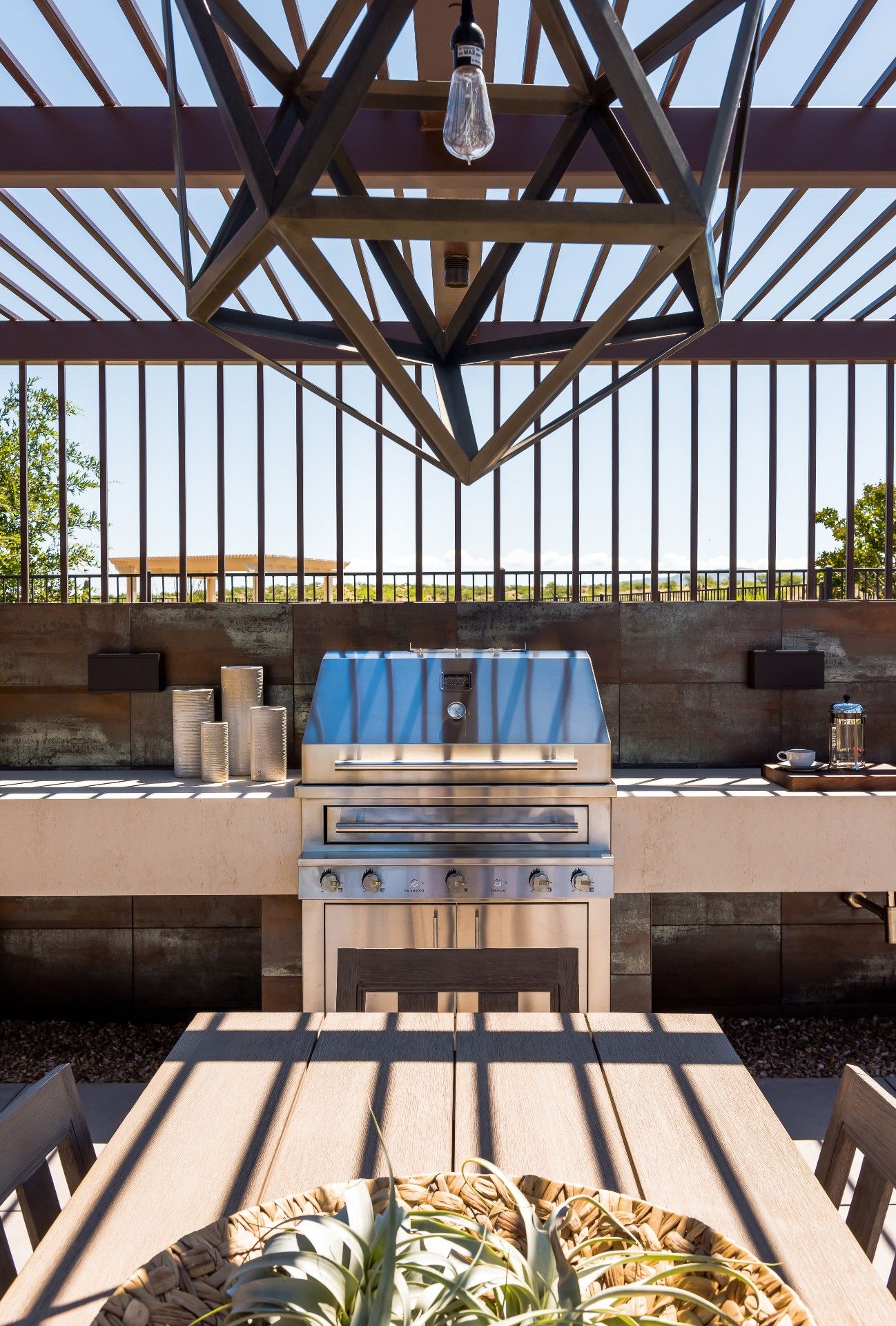 Not all grill stations have to be over the top. Even a basic grill station can be a winning backyard idea if you get the basics right.
'The most important element of a grill station is a grill that has the temperature range and versatility needed to support the cooking techniques you enjoy most' says Faulk. 'Beyond that, you need to make it a functional space. That means counter-height work areas with enough room to handle platters, cutting boards, and ingredients; a little bit of storage space for tools to clean your grill and your charcoal and wood (if applicable); and task lighting so you can see what you're doing after sunset.'
In this Saddlebrook Ranch, Ariz. project, designer Kathryn Prideaux designed the outdoor entertaining space around the Kalamazoo grill, from both a functional and aesthetic standpoint. It was sited specifically to take advantage of the desert views beyond the property.
9. Build a bar nearby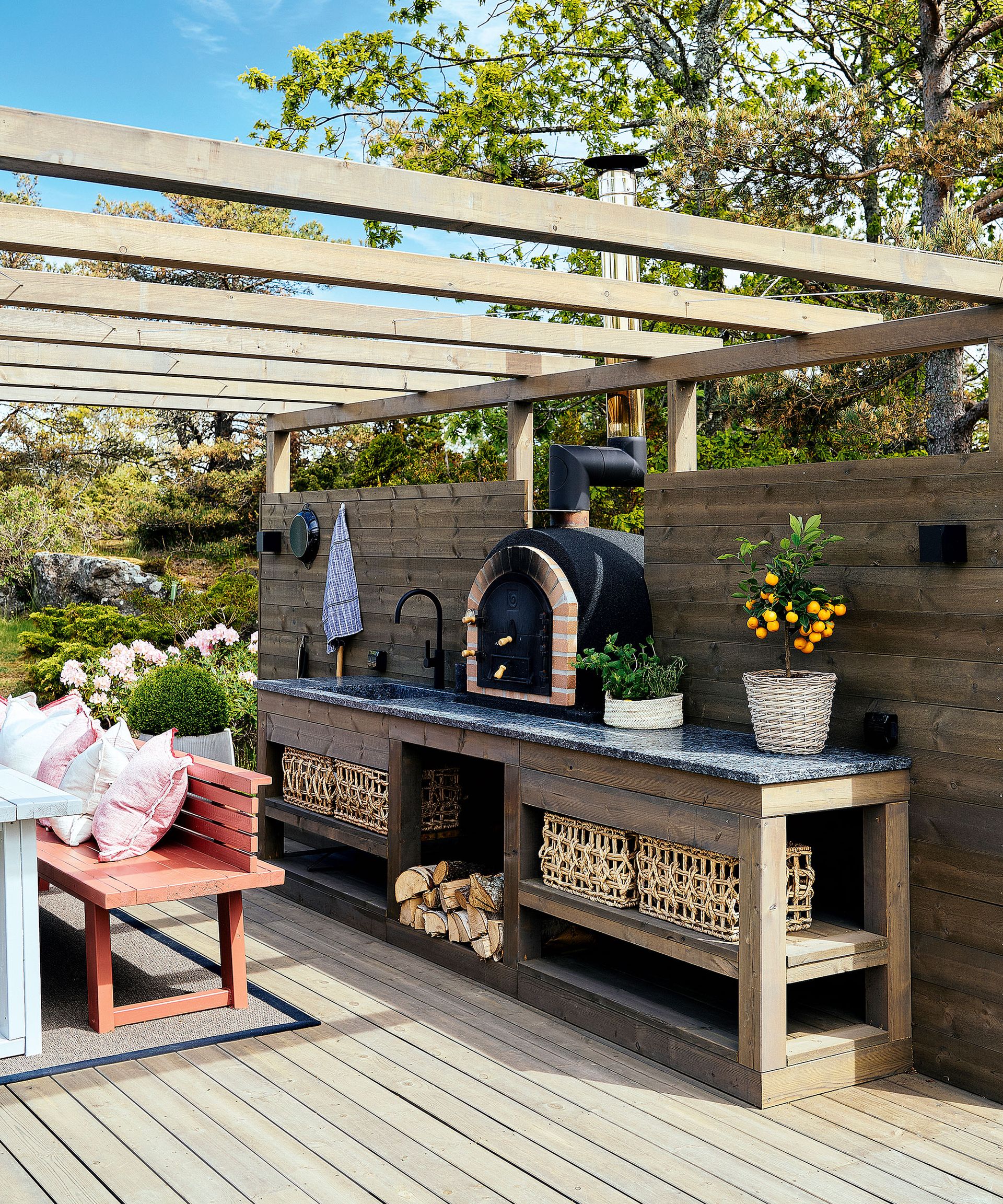 Serving as the default grill master is a lot more fun when you're surrounded by friends and family. Bring the party to you with an island or bar area adjacent to your grilling station, which can double as an easy spot for serving up your best BBQ.
10. Add lights to your outdoor grill station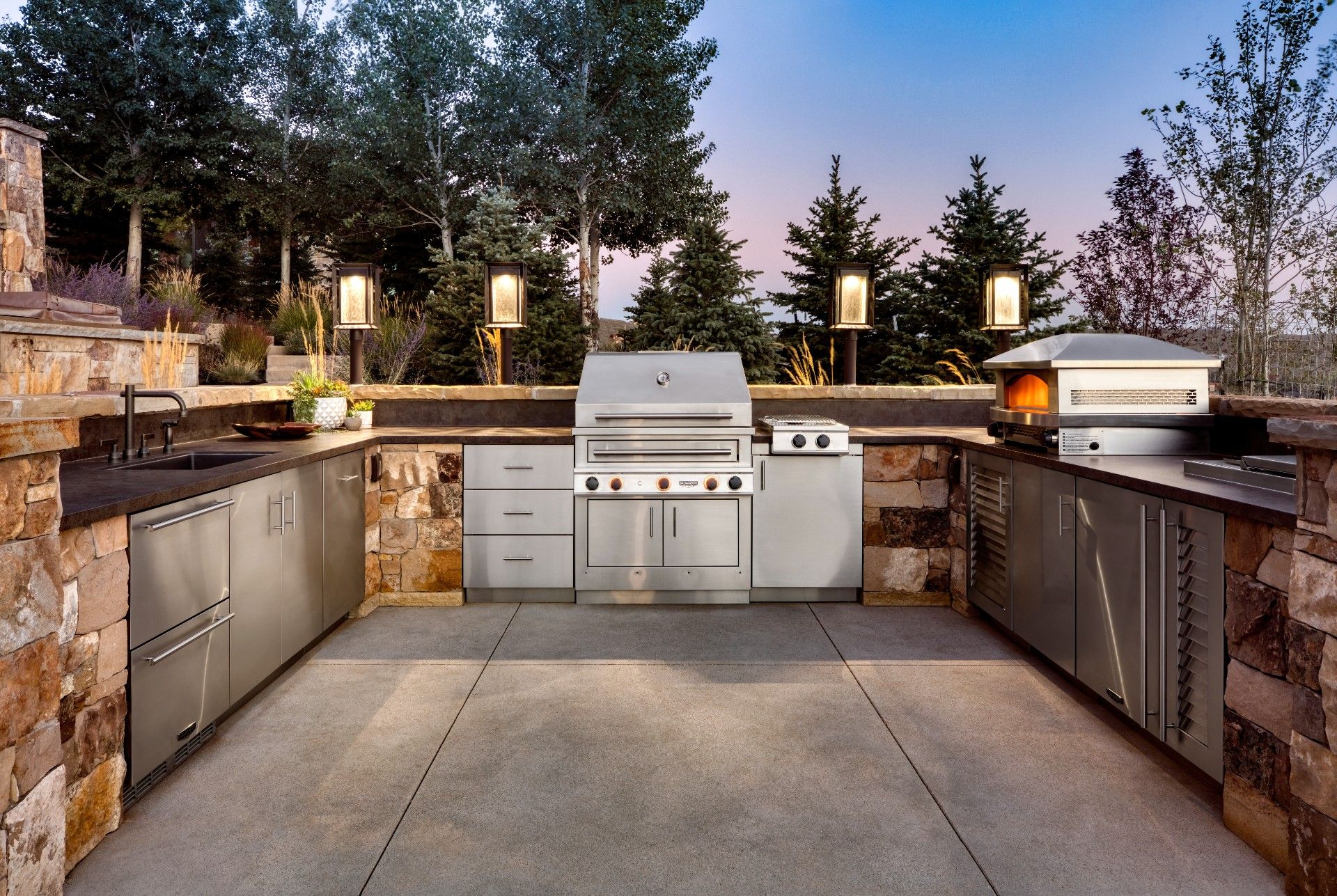 If your al fresco dinners tend to stretch late into the evenings, be sure to add a light source to your grilling station so you can effectively flip your burgers after the sun goes down. If your grill area is adjacent to your lounge seating or a gathering spot, choose task lighting that will add to the ambience, too.
How do you build an outdoor grilling station?
First off, it's important to note that your local building codes will govern things like whether or not you can build an outdoor grilling station on your property, where it can be placed, how it's built, what surrounds it, and more. So, your first stop should always be to check with your local building department or zoning commission, or to consult an area builder who is familiar with codes.
Once you've ensured you're abiding by the safety rules, the easiest way to build a grill station is to use premade outdoor furniture options to fashion a layout that suits your needs. For example, placing a rolling outdoor kitchen cart next to your grill can create prep space and a spot for serving food. Or, consider purchasing a prebuilt gazebo or pergola designed to double as an outdoor kitchen area.
If you're looking for a hardscape grill station, your best bet is to hire a local contractor or landscape architect to handle the job.
Sign up to the Homes & Gardens newsletter
Decor Ideas. Project Inspiration. Expert Advice. Delivered to your inbox.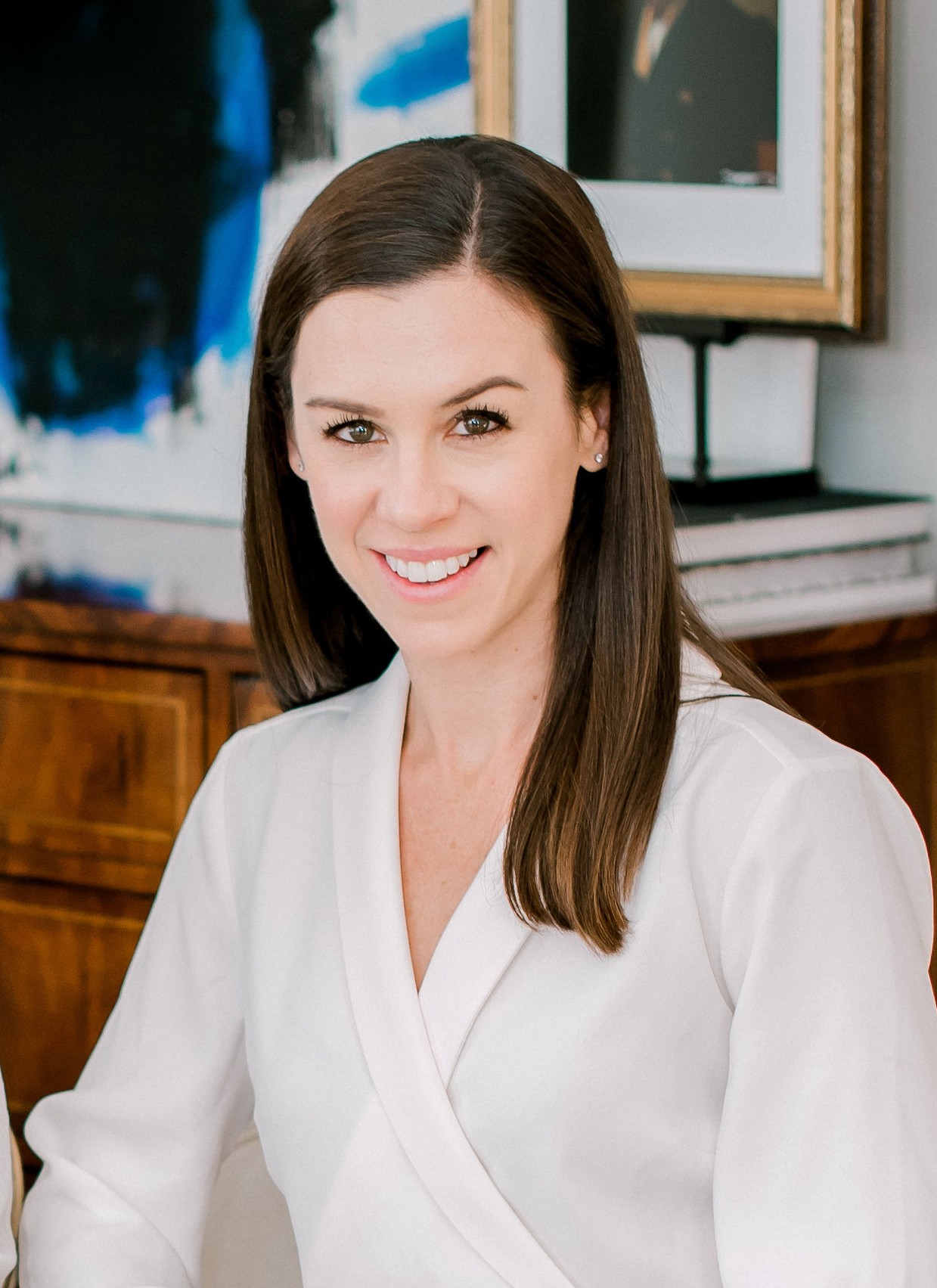 Executive Editor, Homes & Gardens
Kaitlin Madden Armon is a writer and editor covering all things home. Her work has appeared in Real Homes, Architectural Digest, Martha Stewart Living, Refinery29, Modern Luxury Interiors, Wayfair, The Design Network, and lots more. She graduated from Northeastern University with a degree in journalism and currently lives in Connecticut with her husband, three kids, and black lab.