Best grills of 2021: our top charcoal, gas, and pellet grills
Choose between the best grills for summer 2021, with our comprehensive guide to the top Weber, Traeger, Kamado Joe and Saber gas and charcoal grills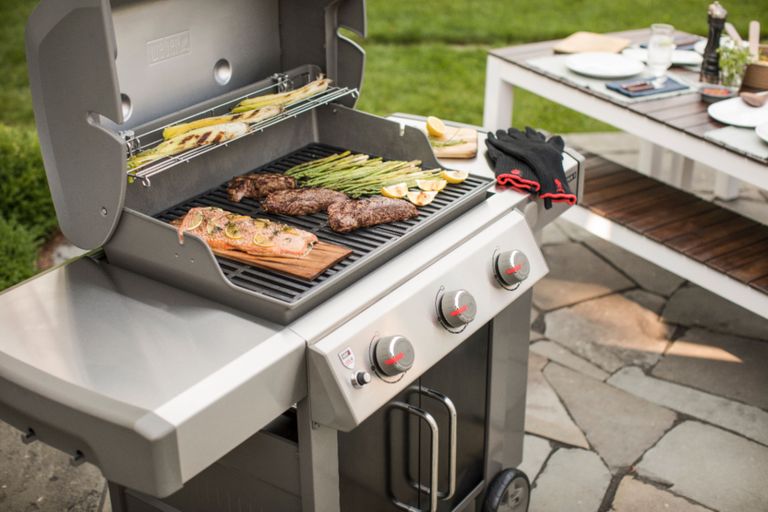 (Image credit: Weber)
Turn to the best grills for making the most of your yard this summer. There is still plenty of time to invest in the best gas, pellet or charcoal grill for your home when you shop right now. Our guide features top brands like Weber, Saber, Traeger and Kamado Joe, and we have tried to include the best value and reliable grills you can buy to last you many years to come.
Buying the best grill for your home will mean there's always enough room for everyone's burgers, and you won't have to work too hard to ignite and clean your grill. Whether you opt for a pellet, gas or charcoal grill, it is possible to get a top grill for under $100, as well as premium grills for over $1000 that are guaranteed to cater to a crowd.
Not only have we found the seven best grill to buy this summer, we've also researched each and every one to find out why it deserves a spot in our comprehensive guide. There are many grills with smart features such as electronic ignition and even smartphone pairing that will make cooking an easier process, with less mess and guesswork. High quality grills will also insulate heat to make sure you don't burn through your fuel of choice unnecessarily. For our best grills guide ahead of summer 2021, keep reading.
What is the best grill in 2021?
Our top pick of the best grill this summer is the Weber Genesis II S-335. It's got everything we love from Weber, including a smart sear station to ensure your steaks and burgers get those classic char-marks. We think the three burners are a good size for most families and would serve well at small-to-medium-sized gatherings.
If you want to step away from gas cooking, the Traeger Grills Ironwood 650 is also a top pick. It runs on wood pellets and has an in-built meat probe to make cooking easier.
Best grills 2021: Our top 6
1. Weber Genesis II S-335
The best grill of 2021
Specifications
Cook surface: 669 sq-in
Dimensions: h47 x w59 x d29 inches
Fuel type: Natural gas or propane
Best for : Convenience and quality
Reasons to buy
+Sear station for traditional char-marks+Gs4 grilling system+Compatible with the iGrill 3 app-connected thermometer
Reasons to avoid
-Three burners are a little modest for some cookouts
Weber has been in the game for 65 years, and the Weber Genesis II S-335 is one of the smartest you can buy. It's compatible with the Grill 3, which is a smart thermometer that can sync with your phone for the utmost insight into your cooking in real-time.
What we love
The Weber Genesis II S-335 features sear station, which is designed to leave those classic charred lines in your steaks and burgers for maximum flavor by creating an intense heat zone. There's also a side burner that can be used to prep side dishes or cook off smaller items that can't go on the main grill. This burner is powered by gas, like the Weber Genesis II S-335 itself.
Features
There's also a foldable warming rack that can be used to heat up burger buns or keep hot dogs warm when they're done cooking, which will allow you to prep your meals at different timings, but with the same intended serving time.
Other useful features include a storage area under the grill itself, which has shelves for holding plates and dishes. There's also a hook under the side shelf for keeping tools close-by as you grill.
2. Traeger Grills Ironwood 650 Wood Pellet Grill and Smoker
The best wood pellet grill
Specifications
Cook surface: 650 sq-in
Dimensions: 46 x 27 x 47 in
Fuel type: Wood pellets and electric outlet
Best for : Grilling and smoking meats
Reasons to buy
+Achieves ultimate wood flavoring in meats+Built-in meat probe and WiFi capabilities let you control the grill on your phone+Super Smoke Mode with a push of a button
Reasons to avoid
-Must be plugged into an outdoor electrical outlet
Traeger revolutionized the grilling game when they introduced the world to wood pellet grills over 30 years ago. Though other wood pellet grill companies have surfaced, Traeger is still a hard one to beat, especially when you consider their Traeger Ironwood 650 Pellet Grill.
What we love
To fuel the Traeger Ironwood 650 Pellet Grill, you plug it into an outlet, then add hardwood pellets to the hopper which are then moved to an auger where they're ignited. The hardwood pellets provide a wonderful smokey wood flavor to vegetables and meats that you can't quite achieve with gas grills. If you want the smoky flavor to be more intense, hit the Super Smoke Mode button.
To keep the fire going, a fan circulates the heat and smoke, while a drip tray catches grease and other drippings so the flames continue and heat flare-ups are prevented. With 650 square inches of cooking capacity, you can fit eight whole chickens, six pork butts, or five rib racks at a time.
Features
The technological features of this Traeger Ironwood 650 are impressive. For instance, once you've set the temperature, the grill maintains that temperature for you. Plus, it's outfitted with WiFi and a built-in meat probe, so you can monitor the internal temperature of the food and the grill all on your phone.
While you won't have much issue cooking vegetables on this grill, the Ironwood 650 Pellet Grill is king when it comes to cooking meats. The wood flavoring that this grill produces – whether you're grilling, smoking, baking, roasting, braising, or barbecuing – is hard to match.
3. Weber Original Kettle Premium Charcoal Grill 22-inch
Best budget charcoal grill
Specifications
Cook surface: 363 sq-in
Dimensions: 18 x 23 x 35 in
Fuel type: Charcoal
Best for: Budget
Reasons to buy
+Compact+Comes with an ash catcher+Hinged lid
Reasons to avoid
-Not suitable for large crowds
Weber's Original Kettle Premium Charcoal Grill has a 22-inch diameter that can fit a family-sized amount of hamburgers or hot dogs. For parties though, you may struggle with its singular burner.
What we love
Other charcoal grills such as the Kamado Joe Classic II feature side shelves, which can make serving up and storing plates and accessories easier. While the Weber Kettle lacks this, it is also a mere fraction of the price.
This charocal grill has a hinged lid that makes it easy to add briquets while cooking. There's also an ash-catcher on the underside that makes clearing away straightforward when the fun is over.
Features
The lid has a thermometer to make warming up and maintaining temperature a breeze. You can use the dampers to make controlling the temperature even easier. You can also enjoy the two wheels and the fact that it weighs just slightly over 3 pounds. This makes the grill very portable.
4. Kamado Joe Classic II
The best charcoal grill
Specifications
Cook surface: 510 sq in
Dimensions: 26.4 x 26.4 x 36 in
Fuel type: Charcoal
Best for: Grilling, searing, and smoking meats and vegetables; option to use as rotisserie or pizza oven
Reasons to buy
+SlōRoller Hyperbolic Smoke Chamber distributes smoke evenly+Multi-level rack allows you to cook multiple items at different temperatures+Has iKamand capabilities
Reasons to avoid
-Must clean ash after every use -Smaller cooking surface than other grills
If you plan to grill meat, you're going to want to use the Kamado Joe Classic III. Even though it takes a bit longer to heat than gas grills, the Kamado Joe Classic III is the most advanced ceramic charcoal grill on the market that offers the perfect sear and tenderness to your protein, and a smoky flavor to match.
What we love
What makes the Kamado Joe Classic III so unique is the brand's SlōRoller Hyperbolic Smoke Chamber insert. It's designed to evenly distribute the smoke and heat in rolling waves so that the food cooks more thoroughly without the peskiness of hot spots. Better yet, it's outfitted with a multi-level rack so that you can cook on the top 18-inch surface, or utilize four additional half-moon grates for a total of 510-square-inches of cooking surface. This means that you can cook more food at once and at different temperatures.
Overall, this charcoal grill can reach temperatures of 225 to 750 degrees Fahrenheit, though when using the SlōRoller, the grill has a maximum temperature of 500 degrees Fahrenheit. You can control the air and temperature with an airlift hinge on the top. Though many shy away from charcoal grills because of the clean-up, Kamado Joe has come up with an easy-clean solution: a charcoal basket. Once the charcoal breaks down, the ash is contained in a drawer that allows for easy disposal.
Features
This grill is multi-functional in many ways from the way it sits on a cart with wheels to how it can be transformed into a rotisserie or pizza oven with additional accessories. Make your grilling experience easier with the iKamand smart device. When attached to the bottom vent of the Classic III, the iKamand device lets you control the heat, smoke, and temperatures on an app on your phone.
5. Saber Elite 3-Burner Gas Grill
The best infrared grill
Specifications
Cook surface: 675 sq-in
Dimensions: 56.5 x 25 x 48.4 in
Fuel type: Gas
Best for: Grilling and rotisserie meats and vegetables
Reasons to buy
+Infrared burners help food retain more moisture+Uses 30 percent less propane than other gas grills+Rotisserie kit and side burner for additional cooking options
Reasons to avoid
-Not the best for cooking at low temperatures
As the name implies, this grill has three burners that heat 500 square inches of primary cooking surface and 175 square inches on the second rack. Where most gas grills create convection heat, the SABER Elite 3-Burner Gas Grill uses propane or natural gas to generate infrared or 'radiant' heat which directs airflow away from the surface of the grill so that the food retains moisture. In theory, it produces juicier meats and vegetables, reduces cook times, eliminates flare-ups, and vaporizes drippings and debris. Most importantly, it results in using 30 percent less propane than other gas grills.
What we love
Starting a fire on the SABER Elite grill is easy with the push-button electronic ignition. The main burners of the SABER Elite produce 24,000 BTUs. While that number seems low, it's because this grill is an infrared gas grill and BTU ratings aren't as noteworthy for these types of grills. On the left side of the grill is a dual tube side burner which can be used for making sauces or cooking side dishes. A rotisserie motor kit and rod are included so a night of rotisserie chicken, lamb, or beef roast is certainly on the menu.
Features
To make your grilling experience easier, use the side table for preparation, and the below cabinet basket to store condiments. Store the propane tank on a pull-out tray that's hidden behind doors. Halogen lights and above-knob LED lighting allow you to grill at night.
6. Weber Genesis II E-310 Gas Grill
The top gas grill
Specifications
Cook surface: 660 sq-in
Dimensions: 29 x 59 x 47 in
Fuel type: Gas
Best for: Grilling meats and vegetables
Reasons to buy
+Warming rack tucks away for rotisserie +Center-mounted thermometer+Flavorizer bars helps circulate moisture and juices back into the food
Reasons to avoid
-Low BTU output
The Weber Genesis II E-310 Gas Grill is found on many 'best gas grill' lists because it's dependable, easy-to-use, and great for novice and intermediate grillmasters.
What we love
The three stainless steel burners offer an output of 39,000 BTUs, which isn't as high as other gas grills, but it'll still get the job done. With a Tuck-Away warming rack, barbecue enthusiasts have a total of 660-square inches of cooking area (the main grate is 513 square inches). Flavorizer bars catch grease and food drippings, which protects the burner tubes and prevents flare-ups. More importantly, when the grease hits the bars, it vaporizes and is then absorbed into the food making it juicier and tastier.
Features
Weber installed a center-mounted thermometer in this grill, though for the cook who wants a more high-tech experience, purchase an iGrill 3 thermometer. When paired with the Weber Genesis II E-310, it monitors the temperature of up to four cuts of meat at a time and will send a notification to your phone when the protein is cooked through.
As far as aesthetics go, the Weber Genesis II E-310 has a black and stainless-steel frame with two side shelves for prep space and two lower shelves for storage. Unfortunately, the propane tank is stored on the side of the grill and only partially hidden by side doors.
7. Weber Q 1200 Portable Grill
The best portable grill
Specifications
Cook surface: 189 sq-in
Dimensions: 20.5 x 40.9 x 24.6 inches
Fuel type: Gas
Best for: Taking on the go
Reasons to buy
+Folds away +Stand is optional for setting up camp+Comes in a good range of colors+Two side tables for meal prep
Reasons to avoid
-Low BTU output
Planning on traveling this summer? The Weber Q 1200 Portable Grill is built to be taken on the go. It's got two foldable side tables for preparing dishes when you've set up camp, but simply fold them back up when you want to set off again.
What we love
This gas grill weighs only 20 pounds, which is impressive considering the porcelain-enameled cast iron cooking grates. These can be removed for easy cleaning and while there is only one burner, it can be used to power the entirety of the 189 square inch cooking area.
Features
Another portable element of the Q1200 is its fuel, which is designed to pair with 14- or 16-ounce propane cylinders as opposed to large tanks. Each one will last at least an hour, so it's perfectly suitable for some vacation cooking and traveling light.
Which type of grill is best?
Charcoal grills
Pros: Charcoal grills provide a phenomenal smoky flavor to food, which is especially tasty in meats.
Cons: They take longer to heat up and the temperature can be somewhat harder to control. Even grills that have charcoal boxes that keep the ash contained require some time toward cleaning.
Liquid propane or gas grills
Pros: Gas grills are quick to heat, easy to adjust the temperature, and don't require a lot of prep or clean-up time. Gas grills are best for those who are new to grilling.
Cons: They may offer great sear and grill lines and have the capabilities to keep your meats juicy and tender, but unless the grill is outfitted with a built-in or separate wood box, you can't achieve the same delicious smoky flavor that's provided with charcoal or wood pellet grills.
Electric grills
Pros: Some electric grills can be used indoors and others must be used outdoors. They heat quickly and don't require a lot of post-grilling maintenance.
Cons: Indoor electric grills are small. If you have an outdoor grill that needs electricity, like a wood pellet grill, you'll need an outdoor outlet, which may not be placed in the most ideal (or safe) grilling location.
Wood pellet grills
Pros: Meats come out juicy, tender, smoky, and fully-flavored with a wood pellet grill. Once you set the temperature on a wood pellet grill, the grill maintains that temperature for you, so your attention can be elsewhere.
Cons: These types of grills require electricity to function, so you'll need a good outlet in a safe location outdoors.