Best gas grills 2023: expert tests of quick, clean grills
Appliance experts reveal the best gas grill of 2023, with impartial tests of the best gas grills from Weber, Char-Broil, Napoleon and more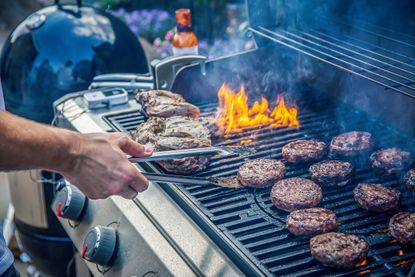 (Image credit: Getty Images)
Gas grills make it easy to cook in the comfort of your own backyard. Whether you want mouth-watering steaks or tasty vegetable skewers, a gas grill is a garden essential.
Gas grills - Quick Menu
Unlike charcoal or pellet grills, the best gas grills are simple and fast to use. The quick ignition means you can cook delicious dishes almost instantly, as you don't have to waste time setting up and lighting charcoal or wood and waiting for it to reach cooking temperature.
I've tested some of the best grills on the market, and plenty of those were gas grills. In fact, the best gas grill is the the Weber Spirit II E-310, which is our favorite grill you can buy. After putting grills through their paces on dozens of burgers, sausages, grilled chickens, corn on the cob and much, much more, I've found the best gas grills you can buy.
Best gas grills 2023
You can trust Homes & Gardens. Our expert reviewers spend hours testing and comparing the latest products, helping you choose the best for you. Find out more about how we test.
Best gas grill you can buy
1. Weber Spirit II E-310 Gas Grill
The best grill overall
Specifications
Cook surface: 660 sq-in
Dimensions: 29 x 59 x 47 in
Fuel type: Gas
Best for: Grilling meats and vegetables
Reasons to buy
+
Easy to set up
+
Easy to use
+
Best burgers on test
+
Best chicken on test
+
Reasonable price
Reasons to avoid
-
Small side rack for propane
-
Wide grills for thin-sliced foods
-
Plastic control knobs
Why you should buy it
This is the best grill on the market.
Why we love it
This is not only the the best gas grill, but the best grill period. This grill is a dream to use. There's nothing complicated to master or build, and it has a large cooking area. Most importantly, it made the best food in the latest round of testing. It made the best burgers and sausage we've tried this year, and a frankly perfect spatchcok chicken smothered in barbecue sauce.
I think this grill is best suited to the average outdoor cook. It's really simple to use and the ignition is quick and reliable. It reaches temperature in just a few minutes and it's easy to monitor thanks to a responsive thermometer. There's handy side tables with useful tool hooks, and big wheels for moving it around your yard.
Good to know
The side rack for holding propane tanks is small, so 30 or 40lb tanks will have to be on show. The grills are a little wide, and we lost a couple of thin-sliced vegetables through the gaps. One final issue is that the plastic knobs feel cheap, but that's a minor issue with a near-perfect grill.
Best premium gas grill
2. Weber Genesis II E-335
The best premium grill
Specifications
Cook surface: 513 sq-in
Dimensions: H47 x W59 x D29"
Fuel type: Liquid petroleum gas
Best for: Unparalleled smart features
Reasons to buy
+
Generous cooking area
+
High quality side burner
+
Good warranty
+
Smart technology included
Why you should buy it
A professional grill loaded with bonus features
Why we love it
This huge grill is packed with features. Ignition is very easy. Just press down and twist to ignite the propane gas burners, and your grill will be ready in under 15 minutes. The Weber Genesis II E-335 really impressed us with its Flavorizer bars, which leave delicious sear lines on steak and eggplant with perfectly grilled results.
The Weber Genesis II E-335 pairs with a smartphone, and you can use the probe to tell exactly when your food is cooked. we used this when cooking steak and after I programmed the app with our meat type and desired cooking result, it sent an alert when the internal temperature reached that perfect medium cooking level. We particularly liked the side burner, which was very powerful and sturdy. Some side burners allow the wind to blow the flame around while you're trying to cook, but the Genesis II E-335 left our pans and pots feeling secure.
Good to know
Assembly is time-consuming, but with three burners and a massive 513 square inches of cooking space in total, it is worth the effort.
Best large gas grill
The best large gas grill for all-weather grilling
Specifications
Burners: 4 + 1 side burner
Cooking area: 994 sq. in. (646 sq. in. primary + 348 sq. in. top grate)
Dimensions: 27 in. (D) x 68.5 (W) x 48.5 in (H)
Reasons to buy
+
Massive cooking surface
+
Use with Weber CONNECT
+
Night vision grill lighting
Reasons to avoid
-
Need a nearby outlet to use digital display
Why you should buy it
The best grill for big gatherings
Why we love it
This grill is huge. It's sounds like hyperbole, but there's no way around the facts. Our tests found that this grill has nearly a thousand square inches of grilling area, and that's before you get to the side burner. In short, this capacity means that this grill can fit forty burgers. It's almost ridiculous.
Not only is it big, it delivers on performance. The sear station, leaves those classic charred lines on steaks and burgers for maximum flavor. The side burner is perfect for whipping up sides and sauces, and there's also a foldable warming rack for keeping sides and finished dishes warm as you finish off something else, and all of this functionality can be monitored by an app.
Good to know
For such an expensive grill, it would be good to control the temperature via the app. It's so big and packed with tech that not only do you need propane, but you also need to plug it into an outlet. Unsurprisingly, it's the most expensive grill on test.

Best looking gas grill
4. Everdure FORCE
Best looking grill
Specifications
Cook surface: 378.2 sq in
Dimensions: 42.1 x 46.3 x 29.2in
Fuel type: Gas
Reasons to buy
+
Looks beautiful
+
Easy to set up and use
+
Great results on taste test
Why you should buy it
The best looking grill you can buy
Why we love it
Gas grills are rarely good-looking. Even the most meticulous patio can look cheap with a hulking, gray, greasy grill in the middle. The Everdure Force, however, is beautiful. Everything about this mid-century modern grill looks and feels like high-end luxury furniture. Even simple parts of it, like the control knobs or the lid - available in seven colors - look incredible. Our team of testers all loved having this grill around, because after a few days around the same old gray grills it was refreshing to have a little color.
Even better, it's not just good-looking. Endorsed by experimental chef Heston Blumenthal, the Everdure made excellent burgers and a good whole chicken. The surface of the grill runs along diagonal patterns which don't let any food drop through the gaps.
Good to know
It might look good, but it's not pretty to clean. The underside of this grill is shallow, which means that food grease doesn't run down to the grease tray. You've got to get in there and move that grease along yourself, which is a little gross. Compared to other grills on this list, it's also basic, with no warming rack or side burner.
There's more detail in our full Everdure Force review.
Best gas and charcoal hybrid grill
5. Char-Broil Gas2Coal Hybrid Grill
The best hybrid grill
Specifications
Burners: 3
Cooking area: 420 square inches
Dimensions: H47 x W52 x D24"
Reasons to buy
+
Can cook on gas or coal
+
Good value for size
+
Five year warranty
+
Electric ignition
Reasons to avoid
-
Raised side burner can be tempermental
Why we love it
Gas and coal in one.
Why you should buy it
The Char-Broil Gas2Coal Hybrid Grill offers the best of both worlds. You can cook on one, two, or all three burners, or use them to ignite coal to achieve a smoky flavor without the typical fuss of getting the grill going. As a hybrid grill, this versatile choice will be popular with just about any user.
With this grill you get a shelf to easily transition between gas and coal, and up to 40,000 BTU. The electronic ignition kept the whole process safe and largely hands-free, and our tester and expert Head of Reviews Millie was impressed with how quickly this grill reached temperature. It's perfect for cooking under pressure.
The Char-Broil Gas2Coal Hybrid Grill claims to be rust-resistant. Because Millie kept an eye on this grill for more than a year, she can confirm that this is true - it can more than stand up to the wind and rain. However, to be on the safe side, you should store it with a cover or inside your garage to keep the grill safe from the elements year-round.
Good to know
The side burner caused the most trouble of the whole experience. It's raised above the side table, so the flame blows around a lot. If you want to cook a steak in a skillet as you gril, you'll have to make sure you do it in a sheltered area of the yard.
Best small gas grill
6. Weber Traveler
The best small gas grill
Specifications
Burners: 1
Cooking area: 320 square inches
Dimensions: 37 x 43 x 23 "
Reasons to buy
+
Easy to assemble and clean
+
Folds away for storage
+
Side prep area
+
Spacious for a single burner grill
Reasons to avoid
-
Heavy for a portable grill
Why we love it
A great portable grill
Why you should buy it
This compact grill comes with hinged legs that stay securely in place when the grill is in cooking mode, but fold away when you're finished, meaning you can lean this grill against a wall or put it flat in the back of your car to take it traveling.
Despite the portability, Weber's managed to fit plenty of cooking space into this grill. At 320 square inches, it offers enough surface to cook around 20 burgers, and it also has a handy side prep station for preparing side salads, resting steaks, or keeping sauces and condiments to hand.
In our testing I was impressed with the safety features included in this grill, from a secure latch that keeps the lid closed to large wheels that are more than capable of going off-road on your travels.
Good to know
It might be small, but it's pretty hefty. At more than 60lbs, it's not one to take out on hikes.
Best camping gas grill
7. Weber Q 3200 Portable Grill
The best camping grill
Specifications
Cook surface: 468 sq-in
Dimensions: 55.5 x 50.2 x 30 in
Fuel type: Gas
Reasons to buy
+
Folds away
+
Stand is optional for setting up camp
+
Comes in a good range of colors
+
Two side tables for meal prep
Why you should buy it
A good choice for grilling on the go
Why we love it
Weber's Q3200 is great for grilling in the great outdoors. This gas grill can be used on its lightweight stand, on a table top, or on the floor as a portable grill, so It can convert from the stand on its base to a table-top or portable grill, so it's great for use both at home and on the go.
Despite a small grill surface it did a good job with cooking a whole chicken, and that's because you can control the interior and exectior burners independently of each other, so it's easy to create direct and indirect heat. Even better, it's relatively cheap, coming in at $1500 less than some of the other grills I've tested.
Good to know
We enjoyed cooking on this grill, but it's simply not it's good as other grills. It's good for going camping, but you might have to compromise a little on taste.
There's more detail in our full Weber Q3200 review.
Best side burner gas grill
8. Napoleon PHANTOM ROGUE SE 425 RSIB
Best side burner grill
Specifications
Cook surface: 710 sq.in
Dimensions: 48.50 x 55 x 25in
Fuel type: Gas
Reasons to buy
+
Great side burner
+
Great rear burner
+
Big capacity.
Why you should buy it
This grill is packed with accessory features that elevate it from a simple gas grill.
Why we love it
The Phantom Rogue is a great choice for cooking an entire meal on one appliance. You can cook burgers, chicken, and sausages on the grill, warm corn on the cob on the warming rack - which has its own dedicated burner, a unique feature in this guide - and a side burner that's ideal for searing steaks.
This infrared side burner is exceptional, reaching genuinely astonishing temperatures that are great for searing. You'll have to watch it, as you could very quickly overcook your food, but it's just right for flash cooking vegetables. When it came to the taste test, this Napoleon grill made good burgers and a good whole chicken.

Good to know
I promise I'm not whining: this grill is horrible to assemble. It took me three hours, as there's lots of steps, confusing instructions, and tricky wiring. It'll be a minor annoyance for most, but if you have mobility issues, this will be a challenge. As a team, we aren't convinced by the aesthetics. It will dominate most patio spaces and overwhelm most garden styles. If you're proud of your patio and have achieved your dream backyard, you won't want to park this all-matte black grill in the middle of it. I also found that the light-up control knobs are a gimmick that don't offer much illumination.
There's more detail in our full Napoleon Phantom Rogue SE 425 RSIB review.
How we test grills
All of these grills have all been tried and reviewed by us first-hand. When testing we think about the assembly process, which can often be tricky, and we also take into account how safe and secure the grill feels during use. We cook foods that need to be seared at high temperatures, and we also cook low and slow to see how well these gas grills regulate temperature. When a grill comes with smart features, we test these too. We cook this wide variety of dishes to put the grills through the toughest tests, but we always directly compare them by cooking backyard staples like burgers, hot dogs, chicken and roast vegetables.
Our team of experts have several years experience testing grills for a wide variety of consumer publications. I have personally tested most of the grills in this guide; others were tested by the team before I joined Homes and Gardens.
For further information about how we conduct our reviews and for our product-testing process explained, explore how we test, and there's even more information specific to our grill testing process in how we test grills.
Meet our testers
Millie Fender is Head of Reviews at Homes & Gardens. Formerly our head of all things cooking, she put the Char-Broil Gas2Coal Hybrid Grill through its paces, as well as several of the other grills featured.
Millie's put lots of different grills to the test, including the Weber SmokeFire EPX6 Wood Fired Pellet Grill STEALTH Edition, which almost converted her away from the ease of gas grilling.
Alex Temblador is a award-winning author and freelance writer based in Dallas, Texas. With an expansive outdoor space for thorough testing, she has tested everything from hot tubs to grills for Homes & Gardens.
Alex tested the monster Weber Genesis SPX-435 Smart Gas Grill, assembling it with the help of her cousin for three hours straight. Once assembled, she was wowed by the quality cooking she was able to achieve with this large, impressive gas grill.
Gas grill FAQs
Is a gas grill better than charcoal?
TLDR:
Gas is easier, faster, and cleaner than charcoal grills. However, it doesn't taste as good.
For quick, clean grilling, a gas barbecue is the way to go. I love using gas grills because you don't have to think about it. Gas grills reach temperature in a few minutes, compared to at least half an hour for a charcoal grill. They don't produce smoke, which stops barbecue smells clinging to your clothes, and they don't char like charcoal grills, so they're easier to clean. Gas grills also tend to have a larger surface area, so you can cook a lot more at once, and because the temperature is easy to control and uniform across the surface of the grill, you get the same perfect result every time.
This means that a gas grill is the most efficient option if you're catering for a crowd. At the same time, because they're so quick to light, gas grills are also perfect for everyday meals. If you get home from a long day at work and you're craving a good old-fashioned hamburger, you can get grilling in minutes and make a quick, fuss-free dinner for the family.
Nevertheless, it's hard to beat the flavors of a charcoal grill. With charcoal grilling, oils and fats from your ingredients drip down and vaporize on the sizzling coals, creating that delicious smoky taste. While you can mimic this by placing a little smoking wood next to one of the burners on a gas grill, it's simply not the same.
Is a gas grill better than a pellet grill?
TLDR:
Gas grills are simpler, faster, and cheaper. Pellet grills taste better and are more versatile.
Gas grills are much easier to use than pellet grills. You connect your gas and switch them on - it's as simple as that. Pellet grills run off with wooden pellets, which can be tricky to light until you get the hang of it. You also need to monitor the pellets as they reach temperature so they aren't too hot or cool.
The difference in fuels also means gas grills reach temperature much faster than pellet grills. Gas grills get to temperature in minutes rather than half an hour.
Pellet grills are also more expensive than gas grills. This is both because they're simply larger than most gas grills, but also because they tend to be higher tech. To make the process easier, most pellet grills are loaded with tech that can monitor the temperature and adjust the cooking and smoke automatically, but this will cost you.
However, pellet grills taste better. Gas grills can still make delicious food, but when you compare it to the smoky flavours of a pellet grill, it simply isn't as good. The flavours aren't as deep or rich.
Pellet grills are also much more versatile. Unlike gas grills, they're designed for low-and-slow cooking. Wannabe pitmasters chasing the perfect Texan brisket or Kansas City burnt ends should get one of a pellet smoker, not a gas grill. For example, our expert Head of Reviews, Millie Fender, used a pellet smoker to make ribs, shawarma, steak, and a shoulder of lamb all at the same time, resulting in perfect pull-apart lamb, smoky ribs, as well as perfect steaks. When we were testing gas grills, Millie, the rest of the team and I made burgers, chicken, and grilled vegetables. Gas grills are more limited.
How many burners do I need?
Three. Three is a good-sized grill for families of 4-6. You can cook up to 20 burgers on a grill this size, so anything bigger is overkill unless you're catering to a huge party. You can get away with a two-burner, but a three burner is good for slower cooking. With a three burner, you can set the two outer burners to a low temperature and switch the middle burner off for indirect heat that's perfect for roasting.
Do I need infrared burners?
Most gas grills use convection heating to cook food, which exposes food directly to fire. The problem with this type of energy is that it can dry out meats. Infrared burners, on the other hand, are designed to help meats retain their moisture, resulting in a juicier dish. This is because they use radiation heat versus convection heat. Essentially, the fire heats ceramic or metal plates which then transfers heat evenly to the food. Infrared burners are common on side burners and less common in grills. They're a nice-to-have, but not essential. They also get so hot that they can quickly overcook food, which defeats the purpose.
What does BTU mean?
BTU stands for British Thermal Units. Grill retailers use it to measure the heat output of a grill. In theory, the higher the BTU rating, the better -- right? Unfortunately, it's not that simple.
The BTU rating should be relative to the surface size of the grill. This means that a quality grill should have at least 75 to 100 BTUs per square inch of the grill surface. This doesn't quite apply to infrared burners in the same way, which makes this all the more confusing. Just remember that BTUs aren't the main consideration when you're researching a good grill. There are many other factors to consider.
Do I need a side burner?
Some grills come with side burners, and while you don't necessarily need it to grill a meal, they can come in handy for cooking side dishes and sauces in pans or searing a steak if the side burner has a grate covering. The average cook can get by without one, but they're a lifesaver for burger staples like fried onions.
How much should you spend on a gas grill?
My advice is that you should spend between $500-$700. While it completely depends on your budget, what type of grill you require (integrated, travel, freestanding) and what you want to cook, the best value for money is either side of $600.
Gas grills can cost anything $100-$5000, so there's options if you've got a tight budget or are looking to spend big. However, in my experience there's diminishing returns above $3000. You should also consider if gas grills are the right price point in the first place. They're more expensive than charcoal grills but cheaper than pellet grills.
As Head of eCommerce, Alex makes sure our readers find the right information to help them make the best purchase. After graduating from Cambridge University, Alex got his start in reviewing at the iconic Good Housekeeping Institute, testing a wide range of household products and appliances. He then moved to BBC Gardeners' World Magazine, assessing gardening tools, machinery, and wildlife products. Helping people find true quality and genuine value is a real passion.