Best gas grills 2022: for easy outdoor cooking
Choose one of the best gas grills of 2022 with our top picks from Weber, Saber, Char-Broil, Napoleon, and Alfresco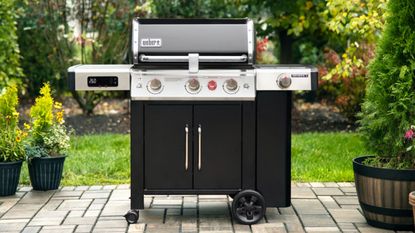 (Image credit: Weber)
Many are putting their gas grills back in the garage, but we think there's still plenty of time to grill your way through the fall and even winter months. With the best gas grill by your side, you'll be able to create mouth-watering flame-grilled steaks without having to wait around for your grill to ignite and heat up. And because many of the models in our guide come with a large grilling area, you can cook for the whole family at once.
Unlike some of the best grills with pellet or charcoal fuels, a gas grill can switch on with just the press of a button. You can also adjust the intensity of the flames easily by turning the dial to increase the amount of gas that's released into the burner. It really doesn't get easier. Below you'll find some of the best gas grills from Weber, Char-Broil, Saber, and Napoleon. Some are freestanding with frames to hold tools and gas canisters while you cook, and others can be installed in your outdoor kitchen for year-round grilling.
We are aiming to review every gas grill in our guide, but because we test for weeks on end before writing our reviews, we have included a number of the grills we are currently testing, with our thoughts so far and the information you need from online reviews and data to make your choice. Our first five top picks have all been tried and reviewed by us, meaning you can see our honest experiences as well as the pros and cons of each grill listed. Where we have completed our reviewing process, we have also rated these gas grills out of five.
The best gas grills that we have tested
1. Weber Genesis II E-335
The best gas grill
Specifications
Burners: 3
Cooking area: 513 square inches
Dimensions: H47 x W59 x D29"
Reasons to buy
+
Smartphone compatible
+
Meat probe included
+
Sear zone for steaks
+
Good side burner
Reasons to avoid
-
Took us a while to assemble
We tried the Weber Genesis II E-335 for ourselves and enjoyed its smart technology and the precision it can bring to grilling. Many of the best gas grills are very powerful, which can make it hard to judge when your food is cooked.
Ignition is very easy. Just press down and twist to ignite the propane gas burners, and your grill will be ready in under 15 minutes. The Weber Genesis II E-335 really impressed us with its Flavorizer bars, which are angled stainless steel. They leave sear lines on steak and eggplant with perfectly grilled results.
The Weber Genesis II E-335 can be paired with a smartphone, and you can use the probe to tell exactly when your food is cooked. We used this when cooking steak and once we programmed the app with our meat type and desired cooking result, it alerted us when the internal temperature reached that perfect medium cooking level.
We did find assembly quite time-consuming, but with three burners and a massive 513 square inches of cooking space in total, it is worth the effort. We particularly liked the side burner, which was very powerful and sturdy. Some side burners allow the wind to blow the flame around while you're trying to cook, but the Genesis II E-335 left our pans and pots feeling very secure.
The best gas grill for all-weather grilling
Specifications
Burners: 4 + 1 side burner
Cooking area: 994 sq. in. (646 sq. in. primary + 348 sq. in. top grate)
Dimensions: 27 in. (D) x 68.5 (W) x 48.5 in (H)
Reasons to buy
+
Massive cooking surface
+
Use with Weber CONNECT
+
Night vision grill lighting
Reasons to avoid
-
Need a nearby outlet to use digital display
The Weber Genesis SPX-435 is a state-of-the-art investment that will cater to the whole family. It will make for a luxurious and stylish addition to your backyard with its stainless steel material and technology that's designed for evening grilling.
The primary cook surface is 646 square-inches but with the warming rack, the cook surface totals 994 square inches. Add the double side burner – to cook side dishes or sauces – and you'll have no problem making a large meal for a big group
You can download and connect the Weber Connect app to your grill via Wi-Fi or Bluetooth, you'll be able to monitor the temperature of the interior of the grill and the meat probe no matter where you are. Unfortunately you can not set a target temperature from the app, like you can with the Weber SmokeFire EPX6 Wood Fired Pellet Grill STEALTH Edition.
We found that assembly was a long process, and cleaning this grill also takes a fair bit of time. But it's an investment, and we think it's worth the upkeep for the sheer quality of grilling. Throughout our testing process everything we cooked turned out perfectly. Using the sear burner and Flavorizer bars, we were able to get a brilliant color on our steak, with delicious caramelization.
3. Char-Broil Gas2Coal Hybrid Grill
The best hybrid grill
Specifications
Burners: 3
Cooking area: 420 square inches
Dimensions: H47 x W52 x D24"
Reasons to buy
+
Can cook on gas or coal
+
Good value for size
+
Five year warranty
+
Electric ignition
Reasons to avoid
-
Raised side burner can be tempermental
When we tried the Char-Broil Gas2Coal Hybrid Grill we really felt that we got the best of both worlds. You can cook on one, two, or all three burners, or use them to ignite your coal to achieve a smokey flavor without the struggle of getting the grill going. As a hybrid grill, this versatile choice will be popular with just about any user.
The side burner caused us the most trouble of the whole experience. Because it is raised, we found that the flame blew around very easily, meaning we would prefer to use it when there is very little wind or in a well-protected area of the yard.
With this grill you get a shelf to easily transition between as and coal, and up to 40,000 BTU. The electronic ignition kept the whole process safe and largely hands-free, and we were impressed by the speed at which this grill pre-heated. Perfect for cooking in a cinch.
The Char-Broil Gas2Coal Hybrid Grill claims to be rust-resistant, and because we first tested over a year ago, we can attest that this is true. To be on the safe side though, store with a cover or inside your garage to keep the grill safe from the elements year-round.
4. Weber Traveler
The best portable gas grill
Specifications
Burners: 1
Cooking area: 320 square inches
Dimensions: 37 x 43 x 23 "
Reasons to buy
+
Easy to assemble and clean
+
Folds away for storage
+
Side prep area
+
Spacious for a single burner grill
Reasons to avoid
-
Heavy for a portable grill
If you love to travel or simply lack the space to store a fully-assembled gas grill year-round, the Weber Traveler could be the perfect grill for you. It comes with hinged legs that stay securely in place when the grill is in cooking mode, but fold away when you're finished, meaning you can lean this grill against a wall or put it flat in the back of your car to take it traveling.
Despite the portability, Weber has not shied away from providing plenty of cooking space with this grill. It has 320 square inches, enough to cook around 20 burgers, and it also has a side prep station that will prove valuable when preparing side salads or letting your steak rest.
In our testing we were impressed with the safety features included in this grill, from a secure latch that keeps the lid closed to large wheels that are more than capable of going off-road on your travels. If you are wondering about fuel, we used EN417 cartridges, which are small canisters perfectly capable of being taken on a trip - no need to carry around a huge tank. You can buy these directly with Weber, but Amazon also sells alternatives that did the trick in our reviewing.
5. Everdure Force 2 Gas Grill
The best looking gas grill
Specifications
Burners: 3
Cooking area: 388 square inches
Dimensions: 46 x 29 x 42 inches
Reasons to buy
+
Precise heat control
+
Heats up fast
+
Works well for slow roasting
+
We love the style
Available in bubbly orange, zingy mint blue or a sleek matt black, the Everdure Force 2 Gas Grill stands out for its stylish design, but we also really enjoyed how it performed when we tested it.
There are no smart features to speak of, no probes or app-compatible features that you might find on a similarly-priced grill from Weber, but if you prefer your grills low-tech, this one will suit you perfectly.
What we really appreciated was that this grill is well-suited to cooking slow and low. Sometimes it's nice to be able to sear a sausage or steak and get it served in minutes, but larger cuts of meat will cook less evenly and will often burn on the outside if you don't turn down the heat. When we cooked a whole chicken, it came out deliciously juicy and without any dryness from prolonged cooking. That's a sign of quality, and versatility.
The best gas grills, according to users
We're working on making sure that every grill in this guide has been tested hands-on by a member of our expert team. In fact, it's likely that we're testing one of the below gas grills right now, as you're shopping for the right one for you. But just because we're not done testing them, that doesn't mean we can't recommend the below grills based on the rave reviews we've seen online, and their impressive set of specs.
6. Char-Broil Tru-Infrared 2-Burner Gas Grill
The best gas grill for under $300
Specifications
Burners: 2
Cooking area: 310 square inches
Dimensions: H47 x W59 x D29"
Reasons to buy
+
Not too expensive
+
Compact dimensions
+
Porcelain coated grates
+
Decent cooking area
Reasons to avoid
-
Ten year warranty doesn't cover all parts
The small and compact Char-Broil Tru-Infrared 2-Burner Gas Grill has two burners for family cooking. It's got everything we love about gas grills: electronic ignition, porcelain-coated burners, and easy assembly.
Easy to use and with fuss-free maintenance, the Char-Broil Tru-Infrared 2-Burner Gas Grill is designed to slot right into your life. It's great for storing in smaller yards, but still offers a decent 325-square-inches of primary cooking space. That's enough for 18 burgers.
It's also got LED lights and folding side shelves, as well as an in-built fuel gauge to make sure you're never left short.
The burner is guaranteed for 10 years, the grates and firebox for 3, but the rest of the parts are covered for only 1 year. That's below average.
You'll enjoy the porcelain-coated cast iron grates that pack maximum flavor into your burgers and hot dogs, and this feature will keep rust at bay, too.
7. Napoleon Prestige PRO 500 Propane Gas Grill
The best gas grill for premium use
Specifications
Burners: 6
Cook area: 900 square inches
Dimensions: 25.5 x 66.5 x 51.75 in
Reasons to buy
+
Reaches 1800 degrees in 30 seconds
+
Infrared zone burners offer an unmatched grilling experience
+
LED Spectrum knobs glow red when gas is left on
Reasons to avoid
-
Not 100 percent stainless steel construction
Napoleon describes the Prestige PRO 500 as a 'work of functional art' and it's hard to argue with them. This professional-style grill has a 900-square-inch cooking surface with infrared zone burners that produce 80,000 BTUs. Propane or natural gas makes its way through thousands of small holes in the ceramic plates of the burners producing temperatures that reach 1800 degrees Fahrenheit in 30 seconds.
A sear on a steak would be unmatched with this grill, especially on the infrared side burner. The versatility of the grill is exemplified in the infrared rear rotisserie burner. Skewer a chicken, quail, ribs, or al pastor and watch as the infrared evenly and quickly cooks the meat to perfection.
If you thought the cooking surface was impressive, you'll love the style of the Napoleon Prestige PRO 500. The grill's stainless steel material is sleek and shiny and the chrome details give it an upscale flair. However, take note that not all materials are made of stainless steel. Cast aluminum and porcelain steel are mixed in, too. The lower cart has a spot for the propane tank, as well as three shelves to store your grilling accessories. Turn the side shelf with an integrated cutting board into an iced drinks station or a place to marinate the food.
Our favorite element? The LED Spectrum knobs. They glow red when the gas is left on so that you can protect yourself, your home, and your family.
8. Saber Elite 3-Burner Gas Grill
The best gas infrared grill
Specifications
Burners: 3
Cooking area: 675 square inches
Dimensions : 56.5 x 25 x 48.4 in
Reasons to buy
+
Infrared burners help food retain more moisture
+
Uses 30 percent less propane than other gas grills
+
Rotisserie kit and side burner for additional cooking options
Reasons to avoid
-
Not the best for cooking at low temperatures
This three burner grill offers 500 square inches on the primary cooking surface, with a further 175 square inches on the second rack.
The SABER Elite 3-Burner Gas Grill uses propane or natural grass to cook via radiant heat, as opposed to the convection heat of most gas grills. And the result? This directs the airflow away from the surface of the grill, meaning food retains moisture. In addition to juicier meats and veggies, this means no flare-ups as it vaporizes dripping and debris, and reduced cooking times. Most importantly, it results in using 30 percent less propane than other gas grills.
It is easy to use, too. The push-button electronic ignition with start the burners, producing 24,000 BTUs on the main ones. It might sound low, but thanks to the SABER Elite being an infrared gas grill, the BTU ratings aren't as note worthy. To the left you will find a dual tube side burner – great for making sauces and cooking any side dishes. There is also a rotisserie motor kit and rod included, so chicken, lamb and beef roast fans will love this grill.
For added practicality, you can find a side table for prep and a cabinet basket below for storing condiments and breads. There is a pull-out tray – concealed behind doors – to store the propane tank, and halogen lights with above-knob LED lighting for night time grilling.
9. Weber Genesis II E-310 Gas Grill
The best gas grill for novice and intermediate grill masters
Specifications
Burners: 3
Cooking area: 660 square inches
Dimensions: 29 x 59 x 47 in
Reasons to buy
+
Warming rack tucks away for rotisserie
+
Center-mounted thermometer
+
Flavorizer bars helps circulate moisture and juices back into the food
The easy-to-use and dependable Weber Genesis II E-310 Gas Grill is a favourite among novice and intermediate grillmasters. There are three stainless steel burners leading to a modest but efficient 39,000 BTUs. The warming rack is Tuck-Away, meaning it can be used to extend the 513 square inches of cooking area up to 660 square inches when in use.
Flavorizer bars catch grease and food to protect the burner tubes, and also prevent flare ups. Is grease does hit the bars, it vaporizes before being absorbed by the food leading to added moisture and great taste. There is a center-mounted thermometer on this grill, but if you want a more high-tech experience Weber offer an iGrill 3 thermometer that can be paired with the Weber Genesis II E-310 to monitor the temperature of up to four cuts of meat at once. Once cooked through, this sends a notification to your phone – a must for a more hands off cooking experience as you entertain.
While it is a good looking gas grill with a black and stainless steel frame, the propane tank is only partially hidden by the side doors. While this may detract from the aesthetics for some, the practical addition of two side shelves for prep and two storage shelves below make this a convenient grill to use.
10. Alfresco ALXE-42-NG 42" Built-In Standard Grill
The best built-in gas grill
Specifications
Burners: 3
Cooking area: 770 square inches
Dimensions: 27 x 44 x 14 in
Reasons to buy
+
Large cook surface for a built-in grill
+
Rotisserie designed to make little noise
+
Wood chunks drawer and burner to add wood-flavor effect to meals
Reasons to avoid
-
Matching drawers, side burners, and storage are sold separately
-
Push-button ignition requires electric hook-up
Have you built a beautiful outdoor kitchen and need to add the perfect built-in grill? Look no further than the Alfresco ALXE-42-NG 42" Standard Grill. Pair it with one of the best pizza ovens for a complete outdoor kitchen.
You'll be able to utilize 770 square-inches of grilling space which is pretty extensive considering it doesn't come with side burners. You can turn the grill on with a push-button ignition when the grill is hooked up to an electric power source. To eliminate hot and cold spots so that your food cooks evenly, Alfresco outfitted the grill with refractive ceramic briquettes and stainless steel cooking grates.
This grill has a three-position warming rack that can be stored away during rotisserie cooking. The rotisserie system is heated by an infrared burner, but that's not what makes it special. It has a chain-driven design meaning it will make little noise as it rotates. Just push the rotisserie button on the front control panel and let it go.
The grill's Signature Taste integrated smoking system will definitely be of interest to the culinary master. Fill the dedicated drawer with wood chunks and once it's lit, it'll create an infusion of smoked wood flavor to your meals.
Take note that the grill doesn't come with drawers or a bottom pantry, but Alfresco offers matching additions if you so desire.
How did we choose the best gas grills?