Best gas grills 2022: for easy outdoor cooking
Choose one of the best gas grills of 2022 with our top picks from Weber, Saber, Char-Broil, Napoleon, and Alfresco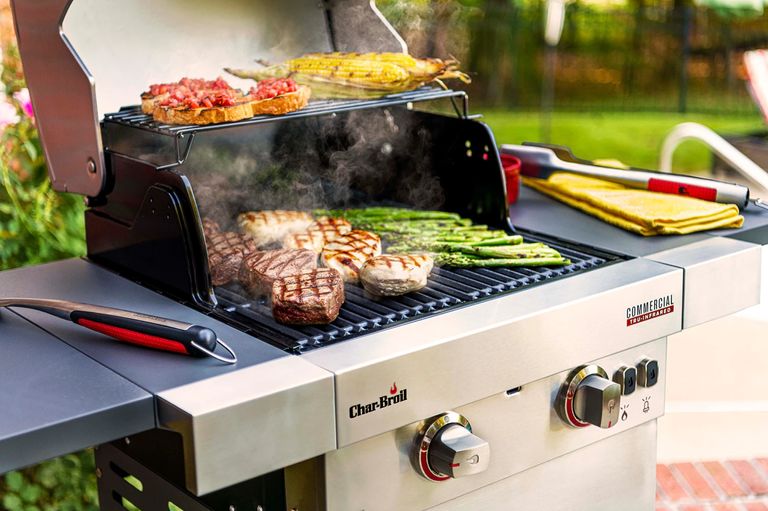 (Image credit: Char-Broil)
The best gas grill will keep your family fed all through the summer, with simple ignition and as many as six burners to entertain a crowd. Gas grills are perfect for achieving a glame-grilled sear on your steaks or vegetables, packing your meals with extra flavor that can only be achieved on a grill.
Unlike some of the best grills with pellet or charcoal fuels, a gas grill can switch on with just the press of a button. You can also adjust the intensity of the flames easily by turning the dial to increase the amount of gas that's released into the burner. It really doesn't get easier.
Below you'll find some of the best gas grills from Weber, Char-Broil, Saber, and Napoleon. Some are freestanding with frames to hold tools and gas canisters while you cook, and others can be installed into your outdoor kitchen for year-round grilling.
The 7 best gas grills
1. Weber Genesis II E-335
The best gas grill
Specifications
Burners: 3
Dimensions: H47 x W59 x D29"
Best for: Most people
Reasons to buy
+
Smartphone compatible
+
Meat probe included
+
Sear zone for steaks
+
Good side burner
Reasons to avoid
-
Took us a while to assemble
We tried the Weber Genesis II E-335 for ourselves and enjoyed its smart technology and the precision it can bring to grilling. Many of the best gas grills are very powerful, which can make it hard to judge when your food is cooked.
What we love
Ignition is very easy. Just press down and twist to ignite the propane gas burners, and your grill will be ready in under 15 minutes. The Weber Genesis II E-335 really impressed us with its Flavorizer bars, which are angled stainless steel. They leave sear lines on steak and eggplant with perfectly grilled results.
The Weber Genesis II E-335 can be paired with a smartphone, and you can use the probe to tell exactly when your food is cooked. We used this when cooking steak and once we programmed the app with our meat type and desired cooking result, it alerted us when the internal temperature reached that perfect medium cooking level.
Features
We did find assembly quite time-consuming, but with three burners and a massive 513 square inches of cooking space in total, it is worth the effort. We particularly liked the side burner, which was very powerful and sturdy. Some side burners allow the wind to blow the flame around while you're trying to cook, but the Genesis II E-335 left our pans and pots feeling very secure.
Homes & Gardens rated 5 out of 5 stars
2. Napoleon Prestige PRO 500 Propane Gas Grill
The best gas grill for premium use
Specifications
Burners: 6
Cook surface: 900 sq-in
Dimensions: 25.5 x 66.5 x 51.75 in
Best for: Grilling and rotisserie meats and vegetables
Reasons to buy
+
Reaches 1800 degrees in 30 seconds
+
Infrared zone burners offer an unmatched grilling experience
+
LED Spectrum knobs glow red when gas is left on
Reasons to avoid
-
Not 100 percent stainless steel construction
Napoleon describes the Prestige PRO 500 as a 'work of functional art' and it's hard to argue with them. This professional-style grill has a 900-square-inch cooking surface with infrared zone burners that produce 80,000 BTUs. Propane or natural gas makes its way through thousands of small holes in the ceramic plates of the burners producing temperatures that reach 1800 degrees Fahrenheit in 30 seconds.
Why we love it
A sear on a steak would be unmatched with this grill, especially on the infrared side burner. The versatility of the grill is exemplified in the infrared rear rotisserie burner. Skewer a chicken, quail, ribs, or al pastor and watch as the infrared evenly and quickly cooks the meat to perfection. Measure the grill's temperature with the built-in thermometer for a more detailed grilling experience.
Features
If you thought the cooking surface was impressive, you'll love the style of the Napoleon Prestige PRO 500. The grill's stainless steel material is sleek and shiny and the chrome details give it an upscale flair. However, take note that not all materials are made of stainless steel. Cast aluminum and porcelain steel are mixed in, too. The lower cart has a spot for the propane tank, as well as three shelves to store your grilling accessories. Turn the side shelf with an integrated cutting board into an iced drinks station or a place to marinate the food.
Our favorite element? The LED Spectrum knobs. They glow red when the gas is left on so that you can protect yourself, your home, and your family.
3. Char-Broil Tru-Infrared 2-Burner Gas Grill
The best gas grill with two burners
Specifications
Burners: 2
Dimensions: H47 x W59 x D29"
Best for: Most people
Reasons to buy
+
Not too expensive
+
Compact dimensions
+
Porcelain coated grates
+
Decent cooking area
Reasons to avoid
-
Ten year warranty doesn't cover all parts
The small and compact Char-Broil Tru-Infrared 2-Burner Gas Grill has two burners for family cooking. It's got everything we love about gas grills: electronic ignition, porcelain-coated burners, and easy assembly.
What we love
Easy to use and with fuss-free maintenance, the Char-Broil Tru-Infrared 2-Burner Gas Grill is designed to slot right into your life. It's great for storing in smaller yards, but still offers a decent 325-square-inches of primary cooking space. That's enough for 18 burgers.
It's also got LED lights and folding side shelves, as well as an in-built fuel gauge to make sure you're never left short.
Features
The burner is guaranteed for 10 years, the grates and firebox for 3, but the rest of the parts are covered for only 1 year. That's below average.
You'll enjoy the porcelain-coated cast iron grates that pack maximum flavor into your burgers and hot dogs, and this feature will keep rust at bay, too.
Homes & Gardens rated 5 out of 5 stars
4. Saber Elite 3-Burner Gas Grill
The best gas infrared grill
Specifications
Burners: 3
Cook surface: 675 sq-in
Dimensions : 56.5 x 25 x 48.4 in
Best for : Grilling and rotisserie meats and vegetables
Reasons to buy
+
Infrared burners help food retain more moisture
+
Uses 30 percent less propane than other gas grills
+
Rotisserie kit and side burner for additional cooking options
Reasons to avoid
-
Not the best for cooking at low temperatures
This three burner grill offers 500 square inches on the primary cooking surface, with a further 175 square inches on the second rack.
Why we love it
The SABER Elite 3-Burner Gas Grill uses propane or natural grass to cook via radiant heat, as opposed to the convection heat of most gas grills. And the result? This directs the airflow away from the surface of the grill, meaning food retains moisture. In addition to juicier meats and veggies, this means no flare-ups as it vaporizes dripping and debris, and reduced cooking times. Most importantly, it results in using 30 percent less propane than other gas grills.
It is easy to use, too. The push-button electronic ignition with start the burners, producing 24,000 BTUs on the main ones. It might sound low, but thanks to the SABER Elite being an infrared gas grill, the BTU ratings aren't as note worthy. To the left you will find a dual tube side burner – great for making sauces and cooking any side dishes. There is also a rotisserie motor kit and rod included, so chicken, lamb and beef roast fans will love this grill.
Features
For added practicality, you can find a side table for prep and a cabinet basket below for storing condiments and breads. There is a pull-out tray – concealed behind doors – to store the propane tank, and halogen lights with above-knob LED lighting for night time grilling.
5. Weber Genesis II E-310 Gas Grill
The best gas grill for novice and intermediate grill masters
Specifications
Burners: 3
Cook surface: 660 sq-in
Dimensions: 29 x 59 x 47 in
Best for: Grilling meats and vegetables
Reasons to buy
+
Warming rack tucks away for rotisserie
+
Center-mounted thermometer
+
Flavorizer bars helps circulate moisture and juices back into the food
The easy-to-use and dependable Weber Genesis II E-310 Gas Grill is a favourite among novice and intermediate grillmasters. There are three stainless steel burners leading to a modest but efficient 39,000 BTUs. The warming rack is Tuck-Away, meaning it can be used to extend the 513 square inches of cooking area up to 660 square inches when in use.
Why we love it
Flavorizer bars catch grease and food to protect the burner tubes, and also prevent flare ups. Is grease does hit the bars, it vaporizes before being absorbed by the food leading to added moisture and great taste. There is a center-mounted thermometer on this grill, but if you want a more high-tech experience Weber offer an iGrill 3 thermometer that can be paired with the Weber Genesis II E-310 to monitor the temperature of up to four cuts of meat at once. Once cooked through, this sends a notification to your phone – a must for a more hands off cooking experience as you entertain.
Features
While it is a good looking gas grill with a black and stainless steel frame, the propane tank is only partially hidden by the side doors. While this may detract from the aesthetics for some, the practical addition of two side shelves for prep and two storage shelves below make this a convenient grill to use.
6. Fire Magic Echelon Diamond E790s 36-inch Natural Gas Grill
The most luxurious gas grill
Specifications
Burners: 5
Cook surface: 1,080 sq-in
Dimensions: 79.25 x 30.5 x 52.5 in
Best for : Grilling, rotisserie, and smoking meats and vegetables
Reasons to buy
+
Massive cooking surface
+
High BTU output
+
Charcoal/smoker basket can be used for a smoky flavor
Reasons to avoid
-
Need a nearby outlet to use the hot surface ignition system
The Fire Magic Echelon Diamond E790 Gas Grill is a state-of-the-art investment that will last a lifetime. This is the Rolls-Royce of grills and that's not just because it will make for a luxurious and stylish addition to your backyard with its stainless steel material, rounded oven hood, and back-lit knobs.
Why we love it
The primary cook surface is 792 square-inches but with the warming rack, the cook surface totals 1,080 square inches. Add the double side burner – to cook side dishes or sauces – and you'll have no problem making a large meal for a big group. Whereas the primary burners produce 90,000 BTUs, the double side burner produces 15,000 BTUs, and the backburner, 13,000. You won't want for heat with this grill and can utilize the recessed quantum backburner for rotisserie cooking.
Features
The Fire Magic Echelon Diamond E790 Gas Grill is outfitted with heat zone separators and flavor grids to help you better cook different foods at different temperatures at the same time. To add a wood or smoky flavor to your food, take advantage of the included charcoal/smoker basket. Place charcoal or soaked wood chips in the basket, and set it on the burner. The flame will ignite the fuel and produce a smoky flavor effect. The basket catches the ash making for a quick clean-up.
And just to make cooking on this grill even easier, Fire Magic has outfitted it with a hot surface ignition system, however, it must be plugged into a 110V outlet to work. Once you've done that, push the control knob to activate the hot surface, then turn up the gas, and the grill lights immediately.
7. Alfresco ALXE-42-NG 42" Built-In Standard Grill
The best built-in gas grill
Specifications
Burners: 3
Cook surface: 770 sq-in
Dimensions: 27 x 44 x 14 in
Best for : Grilling, rotisserie, and smoking meats and vegetables
Reasons to buy
+
Large cook surface for a built-in grill
+
Rotisserie designed to make little noise
+
Wood chunks drawer and burner to add wood-flavor effect to meals
Reasons to avoid
-
Matching drawers, side burners, and storage are sold separately
-
Push-button ignition requires electric hook-up
Have you built a beautiful outdoor kitchen and need to add the perfect built-in grill? Look no further than the Alfresco ALXE-42-NG 42" Standard Grill. Pair it with one of the best pizza ovens for a complete outdoor kitchen.
Why we love it
You'll be able to utilize 770 square-inches of grilling space which is pretty extensive considering it doesn't come with side burners. You can turn the grill on with a push-button ignition when the grill is hooked up to an electric power source. To eliminate hot and cold spots so that your food cooks evenly, Alfresco outfitted the grill with refractive ceramic briquettes and stainless steel cooking grates.
Features
This grill has a three-position warming rack that can be stored away during rotisserie cooking. The rotisserie system is heated by an infrared burner, but that's not what makes it special. It has a chain-driven design meaning it will make little noise as it rotates. Just push the rotisserie button on the front control panel and let it go.
The grill's Signature Taste integrated smoking system will definitely be of interest to the culinary master. Fill the dedicated drawer with wood chunks and once it's lit, it'll create an infusion of smoked wood flavor to your meals.
Take note that the grill doesn't come with drawers or a bottom pantry, but Alfresco offers matching additions if you so desire.
How do the best gas grills work?
How many burners do I need?
The number of burners on a gas grill determines the amount of food you can grill at a time. A six-burner gas grill is the better choice if you plan on having a lot of large gatherings. However, for the most part, a three or four-burner stove will accommodate your grilling needs on a regular basis.
Are infrared burners a good thing?
Most gas grills use convection heating to cook food, which basically exposes food directly to fire. The problem with this type of energy is that it can dry out meats. Infrared burners, on the other hand, are designed to help meats retain their moisture, resulting in a juicier dish. This is because they use radiation heat versus convection heat. Essentially, the fire heats ceramic or metal plates which then transfers heat evenly to the food.
What does BTU mean?
BTU stands for British Thermal Units. It's simply a way to measure the energy (or the heat) output of a grill. In theory, the higher the BTU rating, the better -- right? Unfortunately, it's not that simple. The BTU rating should be relative to the surface size of the grill. This means, that a quality grill should have at least 75 to 100 BTUs per square inch of the grill surface. This doesn't quite apply to infrared burners in the same way, which makes this all the more confusing. Just remember that BTUs aren't the end all, be all for gas grilling. There are many other factors to consider.
Do I need a side burner?
Some grills come with side burners, and while you don't necessarily need it to grill a meal, they can come in handy for cooking side dishes and sauces in pans or searing a steak if the side burner has a grate covering.
Alex Temblador is a Mixed Latinx award-winning author and freelance writer based in Dallas, Texas. Her work in the home space has appeared in outlets like Real Homes, Dwell, Architectural Digest, Culture Trip, and Neighborhoods.com, among many others. She writes on a wide variety of topics for H&G, and has tested everything from vacuum cleaners to fitness equipment in the name of product research.