Weber SmokeFire EPX6 Wood Fired Pellet Grill STEALTH Edition review
The Weber SmokeFire EPX6 Wood Fired Pellet Grill is an immensely powerful smoker grill, but is it too smart for its own good?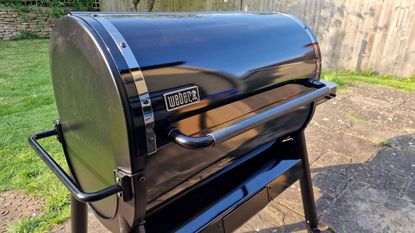 (Image credit: Future / Millie Fender)
The Weber SmokeFire EPX6 Pellet Grill STEALTH Edition is one of Weber's smartest grills, with some of the best tech we've seen in a grill so far. Despite some initial hiccups during testing, it has proven itself to be a reliable choice for those who want a large and high-quality smoker BBQ.
Reasons to buy
+

Assembly is well thought-out

+

Excellent customer service

+

Low-maintenance

+

App compatibility is easy and hands-free

+

Self-fueling

+

Large cooking area
Reasons to avoid
-

We had some issues with the probe

-

Self-updating interrupted our cooking
You can trust Homes & Gardens. Our expert reviewers spend hours testing and comparing the latest products, helping you choose the best for you. Find out more about how we test.
The Weber SmokeFire EPX6 Pellet Grill STEALTH Edition might just be the smartest grill on the market. It has a self-feeding auger tube system that keeps the grill fueled without any assistance needed, and its compatibility with the Weber Connect app allows you to browse recipes, set temperatures and track the progress of your food completely hands-free. Smart features don't necessarily make this barbecue one of the best grills on the market though, which is why we put it to the test for a number of weeks to see how well it cooks, and how easy it is to use.
I love to cook alfresco, especially in the summer, so the Weber SmokeFire EPX6 Pellet Grill STEALTH Edition was very well tested ahead of this review. I will confess that I typically stick to gas grills when I cook at home, and I am less accustomed to this type of smoke cooking.
Despite a few issues in my first attempt with this grill, I can now safely say that I am a convert to this style of grilling. Smoke grilling offers a myriad of cooking options that aren't available to those who stick to the best gas grills, and with the recipes included in the Weber Connect app I was able to really explore how versatile the Weber SmokeFire can be.
Weber SmokeFire EPX6 Pellet Grill STEALTH Edition
Model: Weber SmokeFire EPX6 Pellet Grill STEALTH Edition
Size: 47"H x 55.5"W x 33"D
Fuel type: Wood Fired Pellet
Features: 4 probe inserts, 2 tool hooks
Cooking size: 1,008 square inches (648 bottom, 360 top)
Temperature range: 200-600°F
Assembly
The Weber SmokeFire EPX6 Pellet Grill STEALTH Edition arrived in a very large box, and despite the fact that I am usually someone who attempts to assemble things without looking at the instructions, I was pleased that I made an exception for this grill. The packaging is very well-made to make sure your grill is safe when it's being assembled, with a side panel that drops down to allow you to tip your grill onto its side while you attach the legs without potentially scratching the paint.
Assembly took under two hours, which I thought was quite impressive for such an imposing grill. That said, I did have the help of my partner and mother, and I think it would take longer with two people. If you live alone I would definitely recommend inviting a friend over to help with the assembly.
The steps of the instructions are perfectly laid out to make sure you always know what you're doing, and I was pleased that the main body of the grill arrives assembled, meaning it's well made to last as long as possible.
Once the grill was assembled we had to move it into our back yard, which was surprisingly easy despite the heft of the Weber SmokeFire EPX6 Pellet Grill STEALTH Edition. It has four wheels, with two locking casters to keep it in place when you're cooking.
Getting started
This grill needs to be connected to electricity to work, which does limit the areas where you'll be able to use it. I had to place an extension cord out of the kitchen window and connect it on the patio, but if I had used the far side of the yard I would have struggled to hook the grill up to the power.
The Weber SmokeFire EPX6 Pellet Grill STEALTH Edition uses natural hardwood pellets, and there is a deep trough at the back of the grill which uses gravity to feed a burn pot through an auger tube system, which works intelligently to hit a target temperature that can be set at the side of the grill on the main control panel, or on the app.
Once these pellets are in the burn pot, the grill ignites the pellets to hit a target temperature and maintain this throughout the cooking process. There is a fan that provides oxygen to the burn pot, which means you won't need to open the grill while it heats up.
To start cooking, I used the control panel to set up a target temperature. I was then able to pair the grill with my smartphone on the Weber Connect app, and this allows you to set the target temperature. You can also pair this app with a probe to monitor your food as it's cooking, which is ideal for slow roasting or even for hitting the perfect medium-rare on your steak.
The app also comes with a selection of recipes, and you can even manually enter the type of food and the weight to hit custom settings depending on your specific meal.
It is really easy to change the target temperature or keep an eye on your grill from a different part of the house. I found that I was able to monitor my food from afar with no connection issues, even though I was in the depths of the countryside with poor internet quality.
Slow smoking in the Weber SmokeFire
For this review, I used a selection of meats from Farmison, a sustainable British butcher that offers a large range of barbecue-ready foods for delivery. Farmison did send me all of the meat I used in my review free of charge, but I have since ordered from there after how much I enjoyed the food I made in this review.
For my first use of the Weber SmokeFire I decided to use a slow-roast joint of meat. I used a lamb shoulder that had been marinated in shawarma spices. It came with temperature guidance, allowing me to program the probe with a target temperature for the perfect pull-apart meat.
This joint of meat took up a limited part of the grilling area, and I realised that it felt a bit of a waste to heat this whole area to cook in just one corner of the grill. I intended to leave it to cook for five hours, and Weber advises to leave the grill with the lid down to make sure the heat stays consistent.
At first this went well, but after about three hours I got a notification which told me that the grill had decided to shut itself off in order to run a system update. At the time of testing this was immediately after the grill launched, and it's likely that a few elements of the app or software needed maintenance to perfect it, but it was annoying that the grill had to shut itself off when I had guests due in two hours, and I got no choice in whether to delay this update.
After the grill had shut down I switched it back on and re-programed it to hit my perfect temperature, but after an hour I noticed that the internal temperature as detected on the probe had barely changed.
I decided to use my own probe to verify the reading that the Weber SmokeFire was giving me, and disappointingly my own temperature told me that my lamb had hit (and surpassed) my target temperature, while the Weber probe had clearly stopped working. I spoke to Weber customer service (who had no idea that I was writing this review) and they sent me a replacement probe to arrive the next working day.
Despite the fact that I'd overshot my intended temperature, the lamb was still delicious, and the smokey flavor of the wood pellets really came through. I also cooked some ribs alongside this, which absolutely stole the show with their smokey barbecue flavor and crispy exterior.
Cooking steak and kebabs
Once my replacement probe arrived, I gave the Weber SmokeFire EPX6 Pellet Grill STEALTH Edition another go. I'm pleased to report that the SmokeFire has not updated its software in the numerous times I've used it since my first attempt, and that this replacement probe works perfectly.
I used the Weber SmokeFire EPX6 Pellet Grill STEALTH Edition to cook some marinated chicken kebabs and some sirloin steaks to see how well it cooks at high temperatures. The disadvantage of this cooking style is that you are meant to cook in the SmokeFire with its lid closed, but you need to regularly open the grill to check on your food when cooking over shorter periods of time.
Despite this, I was excited to see that the Weber SmokeFire EPX6 Pellet Grill STEALTH Edition does reach high temperatures very well, and it didn't take long to hit my target from scratch.
The large cooking area came in really useful for this test, and I also found that the top shelf was an excellent area to keep my chicken warm while I finished grilling my steak.
The side shelf also came in very useful to store plates ready for serving, or resting my steak before bringing it to the table.
Cleaning the Weber SmokeFire
The Weber SmokeFire EPX6 Pellet Grill STEALTH Edition advises that you don't clean the grates for the first few uses, to allow them to season. Before uses though, you should empty the ash and grease drawer and scrape the cookbox down to remove ash and debris. Just be sure to let the grill cool down fully before you do this!
Should you buy the Weber SmokeFire EPX6 Pellet Grill STEALTH Edition?
Yes, the Weber SmokeFire EPX6 Pellet Grill STEALTH Edition is absolutely worth the money. Although I'd struggle to give it the perfect five stars due to the issues I had with the first probe and software on my initial use, my continued use of this grill has come off without a hitch, and I'm a real convert to smoke grilling.
Everything from the assembly to the automatic fueling in the Weber SmokeFire is designed to make your role in the cooking as hands-free as you'd like, but it's also possible to do some serious high-heat grilling for those who love to get a proper char on their grilled steak.
I also really enjoyed the app compatibility of this grill. I was able to control the temperature from my couch, and check to see if my food was finished without having to put my shoes back on. As much as I love getting stuck into cooking, it's refreshing that this grill makes your life as easy as you'd like for those who are grilling while entertaining company or preparing a side salad in the kitchen.
About this review, and the reviewer
Millie Fender is our Editor for all things small appliances at Future. She spends a lot of time testing everything from toasters to air fryers in her London flat, and recommending the very best ones to readers.
All our reviews are tested from home, and the Weber SmokeFire review is no exception. Millie put it to the test for a number of weeks to make kebabs and steaks, as well as slow-roasted lamb and ribs, before writing this review.
Find our more about how Homes & Gardens tests its products when preparing reviews.
Sign up to the Homes & Gardens newsletter
Decor Ideas. Project Inspiration. Expert Advice. Delivered to your inbox.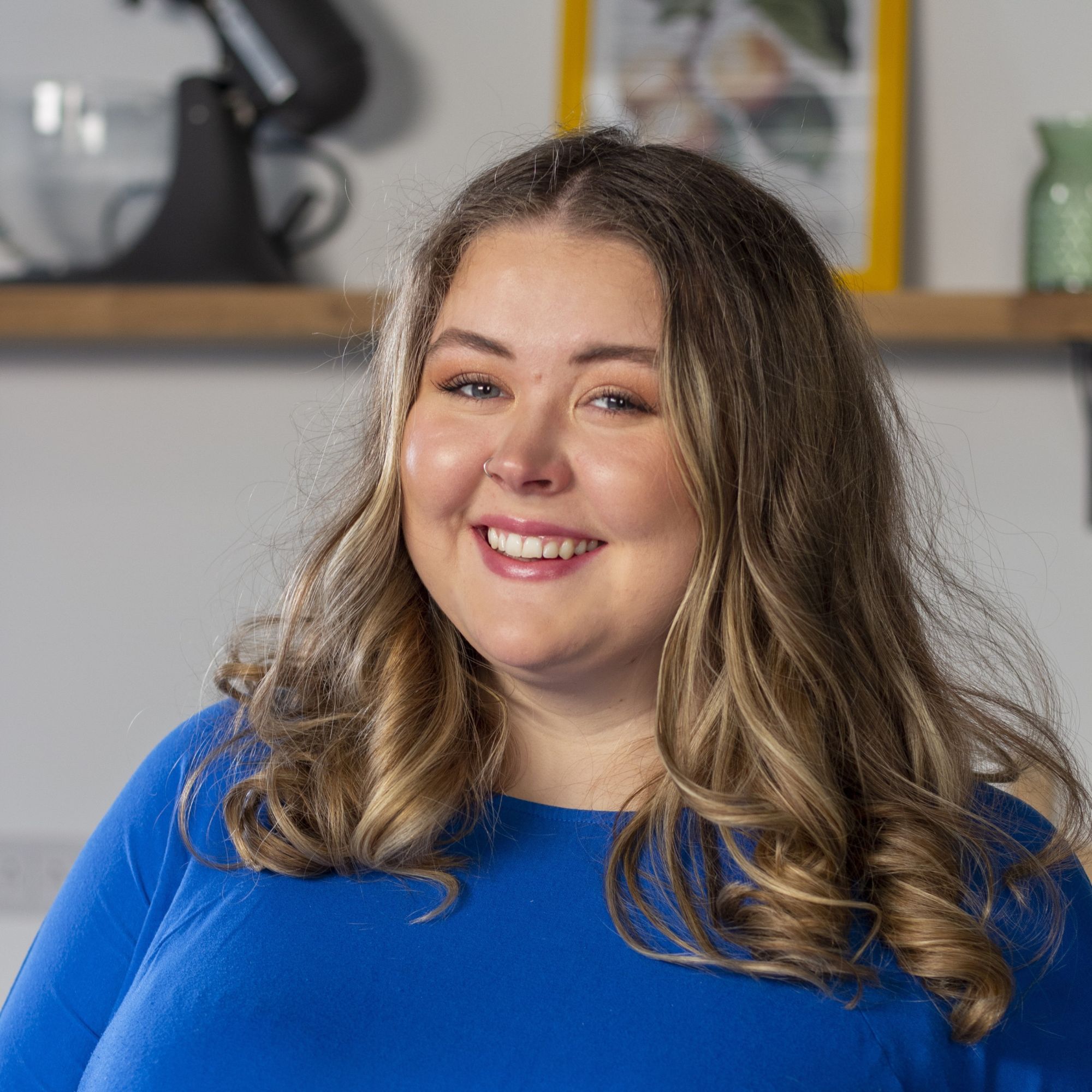 Millie Fender is Head of Reviews on the Homes and Gardens Ecommerce team. She specializes in cooking appliances, such as the best kettles, and also reviews outdoor grills and pizza ovens. Millie loves to bake, so she will take any excuse to review stand mixers and other baking essentials. When she's not putting products through their paces in our dedicated testing kitchen, Millie's reviews are conducted at home, meaning she uses these products in her own day-to-day life.