Weber Genesis SPX-435 Smart Gas Grill review: a gas grill to rule them all
Sear, sauté, and cook lots of food on Weber's most advanced smart gas grill, the Weber Genesis SPX-435 Smart Gas Grill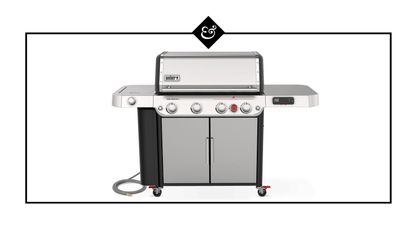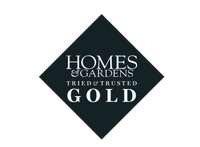 (Image credit: Future)
Weber's most premium grill, the Genesis SPX-435 Smart Gas Grill, will wow you on all fronts. This spacious grill gives you the elbow room to prepare meals for large groups of people and has a sear burner that locks in incredible flavors and creates that charred texture we all love. With Weber Connect technology, you can set your target temperature and timers on your phone or the digital display so you can better manage the grilling process. If you're looking for a large gas grill with techy features, look no further than this one.
Reasons to buy
+

Propane tank scale

+

Prep tables and grill locker

+

Sear burner and side burner

+

Expandable top cooking grate

+

Nearly 1,000 square inches of cooking space

+

Night vision grill lighting and knob lighting

+

Weber CONNECT Smart grilling technology
Reasons to avoid
-

Expensive

-

Extensive assembly process

-

Need an outlet to power digital display

-

Can't adjust the temperature with Connect Technology
I've been familiar with the Weber Genesis series for quite some time, so when I saw that this line of grills was getting an update, I knew I had to try one. The Weber Genesis SPX-435 Smart Gas Grill is the most expensive gas grill that the company has, and for good reason, too.
Not only is it a smart grill, but it offers so much space to cook, prep, and store. A lighting integration means you can grill at night, and a sear burner unlocks incredible flavors and textures to your favorite foods. The heat output is intense, delivering quick and tasty meals.
Below I share my experience using this ultra-large grill with Weber's best technology. It's my hope that you see how the Weber Genesis SPX-435 Smart Gas Grill is at the top of the food chain when it comes to gas grills. Moreover, it's definitely one of the best grills that money can buy right now.
Weber Genesis SPX-435 specifications:
Fuel type: Propane tank
Weight: 220 lbs.
Size: 27 in. (D) x 68.5 (W) x 48.5 in (H)
Cooking area: 994 sq. in. (646 sq. in. primary + 348 sq. in. top grate)
Burners: 4 (three burners, one sear burner) + 1 side burner
BTU Output: 48,000 BTU main burners; 12,000 BTU sear zone burner; 12,000 BTU side burner
Tool Hooks: 6
Alex has reviewed a huge range of grills (and pizza ovens) for us in her green Sears & Roebuck house that sits on half an acre of land. As an avid outdoor cook, Alex has tested everything from charcoal grills to do-it-all models like this one from Weber.
Usually, Alex likes to test these grills for 6 - 8 weeks in total, cooking on them a handful of times in order to reach a verdict.
Who will the Weber Genesis SPX-435 suit?
Busy folks: Don't have a lot of time? No worries. This gas grill heats up incredibly fast, which means you can have a delicious meal on the table in no time.
Large families: The cooking surface is nearly 1,000 square inches (which doesn't even include the side burner), making it the right choice for those with large families or grillers who love to entertain.
Tech-savvy grillers: With Wi-Fi and Bluetooth capability, the grill connects to the Weber app and lets you set a timer, temperature alert, and monitor the meat probe.
Setting up the Weber Genesis SPX-435
The Weber GENESIS SPX-435 Smart Gas Grill arrived in a large heavy box. I was so thankful I was home when the delivery drivers arrived as I was able to get them to place it in my garage.
Let me start by saying that this is not the easiest grill to assemble. There are a lot of parts and pieces and unless you're very organized and good at putting intricate parts together, you may want some assistance whether it be a friend or TaskRabbit. Luckily, my cousin was staying with me when the grill arrived, and he led the way in assembling the grill.
It took us about three hours to put the grill together, and overall, we didn't run into any major issues.
After assembling the grill, I downloaded the Weber Connect app, plugged in the grill, and proceeded to connect the two. Unfortunately, I couldn't get the grill to connect to the app via Wi-Fi, only by Bluetooth. I'm not sure why this happened. I've tested other smart grills in the same grilling location, and they were able to connect via Wi-Fi. Perhaps, the app or the grill does not have the distance capability to connect.
Regardless, the app worked wonderfully when connected by Bluetooth to the grill. I was able to set timers and temperature notifications on the app and monitor the meat probe when in use.
What is the Weber Genesis SPX-435 like to use?
The first thing you should know about the Weber GENESIS SPX-435 Smart Gas Grill is how massive it is. It has an almost 1,000-square-inch cooking surface, plus two large side tables and a lower storage area that houses the propane tank, grease funnel, and grilling tools. I usually store the grill in my garage (to protect the stainless steel from the elements) and have to roll it outside when I'm ready to use it. At 220 lbs. (plus the added weight of the propane tank), I have to go slowly when moving it in and out of the garage.
The side tables are very spacious, allowing me to prep food on either side, especially when I'm not using the side burner. There is a storage locker on the bottom left side of the grill. Under the main part of the grill is where the propane tank and grease funnel and pan is stored.
To install the propane tank, I set it on a scale that measures the amount of propane within the tank. Once installed, the fuel level is indicated by a red indicator line on the scale. This is a nice feature as it ensures that I never run out of propane while grilling. The first time I cooked on the Weber GENESIS SPX-435 Smart Gas Grill, I had to season it for 20 minutes, which meant turning all the burners on high and closing the lid.
Each time I used the grill, I went through the same startup process. First, I plugged the grill into an outlet and flipped the main power switch under the right side table to turn on the LED display and connect to the Weber CONNECT app. I should note here that if you don't have an outlet nearby, you can use a power bank to power the LED display dashboard.
As I mentioned in a previous section, the LED display dashboard connected to my app via Bluetooth. A blue wireless symbol displays when the app and the grill are connected. The same symbol would be green if it connected via Wi-Fi. There is a small propane symbol that indicates fuel level. When the symbol is green, the tank is full, and when it's yellow, the tank is at mid-level. A low fuel level displays as a red propane symbol.
Once I connected and opened the propane tank, I lifted the grill lid. I turned the first burner knob to the left so that it was set on high and pressed the ignite button. The burner lit immediately. I did the same for the remaining burners, going down the line from left to right one-by-one. I never had any issue with igniting the burners.