Weber Genesis SPX-435 Smart Gas Grill review: a gas grill to rule them all
Sear, sauté, and cook lots of food on Weber's most advanced smart gas grill, the Weber Genesis SPX-435 Smart Gas Grill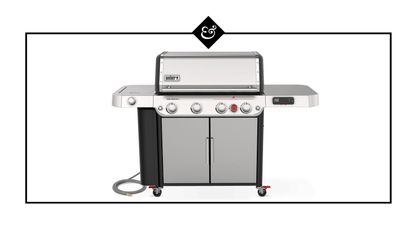 (Image credit: Future)
Weber's most premium grill, the Genesis SPX-435 Smart Gas Grill, will wow you on all fronts. This spacious grill gives you the elbow room to prepare meals for large groups of people and has a sear burner that locks in incredible flavors and creates that charred texture we all love. With Weber Connect technology, you can set your target temperature and timers on your phone or the digital display so you can better manage the grilling process. If you're looking for a large gas grill with techy features, look no further than this one.
Reasons to buy
+

Propane tank scale

+

Prep tables and grill locker

+

Sear burner and side burner

+

Expandable top cooking grate

+

Nearly 1,000 square inches of cooking space

+

Night vision grill lighting and knob lighting

+

Weber CONNECT Smart grilling technology
Reasons to avoid
-

Expensive

-

Extensive assembly process

-

Need an outlet to power digital display

-

Can't adjust the temperature with Connect Technology
You can trust Homes & Gardens. Our expert reviewers spend hours testing and comparing the latest products, helping you choose the best for you. Find out more about how we test.
I've been familiar with the Weber Genesis series for quite some time, so when I saw that this line of grills was getting an update, I knew I had to try one. The Weber Genesis SPX-435 Smart Gas Grill is the most expensive gas grill that the company has, and for good reason, too.
Not only is it a smart grill, but it offers so much space to cook, prep, and store. A lighting integration means you can grill at night, and a sear burner unlocks incredible flavors and textures to your favorite foods. The heat output is intense, delivering quick and tasty meals.
Below I share my experience using this ultra-large grill with Weber's best technology. It's my hope that you see how the Weber Genesis SPX-435 Smart Gas Grill is at the top of the food chain when it comes to gas grills. Moreover, it's definitely one of the best grills that money can buy right now.
Weber Genesis SPX-435 specifications:
Fuel type: Propane tank
Weight: 220 lbs.
Size: 27 in. (D) x 68.5 (W) x 48.5 in (H)
Cooking area: 994 sq. in. (646 sq. in. primary + 348 sq. in. top grate)
Burners: 4 (three burners, one sear burner) + 1 side burner
BTU Output: 48,000 BTU main burners; 12,000 BTU sear zone burner; 12,000 BTU side burner
Tool Hooks: 6
Alex has reviewed a huge range of grills (and pizza ovens) for us in her green Sears & Roebuck house that sits on half an acre of land. As an avid outdoor cook, Alex has tested everything from charcoal grills to do-it-all models like this one from Weber.
Usually, Alex likes to test these grills for 6 - 8 weeks in total, cooking on them a handful of times in order to reach a verdict.
Who will the Weber Genesis SPX-435 suit?
Busy folks: Don't have a lot of time? No worries. This gas grill heats up incredibly fast, which means you can have a delicious meal on the table in no time.
Large families: The cooking surface is nearly 1,000 square inches (which doesn't even include the side burner), making it the right choice for those with large families or grillers who love to entertain.
Tech-savvy grillers: With Wi-Fi and Bluetooth capability, the grill connects to the Weber app and lets you set a timer, temperature alert, and monitor the meat probe.
Setting up the Weber Genesis SPX-435
The Weber GENESIS SPX-435 Smart Gas Grill arrived in a large heavy box. I was so thankful I was home when the delivery drivers arrived as I was able to get them to place it in my garage.
Let me start by saying that this is not the easiest grill to assemble. There are a lot of parts and pieces and unless you're very organized and good at putting intricate parts together, you may want some assistance whether it be a friend or TaskRabbit. Luckily, my cousin was staying with me when the grill arrived, and he led the way in assembling the grill.
It took us about three hours to put the grill together, and overall, we didn't run into any major issues.
After assembling the grill, I downloaded the Weber Connect app, plugged in the grill, and proceeded to connect the two. Unfortunately, I couldn't get the grill to connect to the app via Wi-Fi, only by Bluetooth. I'm not sure why this happened. I've tested other smart grills in the same grilling location, and they were able to connect via Wi-Fi. Perhaps, the app or the grill does not have the distance capability to connect.
Regardless, the app worked wonderfully when connected by Bluetooth to the grill. I was able to set timers and temperature notifications on the app and monitor the meat probe when in use.
What is the Weber Genesis SPX-435 like to use?
The first thing you should know about the Weber GENESIS SPX-435 Smart Gas Grill is how massive it is. It has an almost 1,000-square-inch cooking surface, plus two large side tables and a lower storage area that houses the propane tank, grease funnel, and grilling tools. I usually store the grill in my garage (to protect the stainless steel from the elements) and have to roll it outside when I'm ready to use it. At 220 lbs. (plus the added weight of the propane tank), I have to go slowly when moving it in and out of the garage.
The side tables are very spacious, allowing me to prep food on either side, especially when I'm not using the side burner. There is a storage locker on the bottom left side of the grill. Under the main part of the grill is where the propane tank and grease funnel and pan is stored.
To install the propane tank, I set it on a scale that measures the amount of propane within the tank. Once installed, the fuel level is indicated by a red indicator line on the scale. This is a nice feature as it ensures that I never run out of propane while grilling. The first time I cooked on the Weber GENESIS SPX-435 Smart Gas Grill, I had to season it for 20 minutes, which meant turning all the burners on high and closing the lid.
Each time I used the grill, I went through the same startup process. First, I plugged the grill into an outlet and flipped the main power switch under the right side table to turn on the LED display and connect to the Weber CONNECT app. I should note here that if you don't have an outlet nearby, you can use a power bank to power the LED display dashboard.
As I mentioned in a previous section, the LED display dashboard connected to my app via Bluetooth. A blue wireless symbol displays when the app and the grill are connected. The same symbol would be green if it connected via Wi-Fi. There is a small propane symbol that indicates fuel level. When the symbol is green, the tank is full, and when it's yellow, the tank is at mid-level. A low fuel level displays as a red propane symbol.
Once I connected and opened the propane tank, I lifted the grill lid. I turned the first burner knob to the left so that it was set on high and pressed the ignite button. The burner lit immediately. I did the same for the remaining burners, going down the line from left to right one-by-one. I never had any issue with igniting the burners.
The instructions indicated that I should preheat the grill on high for 15 minutes. This allows the grill to burn away debris from previous cooking sessions, or loosen some food waste so that I could brush it off before cooking. I found that pre-heating the grill on high wasn't exactly what I wanted.
What you should know is that the grill has a super high BTU output, which is a measurement for the amount of heat that the grill produces. The three burners and the sear burner produce 60,000 BTUs, so when placed on high for 15 minutes, it creates a really hot grill. According to the LED display, the temperature would get upwards of 500 degrees within those 15 minutes which was far too high for me to begin cooking. In fact, I'd have to lower the burners and wait another 15 minutes for the grill to cool down to 375 or 400 degrees so that I could actually start using the grill. To me, that's a waste of propane gas.
Instead, I decided to set the burners about mid-range rather than on high when starting the grill. The only burner I could not do that with was the sear burner as it only has a single setting. I set the temperature on the display and in the app to my preferred cooking temperature (depending on what I cooked). When the app notified me that the temperature was reached, that's when I brushed the grates and placed food on the grill. This method seemed to work a lot better for me.
In terms of actually grilling, it did take some time to figure out how to best adjust the burners. Even when I put the burners on medium setting, I found that the grill heated super quickly, and often went past the temperature I needed. After awhile, I got used to adjusting the burners to achieve the best temperature for whatever food I was grilling.
I cooked a variety of foods on this grill including chicken legs, pork chops, chicken breasts, fish, corn on the cob, sweet potato, squash, bacon wrapped jalapenos, and more. The sear burner did a phenomenal job on meats like pork chops and steak. It created perfect seared lines, adding more flavor. Even when daylight started to fade, I utilized the NIGHTVISION grill lighting system and knob lighting to see what I was doing while I finished cooking my meal.
When grilling thick meats, I used the thermometer probe to manage the internal temperature on my phone and on the display. To do this, I set an internal temperature on the display or in the app and placed the probe in the meat before putting it on the grill. When the proper internal temperature for the meat was reached, an alarm sounded on the grill and a notification was sent to my phone. I found that the meat probe measured the temperature accurately.
I had to turn off a burner or set all the burners at the lowest setting when cooking certain vegetables or slow cooking certain meats. Other times, I used the expandable top cooking grate to either keep foods warm or allow them to cook at a different pace than the meats and vegetables on the primary cooking surface. I used the side burner a few times to sauté or cook certain vegetables – like brussel sprouts – that are not easily cooked on a grill. The side burner's heat output is just as fantastic as that of the grill's.
Each time I cooked on this grill, the food turned out delicious and that's what matters the most, right? When it came to the Weber Connect technology, it was extremely helpful to set timers to check on the food or turn it over. Most of all, I was glad for the temperature reading as it allowed me to better regulate the temperature so that I could produce the best tasting meal.
Maintaining the Weber Genesis SPX-435
If you decide to invest in the Weber GENESIS SPX-435 Smart Gas Grill, you should be prepared for a good amount of maintenance. Not only will you have to brush the grill grates before each use, but before starting the fire, you'll also have to check for grease. This involves pulling out the grease funnel and tray that's located beneath the grill. You'll then have to remove excess grease from the funnel with a plastic scraper, or paper towels as I did, and clean the disposable drip pan.
Occasionally, you'll need to clean the inside of the lid as well as the Flavorizer Bars that are located underneath the cooking grates. Flavorizer Bars add flavor to food from grease that drips from the food. Although, they typically vaporize or funnel the grease toward the grease pan, sometimes build-up can occur on the bars and it needs to be removed. To that affect, anything inside the cookbox, like the heat deflectors or grease management system, should be cleaned occasionally to maintain a properly working grill.
Weber Connect Technology
When you download and connect the Weber Connect app to your grill via Wi-Fi or Bluetooth, you'll be able to monitor the temperature of the interior of the grill and the meat probe no matter where you are. You can also set a notification to sound when a target temperature is reached or set a timer to inform you when to check on the food.
While these are great features, I would be remiss not to point out one aspect of the technology that is lacking. For instance, when testing out a charcoal grill with similar smart technology, I was able to set a target temperature within the app, and the grill would adjust on its own to reach that temperature and then stay at that temperature.
Unfortunately, the Weber GENESIS SPX-435 Smart Gas Grill does not have this capability. It will inform you when you've reached 375 degrees, but you'll have to manually adjust the burners if you want to prevent the grill from rising above that temperature. It's not a huge drawback that should prevent you from investing in this gas grill but something that I thought should be noted.
Weber Genesis SPX-435 accessories
This grill comes with a Weber Crafted Frame Kit, but you'll have to order a few more accessories to even use it.
The Weber Crafted Frame Kit is two pieces that can replace the right side of the cooking grate. The purpose of this kit is to add additional Weber Crafted accessories atop it, like a dual-sided sear grate, a griddle, and a grilling basket. I only received the Frame Kit, not the additional accessories, so I did not have a chance to test them out. But according to the Weber website, you can use these additional accessories to make things like over easy eggs or even bake cookies.
The only other accessory I'd like to mention is a Weber smoker box. From what I can tell by the instructions, this grill does have the capability to utilize a Smoker Box by removing the right side of the cooking grate and placing the Smoker Box inside. With the Smoker Box, you can mimic the tasty effects of a charcoal or wood-burning grill and theoretically produce smokier and juicier meats.
Ordering, delivering, and warranty
The Weber GENESIS SPX-435 Smart Gas Grill is available from a wide range of stores, including Home Depot, Williams Sonoma, Wayfair, and Amazon. Shipping times depend entirely on the store you order from.
If you order directly from Weber, the grill usually ships within 5-9 business days. Because it's a large grill order, Weber uses a freight carrier that contacts customers to schedule a delivery time. I was not contacted prior to the delivery of my grill, but typically, Weber customers will have grills scheduled for delivery between a four-hour window, Monday-Friday from 8 a.m. to 5 p.m.
A purchase from Weber can be returned within 30 days, as long as it is unused and placed in the original packaging. Weber does cover the return shipping charges, which is not something all brands do.
The warranty on this GENESIS gas grill can be a little confusing in that different parts of the grill are covered for a different number of years. That said, we've reviewed many a grill, and the Weber GENESIS SPX-435 Gas Grill has a great warranty.
Customers receive a whopping 12-year warranty of no rust or burn through of the cookbox and the lid assembly. The stainless steel burner tubes, cooking grates, Flavorizer bars, and porcelain-enameled cast-iron cooking grates have a 10-year warranty of no rust or burn through. As for the electrical components, like the Weber Connect controller, it's covered for three years. All remaining parts fall under a five-year warranty.
How does the Weber Genesis SPX-435 rate online?
Of the 112 reviews on the Weber website, the Weber Genesis SPX-435 Smart Gas Grill has a 4.6 out of 5-star rating. Although it's available from a variety of stores, it doesn't have many reviews on other sites. Customers of Home Depot gave it a 4.9-star rating out of 17 reviews. It only has two ratings on Amazon and none on Williams Sonoma or Wayfair.
Reviewers on the Weber website gave the lowest rating to "Ease of Assembly" which is not surprising at all. One customer said it took them six hours to assemble the grill, though that seems excessively long. Many reviewers raved about the sear burner and liked the quality of the product overall. Perhaps the longer this grill is out on the market, the more reviews it will receive, but for now, the feedback seems positive.
Is the Weber Genesis SPX-435 worth it?
If you're going to invest in a gas grill, you might as well as invest in one of the best ones on the market. And the Weber Genesis SPX-435 is one such grill.
This massive grill has enough room for you to feed a large family of seven or a big group of friends on Super Bowl Sunday. FLAVORIZER bars combined with a sear burner produce tasty meats with charred lines that everyone loves. You can even measure the temperature and set timers with the LED digital display or on your phone thanks to Weber Connect technology.
The side tables are large enough to properly prepare items – and one even transforms into a side burner. There is plenty of storage for all your grilling tools and a scale that measures your propane. What else could you want? This premium grill offers it all and will make any griller a happy customer.
About this review and our reviewer
Alex Temblador is a Dallas-based freelance writer who has covered home, design, architecture, and art in publications like Real Homes, Dwell, Architectural Digest, Artsy, Neighborhoods.com, Culture Trip, among many others. She recently bought her first home, a green Sears & Roebuck house that's over 100 years old, sits on half an acre of land and features a stunning wraparound porch, original hardwood floors, pocket doors, and a butler pantry. Alex loves to try products for Homes & Gardens buying guides and reviews so that she can continue to expand the richness of her first-time homeowner life. When she's not sitting on her porch with a cup of tea and her laptop, you'll find the Mixed Latine writer scrounging through estate sales and vintage shops looking for unique objects to bring 'The Starlight House' to life.
As with all our reviews, the Weber Genesis S-435 Gas Grill has been tested first-hand in our home, using it just as you would so you know exactly what you are buying. The products are given to us free of charge and we test them for as long as possible before sending them back to the brand unless we are able to keep it, as we are with this grill. This means that we can continue to use the product which gives us the opportunity to return to our reviews for updating, so you can keep up-to-date with how it's fared over a period of time.
Sign up to the Homes & Gardens newsletter
Decor Ideas. Project Inspiration. Expert Advice. Delivered to your inbox.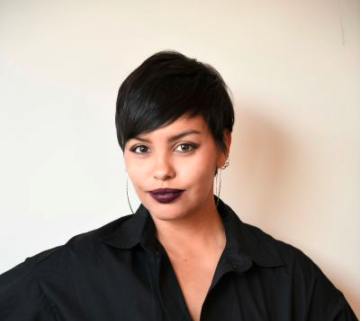 Alex Temblador is a Mixed Latinx award-winning author and freelance writer based in Dallas, Texas. Her work in the home space has appeared in outlets like Real Homes, Dwell, Architectural Digest, Culture Trip, and Neighborhoods.com, among many others. She writes on a wide variety of topics for H&G, and has tested everything from vacuum cleaners to fitness equipment and pizza ovens in the name of product research.