Weber Spirit II E-310 review: the best grill you can buy
Simple but spectacular, this grill blew me away on test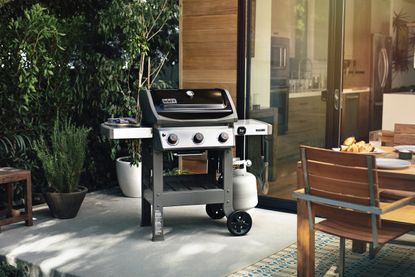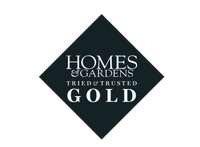 (Image credit: Weber)
This grill is easy to use and made the best food of any we've tested. It doesn't have all the bells and whistles of the competitors, but it doesn't need them.
Reasons to buy
+

Easy to set up

+

Easy to use

+

Best burgers on test

+

Best chicken on test

+

Reasonable price
Reasons to avoid
-

Small side rack for propane

-

Wide grills for thin-sliced foods

-

Plastic control knobs
You can trust Homes & Gardens. Our expert reviewers spend hours testing and comparing the latest products, helping you choose the best for you. Find out more about how we test.
There's no bigger name in grilling than Weber, and there's a reason the brand takes up the top three spots in our guide to the best grills. That said, I think Weber's other- more complicated – models are blown out of the water by this grill. It went straight in at #1.
I think this grill is suited to everyone. If a random person walked into our offices off the street and demanded the best grill they could get, I'd point them to this. No matter your level of experience, you can grill without fuss. There's no pretence or complication here. Beginners will be able to turn out great food without needing to master anything new, and serious grillmasters will find that the Spirit II E-310 is great for acing the basics.
Most importantly, it made the best food of any of the grills we've tested this year. We cooked perfect burgers, sausages, and barbecue chicken with this. I cover all the detail below, but it's really simple. The Weber Spirit II E-310 makes the best food around: it's the best grill you can buy.
Weber Spirit II E-310
Product specifications
Swipe to scroll horizontally
| | |
| --- | --- |
| Fuel type | Propane |
| Weight | 114lbs |
| Size | 424 |
| Cooking Area | 660 sq-in |
| Burners | Three |
| Total Hooks | 6 |
Unboxing the Weber Spirit II E-310
The Weber came in a large box that needed two of us to lift it. it wasn't as bad as other grills we've tested, but you might need a partner or a friend on hand to help you build it.
Once we had all the parts ready to go, it was easy to assemble. The instructions are simple, and would've been improved with a little text, but they were effective. We had all 46 steps finished in an hour and 10 minutes - much better than the 3 hours plus that some of these grills needed.
Testing grilled vegetables
Our first test is grilled vegetables. Hardcore carnivores might wonder why we test veg first, but it's because vegetables make it easy to visualise how well a grill can cook. Vegetables char easy and dry out fast, so you can assess grill lines, char, and if the grill shrivels up your food or maintains juiciness - all things that are crucial to a perfect burger.
We also use halloumi in this test. It's yet to take off in the States but for the uninitiated it's a delicious Greek sheep's cheese that is unbelievably good on a grill. You can't move for the stuff in the UK and Europe. Not only does it taste good (I just caught myself daydreaming about it as I write), but because it's cheese, it's a really easy way to test any non-stick claims on a grill.
When it came to the taste test, the peppers and courgette passed.
However, you might be wondering why there's relatively few slices of veg on the grill. That's because we lost a couple to the wide gaps in the grills. This won't be a problem if you're mostly grilling burgers or sausages, but could be if you're grilling slices of veg or smaller meat dishes like chicken wings.
The halloumi caught a little, but not as badly on other barbecues we tested where it fused to the grill. The finished halloumi was delicious, among the best on test.
Testing burgers and sausages
No introduction needed here. What else would you make on a grill? Let's get into it.
These were the best on test. Everyone on the test day got a sample sausage and they all agreed that these were pretty much perfect. I'd blow my own trumpet but it was all the work of the grill. It cooked utterly delicious burgers and sausages. They had a gorgeous char on the outside but we succulent and tender on the inside, maintaining the right amount of moisture.
Not only did these taste great, but just look at the real estate left over on that grill. I tested a couple of burgers and eight sausages and there's acres left over. This grill has more than a foot's surface area. You could easily turn out ten burgers and 20 sausages, which is more than enough to feed a crowd.
It was fast, too. This meal took under 15 minutes from igniting the grill to plating up. If you're hosting at short notice or want to get back to the party ASAP, this grill is your new best friend. It made delicious food incredibly quickly. That's as good as grilling gets.
My only criticism here is that the burgers stuck slightly. I mean slightly - a tiny fragment of one of the burgers caught, but that's me being pedantic.
Testing a grilled chicken
Our next test was a grilled chicken. The aim of this test is to assess how the grill handles thicker cuts of meat and slower, more subtle cooking. We used a spatchcock chicken slathered in BBQ sauce, another test of whether food sticks to the grill. We cooked it for 40 minutes, using the two side burners on a low heat, with the middle burner off to create indirect heat.
This was the best chicken of the two days of testing. It's easy to dry out grilled chicken, but this was juicy and tender throughout while maintain a crisp skin. The skin caught a little, but it made for delicious crispy chicken skin that tasted great with the smoky barbecue sauces. It retained the sauce flavor well; unlike other grills where the flavor was lost in cooking, the Weber Spirit II E-310 maintained its barbecue flavor. That's great news for making chicken wings and jerk.
Even better, you can see in the image above that the chicken fit within the round grill plate. You could roast vegetables or other meat dishes either side of it - there's plenty of room.
Cleaning the Weber Spirit II E-310
Cleaning this is largely easy with a couple of minor quibbles. We followed the instructions, cleaning the grill plates and triangular elements, scraping everything down before removing the disposable drip tray.
These drip trays are a small problem. There's a few included with the grill, but you'll have to buy more when you run out. It's not a huge ongoing cost - you can get a set of 10 Weber drip pans for around $10, but it's one of those little hassles you can do without.
Like almost all grills, this grill is hand-clean in soapy-water only. Marks and grilled-on food were easy to remove but you'll definitely need a scraper to get this done.
Storing the Weber Spirit II E-310
Storage is one of the only problems with this grill. There's two key issues here. One is that the side tables don't fold down for storage. The other is that the side holder for propane is pretty small. We found that a propane tank 30lb or larger won't fit, so will have to sit out on the patio.
However, the wheels on this grill are a dream. We were testing it side by side with other grills for reference and this was by far the easiest to move across both grass and concrete. It weights 114lbs but you barely notice. We also found that despite a large grill area, the Weber Spirit II E-310 is pretty compact, much smaller than most of the grills we tested, so it should be easy to store in a garage, shed or greenhouse over autumn and winter.
How does it rate online?
Most reviews of this grill are raving. it has 10,000 five-start reviews on Home Depot, so you know it's not just me who loves this grill. When I checked three-star reviews, a handful of users were saying that their grills arrived with missing screws or were damaged in transit. Thankfully, this seems to affect relatively few grills.
How does it compare to similar models and predecessors?
The Spirit II is the successor to the original Spirit E-310. It's a much better grill than the original - cheaper, more compact, and better looking. The two large plastic wheels are more maneuverable than the four small caster wheels on the original.
Don't tell my Editor in Chief, but the fairest direct comparison would be a grill I tested at my previous employer. The Napoleon Rogue 425 BBQ is another premium three-burner grill. Like the Weber Spirit II E-310, it also lacks a side burner, though it has side tables.
The Weber is simply better than this Napoleon. It's easier to build and more reliable, igniting without fuss every time. The food it makes is better, and depending on sales, it costs $200 less.
When you compare the Weber Spirit II E-310 to cheaper grills - take, for example, the Ninja Woodfire , another of our favorite grills - it has a larger surface area, longer warranty, and is easier to use. No matter who you are or where or what you're grilling, this is the best grill you can get.
Should you buy the Weber Spirit II E-310
Yes, you should. I would recommend it to friends or family in the market for a grill as the best grill you can get. It doesn't have all the bells and whistles, but we're being totally honest, few people actually need to use side burners or fancy thermometers. If you want to grill a few burgers on a sunny afternoon, this grill will get them cooked with no fuss. Serious, dedicated hobbyists might find it a little lacking, but for almost everyone else, this grill is the benchmark.
Sign up to the Homes & Gardens newsletter
Decor Ideas. Project Inspiration. Expert Advice. Delivered to your inbox.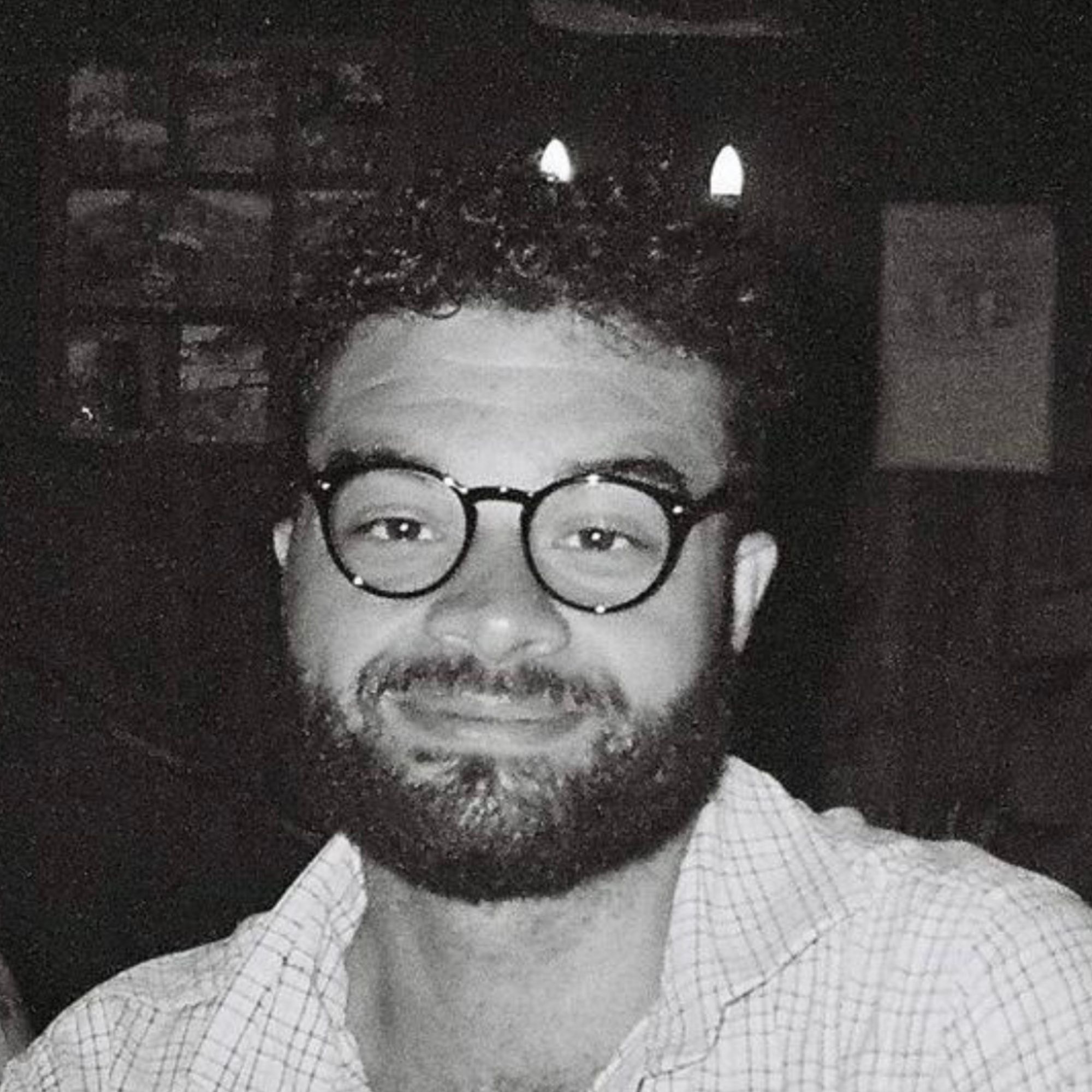 As Head of eCommerce, Alex makes sure our readers find the right information to help them make the best purchase. After graduating from Cambridge University, Alex got his start in reviewing at the iconic Good Housekeeping Institute, testing a wide range of household products and appliances. He then moved to BBC Gardeners' World Magazine, assessing gardening tools, machinery, and wildlife products. Helping people find true quality and genuine value is a real passion.