Garden bar ideas – 11 ways to entertain al fresco
These glorious garden bar ideas will add entertainment value to your outdoor space, no matter what your garden size, style or budget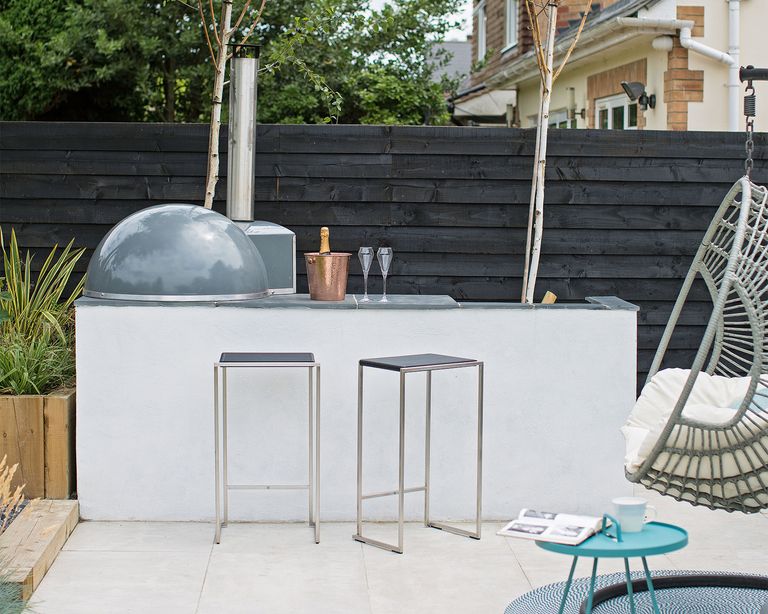 (Image credit: Future / Claire Lloyd Davies)
Garden bar ideas have grown in popularity as our gardens become extensions of our home. Increasing the usage and comfort of outdoor space is now a vital part of garden design plans.
The ultimate entertainment station, a garden bar will become an enjoyable al fresco hub for your family and guests to come together and appreciate all year round.
If you've been contemplating outdoor kitchen ideas for your garden, then these stylish garden bars could be the perfect addition to your sociable outside space.
Garden bar ideas
These glorious garden bar ideas, including backyard bars, serving sheds, bespoke beer gardens and courtyard cocktail lounges, will help you raise your garden party game whatever your budget.
1. Go for an effortless classic
The trusty wooden shed is a compact and versatile structure that can be converted either into a garden bar, or a storage system with a removable bar-style hatch – so spice up your shed ideas with a fun bar area.
This budget-friendly and time-honored ship-lap design makes a workable blank canvas to paint and style to your taste, while also safeguarding the surface.
Jon Cooper of BC Profiles recommends: 'Once you have completed the build of your outdoor bar, remember to take good care of your design to ensure longevity, especially during the winter months!
'Painting your bar not only adds a touch of colour, but it can provide a layer of protection against moisture and the sun's harmful UV rays, meaning less chance of rot or color fade.'
2. Enjoy a small tipple
Tiny gardens and balconies can enjoy cocktail hour too. Roll in a vintage style drinks trolley with tiers to include a bar in even the tiniest of small garden ideas.
Display beautifully bottled beverages on the bottom shelf, and pour and serve from the top. A round design with black metal finish adds a touch of industrial chic.
3. Add Spanish flavors
Be inspired by summer holidays abroad and build a luxurious haven of tranquility that echoes a high-end Mediterranean hotel bar.
Design and build a stylish outbuilding that pairs polished white plastered walls with slated sliding doors for a crisp and contemporary finish.
4. Create some shade
On sunny days, bartenders need shade - so a covered garden bar is a must and will provide shelter for guests also. Certain pergola ideas offer a useful and attractive solution, adding height and throwing linear shadows into space – key considerations for outdoor dining too.
Grow climbing fruit plants such as passionflower or grapevines up and over to create a cooling and fragrant canopy. Fresh ripe fruit from your crop can then be added to drinks.
5. Make storage modular and weather-proof
Plan an outdoor kitchen and bar area with an adaptable storage system that can be customized for your needs.
A sleek mix of aluminium shelving is water-tight and convenient for plenty of equipment that can be added to or reduced when necessary. A built-in ice bucket makes a bonus feature that is ultra-smart and beneficial.
6. Impress with a champagne afternoon tea
Perk up timber-framed garden bar ideas with a decorative wall panel that shimmers and sparkles.
Continue the feminine and pretty look with planters and hanging baskets full of country-cottage style blooms, and serve drinks in vintage cups and saucers for the ultimate champagne afternoon tea.
7. Warm up by a fire
A rustic, pitch-roof garden bar is warming and organic when teamed with outdoor fireplace ideas, such as a wood-fired oven. This Scandinavian-style set up is ultra cozy during winter months too.
Declan Kingsley-Walsh, managing director of Morsø UK, says: 'Your outdoor products may be outside for most of the year, so you'll need durable materials, like cast iron, which is resilient and long-lasting."
A long chimney will funnel away the smoke from diners perched at side ledges enjoying pre-dinner drinks. Add blankets and faux fur to complete the Hygge-esque experience.
8. Lavish a pavilion
Commission monumental garden bar ideas that are a cut above the rest. For year-round comfort and entertainment, incorporate an indoor venue that includes double-glazing and electricity to install mod-cons and boost the extravagance.
A sheltered hot tub and raised seating terrace can house a range of outdoor living room ideas, creating the ultimate outdoor garden room that exudes luxury.
9. Enjoy the setting
Position your garden bar wisely. Find a social and practical space to relax and, if possible, enjoy a view.
If you tend to party into the night, choose areas away from bedroom windows. Or if you like to serve delicious food, it's best to be near the kitchen.
Look for areas with a pretty outlook that stay in the sunshine for as long as possible.
10. Go under a gazebo
Build an architectural structure to add wow-factor. While it may not be the most budget-friendly when it comes to outdoor kitchen costs, a garden room with oak framing and a slate tiled roof is a traditional choice that accentuates craftsmanship.
Position brickwork to the rear to create a wrap around bar area that allows plenty of space to include additional kitchen features such as a sink, fridge and outdoor cooking options.
11. Design a focal point
Turn your alfresco garden bar ideas into an urban and refreshing garden feature. For a sense of down-town oasis, position a contemporary bar centrally and surround it with flower bed ideas that feature lush, shady and structural planting. Choose materials that throw in a rich and designer look for contrast.
'Choose materials that can withstand year-round exposure,' advises Rhiannon Williams, landscape architect and project manager at Landform Consultants. 'I would recommend a well-sealed natural stone top and treated wood cladding.'
How do you make a garden bar?
Depending on your taste and budget, garden bar options are extensive.
Mobile drinks trollies, to serve a selection of drinks on a balcony or in a tiny garden, are the simplest of mobile additions for easy garden party ideas. Or, as repurposing wooden palettes is now popular, a bespoke palette bar or pull-down serving shelf can be an interesting and rustic alternative.
For a more permanent structure, contemplate a summer-house or shed makeover by installing storage and a serving hatch.
As part of a backyard landscaping design, a specialized contractor can help you achieve your dream outdoor room, to include an outbuilding or dining zone complete with luxurious bar as part of an extensive outdoor kitchen, and a BBQ that is convenient, contemporary and impressive.
What do you put in a garden bar?
If you are serving drinks outdoors, then, of course, you need to stock your garden bar with essentials so that returning to the house for supplies is kept to a minimum.
Decide how simple or elaborate you want your refreshment venue to be, then draw up an inventory accordingly.
Plenty of glassware and drinks equipment can be stored permanently if covered, as well as tableware for snacks, which will add to the sense of occasion. Go for acrylic and melamine so there's no need to worry about breakages.
When it comes to selecting beverages, choose vessels that can be stacked, stored and have longitude, such as cans and bottles. Beer drinkers will be impressed with an at-home beer tap or keg, or if it is cocktails you prefer, to be sure to have a selection of utensils a seasoned mixologist would require.
Chill factor is important, so if your garden bar is mains supplied, a mini-refrigerator will keep liquids cool. Otherwise, fill an icebox in preparation before guests arrive.
Authentic decoration will personalize the space and blend your garden bar IDEAS beautifully into their surroundings. Jazz up bare walls with artwork or signage, and potted fresh herbs for drinks will add color and fragrance to the scene.
Consider decorative outdoor lighting ideas: festoon or fairy lights will transform your watering hole into a magical twilight retreat at dusk. Or, for a more professional look, install up-lighting in the ground to highlight your garden venue as night falls.
Seating is essential for comfortable garden entertaining. If your garden bar has an adequate ledge then robust weatherproof stools will make the serving area a social affair. Casual outdoor sofas nearby will create a relaxed lounge-style atmosphere.