How much does an outdoor kitchen cost? We explain the costs of cooking outdoors
Long for something more permanent and professional than your garden barbecue? We asked a panel of experts for their advice on planning (and paying for) your dream outdoor kitchen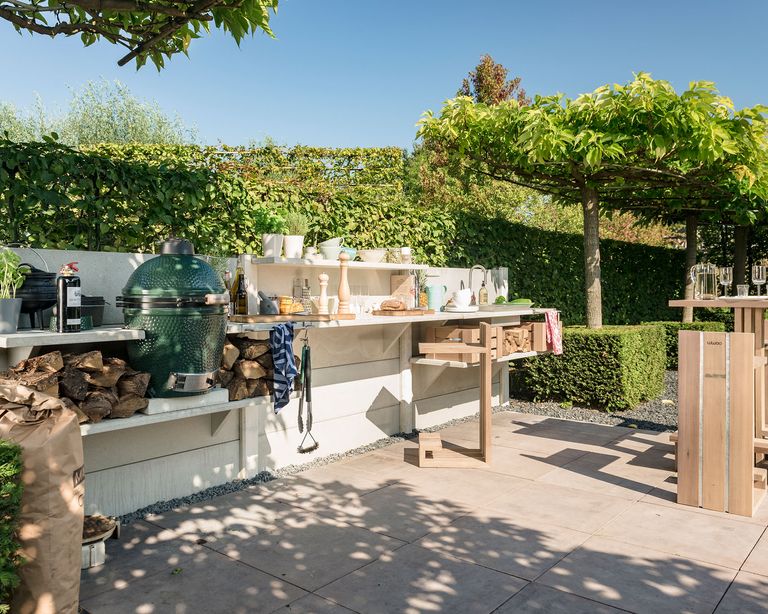 (Image credit: Future / WWOO)
By Ginevra Benedetti published
The way we use our homes is changing, and making the most out of our gardens is high up on our projects to tackle this year.
One of the ways in which you can transform your outdoor space is to ramp up your barbecuing abilities by creating a new alfresco kitchen, inspired by indoor kitchen ideas. But really, how much does an outdoor kitchen cost?
Good planning is key to ensuring you don't fall foul of any overspends. Knowing exactly what you require and setting a realistic budget to achieve it will ensure you can create your perfect space, without having to deal with spiralling costs along the way.
'There have been huge developments in the design and durability of outdoor kitchens in recent years,' says Simon Hawkins, managing director of The Outdoor Kitchen Collective.
'There are outdoor kitchen ideas to suit every style, house and budget. These kitchens are not only stylish, but they also make all-year-round outside dining a real possibility,' he adds.
So whether you're hoping to build a permanent pizza oven in a corner of your patio, incorporating a few fun garden bar ideas into your space, or going the whole hog and installing a barbecue, sink and refrigerator combo in your backyard, we've outlined the essentials you'll need to help you make your dream outdoor kitchen a reality.
How much does an outdoor kitchen cost?
'Outdoor kitchens should be viewed as an extension of your home and style,' explains Simon from The Outdoor Kitchen Collective – so make sure they blend seamlessly with your existing garden ideas.
'You need them to be robust and able to withstand constant use, outside temperatures and weather conditions all year round, yet they also need to be beautiful and enhance your outside space,' he explains.
So, how much does a new kitchen cost? As with all projects, the price of an outdoor kitchen will vary depending on the size and spec of your chosen kitchen, materials and appliances. It also depends on how detailed your plan is.
Are you planning on installing some worktop space beside a permanent barbecue, or are you creating a whole new quality outdoor kitchen for year-round cooking complete with built-in outdoor dining ideas? Your decision will make a considerable difference to the complexity (and therefore, cost) of the project.
'If you want a true outdoor kitchen with worktop space, storage and maybe a couple of appliances, you will look to spend a minimum of $5,500 (£4,000), while a more premium range could cost between $20,000 (£15,000) and $34,000 (£25,000),' advises Ross Worrod from Grillo.
'There are people that spend up to $68,000 (£50,000) on a fully bespoke outdoor kitchen. However, good designers will tell you that you are simply paying for brand names at that price point. It's very questionable as to whether you are getting more value for money above the $34,000 (£25,000) mark', adds Ross.
Furthermore, when you plan an outdoor kitchen's installation, the space where your kitchen is going to be may require some prep work first, and this - depending on how much or how little needs to be done - can affect the budget, too.
'Outdoor kitchens require a flat and clean surface,' says Simon from The Outdoor Kitchen Collective. 'Is there a requirement to flatten the ground? Clear the space? Remove tree stumps? These can add to time and labour costs.'
'If your outdoor kitchen is being installed as part of a bigger landscaping job, then it is prudent to involve your designers and/or landscapers in the project process to ensure a smooth installation.'
'Share plans, timelines and drawings with your outdoor kitchen designers as early as possible, and connect them with the other professionals in your project team,' adds Simon.
What is a good size for an outdoor kitchen?
While proportion is an important consideration when choosing your outdoor kitchen, that doesn't necessarily mean a large kitchen won't look right in small garden ideas.
'Many of the garden designers that we work with have said that in a small garden, if done right, a large outdoor kitchen can turn the garden into an extension of the indoor living space,' says Ross Worrod from Grillo.
'Size really does depend on function,' agrees Rodrigo Moreno Masey, director of Moreno Masey. 'I think if outdoor cooking is part of your life, whatever the weather, then you make the garden work harder.'
'As we find ourselves at home more for long periods, that precious outdoor space needs to be many things at once. I think it's important to really ask yourself how important the outdoor kitchen will be, and if the answer is that it is very important, then go big!' he adds.
Proximity to your house is important, too. When it comes to garden parties, you'll inevitably be bringing items in and out of the house regularly, so the closer your outdoor kitchen is to your home, the easier this will be.
'The nearer the outdoor kitchen is to the house, the more value it will add to the property,' says Ross from Grillo. 'Treat your outdoor kitchen as an extension to your living space, rather than a standalone piece that is located at the end of the garden.'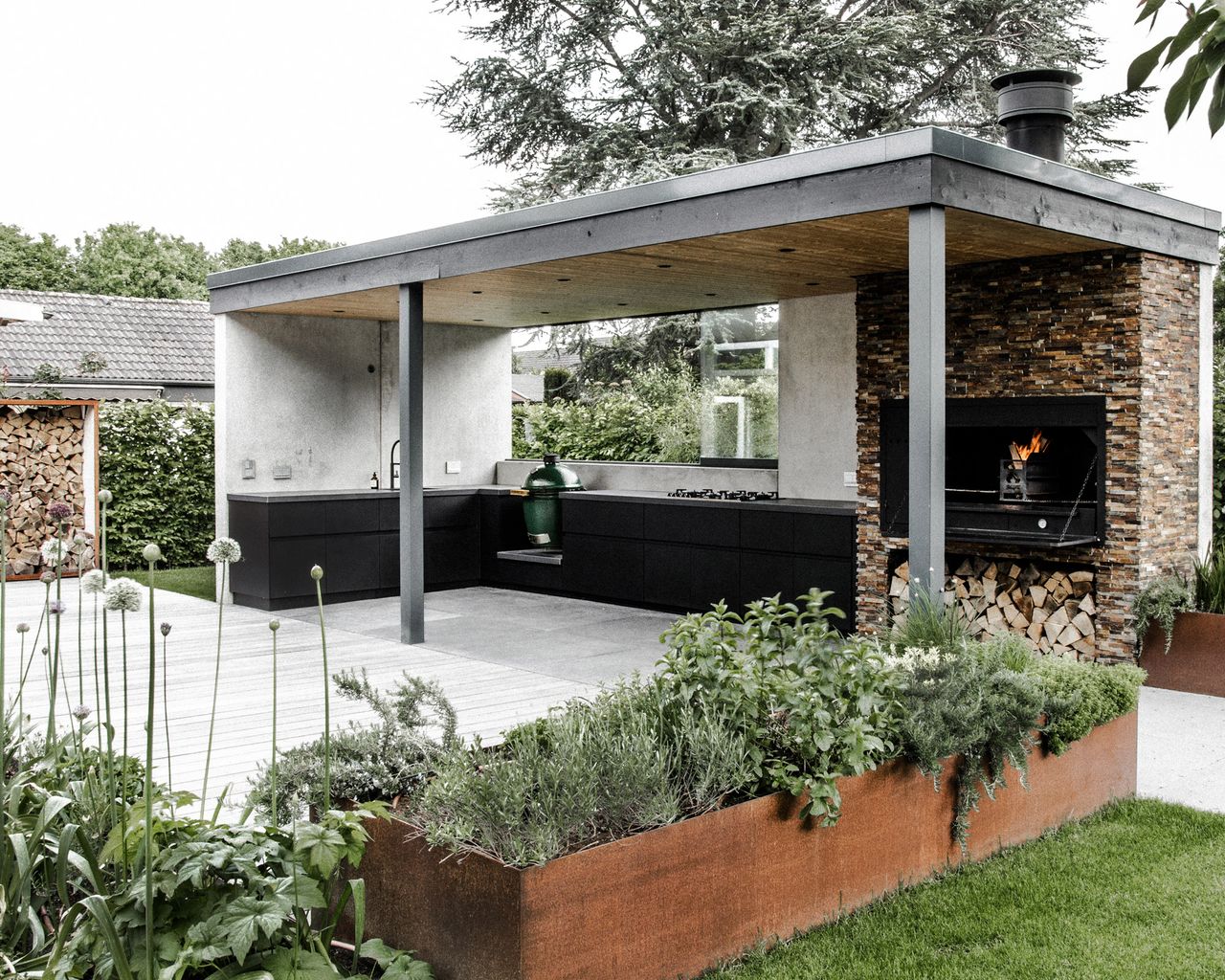 However, placing your outdoor kitchen away from your home at the end of your garden isn't always a bad choice.
'With the range of options now available, including weatherproof patio covers and pergola ideas, many kitchens can be positioned away from the house to make the most of the sun, or to create a separate zone for fun pool party ideas,' says Simon from The Outdoor Kitchen Collective.
What should I put in my outdoor kitchen?
'A basic outdoor kitchen can start with just two modules – one for a barbecue or grill and another for worksurface space,' explains Simon from The Outdoor Kitchen Collective.
'A complete kitchen set up can consist of a range of modules, appliances and accessories. The options really are endless.'
OVEN
First and foremost, installing a grill, barbecue or oven is an essential in any outdoor kitchen. There is a wide range of barbecues to choose from, powered by gas, charcoal, electric and even wood pellets.
You could even incorporate outdoor fireplace ideas for toasting marshmallows, as well as for vital warmth later in the night.
Pizza ovens are also growing in popularity as they can be used to cook a variety of dishes (not just pizza), although they tend not to be as versatile as a lidded or domed barbecue.
As well as countertop space for food preparation, there are a number of extras that you could add to your dream kitchen set up.
REFRIGERATOR
Whether you prefer to use it to keep cold drinks to hand or to keep food chilled, a refrigerator is a very welcome bonus in an outdoor kitchen, raising it from functional to fabulous.
'It's important to note that you can't put just any normal appliance outdoors, like a fridge,' warns Ross from Grillo. 'Outdoor kitchen appliances must be certified for outdoor use, otherwise they will simply not be able to cope with the fluctuations in temperature and the weather.'
So while you can pick up a good quality indoor under-counter drinks refrigerator for around $400 (£300), an outdoor version that can withstand the elements will cost in the region of $1,350 (£1,000), so factor this in to your total outdoor kitchen cost.
SINK
Endlessly useful when preparing any food, especially when dealing with raw ingredients, a sink with running water is an enormous bonus in an outdoor kitchen. Depending on your kitchen's proximity to your home, this can be pretty easy to install – consult your designer or plumber for more specifics.
STORAGE
'Even if you don't store things in cupboards all year round, it is very useful to have a shelf or cupboard available for when you are using the kitchen – it extends the available storage space,' explains Ross from Grillo.
'So while most people don't store their best crockery and cutlery in their outdoor kitchen, incorporating some kitchen storage ideas will be useful – especially cupboards for things like BBQ tongs and cooking utensils.'
What materials are best for an outdoor kitchen?
'Modern construction methods and innovative materials mean that outdoor kitchens can be used all year round - whatever the weather,' explains Simon from The Outdoor Kitchen Collective.
'Materials such as concrete, stainless and corten steel and vitreous enamel can withstand all the elements whilst also resisting heat and scratches, making them a practical and long-lasting addition.'
As well as the cabinetry, tiles are an excellent choice for both walls and flooring in an outdoor kitchen, and can help you carry your patio ideas through to the rest of the space.
'When it comes to installing tiles in an outdoor kitchen, there are a few things to consider,' advises Hamish Smith, creative director of Ca' Pietra.
'As this is an outdoor space, you need to be picking tiles that show that they are suitable for an external area – that's because not all tiles will suit the colder elements like rain and frost.'
'If you want a touch of luxury then you could look to include a marble countertop. Just factor in a few things – make sure you seal it regularly and accept that, because it's outside, it may show a little wear and tear over time. If you want a low maintenance material, take a look at porcelain tiles,' adds Hamish.
How do I build an outdoor kitchen on a budget?
Much like fitting a kitchen in your home, you can save a lot of money by installing an outdoor one yourself. It obviously relies on you having the spare time and knowledge of DIY to complete the job without too much trouble.
'Installing an outdoor kitchen yourself can be done, but most designers and professional landscapers will tell you that it's best to get the experts to do the job for you,' says Ross from Grillo.
Simon from The Outdoor Kitchen Collective agrees: 'Outdoor kitchens can be as simple or as bespoke as you like, and the installation requirements will reflect this.'
'Some concrete tables or small open nest tables can be self-assembled, whereas large steel cabinetry with hidden drawers, cupboards, sinks and pull-out bars requires professional labour.'
'It is important to consider the space that the outdoor kitchen will be built on - if this needs flattening or landscaping it will require time and labour,' continues Simon.
It's also worth bearing in mind that, as outdoor kitchens are usually designed to be modular or sectional, you can choose your essentials and add the more expensive extras at a later date to reduce your initial spend.
Finally, as with all kitchen renovation projects both indoors and out, you should always call in the professionals for any electrics or plumbing work.
Do you need planning permission or permits for an outdoor kitchen?
As an outdoor kitchen is considered a garden enhancement rather than a permanent structure, much like outdoor living room ideas, special permits or planning permissions aren't required.
That being said, any gas, electric or plumbing work needs to be completed by a professional in order to adhere to building regulations.
Hello there, I'm Ginevra Benedetti,
Associate Editor on the Homes Content Team at Future.
I've been fortunate enough to have been writing about interiors for the past 16 years on the majority of Britain's monthly interiors titles, such as Ideal Home, Country Homes & Interiors and Style at Home, as well as Livingetc and of course, Homes & Gardens.
This naturally feeds into writing for wonderful websites like HomesandGardens.com and IdealHome.co.uk.
Over the years, I've interviewed some of the most talented designers in the business and I've pretty much written about every area of the home, from shopping and decorating, appliances and home tech, wallpaper and fabric, kitchens and bathrooms, even extensions and conversions.
I never tire about reading or writing about interiors, from classic timeless designs to innovative smart tech - the subject is always evolving, just as our homes do, year after year.