Backyard fire pit ideas – 10 ways to create a warming focal point
These backyard fire pit ideas will let you turn up the heat as the sun goes down, so you can enjoy your garden for longer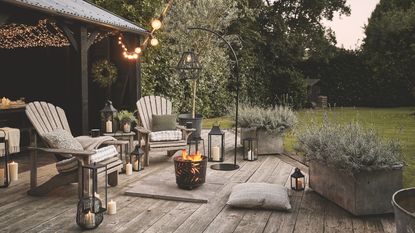 (Image credit: Lights 4 Fun)
Sign up to the Homes & Gardens newsletter
Decor Ideas. Project Inspiration. Expert Advice. Delivered to your inbox.
Thank you for signing up to Homes & Gardens. You will receive a verification email shortly.
There was a problem. Please refresh the page and try again.
The best outdoor spaces can be enjoyed day and night, and in every season of the year, so it's worth building in 24/7 usability with backyard fire pit ideas.
A fire pit is key to outdoor living room ideas, providing warmth and atmosphere that invites you to linger longer.
The range of designs available keeps increasing. But as well as a great burner to make the most of your garden, backyard fire pit ideas should take in where to position the flames – as a focal point to look at, or a fire to gather around. You'll want to think about the furniture you want around it, and the accessories that make this backyard a destination to be enjoyed, too.
Backyard fire pit ideas: stay warm while entertaining
The best backyard fire pit ideas can create a stylish outdoor space.
'With a little flair and imagination, your garden, patio or backyard ideas can be a real extension to your home – another room if you will,' says Claire Hornby, head of creative at Barker and Stonehouse. 'And there's no reason to wait until warm days to enjoy your outdoor space. Just like cushions and throws that add an extra layer of warmth, fire pits are a great transitional piece that not only look impressive but also make life alfresco a little cozier.'
1. Style an outdoor room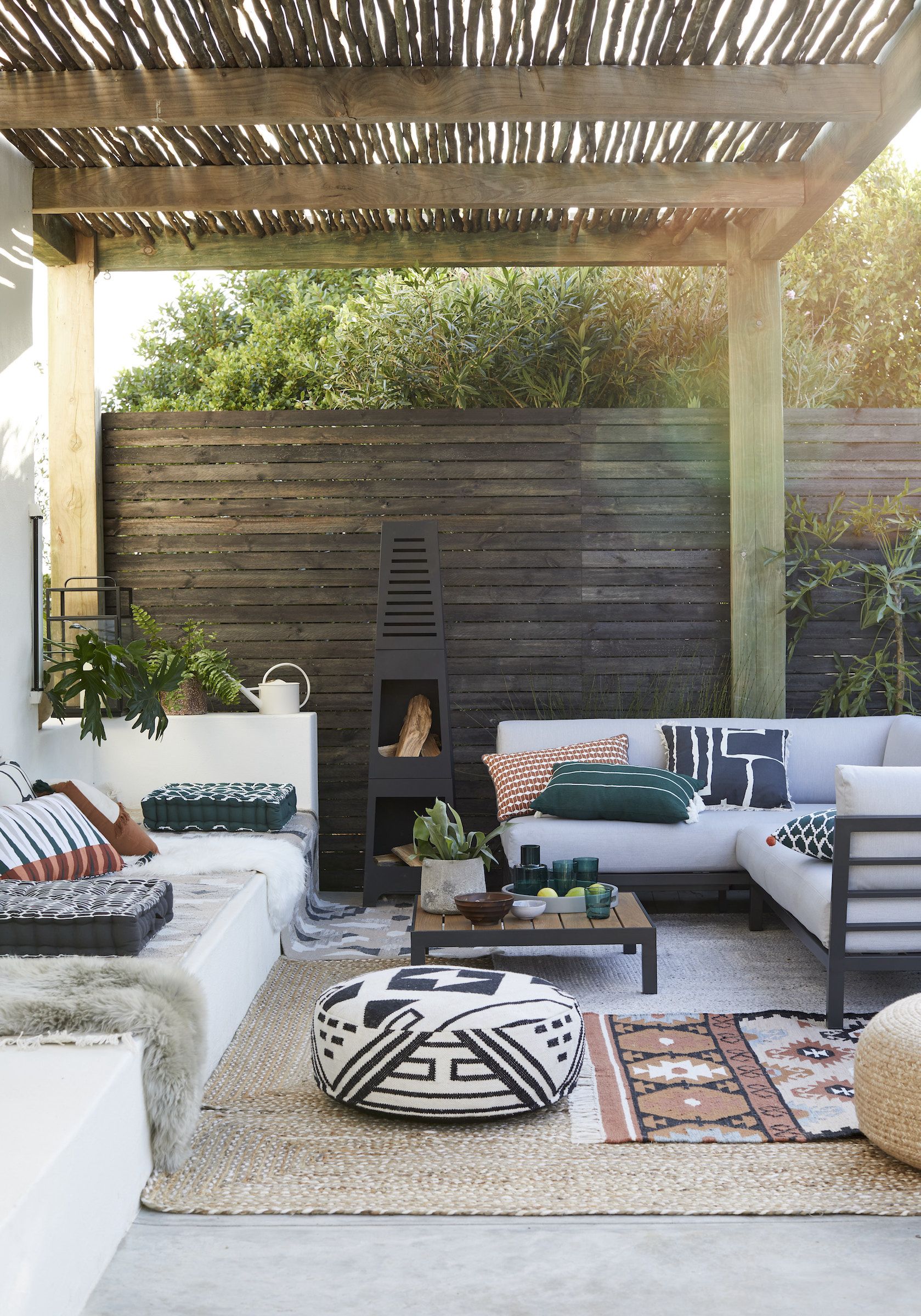 Looking for an upgrade on the usual patio ideas? Shield the area with a covered pergola, awning, or roof, then furnish it as an outdoor room – with the fire pit as a focal point.
'Having a mix of outdoor furniture alongside fixed built-in seating and a moveable fire pit allows you to flex your backyard space as you need,' says Andréa Childs, Editor of Country Homes & Interiors.
'Style it as an outdoor living room, remove the sofas and add a bar to create a party vibe, or set up a dining table for alfresco mealtimes. Whatever the function, having a fire pit will extend the use from day through night.'
2. Dress up a deck
A wraparound deck or terrace can be a large space to fill but zoning the area into cooking, dining or sitting areas is one of many creative deck ideas that can transform how you use your backyard.
A fire basket is one of the easiest ways to bring a fiery touch to your backyard – just remember, protection such as slabs or stone is needed for the ground surface, especially over a wooden deck.
'Create a flexible entertaining space by making a fire pit the focal point and styling your seating around it,' suggests Lucy Kirk, creative manager, Lights 4 Fun. 'Hang festoon lights from trees or your pergola and dress the floor with lanterns and candles to add light at varying heights and make your space feel bigger and brighter.'
3. Create a sunken fire pit
A sunken design works when you don't want your fire pit always on show.
This Chelsea Flower Show garden, designed by Adam Frost, features a below-ground-level fire that could be covered up when not in use. You could even swap in a solar-powered water feature or standalone sculpture if you wanted to give this area of the garden a new look.
Think about matching your hard landscaping materials, so that the firepit area and surrounding walls share similar tones, adding to the conceal-reveal surprise.
4. Choose a flexible fireplace-fire pit combo
With the flexibility of a freestanding fire, but the handsome good looks of a fireplace, an outdoor stove is hard to beat for upgrading your backyard fire pit ideas.
Think about the best position for a large outdoor stove like this – its size and heat output mean it could turn a shady, infrequently used corner of the yard into an inviting space. This Chesneys Clean Burn XL controlled heat output fireplace can be installed freestanding or back to wall to make the best of its views.
If you want a more permanent outdoor fireplace, opt for a fixed design that incorporates a hearth and mantel to surround your outdoor heat source.
5. Enjoy your backyard fire pit from all angles
Here, the fire pit is positioned in a transitional space, between a covered outdoor area and the main garden. From one side, it appears as an atmospheric addition to an intimate and cozy space; from the other, it's an expansive hearth that invites people to gather around.
'A fire pit can also be a real showstopper when entertaining friends outside and is guaranteed to draw all the family out for an evening of fun,' says Claire Hornby.
6. Try a tabletop fire pit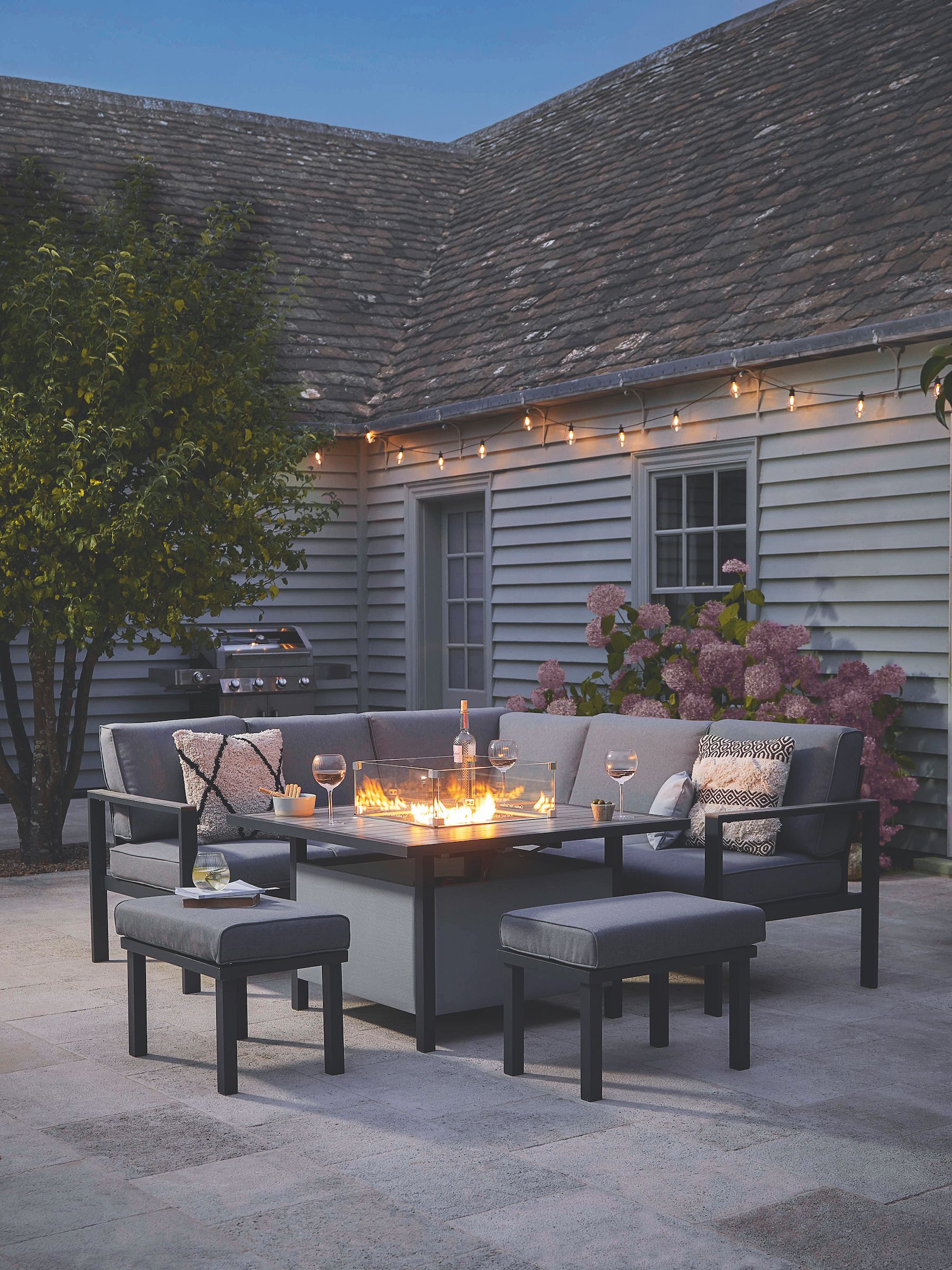 Stay cozy and linger around the table after dinner with a tabletop fire bowl insert – it's one of our favorite backyard fire pit ideas, keeping the warmth contained and elegant.
For the smartest option, choose a fire pit table that coordinates with complementary chairs. Offering fireside control at the flick of a switch, the gas-fired pit is a less messy option to logs or coals, and the flames are contained within a sleek glass bowl.
'Relax, dine, entertain, and enjoy every time of day outside with an outdoor room full of indoor style,' says Dani Taylor, creative and product director at Cox & Cox.
7. Add instant glow
A small bowl-style fire pit is perfect for an on-the-go cookout experience.
'Smaller in size, freestanding fire pits are ideal for compact outdoor areas and gardens. They can also be portable meaning that you can create the same cozy ambience at the beach or on a camping trip,' explains Declan Kingsley-Walsh, managing director at Morsø UK.
'There is also now a wide variety of different fire pit designs for freestanding fire pits. These include square and spherical shapes, which have a more contemporary and timeless look. The fire pit is a more practical option for those who spend less time in their outside area as they can be quickly transportable and moved around.'
8. Frame your fire pit
A built-in L-shaped bench or outdoor sofa will frame the flames to create a more intimate space.
'Backyard fire pit ideas are all about gathering together, so you want furniture that allows you to get comfortably close to the warmth,' says Andréa Childs. 'You could simply pull up some chairs, but a bench or sofa creates a convivial, communal space to enjoy your backyard together.'
9. Design backyard lighting around a fire pit
'Backyard lighting ideas really ought to be designed hand-in-hand with your fire pit's position,' says Homes & Gardens' Editor in Chief. 'The fire pit will, of course, contribute to the general glow of outdoor lighting, but by surrounding the seating space that faces it with soft, higher level lighting, you will create a focal point in a night-time garden that can't be beaten.'
10. Complement backyard architecture with a stone bowl
A fire pit is often made of metal, but if you can find one made in a material that blends with the architecture in your backyard, you will find that the result is much smarter. We love this stone bowl, which is perfect for contemporary fire pits fuelled by bioethanol and LPG.
What do you need for a backyard fire pit?
Your backyard fire pit ideas will need the fire pit, of course, and a convenient place to position it with enough space around to set out furniture, cushions and decorative details.
'Introduce a cozy fire pit to keep everyone warm and snug when dusk falls, styling your seating all around it to create the ultimate flexible outdoor entertaining space,' suggests Lucy Kirk.
'A fire pit is an elegant accessory to your garden for any occasion and is perfect for small get-togethers with friends and family or as a statement piece when hosting parties.
'Elevate your entertainment space by hanging festoon lights from trees or your pergola and dress the floor with lanterns and candles to add light at varying heights and make your space feel bigger and brighter.'
Where should I put a fire pit in my backyard?
You'll need a space away from long grasses and plants, with no low overhanging branches, and where any smoke from the fire pit won't cause an issue with family, pets, neighbors and washing.
Think about what you want your fire pit to add to your outdoor lifestyle. If it's warmth so that you can enjoy eating outside, think about setting it on a deck or patio close to the kitchen, with a dining table and seating. If it's a lounge area, you can position it at the center of your seating area with sofas and chairs grouped around it.
You may also want to use your fire pit to make more of an under-used space in your backyard, such as a shady corner that feels too cool to linger in.
Wherever you put your fire pit, you'll need to think about having a heatproof base to position the fire pit on, to avoid damage to your garden, deck or patio, and reduce risk of fire.
Sign up to the Homes & Gardens newsletter
Decor Ideas. Project Inspiration. Expert Advice. Delivered to your inbox.
Andrea has been immersed in the world of homes, interiors and lifestyle since her first job in journalism, on Ideal Home. She went from women's magazine Options to Frank. From there it was on to the launch of Red magazine, where she stayed for 10 years and became Assistant Editor. She then shifted into freelancing, and spent 14 years writing for everyone from The Telegraph to The Sunday Times, Livingetc, Stylist and Woman & Home. She was then offered the job as Editor on Country Homes & Interiors, and now combines that role with writing for sister title homesandgardens.com.