Patio planting ideas – add life to your outdoor space with plants
Get the best from your patio with our top patio planting ideas, whether you're looking for a big transformation or a just a little boost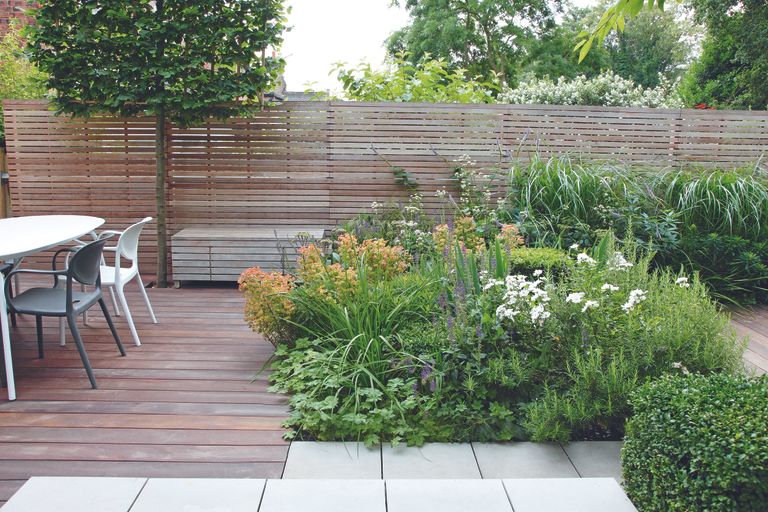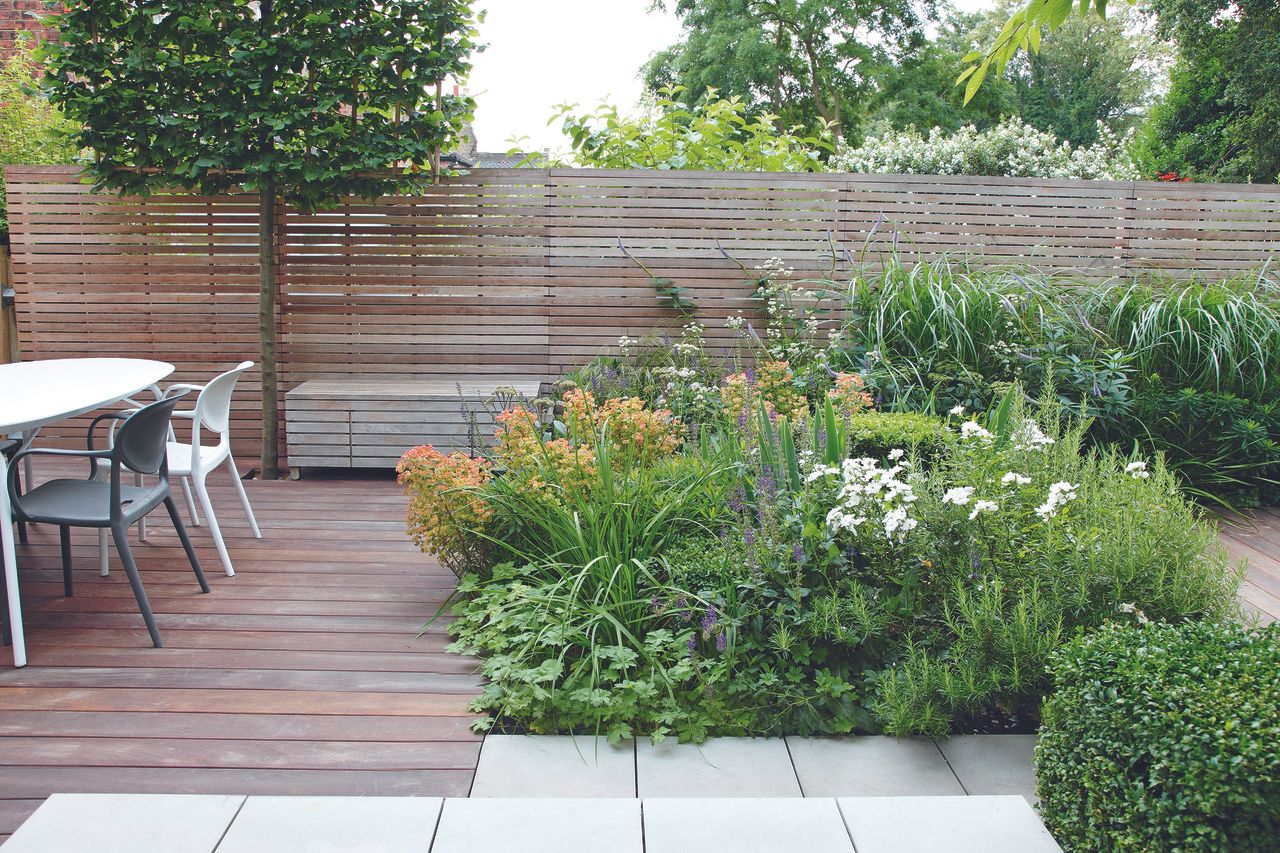 (Image credit: Future / Annaick Guitteny)
The Oxford Dictionary defines a patio as 'a paved outdoor area adjoining a house'. It could be that your entire space is paved and you are looking for patio planting ideas, or perhaps your patio leads on to a lawn beyond it.
Either way and whatever size your patio, it's an area that's worth paying attention to, as it makes such a big difference to the look and feel of both your house and your garden. If you approach your home and there's calming greenery surrounding it or flowering perennials, it's sure to make your mood soar.
There are so many things you can do with patio plants, so take inspiration from a whole host of garden ideas.
Pots are a great option that fit in with almost any patio ideas; choose evergreen shrubs and grasses for year-round interest and color. If flowers are your passion, there are numerous varieties, from spring hyacinths and summer begonias to autumn cyclamen and winter pansies which will see you through the bleaker months. Just remember to plant up frost-proof pots so they'll be resistant to cracking in winter.
Patio planting ideas
Of course, as you will see in the photos below, planters and pots aren't the only options – we have a whole host of great patio planting ideas to inspire you.
1. Use small trees to provide shade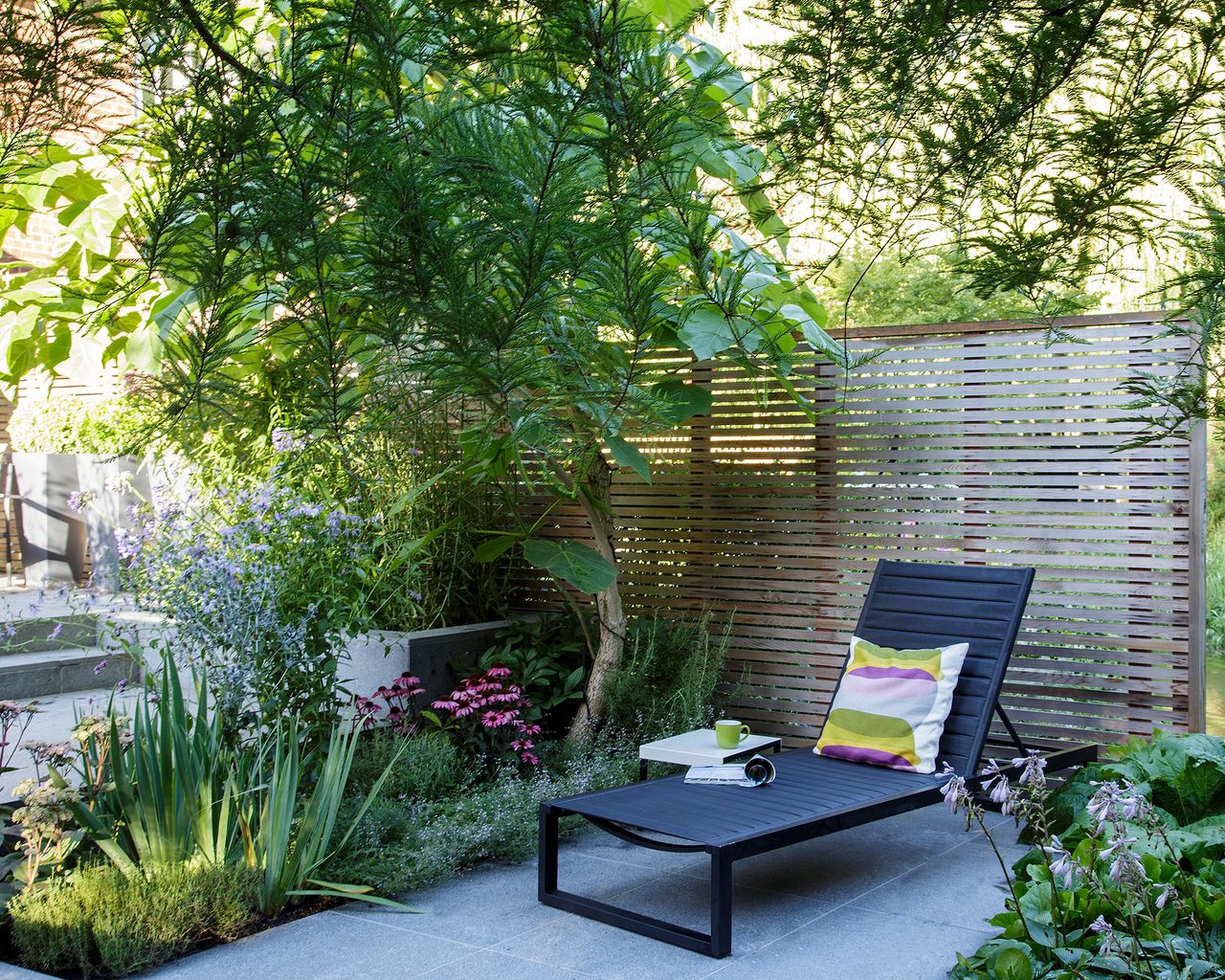 Sun worshippers may not like this suggestion, but if your patio gets a lot of sun and you are in need of patio cover ideas, planting small trees can give you a shady spot to escape intense rays.
However, that's not the only lesson to learn here: this garden is also a great example of how beautifully flower beds can coexist with paving slabs.
2. Get double use out of a raised bed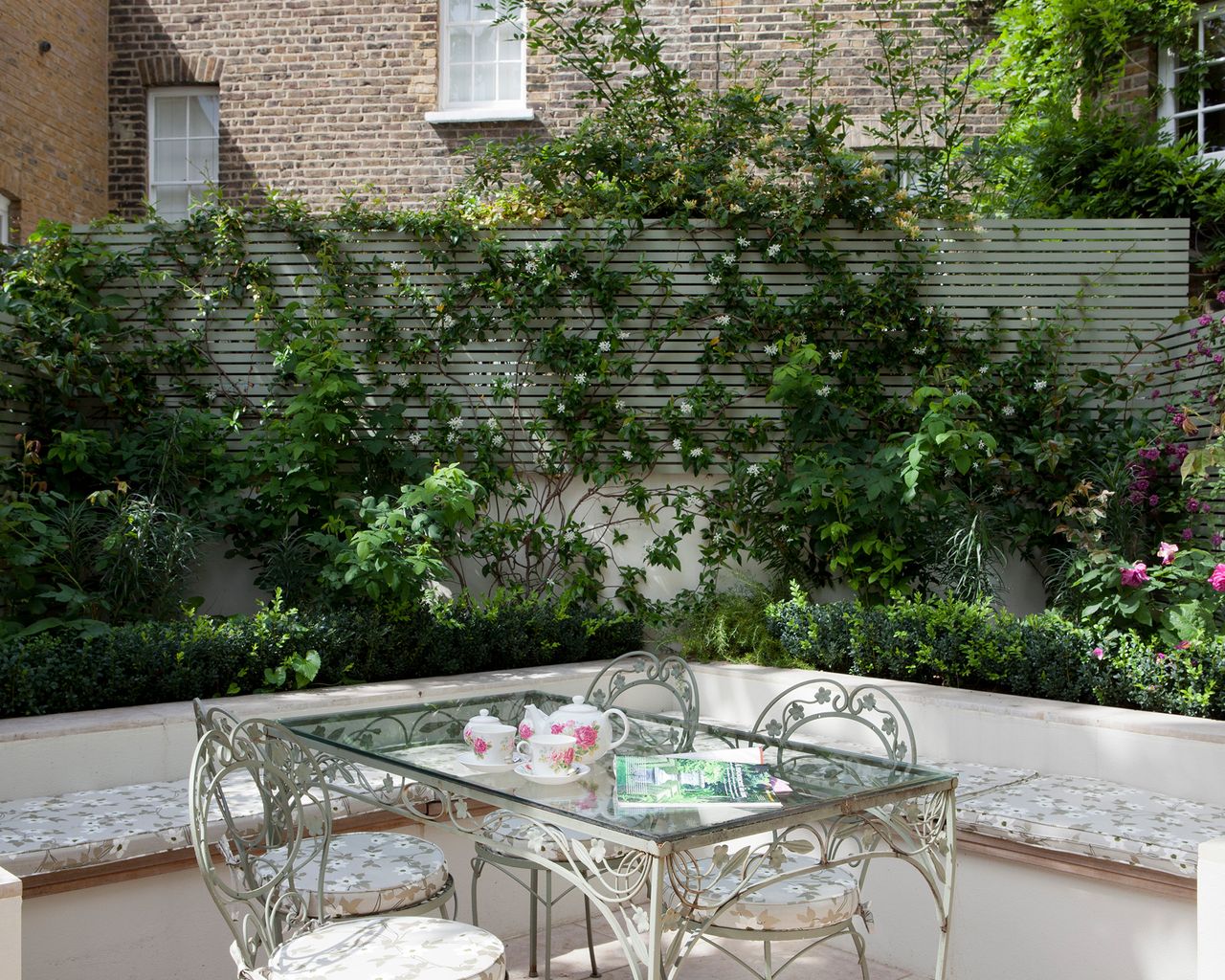 If you want to lift your patio up a level, incorporate raised garden bed ideas. Combine raised beds with bench seating and you've got a great dining area surrounded by plants. What could be better for an al fresco meal or glass of wine?
Plant shrubs and greenery to add height, or train climbing plants up a wall so you get pretty coverage that makes you feel like you're in the countryside even if you live in an urban setting.
3. Add a flower bed center stage
Flower beds don't have to be placed along the edge of your garden or patio. Build a bed in the very center and lay a patio neatly around it to create an eye-catching architectural display – especially if you add a striking sculpture or water feature alongside highly manicured greenery.
4. Make your patio attractive to bees
Lavender looks great, smells fantastic and is super appealing to bees, raising your eco credentials in one easy move. Lavender grows well in pots or beds and if you're mixing it in to larger flower bed ideas, a rich blue will beautifully complement the purple of the lavender.
There are plenty of other plants that will attract bees, too, such as geraniums, Cosmos Apollo and verbena rigida. Whatever blooms you choose, bear in mind that single-flowering stems are best for our flying friends.
5. Mark your territory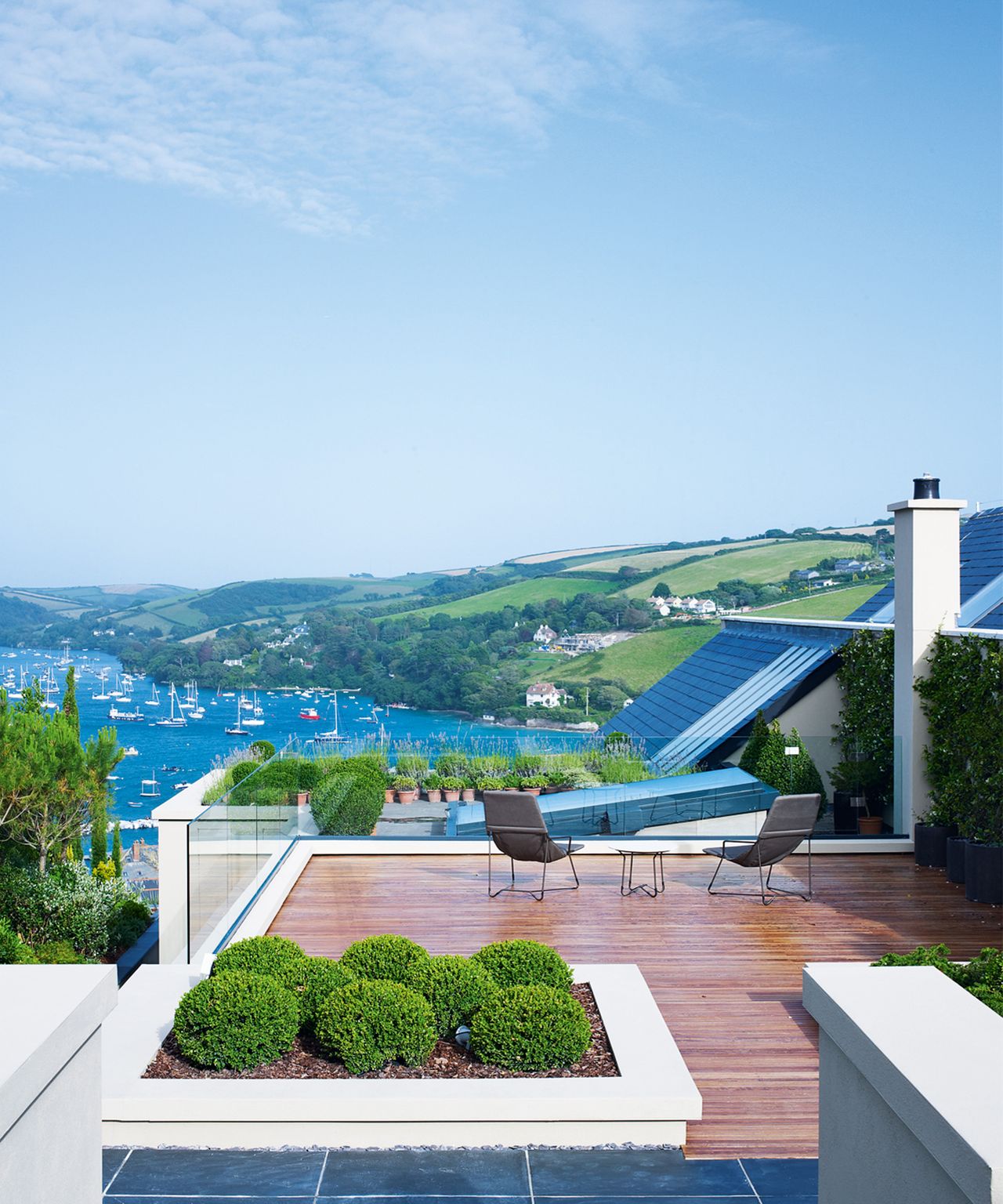 With a view like this, one could argue that you need little else to add to it. But plants always have a role to play when designing a patio.
Here, greenery softens the hard lines of the roof, while a dense row of planter pots runs along the glass wall, making the see-through patio perimeter clearer (so you're less likely to walk into it). The foliage also provides a little extra screening and privacy without distracting from the beautiful vista – a key consideration in any patio roof garden ideas. Enhancement is the key.
6. Surround yourself with greenery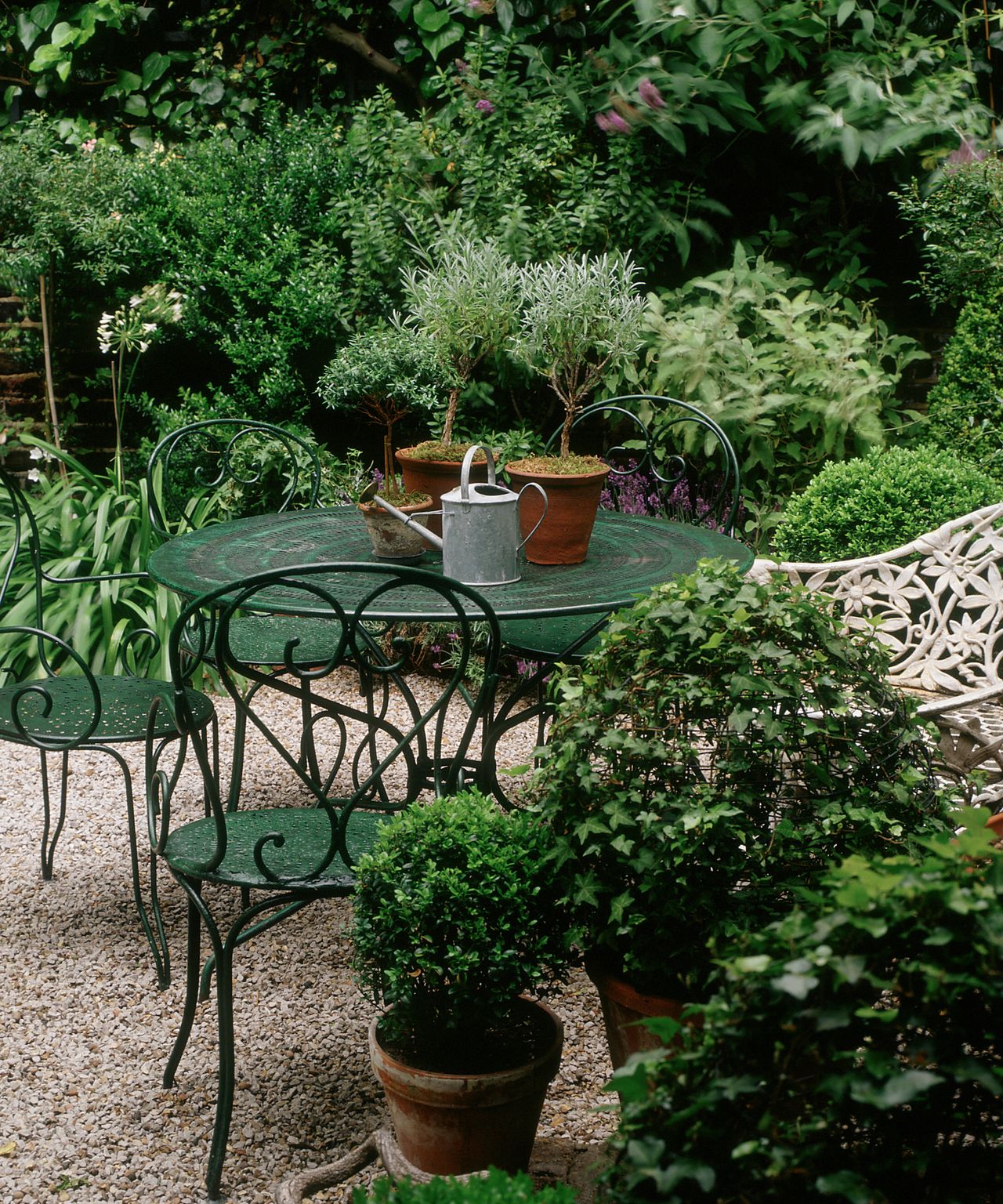 There's no paving in this scheme, so technically it's not a patio, but the garden could easily have one and look just the same – so we will ignore that little detail.
Patios inspired by woodland and full of lush foliage look amazing when they have a jungle of greenery around their borders, and you can even bring that greenery through into your patio furniture ideas, like in this scheme.
If you have a city garden, lush planting is great way to give yourself the privacy you crave and build an oasis of calm around you. Layer up grasses, shrubs and small trees to get the look. Start tall and work your way to smaller coverage at the front of borders.
7. Hang your baskets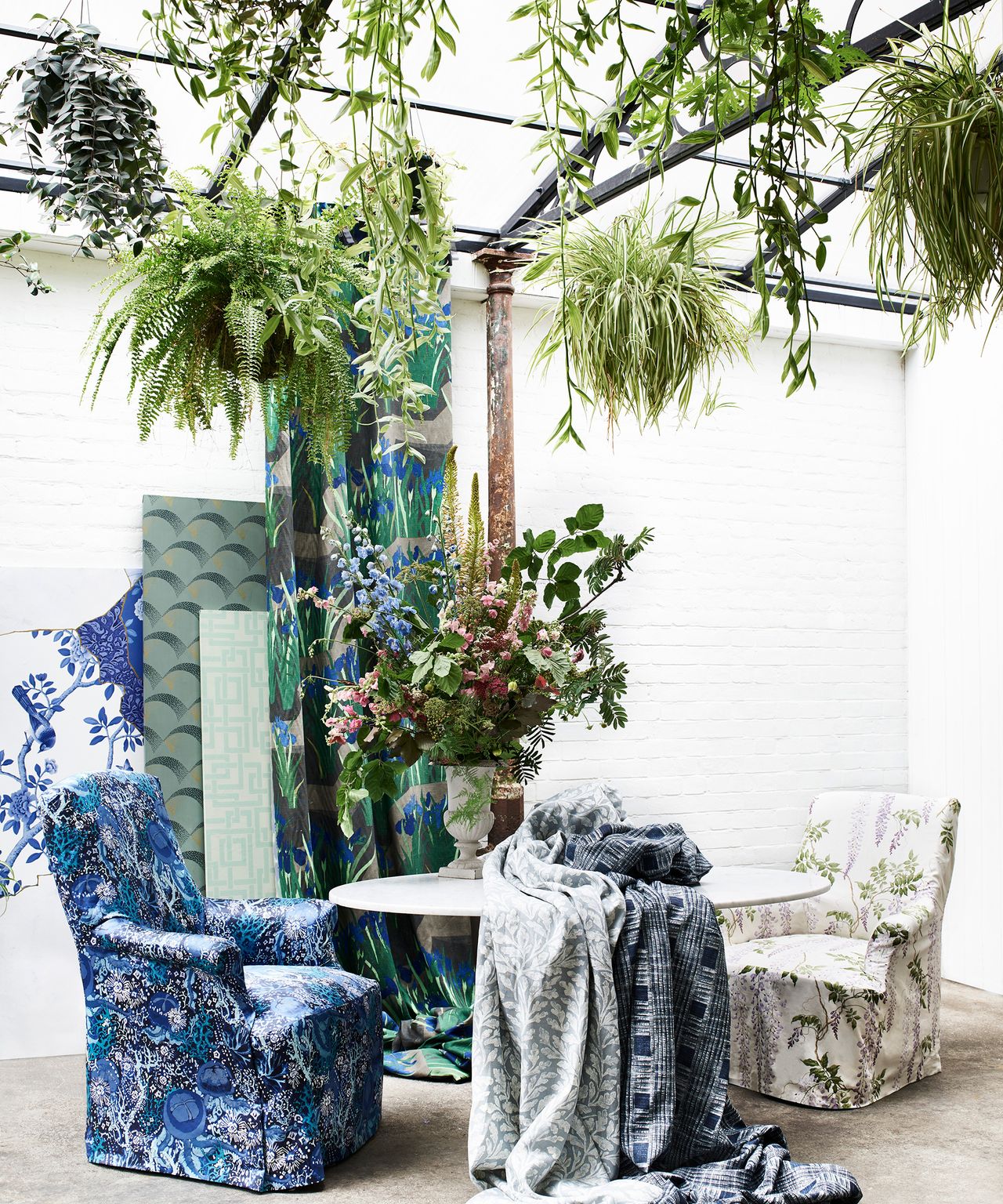 Hanging baskets are a traditional way of raising plants off the ground and adding interest higher up, particularly in small garden ideas where floor space is at a premium.
They are often mounted on walls, but this structure – a pared-back take on traditional pergola ideas – creates a fun green-house vibe with ferns and grasses hanging down above your head. It gives a luxe feel, reminiscent of a cool city bar, and definitely has the wow factor.
8. Have herbs to hand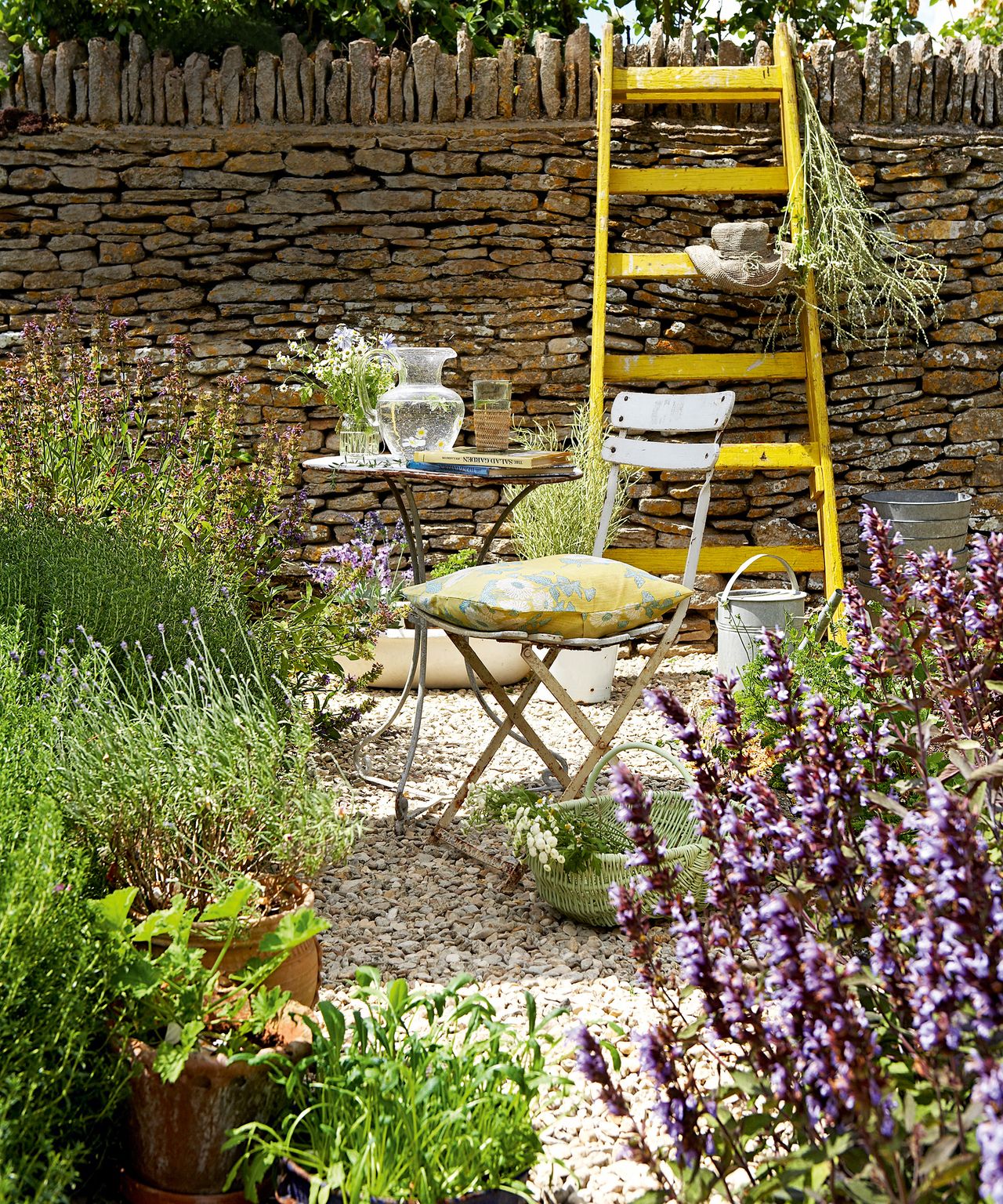 As patios are usually next to your home, they're a great place to put your herb plants so they're within easy reach when you need some basil for your burrata or parsley for a fish dish.
Thyme, rosemary, mint, chives and marjoram are also great growers that will be helpful when you need to add an extra flavour punch to your cooking. Another bonus is that bees love herb plants, too.
9. Live it up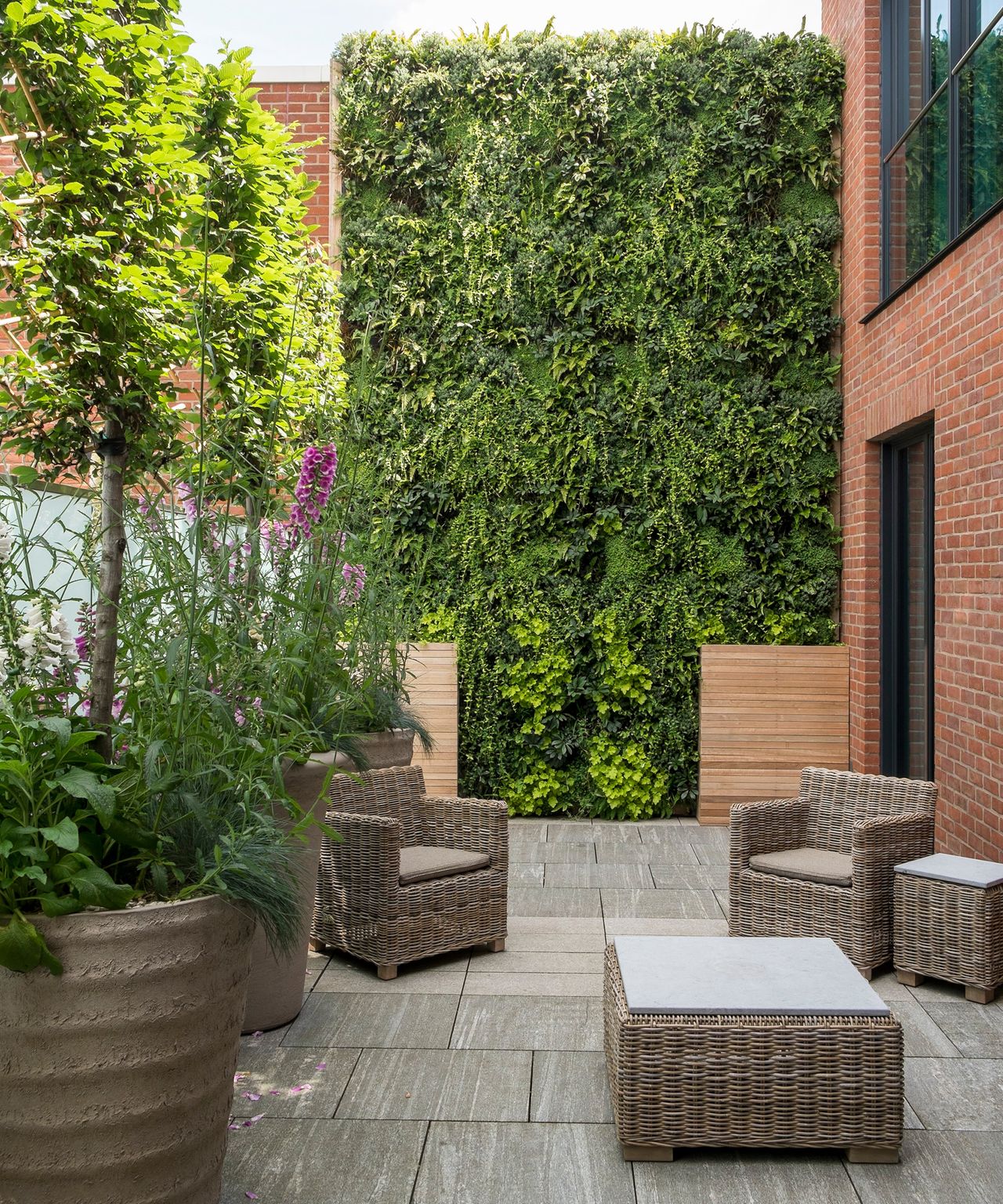 Living walls (or green walls) are striking in their design, but they're also really good for you and the air around you, filtering toxins and converting carbon dioxide into oxygen.
They're fantastic for wildlife, too, plus looking at all that greenery is brilliant for your state of mind. Vertical garden ideas take a little planning, but the benefits definitely make a living wall worth considering.
10. Light the way
Patio lighting ideas may not be the first thing that springs to mind when you think of planting, but as the evenings draw in, do you really want to miss out on what your patio has to offer?
Gardens take on a certain magic at night, so incorporating outdoor lighting ideas into your scheme is a must. This architectural space looks wonderful during the day, but later on it's a blissful place to dine or enjoy a drink post sun-down. Put a jacket on and enjoy!
11. Give pots a lift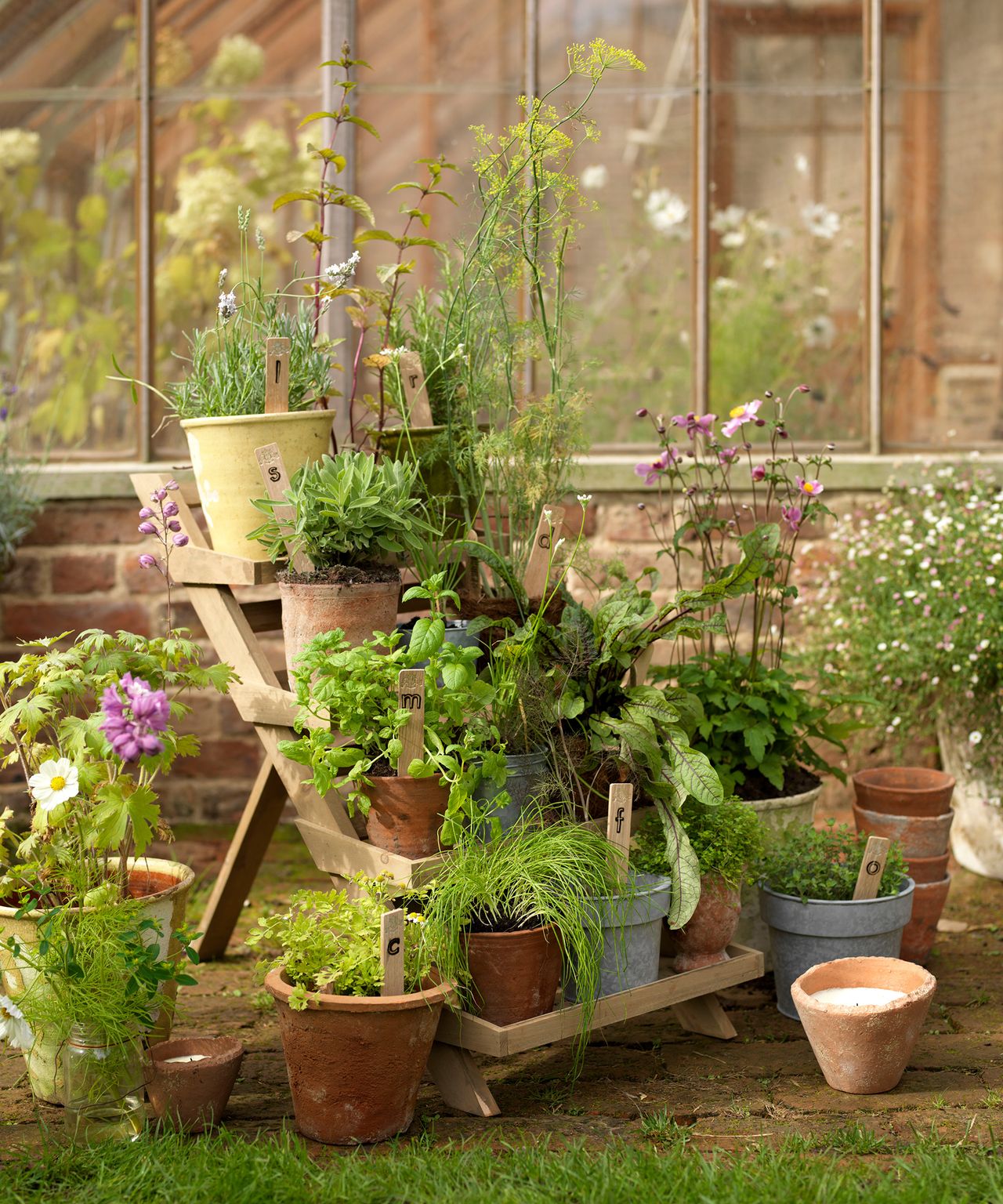 There are two patio planting ideas to take from this photo. A ladder shelf will give you lots of extra space for pots and create height on a patio without the need for big shrubbery and trees.
Also, it shows how pots don't need to match. A mixture of colors, sizes and materials works very well together. Bold shades and unusual designs happily sit alongside more traditional terracotta and concrete planters, so have fun shopping and creating an eclectic display.
What is a good outdoor potted plant?
'Violas and athyriums (Lady fern) are a fantastic duo for winter and spring,' says expert gardener Sarah Raven. 'Both these plants are hardy and will cheer you along through to the early months of the next year. Don't forget anenomes; they're a great pot plant that will flower from February to May.'
In summer, roses are a wonderful choice, and many of them smell amazing. 'David Austin's disease-resistant roses are ideal for organic gardeners who don't want to use chemicals,' says Michael Marriott at David Austin Roses. 'Among our favourites are the apricot "Roald Dahl", white "Desdemona", the single yellow "Tottering-by-Gently" and a pink "Silas Marner". All are beautiful and fragrant, as well as being super healthy.'
It's also worth considering small potted trees. Evergreen varieties will keep your garden bright all year round and look amazing in concrete planters, making them one of the best trees for a small garden or patio.
What can I plant around my patio?
'You can't go wrong with tulips!' says Sarah. 'Choose from an array of colour palettes, textures and shapes – there's sure to be a tulip to suit everyone. This year, I particularly love the Dutch Master tulip collection – and it has a brilliant scent, too.
Other great border-softening plants include hostas, pulmonarias and santolina. Low-rise box hedges are another wonderful option for separating a space between the patio and a lawn. Or perhaps you want a more woodland look, in which case verdant grasses will keep everything lush and leafy.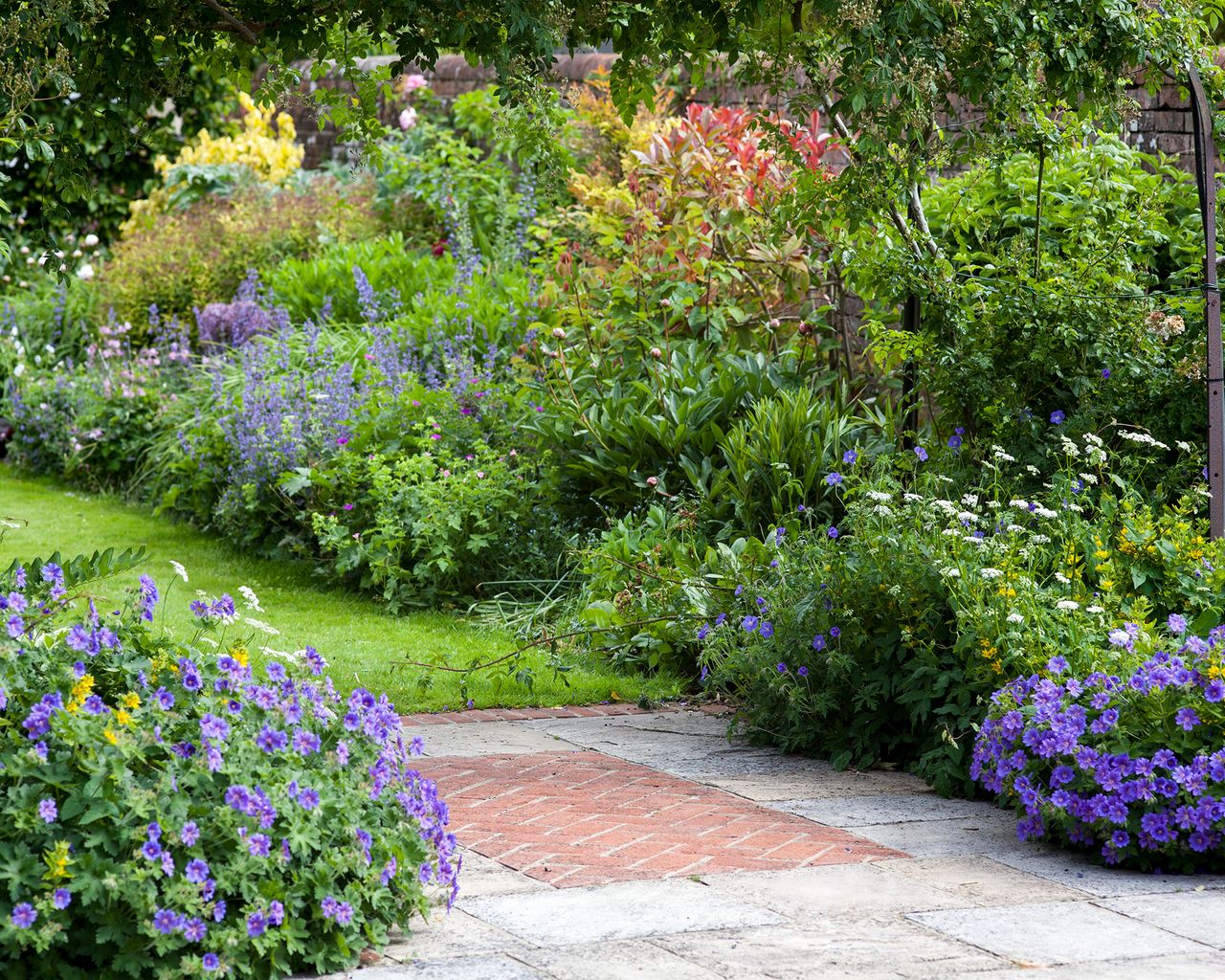 Training climbing plants up a wall is a clever way to make sure that your patio is surrounded by nature, without the need for a flower bed. Giant pots can hold fairly large shrubs and small trees, too, so you may not need a bed to achieve the height you want around your patio.
If you like a sleek style, raised flower beds look very smart, especially in concrete or painted concrete finishes.
What are the best low-maintenance patio plants?
A low-maintenance garden is the dream. You want it to look good, but not necessarily take hours to care for. 'Heucheras are hard to beat, along with foliage begonias and scented-leaf pelargoniums. Plus Plectranthus,' says Sarah. 'Bring them all in if frost is forecast – they make great house plants, too.'
You could also try pansies, hydrangeas and Skimmia 'Rubella'.
Bear in mind that large pots generally help to keep things more low-maintenance than small pots, as they can hold more water and therefore need watering much less often. From your plants' perspective, large pots feel more like being in the ground, too. Make sure you use well-draining soil and that there are drainage holes so the container doesn't become waterlogged.
Ultimately, your plant choice really depends on your patio space. Is it sunny, partially sunny or shaded? Look at the labels on plants and try to make sure you pick varieties that will be content growing in your garden. It's all very well planting a sunflower, but if you have a shady garden it will never thrive. And some plants love shade, such as hostas, so you still have plenty of options.