Best privacy hedges – 10 plants to create screening
These privacy hedges will allow you to shield your garden from view in no time. Before long, they will build a dense, leafy barrier to hide you from prying eyes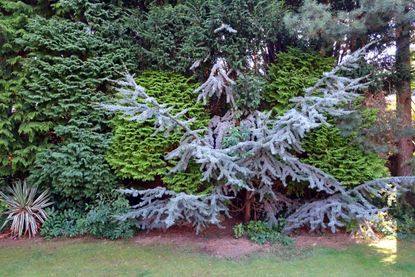 (Image credit: Alamy)
Privacy hedges are an ideal planting element to bring to your backyard if the ground-floor of your house feels like a goldfish bowl – a leafy screen can shield you from view, and look beautiful, too.
By tempering wind, they create shelter, and they also frame the garden with verdant color and structure. On top of this, privacy hedging provides birds with shelter from wind, rain, and predators, as well as nesting sites, in turn treating you to the sight and sound of songbirds all year round. Plus they're smaller than trees for privacy and screening in a backyard – perfect if you need to save space or don't want to throw your garden into shade.
Fast-growing hedges with dense growth will fill out at speed, too, forming an impenetrable wall of foliage that guards you from onlookers and intruders, so that you can relax at home.
Best privacy hedges
Whether you want to plant privacy hedges for screening, security or even just to create a private corner in your backyard, these are some of the best evergreen shrubs to choose.
1. Best privacy hedge for impenetrability
Arborvitae 'Green Giant' is as good as a moat around a castle, having incredibly thickset growth that nobody can peer or push through.
'If I had to choose a single plant, one that grew quickly and was evergreen, it would have to be arborvitae 'Green Giant',' says Connecticut-based landscape designer Richard Schipul. 'It fills out quickly and doesn't have the problems that a lot of our other common evergreens have. However, I very rarely plant a monoculture when screening. I tend to use a combination of different plants, and arborvitae could be in the mix.'
Growing tips: This Thuja is best in well-drained, retentive soil in sun or semi-shade. Place plants 5-6ft (1.5-2m) apart to create a hedge.
Hardiness: USDA 5-8 (UK H6).
Height: 6-10ft (2-3m) as a hedge.
2. Best privacy hedge for semi shade
Skip laurel (Prunus laurocerasus 'Schipkaensis') is a hardy variety of cherry laurel that quickly forms an upright evergreen hedge with fragrant flower racemes in spring.
'Skip cherry laurel is a great evergreen,' says Pennsylvania-based landscape designer Nathan Tuno, who works at Roots Landscape Inc. 'It is a go-to for us when we are trying to buffer or hedge certain areas. It has a shiny bay-leaf-like shape and white bottlebrush flowers that are great for pollinators.'
Growing tips: Best in humus-rich, deep, well-drained soil in semi-shade. Cut the hedge after flowering, unless there are birds nesting in it, in which case wait until August.
Hardiness: USDA 6-9 (UK H5).
Height: 6-10ft (2-3m).
3. Best privacy hedge for security
Firethorn (Pyracantha) is a fast-growing shrub akin to living barbed wire, since its stems have very sharp spines. It is such an effective security barrier that the Metropolitan Police in London recommend planting it to keep intruders out.
But its biggest selling point is that it's a superb wildlife plant: humming with bees in May and June, when its ivory flowers bloom; and a larder for birds in the fall, when it is a breathtaking wall of yellow, red, or orange berries. The variety Saphyr Orange has fabulous flame-colored berries that light up the season.
Growing tips: This dark-leaved evergreen shrub can be grown against a wall or as a free-standing hedge. Plant in well-drained soil in sun or semi-shade. Firethorn will grow in shade, but produces a pathetic amount of berries.
Hardiness: USDA 6-9 (UK H6).
Height: 12ft (4m).
4. Best privacy hedge for color
Copper beech forms a sophisticated hedge that can be clipped into neat lines. In summer, the claret-colored leaves form an elegant barrier; then, throughout fall and winter, the spent rust-orange leaves remain on the hedge, rustling wonderfully on the breeze, and preserving your privacy.
'Cooper beech hedges are handsome,' wrote the late great Christopher Lloyd, who created the legendary garden at Great Dixter in East Sussex, 'especially after their annual trim, when the secondary young growth is almost pink and in striking contrast to the mature dark background.'
Growing tips: An established hedge must be cut in August in order to retain the leaves over winter. Unlike dense evergreen hedges, which can be damaged by strong winds, beech is able to filter wind well, meaning it could be used in an exposed site; this creates lovely sound when the wind blows, but means the leaves are shed sooner, in turn reducing privacy. In a more sheltered location, it will retain its fox-red leaves well over winter.
Hardiness: USDA 4-7 (UK H6).
Height: 6-10ft (2-3m) as a hedge.
5. Best privacy hedge for soft shape
Pacific wax myrtle (Morella californica, Myrica californica, or California wax myrtle) is an upright, fragrant evergreen shrub, native to the west coast of the US, that is fast-growing and long-lived, making it ideal for hedging.
'As an alternative to more rigid and formal hedges, I love the evergreen Pacific wax myrtle for its dense yet wispy form,' says Oregon-based landscape architect and garden designer Bethany Rydmark. 'Its berries support birds and the leaf texture is a pleasant alternative to boxwood.'
Growing tips: 'It grows quickly, withstands pruning and shearing or can be let to range as a softer, informal hedgerow,' says Bethany Rydmark. 'Pacific wax myrtle is likewise climate adaptable and more drought resistant than traditional hedges.' Grow in an open position in well-drained soil, in sun or semi-shade. As its name suggests, it is happy in coastal conditions.
Hardiness: USDA 7-10 (UK H5).
Height: 6-30ft (2-9m).
6. Best privacy hedge for winter color
Juniperus scopulorum 'Blue Arrow' is a conifer with dense ice-blue foliage that looks good all year, but is particularly dazzling during the cold months when it glows in the pale light and has a magical winter-wonderland look.
'Juniper is an alternative to the ubiquitous arborvitae for creating a privacy screen,' says Illinois-based landscape designer Carolyn Gange. 'It is native to the eastern half of the US, very hardy in zones 2 to 9, and a significant source of food and shelter for wildlife. The species J. virginiana can spread invasively, so opt for other juniper forms, such as 'Blue Arrow'.'
Growing tips: Plant in well-drained soil in sun or semi-shade. It does not require a lot of pruning, but can be clipped in early autumn. Purchase larger plants in order to create a hedge in less time, and – since its form is columnar – plant them closer together than you would most hedging shrubs.
Hardiness: USDA 2-9 (UK H6).
Height: 5-15ft (1.5-4.5m).
7. Best privacy hedge for wildlife
Mixed hedging is a great option for a contemporary wildlife garden, creating a tapestry-like wall of different colours and textures and offering birds and bees a range of food sources.
'I don't like the uniformity of traditional hedges, so I prefer to mix shrubs and grasses with perennials for privacy screens,' says Irene Kalina-Jones, landscape designer at Outside Space NYC in New York City. 'It is livelier, better for the environment, and easier to maintain. The Japanese do the same: they mix shrubs and hard prune them into hedges. Some of the evergreen shrubs I like to use in a hedge include skip laurel, Myrica pensylvanica, Ilex glabra, Prunus lusitanica, yew, euonymus, and andromeda. I add deciduous ones into the mix (for example, Viburnum x burkwoodii), as well as tall grasses, such as miscanthus.'
Growing tips: 'Don't start with seedlings or baby plants,' advises Irene. 'We mostly plant substantial-size plants, as they will grow faster, since they already have large roots that will establish better in the ground.'
8. Best privacy hedge for topiary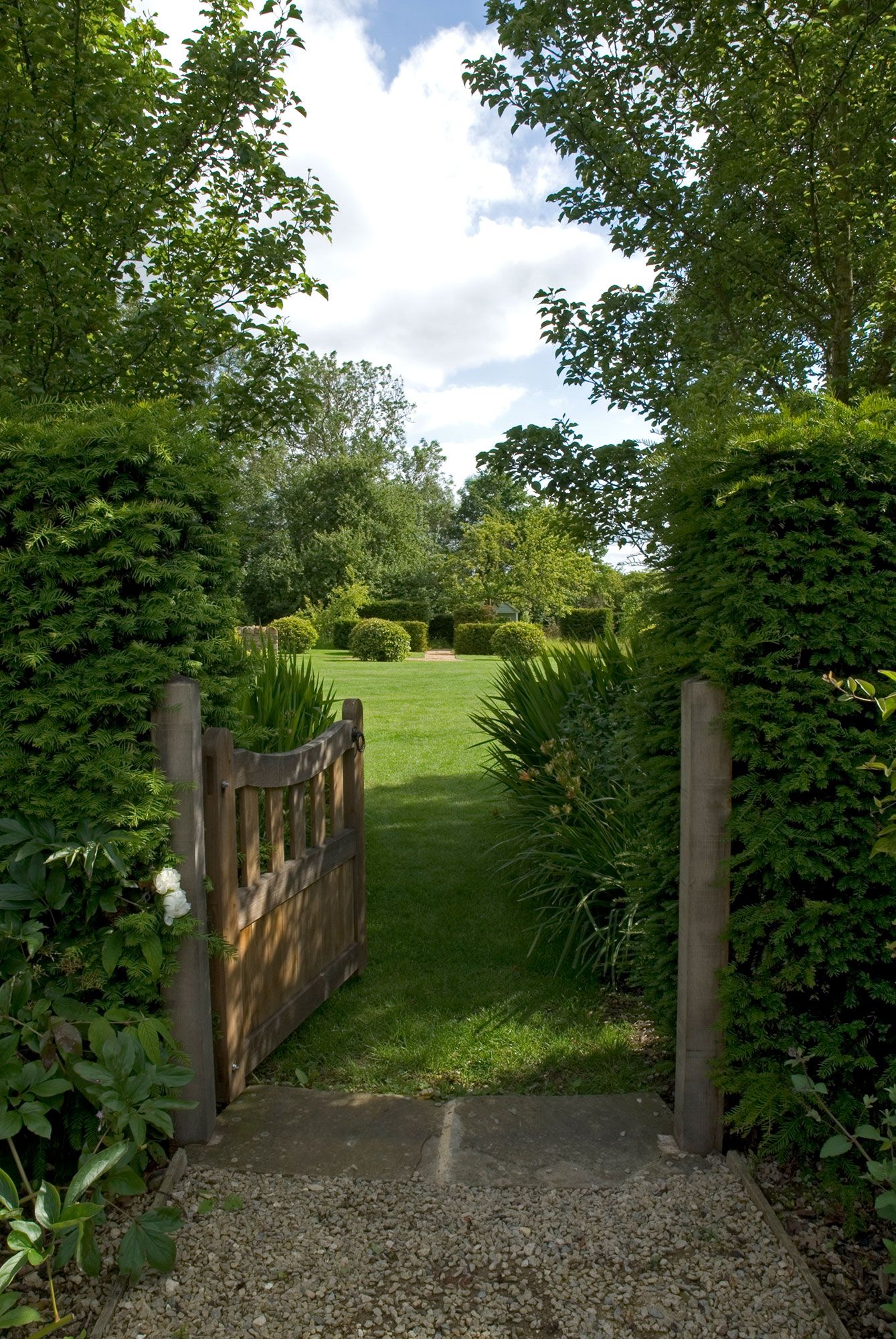 Yew is the most ultimate plant for topiary hedging, used in formal European gardens for centuries. Its dense growth creates total privacy and allows it to be clipped into incredible lines; topiarists even use a spirit level. Its dark-green growth, which can look black from a distance, dramatically frames the garden.
Nathaniel Lloyd, who created the iconic topiary hedging at Great Dixter in East Sussex, deemed yew the ultimate evergreen hedging plant: 'Common yew, Taxus baccata, is superior to all,' he wrote in his book Garden Craftsmanship in Yew and Box. 'That yew is slow of growth is one of those popular fallacies the origin of which is difficult to imagine, for it is actually one of the quickest growing of all the hedge plants. The small leaves or needles do not look unsightly when cut as do those of big-leafed plants like laurel, and if properly clipped the plants do not become lean and stalky near the ground like privet.' Once mature, yew is slow growing and can live for hundreds of years.
Growing tips: Yew hedging is most suited to large gardens, as it can be too dark for a small space. Plant in well-drained soil. It is vital to water regularly until plants establish. NB All parts of yew are poisonous – particularly the scarlet berries.
Hardiness: USDA 5-8 (UK H7).
Height: 6-8ft (2-2.5m) or more.
9. Best privacy hedge for sound
Bamboo creates a superb dense hedge with a contemporary look and has the added advantage of making a wonderful swishing sound when the wind blows.
Arguably, the best type to use in the average small garden is Fargesia (F. rufa or F. murielae), which won't block out too much light and can be clipped into a hedge shape. Taller bamboos (such as Phyllostachys aurea and Pseudosasa japonica) are an option in larger gardens and can be left as they are, if you love the look of bamboo, without being clipped and will still create privacy.
Growing tips: Fargesia doesn't spread much, but Phyllostachys and Pseudosasa do. 'Every time bamboo sends any shoots out beyond its designated area, chop off the runner as close to the main plant as possible,' advise the bamboo experts at Architectural Plants in West Sussex. 'Nothing like using a spade with a nice sharp edge that you've just created on an electric grind stone. This way you'll keep the plant under control and it will never have a chance to develop enormous root systems that can render bamboo extremely difficult to control.' It's also a great idea to put down a bamboo barrier.
Hardiness: USDA 4-9 (UK H5-6); range varies according to type.
Height: 10-15ft.
10. Best privacy hedge for scent
Pittosporum are tender evergreen shrubs grown for their glossy leaves and ability to create good structure; some also have deliciously scented flowers.
'Pittosporum tenuifolium is a good choice as a fast-growing hedge,' says London-based garden designer Claire Mee. 'It is easy to prune and hardy, with many varieties to choose from – my top pick being 'Abbotsbury Gold'. Many pittosporum give off a beautiful, sweet, honeyed scent at night, perfect for evenings in the garden.'
'Anderson' is fantastic form of the New Zealand P. tenuifolium for hedging that was discovered by Architectural Plants. The Japanese P. tobira is a great scented hedging evergreen, but is even more tender than P. tenuifolium.
Growing tips: If growing pittosporum for tall hedging, ensure you select one of the larger forms. Plant in well-drained soil. In sun, the flowers will be better; in shade the foliage will be more impressive, so semi-shade is best. If you don't live in a mild area, winter protection is necessary, as is planting in sheltered full sun.
Hardiness: USDA 7-10 (UK H3-4) depending on the species.
Height: 4-15ft (1-4.5m).
What is the best fast-growing privacy hedge for wildlife?
'For the home gardener who wants a quick solution to a privacy issue, I recommend buying larger, more mature native specimens,' says Jessica. 'There are many ways to gain privacy along a fence line without settling on a single species of plant. For instance, you can create a layered effect with arborvitae, grasses, and shrubs (such as red osier dogwood), providing color for the entire year, as well as a variety of all-season benefits to different animals and pollinators.
'The use of "fast-growing" as a trait for plant selection is something that I tend to flinch at,' says Jessica Soulliere, owner of Potager Garden Design, LLC and The Ferry Street Nursery Project in Detroit, Michigan, 'because when you require fast growing as a selection criteria, it often results in non-native plants, which aren't as good for wildlife and the environment, or – in the case of trees – ones that tend to suffer breakage easily as they age.' When it comes to hedging, breakages can be problematic to correct.
What is the best privacy hedge long-term?
A mixed hedge is the best privacy hedge long-term. Not only does it provide a wealth of different food sources for birds and pollinating insects, it also looks contemporary. Once clipped, it is a glorious wall of different colors and textures that morphs in every season, providing you with an ever-changing display. The other advantage is that – should a part of the hedge succumb to disease or weather breakage, it is easy to replace without damaging the look of the hedge.
'I cannot stand the look of a partly dead hedge,' says Irene Kalina-Jones, landscape designer at Outside Space NYC in New York City. 'This is one of the reasons I dislike traditional uniform hedges. I prefer to mix shrubs and grasses with perennials for screening. It is livelier and more eco-friendly, but also much easier to maintain. When you have a solid uniform arborvitae hedge and then a bunch of the plants die, good luck finding the right size to match what needs replacing!'
Lucy Searle has written about interiors, property and gardens since 1990, working her way around the interiors departments of women's magazines before switching to interiors-only titles in the mid-nineties. She was Associate Editor on Ideal Home, and Launch Editor of 4Homes magazine, before moving into digital in 2007, launching Channel 4's flagship website, Channel4.com/4homes. In 2018, Lucy took on the role of Global Editor in Chief for Realhomes.com, taking the site from a small magazine add-on to a global success. She was asked to repeat that success at Homes & Gardens, where she has also taken on the editorship of the magazine.