Topiary – 15 ways to use clipped evergreens in garden design
Discover how to use topiary to add year-round interest as a design feature in many styles of gardens, together with expert advice on clipped evergreens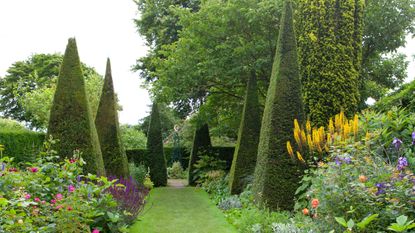 (Image credit: Leigh Clapp)
Topiary can be used as a design feature in many styles of gardens, whether for a smart, contemporary look, in a traditional scheme, or a contrast to a cottage design or a more naturalistic style of planting.
Topiary is the art of clipping plants into ornamental shapes and patterns. Your imagination is the only limit to what can be created as part of your garden ideas. The result can be flamboyant, with fanciful creatures, or more simple geometric shapes. You can add touches of whimsy and humor or sculptural definition to the garden. It is particularly suitable for a formal garden design.
Trimming plants into fantastic shapes dates back to the decadent days of ancient Rome. Clipped box, bay, and myrtle were frequently used in the gardens of the wealthy, with special gardeners being employed whose sole task was to create and maintain the topiaries. The word topiary derives from the Latin opus topiarium, which means ornamental gardening.
A multi-tasking feature, topiary is perfect for creating a strong punctuation point in your garden planting scheme, and landscaping with evergreens can add structure, introduce low shapes to edge paths, and add definition to containers.
If you love the look of clipped evergreen shrubs, choose lollipop bay trees, smart box topiary balls, and pompom conifers as topiary ideas to add strong shapes that help to define your outdoor space.
A low-maintenance form of gardening topiary looks good all year and can add a magical element when caught in a wintry hoar frost. Find out the best ways to use it in your garden design.
Topiary – ideas and expert advice
The rules for topiary are simple: decide on the height and shape you want, and get clipping.
Choose shrubs with small leaves and thick dense foliage such as privet. The more you clip, the smaller the leaves become, making it a good choice for defining a sharp outline.
Make sure you choose the best time to prune topiary, such as when to trim boxwood bushes, to ensure you maintain healthy growth and a good shape and structure.
1. Create a visual contrast
Simple outlines, such as a cube, spheres, or cones can create focus among relaxed naturalistic planting designs or cottage garden ideas for instance, and a single piece in a sea of a wildflower garden can be a magical juxtaposition.
Within the borders of garden designer Rosemary Alexander's beautiful garden your eye journeys from repeated shapes as punctuation points in the process of admiring the beauty of mixed herbaceous borders. This varies from a profusion of winter flowering or spring bulbs, to in summer, your eyes rest between the exuberance of blooming roses and peonies while being echoed by stately alliums, before drawing you on.
'The juxtaposition of topiary gives the eye something to rest on while taking in the more diverse planting scene,' she explains. It is the contrast of wildness and more natural shaping with the control of the man-made clipped forms that holds the design together to make a picture of harmony. You could also take a look at your existing borders and flower bed ideas and decide if some of the shrubs suit a gentle shaping to create a pleasing rhythm and repetition for your eye to rest on.
2. Replicate oriental shaping
The desire to control and manipulate the shape of plants has been featured in Japanese garden ideas throughout history. Clipped evergreens represent mountains and hills – the organic, voluptuous forms add to the tactile essence of a Japanese garden.
The style compared to English and European gardens is less geometric, rather being more shaped to echo nature and is known as karikomi or 'sheared back'. Massed mounds of clipped evergreens, such as azaleas, evoke rolling hills, mossy boulders, or distant forest canopies to give a sense of depth. The scale of the various elements is very important which is why you may find variations of height in some gardens and in others uniform sizes.
Know how to prune azaleas and other shrubs used in this form of design. Shearing is usually done in early summer or late spring after blossoms have faded, with a light trim to maintain the shape later in the year. Organic mounds or forms can become an intriguing site within any garden landscape or be part of a layer of hedges, trimmed clearly to catch the light. Repetition of form and plants holds the design together.
3. Plant a topiary forest
Why not go all out and create a complete topiary garden? The rich Buxus greens and a touch of variegated options with geometric forms and the occasional delightful creature, combine to perfection in this shady glade under a canopy of deciduous trees. This is a wonderful north-facing garden idea and for shady spots.
Inspired by the Jardin de Sericourt in France, cones, spirals, balls, and cubes of various sizes are grouped together as in a rather whimsical city of green to be discovered along shady garden paths. The ground between is mulched with bark chips to keep the simplicity of shapes the main event.
The best mulches for box are ones that insulate the shallow-rooted shrub from soil temperature fluctuation, while also blocking weeds, but the mulch shouldn't contribute to pH or mineral changes – so pine and hardwood mulches are best.
This idea works as a stand-alone space in a shady corner. It goes without saying that it's one for the skilled, patient, and conscientious gardener to keep the shapes neat and precise. Feed and water regularly as the plants' needs increase as they are clipped back and attempt to grow new shoots.
4. Use frames for creative shapes
For complicated shapes, or, for example, if you need guidance creating a particular animal, you can buy a wire template that remains hidden inside the topiary.
Commercial topiary frames are available in a wide range of animal and other shapes. Getting the shape right allows you to really concentrate on the plant aspect as the shape is set and you just prune to the wire.
'We design and create the frames by hand in our workshop, making sure the shape, size, and pose match the proposed design. We then add the plants. As the hard design work is already done, one can focus on molding the stems and foliage into the frame's shape,' explains topiary manager Rachel Orme, from topiary specialist Agrumi Limited.
'The framework also acts as a guide to clipping. Simply prune back the new growth to the shape of the frame. There's no chance of accidentally clipping off a limb,' she adds.
You can also create 'false topiary' by purchasing wire frames of circles and other shapes from garden centers and using climbing plants such as ivy or trachelospermum to twine their way over the frames with a bit of encouragement. Attach the vine to the frame and let it grow and fill in the shape, removing any stray growth.
5. Design a decorative topiary hedge
For the ambitious gardener, the ultimate topiary fantasy is to create topiary shapes atop privacy hedges.
Topiary doyenne and artist Charlotte Molesworth's magical garden with its sculpted hedge adorned with the likes of peacocks and teapots, can't fail to inspire. 'If choosing to give your existing hedge added height or a punctuation mark or statement then you need to carefully select the right spot and right type of hedgerow plant. Choose one of the slower-growing plants – taxus (yew) is the very best but Ilex, carpinus, myrtus, Lauris nobilis or fagus all work well,' explains Charlotte.
'Once your plant is earmarked in the hedgerow, cut away all of its neighbours to hedge height and keep all the material that there is to work with. Decide on the shape you want, start simple, select a central leader with the growth attached and then cut the side growth according to your desired form. It will probably look spindly but now that it has been given light and space it will fill out. Cut annually with your shears and be patient as it will take at least 3 or 4 years to get the shape you are wanting and then it fills out and gets better as you gain confidence with clipping,' she adds.
If you don't have free-hand skills you can use ready-made frames. Attach the shapes firmly to stout stakes driven through the hedge in the desired spots. Tie in strong shoots to the underside, which will then grow through the frame to fill the upper surface. Trim the topiary outside the frame to keep it concealed.
6. Add topiary in different shapes
Cube shapes are one of the easiest topiary shapes to do and are good for dividing different planting areas in the garden, and if you are planning to design a parterre garden. Small pebble-shaped topiary is also popular for edging paths.
In this garden design by Charlotte Rowe topiary balls contrast with square box hedging.
Topiary suits a repeat design and works really well if you keep things symmetrical on either side of the garden, which can also create the illusion that a space is bigger than it is.
There are many options for shapes and styles – have some fun creating shapes that suit the style of your backyard, whether formal or more informal and whimsical. The shapes can come to the fore in a winter garden caught in a hoar frost.
'Topiary works on all scales, from country estates to tiny town gardens. Their ability to transform a space, often simply by a single presence, is highlighted in small gardens, where their leaves add interest and shadow during the day and create drama at night, especially when paired with lighting,' says designer Kate Gould.
'Yew, buxus and ilex are tough plants that can grow into large trees but are equally happy clipped into hedges or shapes that can be both traditional and contemporary in feel,' Kate adds.
7. Enhance entrances with topiary in containers
Smartly clipped evergreens are a great choice for enhancing entrances such as gates, doorways, and porches.
In winter topiary adds much-needed drama, punctuating a space when the rest of the garden has little to offer.
Containers featuring clipped topiary designs are also a good choice for adding interest to a small space. Another plus is you can switch them around to keep things fresh. They can be underplanted with some of the best winter plants for pots and borders for added color.
Topiary in a planter can do so much more for a small space than a group of less impressive specimens. If you're time-pressured, they add impact without hours of maintenance.
Traditional wooden Versailles containers flanking a doorway or rows of Buxus balls in matching containers are classic ideas. A pair of topiary standards at a set of steps adds an instant touch of formality.
8. Include topiary among naturalistic planting for a modern look
Traditionally, topiary has been used in classical formal gardens in the form of cones, topiary balls and standards.
'But for a more modern look that contrasts sculptural forms with sweeping planting, try including topiary as a punctuation mark within a tapestry of naturalistic herbaceous perennials,' suggests Jeff Stephenson, head or horticulture at Bowles & Wyer.
For example, 'you could incorporate different sized yew domes throughout a carpet of hakonechloa,' Jeff adds.
'Defined and sharply clipped forms deliver year-round architectural interest that we contrast against seasonal perennials and grasses,' explains award winning garden designer and landscape architect Gavin McWilliam of McWilliam Studio.
9. Create structure with topiary
Often referred to as the bones of the garden, the evergreen structure can be the starting point for creating a garden design once the initial layout has been decided.
'We regularly include topiary in our designs to provide structure and rhythm in our planting,' says Gavin McWilliam. When combined with other evergreen trees for gardens , topiary can create a strong backbone for the garden.
'The majority of the topiary forms we work with are the evergreens taxus, pittosporum and Prunus lusitanica. However, we also like to work with beech and hornbeam when contextually relevant,' Gavin adds.
10. Use topiary to add winter interest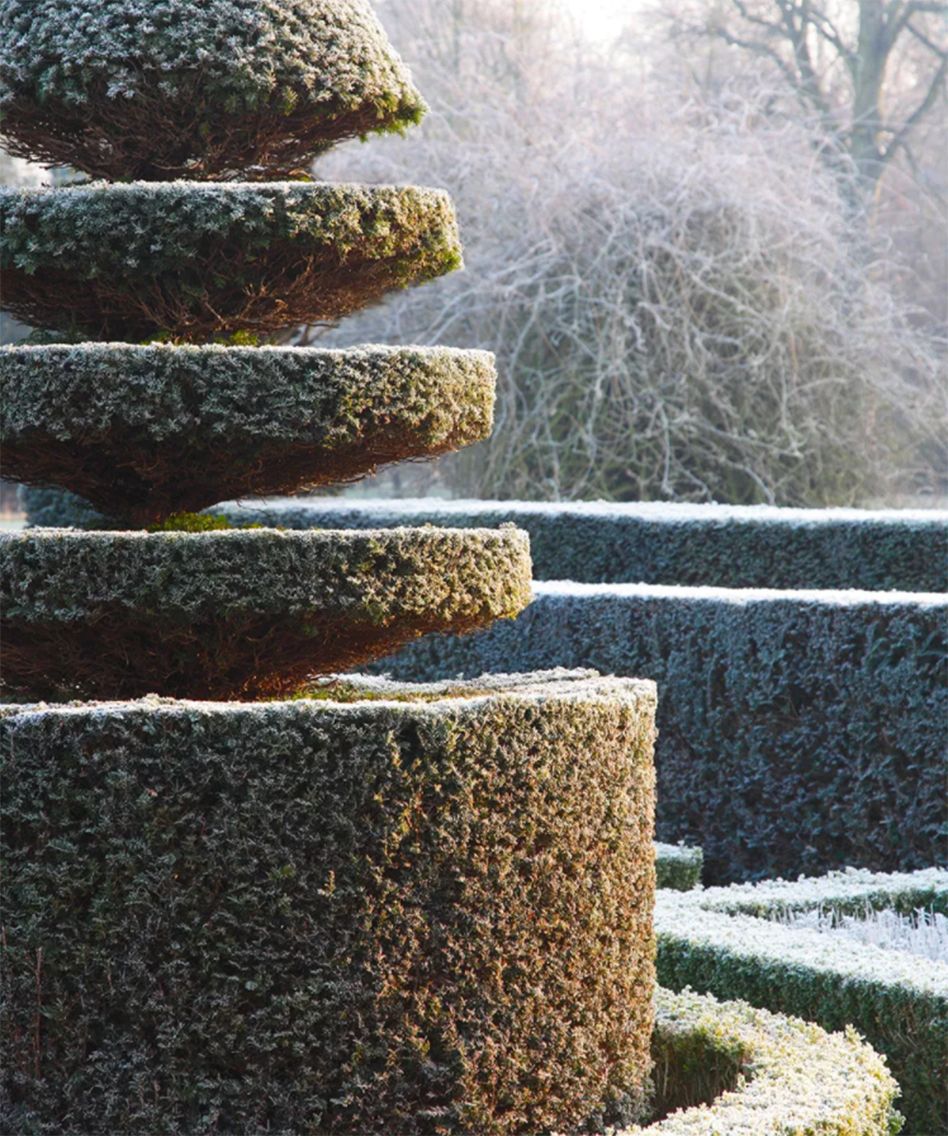 However abundantly we might plant out backyards, the reality is that for many months of the year the garden relies on evergreens for structure and form.
'Topiary really comes into its own in the quieter months of later winter and early spring when the herbaceous planting is cut back, and the new shoots of spring are yet to appear,' says Gavin McWilliam.
When designing a garden, it's important to think about seasonal greenery and topiary is a great choice as one of your winter garden ideas. 'As well as formally clipped hedges and topiary balls or other shapes, consider creating more informal 'lines' of plants with sarcococca, osmanthus, or a soft pillow cloud of Lonicera Pileata Maigrun, which is excellent for ground cover,' explains garden designer Lee Bestall.
Timeless classics such as taxus and buxus, which both respond well to regular clipping, offer structure and mass, as well as being perfect paired with warm white fairy lights.
11. Create a knot garden with topiary
'Using sculpted evergreens is a timelessly elegant way to provide focal points and frame key views around the garden,' says garden designer Richard Miers.
'I use topiary and evergreen plants and hedges as the backbone to my designs. It can provide the framework upon which other elements of the garden are then subsequently applied,' he adds.
In this garden design, Richard has used buxus and lavender to create a knot garden that frames the entrance to the house and reflects its symmetry. The topiary enhances the entrance, creates a repeat design and makes the space look bigger.
12. Introduce cloud pruned topiary
'Cloud pruning' is where continuous mounds of shrubs are pruned into softly domed topiary balls that look like undulating clouds. These are interspersed with other plants such as low grasses, ground cover and even small perennials.
'We use 'cloud pruning' in many of our gardens, small and large,' says designer Charlotte Rowe.
'This style of planting provides structure while still allowing seasonal interest and color,' she adds.
In addition to the smaller leafed plants that are commonly used for traditional topiary, large leafed plants including copper beech, Pittosporum tobira 'Nanum' and Prunus lusitanica can also be used.
'Copper beech is particularly attractive as the leaves are a wonderful russet color in winter,' explains Charlotte.
13. Add height with clipped specimens
Evergreen trees can be neatly clipped like the ones above into 'lollipop' shapes to create height, screening and eye-catching shapes on a garden's boundary – or planted to create a division between one area of your backyard and another.
14. Break up a lawn with topiary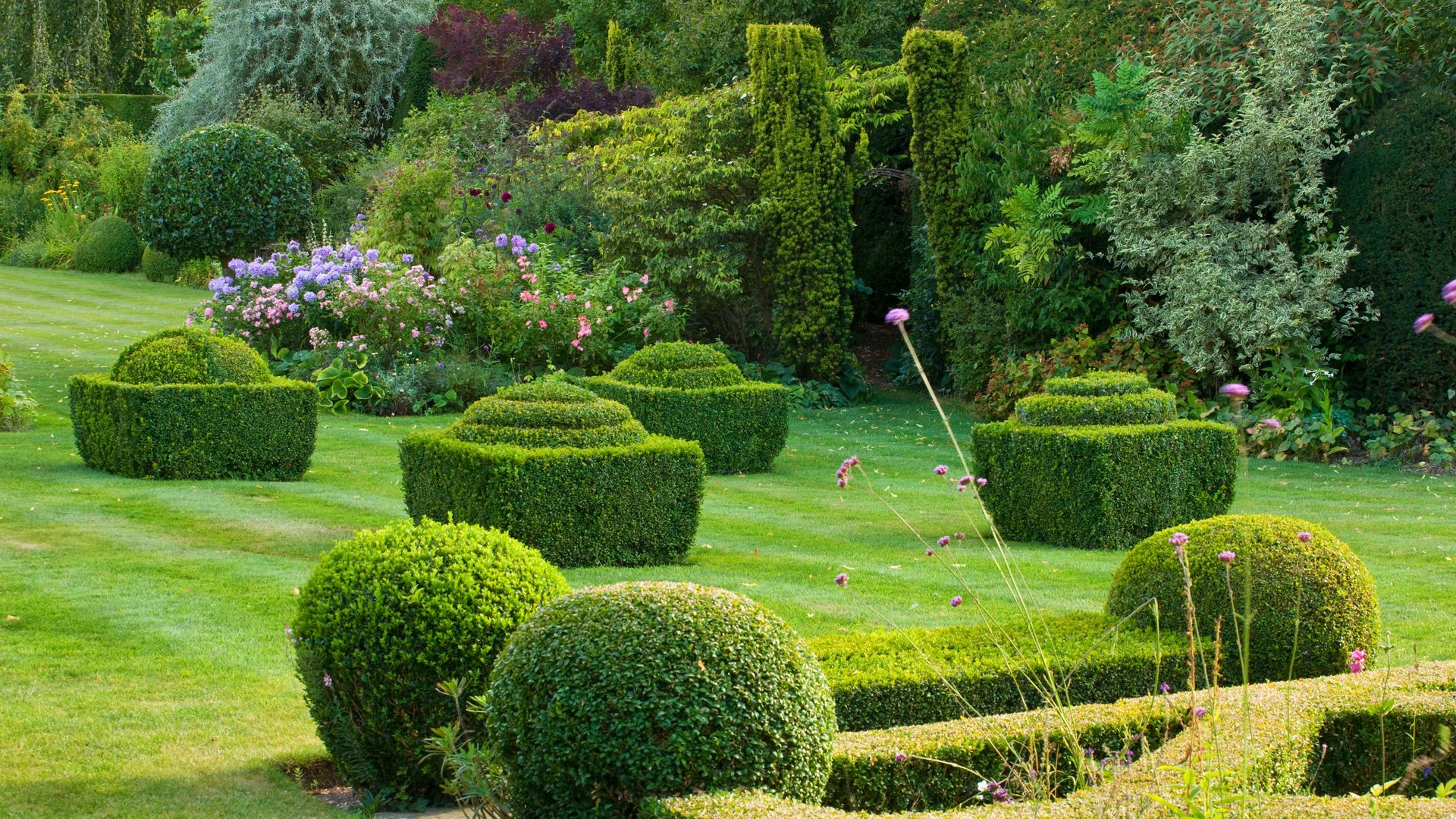 Topiary needn't be in a flower bed or lining a path – it can be used to make a large expanse of grass more interesting. Formal gardens of historical palaces, such as Henry VIII's Hampton Court Palace, often feature large topiary dotted across lawns, creating grandeur and structure. Of course, at home, you can create the same effect on a much smaller scale.
15. Frame a view with topiary
Think of topiary as you would yard art ideas. Use them to draw attention to a particular area of the garden, for symmetry to adorn an entrance, delineate pathways and junctions, frame a vista, or emphasize the geometry of a design.
Neat, simple geometric shapes work well in small spaces and suit the lines of man-made surfaces, while repeated forms lend an air of control and uniformity. Spirals are mostly marked out and then cut from cones with a central trunk and fairly horizontal branches
The use of topiary to frame a view can be highly successful. Low topiary balls can be very successful in small spaces, but in larger gardens, tall, conical topiary can create a real sense of occasion.
What does topiary mean?
The term topiary means when trees or shrubs are trimmed, pruned and trained into ornamental shapes.
There are many shapes, from simple topiary balls and mounds to squares, swirls and more elaborate designs.
What plants are suitable for topiary?
Plants for topiary are generally evergreen or semi-evergreen shrubs with smaller leaves. These will create a cleaner and more tightly clipped finish, which looks good all year round.
'These plants need to have been cut back hard early on in their lives to produce a multi-stemmed framework to sculpt,' advises Jeff Stephenson of Bowles & Wyer.
How do you make a topiary shape?
To make topiary, 'create a clear picture in your mind about the form you're going to create, then see yourself as a sculptor, gradually moulding it into shape,' explains Jeff Stephenson, head or horticulture at Bowles & Wyer.
'Adopt the practice "measure twice, cut once'" when it comes to topiary: look, cut once, then look again,' he adds.
Timing is crucial too. 'Allow new seasonal growth to expand, harden up and darken as the cuticles on leaves thicken. It's a far healthier approach for the plant, rather than nipping off every shoot as it emerges.' says Jeff.
The more you invest in your tools, the better quality you'll get. But it's also important to consider the ergonomics and comfort.
'If a tool feels comfortable for you, then this will show in the quality of your work. Short-handled shears are useful for close work, whereas long-handled ones give you reach on larger plants. Keeping your tools clean, sharp and lubricated is also critical. Sap will impair your blades over time, so wipe them regularly with either disinfectant or detergent,' advises Jeff.
'Pruning should take place during the growing season, spring and summer. Every time you clip the plant you encourage new growth, the more you clip, the more dense the foliage will be. A phrase our company director, Stanley Jackson, often says is 'growth follows the knife'. You must avoid pruning around the time of the frost, though, as new growth will be damaged,' explains Rachel Orme of Agrumi Limited.
Why is topiary important in landscaping?
Topiary is important in landscaping because it allows you to create year-round interest, living architectural flair, and structure while also being a link to the traditions of the past, therefore eminently suitable for different eras.
'Topiary is the most useful garden design tool. Fashions in gardens fluctuate, but precisely cut topiary is invaluable in adding the anchor of form and structure a garden needs,' says garden author Marylyn Abbott of West Green House and Garden.
Topiary's versatility and range of possibilities suit all types of gardens, from containers and courtyards to formal and contemporary spaces.
Can topiary grow in shade?
Yes, topiary can grow in shade. Shade and semi-shade suits many suitable plants. Choose evergreen shrubs and vines that grow in the shade and part shade, such as ligustrum, box, hebe, English yew, ivy, euonymus, lonicera, and Japanese laurel.
Rachel is senior content editor, and writes and commissions gardening content for homesandgardens.com, Homes & Gardens magazine, and its sister titles Period Living Magazine and Country Homes & Interiors. She has written for lifestyle magazines for many years, with a particular focus on gardening, historic houses and arts and crafts, but started out her journalism career in BBC radio, where she enjoyed reporting on and writing programme scripts for all manner of stories. Rachel then moved into regional lifestyle magazines, where the topics she wrote about, and people she interviewed, were as varied and eclectic as they were on radio. Always harboring a passion for homes and gardens, she jumped at the opportunity to work on The English Home and The English Garden magazines for a number of years, before joining the Period Living team, then the wider Homes & Gardens team, specializing in gardens.