Garden path ideas – create a beautiful walkway with the right materials, edging and plants
There's much more to paths than just a structure to get you from A to B. A garden path can enhance your garden or even be a feature in its own right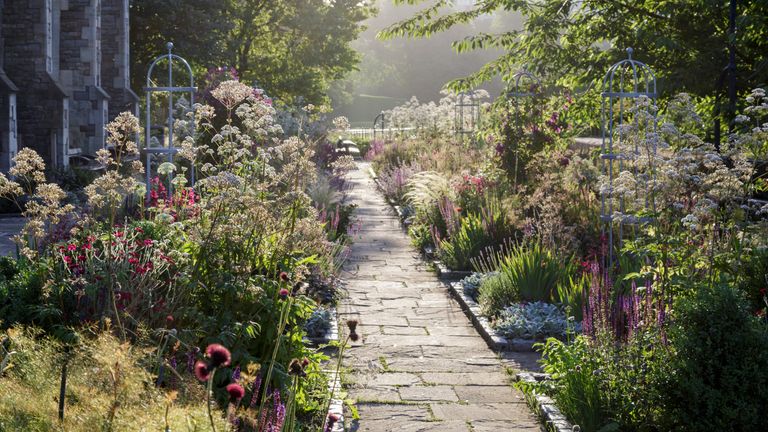 (Image credit: Future / Mark Bolton)
A garden path can create depth and bring structure to your garden, as well as adding a decorative touch depending on what materials you use.
Whether it's a path to your front door, a walkway that meanders around your back garden or a destination path that leads to a particular spot, a path can enhance the look of your garden so pay attention to the design and materials you're choosing.
From bricks to wooden chips and stepping stones, check out these great garden path ideas to inspire you...
Garden path ideas – how to create a walkaway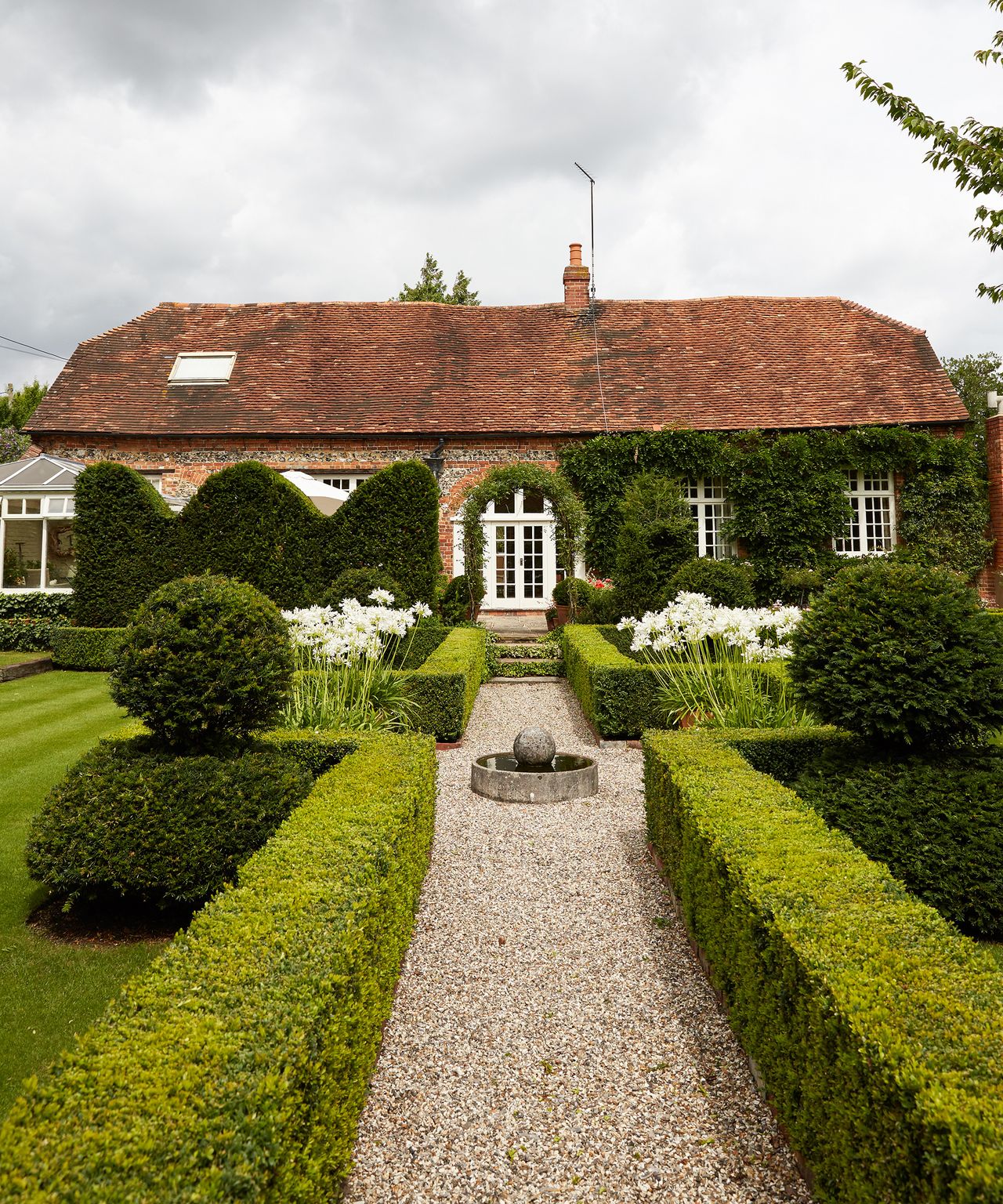 Decide where you want your path to go – directly to the shed, compost heap or bench, or a scenic stroll through the garden? Or will it be a focal point itself?
Plan well – the placement of the path will determine how everything is seen and enjoyed. Change the surface to signal you're entering a new area, or that you should stop and enjoy a view, or follow a new direction.
Test your garden layout by marking out a temporary path. When you've hot a route mapped out, pick your materials.
1. Create a garden path on a slope
Creating a garden path on a slope is no easy feat, but it can be hugely rewarding if done so successfully. The first thing to consider is what materials you should use, and the possible pitfalls that come with a garden that is not level.
According to Landscape Designer and Writer Mark Lane: 'This is purely down to personal choice, but consider hard standing such as a riven paving or a slab with a rough finish or gravel for level pathways.
Being a slope, there will be more rainwater run-off, so provide adequate slip-resistance underfoot. Of course, borders filled with glorious plants will soak up the majority of the water, but it's always better to be safe than sorry.'
Here, steps have been positioned at alternate ends of each terrace to create a defined pathway through the sloping garden.
2. Introduce a garden path that enhances your space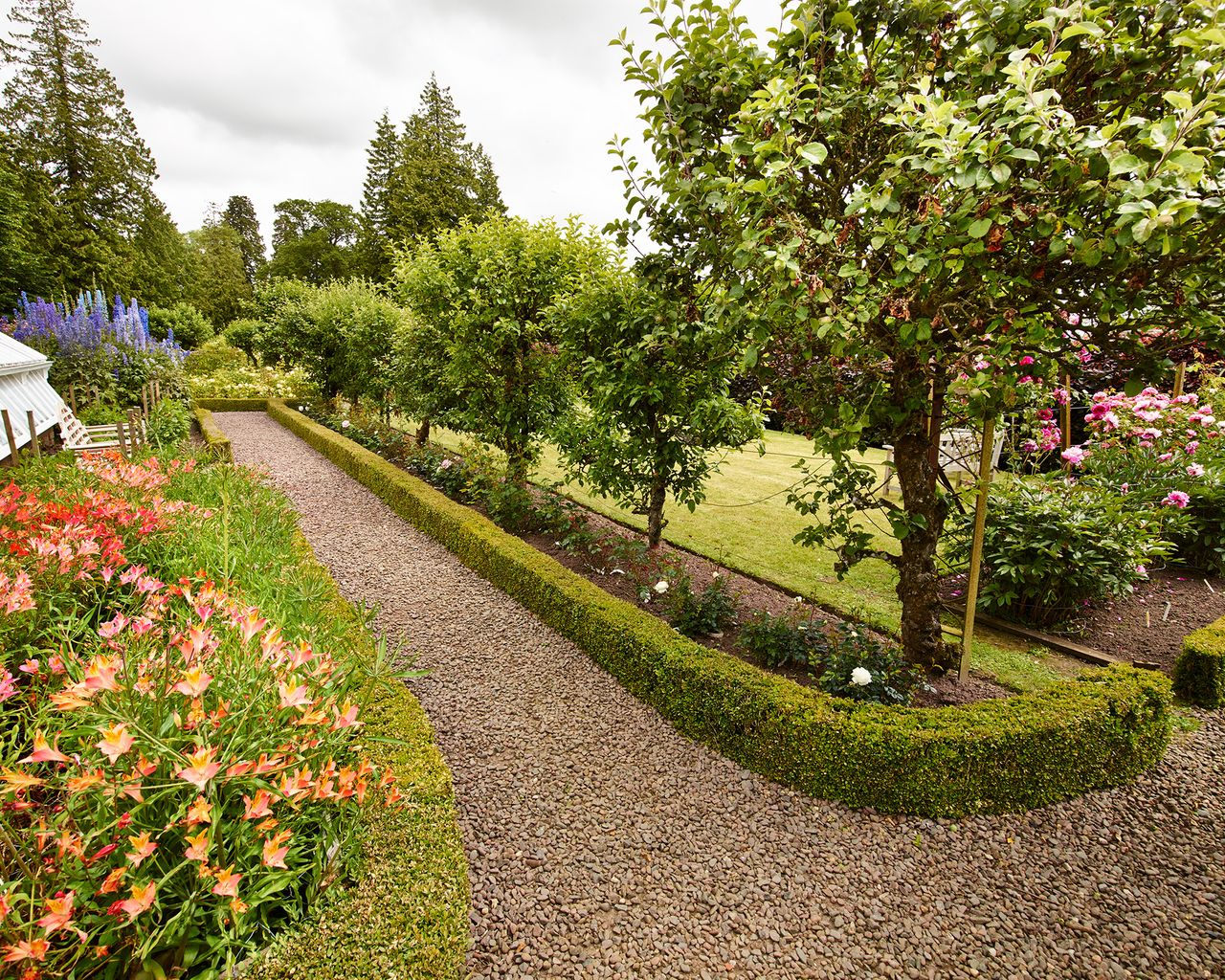 A path should help create atmosphere and be 'in tune' with the character of the surroundings.
A softly winding garden path leads the eye through the garden, encouraging it to linger on areas of lovely planting, or drawing it forward on straight stretches.
Well-designed paths are attractive features as well as serving a practical purpose, seamlessly linking different areas of the garden.
3. Build a permanent pathway
Although paths can be temporary (such as a walk through a meadow cut with a mower), a permanent one will add to the structural backbone of your plot. It can also be a highly ornamental feature in its own right, depending on the originality of the design and the materials you choose.
Remember, if you have a functional path that takes a lot of wear, it must be level, safe, durable and easily maintained.
4. Add a gravel pathway to a country garden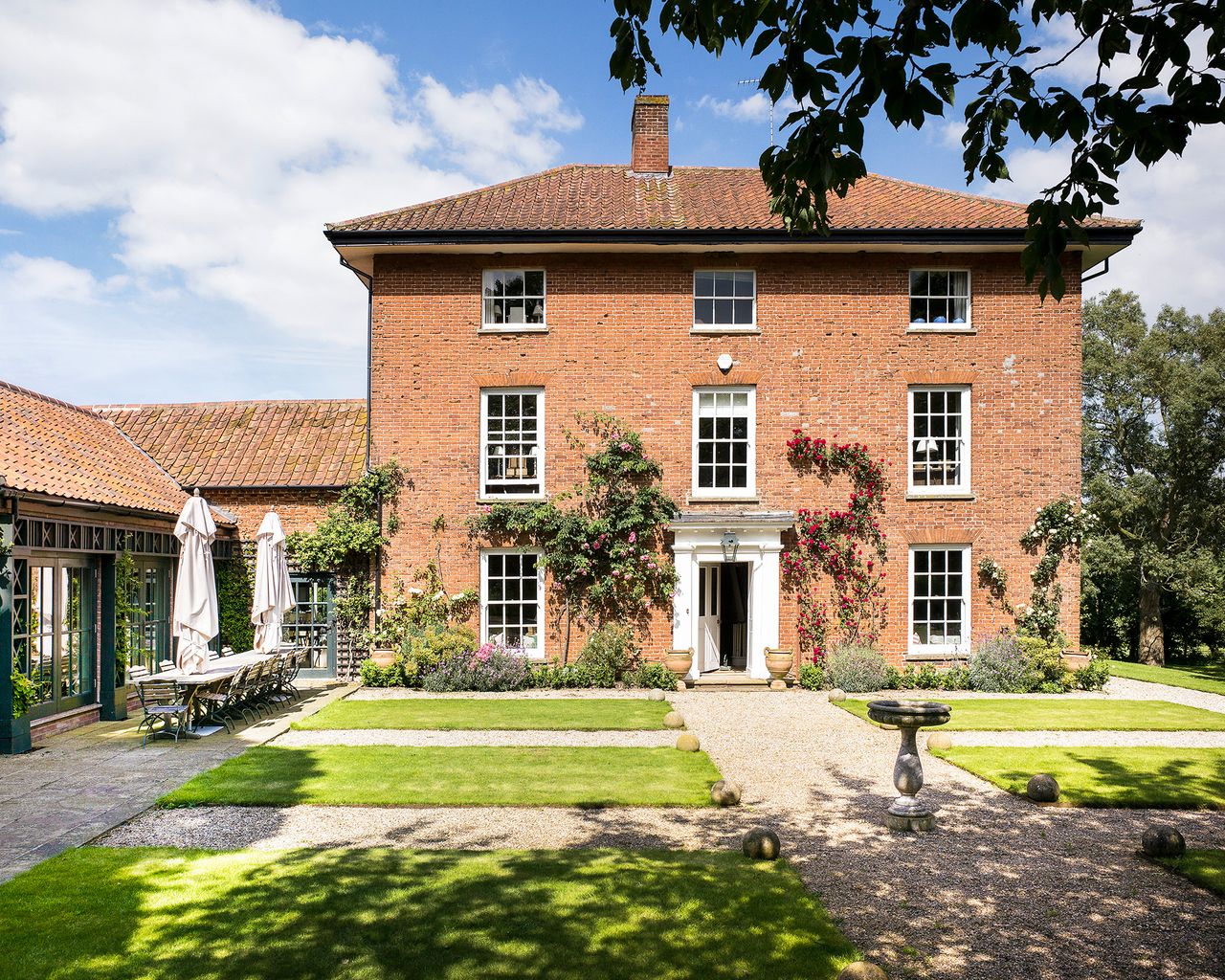 Gravel is not only cheap and low-maintenance, the crunching noise it makes underfoot can be a good burglar deterrent.
Invest in a size that won't easily stick in the soles of shows and get 'walked' into the house. Put a 5cm later over a weed-proof membrane and retain with edging boards. Gravel can also be used to soften hard-paved edges and to unify unrelated areas in the garden.
5. Add interest to a wild garden
If you want to stroll through the wild areas of your garden, bark is the perfect fit as it won't go soft like grass after a downpour.
Used for mulching beds and borders, too, it'll give the garden a seamless look. Ideally, the width of the path should fit two people side by side. For a 'hide and reveal' route through the garden, design a meandering S-curve.
Lay bark over compacted ground and rake out to a depth of 5cm. Restrain edges to keep the chippings in place and present the sides from crumbling.
6. Make a narrow garden seem wider
There are no set rules that prevent the use of sinuous paths in a small garden. A short, gently curved path is certainly more interesting that a completely straight one, and a path that zigzags from side to side will make a space seem larger.
This trick is useful for making a long narrow garden seems wider. And a path which gradually becomes narrower will give the illusion that the garden is longer than it really is.
7. Use imaginative edging along your path
Edging acts as a frame to any material and is essential where gravel meets a lawn, or where stones meet flower beds.
Linear paths benefit from the definition of a hard edging in engineering or stock bricks, wattle fencing, tiles, pavers or granite setts.
Informal, winding gravel or bark paths can be left to naturally merge into planting or edged with birch poles or other branches laid either side. Large stones or rocks strategically placed offer the same effect – but not near grass – as cutting would be tricky.
If edging with timber, treat with a plant safe preservative and fix with wooden pegs inserted every 1.2m (4ft). Curves can be made by cutting half way through the inside of the planks, then gently coaxing into shape.
8. Opt for a durable brick pathway
Bricks form durable paths, especially when laid in traditional herringbone, basket weave or stretcher band patterns, and come in red, grey or brown tones.
A herringbone brick path that runs between beautiful borders is an attractive detail, and is very adaptable, being easily scaled up or down to suit the size of the garden.
When calculating a path's width, allow space for edging plants – a flowering lavender hedge of compact cultivars flopping over the path will be wonderful to sashay through on a summer's day.
Traditional pavers are handmade in clay and come in reds and browns that mellow beautifully. Relatively easy to lay, pavers are very forgiving and can be finished by brushing sand into the joints if you want ground-hugging plants to take hold.
9. Perk up a patio or path
Hard landscaping can easily look dull, but there are ways to bring it to life. You can transform existing pedestrian grey paving by replacing a few slabs with a square of lawn turf or herbs, such as thyme or camomile, creating an attractive chessboard effect.
Laying a new path? Go for sustainable stone in a style that suits your outdoor space. Herringbone brick gives the feel of a cottage garden, while travertine paving injects a modern air. Pea gravel looks good anywhere, plus it deters burglars.
10. Lay down a lawn
Garden paths don't have to be paved, or even feature any hard landscaping at all. The most captivating are those that appear to be completely spontaneous, if a little unruly.
What could be more intriguing than a mown path? A simple lawn walkway is not only easy easy to do, you can personalize it by making it as twisty as you like.
Be kind to your lawn mower by creating your path while the grass is dry and low –and, don't forget to repeat fortnightly for a neat and tidy garden path.
What is the best material for a garden path?
The best material for your garden path is highly dependant on the shape, size, look and function of your garden.
Paths can be short or long, wide or narrow, straight or curvaceous. Slate chipping, gravel and wood chips are often used as loose surface materials, while slabs, tiles, bricks, setts, pavers, decking boards and natural stone provide a solid, smooth surface on which to walk.
How do you build a garden path on a slope?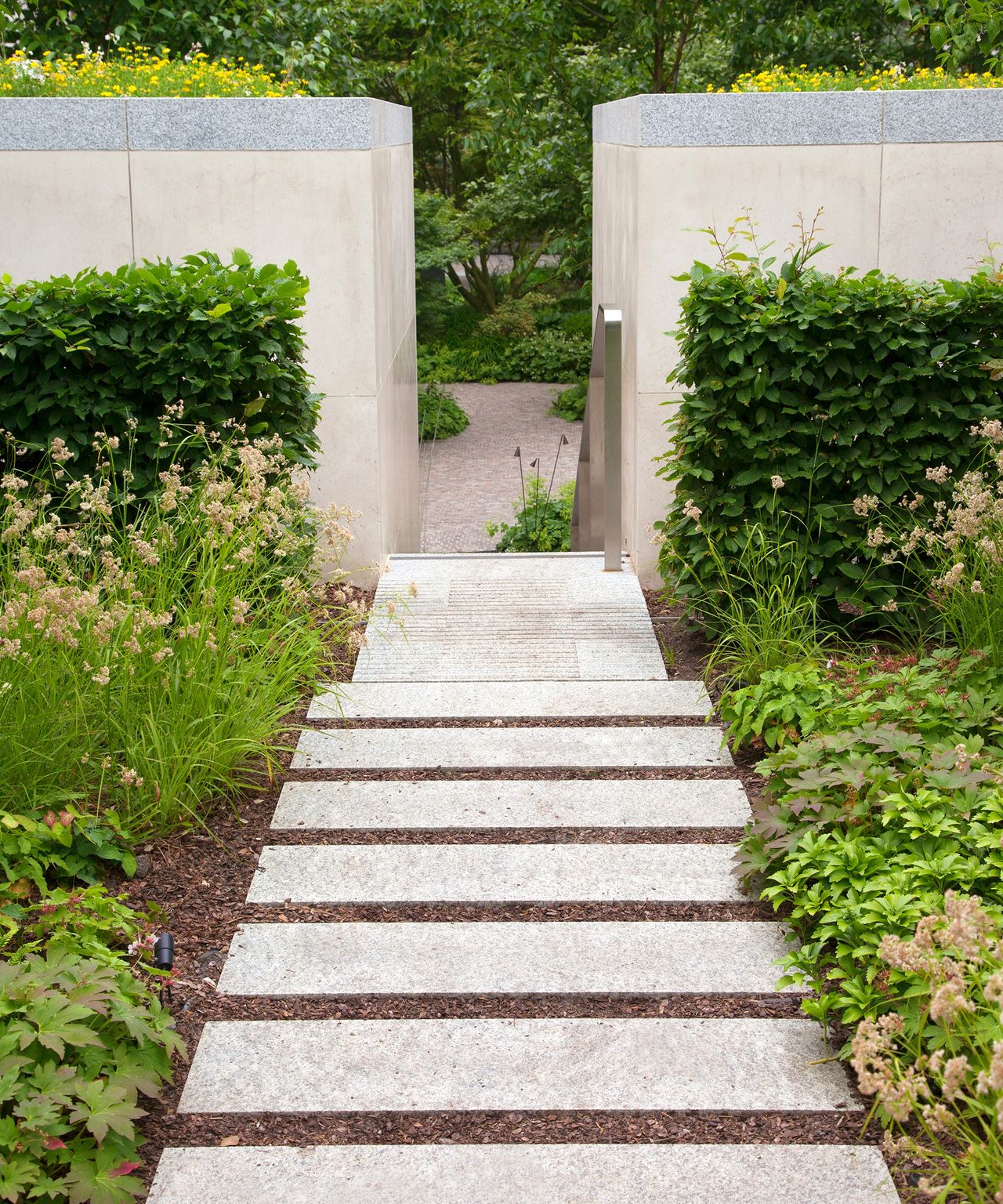 While it may not be easy to build a garden path on a slope, it is most certainly doable.
No garden is completely flat, unless a digger has been in and levelled the site, and, many gardens, are on a slope which when viewed at initially can be a little daunting.
To create a pathway on a slope, TV Gardening Presenter, Landscape Designer and Writer, Mark Lane suggests that: 'You position steps at alternate ends of each terrace to create a defined route or pathway through the garden. This will add interest and tease you on to the next level.'
Jennifer is the Digital Editor at Homes & Gardens. Having worked in the interiors industry for a number of years, spanning many publications, she now hones her digital prowess on the 'best interiors website' in the world. Multi-skilled, Jennifer has worked in PR and marketing, and the occasional dabble in the social media, commercial and e-commerce space. Over the years, she has written about every area of the home, from compiling design houses from some of the best interior designers in the world to sourcing celebrity homes, reviewing appliances and even the odd news story or two.