Garden path design rules – 5 expert tips you need to know before updating your space
The experts reveal the essential dos and don'ts when creating walkways in your backyard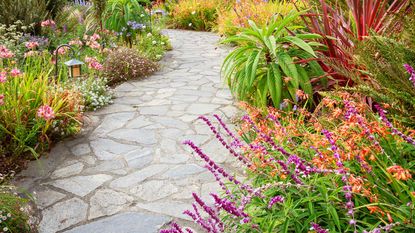 (Image credit: Ellen Isaacs / Alamy Stock Photo)
Sign up to the Homes & Gardens newsletter
Decor Ideas. Project Inspiration. Expert Advice. Delivered to your inbox.
Thank you for signing up to Homes & Gardens. You will receive a verification email shortly.
There was a problem. Please refresh the page and try again.
Paths are a crucial part of a backyard, impacting how you move around the space. You'll want to get them just right, which means factoring in some key design rules.
Not only do garden paths offer access to gates, patios, pools, and more, but they also offer the opportunity to boost the aesthetics of your plot. From wide, paved walkways complete with sleek spotlights to whimsical stepping stones interspersed with low-growing plants, the design of a path can play a key role in your yard's overall theme, whether that's contemporary or traditional.
It's not just about the looks, though. A pathway needs to be functional, too, so it can be used as intended. Take the following expert tips on board and your new backyard feature will be a success.
5 key rules to remember when planning a new path for your yard
Update your backyard landscaping with these garden path design rules.
1. Keep your path's purpose in mind
'Before you start to create your backyard path, it is important to determine its purpose,' says Shaun Martin, a real estate professional and Owner of We Buy Houses In Denver. 'Is it meant for leisurely strolls or entertaining guests? Or are you looking for a more utilitarian route from point A to point B?'
Think about how much footfall your new path will receive and how accessible it needs to be. Considering exactly how you plan to use your pathway will affect your decisions on the materials and design, as you can then select the ones that will best suit your needs.
Maybe it's going to connect different levels in your yard, meaning you'll need to choose between steps or a slope. Perhaps you'll need to use it to move a wheelbarrow to and fro, or want two people to be able to walk on it side-by-side – in which case, it needs to be wide enough.
Straight paths are more practical, says Hanna Bell of Gardeninghood.com. 'Curved paths look more natural and can add interest to your garden.' The latter can work well as a meandering walkway through flower beds for admiring plants and providing access for maintenance.
2. Choose materials that complement the rest of your landscaping
From Dallas, TX, Andrew is a landscaping design and lighting advisor for Certified Lights, a leading US-based landscape and outdoor lighting provider dedicated to helping professional landscapers and DIYers find the perfect lighting solutions.
'The material you choose will impact the look and feel of the path, as well as its durability and cost,' says Andrew Norris. 'Concrete is durable and affordable, but may not fit with every style of garden. Paving stones come in a variety of shapes and colors, making them a popular choice for decorative paths. Gravel is a more natural-looking option and is ideal for casual or rustic gardens. Brick is another option that adds a classic, timeless feel, while wood adds a warm, inviting touch.'
Joe Raboine is the Director of Residential Hardscapes at Belgard, a company that specializes in paving and hardscaping. He often hosts webinars, assists with training events and trade shows, and presents at Belgard Universities and other industry events on current topics such as design trends and industry best practices.
One low-cost material for pathways is wood chip mulch. However, this requires replenishing and maintenance on a regular basis, warns Joe Raboine of Belgard.
Choose a material that will help integrate the path with the surrounding landscape, suggests Stacie, a Head Groundkeeper and advisor for Patio Productions. 'Consider how it will blend with the existing vegetation and garden features.'
If you have a more clean and modern backyard space, select hardscapes with clean, linear lines to match, recommends Joe. 'On the other end of the design spectrum, cobbled pavers go beautifully with a more traditional design.'
If you're opting for backyard pavers, there may be an option to experiment with the layout to create different patterns, such as herringbone or basketweave designs. This can help to enhance your overall scheme. Think about mixing up the materials to create accents, too – for instance, a different type of paver can draw attention to the edge of a step, which makes it safer to use.
You can also incorporate edging plants to help your path blend into your backyard's landscaping – from scented or structural shrubs, perennial flowers, or even trees.
Just make sure that your chosen material suits the environmental conditions of your yard as well as the aesthetics. 'Some materials may not be suitable for the climate or soil conditions in your area and can break down quickly or become slippery over time,' explains Robert Silver, CEO of Progardeningblog.com. For example, using wood in a damp climate can result in rot and decay. Make sure to choose materials that are durable, weather-resistant, and appropriate for the conditions in your area.'
3. Consider drainage
Whether you're designing a backyard or front yard walkway, proper drainage is an important aspect to consider.
'Paths that are not properly sloped or have poor drainage can result in standing water that can damage the path itself as well as the surrounding plants,' says Robert Silver. 'Standing water also creates a breeding ground for mosquitoes and other insects. To avoid this, make sure the path slopes slightly away from plants and towards a drainage area, and consider installing a trench drain or other drainage solution if needed.'
Alternatively, you could opt for permeable materials, such as gravel or permeable pavers.
4. Don't forget about lighting
Forgetting to add lighting to your pathway makes it almost impossible to navigate at night, which impacts its safety and practicality. Outdoor lighting can also enhance a garden path's beauty, says Andrew – and there are lots of styles to choose from.
'Low voltage LED lights are a good option for a low-maintenance and energy-efficient solution,' he says. Strip lighting works well when tucked beneath the treads of garden steps, while recessed spotlights look sleek and contemporary when sunk into paved or decked walkways.
Stake lights are another popular option – you could even opt for solar-powered styles for ease.
1.
Iron Shepard's Backyard Hook
These hooks are super versatile – use them to string a set of festoons along your path or hang lanterns from them for an enchanting glow.
2.
Color-Changing Light Stakes
These dimmable stake lights are solar-powered and app-controlled for ultimate ease. Choose from the wide range of color options available to suit your mood.
3.
Stargazer Party + Path Stakes
Illuminate your walkway in style with this set of 20 lights. They add a luxe party feel to any outdoor space, and the staked design means they're easy to install.
5. Draw up a plan before you begin installation
Once you've got an idea of the shape, size, and materials you plan to use, draw up a to-scale plan of your yard. Plot your new pathway onto the plan to give you a better idea of how it will work within the space, says Hanna Bell. 'Make sure to leave enough room for plants and other features you want to include in the design.'
Once you're happy with your final design, it's time to build. But if you're feeling unsure of where to start, it's definitely worth hiring a professional to install it for you.
'Avoid underestimating the scope of the project,' says Angi's Home Expert Mallory Micetich. 'Installing a garden path can be harder than it appears. If you don't have the time, tools or talent to install the path yourself, bring in a pro who can do it quickly and easily.' This way, you can rest assured that your path will turn out just how you want it to.
Sign up to the Homes & Gardens newsletter
Decor Ideas. Project Inspiration. Expert Advice. Delivered to your inbox.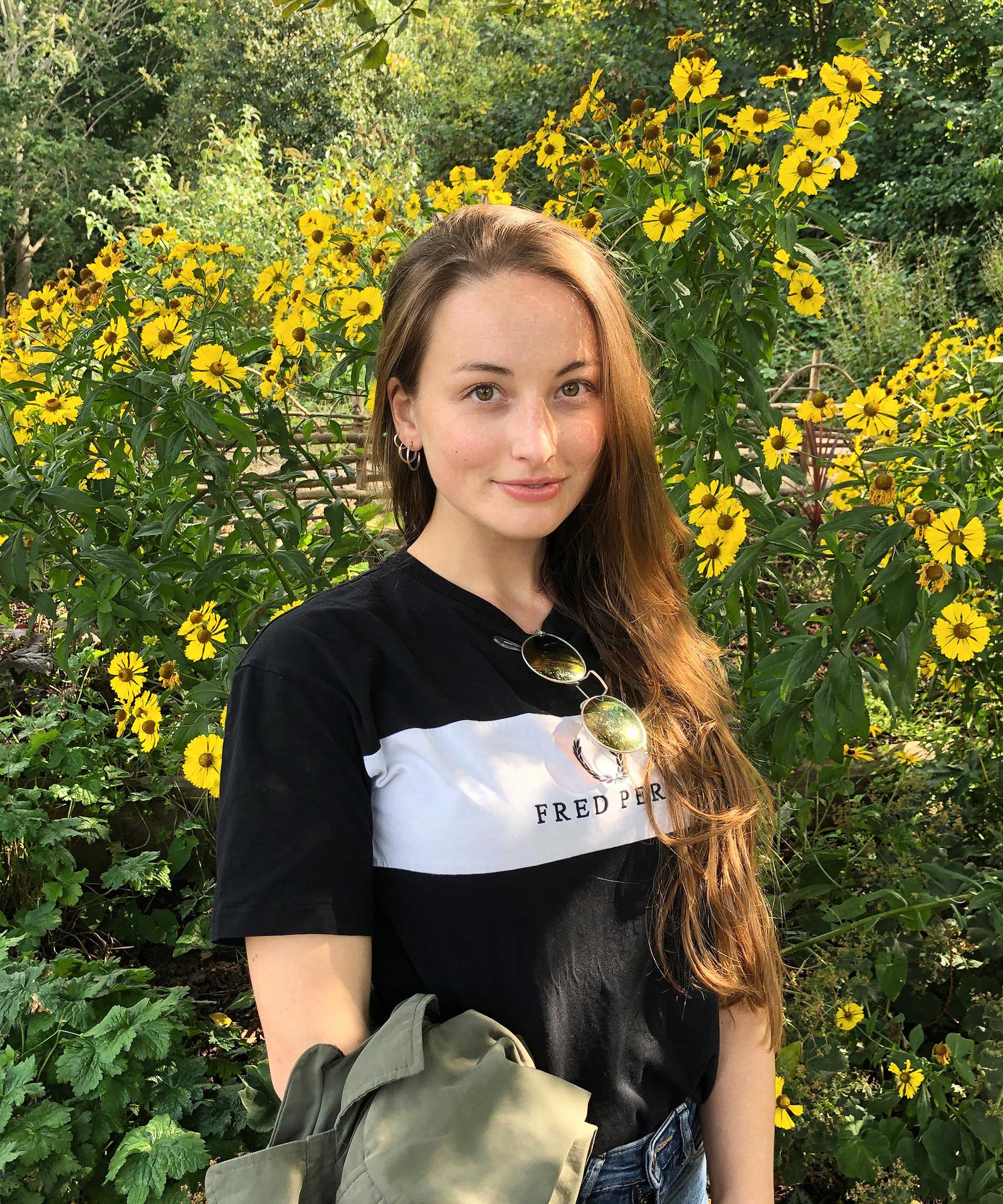 The garden was always a big part of Holly's life growing up, as was the surrounding New Forest where she lived. Her appreciation for the great outdoors has only grown since then; over the years, she's been an allotment keeper, a professional gardener, and a botanical illustrator. Having worked for Gardeningetc.com for two years, Holly now writes about plants and outdoor living for Homes & Gardens.