Front yard walkway ideas – 15 ways to enhance your home's curb appeal
These front yard walkway ideas aren't just about getting from A to B – they will elevate your home's exterior, too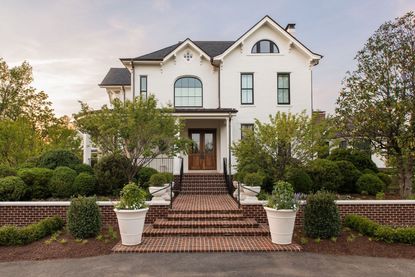 (Image credit: Isabel Ladd Interiors)
Sign up to the Homes & Gardens newsletter
Decor Ideas. Project Inspiration. Expert Advice. Delivered to your inbox.
Thank you for signing up to Homes & Gardens. You will receive a verification email shortly.
There was a problem. Please refresh the page and try again.
At first thought, front yard walkway ideas can seem one of the most mundane aspects of designing a garden.
While they might be necessary for traipsing through your front yard, front walkways are not necessarily known for their style, and they may not be at the forefront of your mind when researching for inspiration.
But, in reality, choosing your walkway with care can transform your front yard's look – and give it an extra jolt of curb appeal in the process. These 15 stunning front yard walkways should provide the perfect inspiration for all your front yard landscaping ideas.
Front yard walkway ideas
From rustic to contemporary the best front yard walkway ideas are created with materials that don't just complement the design of your home, but the other elements of your outdoor space, from your front porch ideas, to the mailbox landscaping ideas at the end of the path, says landscape designer Kate Anne Gross.
Her top material choices for garden path ideas include bluestone, limestone, flagstone, brick, concrete pavers, and poured concrete, but that the right choice ultimately depends on the home. 'I love working with all of the above options,' she says. 'My top pick is always dependent on the style home I'm designing for and what the homeowners are gravitating towards.'
The below inspiration will help you whittle down the options.
1. Choose brick for a grand entrance
Nothing feels quite as regal as a large, hardscaped brick walkway leading up to the front door. This path by landscape designer Joseph Hillenmeyer uses stairs that gradually get larger towards the bottom, which visually invites you right into the front door.
2. Use gray gravel for a classic path
For a simple, classic front yard walkway idea, line a path with gray gravel or stones like The Fox Group did at this traditional home. To keep the look crisp and the gravel from seeping into your grass, use metal edging to delineate the path, leaving a few inches peeking above the ground to contain the walkway.
3. Add sleek pavers
If your home is on the modern side, add a graphic element to your front walkway with sleek, rectangular pavers embedded in gravel. To emphasize the design, choose materials in different shades.
4. Extend your home's architecture down your walkway
If you're not sure what type of material to use for your front walkway, take a look at the rest of your home's exterior. Choosing a material that already exists on your home will make the path feel seamless, and like it's always been there, even if it hasn't.
At the California home by Jessica Risko Smith, above, the stonework details on the front porch columns are carried through the front path and front garden wall ideas.
5. Build lighting into your front path
If you're in need of front yard lighting ideas, why not build the illumination right into your walkway?
At this California home by LMD Architecture Studio, small landscaping lights were built into the stair risers leading up to the front porch, and serve as both a functional element and a design detail after the sun goes down.
6. Supersize your front walkway ideas
If you are looking for ideas that will stand out, then this could be the design for you.
For front walkway ideas that are practical and aesthetically pleasing in equal measure, consider making a path of larger stones. In this space by Australian duo Kyal & Kara, the supersized flat slabs give the front yard a tropical edge.
When paired with a palm tree and tropical front yard flower bed ideas in the form of shorter leafy greens, the pathway complements the facade's beach-like appearance and creates some privacy for the front yard too.
7. Design a double duty walkway
As this yard from Mindy Gayer proves, your front walkway ideas don't have to follow the straight and narrow.
Instead of having one sleek line, the California-based designer added a few more rows of pavers right near the front door. Not only will the extra space come in handy if you have a rush of guests, but it can also double as an impromptu patio.
8. Add some asymmetry to your front yard walkway ideas
Pavers are a common material for front walkway ideas; however, they can often veer into ubiquitous territory. For a fresh take on the classic staple, take a cue from Maydan Architects, who added some asymmetry to the path itself.
The varying paver sizes and placements add plenty of visual intrigue, not to mention mimic the home's silhouette.
9. Focus on clean, crisp lines
On the hunt for another way to spruce up your traditional pavers? Simply place them on freshly cut grass.
There's something about the juxtaposition between the lush landscaping and sleek hardscaping – not to mention the clean lines – that feels crisp, clean, and aesthetically pleasing. This yard from KAA Design Group masters the look with a front yard walkway that blends seamlessly with contemporary walling.
10. Mix and match materials
Why settle for one type of front walkway material when you can enjoy a few? Erin and Kirsten of House of Jade Interiors embraced their bold streak by juxtaposing concrete slabs with flat stones.
The contrasting materials turn an otherwise ho-um walkway into a 'wow' factor. But, since both materials are in a similar color, the combination doesn't feel over-the-top.
11. Give your front yard walkway the tiered treatment
If you want to raise your front walkway ideas to new heights, take a cue from RIOS. The multi-disciplinary firm added some drama to the front yard walkway with this sleek, tiered style. The gravelled patch below completes the look, blurring the lines between the home's hardscaping and the lush shrubs for the front of the house nearby.
12. Try two pathways
As the saying goes, two is better than one. Case in point: This stunning setup from Ike Kligerman Barkley.
This split front walkway covers a lot of ground – literally – so guests will never need to stray too far off the path. Plus, the stones that create the walkway offer a subtle texture that pairs nicely with the whimsical landscaping.
13. Go big with gravel
Want to add some hardscaping to your front yard, but don't want something as tough as concrete? Lisa from Farmhouse on Boone struck a happy medium by coating her front walkway in gravel.
The blogger finished the look by lining the path with larger stones – making the walkway feel like a more intentional addition to the front yard and drawing the eye towards the classic porch.
14. Raise your front walkway
If you'd like to elevate your gravel walkway – literally – consider reimagining the tiered treatment Grace Design Associates used in this setup into your front yard.
Here, the firm added raised boxes and filled them with gravel. Not only does this strategy offer some extra texture, but it also makes the most of a sloped yard.
15. Lay down a brick path
If you're not keen on stone, concrete, or gravel, consider adorning your front walkway ideas with rows of beautiful bricks.
Bricks are used for everything from houses to fireplaces, so it'll be a durable addition to your front yard. Plus, the terracotta hue will add beautiful contrast against your grass lawn, or serve as a beautiful complement to cottage garden ideas.
For inspiration, this stately setup from Grace Design Associates features a brick pathway curving around an elegant water feature.
How do you landscape front walkways?
Front yard walkway ideas with loose materials are simple enough for anyone to build. Stone, brick and similar paths require greater attention to details.
Those with good DIY skills will save money by taking on the job, but those with less confidence are better off calling in a qualified specialist, such as a landscape contractor, to ensure the walkway is stable, level and long lasting.
Late winter is probably the best time to add a new walkway, or alter an existing route around the yard, as beds and borders are full of dormant plants that don't require our attention. It's also easier to plot a route when the front yard can be seen in its entirety. Building work can cause damage to lawns or other features, but these will quickly recover in spring.
What can I use for my front walkway?
According to landscape designer Kate Anne Gross of Kate Anne Designs, materials like flagstone, brick, concrete, and bluestone make some of the best materials for a hardscaped front walkway.
If you're looking for something more simple, that can be done in a weekend, gravel, stone, and freestanding patio pavers dug into the grass also make lovely options.
Sign up to the Homes & Gardens newsletter
Decor Ideas. Project Inspiration. Expert Advice. Delivered to your inbox.
Kelsey Mulvey is a New York-born, San Francisco-based freelance journalist who covers lifestyle and design content. She started her writing career while studying magazine journalism at Boston University, where her work was syndicated by top digital publications like USA Today and MSN. Upon graduation, Kelsey covered lifestyle content The Wall Street Journal, Off Duty and Business Insider. In 2017, Kelsey started her freelance journalism career, where she contributes to design publications like AD PRO, Elle Decor, Wallpaper*, and more. W