Front yard landscaping ideas – 20 ways to add curb appeal
Use these front yard landscaping ideas to take your home's exterior to the next level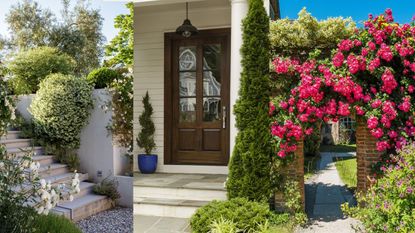 (Image credit: Mark Bolton/Getty Images)
Front yard landscaping ideas define the exterior of your home. After all, your front yard is the most seen part of the house, it greets your visitors before you've even reached the door and will set the tone for the house beyond. With such an important function, it is vital that your front yard landscaping ideas are perfect.
There are many ways to create impact with clever front yard ideas, from using eye-catching materials, to creating a smart structure with pathways or planting. You can also take inspiration from your backyard ideas to tie both outdoor spaces together.
'Curb appeal is so important for the front of your home because it's your first impression. The landscaping in front should be more formal and structured than your backyard and you should make sure there is beauty and color for every season,' recommends Dawn James, project manager at Crimson Valley Landscaping.
Front yard landscaping ideas
These front yard landscaping ideas are the perfect starting place for inspiring your front yard redesign.
If you are planning to totally redesign your front yard then it is important to fully research front yard landscaping ideas and curate the perfect selection for your property. 'Always take the architecture of your home into consideration when creating the design and make sure your plant material works in harmony . When you follow these simple guidelines the front of your home will always be a welcoming place,' says Dawn James.
From small additions such as adding some of the best shrubs for the front of the house or introducing outdoor lighting ideas through to larger front yard ideas such as planting some of the best trees for front yards, or building new driveways and walkways, there are countless ways to give your home's exterior a new lease of life.
1. Build a rose arbor for a floral and fragrant approach to your home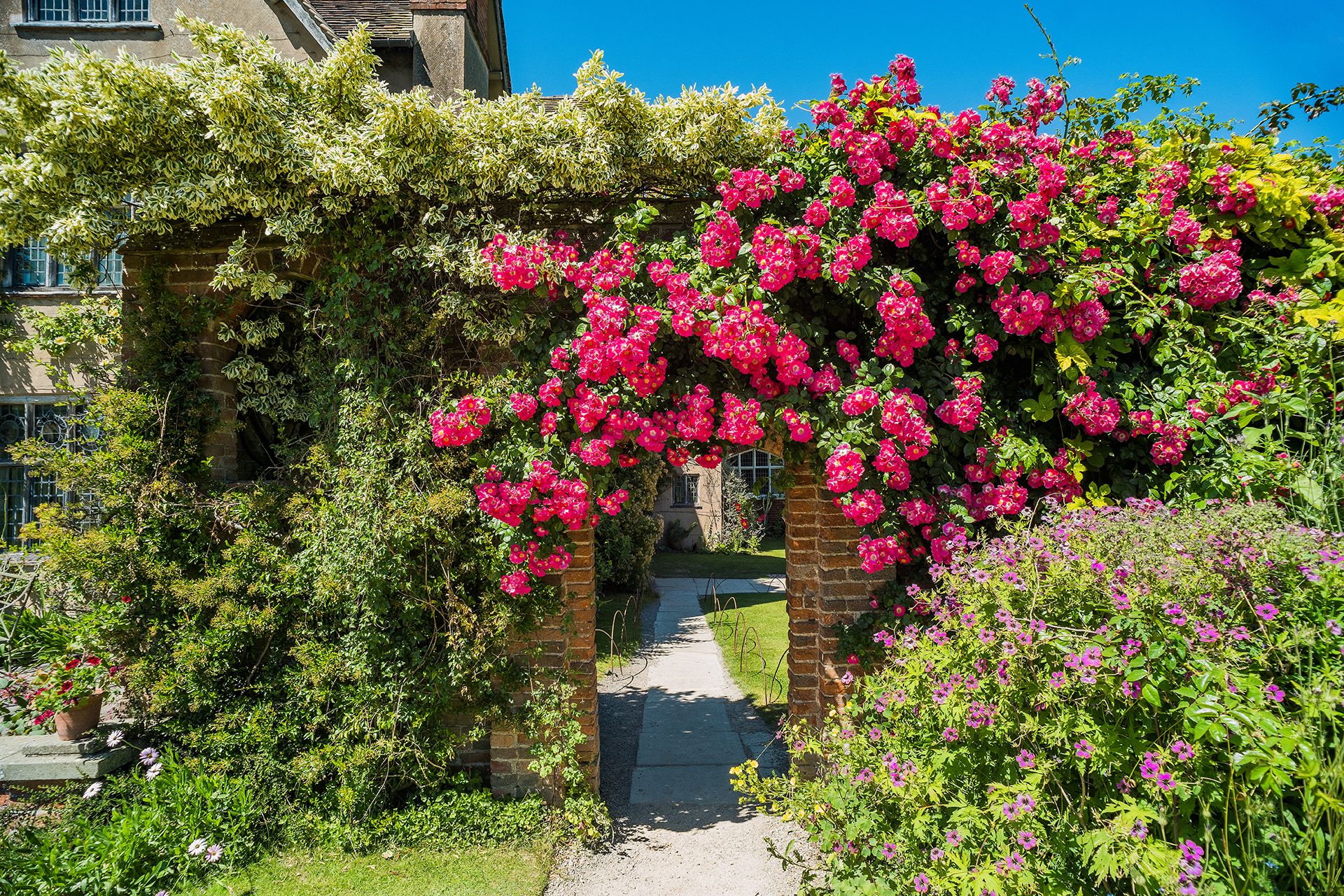 A rose arbor brings height, color, texture and fragrance to your front yard and it will prove to be a transformative addition to your front yard landscaping ideas. Place your arbor or arch at the boundary to your property to provide a floral entrance to your front garden, or install nearer to your home to bring a touch of floral wonder to your front porch ideas.
When it comes to selecting climbing roses for your arbor, be sure to pick a fast-growing variety that will quickly make for an impressive display. It can also be an effective way to create some front yard privacy.
It is also important that you know how to plant climbing roses and how to prune climbing roses to ensure you have a stupendous display.
2. Curate the walkway to your home
Whether you opt for a classic brick design or oversized stepping stones, front yard walkway ideas are one of the most significant design elements of your front yard landscaping ideas.
'To maximize usefulness and impact, the size of your entry walk matters. If you go too small, it's more of a path while too wide means it may compete with your driveway,' says Cassi Hallam, expert at System Pavers.
'Ideally, you'll want an entry walk that's between six and eight feet wide so two people can walk side-by-side comfortably. Vertical elements such as pilasters, trees or walls can enhance the entry walk look while better connecting it to your home's architectural style. These can also be graceful tools to accommodate grade changes in your yard's terrain.'
3. Add flower beds to bring charm to your entrance
Flowers are a must for front garden landscaping ideas, bringing life and color to a space that can sometimes feel cold and functional. Adding front yard flower bed ideas to your plot will transform your space.
'Using groups of a few different types of plants help to keep the landscape from getting too busy. Pick plants that complement each other in color and texture. Don't forget to use evergreens, grasses, trees, and shrubs with structure for winter interest,' recommends Dawn James.
Adding flowers is one of the easiest wildlife garden ideas to incorporate into your front yard landscaping ideas. Adding some of the best flowering shrubs or flowers that attract bees, will also improve the environmental credentials of your plot.
4. Don't restrict your greenery to just the garden
Incorporating trees and shrubs into your front yard landscaping ideas will provide the backbone to your front garden planting scheme. However, this greenery should not just be reserved for your garden – incorporate it into your front porch ideas, too.
'Unite your home with your front yard by bringing nature right to your doorstep! Weave your porch balcony in garlands, frame your door with flowers and turn your steps into podiums for your plants. This will create an effortless transition from lawn to lounge and add an inviting presence when guests visit your home,' recommends Volodymyr Barabakh, co-founder of Structural Beam.
5. Include a lifestyle element by incorporating a patio
If your home lacks a backyard or if your front yard is a sun-trap, you might want to consider building a patio in your front yard. Perhaps unusual in terms of front yard landscaping ideas, a front patio has all the benefits of backyard patio ideas and can be a great addition, especially if your home is set back from the path or road.
Once you know how to design a patio, it will quickly become a transformative addition to the space, especially once you add patio furniture ideas and patio lighting ideas. Pair with French, sliding or bi-fold doors to help you flow between the inside and outside.
6. Don't overlook lighting in your front yard landscaping ideas
While backyard lighting ideas are a key part of your backyard design, front yard lighting ideas can often be overlooked. However, since you are much more likely to be crossing your front yard after dark (especially in winter), the right outdoor lighting is paramount.
Start by highlighting areas that would benefit from practical lighting such as pathways or any steps. Consider using solar garden lighting ideas for an easy way to illuminate your front yard. They will come on when the sun sets and offer plenty of practical illumination without the hassle of needing to lay wiring. You can also add pretty solar lights to highlight aspects of your planting scheme.
7. In warmer climates, swap your lawn for a Mediterranean garden
Gardening is challenging in hot and dry climates, especially when it comes to lawns. 'Lawns are not sustainable in the long run. The intensive lawn care process through the summer involves regular watering, mowing, and weeding as well as fertilizing and aerating. The alternative is to reduce the size of your lawn and increase the size of your garden beds, adding larger, more structural plants or other elements like a patio or a fire pit,' recommends David Angelov, founder of PlantParenthood.
Making our gardens more drought resistant is a great way to achieve a characterful and verdant space without the hassle and environmental challenges of regular watering. Mediterranean garden ideas are especially well suited to front garden landscaping ideas due to their low maintenance nature, try plants like agave, cypress and bougainvillea to give your plot structure and interest. If you're considering creating your own Mediterranean oasis in your front yard, be sure you know how to create a Mediterranean garden before you start.
8. Integrate your mail box into your garden wall
The mail box is a staple element of your front yard landscaping ideas, therefore it's vital that it fits into the scheme.
Why not imbed your mailbox into your garden wall – not only is it an aesthetically pleasing way to ensure your mailbox is integrated into your garden design but it will also provide your mailbox with an extra level of security. If you don't have a front wall, then there are still lots of mailbox landscaping ideas that are sure to add curb appeal to your front yard landscaping ideas.
9. Create a talking point by adding a water feature to your front yard
Paving is a great low-maintenance choice for front yard landscaping ideas. However, a full paved front yard can look unimaginative and featureless. Therefore, it's vital to add characterful features to your front yard landscaping ideas.
While water feature ideas are popular for backyards, they are often discounted when it comes to front garden design. However, the right garden fountain ideas can bring height and interest to your front yard as well as creating movement and bringing sound to the space. Consider partnering with a concentric paving design to focus the eye towards your fountain as the centerpiece of your front yard.
10. Add rendered walls and a rustic gate for added privacy
Front garden wall ideas offer a great way to add privacy to your front yard landscaping ideas. 'As well as providing screening, they also define boundaries and are a great backdrop for abundant planting or climbers. They also serve the practical purpose of protecting the more delicate plants in your garden,' explains Ben Macdonald, garden designer and founder of Ben Macdonald Gardens. 'When deciding on front garden wall designs, remember that the materials that you choose should compliment the existing architecture and local vernacular.'
Rendered brick walls provide the perfect choice for a wide range of front yards, its white facade brightening the space and offering a plain backdrop against which the colors of your planting will really stand out.
11. Create inviting front yard landscaping with lush planting
Anyone who is seeking lush grounds with a touch of whimsy will fall in love with this front yard, courtesy of Emily Henderson. Here, the designer teamed up with Pete Hieatt of Deluxe Plants to create an American take on the traditional English countryside.
The duo paired the mélange of leafy greens with a stone walkway, water fountain, and tomato red front door. All of the front yard landscaping ideas used were designed to lead – and invite – the eye up to the front door, enhancing the home's front door to make it into a standout feature.
12. Design manicured front yard landscaping with box hedges
If you're looking for front yard landscaping ideas that are truly elegant – and low maintenance – give your home a memorable and majestic first impression with a structured planting.
Landscape designer Fernando Wong pulled out all the stops, from manicured box hedges to pristine flowerbeds. By sticking with leafy greens – and adding a few pops of white buds – this front yard is elegant without being too restrained.
13. Frame the front door with large specimens that accentuate the vertical
California-based designer Kendall Wilkinson made the most of the sloped front yard on this Monte Sereno property with raised flower beds.
'We wanted to highlight the grand entrance with varying levels of plantings to draw your eye up and usher you into this amazing home with a water feature and a mix of cement and stone in grey tones,' Kendall explains.
'It's always important to partner with a landscape designer whose work complements the architecture and interior design, utilizing regional plants and mixing varying heights and textures.'
14. Design a driveway that blends away
For an unexpected take on typical front yard landscaping ideas, get a little strategic about your grassy areas.
'The classic detail of a grass strip down the driveway guides the eye through the porte cochere and creates a sense of anticipation, thereby encouraging movement through the entirety of the exterior space,' explains Carson McElheney, a landscape and design architect in Atlanta.
Carson explains that this driveway or front walkway will add visual interest and functionally while maximizing even the smallest of spaces.
15. Choose front yard landscaping materials that echo your home's exterior
For a front yard that puts Mother Nature in the spotlight, embrace your space's natural features. Here, architectural and design firm Ike Kligerman Barkley planted tall grass and leafy greens around the yard's large rocks. Paired with a wide, stone walkway, this front yard strikes a balance between organic and manmade – and, importantly, echoes the materials of the exterior of the house for a cohesive look.
16. Pick low maintenance front yard landscaping with impact
Contrary to popular belief, you don't need lush front yard landscaping to make a statement. Planning a dry garden or Mediterranean look can work just as well.
Here, California-based designer Mindy Gayer takes a less-is-more approach by covering the majority of this space in gravel – and peppering in a few verdant plants when inspiration strikes. The final product looks and feels like a desert with a cool, modern twist.
17. Choose informal cottage front yard landscaping
If you're partial to a front yard that's dramatic and whimsical in equal measure, these front yard cottage garden ideas from Grace Design Associates provide the best of both worlds.
The wild array of flowers and stone walkway are reminiscent of a charming, modern-day fairytale. However, the greens on the roof offer a touch of drama, making this front yard look great from all angles.
18. Opt for asymmetry for a minimalist look
As soothing as a symmetrical space is, the go-to design tactic can often veer into ubiquitous territory. If you're looking to add some visual intrigue to your front yard landscaping, William Hefner created high-impact space above. Inspired by Japanese garden ideas and the Ryōan-ji rock garden of Kyoto, Hefner uses pavers and patterned stones to offset the leafy greens that line the facade.
19. Draw the eye to the porch with container planting
When in doubt, you can't go wrong with a classic front yard landscaping strategy. Designer Alexandra Kaehler offset the simple porch and stately columns with boxwoods on the low hedges, pear trees, and white impatiens. The result? Front yard landscaping and a front porch that work together to transcend time and trends.
20. Pay attention to detail
As this front yard from an Australian renovating company called Kyal & Kara proves, the devil lies in the details. From larger pavers to gravel accents, it initially looks like this space is only focused on hardscaping. However, tucked in the gravel panels are small succulents, giving this yard an unexpected and oh-so-charming edge.
How much does front yard landscaping cost?
Front yard landscaping will, on average, cost around $15,000 – but what you spend really will come down to its size; the intricacy – or simplicity – of the design; the materials used (with off-the-shelf stone, for example, being much less expensive than special orders) and, of course the extent of the planting you are planning.
As a general rule of thumb, we advise spending around 10% of the value of your home on the landscaping cost of both the front and back yard to get a good return on investment.
How you divide this budget is down to you, but curb appeal, even if achieved simply and on a budget, is vital when you come to resell.
How can I make my front yard more attractive?
Flowering plants are a great way to make your front yard more attractive. Adding color, texture and greenery to your space, flowering plants can breathe new life into your front yard landscaping ideas.
Updating the hard-landscaping in your front yard is another great way to make it more attractive. Replacing an old parking spot with a new driveway design or repairing a crumbling front walls will create an elegant basis against which the rest of your front yard landscaping ideas will be able to shine.
What plants look good in the front yard?
Camellias, boxwoods and hebes all look good in the front yard. Opting for evergreen plants creates year-round interest and means that you don't have to worry about your front yard looking neglected and bare during the colder months of the year.
You can then supplement these evergreens with seasonal blooms to introduce points of additional interest. Select some of the best spring bulbs and best summer bulbs for a low-effort way to add color to your front yard landscaping ideas.
Sign up to the Homes & Gardens newsletter
Decor Ideas. Project Inspiration. Expert Advice. Delivered to your inbox.
Kelsey Mulvey is a New York-born, San Francisco-based freelance journalist who covers lifestyle and design content. She started her writing career while studying magazine journalism at Boston University, where her work was syndicated by top digital publications like USA Today and MSN. Upon graduation, Kelsey covered lifestyle content The Wall Street Journal, Off Duty and Business Insider. In 2017, Kelsey started her freelance journalism career, where she contributes to design publications like AD PRO, Elle Decor, Wallpaper*, and more. W