10 front yard landscaping ideas – for impact and curb appeal
These front yard landscaping ideas will elevate your home's exterior, whatever its style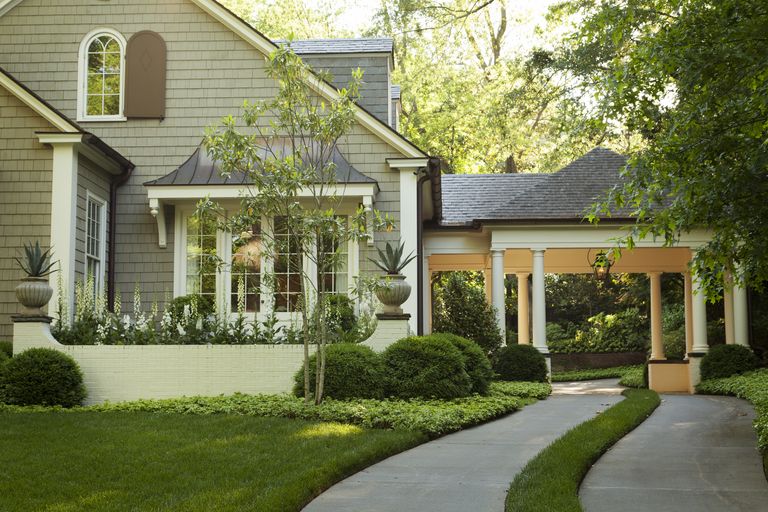 (Image credit: Emily Followill)
Getting your front yard landscaping ideas right is so important. Not only is it a great way to add some curb appeal to your property, but it can also set the tone for your home, long before guests step inside.
There are many ways to create impact with front yard landscaping. From using eye-catching materials, to creating a smart structure with pathways or planting, you can also take inspiration from your backyard ideas to tie both outdoor spaces together.
Below, we have listed our favorite, transformative front yard landscaping ideas that will shine the spotlight on your front yard.
Best front yard landscaping ideas
1. Create inviting front yard landscaping with lush planting
Anyone who is seeking lush grounds with a touch of whimsy will fall in love with this front yard, courtesy of Emily Henderson. Here, the designer teamed up with Pete Hieatt of Deluxe Plants to create an American take on the traditional English countryside.
The duo paired the mélange of leafy greens with a stone walkway, water fountain, and tomato red front door. All of the front yard landscaping ideas used were designed to lead – and invite – the eye up to the front door, enhancing the home's front door ideas to make it into a standout feature.
2. Design manicured front yard landscaping with box hedges
If you're looking for front yard landscaping ideas that are truly elegant – and low maintenance – give your home a memorable and majestic first impression with a structured planting.
Landscape designer Fernando Wong pulled out all the stops, from manicured box hedges to pristine flowerbeds. By sticking with leafy greens – and adding a few pops of white buds – this front yard is elegant without being too restrained.
3. Frame the front door with large specimens that accentuate the vertical
California-based designer Kendall Wilkinson made the most of the sloped front yard on this Monte Sereno property with raised front yard flower bed ideas.
'We wanted to highlight the grand entrance with varying levels of plantings to draw your eye up and usher you into this amazing home with a water feature and a mix of cement and stone in grey tones,' Kendall explains.
'It's always important to partner with a landscape designer whose work complements the architecture and interior design, utilizing regional plants and mixing varying heights and textures.'
4. Design a driveway that blends away
For an unexpected take on typical front yard landscaping ideas, get a little strategic about your grassy areas.
'The classic detail of a grass strip down the driveway guides the eye through the porte cochere and creates a sense of anticipation, thereby encouraging movement through the entirety of the exterior space,' explains Carson McElheney, a landscape and design architect in Atlanta.
Carson explains that this driveway or front walkway idea will add visual interest and functionally while maximizing even the smallest of spaces.
5. Choose front yard landscaping materials that echo your home's exterior
For a front yard that puts Mother Nature in the spotlight, embrace your space's natural features. Here, architectural and design firm Ike Kligerman Barkley planted tall grass and leafy greens around the yard's large rocks. Paired with a wide, stone walkway, this front yard strikes a balance between organic and manmade – and, importantly, echoes the materials of the exterior of the house for a cohesive look.
6. Pick low maintenance front yard landscaping with impact
Contrary to popular belief, you don't need lush front yard landscaping to make a statement. Planning a dry garden or Mediterranean garden ideas can work just as well.
Here, California-based designer Mindy Gayer takes a less-is-more approach by covering the majority of this space in gravel – and peppering in a few verdant plants when inspiration strikes. The final product looks and feels like a desert with a cool, modern twist.
7. Choose informal cottage front yard landscaping
If you're partial to a front yard that's dramatic and whimsical in equal measure, these front yard cottage garden ideas from Grace Design Associates provide the best of both worlds.
The wild array of flowers and stone walkway are reminiscent of a charming, modern-day fairytale. However, the greens on the roof offer a touch of drama, making this front yard look great from all angles.
8. Opt for asymmetry
As soothing as a symmetrical space is, the go-to design tactic can often veer into ubiquitous territory. If you're looking to add some visual intrigue to your front yard landscaping, William Hefner created high-impact space above. Inspired by Japanese garden ideas and the Ryōan-ji rock garden of Kyoto, Hefner uses pavers and patterned stones to offset the leafy greens that line the facade.
9. Draw the eye to the porch with container planting
When in doubt, you can't go wrong with a classic front yard landscaping strategy. Designer Alexandra Kaehler offset the simple porch and stately columns with boxwoods on the low hedges, pear trees, and white impatiens. The result? Front yard landscaping and front porch ideas that work together to transcend time and trends.
10. Pay attention to detail
As this front yard from an Australian renovating company called Kyal & Kara proves, the devil lies in the details. From larger pavers to gravel accents, it initially looks like this space is only focused on hardscaping. However, tucked in the gravel panels are small succulents, giving this yard an unexpected and oh-so-charming edge.
How much does front yard landscaping cost?
Front yard landscaping will, on average, cost around $15,000 – but what you spend really will come down to its size; the intricacy – or simplicity – of the design; the materials used (with off-the-shelf stone, for example, being much less expensive than special orders) and, of course the extent of the planting you are planning.
As a general rule of thumb, we advise spending around 10% of the value of your home on the landscaping cost of both the front and back yard to get a good return on investment.
How you divide this budget is down to you, but curb appeal, even if achieved simply and on a budget, is vital when you come to resell.