Front yard flower bed ideas – 10 beautiful and low-maintenance ways to add florals
These gorgeous front yard flower bed ideas will help you create a beautiful front yard that is in full bloom year round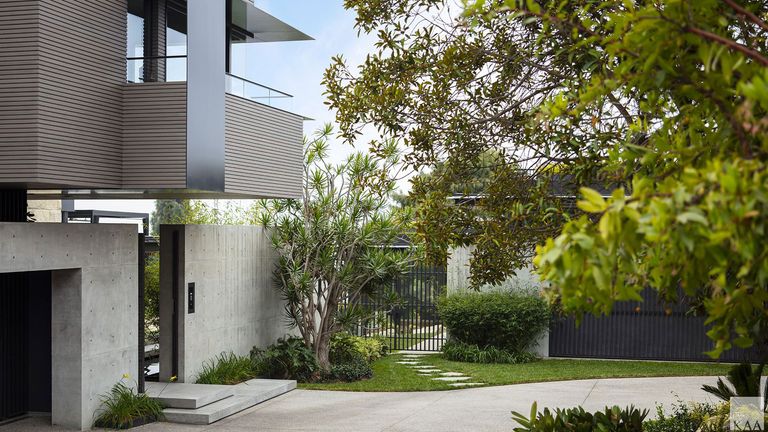 (Image credit: KAA Design Group / Manolo Langis)
These front yard flower bed ideas are a surefire way to get your garden noticed for all the right reasons and bring serious curb appeal to your front yard.
Not only can a fresh bunch of blooms work nicely with any size and style of yard, but they're also bound to put a smile on your and your guests' faces.
Our curated choice of the best front yard flower bed ideas – from manicured lawns to whimsical arrangements – will be sure to spark inspiration if you've been pouring over front yard landscaping ideas.
Front yard flower bed ideas
There's more than one way to add flowers to your space.
To help, we've gathered fresh front yard flower bed ideas to ensure your front garden ideas are in bloom all year round.
1. Introduce a gated flower bed in your front yard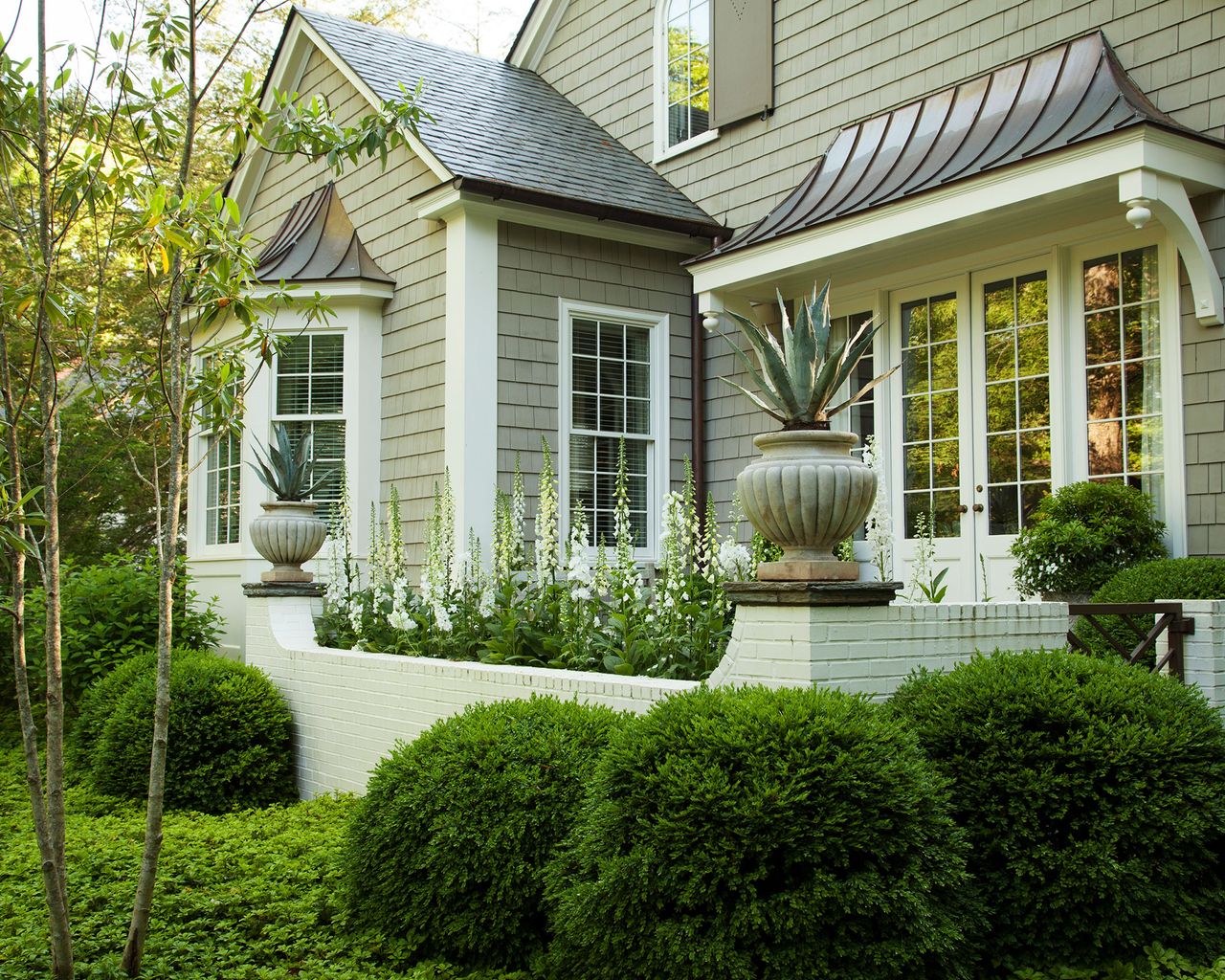 Contrary to popular belief, a beautiful, blooming garden shouldn't be confined to your backyard.
Landscape architect and designer Carson McElheney injected beautiful garden design into her front yard by placing the gated flower bed near the front of the home.
A brick wall, iron gate, and statement-making planters round out the look, adding a 'wow' factor to these front yard flower bed ideas.
2. Add raised flower beds
Take your front yard to new heights with raised flower beds – just as blogger Janelle Rendon has done by incorporating raised beds into her front yard walkway.
'We love how our front yard landscaping project with Buds and Blossoms Cypress turned out,' she explains. 'We used both a retaining wall and a boulder to draw the eye to this flower bed lining our driveway.'
Rendon filled the flower beds with blue plumbago and white vinca, which brought beautiful spring and summertime color to the front yard.
3. Raise your home's facade
William Hefner, on the other hand, prefers to place his raised flower beds against a home's facade.
Here, the designer opted for raised flower beds that matched the home's color and material, creating the illusion of a larger, more grandiose space. For a stately finishing touch, Hefner added two thin hedges to right next to the front door.
4. Follow the straight and narrow
Looking for flower bed ideas that are stylish and soothing in equal measure? Take a cue from Maydan Architects.
Here, the firm opted for straight lines of manicured leafy greens. But, in order to give their front yard flower bed ideas a pop of welcome color, Maydan Architects peppered sweet, purple flowers near the walkway.
The result: A sleek yard with an unexpected twist.
5. Keep it simple
As this yard from KAA Design Group proves, less can be more when it comes to front yard flower bed ideas.
Instead of featuring an eclectic mélange of blooms, this space keeps it simple with a predominately green yard and subtle pops of yellow. The pared-back flower bed highlights the clean lines of the home's facade, placing the property's sleek architecture front and center.
6. Think beyond the privacy gate
When it comes to making your front yard design shine, a privacy gate can serve as a double-edged sword. On the one hand, having a barrier between your home and the street will keep wandering eyes out of sight; however, it feels virtually impossible to show off your front yard.
California-based designer Mindy Gayer found the perfect balance with this chic garden gate idea, where a flower bed is planted in front of the privacy gate.
When considering how to plant a flower bed, take inspiration from the full, white blooms Mindy has selected. They offer a jolt of curb appeal while bringing a welcoming spirit to the gate.
7. Incorporate hedges in your front yard flower bed ideas
Bring some decorum to your front yard flower bed ideas by surrounding each bed with short, manicured hedges.
Not only can this design trick create a structurally soothing front yard, but it can also promote a logical transition from the flat, green grass to the buoyant blooms.
Designer Fernando Wong gave this space a stately edge, thanks to the organized assortment of white blooms.
8. Take 'the more, the merrier' approach when it comes to front yard flower bed ideas
If a few rows of flower beds aren't enough to satisfy your blooming dreams, why not add a few potted plants to the mix.
Adding a few spare pots to the edge of your front yard flower beds can draw the eye upward, creating the illusion of a dimensional yard or even highlighting creative mailbox landscaping ideas. Let this space from Grace Design Associates show you how it's done.
9. Defy gravity with hanging planters
Looking for a way to incorporate flowers into your designs and front porch ideas? Juxtapose your flower beds with hanging planters, as seen in this setup from CLB Architects.
The eclectic array of blooms seen here creates plenty of visual intrigue – not to mention gives this wooden barn a beautiful view from every angle.
10. Beautify with blooms
We love a manicured flower bed as much as the next design enthusiast, but there's something about a wild, unkempt arrangement that transports us to the idyllic countryside.
If you want to recreate this look in your own front yard flower bed ideas, variety is key. Here, American firm Ike Kilgerman Barkley juxtaposed a colorful assortment of blooms with a pretty stone walkway.
How do I start a flower bed in my front yard?
Generous flower beds that can accommodate a good depth of planing will also allow you to think outside the box and have fun. For example, you could plant a lake of blue salvias and verbenas to create a safe 'water' feature and arrange stainless steel obelisks so they resemble fountains spurting up from fluttering depths.
Sunlight should be the first consideration when positioning flower beds. It changes throughout the day and can have a dramatic effect on the way a border is seen.
Ideally, this showpiece planting should be backlit with the sun filtering through the plants for a magical effect. To find which places are special can only be learnt by watching the light moving through the yard – taking photos and noting the time will help when planning.
'Improving your plant knowledge, namely the shape and form a plant makes as well as the seasonal changes it undergoes, will be an asset, but to plant like a pro you also need to develop a keen eye for picking and mixing plants,' says Adrienne Wild, owner of Wild About Gardening.
'You'll only learn this skill by trial and error, and even the most experienced gardeners will tell you that great plant association often just happens. 
Don't worry if you struggle with learning plant names, as choosing them for their form and color is more important.'