Garden gate ideas – to enhance curb appeal and keep your space secure
The simple garden gate is a constant and evocative feature in the garden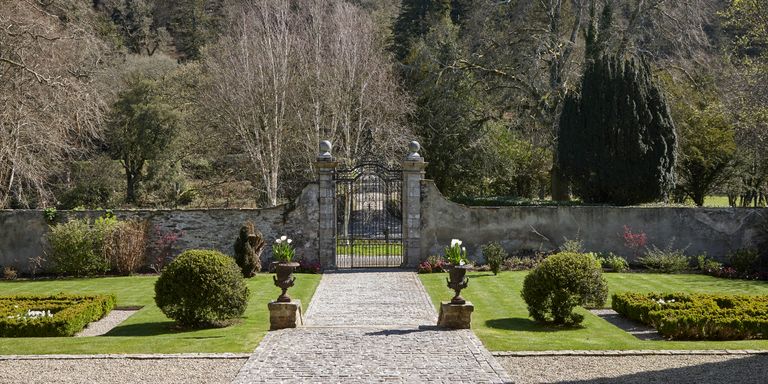 (Image credit: Future / Paul Highnam)
Your choice of garden gate will make a lasting impression and can dramatically change the look and feel of your outside oasis, so it is imperative that you install the right gate for your garden.
Much more than a security or safety feature, garden gates help define the look of an outside space. The earliest designs date back to the 15th century and were made from wrought iron – still a popular choice today, along with steel, aluminium and wood varieties. 
To get you started, we've rounded up the best garden gate ideas for functionality, durability and style to inspire you. 
1. Choose a strong, long-lasting material
Wrought-iron has the edge over other metals when it comes to achieving an ornamental finish. Sturdy and durable, it can last for years as long as it's properly protected. Constant exposure to water and air can quickly result in rust and decay, so regular maintenance is required. 
2. Select a steel design
Steel is a popular option for more contemporary designs. It is inherently stronger than iron and has the added benefit of being naturally more resistant to corrosion and rusting, although a protective layer is still advised. Galvanised, powder-coated or painted finishes will all help ensure longevity. 
3. Install modern garden gate 
Aluminium offers a modern look, similar to steel. It's not as strong, but it does have the extra advantage of being relatively maintenance-free. Once installed, you won't need to worry about it rusting, cracking, peeling or needing repainting. Plus, it's easily recyclable, too. 
4. Wow with a wooden gate
Most gates, especially in high-traffic areas, take a lot of battering from the elements, so it's worth buying a garden gate that is not only stylish, but durable.
There are so many different species and grains to choose from – ranging from oak to timber. Natural timbers work best in traditional or cottage gardens, but can also be used to add character and charm to modern schemes.
Bear in mind that many off-the-peg designs are mass made using pressure treated soft woods such as pine or redwood. Although soaked and injected with wood preservative these wood types do have a shorter lifespan than hardwood timbers – so shop wisely.
5. Use paint to update your garden gate
First impressions do count, so make sure the front garden gate is as welcoming as the interior. Give any wooden garden gates a makeover by brushing off any dirt and debris with a hard brush and applying a new coat of wood stain or exterior paint. 
With endless paint colors to choose from – including rich heritage shades, earthy neutrals and infinite bold brights – you can really express your home's style and personality.
6. Paint your garden gate in a soothing color 
Your garden gate doesn't have to be a standout feature, it can simply be one that blends into its environment. Take a cue from the immediate surroundings to inspire your choice of gate.
'Painting your garden gate in one color – preferably in a heritage color palette – can make it look commanding while dominant features, like foliage, lawn or fencing should all influence your color choice,' says Farrow & Ball's color consultants.
See: Garden wall ideas – create a boundary or define a space with a vertical structure
7. Is it better to go for a bespoke garden gate?
In a nutshell, yes. If you want a garden gate to fit an awkward space, then a bespoke option may be your best bet. 
There are many companies that will provide a fully bespoke service, which includes assessment of layout, help with design, manufacture and installation of your garden gate. Perhaps, surprisingly, it often works out to be the most cost-effective option, too.   
For a smart and secure finish, accurate measurements are essential – buying a generic size will often result in pricey alterations, which can also damage protective castings on the mental. 
8. Match your gate to your fencing
A garden gate is for privacy and security, but it should look good too. Cleverly camouflaged in one corner of the garden is a garden gate. Constructed from the same slatted hardwood panels as the fencing that surrounds the garden, it blends seamlessly into the whole design.  
'Of course, installing a garden gate, such as this one, is costly business, so it is important to know the facts before putting up a new one,' says garden designer, Lucy Wilcox. After all, a well-installed gate and fence combination should last up to 10-15 years so you need to get it right. 
9. Blur the boundaries
In a country garden, you can borrow a bit of the landscape by blurring the lines between the borders and wild fears with a simple wrought-iron gate. This has the benefit of being almost invisible, so the flowers in your borders flow seamlessly between the two spaces.   
10. Pitch up a traditional picket gate
In more built-up areas of a village, you can create a similar effect with a wooden picket gate made up of vertical pales clad to a framework of posts and horizontal rails. Traditionally, the main function of this type of gate is to delineate the boundary, but it makes a delightful backdrop for old-fashioned perennials such as lupin, daises and delphiniums.
How can I restore an original gate? 
If you're lucky enough to have original gates, there are plenty of companies that specialise in sympathetic restoration services. Their offerings range from basic cleaning and simple hinge, latch and fitting adjustments, to a full refurbishment – it depends what's needed.  
When there is too much damage to the gates to allow for restoration, there are expert firms that can take moulds from the originals and recast exact replicas of them using recycled metals. 
What is the best wood for a garden gate?
If you are after durability, style and sustainability, than oak is often considered the best wood for a garden gate.
One of the most eco-friendly options, oak is both carbon-neutral and sustainable: new trees are planted to replace those felled and because oak is a natural product it doesn't require large amounts of energy to manufacture. 
Should a gate open in or out?
Your garden gate should almost always swing inward. You want your gate to more towards private space, not out on to the public.
If you gate links two privately-owned spaces, then you can throw the rule book out of the window.