How to plant a flower bed — the essential guide to planting beautiful flowers
Wondering how to plant a flower bed? Our expert tips will help to make sure you create the best layout and planting scheme for your beds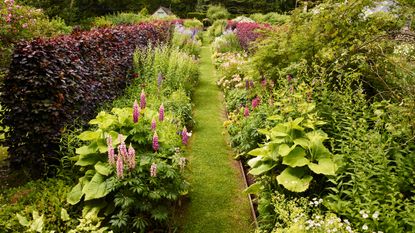 (Image credit: Future)
If you're wondering how to plant a flower bed and are stuck on how to begin, fret not.
Our essential guide to planting a flower bed for beginners will help you to imagine and create the flower garden of your wildest dreams.
When summer begins and the sun grows stronger, the flower beds in our gardens reach their peak and fill with overflowing color and fragrance.
Successful beds can be established in many different positions in the garden and although a sunny aspect suits the widest range of plants, you can still have a super border in a shady area whose interest is sustained by most roots or protection from full sun.
Beautiful flower bed ideas are (almost) endless, but first comes the actual planning and building. This might seem like a daunting project, but with a little preparation, you'll soon be enjoying a prettier, flower-filled garden in no time.
Before starting a flower bed, you need to plan ahead and be able to visualise the future. We recommend taking a stroll around your backyard (or front yard) and choose a suitable location for your beds.
Unsure where this might be? We have included everything you need to know about preparing a flower bed.
How to plant a flower bed
Whether you have a new bed to fill, want to add color to new rock garden ideas, or you want to revamp an existing part of your garden, one of the most rewarding options is to grow flowers from seed.
The advantage of annuals is that they are very fast-growing as they complete their lifecycle in just one year. You can plant seeds now and have colorful flowers by summer. You can also try collecting seeds from your own flowers to increase your stock for free.
And many are so easy to grow that even a complete novice can create a spectacular border on a budget, if you follow a few important rules:
1. Prepare the site
Choose a sunny spot and dig it over to remove all weeds and their roots. Pull a rake over the surface of the soil until it resembles fine breadcrumbs.
2. Check your soil type
For gardening success, and to avoid wasting money on plants that won't thrive, you need to test your soil. This is particularly important if you have recently moved house and are planning lots of additions and changes to your plot.
Always test the soil in different areas of your garden, as pH and nutrient levels may vary in even a relatively small space and have different feeding requirements.
Tests are widely available from garden centres and online retailers, and will tell you which minerals are depleted.
Well-rotted compost and manure help to geed soil, and chicken manure pellets give an excellent all-round organic boost as they are rich in nitrogen, phosphorus and potassium, which aid leafy growth, root growth, flowering and fruiting.
Dig them into your beds and borders every four-six weeks during the growing season and water them in.
Improve hard clay soil
As every good gardener knows, the soil is the key to the success of what grows and what won't, no matter how hard you try and whatever the size of your plot, so that's what should be addressed first.
Healthy soil should be brimming with life – think earthworms and creepy crawlies. If your soil is devoid of life, apart from the odd slug with the inevitable eggs, then the important task of bringing this heavy clay soil back to life begins.
Add, in vast quantities, grit and pine bark to improve the clay's drainage by opening up the air spaces within the structure of the soil, and mushroom compost, to help the health and vitality of the soil.
Once this has been combined with the existing top soil, you can carefully tread down the soil in each bed, Alan Titchmarsh-style, to expel all the air so your beds can be raked and levelled ready for a late spring planting.
3. Choose plants carefully – flower heights are key in beds and borders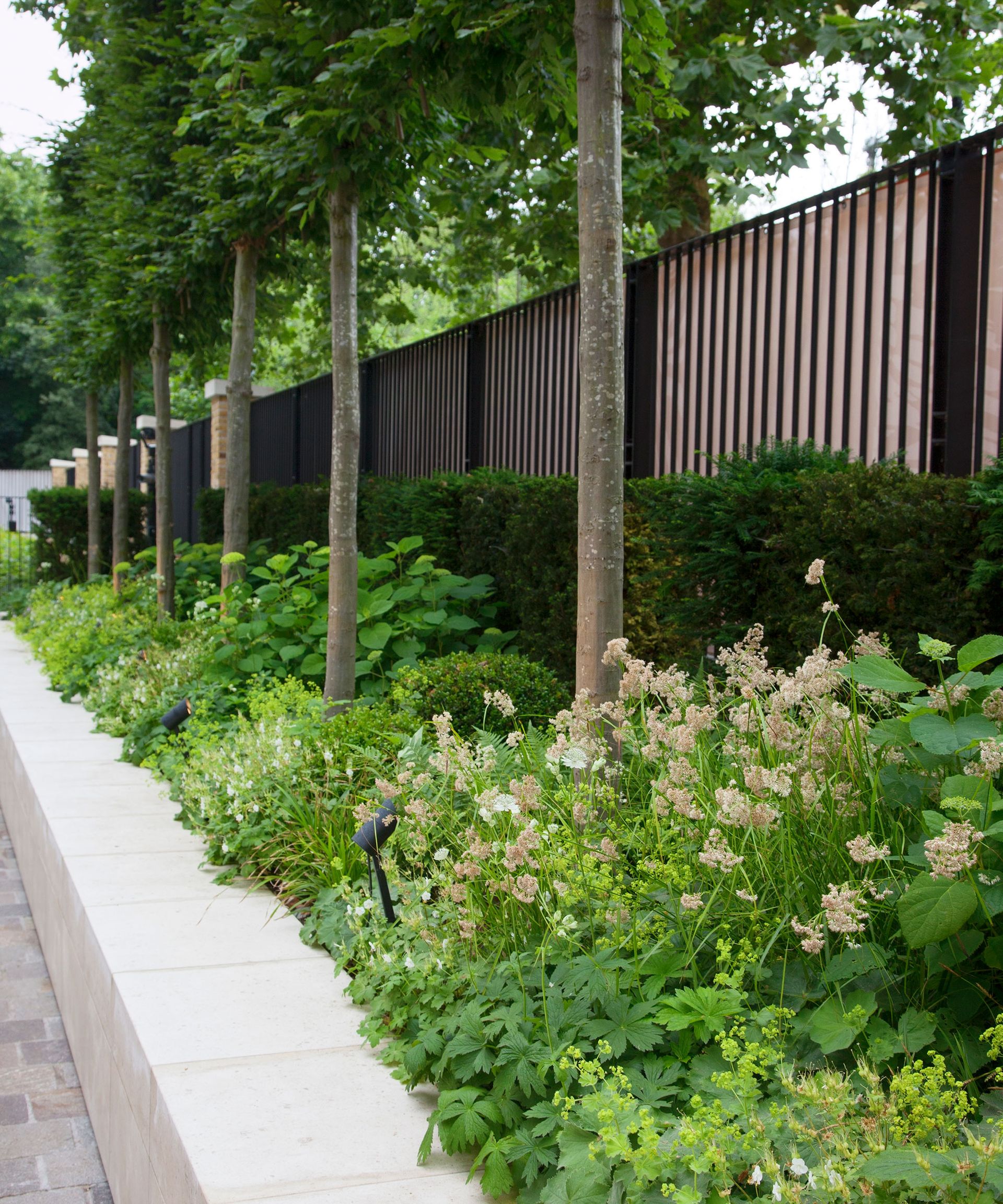 If you are a novice, then any annuals listed as 'easy to grow' are ideal. Plant taller varieties at the back and shorter ones at the front, and decide whether you want a complementary or contrasting color scheme.
Use tall plants for the back row
Make a bold backdrop with tall, graceful plants. Fast-growing sunflowers can make a colorful screen, or cosmos are an elegant choice, growing up to 120cm tall. If you are planting against a wall or fence you can also grow annual climbers such as sweet peas, morning glories, asarinas or cobea scandens – the Cup and Saucer Vine.
Use medium-height plants for middle row
Plant swathes of color in the middle of the border, aiming to have drifts of flowers in oval and teardrop shapes. Even in the tiniest garden, planting in groups of threes and fives is far more effective than simply dotting single plants around. When growing from seed, thin out the excess plants as they get bigger.
Use low-height plants for front row
Choose creeping and low-growing plants for the front of the border. Look out for options, such as dwarf annual phlox that bloom for months on end. Other great choices include candytuft, which only grows up to 30cm high and also has a heady fragrance. Poached Egg Plant, with its profusion of lemon flowers, is also ideal.
To create a natural effect in your raised garden bed ideas, allow trailing plants to spill over the edges. Cascading lobelias are perfect and may even self-seed so they come back every year. Nasturtiums are another popular choice, but avoid growing them on rich soil, or you'll end up with plenty of leaves at the expense of the blooms.
4. Add a considered color palette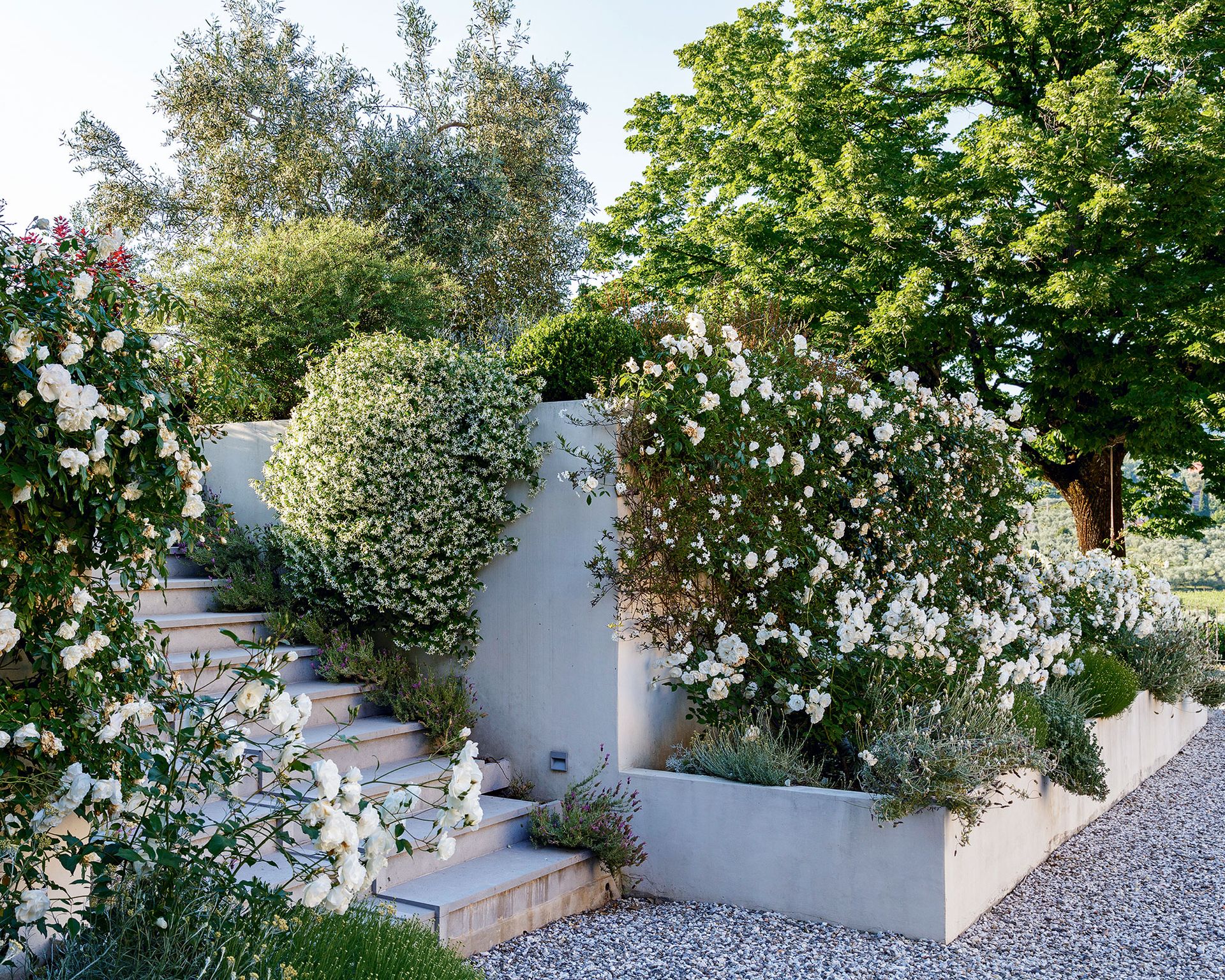 Color is arguably the single most important element when you're planning new garden edging ideas.
The options are almost limitless when it comes to choosing your color scheme, but opting for a restricted palette, with interwoven swathes of single colors, tends to work much better than having masses of different colors mixed together.
It is important to consider the size of your space when choosing color. If you're wondering how to make a small garden look bigger, it is worth bearing in mind that some colors (such as pale, pastel shades and white) recede and make a space appear larger.
More vibrant shades (orange, reds, yellows and vivid blues, for example) will close it in.
Strident colors can have a big impact when used as accents, but avoid filling the whole border with them or the effect is likely to be overpowering.
5. Water and weed regularly – remove any weeds first
The advantage of planting in rows is that you'll easily be able to tell your seedlings apart from any weeds that pop up.
It should be perfectly feasible to eradicate the grass simply by building the new beds straight over it – but with a few provisos. However, it is worth cutting the grass as short as possible to make the job of eradicating it easier.
Grass will die off quite quickly when light is excluded, as long as it is not weed grass (such as couch), which has underground runners by which it can survive. Ordinary domestic grass will not survive.
The same goes for weeds. Annual weeds will quickly die off it buried, but perennial weeds (such as buttercup) may grow through, to appear in the bed. If the grass contains such weeds, it might be worth spraying it off with herbicide before building raised beds. Though this should be used as a last resort.
The top 5 plants to grow in your flower beds
By now your long-list of suitable plants will have started to be whittled down, and you should be well on the way to a definitive shopping list for an abundant flower bed. But if you're feeling overwhelmed by the choice, here are some flowers, plants and grasses to consider…
1. Perennials
The great thing about perennials is exactly that: they're perennial. They appear year-after-year to provide your flower beds with rich, beautiful color.
Don't be tied too rigidly by the old tall-at-the-back-short-at-the-front idea. Clearly it makes sense but short early flowers like hellebores make impressive clumps at the back and like the shade of taller perennials later.
2. Cosmos
Cosmos is a firm favorite with gardeners. Coming in a wide range of colors, they add instant wow-factor to the border or bed, and if you're looking for patio planting ideas, they pack a punch in a pot, too.
As if their beauty wasn't enough to make you fall in love with these beautiful blooms, their pollen-rich flowers are an excellent choice for wildlife. Bees especially like cosmos making it a great addition to the garden, as it supports this vital pollinator.
3. Ornamental grass
The wonderful thing about ornamental grasses is that they demand little yet add excitement to any planting scheme.
They are a fantastic solution to early-fall doldrums: as summer flowers fade, their subtly colored foliage and sprays of tiny flowers will take centre stage. What's more, they are environmentally friendly too.
If you are wondering how to grow ornamental grasses, Anemanthele lessoniana will flourish in dry shade and never needs watering making it a great low-maintenance option, while Calamagrostis will evoke the atmosphere of an abundant cornfield.
4. Herbs
You don't need a vast space to create a beautiful herb garden. Herbs grow well in containers, dedicated beds or as an integral part of a herbaceous border planting. The idea is to grow herbs you use and enjoy.

Herbs suit both informal and formal garden ideas. Formal herb gardens are based on patterns and geometric shapes, whereas informal ones are a free-for-all, with species and colors all mixed together.
Despite the spontaneity of informal herb plantings, the best are carefully planned, even if only to ensure that the fully grown height and spread of neighboring plants is compatible.
In a formal scheme, we advise beds of around 4ft (1.2m) in width, so that the herbs are accessible. Any wider and it's worth adding stepping stones to improve access.
5. Lavender
If lavenders were simply obliging evergreens that, come summer, wafted fragrant flower spikes around, they would still earn a place in almost any garden. But, lavenders have it all – color, scent, foliage, form and garden worthiness of the first degree, making them a great option if you're looking for sensory garden ideas.
Lavender is also a good mixer, blending beautifully with annuals and perennials alike. Amongst its many qualities, lavender is drought tolerant, making it ideal for establishing in hot spots, the mainstay of gravel beds or difficult areas that tend to be dry.
Lavender is also invaluable in wildlife-friendly areas, a rich source of nectar to passing insects.
And then there are the practical uses. Having both medicinal properties and culinary uses, lavender sits very comfortably in the herb garden, whilst in the cutting garden, it provides a reliable companion to ethereal summer flowers. Cut and dried, lavender lives on long after the bushes are bare.
Sign up to the Homes & Gardens newsletter
Decor Ideas. Project Inspiration. Expert Advice. Delivered to your inbox.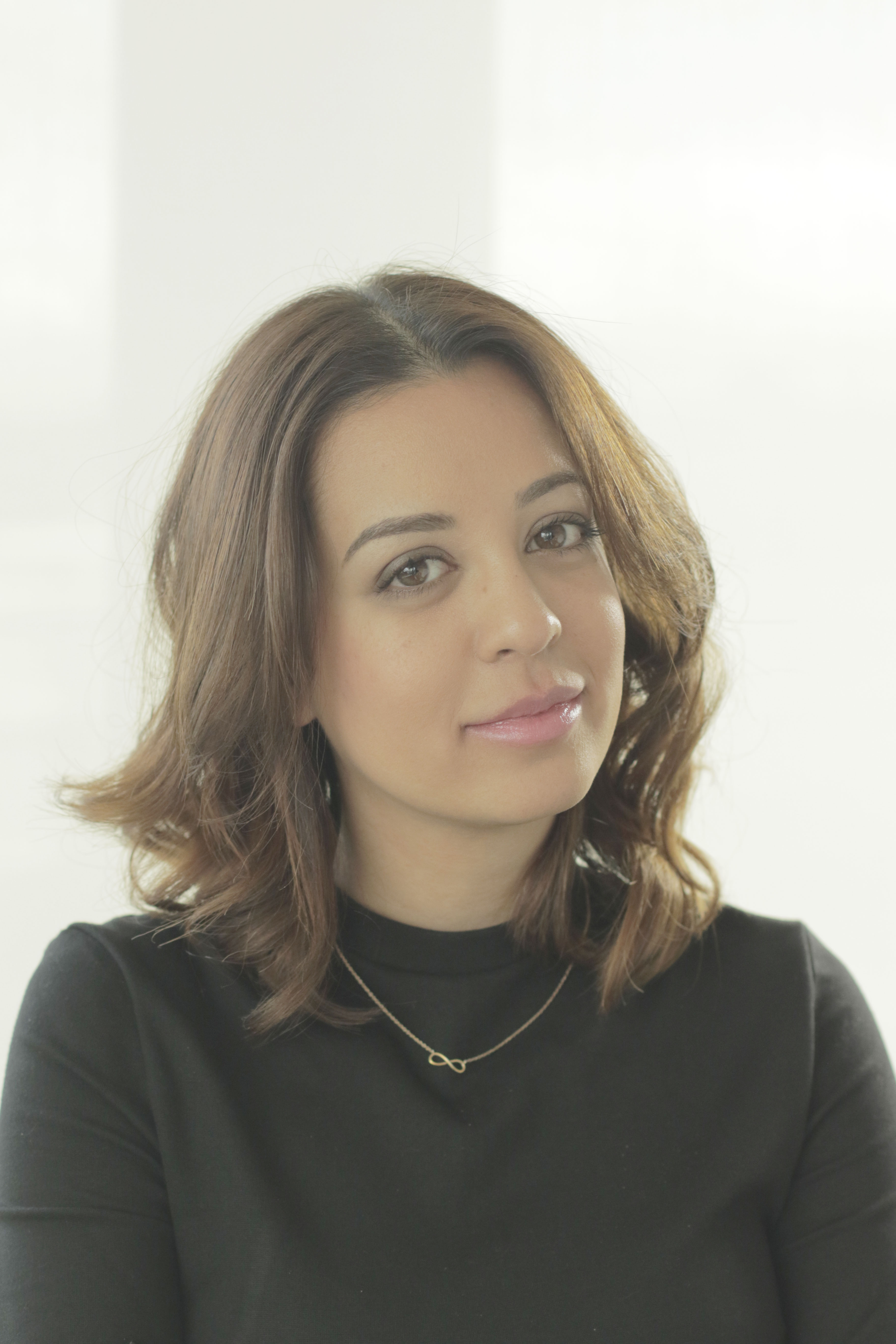 Jennifer is the Digital Editor at Homes & Gardens. Having worked in the interiors industry for a number of years, spanning many publications, she now hones her digital prowess on the 'best interiors website' in the world. Multi-skilled, Jennifer has worked in PR and marketing, and the occasional dabble in the social media, commercial and e-commerce space. Over the years, she has written about every area of the home, from compiling design houses from some of the best interior designers in the world to sourcing celebrity homes, reviewing appliances and even the odd news story or two.