Mailbox landscaping ideas – 10 ways to add curb appeal to your front yard
These mailbox landscaping ideas combine functionality and style for a refined front yard.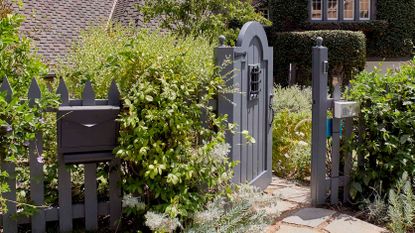 (Image credit: Emily Henderson / Sara Ligorria Tramp)
Mailbox landscaping ideas may not seem like a top priority in an era when direct messages, emails and Zoom calls are preferred methods of communication, and snail mail seems like a blast from the past.
But, just because your correspondence has gone digital, doesn't mean your mailbox needs to take a backseat.
Not only can beautiful mailbox landscaping offer the perfect finishing touch to any front yard landscaping ideas, but it can also set the tone for the entrance to your home.
Mailbox landscsaping ideas
We've curated our favorite mailbox landscaping ideas that will add an extra beautiful touch to any front yard. Whether you're looking for a standalone setup or one that's affixed to your home's facade, one thing's for sure: Snail mail has never looked so good.
1. Make way for metallics
If you're looking to update your mailbox – but don't want to splurge on brand-new mailbox landscaping ideas – a fresh coat of paint can make a huge difference.
With so many colors to choose from, finding the right shade for your yard can be easier said than done. For a failsafe option that will offer a touch of glamor, take a cue from this setup by Deb and Danielle, which reimagines the typical mailbox in a shiny metallic hue.
2. Wow with a wooden mailbox
Thanks to some wooden elements, your mailbox can appeal to all of the senses. Bailey Munson of Bailey Bee Blog mastered the look with this light-stained grain. Fortunately, this idea can easily be added to your e-cart.
'I purchased this mailbox from a seller on Etsy, ModernistMailbox, who allows full customization of the piece – from the stain of the wood, to the finish of the mailbox itself, [to] the included house numbers,' the blogger explains. 'Even better is that it was a breeze to install and totally changed the entrance to my home.'
Coupled with these inspiring front door ideas, a customized wooden mailbox like this can help you create the perfect entrance to your home.
3. Hang your mailbox on a fence
For mailbox landscaping ideas that will up your property's curb appeal, take a cue from designer Emily Henderson, who affixed a slim, envelope style to the picket fence.
The mailbox's inky black hue matches the hardware on the door, not to mention deftly contrasting with the muted blue gray gate. This is also a great space-saving small yard landscaping idea as well.
4. Add interest
On the hunt for another way to incorporate your mailbox in your front yard's fence? Consider combining your mailbox with your garden fence design ideas.
In this yard, which comes courtesy of Blackband Home & Design, the mailbox is inserted into the fence's stacked stone mount. The final product is strategic, space-efficient, and surprisingly stealthy.
5. Build a flower mailbox
Contrary to popular belief, it is possible to introduce some landscaping to your mailbox.
Carmen Smith, of Living Letter Home, added a small flower pot to the back of her mailbox and incorporated it into her front yard flower bed ideas, giving this outdoor staple a blooming edge.
The mailbox is finished with a high-contrast color palette and enlarged numbers, putting the full attention on the purple blooms.
6. Make way for modernity
Anyone who is looking for an updated take on the traditional post mailbox will find a lot to love about this space from Mindy Gayer, with its crisp lines and modern front walkway ideas.
Instead of the typical, red flag-clad style, the California-based designer opted for black, angular style mailbox. When paired with this sleek, modern farmhouse, the mailbox creates the perfect intersection between old and new.
7. Flank your facade
If you want gorgeous mailbox landscaping ideas, but are short on square footage, attach your mailbox to your home's facade. This space from Fraiche Living is equal parts well-appointed and practical.
'We wanted to create a traditional, coastal look with our front entry, and chose a classic white mailbox and a soft grey exterior with oversized lanterns flanking the door,' says blogger Tori Wesszer.
8. Go for gold
For wall-mounted mailbox landscaping ideas with a dose of drama, add a fresh pop of color. Beth Hunter of Home Stories A to Z coated this elegant, envelope style mailbox in a moody bronze hue.
This option complements the bright blue door, not to mention giving the front yard cottage garden inspired porch the 'wow' factor.
9. Make your own front yard mailbox
Ready to flex your DIY muscle? Take a cue from Sadie Mae John of The Awesome Orange, who created this mailbox cover from scratch.
'Mailboxes are like jewelry for your home, so why not make it awesome?' she explains. 'Complete build plans are available so you can make your mailbox awesome, too!' All you need is some time and creativity to get the job done.
10. Pick a wall-mounted mailbox design
Strike a balance between a lone mailbox and wall-mounted setup by incorporating it into your front porch ideas and attaching it to one of your porch's columns.
This clever tip offers the best of both worlds: It's space-efficient like a wall-mounted style, yet has the statement of standalone mailbox landscaping ideas. Looking for inspiration? Let this setup from The Grit and Polish show you how it's done.
Sign up to the Homes & Gardens newsletter
Decor Ideas. Project Inspiration. Expert Advice. Delivered to your inbox.
Kelsey Mulvey is a New York-born, San Francisco-based freelance journalist who covers lifestyle and design content. She started her writing career while studying magazine journalism at Boston University, where her work was syndicated by top digital publications like USA Today and MSN. Upon graduation, Kelsey covered lifestyle content The Wall Street Journal, Off Duty and Business Insider. In 2017, Kelsey started her freelance journalism career, where she contributes to design publications like AD PRO, Elle Decor, Wallpaper*, and more. W