Front door ideas – colors, materials and looks for exterior doors for the perfect entrance
Clever lighting, striking paints and dashing ironmongery are putting the often-overlooked front door in to the design spotlight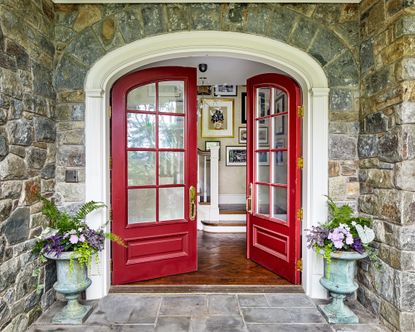 (Image credit: Erika Bonnell Interiors/Stacy Zarin Goldberg)
Sign up to the Homes & Gardens newsletter
Decor Ideas. Project Inspiration. Expert Advice. Delivered to your inbox.
Thank you for signing up to Homes & Gardens. You will receive a verification email shortly.
There was a problem. Please refresh the page and try again.
First impressions are everything, so make sure your front door is a good one – outside and in – with our favorite front door ideas. Whatever your space or budget, there are many ideas to make a difference to your own humble front door.
Walk down the average street and you might well detect the first stirrings of a quiet, but distinctive, design revolution. The front door, that most practical but often overlooked element of our homes, is undergoing a transformation.
Narrow openings are being replaced by generously proportioned doors on weighty pivot hinges. On period exteriors, demure door furniture is ceding to overscaled ironmongery fashioned from rich bronze or brass in to shapes worthy of a modern sculpture gallery.
Elsewhere, deep paint hues and imaginative lighting are ensuring that the entrance to our home is no longer a decorative afterthought, left to the last phase of a building project, but an integral part of both the look and feel of the whole property.
For interior designers such as Monique Tollgard the front porch ideas are also a prelude for the style that lies within: 'The entrance is the first encounter for you, your guests and your home. The materials and colors we use allows us to introduce the "red thread" or guiding motif of the house immediately.'
Fellow interior designer Karen Howes agrees: 'The front door can say so much about the owner: it can be relaxed and welcoming or more formal. For us, the front door is so important; it is the start of the story and first and last impressions are so important.'
Front door ideas
These front door ideas are a great starting point to help you choose the right one for your home – what you choose should still reflect the age of your home, the existing finishes of your house, your existing front yard landscaping ideas, and what your neighbors have.
1. Create a scheme you love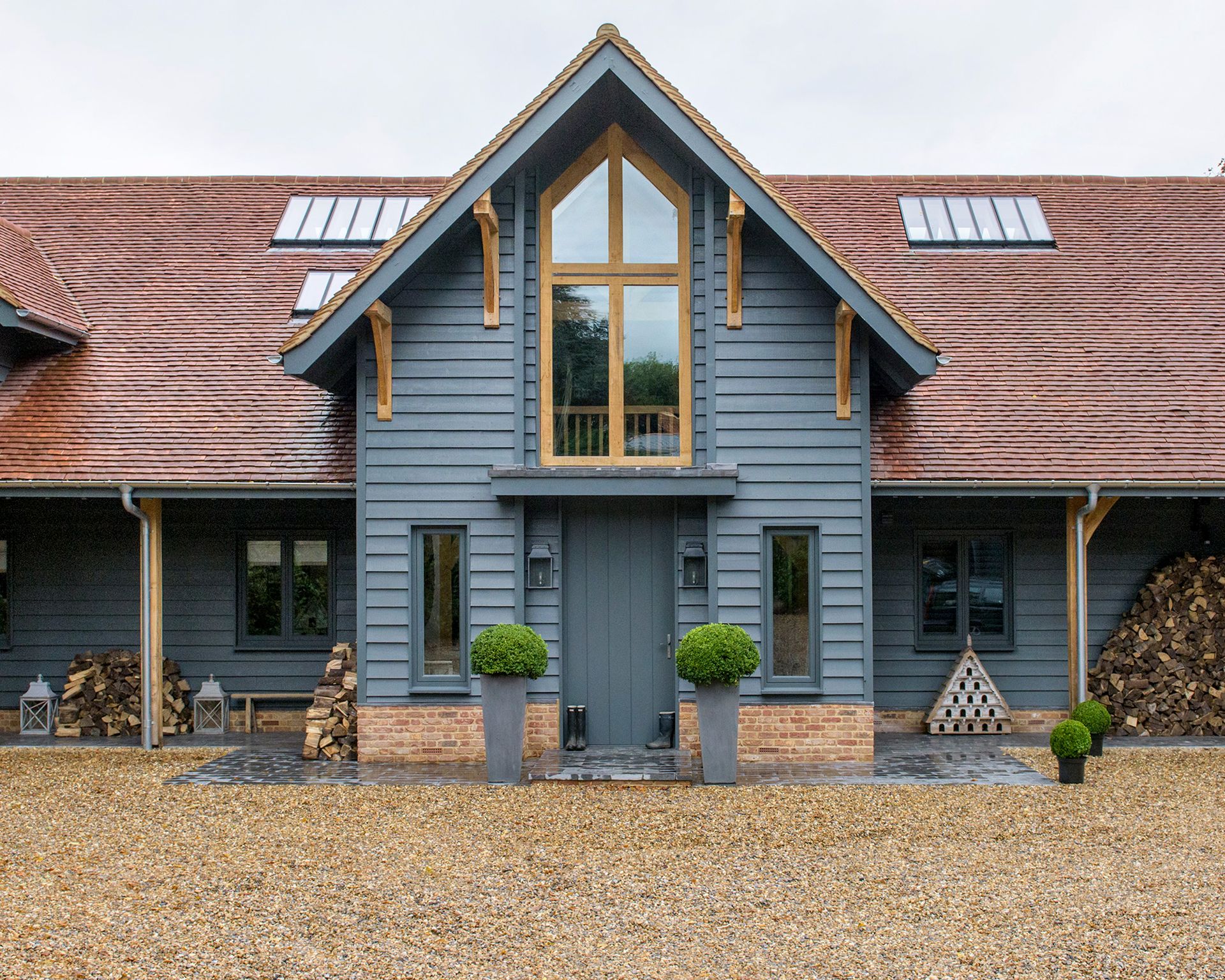 It's an odd thing but one of the most important areas of our property is the one that's often overlooked. Considering we use our front door almost every day, it should be the one place we notice all the time – just as we admire what other people wear and their outward appearance, houses, too, can grab our attention with a smart or pretty exterior.
Take a fresh look at your front door and give it a little lift with a seasonal makeover. Try a new lick of color for a more dramatic look, or perhaps a planter or pots of flowers on your steps to add natural color.
2. Paint the door in your favorite color
Start by taking a look at the overall color of your property – what material is it made from and do you want it to match the window frames? Try to choose a shade that suits the house – it can still be a strong choice but it needs to complement rather than work against the walls.
Check to see if your surrounding walls or porch need cleaning-up and if it's a dark area, then painting it a pale color will help lighten the area.
Make a statement and hint at what's hidden inside. Gloss black, navy, white, racing green and pillar-box red are the classics, but thanks to softer shades and eggshell finishes you can stay on trend even in conservation areas.
When considering how to paint a front door, it's important to coordinate the door with the rest of the house, suggests Rebecca Thompson, Dulux's Color Designer. 'Look closely at the underlying hues within your walls and natural surroundings to ensure they don't clash. Red brick goes best with charcoal or earthy tones. Bricks with a yellow/cream hue work with classic blues or greens. Neutral or grey exteriors allow you to be even more adventurous with vibrant shades of red and blue.'
Get inspiration from your neighbors, too, and try for a unified look. A street with complementary tones looks more appealing than a hotch-potch of colors.
3. Light the front door
Investing in a good front porch lighting ideas for the outside is not only a welcoming sight but makes a house secure and well maintained for visitors. Place a light in a porch for a warm glow, or make a feature of a light on a side wall, to highlight a bell or number.
4. Add greenery around the front door
Introducing a little greenery to the outside instantly brightens up a space. Even a humble hanging basket will make a difference. If you have a windowsill, add simple planters and if space allows, large ceramic or zinc pots either side of a door helps frame an entrance.
5. Focus on the details
How much is a new front door, and is it worth it? The short answer is yes. But if you budget doesn't stretch to a complete new front door, worry not. Even the most modest of front doors can be lifted with a few changes, but if painting your door isn't an option, small details such as adding frosted or patterned film to glass panels or changing a door number could be all that is needed to make a difference.
6. Choose the right door furniture
As a rule, choose door furniture that's in keeping with the style and age of your home. Large ornate letter plates and knockers will look odd on anything other than a similarly proportioned door.
Simpler contemporary designs in a classic finish such as polished brass or nickel will freshen up period doorways. Modern designs tend to be simpler, based around brushed aluminium and steel finishes. For a more rustic country feel, wrought iron is ideal.
'It's important to decide on a style and finish and keep this consistent across all fixtures,' advises Vanessa Allan, Marketing Manager for Samuel Heath.
'Contemporary door furniture is often defined by its simplicity, with clear-cut lines and a streamlined finish, whilst classic pieces often have ornate detailing and sculpted features.'
7. Clear the clutter around the front door
Give the surrounding area a good clean and clear out any items that might be in the way. Even polishing a letterbox or door knocker will do a world of good. Look at simple ideas such as investing in a new house name or number sign, or perhaps a couple of planters either side of the door.
8. Pretty up the entrance
A hanging basket can add color as can a new doormat and even changing the door handle will bring a little sparkle to your home. Take a look at other house exteriors local to you, and note which ones catch your attention and why they work.
8. Enhance privacy around the front door
Use frosted film – or well-placed furniture and furnishings – if you want some privacy or to highlight your house number. There is a fantastic range of patterns and options available, so take the opportunity to introduce wonderful designs and even colors to your door.
9. Keep the front door the focus by hiding clutter
Garbage bins are a necessary fixture outside our homes, but if you have the budget, get a simple wooden storage that will transform the exterior by hiding the bins inside. Why not paint it to match your front door?
11. Replace tiles or lay a pathway to the front door
Remember, a quick makeover could be all it needs to make a difference to the pathway leading up to your front door. If you live in a period property it might be worthwhile replacing tiles. Other paths could benefit from cracks being fixed, levelling or a lick of floor paint.
12. Put seating by the front door
This, of course, looks wonderful and sets the scene of a front garden that's made for more than just accessing the front door but it's also practical – it gives you somewhere to perch while you take off muddy shoes after a walk.
13. Install railings to the front door
This has a functional appeal, obviously, but installing railings either side of the steps up to a front door that match the period and style of the house really does serve to draw the eye towards the door itself.
14. Find a reconditioned period front door
If you live in a period property and your current door is the original, it's always worth trying to preserve it for as long as possible. Repair, re-glaze and re-paint before considering replacing it.
But if your door is more recent and not to your taste, there are several options – to choose from, from modern designs and bespoke joinery to reproductions and reclaimed originals.
15. Ensure the front door matches your property's period
Preserving your homes' architectural history is currently the most prolific front door trend around. Period homes would have originally sported one of the following styles:
Georgian (1700-1800) – Large and imposing with a simple six panel design and decorative fanlight above. Popular colors at the time were white, black, or dark green. As the period went on, glass panels became more popular.
Victorian age (1837-1901) – Everyone wanted Oak but many doors were made of softwood and painted, or stained to imitate it. The doors would have been panelled into four or six sections and often featured elaborate stained or etched glass and heavy door furniture. White, brown, dark blue, dark red and olive green were popular colors.
Arts & Crafts (1880-1920) – Look out for gothic designs with iron hinges, simple carved designs, art nouveau and Queen Anne detailing.
Edwardian (1901-10) – Two tone colors, wider entrances, glazed decorative side panels added to the grandeur. Elaborate stained glass was also popular.
Art Deco (1910-1939) – Oval or square windows occupying the top third make this period instantly recognisable. Door handles were also fitted higher up with three vertical panels in the lower two thirds.
Modern – Horizontal lines, geometric shapes, side lights and Hollywood inspired chrome all influenced early modern designs.
If you're looking for an original door the salvage yard is a perfect place to start. Often rescued from demolitions, you can find beautiful designs with natural ageing that could fit your house like a glove. Pick up original furniture and accessories to complete the look too.
'If you find a front door in a salvage yard it will generally be in good condition as it will have been rescued from a demolition project,' explains Amanda Garrett from architectural salvage experts Lassco. 'At first sight they can seem expensive but they will always be cheaper than a custom made one,' she says.
16. Pick wood for a warm welcome
Wooden doors look beautiful and enjoy an unmatched reputation. Look for FSC hardwood to ensure it is sustainably sourced. Wood can be re-painted and trimmed, but requires maintenance. Modern designs are thermally efficient, but reclaimed doors won't last as long or keep out the draughts as well.
Timber doors have been proven to add value to a home. 'Timber patio doors, for example, offer some of the best sightlines, as timber is an inherently strong material which means frames can be slimmer and less chunky, which enables more light to filter into a property,' says Chris Miller, Product Manager at JELD-WEN.
17. Factor in front door security
Garden security lighting for your front door is, and will always be important, so be sure to factor this in before undertaking any front door design projects.
A basic rim or Yale latch isn't enough, you will also need a 5 or even 7 lever mortice deadlock. The strongest locks are made to British Standard 3621/80. These locks are often found on some front and back doors in the home. Some insurance companies will require door locks to be fitted to this standard. 'Look for the Secured by Design logo,' says Amanda Garett. 'It shows security products meet the high standards of the police and insurance industry.'
18. Create a contemporary appeal
The latest generation of folding, patio and bi-fold doors can transform your space, bringing the outside in, illuminating dark corners and creating a fantastic vista.
French doors – A classic feature offering garden access and abundance of natural light, but unlike their modern counterparts don't invite the outside in as much.
Folding sliding doors – With floor to ceiling fastenings, efficient double glazing and a range of widths on offer you can now enjoy expansive views and allow the home to be opened up to the landscape. The ingenious folding/closing mechanism also means you can just use one single door during bad weather.
Sliding doors – Patio style doors are easy to use and allow huge windows without the framework blocking light. The latest hi-tech designs can be installed so the panels slide away from view and even fitted with remote controls.
19. Paint the interior of the front door
So often overlooked, front doors inside the house are the perfect opportunity to boost your entryway ideas and decorating scheme. Pick a color that matches the flooring or hallway wallpaper to create a cohesive look. Ideally it will match the color of the front door outside, although this is not a must.
20. Hang a curtain over the front door
Hanging a front door curtain is a smart idea if you have an old home with an original front door that's likely to be less energy efficient than you might like. However, it's also a wonderful opportunity to add color and character to your small entryway with fabric and pattern.
How can I make my front door look nice?
Judicious lighting adds to the air of enticement. In place of glaring floodlights, designers now layer conventional sources like lanterns with discrete downlights or tiny concealed step lights for a soft glow.
Clever lighting will accent even the simplest planting schemes; drawing the eye to the prettier aspects of your facade while obscuring practical elements such as bins or bikestands.
And underfoot, the array of stone or ceramics has never been wider: soft, Portland stone is a perennial for approaches but Victorian encaustic tiles are also making a comeback.
Add planters in burnished copper, painted timber or rustic earthenware, a cohesive color scheme and flourish of bold ironmongery and you have all the ingredients of a front door that is not simply practical but personal.
As interior designer Harriet Anstruther concludes: 'Your door can be so revealing; it's the threshold to your castle symbolizing whether you want your home to a retreat, or a talking point.'
What is the best color for a front door?
The ever-expanding palette of external paint colors and finishes allows you to create beguiling visual links between the door and facade. For traditional rural properties, soft greys or greens can be echoed on window frames or sprayed on to guttering for all-in-one chic; another ploy is to use subtly different paint tones to link doors, planters or porches. In town, window frames and metalwork look pin-sharp when picked out in deep black to echo doors and joinery.
For traditional porches, designer Emma Pocock of Turner Pocock favors vivid hues which link exterior with interior; her own Victorian house features a zingy mustard- yellow porch to match the wallpaper of her entryway.
What front door is best?
For security and durability, Accoya (a chemically treated hardwood) and oak are popular choices for front doors. Traditional door specialists like Voysey and Jones will produce doors to match the period of your home complete with 'antiqued' brass door furniture for timeless appeal.
For contemporary facades, companies like Silvelox or Urban Front lead the way with wide, pared-down doors in striking unpainted woods such as American Black walnut, wenge or modish Fumed Oak with glazed panels and pivot hinges completing the look.
'Always consider the location of your house before you decide,' says Urban Front designer Elizabeth Assaf. 'A south-facing house will demand a harder wood and it's always a good idea to get samples and hold them up to the facade to gauge the effect.'
On a similar note, Yolande Hesse of Back to Front architects says: 'Avoid blacks or dark grey paints on south facing front doors as the color retains the heat causing the wood to literally boil and crack.'
The conventional lion knocker in gleaming brass still cuts a dash on period doors but for exterior artistry look to companies such as Nanz who excel at bespoke, sculptural shapes as striking as a piece of beautiful jewellery.
Scale matters: one larger piece will have more punch than fiddlier fittings. When choosing the finish, lighting and door fittings specialist Charles Edwards counsels: 'The age of your house needn't dictate the style of ironmongery: if your interior is contemporary then a nickel or chrome finish will work well with period joinery. Equally, a mellow rural exterior will be better complemented by softer antique tones such as bronze or brass.'
For practicality says Charles: 'Chrome is the hardiest finish requiring little or no maintenance.'
Sign up to the Homes & Gardens newsletter
Decor Ideas. Project Inspiration. Expert Advice. Delivered to your inbox.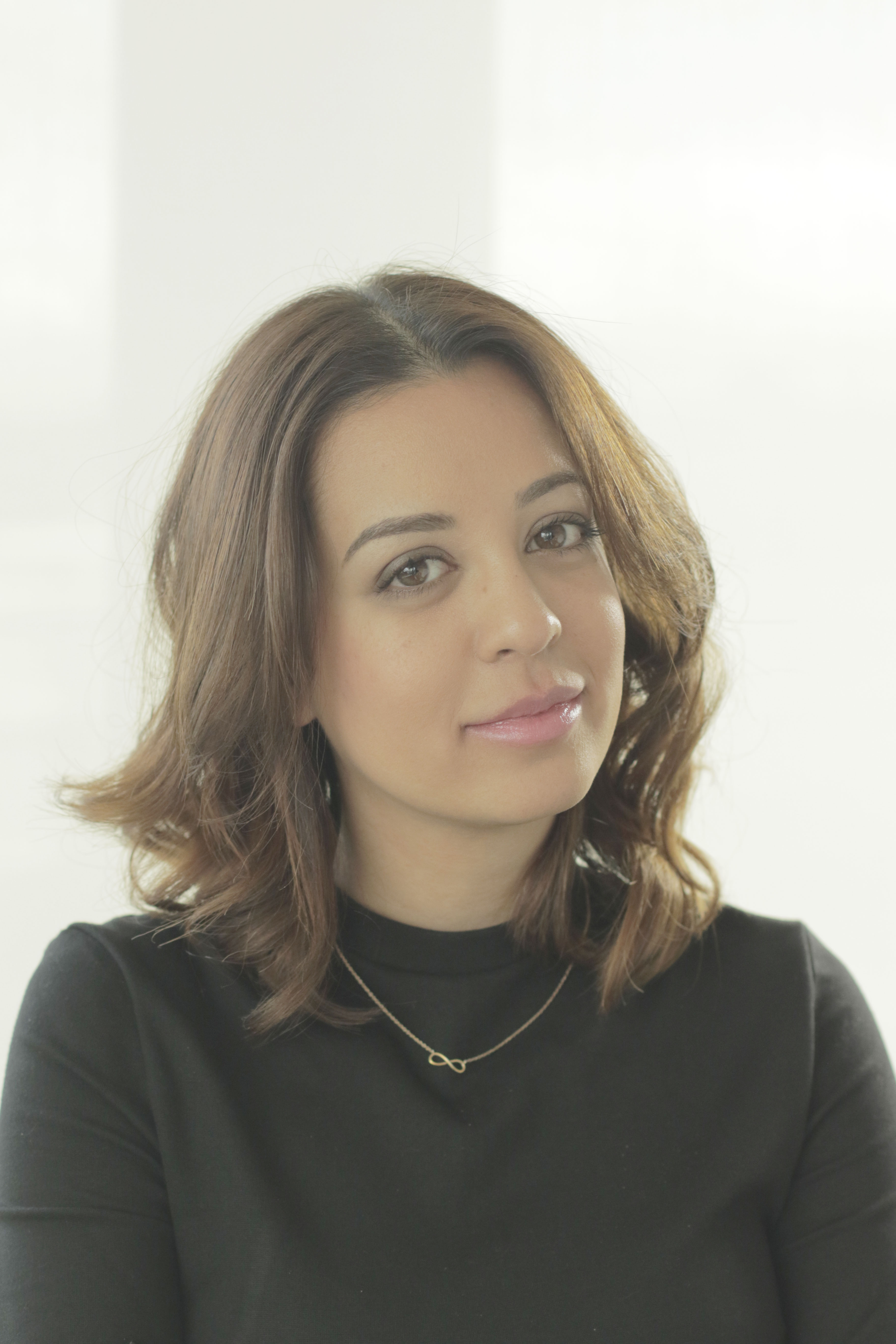 Jennifer is the Digital Editor at Homes & Gardens. Having worked in the interiors industry for a number of years, spanning many publications, she now hones her digital prowess on the 'best interiors website' in the world. Multi-skilled, Jennifer has worked in PR and marketing, and the occasional dabble in the social media, commercial and e-commerce space. Over the years, she has written about every area of the home, from compiling design houses from some of the best interior designers in the world to sourcing celebrity homes, reviewing appliances and even the odd news story or two.