How much is a new front door?
Asking how much is a new front door in order to boost the curb appeal of your home? Find the answer here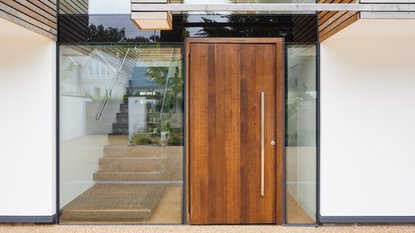 (Image credit: Urban Design)
The front door plays an important role when it comes to the attractiveness of your home when seen from the street, but how much is a new front door? It's important to know when you're planning a boost to the curb appeal of your property and this is part of the improvements.
Costs will be influenced by your own front door ideas as the different materials and door styles come with very different price tags. How the door is constructed is important, too. Whether a new frame is required is also a crucial question, and there's the cost of labor to factor in as well.
To allow you to budget, we've called on the experts to explain the different elements of front door cost, and what you might expect to pay.
How much is a new front door?
So, how much is a new front door? 'Installing a new front door costs an average around $1,000, depending on the material and style of the door,' explains Bailey Carson, home care expert at Angi. 'Standard single styles range in cost from $150 to $600. Pre-hung styles can cost between $50 and $200 more for the materials, but you'll save on labor and installation costs, which can be anywhere from 30 to 50 per cent less than for slab varieties.'
In the UK, prices start from £900 for a good quality uPVC door with installation costing from around £200.
What a door is made from is important, as is the way it is constructed. 'The door's material will have a major impact on cost,' explains Bailey. 'However, you should also consider whether the door is going to have a solid or hollow core, whether it's a basic or custom model, whether you're using an existing jamb or frame or creating a new one, and the material of the walls around the door. Other costs will include labor, hardware and the cost to remove your existing door, if necessary.'
How much is a wood front door?
A wood front door is a popular choice for both looks and sturdiness. But how much is a new front door made from wood?
'Wood doors are relatively expensive, ranging from $40 to $5,000, depending on the type of wood and any additional features you add, like stained glass,' says Bailey.
In the UK? 'We do five different hardwoods,' says designer Elizabeth Assaf from Urban Front. 'As an example, for a standard door at 1040 x 2100mm, an oak door would be approximately £45,400. Our doors are special in that they are steel reinforced to prevent any movement.'
'There are cheaper doors on the market and it may be a bit cheaper to get this made by a joiner, but you would not get any performance from that necessarily.'
How much is a composite front door?
Composite doors, which have the advantage of relatively low maintenance requirements, come with differing price tags. 'Fiberglass composite doors can range from $250 to $2,000,' says Bailey.
Of the UK, Elizabeth Assaf explains: 'You can buy composite doors from £600, but I'd say a good quality middle range door would be £2,400 approximately.'
How much is a steel front door?
If you're considering steel, you'll be asking how much is a new front door made from this material. Bailey says: 'With a lower price tag of between $150 and $1,250 (£115 to £950), steel doors are affordable, low maintenance and durable against extreme weather. They also have a great return on investment, earning you back up to 60 per cent of the cost.'
How much is an aluminum front door?
Aluminium is another modern option, but how much is a new front door made from this material?
'Aluminum doors are a low cost option, typically ranging from $100 to $2,000 (£75 to £1,515),' says Bailey.
How much is a glass front door?
Opting for a glass front door can maximize the daylight that reaches the hallway of your home.
'Double-paned, full-panel glass doors range in cost from around $700 to $3,000 (£530 to £2,270),' says Bailey. 'They can be more cost effective if you choose single pane or if the door is only partially glass.'
Bear in mind the downsides of a glass front door, however. 'While glass doors allow in more natural light, on their own, they are less secure and less insulating than alternatives,' advises Bailey.
How much is a wrought iron front door?
The detail of a wrought iron door can be a great complement to a home, but does come at an increased cost.
'Higher-end wrought iron doors are on the more expensive end of the spectrum, ranging from $1,500 to $7,000 (£1,135 to £5,296),' says Bailey. 'These doors tend to use a steel, wood or glass base with wrought iron details, rather than the full door being made from the material.'
How much is a UPVC front door?
A popular budget choice in the UK, a uPVC front door is made by encasing an insulated steel frame in the material to create a strong, sealed unit that is thermally-efficient.
'Prices start from about £900 for a good quality UPVC front door in white,' says Elizabeth Assaf.
What else might influence front door cost?
The style of the door will also have an impact on the final cost of replacement. 'You can expect a higher price tag for a more ornate door with windows, custom woodwork, wrought iron or upgraded hardware,' says Bailey.
'If you live in an area with extreme weather, you may also want to consider installing a storm door vs a simple entry door. Storm doors cost more, but they also have high ROI and will be well worth the investment when the next storm is kept out of your home!'
What is the cost of front door frame construction?
Be aware that while it can be possible to replace one front door with another, the frame may need to be replaced also and, in any case, changing both might be the better solution for security and energy efficiency.
If the latter is the case, factor this into your budget. 'Frame construction tends to range from $200 to $650 (£151 to £492), but typically adds around $500 (£378) to the cost of replacing your door,' says Bailey.
'If framing also requires structural changes to your wall, plan on adding an additional $7 to $16 per square foot (£57 to £130 per square metre) in wall framing costs. Since this is your front door, reframing also needs to work with siding, house wrap, insulation and electrical rewiring, so you'll likely need to add around $75 (£57) for an electrician.
How much does it cost to install a front door?
So, how much does it cost to install a front door? Well, as with any project, a lot of things can alter the price.
'It costs around $900 to fit a front door to an existing opening, but this will depend on the door's material and whether the opening needs any reframing,' says Bailey.
As for the UK? 'Depending on the fitter, it can cost as little at £200 to as much as £1,200 to fit a door,' says Elizabeth Assaf. 'This depends on the door type/size/weight and whether or not it's going into glass, a wall or timber and whether or not you need more than one person.'
Does replacing a front door increase home value?
Replacing a front door with a steel version will recoup some 65 per cent of the cost on average, according to Remodeling magazine. But consider, too, its value in making your home more attractive while you're in residence, and when it comes selling it.
'Property gurus all agree that a new front door is an excellent way to add value to your house,' says Elizabeth Assaf. 'But that depends on how much of a difference it's making to the overall frontage and elevation – its curb appeal is definitely a big part of the buying mentality.'
How often should I replace my front door?
A quality exterior door has a long lifespan. However, if it's damaged, you can see gaps around it, or it's a struggle to open it, replacement should be on the agenda. A desire for better energy efficiency and security might also prompt replacement, plus you might do so for aesthetic reasons.
Consider the locks as well. 'Household locks typically don't need changing unless there's a problem – for example, if they're beginning to stick and becoming difficult to open,' says Izzy Schulman, director at Keys 4 U.
But Izzy explains that you might want to think about changing your locks if you're worried someone might have access to your home.
'If you've recently bought or rented a new home – or even just given a spare set of keys to a builder or cleaner with whom you're no longer working – it may be worth replacing your locks for peace of mind,' she adds.
Sarah is a freelance journalist and editor. Previously executive editor of Ideal Home, she's specialized in interiors, property and gardens for over 20 years, and covers interior design, house design, gardens, and cleaning and organizing a home for H&G. She's written for websites, including Houzz, Channel 4's flagship website, 4Homes, and Future's T3; national newspapers, including The Guardian; and magazines including Future's Country Homes & Interiors, Homebuilding & Renovating, Period Living, and Style at Home, as well as House Beautiful, Good Homes, Grand Designs, Homes & Antiques, LandLove and The English Home among others. It's no big surprise that she likes to put what she writes about into practice, and is a serial house renovator.