How much is a new front door?
This is how much a new front door costs, whether you're giving your home's exterior a new look, or getting a like-for-like replacement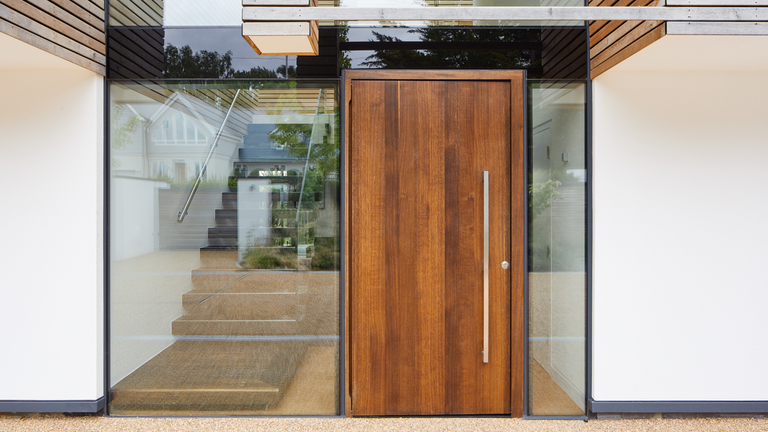 (Image credit: Urban Design)
If yours could do with an upgrade, fear not, we've asked the experts, how much is new front door? They've given us the costs, depending on the type of door you want. It's important to get right, and to invest in a quality door that will last and fit your property's style. After all, front doors are the first part of your home to make an impression.
If you're unsure about which one to pick, be sure to consult our handy front door ideas guide, which dives into colors, materials, looks and more. But, of course, budget plays an important part.
Managing director of Stormclad John Evans says, 'The easiest place to start when deciding which front door is right for your home is to choose a realistic budget. This will help you to narrow down the options that are available to you, as well as helping you prioritize what aspects of the front door are most important to you.'
'For example, is improving your home's security a top priority? Do you wish to find a bold and colorful style that is going to make your property's exterior more attractive, or do you want something that offers both excellent functionality and curb appeal?'
Here's everything to know about front door costs.
How much is a wooden front door?
A wooden front door is a popular choice for both looks and sturdiness. It's thought that mahogany is one of the best all-round woods for a front door, as it's a durable and attractive. It's also worth pointing out that solid wood doors require ongoing maintenance to be kept in best condition.
But how much do different woods cost?
'We do five different hardwoods,' says designer Elizabeth Assaf from UrbanFront.com. 'As an example, for a standard door at 1040 x 2100mm, an oak door would be approximately £4,500 ($6,139) + VAT. Our doors are special in that they are steel reinforced to prevent any movement.'
'There are cheaper doors on the market and it may be a bit cheaper to get this made by a joiner, but you would not get any performance from that necessarily.'
She adds, 'The same door in walnut would be £6,033 ($8,231) + VAT and in fumed oak (dark wood) would be about £6,370 ($8,690) + VAT.
'The prices vary by size, design and wood – so there are a lot of variations. On average an oak door at 1.2 x 2.4m in a pivot design would cost £6,500 ($8,868) + VAT.'
How much is a composite front door?
A composite door is built from several different materials, including UPVC, steel, glass, and wood, but the exact make-up varies between manufacturers - so it's worth checking.
The combination of materials that can offer a stronger, thicker door that is durable and has a quality finish.
'You can buy composite doors from £500 ($682) + VAT, but I'd say a good quality middle range door would be £2,000 ($2,728) + VAT approximately,' says Elizabeth Assaf.
How much is a UPVC front door?
Unplasticized Polyvinyl Chloride (also known as UPVC) is a type of plastic that's tough and hasn't had any additives inserted when manufactured.
Typically, a UPVC front door is made by encasing an insulated steel frame in UPVC to create a strong, sealed unit that is thermally-efficient. It's also a popular choice with homeowners due to its lower price tag.
Elizabeth adds, 'Prices start from about £750 ($1,023) + VAT for a good quality UPVC front door in white.'
How much does it cost to install a front door?
So, how much does it cost to install a front door? Well, as with any project, a lot of things can alter the price.
'Depending on the fitter it can cost as little at £200 ($272) to as much as £1,200 ($1,637) to fit a door, this depends on the door type/size/weight and whether or not it's going into glass, a wall or timber and whether or not you need more than one person,' adds Elizabeth.
How much value does a new front door add?
A new front door is really worth considering as it can even add value to the cost of your house – particularly if it's painted blue, according to research from Sell House Fast. It found that blue is the most valuable front door color to have, adding an average of £4,000 ($5,456) to a house.
However, it ultimately depends on the quality of a new front door, as this is the main thing that will add value to a home.
'Property gurus all agree that a new front door is an excellent way to add value to your house,' says Elizabeth. 'But that depends on how much of a difference it's making to the overall frontage and elevation – first impressions to curb appeal are definitely a big part of the buying mentality.'
How often should I change the locks on my family home?
'Household locks typically don't need changing unless there's a problem – for example, if they're beginning to stick and becoming difficult to open,' says Izzy Schulman, director at Keys 4 U.
But Izzy explains that you might want to think about changing your looks if you're worried someone might have access to your home.
'If you've recently bought or rented a new home – or even just given a spare set of keys to a builder or cleaner with whom you're no longer working – it may be worth replacing your locks for peace of mind,' she adds.