Garden security lighting: an expert guide
Use garden security lighting to light up the dark in your outdoor space for safety and peace of mind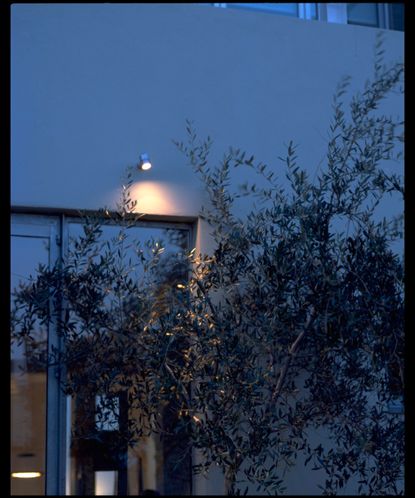 (Image credit: Adrian Briscoe/Future PLC)
Sign up to the Homes & Gardens newsletter
Decor Ideas. Project Inspiration. Expert Advice. Delivered to your inbox.
Thank you for signing up to Homes & Gardens. You will receive a verification email shortly.
There was a problem. Please refresh the page and try again.
Garden security lighting may not be your go-to choice for those alfresco evenings with friends and loved ones underneath the stars. But that's not to say it isn't worth investing in.
595,000 garden thefts occurred in the UK last year, according to the Office for National Statistics. That's a 23 percent rise from 2017. What's more, this figure accounts for a staggering 90 per cent of all household thefts. Bikes and lawnmowers are the most commonly stolen items.
And it's not just the two-wheeler you've got to keep your eyes on. A secure garden with well-positioned outdoor lighting ideas can also deter burglars from targeting your home.
And with the FBI reporting a home burglary every 25.7 seconds in the US, it pays to have every security measure covered.
What are the main types of garden security lighting?
FLOODLIGHTS
Floodlights are used when a brighter illumination is required (setting them apart from the usual lighting used in garden ideas), emitting a wide, powerful beam that is ideal for driveways, entrances, and pathways.
On all outdoor lighting, you should take note of the product's Ingress Protection rating, which relates to its waterproofing capacity. The minimum you require is IP43, which protects against rain and spraying water.
SPOTLIGHTS
Spotlights are similar in brightness to floodlights, but cast a narrower beam of light, usually no wider than 45 degrees. This beam is more concentrated and easier to point and control.
WALL-MOUNTED LAMPS
Usually powered by a mains supply, you can position these lamps to the side of your front door, which is the number one spot for garden security lighting, making them a great front porch lighting idea.
MOTION-SENSOR LIGHTS
Motion sensor lights use a Passive Infrared (PIR) sensor that is activated by heat and movement. A mainstay of garden security lighting, they save on energy as you don't need to have them on all day, only when motion is detected.
SOLAR PIR LIGHTS
Solar garden lighting ideas will usually be an LED light source and can last between four to six hours, giving ample light to your outdoor space.
Are LED security lights any good?
When it comes to efficiency, LED security lights are an insider's favourite. 'Although they can be expensive to purchase, they will save on your energy bills in the long term as they are very energy efficient,' says Matthew Currington, technical director at The Lighting Superstore.
'Generally, they have an average life span of 30,000 hours, whereas a normal bulb lasts up to 2000, so they won't need replacing as often.'
Adrienne Sharkey-Perves, senior marketing director at automated home security company Arlois also a fan. 'They are long-lasting and deliver concentrated bright lights that can often be battery powered so even during a power cut, they are still able to function.'
Do note that with battery-powered lighting, you will sacrifice brightness compared to mains powered lighting, which can make them less effective when it comes to security.
How many lumens do I need for outdoor security lighting?
'It really depends on how large your outdoor space is,' says Sharkey-Perves. 'The average halogen car headlight is around 1,200 lumens. So you can keep this in mind when selecting your lights.'
For the uninitiated, a lumen measures the amount of light that comes from a bulb. Motion sensors typically start at 300 lumens, with floodlights usually ranging from 700 to 1300. Anything over 2,000 is very impressive, and probably best suited to garden lights that have been put in place specifically for security purposes.
Don't get too bogged down in the lumens though. Effective placement of your lighting is just as important.
What is the best way to control garden security lighting?
In the day it won't make much sense to have your lighting on as they will be outshone by daylight.
'Leaving a light on permanently can be costly and no one wants to feel that they live in a sports stadium,' notes Sharkey-Perves.
The easiest way to control your security lighting then is through a PIR sensor, which will turn the lights on when movement is detected. If you want your lights to be permanently on from the sun setting then look for lights with a built-in twilight detector, which will then turn off again when the morning is detected.
Do motion-activated lights deter thieves?
According to a 2017 report on ex-burglars, one of the main deterrents for thieves is motion-activated security lights.
'The average break-in takes just eight minutes and criminals are looking for the easiest, low-risk houses to target,' points out Sharkey-Perves. 'Illuminating vulnerable areas makes it harder for a would-be thief to approach a property undetected. It's a simple and effective security solution.'
Currington says that while installing motion-activated lights is certainly one of the best things you can do to security-proof your home, they work best in tandem with other measures.
'Ensure all doors and windows are locked. Set a timer for your lights to go on and off at times you normally would if you were at home. And, if you have the budget, install a home security system.'
Can you install garden security lighting yourself?
If you fancy yourself as a DIY aficionado or simply want to cut costs, then there are plenty of options that make installing garden lighting simple. You really don't need to call out an electrician.
'Choosing a product that is wire-free is the best option as it doesn't require drilling through walls,' explains Sharkey-Perves.
Solar lights are invariably wire-free. All you need to do is fix them in a spot that will see regular sunlight. If you have chosen mains powered lighting, then Currington advises you get a licensed, professional electrician to do the work for you.
'They will ensure all wiring and electrical housing units are installed safely and correctly to prevent injury and weather damage.'
Finally, take note of which parts of your garden you wish to illuminate for security purposes. Above and to the side of your front door will give you a clear sight of callers. Make sure the light is not too high as that can put any caller's face in shadow. This could make them hard to identify.
'Always be responsible with your lighting and keep your neighbours in mind,' concludes Currington. 'Lights need to be placed and aimed in such a way that your neighbours won't be bothered, but they still do the job. If you're unsure, it might be worth hiring a landscaper.'
Sign up to the Homes & Gardens newsletter
Decor Ideas. Project Inspiration. Expert Advice. Delivered to your inbox.
Rachel is senior content editor, and writes and commissions gardening content for homesandgardens.com, Homes & Gardens magazine, and its sister titles Period Living Magazine and Country Homes & Interiors. She has written for lifestyle magazines for many years, with a particular focus on gardening, historic houses and arts and crafts, but started out her journalism career in BBC radio, where she enjoyed reporting on and writing programme scripts for all manner of stories. Rachel then moved into regional lifestyle magazines, where the topics she wrote about, and people she interviewed, were as varied and eclectic as they were on radio. Always harboring a passion for homes and gardens, she jumped at the opportunity to work on The English Home and The English Garden magazines for a number of years, before joining the Period Living team, then the wider Homes & Gardens team, specializing in gardens.