Front porch lighting ideas — clever ways to illuminate the entrance to your home
These clever and practical front porch lighting ideas will let your home's entrance take center stage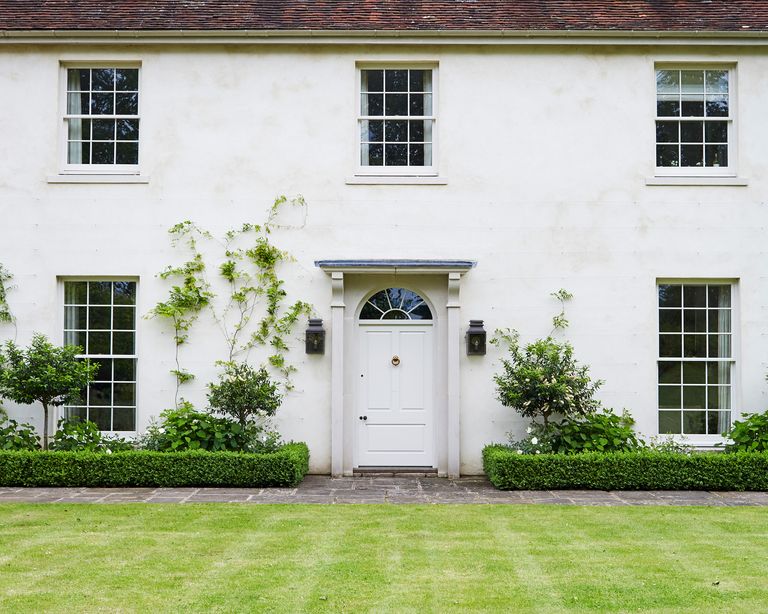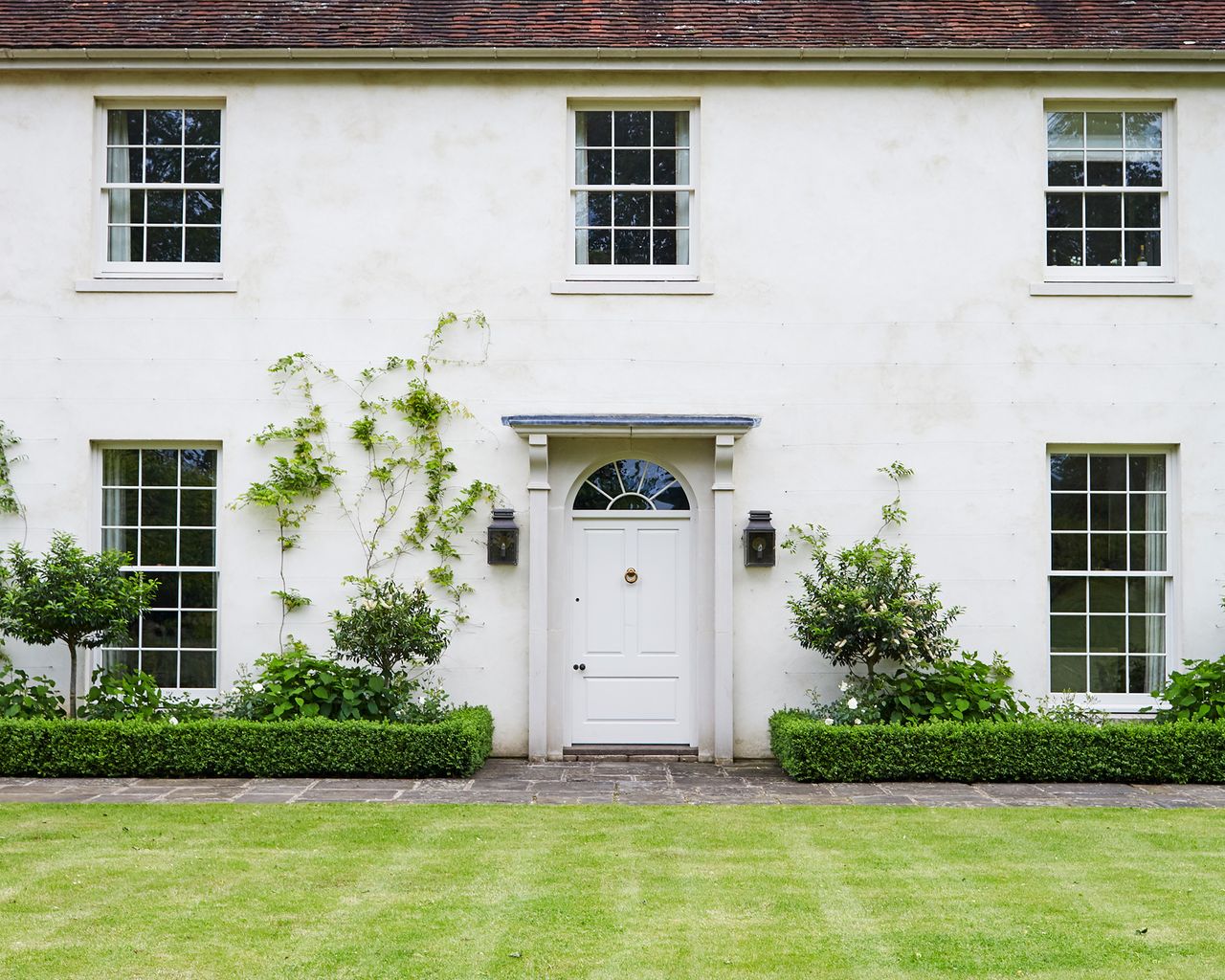 (Image credit: Future)
Front porch lighting ideas have moved on from the days when a simple sconce outside the door was deemed adequate.
Now we have a range of different options that can not only illuminate the porch, but also provide extra security, long term efficiencies and can compliment your overall design aesthetic.
While there are as many different lighting options as there are different front porch ideas, a great deal depends on the size of your porch, how you want to use the area and what practicalities you need to consider.
A smaller space might need security lighting to deter unwanted visitors and illuminate your entryway. While a larger front porch might be multi-purpose, providing enough space for entertaining and congregating.
The idea of harsh light can seem attractive from a security point of view, but as lighting designer Sally Storey of John Cullen Lighting explains, it's important for the porch area to feel inviting. 'Where you have a bare bulb, always try to make it softer. Speak to your electrician about putting a dimmer on any motion-sensor light,' she advises.
Whether you are planning a major overhaul of your front porch area or simply want to update the lighting to make the most of the space, it's worth considering a range of outdoor lighting ideas when devising your scheme.
Front porch lighting ideas
1. Layer up lighting
Identical lights on either side of your porch flanking the door look great, but think about how else you can use lighting to add interest to your front porch decor. 'If you have two wall lights, then it's worth lighting other things around,' notes Sally Storey.
Here, a range of lanterns placed on the pathway adds a feeling of warmth.
2. Light architectural features
Historical features are worthy of showcasing. Ensure your lighting designer has incorporated a way to truly make the most of these details.
Here, the columns have been lit from below to draw the eye upwards to the fanned doorway arch. A spotlight above the door is a practical addition.
3. Bring the indoors out
If you are lucky enough to have a larger, fully covered porch which feels like a luxurious deck, why not go for something that looks softer and more stylish.
'In a recent project I found a pendant light that, although it looks like an indoor light, is actually rated for outdoor use', explains Kristen Monji from New York-based garden design practice, Birch + Basil.
4. Use uplighters
Speak to your garden designer about lighting that will draw attention to the items on your porch, but in a soft, welcoming way.
Here, lights on the ground beam upwards to illuminate the planters, the shrubs and the wall. Hiding the light source is imperative as it creates a feeling of ambience.
5. Embrace spotlights
A simple spotlight is a good option for lighting a range of details on your porch. This type of directional lighting will help highlight the areas that you want to be seen, such as a favourite plant or tree. It can also make up a part of your garden security lighting, if you choose to spotlight a place you need extra light, such as by your front door.
6. Choose a hanging lantern
Classic and traditional, a hanging lantern is a fantastic option for a porch area. The higher the ceiling of your porch, the larger the light should be. 'I love porch lighting to be beaming down from the ceiling – it doesn't take a lot to give it some ambience,' explains Boston-based landscape architect, Amy Martin.
7. Consider your shrubbery
If you want the space outside your home to feel welcoming, using a range of spike lights and mini floodlights can help. Light bushes and low-level shrubbery from below for a sophisticated, yet welcoming look.
8. Embrace lanterns and candlelight
Consider a truly rustic approach to your front porch design with a range of lanterns, votives and candles placed strategically on the steps leading up to your porch.
You can buy a range of LED options that look like the real thing, but like solar garden lighting ideas have significantly more longevity.
9. Opt for string lighting
String lighting works well when integrated with an existing porch light and there are lots of different outdoor string lighting ideas to support a variety of porch styles.
'Combining a single light with string lighting is a great way to layer up different light sources,' advises Kristen Monji from Birch + Basil. 'It's important to think about directional lighting and ambient lighting, even on your porch,' she concludes.
10. Keep it simple
If you are looking for simple front porch lighting ideas, consider a robust outdoor option. A fishing-style light, placed on the side of the porch, can work well if space is an issue.
How do I choose a front porch light?
Front porch lighting will be a key issue depending on the size of your space. Speak to a lighting designer if you would like to explore options around uplighting and downlighting. This works particularly well if you have intricate structural details on your porch such as carvings and mouldings.
Pointing lighting towards these details will draw attention to them. 'It's nice to light stained glass, light any seating you might have on the porch and also use some lantern-style lights on the steps. It's all about a combination of lighting,' advises lighting designer, Sally Storey.
Placing lighting in plants or shrubbery on your porch is another clever option that lets you 'hide' the true source of the light and create a more magical-looking space.
'On my porch I have uplighters weaved into the foliage, lights in the flowerbeds and lights on my pilasters. They are all on a motion-sensor but can be overridden and they are important in creating the right mood to make guests feel welcome as they approach the house,' explains Sally.
If you are opting for wall lights, think about the size and height of the lights you hang. Remember your front porch sets the tone for the house inside so you want the lighting to feel warm and welcoming.
Look for light fixtures that measure approximately a quarter in height of the front door itself – anymore than this will seem overpowering. Finally, ensure the lights are placed at a reasonable eye level height.
What light bulb do I need for a front porch?
Generally it is better to use an LED light, as, when it comes to efficiency, they are far superior. 'LEDs are the gold standard of outdoor lighting', explains Kristen Monji from Birch + Basil.
'You can buy a range of different options to suit the space,' adds Kristen. Opt for at least 40 watts in every light on your front porch. The general rule is the fewer lights you have the higher wattage you'll need.
Is it better to leave the front porch light on or off?
It is not particularly energy efficient to leave your porch lights on throughout daylight hours. You can purchase lights with twilight detectors, which simply turn on when the sun sets.
However, by far the most popular option is a motion-sensor light, which is activated by heat or movement, so it only turns on when you need it to. These are available in a range of styles, colors and designs. Speak to your garden designer about what's available.