Front porch lighting ideas – 16 ways to illuminate the entrance to your home
These pretty yet practical front porch lighting ideas will let your home's entrance take center stage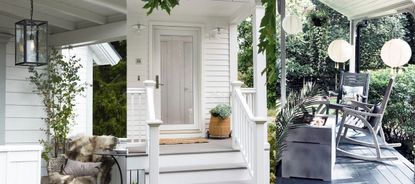 (Image credit: Industville/Nikki Amodio Design/@joyellewest/Barn Light Electric/Original BTC)
Front porch lighting ideas can revolutionise the exterior of your home, creating a warm welcome for both yourself and visiting guests. The gentle glow from front porch lighting ideas will not only illuminate the front of your house but also provide an added level of safety to your home.
However, finding the right lighting for your front porch ideas is far more nuanced than just sticking up a wall light by the door. A great deal depends on the size of your porch, how you want to use the area and what practicalities you need to consider. A smaller space might need security lighting to deter unwanted visitors and illuminate your entryway, while a larger front porch might be multi-purpose, providing enough space for entertaining and congregating.
Front porch lighting ideas – 16 expert tips
Gone are the days of a single, lowly pendant hanging above the door. Now we have a range of different options that can not only illuminate the porch, but also provide extra security and long term efficiencies that also compliment your overall design aesthetic, even if you only have a small front porch.
The idea of harsh light can seem attractive from a security point of view, but as lighting designer Sally Storey of John Cullen Lighting explains, it's important for the porch area to feel inviting. 'Where you have a bare bulb, always try to make it softer. Speak to your electrician about putting a dimmer on any motion-sensor light,' she advises.
Whether you are planning a major overhaul of your front porch area or simply want to update the lighting to make the most of the space, it's worth considering a range of outdoor lighting ideas when devising your scheme.
'String lights are great for creating ambiance but if they're not quite your style you can create some atmospheric lighting outdoors using decorative sconces. You'll only need to place one or two, as they'll give off stronger light than string lights and will create a welcoming glow more easily. You can also opt for an outdoor wall light that is frosted, and provides a softer light,' says Mark Feldman, chief home officer at Riverbend Homes.
1. Opt for a statement pendant
Approach your front porch lighting ideas in the same way you would your entryway lighting. The two spaces are very similar in size, shape and function. As in your entryway lighting ideas, a statement pendant can really elevate the space.
'An inviting entryway or front porch invokes a sense of community and adds to the overall safety and value of your home. An outdoor ceiling flush-mount or pendant light fixture can showcase this outdoor space with class,' says Mark Feldman.
2. Pair practical lighting with aesthetic accents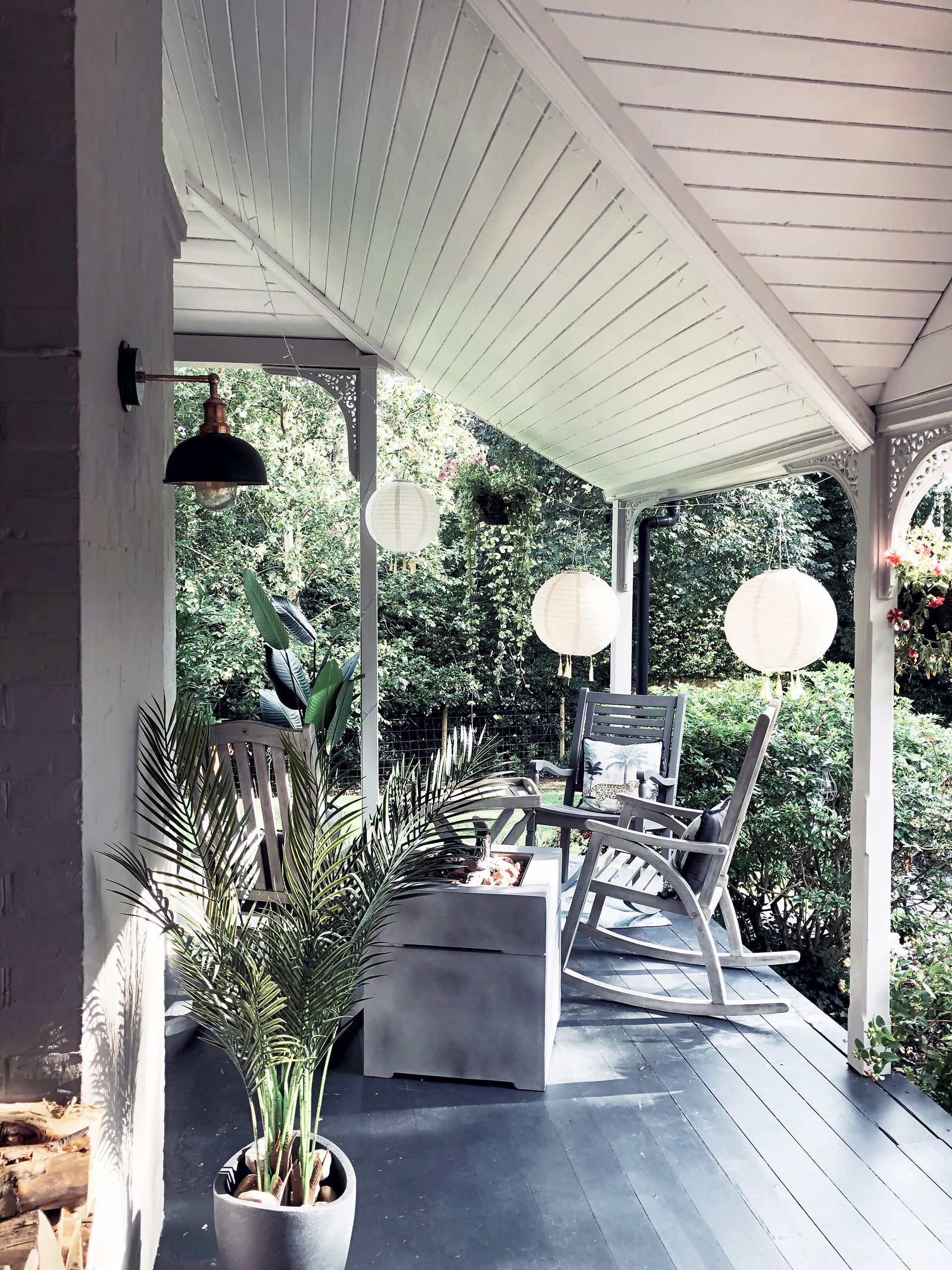 Not all your front door ideas need to be practical. Combine functional wall lights by the door with more pretty hanging lanterns in the more social areas of your porch.
If you're wondering how to decorate a porch, then try thinking of it in zones. Start with the front door, this will be the centerpiece of your design. Opt for a pretty light that will also provide functional illumination, helping you to find your keys and the lock. For this space, wall lights either side of the door, or a large pendant hung overhead are the most practical choices.
Next look to any sitting areas, benches or swings – how are these to be lit? You might opt for characterful string lights or would rather moveable lanterns and LED candles. If selecting temporary lighting, consider whether this space will look dark and foreboding when not in use. Consider a few solar powered wall lights to provide an additional permanent source of illumination which you can then supplement with softer lighting when in use.
Finally, think about access, is your porch approached by a path or does it have steps? Illuminate these with stakes, risers or additional pendants to prevent accidents when approaching your home in the dark.
3. Consider solar powered front porch lighting
When choosing front porch lighting ideas, it's worth considering sustainability. Solar lighting ideas have quickly become the preferred choice for outdoor lighting, due to the fact they are extremely effortless to install and the most environmentally friendly way to light your garden.
Traditionally solar lights were just stake lights with a flat top featuring a solar panel, however, recent improvements to solar lighting have meant that they are almost indistinguishable from electrical designs. From characterful pendants to lanterns there are endless options from which to choose.
4. Choose front porch lighting ideas that suit your home's style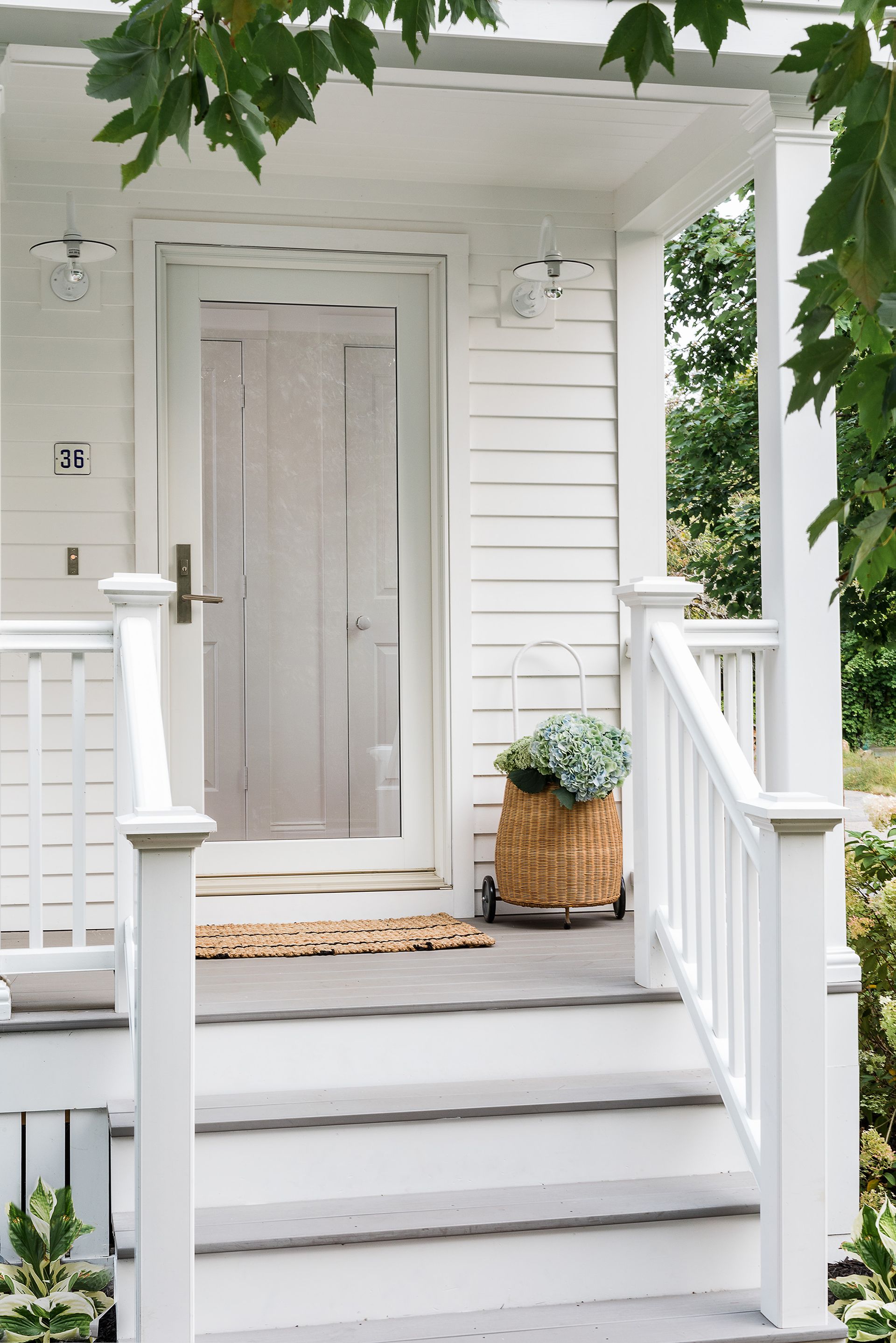 When selecting your front porch lighting ideas, it is important to consider the aesthetic of your front porch design and the exterior of your home.
'We adore a farmhouse gooseneck sconce for a country style home or as part of cottage porch ideas,' says Jade Joyner, Co-Founder and Principal Designer of Metal + Petal. 'Alternatively, for a modern look, embrace a more linear light. No matter what, scale and finish you select, be sure to go larger in scale to make more of an impact.'
5. Use seasonal lighting to decorate your porch
The front of your house is the most seen part of your home and as such should be designed to be always on show, but this doesn't mean that you can't have a little bit of fun with your design. In fact, quite the opposite is true. Embrace the changing seasons by incorporating seasonal decor into your scheme with front porch lighting ideas to match.
Consider adding decorative illuminated stars or lanterns as part of your Christmas porch decor ideas or embrace spring porch decor by pairing pretty paper pendants with a cozy seating area to herald the arrival of the warmer months.
6. Illuminate porch steps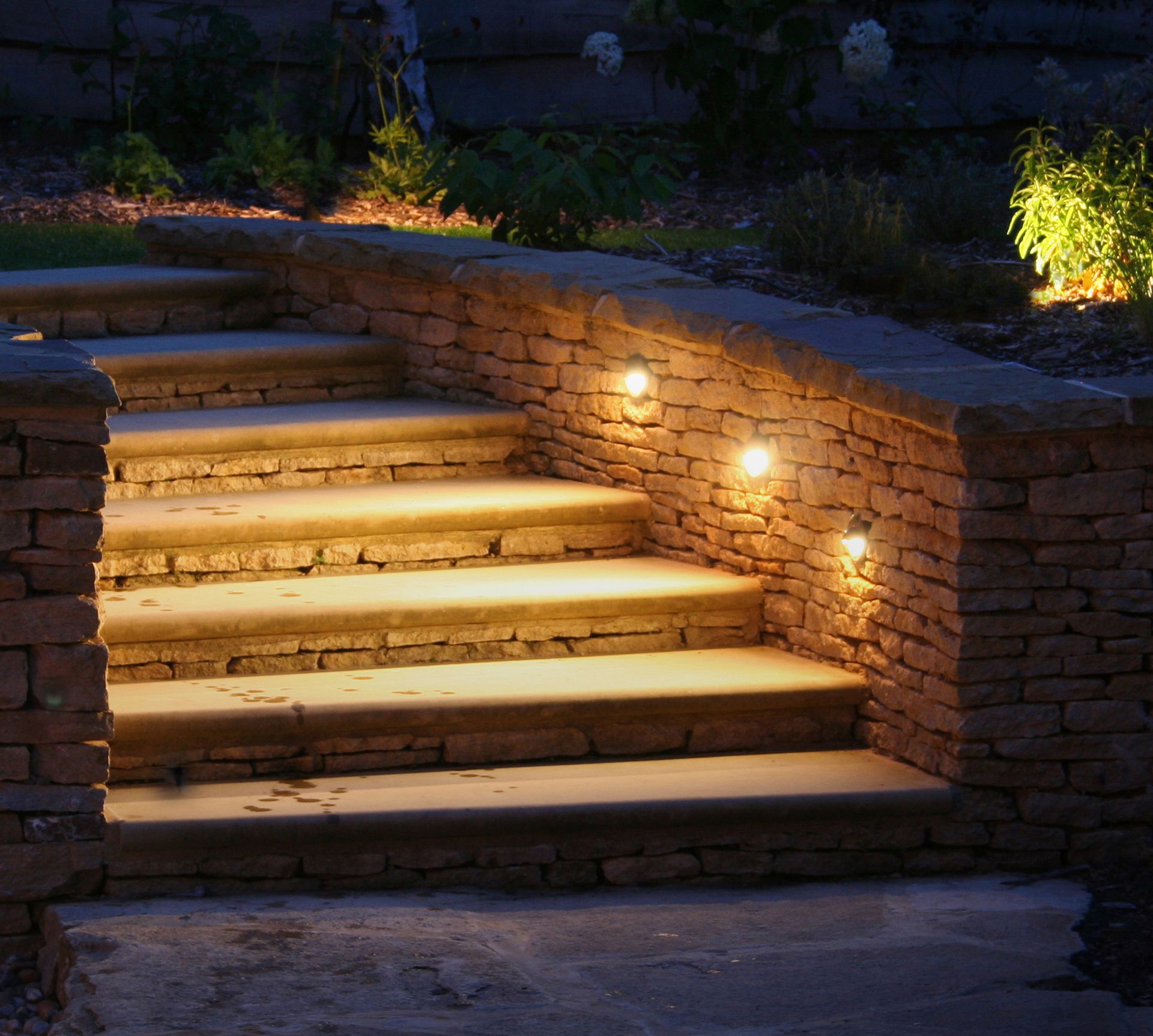 If you have steps up to your porch then illuminating these is a must. 'The front of your home is full of walkable areas, from driveways to pathways to front steps. Light the way for yourself and visitors with unique path lighting, downlights, recessed step lights, lanterns, and bollard lights,' says Mark Feldman. Adding these small touches to the approach to your house will make it instantly more welcoming and easier to navigate.
7. Layer up lighting
Identical lights on either side of your porch flanking the door look great, but think about how else you can use lighting to add interest to your front porch decor. 'If you have two wall lights, then it's worth lighting other things around,' notes Sally Storey.
Here, a range of lanterns placed on the pathway adds a feeling of warmth.
8. Light architectural features
Historical features are worthy of showcasing and your front porch lighting ideas provides the perfect opportunity. Ensure your lighting designer has incorporated a way to truly make the most of these details.
Here, the columns have been lit from below to draw the eye upwards to the fanned doorway arch. A spotlight above the door is a practical addition.
9. Bring the indoors out
If you are lucky enough to have a larger, fully covered porch which feels like a luxurious deck, why not go for front porch lighting ideas that look softer and more stylish - a great way to add stylish character to the ceiling for porch ceiling ideas.
'In a recent project I found a pendant light that, although it looks like an indoor light, is actually rated for outdoor use', explains Kristen Monji from New York-based garden design practice, Birch + Basil.
10. Install uplighters
Speak to your garden designer about lighting that will draw attention to the items on your porch, but in a soft, welcoming way.
Here, lights on the ground beam upwards to illuminate the planters, the shrubs and the wall. Hiding the light source is imperative as it creates a feeling of ambience.
11. Embrace spotlights
A simple spotlight is a good option for lighting a range of details on your porch. This type of directional lighting will help highlight the areas that you want to be seen, such as a favourite plant or tree. It can also make up a part of your garden security lighting, if you choose to spotlight a place you need extra light, such as by your front door.
12. Choose a hanging lantern
Classic and traditional, hanging lanterns are some of our favorite front porch lighting ideas. The higher the ceiling of your porch, the larger the light should be. 'I love porch lighting to be beaming down from the ceiling – it doesn't take a lot to give it some ambience,' explains Boston-based landscape architect, Amy Martin.
13. Consider illuminating your shrubbery
If you want the space outside your home to feel welcoming, using a range of spike lights and mini floodlights can help. Light bushes and low-level shrubbery from above or below for a sophisticated, yet welcoming look.
14. Select lanterns and candlelight
Consider a truly rustic approach to your front porch design with a range of lanterns, votives and candles placed strategically on the steps leading up to your porch.
You can buy a range of LED options that look like the real thing, but like solar garden lighting ideas have significantly more longevity.
15. Invest in fanciful string lighting
String lighting works well when integrated with an existing porch light and there are lots of different backyard string light ideas to support a variety of porch styles.
'Combining a single light with string lighting is a great way to layer up different light sources,' advises Kristen Monji from Birch + Basil. 'It's important to think about directional lighting and ambient lighting, even on your porch,' she concludes.
16. Keep it simple
If you are looking for simple front porch lighting ideas, consider a robust outdoor option. A fishing-style light, placed on the side of the porch, can work well if space is an issue.
How do I choose a front porch light?
Your first step when choosing a front porch light is to consider the size of your space and your existing porch paint ideas. Speak to a lighting designer if you would like to explore options around uplighting and downlighting. This works particularly well if you have intricate structural details on your porch such as carvings and mouldings.
Pointing lighting towards these details will draw attention to them. 'It's nice to light stained glass, light any seating you might have on the porch and also use some lantern-style lights on the steps. It's all about a combination of lighting,' advises lighting designer, Sally Storey.
Placing lighting in plants or shrubbery on your porch is another clever option that lets you 'hide' the true source of the light and create a more magical-looking space.
'On my porch I have uplighters weaved into the foliage, lights in the flowerbeds and lights on my pilasters. They are all on a motion-sensor but can be overridden and they are important in creating the right mood to make guests feel welcome as they approach the house,' explains Sally.
If you are opting for wall lights, think about the size and height of the lights you hang. Remember your front porch sets the tone for the house inside so you want the lighting to feel warm and welcoming.
Look for light fixtures that measure approximately a quarter in height of the front door itself – anymore than this will seem overpowering. Finally, ensure the lights are placed at a reasonable eye level height.
What light bulb do I need for a front porch?
Generally LED light bulbs are best for a front porch, as they are the most energy efficient choice. 'LEDs are the gold standard of outdoor lighting', explains Kristen Monji from Birch + Basil.
'You can buy a range of different options to suit the space,' adds Kristen. Opt for at least 40 watts in every light on your front porch. The general rule is the fewer lights you have the higher wattage you'll need.
Is it better to leave the front porch light on or off?
It is better to leave the front porch light off during the day. It is not particularly energy efficient to leave your porch lights on throughout daylight hours. You can purchase lights with twilight detectors, which simply turn on when the sun sets.
However, if you are at home at night it is best to leave the front porch light on as it offers an added security benefit.
The most popular option is a motion-sensor light, which is activated by heat or movement, so it only turns on when you need it to. These are available in a range of styles, colors and designs. Speak to your garden designer about what's available.
How do you illuminate the front of a house?
You can illuminate the front of a house by incorporating several front porch lighting ideas into your scheme. Layer practical lights, such as a pendant or wall light next to the door with more atmospheric lanterns and LED candles to create a warm welcome to your home. Extend the lighting into your front yard by adding solar powered stake lights into your borders and illuminate the path to the front of your home.
Sign up to the Homes & Gardens newsletter
Decor Ideas. Project Inspiration. Expert Advice. Delivered to your inbox.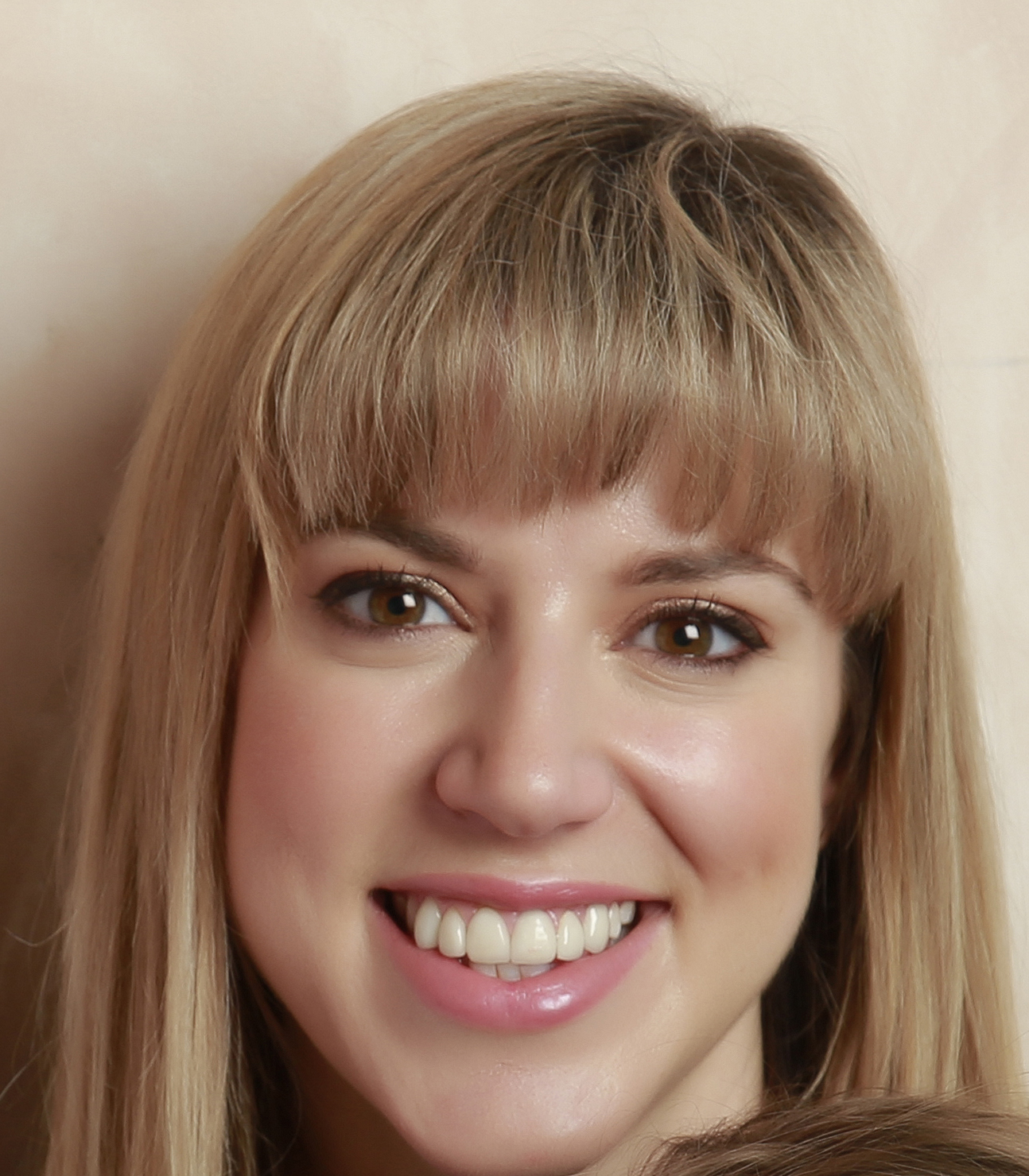 Steph Hendries is a freelance journalist who has contributed to many different interiors websites including Homes & Gardens, Ideal Home and Livingetc. She has also worked on a range of social content for property brands such as Zoopla and Boomin. Steph writes for Homes & Gardens Solved section, concentrating on DIY, how to, cleaning and organizing content.