Christmas porch decor – 20 ideas to create a warm, festive welcome
Get the holidays off to an inviting start with Christmas porch decor ideas that make guests feel welcome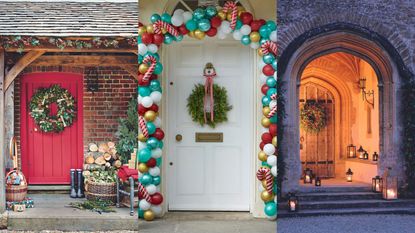 (Image credit: Future / Ginger Ray)
Whether you're decorating to welcome guests as they arrive for the holidays or to impress your neighbors – or simply because you love to – it is your home's Christmas porch decor that will create that festive curb appeal.
There is a whole range of outdoor Christmas decor ideas you can use to set the scene, and turning your porch into a welcoming nook – or even a full-blown festive grotto – is easily done with a few decorative adjustments, so you can start the holidays in style.
Below, we have suggest pretty ways to decorate a front porch for the season, taking you from fall to festive, fast.
Christmas porch decor ideas
From scented garlands to chalet-inspired seating areas to Christmas door decorating ideas, we've brought together some inspiring Christmas porch designs and asked the experts for their tips.
1. Double up on a door wreath and garland
Of all the Christmas foliage ideas, it's a wreath that we usually associate with Christmas front porch decor, but a garland can work just as well. So, consider pairing Christmas garland ideas and Christmas wreath ideas to take the festivities to a whole new level – and a beautiful level, at that.
'If you are looking to deck out doorways, wrap-around porches and windows this season, consider a garland made from magnolia leaves and add-ins of additional greenery, such as short pine, for a festive, long-lasting evergreen touch. Make it your own with ornaments, ribbon, trinkets and a beautiful bow to finish it off, of course!' advises Abby Marion of foliage and cut greenery suppliers, Albin Hagstrom & Son.
Once you've got your base foliage in place, you can get a little creative with how you decorate it. While they don't have to be exactly the same, it's important to keep the color scheme consistent and be conscious of surroundings, too. Here, shades of red and orange pop beautifully against the pale green shade on the front door. We love the idea of adding scented items too, like cinnamon sticks. We have a guide on how to dry orange slices for Christmas decorations for more help, too.
2. Illuminate a festive scene
One of the easiest ways to dress your porch is with outdoor Christmas light ideas and, contrary to popular belief, light-up figures can be a truly elegant addition… if you choose wisely! Plus they're a great way of adding maximum impact with little effort needed on your part.
'Introducing warm clusters of twinkling light in the form of pre-lit wreaths, garland and Christmas tree are perfect for lighting up porchways at all levels, while a majestic reindeer duo nestled nearby adds a magical finishing touch. Statement pieces like these welcome passers-by throughout the Christmas season and are sure to be brought out year after year,' says Lucy Kirk, Creative and Photography Manager of Lights4Fun.
To keep things tasteful, steer clear of cool white or blue bulbs – warm white is best, and avoid any garish flashing. If your porch overlooks your planting, Francesca Morris at Garden Trading adds: 'Another great trick is to wrap boxed planting and other shrubs or any trees you may have surrounding your porch in string lights to add extra twinkle'.
3. Choose an unconventional floral display
Christmas plants and flowers have come a long way from your classic red and green: there's all manner of colorful stems and blooms you can use, and if you're going to go bold with your display, it makes sense to take it to the porch, where everyone can appreciate it.
An arched entrance is the perfect starting point for an oversized garland, the fuller, the better. Start with greenery for structure, then have fun playing with scale and color. Here, the homeowner has opted for unconventional blooms in rich, jewel tones for a contemporary twist on traditional Christmas decor ideas. Gold lanterns with LED candles offer a lovely finishing touch.
4. Dine al fresco
If you're blessed with a sizable, screened-in porch, why not set up your Christmas table outside? We're not saying dine al fresco every day, but on a crisp winter's day, it can be lovely – guests needn't even knock on the door to receive a warm welcome! Just be sure to keep a few blankets close to hand, and perhaps a mulled wine or two.
When it comes to styling, Suzy Humphreys, founder of Layered Lounge says: 'a sheltered porch is an extension of your home and should be given just as much importance as the inside, and Christmas is no exception. Try dressing the frame with a garland or adding some Christmas decorations to existing potted plants and trees to add that extra festive touch.'
When it comes to planning your Christmas table decor ideas, look to your surroundings for inspiration. In this example, a chic, all-white scheme complements the minimalist decor perfectly, while paper tree table decs and hanging stars bring a slight Scandi edge.
5. Be playful with Christmas props
If you can't have a little fun at Christmas when can you? So don't hold back on your props – they're a great way of adding some personality to your porch. Whether it's a giant nutcracker, a light-up reindeer or a stylish toy car, like in this example, choose something that makes you smile.
If you're hosting a cocktail party, you could always add in some temporary festive touches in the form of paper decorations and wrapped up gifts – just be sure to check the weather forecast first, and bring them in at the end – along with any non weather-resistant props – so they can be used again next time.
6. Create a party atmosphere
It is the party season after all, so if you're hosting this year, consider adorning your Christmas porch with a bright and bold balloon arch to let guests know they're in for a jolly good time. The beauty of balloons is you know they're a temporary addition, so you can afford to go all out on the frivolity factor. We love this contemporary take on traditional Christmas colors, and the novelty candy canes make for a fun extra touch, too – kids will love them!
If you're pairing a bold balloon design such as this one with a door wreath, be sure to choose something fairly neutral to achieve an intentional and coordinated look. Alternatively, opt for a wow-factor wreath and keep your balloon display a little more pared-back – shades of blue, white and silver make for a stylish winter backdrop, for example, and if you're hosting a few parties back to back, you could always swap out the novelty balloons to keep things fresh.
This balloon arch is from Ginger Ray. Amazon also sells balloon arches.
7. Factor in your front door
Your front door color likely dictates your day-to-day porch decor, so it makes sense to factor this in when deciding on Christmas porch decor, particularly a wreath. If you've opted for something fairly neutral, such as white, cream or pale green, you don't have to worry too much – just about anything will go, however, a bolder shade requires a little more thought.
'Achieving a coherent Christmas scheme when you're working with bold color choices can be tricky; the key to success is to think beyond the traditional and give yourself permission to stray away from traditional foliage and classic color schemes – it's perfectly possible to achieve a Christmassy look without them,' says Lucy Searle, Editor in Chief, Homes & Gardens.
Here, for example, a bold yellow door is perfectly complemented by a unique wreath made from grasses and thistles (no spruce, evergreens or berries in sight), complete with glamorous golden baubles to ground that festive feel.
8. Decorate outside from within
When it comes to decorating your Christmas porch, the focus tends to be on the outside of your home, but don't forget that effective Christmas window decor ideas can offer up an inviting little glimpse of what to expect on the inside, too. Using candles or pretty light-up decorations is your best bet – not only will they look beautiful during the day, they'll also offer up that sought-after welcoming glow when darkness falls.
'We have so many friends and family visiting us over Christmas, so we like to make sure the entrance to our home looks festive yet elegant. In our porch windows, we like to add rows of white ceramic houses filled with LED tealights to create a pretty miniature village that guests can see before they've even stepped foot inside – it's always a lovely talking point,' says Suzy Humphreys, founder of Layered Lounge.
9. Step it up
The most classic and traditional way to light up your Christmas porch is with lanterns on the steps. However, if you're after something a little more colorful, try replacing the candles for a mix of baubles instead. Battery-powered LED fairy lights are a more sensible option for decor at ground level, and easily replicate that magical, candle-lit glow. Plus, you won't have to worry about them going out – bonus!
10. Indulge all the senses
Sheltered porches allow you to experiment with indoor decorations, so take the opportunity to max out on the festivities – real tree decked top to bottom with baubles and lights? Why not! Treat it like you would an entryway and hang paper decorations from the ceiling in different sizes and at different heights for a truly eye-catching display. Here, muted shades of cream and green offer a charming minimalist feel, but if there ever was a time to choose bright, bold shades, it's at Christmas!
'Paper decs are the same as a wreath, in that they can be scented with your favorite festive fragrance and this can be just as much of a mood-setter as the decorations themselves,' says Suzy Humphreys. 'Try spritzing them with natural oils so you get a lovely waft of Christmas scent.'
11. Welcome guests with a wreath
The first step in making your outdoor space feel festive has to be adding a wreath to your door. This year, think about how you can make a Christmas wreath that feels coordinated with your interior decorations and give a hint of what's to come.
'If you'd like to update or refresh your existing wreath, or want to add a little more personality to a shop-bought one, bring in colors or touches from your Christmas tree,' says Meaghan Hunter, senior stylist and art director at Neptune. 'Smaller wreath ribbon ideas can be added with wire for instant impact. Choosing a decorative ribbon to hang your wreath from will add color and texture too.'
12. Give your door a festive lick of paint
Painting your front entrance a festive color is among the more dramatic Christmas door decor ideas, but if you're planning to do it anyway, why not choose a hue that works all year round, but also feels apt over the holidays? Green is hugely on trend, while red is a classic door color that makes a Christmas porch look extra fabulous.
'When picking a shade for your door, consider the existing surrounds,' says Matthew Brown, technical consultant at Sandtex. 'If you have a simple porch, why not consider going for a bolder color. Yet if the door is surrounded by foliage or rustic stone, opt for a subtler hue to blend in with the space.'
13. Wrap garlands around your columns
If you've worked out how to make a Christmas garland, then why not transfer those skills into decorating your porch for Christmas? As demonstrated in this example, nature-inspired garlands look wonderful wrapped around the support columns of a porch, and are even better when filled with scented items like dried oranges and cinnamon sticks.
14. Light it up with lanterns
Beckoning evening guests into the warm glow of your home should always start with outdoor Christmas light ideas at this time of year. String lights look great lining the top of a porch, but don't forget to illuminate the lower levels too. In this example, lanterns have been scattered across the floor area surrounding the boot bench.
'Lantern-style designs are a particularly wonderful way to bring a festive aura to the home as they can be beautifully decorated with Christmas accessories to create the ultimate seasonal look,' says David Amos, CEO at Amos Lighting + Home.
15. Make a statement with a fully decorated Christmas tree
Sometimes, one Christmas tree just isn't enough. If you have too many Christmas tree ideas to fit into your living room example, then consider adding an entire, fully decorated one to your porch too. It will make for a statement, showstopping welcome on your doorstep, particularly when covered in outdoor lights. While you may want to keep the presents indoors, consider sprinkling it with faux snow on Christmas morning for an extra dose of wonder.
16. Channel chalet style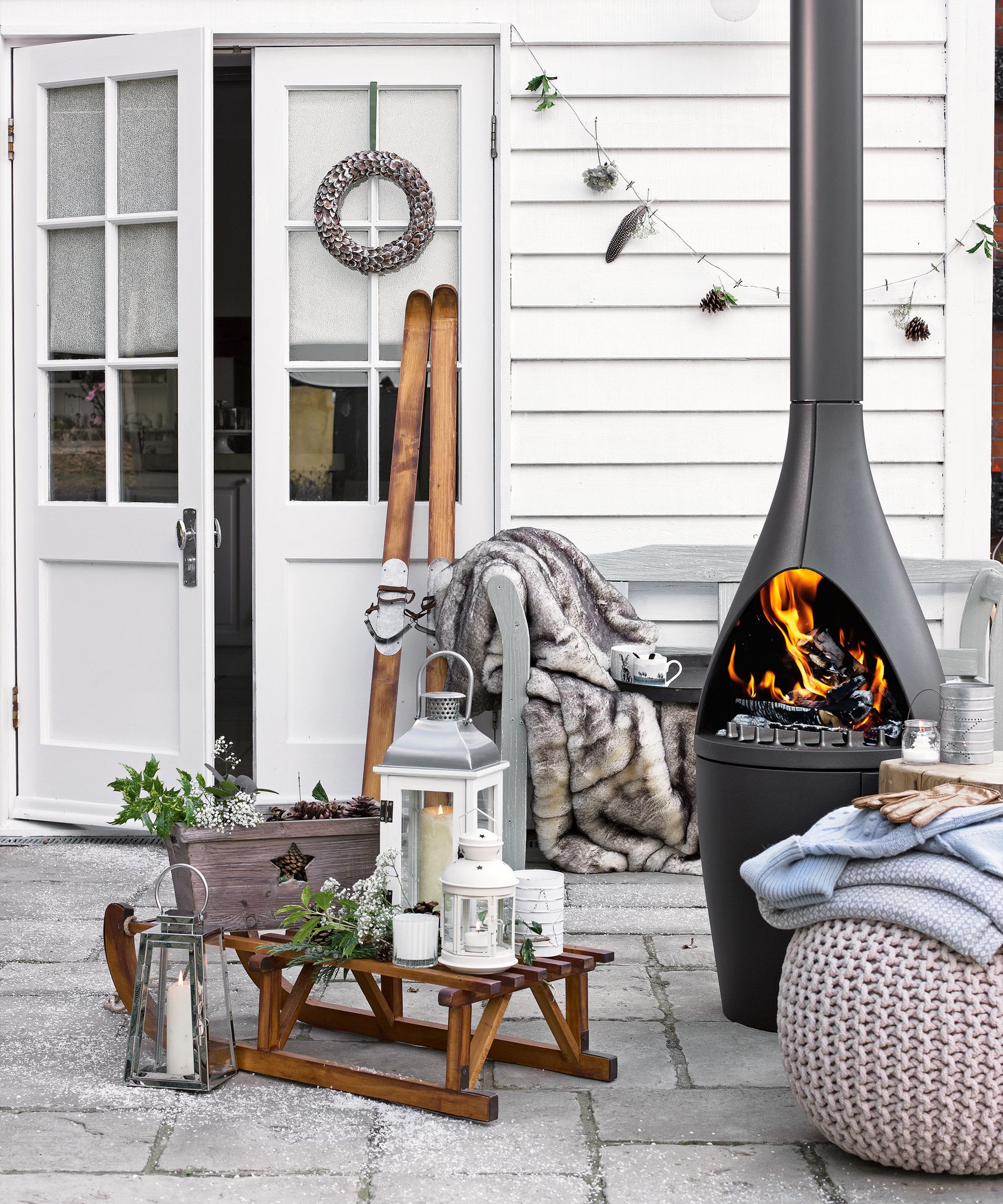 Whether you missed out on a skiing holiday this year or are just craving the slopes, consider bringing the apres-ski party to your porch with some chalet chic accessories. In this example, the Christmas patio decor ideas take on a cabin decor twist. A cool neutral scheme is given warmth with brown wooden skis and a sled, as well as cozy fur and wool throws, all centered around a flaming chiminea (perfect for toasting marshmallows, if you ask us).
17. Dress up the details with foliage
We're sure your porch is filled with all sorts of considered design details that make it feel stylish the whole year round – so make sure they stand out at Christmas too. Have some fun with Christmas foliage ideas and use them to dress up your favorite features, from your door knocker to your boot bench, from the window sills to the outdoor lights. In this example, a wreath bedecks a wall sconce, giving it a holiday makeover.
18. Add a festive flourish to your windows
While Christmas is all about letting loose and having fun, keeping some structure and boundaries to your decor will help it stay stylish. For smaller porches, arranging your decorations symmetrically with your door at the center creates a focus on the journey indoors, and makes the design feel more intentional.
In this example, lanterns line the Christmas stair decor ideas, while two full-sized, but subtly bare Christmas trees flank the double door, which itself boasts two dangling bunches of pine branches. Windows are a portal to your cozy winter-proof home – so why not make the journey through them a little more festive? Christmas window decor ideas are just as much about making an impact outdoors as they are indoors. Dress up your outdoor sills with pine cone decorations, lanterns or Mason jar crafts, or decorate the panes themselves. In this example, angel cut-outs turn the French windows into a Scandi-style design feature.
19. Keep it symmetrical
While Christmas is all about letting loose and having fun, keeping some structure and boundaries to your decor will help it stay stylish. For smaller porches, arranging your decorations symmetrically with your door at the center creates a focus on the journey indoors, and makes the design feel more intentional. In this example, lanterns line the Christmas stair decor ideas, while two full-sized, but subtly bare Christmas trees flank the double door, which itself boasts two dangling bunches of pine branches.
20. Create a cozy seating area
While you'll likely want to be staying most of the holidays indoors, there's no harm in making your outdoor seating spaces feel cozier than ever. Boost your boot bench with cushions and blankets in festive colors and prints. This makes for a wonderful welcome home after a long walk, but also creates a space for sitting on a crisp winter morning and watching the world go by, with a warm cup of coffee in hand.
How can I decorate a porch for Christmas?
When it comes to Christmas porch decorations, the best place to start is with a wreath. While highly traditional, a wreath can take myriad forms to suit your personal style, whether you make a pine cone wreath laden with berries and bows to buy contemporary metallic rings of faux fern leaves and olive branches.
Framing your porch with garlands and lighting is also a great way to make the entrance feel special, while lanterns or small Christmas trees on your front steps bring joy to the lower levels of your door design.
What Christmas decorations can I on a porch?
Most usual Christmas decorations can be used on a porch, you just need to be sure they are weatherproof if yours is exposed. This is most important when it comes to Christmas light ideas for outdoor trees – make sure any s lights you use outside are explicitly suitable for outdoor use to prevent any electrical mishaps. Otherwise, decorations made from anything other than paper, card, fabric or untreated wood should be fine. Just try to keep anything you want to last for years to come as sheltered as possible.
Sign up to the Homes & Gardens newsletter
Decor Ideas. Project Inspiration. Expert Advice. Delivered to your inbox.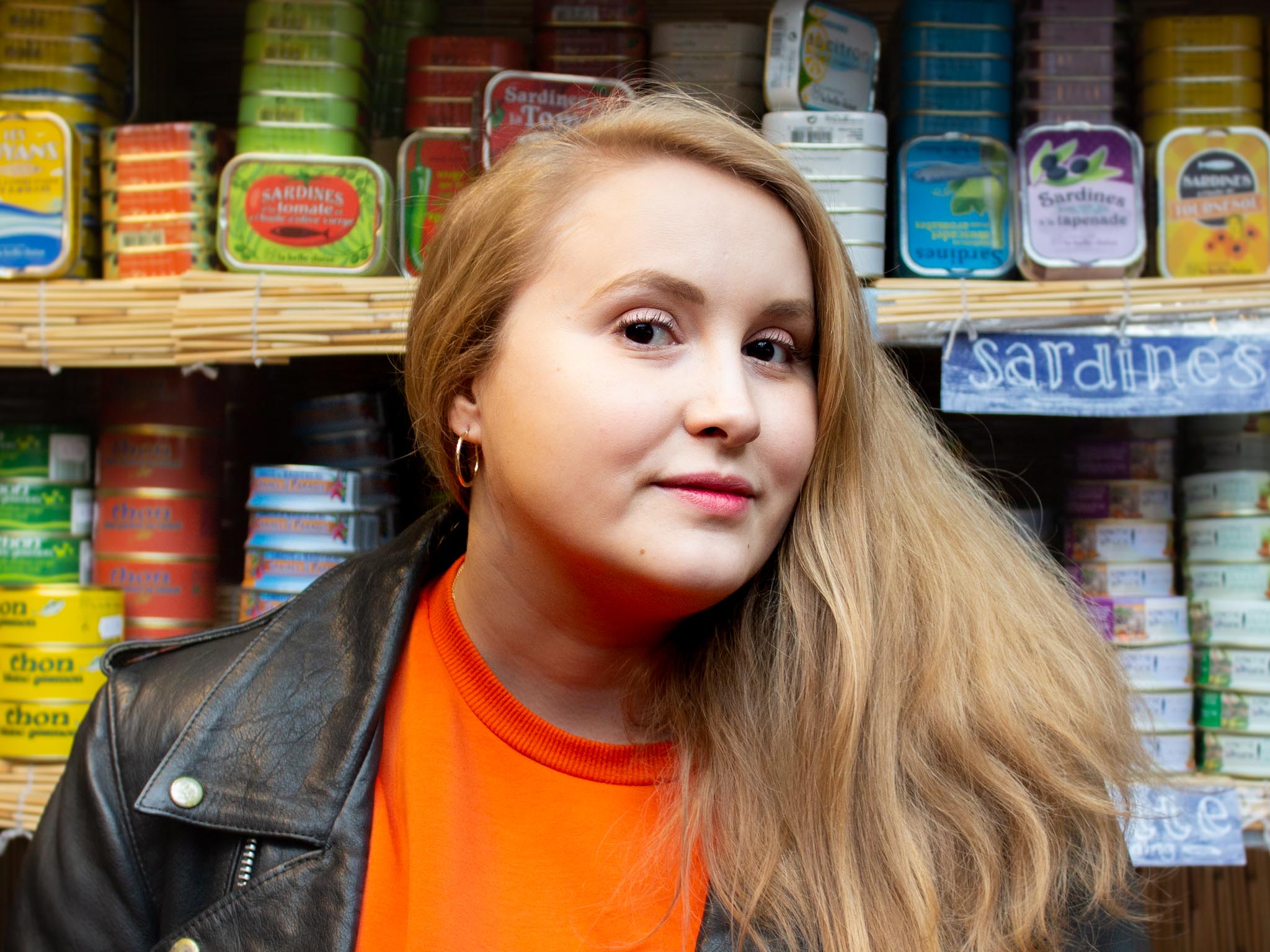 Ailis started out at British GQ, where a month of work experience turned into 18 months of working on all sorts of projects, writing about everything from motorsport to interiors, and helping to put together the GQ Food & Drink Awards. She then spent three years at the London Evening Standard, covering restaurants and bars. After a period of freelancing, writing about food, drink and homes for publications including Conde Nast Traveller, Luxury London and Departures, she started at Homes & Gardens as a Digital Writer, allowing her to fully indulge her love of good interior design. She is now a fully fledged food PR but still writes for Homes & Gardens as a contributing editor.