Christmas foliage ideas – how to decorate your home with greenery
Adorn your home with these exquisite Christmas foliage ideas for a natural take on yuletide decor this festive season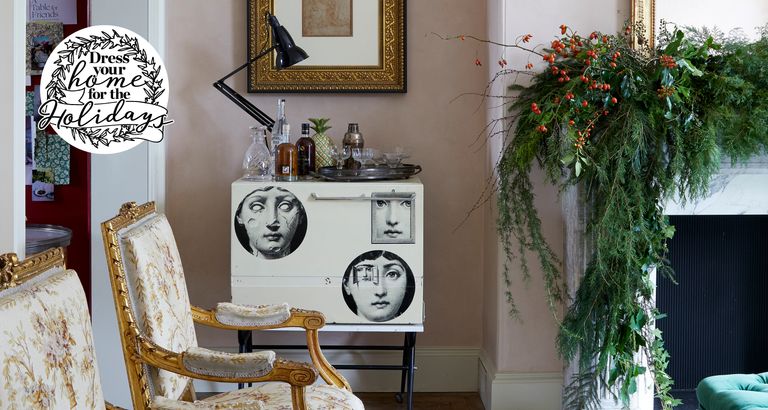 (Image credit: Future)
The winter holidays are the perfect time for Christmas foliage ideas – and this year we need no excuse to decorate our homes with lush greenery from the garden.
'With fewer seasonal flowers available, this is the time of year to really think about using a mass of foliage in your designs,' advises florist Philippa Craddock. 'I love the abundance of evergreen branches, which at this time of year (outside of their growing season) are much hardier, and will last days indoors.'
We've selected the most beautiful Christmas foliage ideas to inspire you over the festive period. From show-stopping dramatic designs to delicate touches of leafy greens, there's a verdant vibe to adorn every space. And, once you're done, see more beautiful Christmas decorating ideas in our dedicated feature.
1. Stay another day
Think outside of the green box when selecting or foraging for your foliage. Add an unexpected, 
but still naturalistic, touch by incorporating seed heads into your wreaths and garlands.
The 
sharp silhouettes of these dried teasels are gently softened with occasional sprays of delicate foliage. If you're into the sphagnum moss bowls that have been populating Instagram, take 
things a step further and fill your hearth with a generous helping of foliage to continue the look throughout the whole vignette.
Seed heads, when handled carefully, can be used for years, and 
opt for preserved moss if you want the entire scheme to be ready to go next Christmas, too.
2. A touch of silver
Staircases are one of the focal points to a typical entranceway, so make a point of dressing them as you would the door to your home.
Looped garlands of foliage are the perfect choice here, but add silver baubles at each apex for added Christmas magic.
3. Christmas lights
If you have sconces, be sure to include them in your decorating.
Simply drape with sprigs of foliage, adding a faux flower or two for an extra point of focus. Carefully secure the stems with florist's wire, keeping them safely away from the candles.
4. A bit of drama
Play with scale and layer up your space with foliage creations big and small.
While each of the various displays is stunning in its own right, by mixing and matching size, style and material, the combination of all brings festive drama that is sure to impress.
The showstopping chandelier wreath creates an impactful focal point – something similar but smaller could be created by using a ball of florist's foam and adding small bunches of several different types of foliage at varying layers to create fullness and texture.
Take note from the chair-hanging wreaths and design your own in varying shapes and sizes, using similar colours in the leaves and blooms to keep things cohesive.
5. When less is more
Wreaths don't always have to be laden with foliage – for a delicate 
take on the tradition, instead choose a simple brass hoop adorned with a single sprig of fir.
While this option uses a candleholder hoop for added glow, you can just use foliage.
6. A moment to frame
'I love a Christmas that is a bit over the top… garlands and wreaths hanging wherever they can, the more unique the better, I think,' says Sue Jones, Co-Founder and Creative Director of OKA. Take this idea and set the scene for your buffet area by framing a console table with generous swags of greenery. 

Choose a mixture of leaves with a variety of textures and tones and group together in a relaxed style, leaving a few stems flowing freely to soften the edges. For a fuller, more dramatic look, collect pine cones, rose hips and other foraged foliage to bump up volume and texture – just make 
sure to secure properly with wire to avoid any unexpected garnishes ending up in the cocktails.
Scented additions, while not ideal for dining, are a lovely touch for a drinks and nibbles area, so look at adding in a few dried orange slices and fronds of eucalyptus as well.
7. A casual affair
Taking a naturalistic approach to foliage decor over Christmas works wonderfully for that casual, relaxed feel.
A short foraging excursion (or trip to the local shops) can easily provide a generous array of simple foliage like ivy and fern, which can be pulled into a simple swag to be hung at the foot of your stairs, on the wall or on internal doors.
8. Table talk
This centrepiece looks impressive 
but it is actually very easy to create.
Start by pushing foliage stems into well-soaked florist's foam in a bowl – letting them overflow for a luxurious look. Place a candle ring on top, cover with moss and finish with pine cones.
9. Pick of the bunch
A cluster of bright-green foliage tied with a gorgeous ribbon makes a simple but impressive alternative to 
the usual door wreath.
Asparagus 
fern was used here, but evergreen stems such as spruce, ivy or eucalyptus will look just as good.
10. Leave a token
'If you've got dinner parties coming up and want to do something a little different in the dining room, re-use your Christmas wreaths and weave bright berries or flowers through them,' advises OKA's Sue Jones.
Consider creating natural decorations that not only look beautiful but also act as party favours, 'placing wreaths on the table adds such a lovely natural touch that no one will be expecting,' adds Sue.
Worm London wired dried leftover materials from bigger projects into a circle to create a look that will outlive the evening and become an elegant keepsake.
11. A sweeping centerpiece
Fireplaces are the perfect spot to explore Christmas foliage ideas.
For a traditional approach, garlands can be draped simply across, studded with dried oranges, baubles and tiny fairy lights. If you're looking for a contemporary design, then go heavy on the greenery. Create a full-to-the-brim length of foliage to lie on the mantlepiece, with long swathes tumbling down either side. Don't be precious about placement -this look is meant to feel earthy and natural.
12. Bring the light
The classic wreath can often be far too beautiful to be left out in the cold, so if you decide to display one inside always consider how its foliage will work with your interiors.
A design like this seed head and moss creation has a wonderfully pale and ethereal look, making it the ideal focal point 
for a darker corner in your home. In this setting, the curved shape of the demilune table echoes 
the circular wreath, while the white bowl picks up on the highlighted areas of foliage above.
If you are looking for other options to add pale tones to a wreath, consider integrating white heather or snowberry as both will stand out in darker areas.
13. Stairway to heaven
Festive arrangements needn't just 
be kept for grand staircases. Create impact anywhere by lavishly garnishing with fresh foliage, like in the home of Farrow and Ball's Joa Studholme.
Pick straight from the garden and make sure to spritz with a water mister daily to ensure it remains firm and fragrant.
14. Please be seated
We often focus on the table and place settings when adding foliage to our dining tables, but why not consider adding subtle seasonal touches elsewhere?
A simple idea is to secure 
a bunch of slender stems to the back of the chairs with a fine ribbon.
15. Leafy garland
Create a grown-up take on the classic paper chain with foliage.
Use wire 
or string to bind together to make looped shapes across a wall – faux foliage is easier to work with here, but tuck in a few stems of eucalyptus or some herbs to gently scent the room.
16. Scent of the season
As you welcome guests into your home this winter, make sure the Christmas spirit is in full flow from the moment the door is opened.
Take inspiration from the home of Chrissie Rucker, founder of The White Company, and dress a hallway console table with a vase filled with fresh eucalyptus, which will provide a delicious, seasonal scent. Lightly spritz the arrangement daily to keep leaves fresh and replace individual stems as the aroma fades and the colour changes.
For the 25th itself, 
a few sprigs of mistletoe would be a lovely addition to the display – just make sure to keep an eye out so that the berries stay out of way of pets or little ones.
What is Christmas greenery?
'At any time of the year, using abundant seasonal foliage adds texture and interest to any floral arrangements,' advises florist Simon Lycett.
Create stunning foliage focused looks by embracing the seasonal greenery of Christmas. 'During November and December, as well as the ubiquitous pines and holly, glossy bundles of camellia foliage, berried and trailing ivy and glaucous eucalyptus add a whole new dimension to decorations,' says Simon.
'From wreaths of mixed greens to fulsome garlands and swags, which look as beautiful unadorned as they do when pimped with clusters of fruits, cones, berries and baubles, Christmas is the perfect excuse to Go Green!'
How can I decorate my hall for Christmas?
The hall is the perfect place to have fun with Christmas foliage, and create an impressive welcome for friends and family.
'Create mixed foliage garlands for staircases and mantelpieces, oversized wreaths for your front door and table, and if you are really feeling creative, perhaps an overhead installation,' suggests florist Philippa Craddock. 'The abundance of inexpensive material at this time of year means you can have plenty of fun creating your own designs.'
How long will a Christmas wreath last?
The lifespan of a real Christmas wreath largely depends on its surroundings and care.
When kept indoors, and not placed too near heat sources such as radiators, they could stay fresh for about three weeks. Make sure to regularly spritz the wreath to prevent it from drying out, and replace any wilting pieces of foliage with fresh sprigs to keep things fresh and fragrant.