Christmas foliage ideas – 36 ways to decorate with festive greenery
Adorn your home with these exquisite Christmas foliage ideas for a natural take on yuletide decor this festive season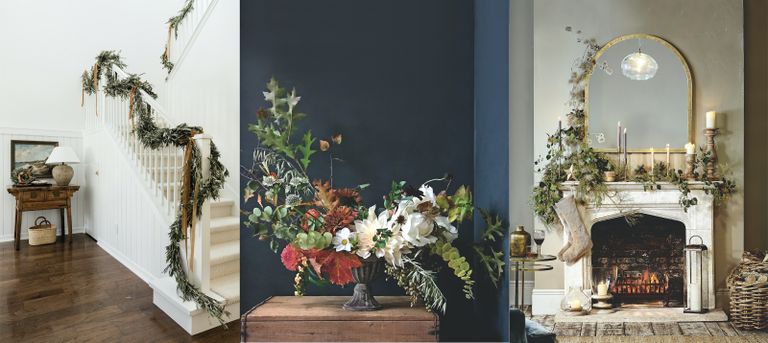 (Image credit: Future)
The winter holidays are the perfect time for Christmas foliage ideas – and this year we need no excuse to decorate our homes with lush greenery from the garden.
'With fewer seasonal flowers available, this is the time of year to really think about using a mass of foliage in your designs,' advises florist Philippa Craddock. 'I love the abundance of evergreen branches, which at this time of year (outside of their growing season) are much hardier, and will last days indoors.'
We've selected the most beautiful Christmas foliage ideas to inspire you over the festive period. From show-stopping dramatic designs to delicate touches of leafy greens, there's a verdant vibe to adorn every space. Add them to your repertoire of Christmas decorating ideas for a home filled with style and beauty this festive season.
Christmas foliage ideas
There's something magical about bringing an element of nature inside your home during the depths of winter. You may already have brought a festive touch to your garden and backyard with your outdoor Christmas decoration ideas, but gathering boughs and branches, green leaves, colorful berries and even a few blooms, will introduce a sense of joyful abundance throughout your home.
From entryway to living rooms, kitchens and bedrooms, there's no space that won't look better with a touch of foliage. There are many types of greenery to choose, from verdant pine to the blue tones of eucalyptus. And increasingly, we're taking tips from the professionals who decorate hotels and stores, and using their clever Christmas foliage ideas in our own homes.
We've collected the best tips and inspiration for you here, so read on, then grab your secateurs and get ready to gather your ingredients for the lushest Christmas decor ever.
1. Fill your entryway with festive foliage
Your entryway is the first impression guests will have at your home during the holidays, so use your festive foliage ideas to make it a truly special experience.
'There are so many Christmas hallway ideas you can use to create a warm welcome, suggests Style Editor Michela Colling. 'Start by looping a garland in swags down a banister, draping one over a mirror or laying across the back of a console.
'Nestle fine wire USB or battery lights amongst the foliage or pepper with battery-operated candles or metallic baubles to create shimmer.
'Clear fishing wire and clear hooks are ideal for invisible support to hang ribbons for wreaths or to hold any wire to support the garlands.
'Finally, scent the area by including aromatic eucalyptus and spruce, combined with fragrant fresh herbs such as rosemary.'
2. Carefully combine greenery with candles
This beautifully simple Christmas mantel decor idea has just enough greenery to look natural, without it taking over the scene.
'The holidays for me are about gratitude for the abundance we experience throughout the year, so I tend to keep things feeling very natural when I decorate,' explains Anastasia Casey, who leads Austin-based design studio, The Identitè Collective (opens in new tab).
'To make them feel festive but not cliché, I opt for color blocking and varying texture. Sourcing local beeswax candles, I pulled inspiration from their golden buttery hue and played that up with the fawn-colored velvet ribbon. Even though it is minimal, the color-blocked approach creates a significant moment.'
When you're combining candles with greenery, take care not to let the leaves get too close to the flames.
'Safety is always my top priority when decorating for the holidays, so making sure these candles were stable was imperative,' says Anastasia. 'Instead of using a traditional garland, I just clipped individual olive branches and tucked them in around the candles so they could sit flat on the mantle.
Anastasia's final tip: 'Get as many varied sizes of candles you can, and then buy 20 per cent more! The best way to recreate this look is to group the candles together very closely. It makes for a more editorial effect and feels less kitschy.'
3. Use dried foliage to create a festive cloud
A suspended chandelier display creates an impactful focal point. 'Think about using different ingredients: a mass of naturally dried grass mixed with seasonal stems will give you something beautifully unique,' suggests florist Philippa Craddock (opens in new tab).
Secure either a pre-made hoop, a dry branch or a chicken wire structure, to hooks on the ceiling, hanging it from either clear fishing wire or decorative jute or ribbon.
Build layers of dried and green foliage to create fullness and texture.
4. Pair foraged foliage with fresh flowers
Bring the outside in by foraging in the garden or woods. Or buy Christmas flowers and plants that you know will bloom all winter long.
'Fresh foliage and flowers form the base of all our decorations, whether a garland on the mantelpiece, an arrangement of branches in the hallway, or a more structured table display,' says Henry Miller-Robinson, Co-founder K&H Design (opens in new tab).
'I also love adding fresh foliage to the tree with clear glass ornaments for some sparkle.'
5. Put a natural wreath in an unexpected place
Traditionally we think of wreaths for front doors, but this year the trend is to use them on the Christmas dining table as a centrepiece, or hung on the wall as a festive focal point.
'For use on the table, simply add candles at regular intervals for a gorgeous glow,' suggests Meaghan Hunter, Senior Stylist and Art Director, Neptune (opens in new tab). 'For an extra layer of detail, use a richly scented seasonal candle, perhaps a pine and cinnamon mix, in the centre.
Or display them from a cabinet or dresser to add a festive touch. 'Choosing a decorative ribbon to hang your wreath from will add colour and texture,' says Meaghan.
6. Mix real and faux greenery
Celebrating the season with an abundant display of greenery, real or faux – or even a mix of the two – creates such a welcome and you can style it all in advance which is a real time saver when you're entertaining.
'I love to add in real flowers and greenery just a couple of days before the main event,' says Chrissie Rucker, Founder, The White Company (opens in new tab). 'We have some amazing faux wreaths, swags and garlands. If you mix these up with fairy lights and lots of candles, it's a truly seasonal statement.'
Chrissie has lots more great tips for your Christmas table ideas.
'Candles, of course, never fail to please, set along the table with small bud vases,' she says. 'Glass vases can often double up as storm lanterns, when you pop a candle inside.
'I always stick to white and when it comes to flowers for the table as I like them to be simple, not too arranged. Sometimes I use just greenery and mix in one white stem.
'For larger displays I mix lots of seasonal greenery or herbs into my arrangements, plus favorite flowers, which include ranunculus, hyacinths, white roses, flowering eucalyptus, snowberries and fresh rosemary.'
7. Dress the mantel and the mirror
For a central mantel display, using a pre-soaked oasis foam block and let your foliage spread out from this mid point.
For looser designs, florist Phillipa Craddock recommends creating an off-centre display. Use branches as a framework, or use chicken wire to hold pieces in place. Use floristry wire or jute twine to attach extending pieces that trail down the fire surround or twine up a the mantel mirror.
Put your display together later in the season to keep it looking green in time for Christmas and spritz with water every couple of days.
8. Pop pine cones into your display
We love setting aside some time to make pine cone Christmas craft ideas as part of our festive preparation. But simply scattering the cones among your foliage will create an evocative display.
'Buy bunches of fresh greens and garland; they are an easy way to add holiday cheer around the house and can easily be cut into smaller pieces to use for adornments on gifts,' suggests Tina Yaraghi from The Enchanted Home (opens in new tab).
'Pine cones are really inexpensive and a great way to add a festive touch throughout the house. Fill a bowl with them, add a cluster on a chest with some fresh greens, or create a display with pine cones, candles and some silver to sparkle.'
9. Add a swag to your staircase
Natural greenery will bring a sense of abundance to Christmas stair decor ideas, but don't feel you have to stick to traditional pine or ivy to create your festive look. Here, olive branches – associated with peace – transform a stairway.
Whatever type of foliage you choose, a few simple tips will help you make the most of your greenery and keep it looking fresh for longer.
Veronika Kusak, Director at Pines and Needles, shares her expert ideas for choosing and decorating with Christmas foliage, plus tips on how to condition and maintain foliage for a long-lasting display.
'If working with holly, remember to wear gloves,' advises Veronika Kusak, Director at Christmas tree experts, Pines and Needles (opens in new tab).
'It's important to spritz your wreath and Christmas foliage with water regularly to help it last as long as possible. And if your wreath and decorations are staying inside, keep them away from direct heat sources – radiators and heating can dry out the leaves and needles,' Veronika continues.
'Choose the freshest cuts possible for a more authentic decor but also to give it more chance of lasting through the festive season. And when choosing foliage, aim towards an "indoor" variety of trees if specifically using tree branches. Noble Fir is a popular choice.'
10. Style a foliage frame
If you're looking for an unusual Christmas wall decor idea, put foliage in the frame. You could simply top a framed picture of photograph with a touch of greenery, or take an empty frame and cover it with fresh boughs and trim with a ribbon.
'Soft pine or conifer is ideal as it isn't as rigid as some foliage,' suggests Sue Barnes, Founder & Creative Director at Lavender Green Flowers.
'Eucalyptus is also a great choice, as the fragrance is so refreshing and relaxing. and it also lasts for a long time. When it dries it doesn't wilt and simply goes a more blue-grey colour which can look very effective.'
11. Stuff your stocking with greenery
Hanging stockings ready for Santa Claus is a much-loved festive tradition, but why wait until Christmas Eve to see them filled? Put sprigs of snowberries, berried branches or baby's breath in the stockings as part of your Christmas living room ideas, then simply switch out the greenery for gifts when the big day comes.
12. Vary your foliage for a full-on display
'Whether you raid your garden or a florist, seasonal greenery such as ivy, spruce, laurel, fatsia and conifers will all work as an abundant base for displays,' says Tina Yaraghi from The Enchanted Home.
'Fragrant eucalyptus comes in many forms, from familiar Baby Blue and Gunni to Parvafolia with a smaller, delicate leaf. For relaxed displays, Asparagus Fern or Willow Eucalyptus will create cascading sprays.
'Treat your stems before bringing them into the house. Keep them in cold water outside or in a cool place for around 24 hours; even if you've bought from a florist, trim the stems and soak.
'To dry, bunch together and tie at the ends, then hang in a cool but dry place to avoid mould forming, for around three weeks.'
13. The new look wreath
The traditional circle of greenery will never go out of fashion, but there are lots of ways to put a twist on your Christmas wreath ideas. This gorgeous circlet has a delicate elegance that's perfect for above a bed – especially in a guest room when you have holiday visitors.
With the base on show, opt for a decorative finish such as a wooden, brass or jute-wrapped finish. As the base won't retain water, it's best to use dried or preserved flowers and foliage. Create small bunches and bind at the base with floristry wire, creating looser and larger sprays as the display circles round.
Alternatively, create a centrepoint where flowers, berries, small baubles or ribbon can fan out from, tapering off at either end for symmetry.
14. Make it mossy!
Using just one variety of foliage can create impact, such as a carpet of flat moss or a wreath made of pampas,' says Style Editor, Michela Colling.
'Liven up evergreens with unusual varieties – Spanish moss, air plants or succulents add a soft, sage green accent, while dried hydrangeas, eryingium or any bright bloom brings colour.
Silvery honesty branches or seed heads create a rustic texture, or spray gold or silver paint on a few dried fronds for a magical metallic touch.'
15. Set up a stunning centrepiece
This table display, created by Lavender Green Flowers, combines detail, texture and traditional red and green festive tones to make a stunning statement.
'Bring in pops of color if that's your thing, says Sue Barnes, Founder & Creative Director at Lavender Green Flowers (opens in new tab). Here, the red of the display is picked up in a vase of flowers at the side of the room, creating continuity and flow to the use of foliage and florals around the home.
16. Use foliage sprigs to decorate a place setting
Even if you don't have time for an elaborate centerpiece, you can still elevate your Christmas dinner with a decorative lift.
Add a single green sprig with colorful stems or dried bunny tails and a decoration, tied together with ribbon.
'Napkins dressed with little arrangements add wow-factor – include rosemary or eucalyptus to add scent, and handwritten place names. It's the little touches guests will notice,' suggests Nikki Tibbles, founder of Wild At Heart (opens in new tab) florists.
17. Add in some red roses
'I always think it's best to deck your halls from the garden,' says Nikki Tibbles. 'I like a big vase of branches – holly, lichen, pine – in the entrance hall or on the kitchen table. You don't have to be an expert to arrange an armful; they'll look naturally beautiful.
'Homemade dried oranges and limes will scent your home and can be used as decorations. And flowers like roses and ranunculus are also available at this time of year. Pretty bud vases with red roses or white flowers with candles look gorgeous. For a long table, create lots of individual arrangements down the centre with a mix of tall candles and tea lights.'
18. Dress up your windows
As you're filling your home with foliage and festive trimmings, don't forget your Christmas window decor ideas. They be seen from outside your home, greeting guests and passers-by with the holiday spirit. And they help to connect all the festive elements around your home.
'Place beautifully considered designs in key spots within your home,' suggests florist Philippa Craddock. 'Put a display on a hall table, a wreath on the door, a tree with delicate lights in the most used room in your home, sprigs of greenery on top of picture frames, a garland over your mantelpiece and down your staircase.
'Work with your own interiors and think about how you are feeling – create something that you love.'
19. Add fruit among your foliage
Berries, baubles and ribbons can lift your foliage with color and texture, but you can turn to nature's bounty for your trimmings.
'Don't forget that apples, lemons and artichokes make beautiful arrangements along with fresh greenery,' says Tina Yaraghi from The Enchanted Home.
Simply tuck the fruit into your display, or add an extra element by studding oranges with cloves to bring a wonderful fragrance to your rooms.
20. Make a statement
When it comes to using creative festive foliage designs at home, it's always best to think about the right size to suit the location and your home's style. But if you have the space, don't be afraid to go large!
'Foliage that just tumbles out of the vase in an abundance of different varieties, and with the inclusion of pine cones, moss-covered branches and frosted elements, creates a spectacular sight,' says Sue Barnes, Founder & Creative Director at Lavender Green Flowers. Placed on a round entrance hall table, it's the stuff of dreams.'
21. Tie up teasels and seedheads
Think outside of the green box when selecting or foraging for your foliage. Add an unexpected, 
but still naturalistic, touch by incorporating seed heads into your wreaths and garlands.
The 
sharp silhouettes of these dried teasels are gently softened with occasional sprays of delicate foliage. If you're into the sphagnum moss bowls that have been populating Instagram, take 
things a step further and fill your hearth with a generous helping of foliage to continue the look throughout the whole vignette.
Seed heads, when handled carefully, can be used for years, and 
opt for preserved moss if you want the entire scheme to be ready to go next Christmas, too.
22. A touch of silver
Staircases are one of the focal points to a typical entranceway, so make a point of dressing them as you would the door to your home.
Looped garlands of foliage are the perfect choice here, but add silver baubles at each apex for added Christmas magic.
23. Turn sconces into Christmas lights
If you have sconces, be sure to include them in your decorating.
Simply drape with sprigs of foliage, adding a faux flower or two for an extra point of focus. Carefully secure the stems with florist's wire, keeping them safely away from the candles.
24. Amp up the drama
Play with scale and layer up your space with foliage creations big and small.
While each of the various displays is stunning in its own right, by mixing and matching size, style and material, the combination of all brings festive drama that is sure to impress.
The showstopping chandelier wreath creates an impactful focal point – something similar but smaller could be created by using a ball of florist's foam and adding small bunches of several different types of foliage at varying layers to create fullness and texture.
Take note from the chair-hanging wreaths and design your own in varying shapes and sizes, using similar colours in the leaves and blooms to keep things cohesive.
25. When less is more
Wreaths don't always have to be laden with foliage – for a delicate 
take on the tradition, instead choose a simple brass hoop adorned with a single sprig of fir.
While this option uses a candleholder hoop for added glow, you can just use foliage.
26. Take a moment to frame
'I love a Christmas that is a bit over the top… garlands and wreaths hanging wherever they can, the more unique the better, I think,' says Sue Jones, Co-Founder and Creative Director of OKA (opens in new tab). Take this idea and set the scene for your buffet area by framing a console table with generous swags of greenery. 

Choose a mixture of leaves with a variety of textures and tones and group together in a relaxed style, leaving a few stems flowing freely to soften the edges. For a fuller, more dramatic look, collect pine cones, rose hips and other foraged foliage to bump up volume and texture – just make 
sure to secure properly with wire to avoid any unexpected garnishes ending up in the cocktails.
Scented additions, while not ideal for dining, are a lovely touch for a drinks and nibbles area, so look at adding in a few dried orange slices and fronds of eucalyptus as well.
27. Make it a casual affair
Taking a naturalistic approach to foliage decor over Christmas works wonderfully for that casual, relaxed feel.
A short foraging excursion (or trip to the local shops) can easily provide a generous array of simple foliage like ivy and fern, which can be pulled into a simple swag to be hung at the foot of your stairs, on the wall or on internal doors.
28. Craft a decorative centerpiece
This centrepiece looks impressive 
but it is actually very easy to create.
Start by pushing foliage stems into well-soaked florist's foam in a bowl – letting them overflow for a luxurious look. Place a candle ring on top, cover with moss and finish with pine cones.
29. Pick of the bunch
A cluster of bright-green foliage tied with a gorgeous ribbon makes a simple but impressive alternative to 
the usual door wreath.
Asparagus 
fern was used here, but evergreen stems such as spruce, ivy or eucalyptus will look just as good.
30. Leave a token
'If you've got dinner parties coming up and want to do something a little different in the dining room, re-use your Christmas wreaths and weave bright berries or flowers through them,' advises OKA's Sue Jones.
Consider creating natural decorations that not only look beautiful but also act as party favours, 'placing wreaths on the table adds such a lovely natural touch that no one will be expecting,' adds Sue.
Worm London (opens in new tab) wired dried leftover materials from bigger projects into a circle to create a look that will outlive the evening and become an elegant keepsake.
31. Add foliage to your fireplace
Fireplaces are the perfect spot to explore Christmas foliage ideas.
For a traditional approach, garlands can be draped simply across, studded with dried oranges, baubles and tiny fairy lights. If you're looking for a contemporary design, then go heavy on the greenery. Create a full-to-the-brim length of foliage to lie on the mantlepiece, with long swathes tumbling down either side. Don't be precious about placement - this look is meant to feel earthy and natural.
32. Bring the light
The classic wreath can often be far too beautiful to be left out in the cold, so if you decide to display one inside always consider how its foliage will work with your interiors.
A design like this seed head and moss creation has a wonderfully pale and ethereal look, making it the ideal focal point 
for a darker corner in your home. In this setting, the curved shape of the demilune table echoes 
the circular wreath, while the white bowl picks up on the highlighted areas of foliage above.
If you are looking for other options to add pale tones to a wreath, consider integrating white heather or snowberry as both will stand out in darker areas.
33. Garnish a balustrade
Festive arrangements needn't just 
be kept for grand staircases. Create impact anywhere by lavishly garnishing with fresh foliage, like in the home of Farrow and Ball (opens in new tab)'s Joa Studholme.
Pick straight from the garden and make sure to spritz with a water mister daily to ensure it remains firm and fragrant.
34. Style up seating
We often focus on the table and place settings when adding foliage to our dining tables, but why not consider adding subtle seasonal touches elsewhere?
A simple idea is to secure 
a bunch of slender stems to the back of the chairs with a fine ribbon.
35. Hang a leafy garland
Create a grown-up take on the classic paper chain with foliage.
Use wire 
or string to bind together to make looped shapes across a wall – faux foliage is easier to work with here, but tuck in a few stems of eucalyptus or some herbs to gently scent the room.
36. Scent of the season
As you welcome guests into your home this winter, make sure the Christmas spirit is in full flow from the moment the door is opened.
Take inspiration from the home of Chrissie Rucker, founder of The White Company, and dress a hallway console table with a vase filled with fresh eucalyptus, which will provide a delicious, seasonal scent. Lightly spritz the arrangement daily to keep leaves fresh and replace individual stems as the aroma fades and the colour changes.
For the 25th itself, 
a few sprigs of mistletoe would be a lovely addition to the display – just make sure to keep an eye out so that the berries stay out of way of pets or little ones.
What is Christmas greenery?
'At any time of the year, using abundant seasonal foliage adds texture and interest to any floral arrangements,' advises florist Simon Lycett (opens in new tab).
Create stunning foliage focused looks by embracing the seasonal greenery of Christmas. 'During November and December, as well as the ubiquitous pines and holly, glossy bundles of camellia foliage, berried and trailing ivy and glaucous eucalyptus add a whole new dimension to decorations,' says Simon.
'From wreaths of mixed greens to fulsome garlands and swags, which look as beautiful unadorned as they do when pimped with clusters of fruits, cones, berries and baubles, Christmas is the perfect excuse to Go Green!'
How can I decorate my hall for Christmas?
The hall is the perfect place to have fun with Christmas foliage, and create an impressive welcome for friends and family.
'Create mixed foliage garlands for staircases and mantelpieces, oversized wreaths for your front door and table, and if you are really feeling creative, perhaps an overhead installation,' suggests florist Philippa Craddock. 'The abundance of inexpensive material at this time of year means you can have plenty of fun creating your own designs.'
How long will a Christmas wreath last?
The lifespan of a real Christmas wreath largely depends on its surroundings and care.
When kept indoors, and not placed too near heat sources such as radiators, they could stay fresh for about three weeks. Make sure to regularly spritz the wreath to prevent it from drying out, and replace any wilting pieces of foliage with fresh sprigs to keep things fresh and fragrant.
Andrea has been immersed in the world of homes, interiors and lifestyle since her first job in journalism, on Ideal Home. She went from women's magazine Options to Frank. From there it was on to the launch of Red magazine, where she stayed for 10 years and became Assistant Editor. She then shifted into freelancing, and spent 14 years writing for everyone from The Telegraph to The Sunday Times, Livingetc, Stylist and Woman & Home. She was then offered the job as Editor on Country Homes & Interiors, and now combines that role with writing for sister title homesandgardens.com.