Christmas table decor ideas – 39 looks for festive tablescapes and stylish celebrations
Wow your dinner guests with Christmas table decor that helps you celebrate in style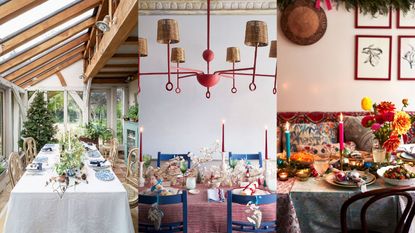 (Image credit: Future)
Sign up to the Homes & Gardens newsletter
Decor Ideas. Project Inspiration. Expert Advice. Delivered to your inbox.
Thank you for signing up to Homes & Gardens. You will receive a verification email shortly.
There was a problem. Please refresh the page and try again.
Beautiful Christmas table decor is one of those magical touches that elevate your festive meal from a chic dinner party to the most memorable gathering of the year.
Aside from the present giving, the focus of Christmas Day is inevitably on the meal that you and your family share together – and a well-dressed table can be almost as important as the meal itself.
If you're still undecided on how to dress your table for the big day, this curated selection of Christmas table ideas is the perfect place to start for place-setting inspiration.
Christmas table decor
We've asked a panel of industry experts and designers for their take on Christmas decor so that, no matter how large or small your festive celebration may be this year, it will look sublime.
1. Use a wreath as a centerpiece
A Christmas table centerpiece can consist of all sorts of components, but one of our favorites is created by looking to another festive decor stalwart for inspiration.
'Traditionally, we think of wreaths for front doors but this year you could use it on the Christmas dining table as a centerpiece, or on the wall as a festive focal point,' says Meaghan Hunter, Senior Stylist and Art Director at Neptune. 'For use on the table, simply add candles at regular intervals for a gorgeous glow when entertaining. For an added layer of detail, use a richly scented seasonal candle in the center to add a festive pine and cinnamon fragrance.'
2. Stay sustainable by repurposing tree decorations
'Sustainability is one of the biggest trends this year,' says Holly Gannon, Design Manager at Milc Interiors. If you're looking to give both your Christmas dining room decor and tree a new look for this year but are keen to limit waste, think about migrating beloved ornaments to the dining table.
'Re-using old tree decorations to create table place settings and dressings is a great way to inject personality into a table,' says Gannon. 'For a more refined look, mix different tones of the same color to create a theme. For a more eclectic look, mix colors, patterns and textures to add vibrancy to the table.'
3. Keep it crisp and wintry with white
If you're wondering how to set the perfect Christmas table for a neutral home, follow the advice of Ana Agapova, creative director of O&A London, and blend crisp whites with dazzling metallics.
'The sitting room of this apartment has a very light space featuring a bay window, columns and a classic fireplace,' Agapova explains. 'This space is traditionally used for the family's festive dining. The table with a layered setting featuring candles, linen napkins, and crystal vases and glasses, looks solemn and light at the same time. A white freesia bouquet compliments the wintry festive table. Metal napkin rings, white pearls on the pine branches and tall candle holders create a fascinating setting resembling an ice sculpture.'
4. Welcome guests with a menu
Thoughtful additions can really bring the whole Christmas dining table together, so do make that special effort.
Providing a menu so that friends and family know what comes next is always a welcome addition – especially at a Christmas meal where most people tend to indulge – it's good to know to pace yourself. It's also useful if you're catering to vegans or vegetarians.
Place a menu on each setting and, if possible, double up with small wrapped Christmas table gift ideas. 'Finishing your table with a little present that doubles up as a place setting – it's thoughtful and just gives such character,' says Sue Jones, Co-founder and creative director of OKA.
5. Keep it casual with a cornucopia of color
Layer up colored decorations and tableware to give more of a sense of abundance. It doesn't have to match – you can mix fine porcelain with chunky everyday plates or bowls.
Add those little extra special touches to the table – colorful macaroons, some shortbread or, as in this case, tall tapered candles in varied shades of green to match the crackers. In a less formal setting, dispense with tablecloths to make things looser and more laid back.
6. Layer up the plates
This looks attractive and has a practical element in that it leaves space free on the rest of the table for further decorations.
Be inspired by what's in the garden, too – fresh foliage or delicate honesty seed heads down the center of the table look natural and inviting.
Finally, ask whoever has the prettiest handwriting in the family to write out the name cards using an old-fashioned ink pen, and learn how to fold a Christmas tree napkin neatly to finish the look.
7. Choose a strong color theme
Burleigh's design development manager, Alison Howell suggests ensuring you keep your color scheme simple: 'The kitsch Christmas red, gold, and green can look wonderful, but for simplicity, keeping to just one color is just as effective.'
'Using a number of different shades across your accent accessories like cutlery, fabrics and candle holders, for example, is a great idea for a simple yet impactful Christmas table setting.'
8. Raid the garden for simple but effective table ideas
This pretty idea from chef Clodagh McKenna can be created in an instant with foliage from the garden and dried fruit. Both look beautiful – and give off a gentle scent that's perfect for the season. You can even expand on these small details and create a Christmas table garland with the same elements.
'I always stick to white, and when it comes to flowers for the table I like them to be super simple, not too arranged, I love them to feel loose and natural,' adds Chrissie Rucker, founder of The White Company. 'Sometimes, I use just greenery and I mix in one white stem. For larger displays, I mix lots of seasonal greenery or herbs into my arrangements and favorite flowers which include ranunculi, hyacinths, white roses, flowering eucalyptus, snowberries, and fresh rosemary.'
9. Live by the rule that you can never have too many decorations
'My favorite tablescape look is 'more is more',' says Alex Head, founder and owner of Social Pantry, of her Christmas decor ideas. 'I really go all out at Christmas. It doesn't mean spending lots of money but I like the table to look abundant and overflowing.'
'I like to forage for things as much as possible, or re-use elements such as old wooden chopping boards to give height to candles or votives in the center of the table.'
'Fruit such as clementines with their stalks or pears look stunning and seasonal. Then I like to add a pop of color with tall gold candlesticks bearing hot pink candles, from Amazon or Trouva.'
10. Use fruit for a cute place name setting
This is the simplest of ideas, again from McKenna. Simply cut a slit in a fig and pop a piece of card with your guest's name on it into the cut. Treated well, the figs could even be roasted later and enjoyed with a cheeseboard.
11. Display your best glassware
Glassware too takes a starring role. 'I'm seeing a growing trend for bottle green glassware,' says Head. 'It looks absolutely gorgeous on the table. I love mixing it with some gold-rimmed glasses for a really eye-catching look.'
'But if you don't want to splash out on a new set, I think mixing up any colored glassware works really well on the Christmas table – you can buy them from Habitat and, increasingly, some supermarkets.'
12. Pay attention to tiny details
'Whether the setting is casual or formal, minimal or maximalist, monochromatic or colorful – it's the smallest of details, the tablecloths and napkins, crockery and glassware as well as the candles and flowers that have the ability to make the day truly wonderful and memorable for guests,' adds Tricia Guild, founder and creative director of Designers Guild.
13. Personalize place settings
This year personalized place settings are big news. 'Small cellophane bags filled with some home-made fudge, a salted caramel macaroon or a mulled wine marshmallow and tied with a gorgeous ribbon with their name tag attached makes for such an attractive sight,' says Head.
'Guests find it lovely to take home a treat, and it's fun to pull in those Christmas flavors. But if really stretched for time, I've been known to just write place names out using a silver pen on some leaves taken from the garden.'
14. Make a sugared fruit table centerpiece
This sugared fruit display by McKenna is super easy to do: simply brush or lightly coat the fruit with egg whites, then roll in fine sugar, carefully transferring the fruit to a rack to dry before you arrange it on your plate or bowl. This display can work well as part of kitchen Christmas decor ideas too.
15. Clean and green is endlessly elegant
Anyone looking for an antidote to the excess of bold and bright at this time of year might consider a more pared-back style with a calming color palette and rustic elements – the result will still be beautiful and uplifting.
Instead of a visual onslaught, use green as a neutral and heighten the senses with aromas. A vast fresh indoor Christmas wreath will set the scene perfectly or, alternatively, think about buying one with a natural base decorated with fine-quality faux flora that can be interspersed with fresh berries, ivy and greenery each year to update the look each year.
Position it pride of place over the table, or even tied to the backs of chairs, as above, and then follow the aesthetic with a vase filled with more greenery. To keep things in balance, a white linen tablecloth set with simple white china and plain linen napkins will add lightness to the mix which could be then decorated with plain glass vases of white and green flowers filled with a mixture of tulips, hyacinths and eucalyptus.
16. The Midas touch makes for a glamorous setting
'It's Christmas, so you can go a bit over the top with the decorations. Use as many candles as you can, there's nothing better than candlelight for creating atmosphere,' believes Jones.
'Don't feel you have to stick to the usual color scheme; here the Christmas foliage ideas add a festive twist, but the tortoiseshell glassware makes the table much more interesting.'
17. Pick berry brights for a warm welcome
Red is, of course, a classic Christmas color. Cheery, bright, and warm, it speaks of winter berries, Rudolph's nose, poinsettia wreaths, and robins' breasts. When setting a table, it's hard to go wrong using splashes of rose red with a profusion of candles, crackers and a generous bowl of pomegranates – either real or fake – as a centerpiece.
18. Plan ahead for a smooth-sailing day
When it comes to Christmas Day, 'my advice is to lay the table the night before,' says Lesley Youel, stylist at John Lewis.
'It's so important that we remember to enjoy ourselves, especially when we're hosting family and friends; there can be a lot of pressure for everything to be perfect.'
Pretty details like glass baubles on each place setting set the scene and can all be prepared the night before without spoiling.
19. Get ready for cocktail hour
If Christmas is the only time of year that the best crystal comes out of the glassware cupboard (or even if it's regularly in use) then why not make an effort to show it off with a specially-decorated cocktail table at the ready to host a sophisticated soirée.
Throw a tablecloth over a console table to set the background and form a display of glasses, candlesticks, bowls and plates – anything which will help to add a bit of glamour and bounce light around the space.
Crystallized fruit, alongside quinces, walnuts and lemons add color and contrast, while bowls of chocolates and truffles add to the feeling of abundance and decadence. Learn how to make a Christmas garland and string it above to frame the scene and draw the eyes and a final flourish of some fairy lights adds a magical twinkle to the overall effect.
20. Set the scene with furnishings
On Christmas Eve, why not go the extra mile and delight any house guests, old and young, by spending a few moments putting together a white wintry table scene (regardless of what the weather is doing outside) to greet everyone at breakfast time?
Ideally suited to a kitchen or dining room that is already channeling a Scandinavian aesthetic of white, grey and scrubbed wood furniture, assembling a wintry montage needs little more than a few table-top decorations, a short string of pin-dot fairy lights and the liberal use of a can of fake snow.
Add another layer of twinkle to the scene by twisting a further string of fairy lines around the ceiling pendant, then sit back and enjoy the results.
21. Remember the sweet treats
An alternative to having to wrap up place setting presents, and yet still steering clear of the more traditional route of crackers, is to place a sweet treat in a bowl tied with a pretty ribbon.
While still conveying a message of thoughtfulness, and a welcoming sight when sitting down at the table, it can be put aside during the meal and then enjoyed right at the end with coffee. Dotting these around your Christmas living room decor ideas makes for a nice touch too.
Using colors that don't immediately shout Christmas, such as mustard yellow, black and silver, will lend the table a more sophisticated edge while the addition of single stems in vases keeps things fresh and light.
22. Keep table gifts under wraps
For someone keener to underdress the table rather than go all out, choose one detail and put all your efforts into getting that element right.
When searching for innovative place setting ideas, be sure to take inspiration from wherever you go – there's no reason why you can make something spotted at a wedding, for example, make the transgression to the Christmas table.
Using a glass cloche over a small present and tied with a ribbon holding the name card is an unusual and eye-catching approach. The bell shape is synonymous with this time of year and can form part of the take-home element, alongside an attractively-wrapped box of chocolates, fudge or nougat.
23. Christmas table decor can be monochrome
By focusing on pale hues, plenty of natural textures and bolder accents, a monochrome tablescape brings a bit of Nordic chic to the Christmas table. Glitz and gaudiness have no place in this sort of scheme – instead pare back everything to simple shapes, raw wood and distressed metal.
Be sure to bring some of the outside into the mix such as dried tree branches in glass vases decorated with oversized stars.
Rucker is the uncrowned queen of creating such a table. 'I love to start with a white linen table cloth and napkins, plus always use our best glasses and china.'
'Beaded placemats look fantastic and add a magical glow as do mirrored scapers and lots of layers of candles, tall and small. I like to mix plain candles with a few scented ones. Then, for flowers, I stick to white and mix in lots of seasonal greenery, berries and herbs such as rosemary.'
24. Choose a traditional update
Green and white, with a touch of gold, is another classic Christmas combination. But have a little fun with this and introduce some less conventional twists by layering with plains, patterns and lots of different textures for a festive and not overly formal result.
It can feel risky to depart from using the full set of matching dinnerware but keeping to a color palette will link the scheme together comfortably while adding a bit of character to the table.
Colored glassware is making a strong comeback this year and is another good opportunity to introduce some light-hearted color pops. Another retro item rising in popularity is the napkin ring; if ever there's a time of year to bring out proper linen napkins, it's at Christmas.
25. Take a theme, make it yours
'I always start with a theme or color palette and try to ensure every element taps into that. This might be seasonal – Easter or Christmas – but in that case, I'll try put my own twist on it,' says brand consultant and influencer Rosanna Falconer.
'Don't be afraid of color – it brings so much joy and personality! Monochrome always works well – think shades of green from eau de nil to jade. If you're feeling more adventurous, warm and cool colors contrast beautifully like a deep magenta with a punchy turquoise. I tend to begin with a white tablecloth – the blank canvas for the creativity on top.'
26. Put candles in every corner
'Lighting is so important, whether in the garden alfresco as dusk falls or indoors on long winter nights,' continues Falconer. 'Avoid artificial lighting and instead turn to the romance of candles. Taper candles look beautiful, particularly down the center of a long banqueting table, just ensure they don't obscure guests' views.'
Getting out your best candles is always the way at Christmas time. 'Pillar candles work well outdoors (they withstand even the strongest wind!) and look spectacular clustered together in different heights and colors. Finally, I never go without tea lights in glass votives. They cast a gorgeous light and last eight hours, which should cover even the most raucous evening!'
27. Pay attention to the centerpiece
You needn't be traditional with a floral table centerpiece: this one by McKenna is made with the brightest blooms she could find to create a warm, welcoming feel that matches the table settings around it.
'Your centerpiece doesn't have to be flowers, particularly when they're not in season. Try a runner made from wrapping paper, excess wallpaper or off-cut fabric (no need to hem as guests won't see the edges),' says Falconer.
'Ribbon runners can be exquisite: First, select your color palette for the ribbon lengths – five to nine ribbons work well (I always like odd numbers) in mixed widths. Place each ribbon down using double-sided tape to fix in place. Keep the white space between each ribbon regular (I keep a 1cm space between each ribbon).'
28. Make sure to include flowers
'I'm not a florist,' says Falconer, 'so I keep flowers simple and seasonal. In peony or dahlia season, I let their beauty sing with single stems in high-necked vases or an ombre of colorful dahlias in jam jars down the table. My main rule is to keep the flowers low so that they don't obstruct conversation but do play with heights.'
29. Embrace the eclectic cottagecore trend
'Each year I tend to work with a certain color combination or a particular theme that I use throughout the house during the festive period. This look was inspired by the 1950s – all-out glamour with red, green and gold,' says Paula Sutton of Hill House Vintage.
'My advice would be to decide on your color scheme first and once you have this the accessories can follow. Napkins, plates, glassware and decorations can all be chosen with your palette of choice in mind; I advise sticking to a three-color combination so that it doesn't feel too overwhelming.'
'Also don't forget that you don't have to be too strict; the important thing is to be surrounded by treasures that you love and that bring you joy, after all it's meant to be the happiest time of the year!'
'Ensure that you use lots of different size bowls and serving dishes in different colors, shapes and sizes,' concludes Howell. 'Creating a super eclectic mix draws everyone in and creates a layered landscape across your festively laden table.'
30. Go for all brights
For a thoroughly modern take on the festive table, go extra bold with clashing, neon brights. Think acid yellow mixed up with hot pink, turquoise, vibrant orange, and purple for a color-pop look that won't fail to bring everyone masses of joy on Christmas Day. The mismatch of fluorescent hues needs little else – just a simple white tablecloth and plain crockery for the colors to sing. Once the festivities are over, this contemporary palette of power-packed decorations will work equally as well for a summer birthday party or an alfresco get-together during the warmer months.
31. Use your room décor as inspiration
Swap a traditional Christmas color palette of crimson, forest green, and snow white for shades that echo your home décor. Here the rich, burgundy walls provide a vintage-inspired, earthy backdrop for a festive table décor that oozes old-school sophistication and a sense of harmony with its surroundings.
"The deep teal and wine tones of this festive table setting are beautifully calm and grounded,' says Lucy Searle, global editor-in-chief, Homes & Gardens. 'The colors are a little more unexpected than the usual green and red hues we see at Christmas but the result is calm, collected, and packed with festive charm and style. In fact, we want to keep this up all year round.'
32. Style an undone look
Some of the most striking Christmas table décor ideas appear the most effortless and unstructured. Here, the relaxed look is pretty and uncontrived, layering and draping loose strands of illuminated garlands and hanging decorations at different heights to create depth and interest while the table is a mismatch of candlesticks, paper trees, and simple crystal glassware.
'The key to achieving an undone look for the Christmas table is to keep everything in a similar color palette,' says Jennifer Ebert, digital editor at Homes & Gardens. 'That includes lights, crockery, glassware, candlesticks garlands and even wrapping paper and ribbon. Here the silver and grey tones also tie in with the interior décor backdrop for a gorgeous festive highlight.'
33. Make fragrant decorations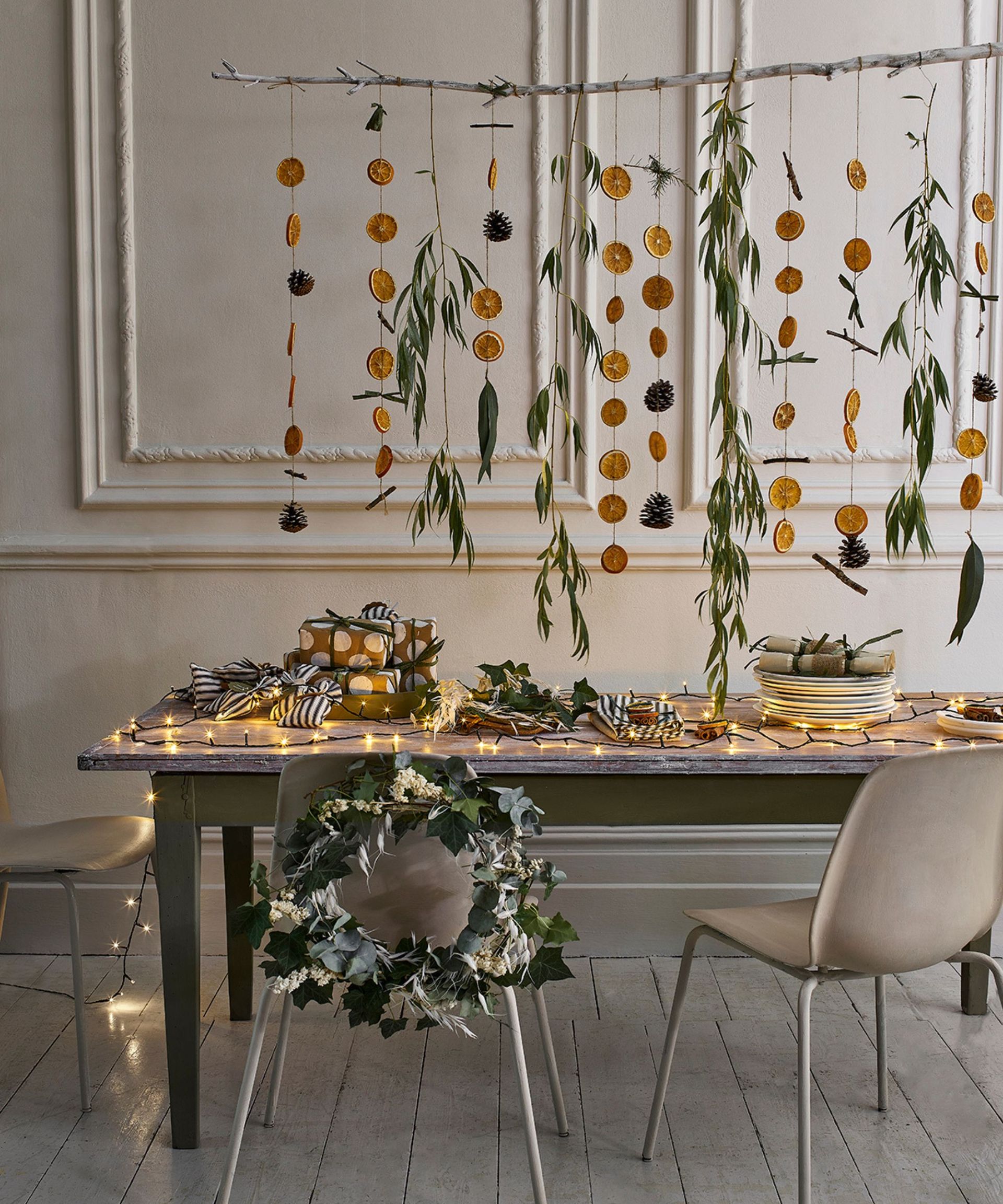 'I love making Christmas decorations from organic materials, things I've foraged for in my garden or in my larder,' says Annie Sloan, color and paint expert. 'It's traditional and so much better for the planet than purchasing brand-new plastic decorations, which feels more important than ever at this time of the year. Slowly drying out orange slivers in the oven makes your whole home smell sublime and Christmas should be a full sensory experience. It's not just the beautiful, twinkling festive sights that leave us with happy memories but the smells we associate can have a powerful, nostalgic triggering effect too – just like Proust and his madeleines!'
34. Cater for an extra large gathering
If you are hosting for a big crowd this Christmas, consider taking the feast outdoors if you don't have space inside to accommodate such a large number of seated guests – think outside the box by setting up in an outbuilding or a structure protected from the elements with temporary shelters, if this is at all feasible. Begin with rows of sturdy, garden or trestle tables and long benches – they might be basic, but this simple wooden furniture offers a great starting point for a natural, festive, table scheme.
'Dressing a dining table for Christmas is a very personal thing and you should utilize your own china, cutlery, and table linens to create an individual look,' explains Simon Temprell, Neptune's interior design manager. 'At Neptune we prefer a slightly, understated approach to Christmas decorating and try to keep the feel organic and natural with just a subtle touch of glitter. A linen table runner is a good place to start, especially if you have a large, rectangular dining table – it will add softness and color while allowing the beauty of your table to show through. Mix wooden pillar candlesticks with tall, slender iron and glass styles, interspersing with votive holders in metallic silver, copper, or gold. Wind a fresh garland of holly, ivy, and dried hydrangea heads between the candlesticks for a simple but effective decoration.'
35. Create a visual feast
'Having a delicious menu is only part of the festive table,' says Farheen Allsopp, co-founder of Faro Home, which creates vibrant and colorful homeware, clothing, and accessories, responsibly made by artisans in India.
'A beautiful tablescape makes the meal a visual feast too. This Christmas we have brought back our favorite jewel tones with emerald green, ruby red, and gold to create a warm and eclectic look. Layering the table with pattern, print and texture give depth to the table and our eyes plenty of delights to play with. The pretty, Ikat block print, tablecloth creates a versatile foundation piece with jolly striped or ruffle napkins with natural, jute placemats trimmed in gold bling. We like using foliage and fruits directly on the tablecloth, multiple floral arrangements, candlesticks of different heights, and little treats like a bauble, flower, or sprig of rosemary tied to your napkins – a fine recipe for celebration, comfort and cheer!'
36. Stick to a simple, Scandinavian look
Easy-on-the-eye, Christmas table décor generally equates to stress-free decorating, which is always a bonus at such a hectic time of the year. This doesn't mean that a simple, neutral look is dull and uninspiring – far from it – rather the serene simplicity lends a light and airy mood to the overtly busy, bold and bright festive period. The key ingredients here are a plain, slub linen, tablecloth in a natural shade, classic, white tableware and traditional candlesticks with tall beeswax candles. Small festive accents, by means of the ceramic trees and burnt orange runner, are all that's needed to make this table a restful yet uplifting place to enjoy good food with good company.
37. Go all out on opulence
'Go opulent for the festive season – try and forget the outside noise of what's happening in the world and immerse yourself in a little escapism,' says interior designer Benji Lewis.
'Incorporate metallic detail to add an extra glint to the sparkle of your fairy lights and choose ivory, brown, and gold instead of red and green. Include candles for a warm, ambient glow and banish overhead lighting unless you can dim it low – instead, use side lighting in the form of table lamps, this will be softer than anything beaming down on top of you. Try to accessorize your table setting with a small additional flourish such as a bowl of sugared almonds and never choose paper napkins, cotton or linen are the only way to go.'
38. Decorate a side table instead
With food, drink, and tableware taking precedence at the Christmas feast, space might be at a premium for adding lots of extra table decorations. If this is the case, consider styling a sideboard or buffet table with a festive flourish. Jewel colors will always conjure up an opulent, Christmas glow while the flickering light of candles is instantly warm, ambient, and welcoming. Use your extra table to display a selection of beautiful glassware, pretty trays, and a metallic ice bucket, so drinks can be carried back and forth to the main dining table without taking up valuable space. Once the eating is done, your festive, side table can double up as a luxe at-home cocktail bar for evening entertainment and merriment.
'Create the perfect, party-ready tablescape for your festive celebrations with hand-painted bowls and jazzy cocktail glasses,' adds Jason Billings Cray, Christmas buyer at John Lewis. 'Use highly decorative jewel tones such as gold, champagne, and bright pink pared with deep blues and add statement baubles in leopard prints and celestial patterns.'
39. Be abundant with florals
This beautiful Christmas tablescape experiments with alternative Christmas florals, not the traditional poinsettia which we are used to seeing at this time of year. The starting point for the festive décor comes from the gorgeous floral printed table runner, cushions and napkins which create a captivating vision for dining.
'I love to use hydrangeas at this time of year,' says Liz Poole, founder and creative director of home accessories brand Velvet Linen, and when dried, these flowers can be used to create beautiful, long-life arrangements in the home. They were one of the main inspiration flowers for our Winter Garden table linen which also features rosehips, holly and ivy providing plenty of texture and rich color.
'I like to create a central floral arrangement that mirrors the table linen – it's always a talking point when friends come to dinner. This one uses a floristry frog to help the stalks stand upright and was placed in a rustic serving bowl. Ivy was used to add movement both around the outside of the bowl and trailing down onto the table to tie the arrangement and table runner together.
'Two glass platters on either side were styled with large church candles, holly, ivy and a few white winter anemones. I also added some fresh fruit including apples, lemons, limes and satsumas, studded with cloves to add a subtle Christmas scent.'
How do you decorate a simple Christmas table?
'The table for Christmas Day starts with a white tablecloth and napkins, lovely white china, and sparkling glassware,' says Rucker. 'Next, I run a mixture of both tall candlesticks and lower tealight holders down the centre of the table – I work with both scented and unscented for lots of candlelight but without the fragrance becoming too strong. I love to add in lots of very simply arranged white flowers and greenery down the centre of the table also – but always keep this low so they are easy to talk over. I'll add to the napkins a sprig of green, perhaps rosemary, and a tied-on named place card.'
How do you set a Christmas table?
'Always start with a crisp white linen. Elegant and clean, it allows for the details of the table to pop,' says Emily Boschetto, Founder of Matilda's Bloombox.
'A charger is the perfect way to introduce the "season" of the year without buying new tableware, which can become expensive. The texture and color tones of a good charger is the best way to keep consistency in the table, without sourcing multiple plate options, which can be hard to store, not to mention expensive!'
'Choose long, wax candles in a color tone that brings to life the color you want to own your table. Red is a classic for the holidays. I chose "sage green" this year for Thanksgiving, as I wanted the table to be fresh, vibrant and clean looking.'
'Invest in a flatware service for special occasions. I have the 20 piece Gold Versaille set from Neiman Marcus, which are one of a kind. I love the gold and pearl accents and I use them for every family 'occasion'. My mum also has a set so when we have the whole family we can combine together.'
How can I make my table look good at Christmas?
"I love to take a personal approach to laying the table, starting with a tablecloth," says fashion and interior designer, Matthew Williamson. "I think there is something so special about having a textile to sit at – it softens the physical experience and provides a platform for color and pattern, upon which you can clash your flatware and glassware. Experiment with different candlesticks at varying heights to create layers and add a vintage vase for your cut flowers or leaves. The plates could very well match, or if you prefer, take a more eclectic approach, laying contemporary chargers with mismatched dinner plates."
Sign up to the Homes & Gardens newsletter
Decor Ideas. Project Inspiration. Expert Advice. Delivered to your inbox.
With over 30 years of working in journalism on women's home and lifestyle media brands, Rhoda is an Editorial Director, Homes Content, at Future. Over time, Rhoda has worked on the entire homes and gardens portfolio including Homes & Gardens, Country Homes & Interiors, Livingetc, Ideal Home, Style at Home, Woman & Home, 25 Beautiful Homes, Amateur Gardening and Easy Gardens. She was also editor of Country Homes & Interiors for 14 years, leading it across print and creating the blog Country Days. She has also worked at Woman's Weekly, Family Circle and Practical Parenting.