Christmas wreath ideas – 22 festive ways to style your wreath
From rustic to modern, use these Christmas wreath ideas as part of your perfect festive display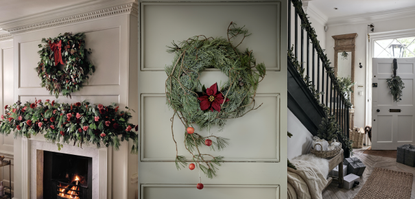 (Image credit: Future)
If you like it then you better put a ring on it. Be sure to incorporate a wealth of Christmas wreath ideas into your holiday decor to spread cheer and welcome guests – hanging one on your door is a tradition that dates back centuries.
But don't stop there, as there's a whole host of ways to use wreaths to decorate every part of your home, from your walls to your Christmas table.
Christmas wreath ideas – for more than front door decor
The humble wreath is one of the most versatile outdoor Christmas decoration ideas at your disposal during the festive season.
'There are the obvious, traditional spots like the front door or framed in a window,' says Jen Derry, Balsam Hill (opens in new tab) Vice President of Product Merchandising. 'But you can also add color to a bare entryway by propping a wreath against the wall, on a bench or hanging from a coat rack.'
This Christmas, ring the changes and try one of these Christmas door decorating ideas for your festive wreath.
1. Create a magical entrance
Revamp the typical wreath-on-the-door display with a more creative approach to festive styling. This works on any size home – you don't need a Bridgerton-style entrance to try out the idea.
'When it comes to outdoor Christmas decoration ideas like this, it's good to use the architecture of your home as your guide. Suspend a wreath – or three – from a canopy; attach them to the pillars supporting a porch; or put them on your front gate as a welcome,' suggests Andréa Childs, Editor of Country Homes & Interiors (opens in new tab) magazine.
'You could buy or make matching wreaths for a more formal look, or select different designs for a more eclectic and relaxed approach.
2. Suspend a floating candelabra wreath
The poinsettia plant, with its colorful leaves, is synonymous with the holiday season. But the traditional red shade has been joined by white, lilac and even apricot tones, which can bring a softer look to your seasonal decor.
Christmas wreath ideas have come a long way from the typical foliage on a door approach. Here, a classic Advent wreath is reinvented as an apricot poinsettia floating wreath. Although it looks impressive, it can be put together quite quickly with a suitable circular metal candleholder.
Cover the metal frame completely with sprigs of ilex verticillata (winterberry) and rosehip. Then fix four orchid tubes between the candleholders, fill them with water and place apricot-colored cut poinsettias inside. Place taper candles in the holders and it's ready.
3. Major in metal
The recent trend for metal ring designs means you have plenty of scope when you're planning how to make a Christmas wreath. These pared-back forms are ideal for creating a focal point in a contemporary room scheme, or for adding a festive touch away from the main living and entertaining areas of your home – in a bedroom, say, or along a hall.
If the mix of metal and dried flowers is a step too far, then create contrast by tying on fresh flowers or foliate.
'You could create a minimalist design with a simple metal ring for the base and then attach two or three poinsettias with a couple of greenery sprays,' suggests Andra DelMonico, Lead Interior Designer for Trendey (opens in new tab).
'A country or traditional look means starting with a greenery base and then adding floral sprays and a bow.'
4. Hang your wreath on the inside of the front door
We're used to dressing the outside of our front door with a wreath, but have you considered decorating the inside, too?
'There is nothing lovelier than arriving to a home with a beautifully dressed door, both inside and out,' says Chrissie Rucker, Founder of The White Company (opens in new tab).
'I always love to use a wreath or a great-looking swag and hang with some beautiful velvet ribbon. I love greenery in particular because it always lasts much longer than flowers (forever, if it's one of our faux pieces), and you can dress it up with clever battery-operated fairy lights.'
5. Let loose
Take a contemporary approach to even the most rustic wreath by adding an asymmetric element. Here, a branch decorated with crab apples brings a looser touch to the design.
Christmas foliage – such as Cypress – forms the body of the wreath, with long pine branches wrapped over the top. A cut poinsettia inserted at the base of the circle adds a vivid hit of color and style.
A cut poinsettia will last longer if, immediately after cutting, the stem is dipped into hot water for a few seconds, then plunged into cold water. Place the bloom into a flower tube filled with water, then insert this into your wreath.
6. Craft a wild wreath
Crafting your own homemade wreath from gathered foliage and twigs can truly connect you to the holiday season, as you take time out from the busy day to day to pause and create.
This rustic-looking wreath, created by Dobbies (opens in new tab), has the advantage of being completely eco, as the only materials you need can be collected from the garden or countryside, tied with natural twine.
Step 1: Start by moulding gathered twigs into a rough hoop shape, securing as you go with twine. This doesn't have to be a perfect circle; a handmade look is all part of its charm.

Step 2: Collect the gathered greenery into small individual posies and secure with twine. If you want to add extra detail and touches of color, you could tie in berries, fresh flowers, pine cones and even baubles and decorations.

Step 3: Place your first posy on the hoop, securing in place with twine. Continue around the wreath, layering the next posy on top of the last, to hide where you have tied. You don't have to complete the full circle – it's nice to leave some of the hoop exposed for a rustic feel.
7. Coordinate your wreath with your mantel
Lush foliage across a mantel is a key trend but it can look a little heavy and unbalanced. The answer: hang a coordinating wreath above to draw the eye upwards and create a full-on display.
'This look is all about glamour and abundance,' says Andréa Childs, Editor of Country Homes & Interiors. 'By incorporating a wreath, you move away from just mantelscaping and create a focal feature at the heart of your room.
'For a truly immersive festive display, decorate your Christmas tree to complement these other features. Place the tree on another wall or the opposite side of the room to create a sense of balance and flow.'
8. DIY a living wreath
A living wreath doesn't just have the advantage of longevity, it can also be updated with the seasons.
Here, a white poinsettia in its pot is inserted into the base of the oval-shaped structure, but this could be swapped out for narcissi or hyacinth in the spring, dwarf roses in the summer, and succulents or bromeliads in the fall.
A living wreath is easy to make; you'll just need a metal wreath shape, then clematis vine to wrap around it to form your base.
9. Do the double!
Maximalism looks chic when you line up your Christmas wreaths, either side by side or in a column up the center of your front door.
'Think of how much your home would stand out compared to the rest of the crowd if you had two or three wreaths on your door instead of one,' suggests Ryan Jones from Land of Rugs. 'Not only this, but you can also go to town on decorating the wreaths and choose different styles for each one.'
Wreath hangers will make arranging a row of wreaths simple. Or suspend a trio of wreaths from a ribbon or rope, tying in each one at even intervals.
This look works just as well on an interior door, too. Or you could hang matching wreaths on either side of the same door for double-take holiday decor.
10. Make a candle centerpiece
Twist fresh foliage around a candle to create a simple display. Or use a ready-made wreath and pair it with a candle that fits the central hole perfectly. Full Christmas foliage will bring depth and texture to the display, so look for dense pine fronds or the small leaves and multiple stems of eucalyptus.
'I love using wreaths to create a standout table centerpiece,' says British gardener and flower expert Sarah Raven (opens in new tab). 'Adding a candle and some wreath lights has instant impact and makes a beautiful, festive display.'
This bright idea would also work on a windowsill as a cheerful greeting to visitors, on a side table to extend your Christmas decor around the room, or in multiples – think three or even five wreath-wrapped candles along a table.
11. Match a wreath to the door – and your rubber boots
The festive season is all about fun, so why not coordinate your Christmas wreath with your paintwork and outdoor apparel?
'Make a Christmas style statement on your door by hanging a matching wreath and setting wellies aside ready for winter walks,' says Nicola Harrison, Director of Bereco (opens in new tab).
'A classic wreath is the most common Christmas door decoration idea, and really does look timeless. Ensuring your door has a knocker and all the right furniture will help you hang wreaths seasonally – not just for Christmas.'
12. Combine fresh and dried flowers
To give your wreath longevity, without losing freshness and color, take a mix-and-match approach to choosing your floral ingredients.
Here, cut cream poinsettias are arranged on a foam wreath with echeveria, dried hydrangea heads and blue-toned grasses. The just-moist foam will keep the succulents thriving. And when the fresh flowers begin to wilt, they can simply be replaced with new blooms tucked into the structure.
After Christmas, you could keep the wreath going with a mix of berries and early blossom as the shift to spring occurs. Then as the seasons change, you can shift to creating summer and fall wreath ideas.
13. Be led by nature
This wild, naturalistic wreath gives a fresh twist to the classic Christmas hues of red and green and makes the perfect showpiece above the fireplace.
An abundance of green foliage creates a lush base, with red berries used as a bright highlight. Use natural materials such as pine cones and dried oranges, and encourage the sprigs and branches to trail from the wreath.
If hanging above the fire, keep the mantel simple so the wreath is the focal point.
14. Use on a place setting
Place a small wreath on each place setting when dressing your table for Christmas dinner. Use simple white tableware and napkins for a clean, modern look, together with elegant glass candle holders.
Fresh, green foliage such as eucalyptus, rosemary, laurel or boxwood are ideal for a minimal wreath – wire onto a wire base close in size to your plate or bowl.
Cheat with faux mini wreaths – add a few sprigs of fresh foliage to each for a finishing touch.
15. Make a feature of dried foliage
For an unusual and eye-catching front door wreath, group the same type of foliage together to create clear sections.
Mix dried foliage, grasses or flowers, with sections of fresh greenery like eucalyptus and fresh herbs such as thyme, sage or rosemary. Try Atlas Flowers (opens in new tab) or Etsy (opens in new tab) for dried foliage.
Restrict your colors to whites, greys and grey greens for a wintry feel, but if bright hues are more to your taste, dried foliage comes in a whole host of bright shades which are perfect for a color-pop version.
16. Create a wall display
Why stop at one wreath when you can have a whole array? Create a gallery-wall arrangement of assorted wreath styles and shapes for a focal point above a fireplace.
This luxe look exudes glamour thanks to its gold color scheme. Look out for shop-bought wreaths with a gold finish, or spray foliage with gold spray paint (use floral spray paint on fresh foliage). Mix up the finishes and tones for depth and interest, from champagne shades to brassy golds in satin or gloss.
For a more formal feel, arrange matching wreaths in a row or grid formation.
17. Go as big as you dare
Make a statement with an oversized wreath, made to fit a whole wall in your dining or living room.
It doesn't have to be a perfect circle – shape your wreath into an oval to accentuate the height of a room – this play on proportions will add a grandiose sense of scale.
It makes the perfect backdrop to lavishly dressed Christmas table and if you stick to simple, green leaves such as conifer, eucalyptus and boxwood it works with any room scheme. Wind fairy lights into the wreath so that it sparkles come dusk.
18. Decorate chair backs
Adding a very simple wreath to the back of each chair creates a pared-back Christmas table scheme that feels well-considered and refined – the perfect nod to Christmas, but with a restrained touch.
Use silvery, frothy foliage or blooms for each wreath – Spanish moss, gypsophila, statice tatarica all work well for this minimal Nordic-inspired aesthetic. Team with a simple wooden candelabra ring, wound with fresh green leaves and hung above the table.
19. Make asparagus fern wreaths
'Ferns are a great way to keep it simple on a wreath, using just one variety or mixing them all up for interest,' says Amanda Brame, Director of Horticulture at Petersham Nurseries (opens in new tab).
Take standard wooden embroidery hoops in a variety of sizes. Secure sprigs of soft and frilly asparagus fern between the inner and outer hoops, allowing the fern fronds to fan out fill the space around each hoop – you'll need around 10 springs per 20cm or 30cm diameter hoop.
Hang the embroidery hoop wreaths from banisters at varying heights using lengths of simple cotton thread, for a modern botanical Christmas display.
20. Create a cloud wreath
Suspend a wreath above the table for a festive centrepiece. This is a festive take on the suspended 'cloud' foliage displays that have been such a big trend recently.
Use a natural twig wreath as your base, then wire in sprigs of foliage and blooms (real or faux) as well as a set of battery-operated wire lights to create added twinkle.
Use luxury satin or velvet ribbon to match your tablescape's color scheme to hang the wreath from a ceiling hook.
21. Give rustic a modern twist
Highlight the elegance of a porch's architectural detail with a contemporary take on the classic Christmas front door.
Swap out traditional elements such as rich red accents and and a classic ring of green foliage, and update them – choose an oval-shaped wreath made from striking lichen, moss and thistle, finished with a dark coral silk bow.
22. Put on a light show
'Festive foliage, wreaths and garlands are the perfect way to bring the outside in, even if using faux foliage if there's not time to forage for fresh,' says Meghan Hunter, in-house stylist at Neptune (opens in new tab).
Light up a gloomy hallway or landing space for the holidays with a lush, green wreath (fresh or faux), adorned with twinkling battery-operated fairy lights. Hang from a luxurious length of deep green satin ribbon to highlight the beauty of the foliage.
What can I use for a Christmas wreath?
If you want to make a wreath from scratch, wreath workshops are enjoying huge popularity so look out for a local session.
If you'd rather go it alone, you can use offcuts of your fresh Christmas tree to form a good base (wrap a metal wreath base in damp moss and trim and wire on the spruce sprigs, working your way around in a circle).
Foliage favourites also include varieties of eucalyptus, ivy, holly and box, then you can decorate your wreath with anything from flowers to seed heads, pinecones to cinnamon sticks.
What are good ideas for a wreath on a budget?
'A simple, undecorated wreath with beautiful, realistic greenery can be updated from year-to-year or specifically designed to suit your home,' says Jen Derry, Balsam Hill Vice President of Product Merchandising.
'Using floral wire, you can add some of the same baubles, tree picks and ribbon that you are using on your tree or garlands throughout your home to tie everything together.'
How do you make a glamorous Christmas wreath?
'For a glamorous Christmas wreath, it's best to work tonally – different textures of the same color work well to add depth and interest whilst ensuring the overall look is tasteful and sophisticated,' says Larry Walshe, celebrity London florist and founder of Bloom (opens in new tab).
'For a bolder wreath, consider complementary color schemes; choosing opposing hues from a color wheel will create a little more impact. Think sumptuous golds with deep blues or timeless red and green with woodland inspired browns and balanced with snow inspired whites for an effortless, natural look.
'Consider whether you want to add any other design elements such as baubles. These can create a strong burst of color and impact – perfect if you want your wreath to really make a statement.
'If you're after continuity with your festive decorations, opt for baubles that match the decorations on your tree, but if you're after something a bit more individual, there's nothing stopping you from incorporating a rainbow of different colored baubles in your wreath.
'There is nothing finer than a fresh wreath – fragrant Nordmann Fir Spruce is a popular base for most wreaths. Combine this with Berried Ivy, Conifer and Berried Eucalyptus to help conjure the spirit of the season every time you walk through your door.
'It's Christmas, so don't be shy about making a statement with the finishing touches. Adding a large bow is a lovely way to finish your design – you can either match it to the colors in the wreath or choose a complementary, opposing color for a bigger impact.
'If you don't have any sustainable ribbon or you prefer a more understated design, opt for a classic wreath sans ribbon and let all your wonderful, natural ingredients do the talking.'
How do you make an easy Christmas wreath?
'Gather foliage from the garden,' says Amanda Brame, Director of Horticulture at Petersham Nurseries.
'Everything works, but you can also forage (following the rules) whilst out and about. Group together little bunches of three different seasonal foliage varieties such as oak, hawthorn, and Ivy and wire them onto a ring covered in moss. To decorate add rose hips and other decorative seed heads such as miscanthus grass, crocosmia and nigella by tucking the stems under the wire.'
Andrea has been immersed in the world of homes, interiors and lifestyle since her first job in journalism, on Ideal Home. She went from women's magazine Options to Frank. From there it was on to the launch of Red magazine, where she stayed for 10 years and became Assistant Editor. She then shifted into freelancing, and spent 14 years writing for everyone from The Telegraph to The Sunday Times, Livingetc, Stylist and Woman & Home. She was then offered the job as Editor on Country Homes & Interiors, and now combines that role with writing for sister title homesandgardens.com.