Christmas wreath ideas – 10 beautiful ways to style your wreath
From rustic to modern, use these Christmas wreath ideas to find your perfect display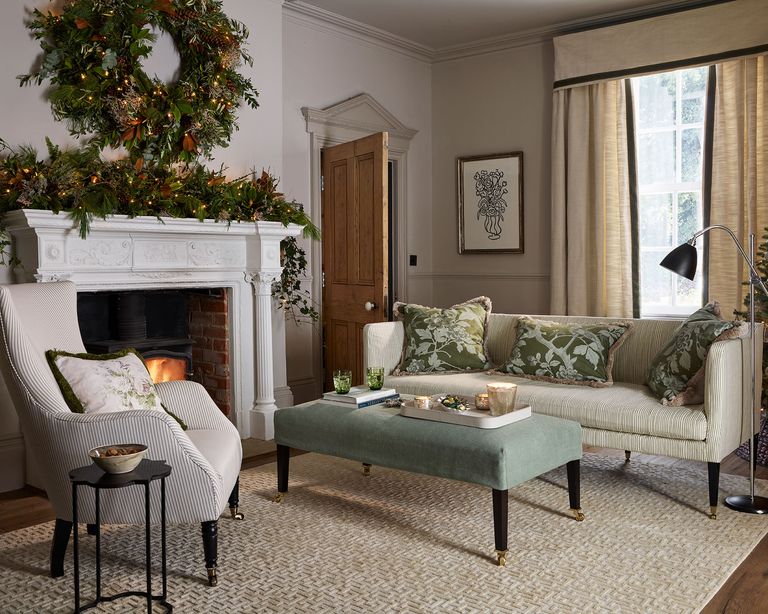 (Image credit: Future)
If you like it then you better put a ring on it! Discover our Christmas wreath ideas to spread holiday cheer and welcome guests – hanging one on your door is a tradition that dates back centuries. 
But don't stop there, as there's a whole host of ways to use wreaths to decorate every part of your home, from your walls to your Christmas table. 
The humble wreath is one of the most versatile decorating tools at your disposal come this festive season. 'There are the obvious, traditional spots like the front door or framed in a window,' says Jen Derry, Balsam Hill Vice President of Product Merchandising. 'But you also can add colour to a bare entryway by propping a wreath against the wall, on a bench or hanging from a coat rack.' 
This Christmas, ring the changes and try one of these creative ideas for your festive wreath.  
1. Go wild
This wild, naturalistic wreath gives a fresh twist to the classic Christmas hues of red and green and makes the perfect showpiece above the fireplace. 
An abundance of green foliage creates a lush base, with red berries used as a bright highlight. Use natural materials such as pine cones and dried oranges, and encourage the sprigs and branches to trail from the wreath.
If hanging above the fire, keep the mantel simple so the wreath is the focal point.
2. Use on a place setting
Place a small wreath on each place setting when dressing your table for Christmas dinner. Use simple white tableware and napkins for a clean, modern look, together with elegant glass candle holders. 
Fresh, green foliage such as eucalyptus, rosemary, laurel or boxwood are ideal for a minimal wreath – wire onto a wire base close in size to your plate or bowl. 
Cheat with faux mini wreaths – add a few sprigs of fresh foliage to each for a finishing touch.
3. Make a feature of dried foliage
For an unusual and eye-catching front door wreath, group the same type of foliage together to create clear sections. 
Mix dried foliage, grasses or flowers, with sections of fresh greenery like eucalyptus and fresh herbs such as thyme, sage or rosemary. Try Atlas Flowers or Etsy for dried foliage. 
Restrict your colors to whites, greys and grey greens for a wintry feel, but if bright hues are more to your taste, dried foliage comes in a whole host of bright shades which are perfect for a color-pop version. 
4. Create a wall display
Why stop at one wreath when you can have a whole array? Create a gallery-wall-style arrangement of assorted wreath styles and shapes for a focal point above a fireplace. 
This luxe look exudes glamour thanks to its gold color scheme. Look out for shop-bought wreaths with a gold finish, or spray foliage with gold spray paint (use floral spray paint on fresh foliage). Mix up the finishes and tones for depth and interest, from champagne shades to brassy golds in satin or gloss. 
For a more formal feel arrange matching wreaths in a row or grid formation.
5. Go big or go home 
Make a statement with an oversized wreath, made to fit a whole wall in your dining or living room. 
It doesn't have to be a perfect circle – shape your wreath into an oval to accentuate the height of a room – this  play on proportions will add a grandiose sense of scale. 
It makes the perfect backdrop to lavishly dressed Christmas table and if you stick to simple, green leaves such as conifer, eucalyptus and boxwood it works with any room scheme. Wind fairy lights into the wreath so that it twinkles come dusk. 
6. Decorate chair backs
Adding a very simple wreath to the back of each chair creates a pared-back Christmas table scheme that feels well-considered and refined – the perfect nod to Christmas, but with a restrained touch. 
Use silvery, frothy foliage or blooms for each wreath – spanish moss, gypsophila, statice tatarica all work well for this minimal Nordici-inspired aesthetic. Team with a simple wooden candelabra ring, wound with fresh green leaves and hung above the table.
7. Asparagus fern wreaths 
'Ferns are a great way to keep it simple on a wreath, using just one variety or mixing them all up for interest,' says Amanda Brame, Director of Horticulture at Petersham Nurseries.
Take standard wooden embroidery hoops in a variety of sizes. Secure sprigs of soft and frilly asparagus fern between the inner and outer hoops, allowing the fern fronds to fan out fill the space around each hoop – you'll need around 10 springs per 20cm or 30cm diameter hoop. 
Hang the embroidery hoop wreaths from banisters at varying heights using lengths of simple cotton thread, for a modern botanical Christmas display.
8. Turn a wreath into a chandelier
Suspend a wreath above the table for a festive centrepiece. 
Use a natural twig wreath as your base, then wire in sprigs of foliage and blooms (real or faux) as well as a set of battery-operated wire lights to create the impression of a grand chandelier. Take it one step further with flameless candles.
Use luxury satin or velvet ribbon to match your tablescape's  color scheme to hang the wreath from a ceiling hook.   
9. Give rustic a modern twist 
Highlight the elegance of a porch's architectural detail with a contemporary take on the classic Christmas front door. 
Swap out traditional elements such as rich red accents and and a classic ring of green foliage, and update them – choose an oval-shaped wreath made from striking lichen, moss and thistle, finished with a dark coral silk bow.
10. Put on a light show 
'Festive foliage, wreaths and garlands are the perfect way to bring the outside in, even if using faux foliage if there's not time to forage for fresh,' says Meghan Hunter, in-house stylist at Neptune.
Light up a gloomy hallway or landing space for the holidays with a lush, green wreath (fresh or faux), adorned with twinkling battery-operated fairy lights. Hang from a luxurious length of deep green satin ribbon to highlight the beauty of the foliage. 
What can I use for a Christmas wreath?
If you want to make a wreath from scratch, wreath workshops (or virtual workshops during these lockdown times) are enjoying huge popularity so look out for a local session. 
If you'd rather go it alone, you can use offcuts of your fresh Christmas tree to form a good base (wrap a metal wreath base in damp moss and trim and wire on the spruce sprigs, working your way around in a circle). 
Foliage favourites also include varieties of eucalyptus, ivy, holly and box, then you can decorate your wreath with anything from flowers to seed heads, pinecones to cinnamon sticks. 
What are good ideas for a wreath on a budget?
'A simple, undecorated wreath with beautiful, realistic greenery can be updated from year-to-year or specifically designed to suit your home,' says Jen Derry, Balsam Hill Vice President of Product Merchandising.
'Using floral wire, you can add some of the same baubles, tree picks and ribbon that you are using on your tree or garlands throughout your home to tie everything together.'
How do you make an easy Christmas wreath?
'Gather foliage from the garden,' says Amanda Brame, Director of Horticulture at Petersham Nurseries.
 'Everything works, but you can also forage (following the rules) whilst out and about. Group together little bunches of three different seasonal foliage varieties such as oak, hawthorn, and Ivy and wire them onto a ring covered in moss. To decorate add rose hips and other decorative seed heads such as miscanthus grass, crocosmia and nigella by tucking the stems under the wire.'
I've been writing for Ideal Home magazine for over 12 years where I started out on the interiors team, looking after the magazine's real homes and makeovers features.
After going freelance following the birth of my twins, I continued to write for Ideal Home, as well as other leading homes titles. In 2011 I set up my own interiors blog, Growing Spaces, to chart my own home renovation projects and makeovers, and I still love creating content for her blog in her spare time.
I rejoined the Ideal Home family a couple of years ago and am currently Executive Editor across Ideal Home and Style at Home.