20 Christmas wreath ideas – for your windows, walls, front door and more
Bring beautiful decoration and a traditional festive touch to your home this holiday season with our collection of Christmas wreath ideas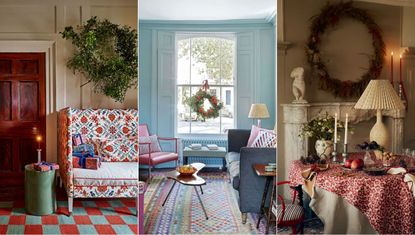 (Image credit: Sarah Kate Representation Ltd. | Simon Brown Photography Ltd. | Cathy Nordstrom, Fanny Radvik)
We think every room can feel more festive and beautiful with a Christmas wreath in it.
A brilliant way to celebrate seasonal Christmas foliage, and add an inviting decorative accent to both the inside and outside of your home, the humble wreath is one of the most versatile Christmas decor ideas at your disposal during the festive season.
From stylish, ready-made wreaths to hand-crafted rustic looks, our collection of Christmas wreath ideas has designs for everyone, as well as a whole host of styling and placement ideas.
Christmas wreath ideas – for more than front door decor
'There are the obvious, traditional spots for Christmas wreaths, like on doors for outdoor Christmas decor or framed in a window,' says Jen Derry, vice president of product at Balsam Hill, 'but there are so many other styling options to embrace inside the home, too. I think they're perfect for using in an entryway; prop a wreath against the wall, on a bench or hanging from a coat rack.'
Whether you're looking into how to make a Christmas wreath and are in need of some style inspiration, or are on the hunt for a fabulous faux wreath, our Christmas wreath ideas can cater to festive schemes of all styles.
1. Hang a wreath at your front door
An enduring Christmas tradition that many of us embrace for Christmas door decor, it doesn't get more traditional than hanging a Christmas wreath on or by your front door; a wonderful way to make your home's entrance more inviting and festive.
As well as hanging on front doors, wreaths can also be used for Christmas porch decor, too, as shown by Gray Walker Interiors above. We love the oversized wreath that's been hung on this porch wall; working wonderfully with the potted plant and hanging decoration of festive foliage on the door to create a pretty green scene.
'When it comes to Christmas wreath ideas like this, it's good to use the architecture of your home as your guide. Suspend a wreath – or three – from a canopy; attach them to the pillars supporting a porch; or put them on your front gate as a welcome,' suggests Andréa Childs, editor of Country Homes & Interiors magazine.
2. Display a pretty pair of wreaths
Why hang one wreath when you can have two?
'Think of how much your home would stand out compared to the rest of the crowd if you have two or three wreaths on your door instead of one,' suggests Ryan Jones from Land of Rugs. 'Not only this, but you can also go to town on decorating the wreaths and choose different styles for each one.' A collection of wreaths can work just as well inside the home too; beautifully shown in this living space with the elegant, vertical design on the wall.
Wreath hangers, such as this hanger from Amazon, will make arranging a row of wreaths simple, or use ribbon or handy hanging accessories such as Command Strips, like these hooks from Amazon.
3. Hang a wreath in your window
Christmas window decor can not only enhance the inside of your home with festive decoration, it can be appreciated from outdoors, too – what's not to love?
In this beautiful blue living room, the window wreath and Christmas garland on the mantelpiece have been crafted using the same foliage, flowers and ribbon, making for a chic and coordinated look.
Window wreaths are also a great option to consider for decoration in more practical spaces, such as for kitchen Christmas decor, as they won't clutter up the space and will hang out of the way.
4. Opt for a more simple, subtle style
'Wreaths are a great way of bringing festive decor to pretty much anywhere around your home, and they don't always have to be hung either; try laying them against the wall or on a windowsill, or prop them up on a surface next to other Christmassy trinkets for a more subtle look', says Connor Prestwood, interior designer at Dowsing & Reynolds.
This simple white wreath is perfect for those looking for modern Christmas decor – or for those who prefer a more minimalist style. Sitting elegantly on this console table, the design works wonderfully with the ornaments, candles and foliage to create a more subtle and sophisticated festive look.
5. Make a statement with a trailing wreath
A trailing wreath can really make a statement with beautiful flowers and foliage, perfect for hanging on a front door or wall.
As well as creating an enhanced look with winter flowers and foliage, you can also create a trailing design with ribbon. Simple tie a ribbon in a bow at the bottom of your wreath to create a wonderful trail of color and texture. This red ribbon from Etsy is perfect for adding a colorful accent to your wreath.
6. Enhance your wreath with a personal touch
From ribbon to ornaments and hand-crafted decorations, there are many ways you can enhance a wreath to make it feel more personal and unique.
'Choosing a plain wreath to begin with will give you the freedom to decorate it yourself, helping you to tie the wreath into your overall theme by adding that all-important personalization,' advises interior designer, Connor Prestwood.
Here, the simple Faux Cedar & Pinecone Wreath by McGee & Co. has been enhanced with a pretty red ribbon. We explore more wreath ribbon ideas in our dedicated feature.
7. Choose a more contemporary color palette
A festive wreath needn't be limited to traditional foliage and yuletide shades. Using an unexpected color palette can add a more modern twist to your wreath design, and gives you the flexibility to work in harmony with your decor ideas such as your Christmas tree theme.
Jewel tones are perfect for festive decor and winter decor ideas as they are wonderfully rich, warm and inviting; helping to make your space feel more cozy for the season. Here, rich shades of purple, pink and red feature in the form of dried flowers and dyed grasses.
'If you're going "out there" with your Christmas wreath choice, it's a good idea to incorporate flowers or foliage in some shape or form to ground the look and keep it natural, otherwise you run the risk of losing the concept altogether,' says Lucy Searle.
An alternative color palette on its own is usually enough to draw the eye, but if you wanted to take things even closer to the edge, consider adding a few quirky and playful additions, whether that's retro baubles, neon fairy lights or even peacock feathers.
8. Get crafty and creative with materials
There's nothing like a handmade wreath to add a touch of homespun charm to your Christmas decorating scheme, and with our focus on sustainability as present as ever, a paper design is a great choice – not to mention it looks wonderfully unique, too. For an extra personal touch, Texas-based interior designer Veronica Sanders suggests using pages from your family's favorite books.
'Start by choosing a book, I found mine at a local thrift store. Tear out a page near the binding and roll it into a cone. Apply a line of tape along the fold and hot glue it in a circle around the center point of a foam board. Continue rolling and gluing pages until you have the desired amount of rows, then, using hot glue, stick favorite ornaments into the center. Add a wire frame or use command strips for a seamless floating display option', she says.
One of the main things we love about a homemade wreath is the meaning it holds, whether that's the materials it's made from or the memories of making it with your loved ones. It's sure to become a treasured, heirloom decoration brought out year upon year.
9. Incorporate a wreath into a pretty door bow
There's no denying door bows have been a huge seasonal trend over the last few years, and enhancing your bow with a pretty wreath is an easy way to elevate the festive look even further.
Start by 'wrapping' the door in a tactile ribbon, like this red ribbon from Amazon, that stands out against your door color, then gather foliage favorites to create a beautiful wreath. Adding a wreath that features its own ribbons makes for a lovely finishing touch – you could either match the ribbon on the door, or choose a contrasting shade for impact.
10. Suspend a floating candelabra wreath
The poinsettia plant, with its colorful leaves, is synonymous with the holiday season, but in recent years, the traditional red shade has been joined by white, lilac and even apricot tones, which can bring a softer look to your seasonal decor.
Christmas wreath ideas have come a long way from the typical foliage on a door approach. Here, a classic Advent wreath is reinvented as a striking, apricot poinsettia floating wreath. Although it looks impressive, it can be put together quite quickly with a suitable circular metal candleholder.
Cover the metal frame completely with sprigs of ilex verticillata (winterberry) and rosehip. Then fix four orchid tubes between the candleholders, fill them with water and place apricot-colored cut poinsettias inside. Place taper candles in the holders and it's ready.
11. Opt for a unique, asymmetrical design
Take a contemporary approach to even the most rustic wreath by adding an asymmetric element. Here, a branch decorated with crab apples brings a looser touch to the design.
Christmas foliage – such as Cypress – forms the body of the wreath, with long pine branches wrapped over the top. A cut poinsettia inserted at the base of the circle adds a vivid hit of color and style.
A cut poinsettia will last longer if, immediately after cutting, the stem is dipped into hot water for a few seconds, then plunged into cold water. Place the bloom into a flower tube filled with water, then insert this into your wreath.
12. Craft a wreath from foraged foliage
Crafting your own homemade wreath from gathered foliage and twigs can truly connect you to the holiday season, as you take time out from the busy day to day to pause and create.
Step 1: Start by moulding gathered twigs into a rough hoop shape, securing as you go with twine. This doesn't have to be a perfect circle; a handmade look is all part of its charm.

Step 2: Collect the gathered greenery into small individual posies and secure with twine. If you want to add extra detail and touches of color, you could tie in berries, fresh flowers, pine cones and even baubles and decorations.

Step 3: Place your first posy on the hoop, securing in place with twine. Continue around the wreath, layering the next posy on top of the last, to hide where you have tied. You don't have to complete the full circle – it's nice to leave some of the hoop exposed for a rustic feel.
13. Choose a metallic wreath
A pared-back, metal wreath can work wonderfully in homes both classic and contemporary.
Whether you choose to purchase a metal wreath design like this ornament wreath decoration from McGee & Co, or opt for a mental hoop finished with a small selection of dried flowers and foliage, they can create an elegant touch wherever they're placed.
Andra DelMonico, lead interior designer for Trendey suggests, 'you can create a minimalist design with a simple metal ring for the base and then attach two or three poinsettias with a couple of greenery sprays.'
14. Coordinate your wreath with your mantel
Lush foliage for Christmas mantel decor is a key trend, but it can look a little heavy and unbalanced. The answer: hang a coordinating wreath above to draw the eye upwards and create a full-on display.
'This look is all about glamor and abundance,' says Andréa Childs, editor of Country Homes & Interiors. 'By incorporating a wreath, you move away from just mantelscaping and create an eye-catching festive focal feature at the heart of your room.
'For a truly immersive festive display, decorate your Christmas tree to complement these foliage features. Place the tree on another wall or the opposite side of the room to create a sense of balance and flow.'
15. Enhance your wreath with fresh flowers
A living wreath doesn't just have the advantage of longevity, it can also be updated with the seasons.
Here, a white poinsettia in its pot is inserted into the base of the oval-shaped structure, but this could be swapped out for narcissi or hyacinth in the spring, dwarf roses in the summer, and succulents or bromeliads in the fall.
A living wreath is easy to make; you'll just need a metal wreath shape, then clematis vine to wrap around it to form your base.
We explore how to make a poinsettia wreath in our step by step guide.
16. Choose a traditional wreath design
This wild, naturalistic wreath embodies the classic Christmas hues of red and green, and makes the perfect showpiece above the fireplace, with the cozy read candles creating the perfect complement.
An abundance of green foliage creates a lush base, with red berries used as a bright highlight. Use natural materials such as pine cones decorations and dried oranges, and encourage the sprigs and branches to trail from the wreath.
17. Add a wreath to your Christmas table
Christmas table ideas always benefit from the addition of beautiful flowers and foliage, so instead of having a traditional vase on display, why not use wreaths for your Christmas table settings and Christmas table centerpiece ideas instead?
Fresh, green foliage such as eucalyptus, rosemary, laurel or boxwood are ideal for a minimal wreath – wire onto a wire base close in size to your plate or bowl. Or, opt for faux mini wreaths instead – add a few sprigs of fresh foliage to each for a finishing touch.
For a table centerpiece that uses a wreath, simple rest down your wreath in the center of your table and place a candle in the middle, helping to add height and a warm, cozy glow.
18. Go for a over-sized design
Make a statement with an oversized wreath, made to fit a whole wall in your home, ideal for a Christmas dining room or Christmas living room.
Your wreath doesn't always have to be a perfect circle – you can shape your wreath into an oval to accentuate the height of a room – this play on proportions will add a grandiose sense of scale.
An over-sized wreath makes for a perfect backdrop to a lavishly dressed Christmas table, as shown in this inviting, cozy dining room space designed by Cathy Nordstrom.
19. Use wreaths to decorate chair backs
Adding a very simple wreath to the back of each chair in your dining room or kitchen creates a pared-back Christmas table scheme that feels well-considered and refined – the perfect nod to Christmas, but with a restrained touch.
Use silvery, frothy foliage or blooms for each wreath – Spanish moss, gypsophila, statice tatarica all work well for this minimal Nordic-inspired aesthetic. Team with a simple wooden candelabra ring, wound with fresh green leaves and hung above the table.
20. Create an eye-catching, hanging display
Why stop at one wreath when you can have a whole array? Create a gallery-wall arrangement of assorted wreath styles and shapes for a fabulous festive focal point.
Here, fern cuttings have been attached to a collection of wooden hoops to create a wonderfully artistic, rustic look for Christmas hallway decor.
Take standard wooden embroidery hoops in a variety of sizes. Secure sprigs of soft and frilly asparagus fern between the inner and outer hoops, allowing the fern fronds to fan out fill the space around each hoop – you'll need around 10 springs per 8in or 12in diameter hoop.
Hang the embroidery hoop wreaths from banisters at varying heights using lengths of simple cotton thread, for a modern botanical Christmas display – ideal for Christmas stair decor, too.
Shop Christmas wreaths
This year, Anthropologie Christmas wreaths are on their A-game, and this wreath is utterly timeless. The faux pine brings a homely feel offset by bursts of color from the red berries.
Red Leaf Christmas Wreath
Lend a lovely touch of the season to your indoor space with this Leaf Christmas Wreath. This unlit artificial wreath is covered with red leaves and winterberries to spruce up your holiday decor a colorful natural accent.
FAQs
What can I use to make a Christmas wreath?
If you want to make a wreath from scratch, wreath workshops are enjoying huge popularity so look out for a local session.
If you'd rather go it alone, you can use offcuts of your fresh Christmas tree to form a good base (wrap a metal wreath base in damp moss and trim and wire on the spruce sprigs, working your way around in a circle).
Foliage favorites also include varieties of eucalyptus, ivy, holly and box, then you can decorate your wreath with anything from flowers to seed heads, pinecones to cinnamon sticks.
What are good ideas for a wreath on a budget?
'A simple, undecorated wreath with beautiful, realistic greenery can be updated from year-to-year or specifically designed to suit your home,' says Jen Derry, Balsam Hill Vice President of Product Merchandising.
'Using floral wire, you can add some of the same baubles, tree picks and ribbon that you are using on your tree or garlands throughout your home to tie everything together.'
---
If you're feeling inspired to create your own wreath, be sure to explore our collection of step by step wreath making guides.
Sign up to the Homes & Gardens newsletter
Decor Ideas. Project Inspiration. Expert Advice. Delivered to your inbox.
Andrea has been immersed in the world of homes, interiors and lifestyle since her first job in journalism, on Ideal Home. She went from women's magazine Options to Frank. From there it was on to the launch of Red magazine, where she stayed for 10 years and became Assistant Editor. She then shifted into freelancing, and spent 14 years writing for everyone from The Telegraph to The Sunday Times, Livingetc, Stylist and Woman & Home. She was then offered the job as Editor on Country Homes & Interiors, and now combines that role with writing for sister title homesandgardens.com.