Christmas living room decor ideas – 25 expert tips for festive style
Choose Christmas living room decor ideas that shower your guests with warmth and wonder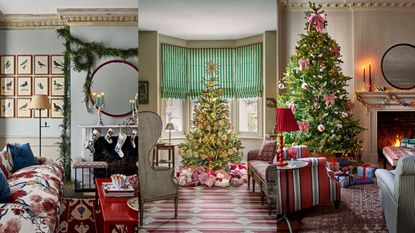 (Image credit: Future)
Christmas living room decor ideas are essential to not only making the most important room of the house feel festive, but also inviting and cozy to visiting guests looking to unwind at the end of the year.
Creating the right atmosphere with your Christmas decor ideas can allow us to properly switch off and enjoy this precious time with our family and friends.
There's nowhere quite like the living room to congregate around a fire, gaze up at the twinkling tree and exchange gifts, so we've rounded up our favorite ways to decorate this key festive space.
Christmas living room decor ideas
Whether you have a traditional or contemporary home, want to go all-out with decor or prefer a more subtle approach, our inspiring selection of Christmas living room decor ideas will have something for you.
1. Keep it relaxed
Christmas is a busy time, so ensuring your living room is a place where you and your guests feel like you can kick back is key.
'Designing spaces that encourage guests and hosts to be able to relax together and break down formal frontiers is key to delivering successful living environments,' says Jo Littlefair, co-founder and director of Goddard Littlefair. 'Finding the right balance of smart-casual design for these areas is also key, a host and their guests want to have an elevated experience but feel relaxed enough to unwind.'
Providing plenty of blankets and cushions around the seating areas will encourage cozy downtime, and they look great here among the farmhouse Christmas decor ideas.
2. Bring the outdoors in
While blooms might be at a minimum, winter still provides plenty of natural wonders that you can bring into your Christmas decor. 'Celebrate the season with an abundant display of greenery, real or faux or even a mix,' says Chrissie Rucker, founder of The White Company. 'It creates such a welcome and you can style this in advance which is a real timesaver. I love to add in real flowers and greenery just a couple of days before the main event.'
In this room, the Christmas mantel decor ideas consist of a bountiful floral arrangement featuring roses, pine and eucalyptus, a scheme which plays out across the rest of the room too.
3. Push a maximalist scheme even further
If you're sitting in your on-trend maximalist living room, wondering how to make a Christmas garland, the answer is always going to be that bigger is better. The holidays are an opportunity to turn the dial up to 11 on a pattern-filled room, and add more texture and detail than ever before. In this example by Mind The Gap, red and gold Christmas decorations take their cue from the stunning wallpaper and run with the over-the-top theme with glee.
4. Light it up
'When you think of the festive season, you often dream of cozy, warm spaces in a rustic-looking home with a warm orange hue from the firelight,' says Michael Meiser, President of lighting brand Lumilum. That glow doesn't, however, need to stop at the Christmas fireplace decor.
'This feel can be replicated in the home with subtle light-up ornaments that you can dot around the room to set the ambiance in focal areas,' he adds.
5. Go for a co-ordinated look
Layer up classic shades of warm metallics to adorn your living room this Christmas.
Adorn your Christmas tree ideas with reams of classic baubles in a mixture of bronzes and soft golds, staying within a strict color scheme and decoration shape. A simple string of warm white lights will set off the effect without detracting.
For a complete theme, make sure to drape a garland over the fireplace mantlepiece, dotted with natural touches from the same color family; think dried oranges and seed heads. An inviting pile of gifts wrapped in coordinating paper will be the bow on top of the look.
6. Add a touch of glamor
Go for an elegant Christmas theme in your living room this year with some subtle glamour.
Touches of brushed metallics all over the space will add a grown-up twist to the festivities. Paper Christmas garland ideas created in pale gold, and carefully hung can turn this traditionally wonky children's decoration into something quite special.
Echo this feeling with a minimalist metallic wreath placed gently on the mantlepiece, and various bowls for nuts and candy in similar tones dotted around the room. Perfect for a room decorated in neutral tones, this look will give you all of the Christmas spirit, simply in a more considered way.
7. Choose a traditional scheme
Hark back to Christmasses past by dressing your space with traditional Yuletide moments.
Stick to regal shades of reds and gold with decorations – both on the tree and off, including in your Christmas wall decor ideas. Make sure to layer up with fresh foliage, including trailing ivy, fir and ruby red berries to have the evocative fragrance of Christmas wafting through the living room.
Keep accessories to a minimum to really achieve that traditional feel.
8. Create a focal point
It's not only the center-stage moments in a living room this Christmas. Highlight a corner of your space and turn it into a festive focal point.
Even if you only have a small area available, you can still make this a special spot to draw people over. A simple console table against the wall and decorate with vintage vessels filled with fresh flowers, nuts, and candies, and tapered candles on classic candlesticks. Mix and match sizes and shapes for an authentically eclectic vibe. If you're lacking in wall space, this could even be combined with your Christmas window decor ideas.
Attaching a garland overhead will cement this area as a new zone in your living room.
9. Make folk festive
A folk-inspired space is typically packed with warm colors and bold patterns can provide the perfect backdrop for Christmas decor.
Reds, whites and blues from the fabrics in the room turn from folksy to festive with the addition of seasonal accessories which hark back to Christmas traditions.
Naive-style patterned stockings, along with natural rose hip and fir garlands, enhance this festive scheme.
10. Style with subtlety
If you're a minimalist, or perhaps just not all that into traditional Christmas decorating, why not give a little nod to the season instead?
'Be creative and have some fun with the color combinations you choose to design and create with; you definitely don't need to stick to the traditional festive shades,' says florist Philippa Craddock. 'Work with your own interiors and think about how you are feeling – create something that you love.
Layer up with warming fabrics in varying shades of whites, creams and beige to suggest snow flurries and memories of mistletoe. On your coffee table, place a pleasingly large bowl with decorative paper baubles, gentler than the classic colorful decorations. For the pièce de résistance, attach a mural to wall, depicting a snowy scene.
11. Reach for the skies
If you have a double-height living room, then make the most of it over the festive period. As well as thinking about when you should put your Christmas tree up, think about how tall you can make it too.
Buy the tallest Christmas tree that can fit (and decorate safely with from a stepladder or mezzanine), and cover it with baubles. Make sure to choose oversized decorations, as small or regular-sized ones will simply get lost in the scale.
With such a large tree, you'll need a fairly big stand, which may not be the most attractive thing. Classic wicker Christmas tree skirt ideas will cover up this practical element while balancing out this area more neatly.
12. Add a Midas touch
Go for gold this Christmas – and when we say go for it, we mean it.
While we may not all have an already golden room, if you want one for the holidays, consider removable wall decals for an all-over metallic sparkle. Just make sure that these won't damage whatever type of paint or wallpaper you already have.
Golden baubles, ribbons and decorations should be strewn about the room; attached baubles to walls inside empty picture frames, fill a wicker basket, or simply decorate the tray you leave on your ottoman.
Mirrored elements and lights – especially Christmas light ideas and candles – will enhance the gold warmth and sparkle.
13. Enhance country charm
In a perfectly decorated country home, you may not wish to pile on the decorations beyond your farmhouse Christmas tree ideas, but a rural living room can still benefit from even a few festive touches.
Pile your sofa with soft, cozy throws and chunky, knitted cushions. Continue this feeling of welcoming warmth with a sumptuous sheepskin rug on the floor, and even a tartan layer on the ottoman, for a gentle nod to Christmas traditions.
In terms of decorations, think naturals, like a rustic wreath of thin boughs, enticing eucalyptus, and a twinkling of fairy lights. A posy of winter berries and a bowl of clementines will finish off the scene. For extra old-school country points, stud the oranges with fragrance-enhancing cloves.
14. Sing the blues
Not everyone has a living room scheme that may seem ready-made for Christmas, but you could be wrong.
A blue room provides the perfect backdrop for a classy and stylish Christmas hub. Keep your Christmas tree theme to a strict color palette of blues, whites and silvers so as not to introduce clashing. Liberally use foliage throughout, and dot with crisp, white details such as delicate snowberries or pretty mistletoe.
15. Add a touch of magic
Even simple furniture can be given a glow-up for the festive season.
Create a spectacular scene in your living room for that extra sense of magic this Christmas. Enhance a day bed with fabric (if you don't have a handy hook on the wall, a picture nail or strong command hook should do the trick). Drape over either end of the daybed for a feeling of exoticism and opulence, and throw over a string of fairy lights for good measure.
For that extra touch, decorate the top point of the fabric with tinsel and upgrade the cushions with sufficiently festive alternatives.
16. Go for green
Green – the color of life, of Christmas trees and your new Christmas room living room decor ideas.
Whether or not you already have green accents in your room, you can still allow this rejuvenating shade to take center stage. Be inspired by your outdoor Christmas decor ideas, and adorn your tree with fairly neutral decorations – and we're including muted metallics in this – to allow the fresh pine color to shine through.
Pick up on this natural note by adding fir garland across mantlepieces and window frames. Jugs and vases should be packed with eucalyptus, holly and ivy.
17. Make it moody
Indulge in ultimate coziness with your living room scheme this Christmas.
If your walls and furniture are in moody shades, like navy blues and charcoal grays, then lean into this for the festivities. Darker, natural materials like pine cones and seed heads tuned into wreaths and garlands will echo this dark, warm feel, while adding a seasonal touch.
On the tree, use the baubles to pick up on key shades from around the room. Stick to warm yellow lighting rather than bright white fairy lights which would be too much of a harsh contrast,
18. Include unexpected decorations
Get rid of all preconceived notions of where certain Christmas decorations do and do not belong.
The classic wreath, for example, is long past being relegated to the front door. Internal doors and above mantlepieces have seeped into interior design but take this further – a wall scone with a place to hang a string from is an ideal spot for a wreath to brighten up a corner of a living room.
19. Choose sumptuous velvets in jewel tones
'Part of the magic of the holiday season is transforming your living room into a joyful reprieve for the holidays,' says Patricia Gibbons, from the Sofa.com design team. 'It will be in constant use so should be welcoming and festive without being overwhelming. With velvets, a popular choice, and red velvets, in particular, selling well before Christmas, classic colors such as gold, red and rich blues really come into their own over the Christmas period.'
'The enchantment of this season is often found in the details we embellish our houses with. A unique alternative to the classic tree is a huge wreath hung up instead, this detail will free up your space and complement the room in the spirit of the season.'
20. Go for gold
'Where is the holiday season without hints of gold,' says Melanie Griffiths, editor, Period Living. 'This relaxed living room has all the charm of classic naturals yet the accents of our favorite metallic give it that extra special festive treatment. A flocked tree is a great idea if you want to step out of the classic fir pine look and it works well with this color scheme. Keep your gold decorations subtle, this is not a brassy look, but instead, a softer, warmer gold that's more sophisticated.'
21. Invest in a tall tree
'I love to make the Christmas tree the focal point of a room during the holiday season,' says Anne Hepfer, interior designer and author of Mood. 'If you have high ceilings and tall windows, get a taller tree to fit the space accordingly and center it with the room.'
22. Give your tree pride of place
'A fireplace is the most wonderful place to decorate with its strong stone structure,' says Kit Kemp, founder and creative director of Firmdale Hotels and Kit Kemp Design Studio. 'We have strung wonderful swathes of leaves and berries across ours, which can be easily done with anything you forage from your garden or when walking the dog. Nothing says Christmas like a tree – to really add a statement to the bottom of our trees, we have sat them snugly in large wicker baskets. No one loves a plastic pot after all.'
23. White and glass decorations suit a modern country style
'When it comes to our main tree, I like to keep it quite simple,' says Mark Winstanley, chief creative officer at The White Company. 'White fairy lights go on first and then a mixture of glass and white baubles are always a favorite for me. I've collected them over the years, including a few vintage ones and we always do the tree all together with the children. Switch up textiles to cozy, tactile throws in knits and faux fur and the warmest sheepskin rugs on the floor.'
24. A faded vintage style suits an older property
'Christmas trees are individual to the person who decorates them and there are no rules or regulations to follow,' says Simon Temprell, interior design manager at Neptune. 'To create a slightly paired-back but sophisticated look the secret is to rein in your natural desire to over-decorate and to stick to a neutral palette.'
'Whether your tree is fresh or artificial you will start with simple white lights, not too many, and then you can add some baubles. Hand-blown glass, mercury glass, and mixing antique silver with copper and gold will imbue a lovely, faded vintage feel. Then add some velvet ribbon in copper and forest green, by simply knotting 12-inch lengths to the ends of some branches. And to finish it all off, how about a basket cover for the base of the tree.'
25. Take an unconventional approach
The classic look isn't for us all, and if you love color and pattern then simply choose that style for your holiday season decorations instead of conventional decor. Bold paper decorations can be hung from walls and ceiling and craft a wreath that's full of festive red, fiery pinks, and peacock blues.
How can I decorate my living room for Christmas?
The living room is a place in the home where you can really have fun with expressing yourself for Christmas.
Either lean into the scheme you have year round (eg. minimal, bright, country) and base your festive decor around this, or impact a whole new vibe on the space.
Some ideas which work in nearly any scheme include:
Place a wreath above a fireplace
Drape a garland over a mantlepiece
Fill bowls with baubles, candy or nuts
Display - and burn - Christmas candles
Fill vases with fresh-scented seasonal foliage
Layer up with cozy, chunky blankets
Wind thin strings of fairy lights around vessels, mirrors and windows
And, of course, put up a Christmas tree
Where do you put Christmas tree in a living room?
Before you even buy your Christmas tree, decide on where it will live over the festivities. Finding the perfect tree and realising it's too big for that corner, or not large enough so that it gets lost is less than ideal.
You'll want your tree somewhere where is still feels center stage, but not distractingly so as you still need to live and move around it. Try not to block televisions, sofas or windows which you need for natural light. Stay away from fireplaces and main walkway routes. Consider if there's any furniture you can move out of the room for the holidays - if you don't need that side table or extra chair, take it out and give the tree more room to breathe.
Thea Babington-Stitt is a Content Editor at Future. She has been an interiors journalist for nearly 10 years and has held positions at LivingEtc, Country Homes & Interiors and Homes & Gardens. Currently, she is writing for Ideal Home and Style At Home's websites and magazines.