Christmas wall decor – 20 fabulous festive flourishes
Major on Christmas wall decor ideas to make your home feel welcoming and beautifully curated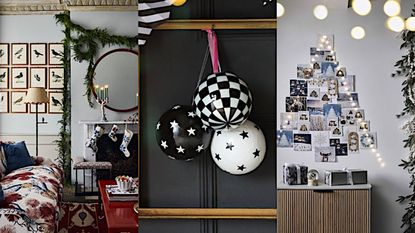 (Image credit: Future / Rockett St George / John Lewis)
For gorgeously elegant Christmas wall decor that quickly transforms a home from a blank canvas into a veritable festive fresco, look no further. Some of these ideas will take some time to create, others are easily put together in moments.
After the tree, the fireplace, the dinner table and the front door, walls can often get left behind among Christmas decor ideas – but paying them some care and attention will pay dividends.
'When you're decking your halls for the holidays, it is important to not overlook the walls in your home,' says the interiors experts at Grandin Road. 'They are a huge canvas, and by switching out your wall decor for the holidays, you can create a special festive moment for your family and friends alike.'
Christmas wall decor ideas
Wall decor ideas can make a house feel unique and curated year-round – but at Christmas they really come into their own. From garlands of foraged foliage to string lights and wreaths, we found some inspiring Christmas wall decor and asked the experts to share their top tips.
1. Frame favorite decorations
As much as we covet bauble-laden Christmas tree ideas, it's not the only way to show off your treasured decs collection. Why not frame them instead? It may feel unconventional, but it makes sense – they're often works of art in themselves, after all, and it makes for a truly original Christmas wall display.
'For this idea, simply add a nail to the frame and choose a few of your best and boldest baubles. A set of three, with each decoration hanging at a different height will look gorgeous. Alternatively, for larger frames, you can hang a collection of baubles across the width of the frame using ribbons for a fabulous feature,' says Jane Rockett, Co-founder of Rockett St George.
2. Go big on greenery
While you can get some beautiful faux Christmas foliage, nothing beats the real deal when it comes to sprucing up your home's walls, and going oversized is a great – not to mention cost-effective – solution if you've got large expanses of space to cover.
'I love making Christmas wall decorations from organic materials, such as things I've foraged for – you can use whatever evergreens you have in your garden. It's traditional and so much better for the planet than purchasing brand new plastic decorations,' says color and paint expert Annie Sloan.
Alternatively, you could start with good-quality fake foliage to give some structure, then add in plenty of real greenery to create a similar effect. Whichever way you do it, by creating your own garlands, wreaths and hand-tied hangings, you also have the flexibility to coordinate extra trimmings with existing paint colors or floor coverings, which makes for a stylishly coordinated look overall.
3. Highlight your favorite decorations
Whilst we're on the subject of alternative bauble displays, another option is to make use of existing wall-mounted furnishings, such as shelves or display units. This is a great way of incorporating festive touches into other rooms as well as the one you position your Christmas tree in, plus means you don't have to invest in extra materials for hanging and displaying.
'Whether it's in the kitchen, living room, bedroom or any room in fact, wall units and shelving offer great style spots for introducing Christmas baubles. Pick out your favorites and display these amongst the books, ornaments and personal treasures already on display for a pop of playful character,' says Lucy St George, co-founder of Rockett St George.
For a coherent scheme, stick with a theme; you could keep either the shape, style or color of your decorations consistent, for example. Alternatively, mix and match for a quirky, stand-out look.
4. Add interest to nooks and crannies
Whether it's a dinky ledge created by the top of wall paneling, the trim around the edge of a wall, or even a conveniently-positioned ridge in an unused door, nooks and niches in walls lend themselves brilliantly to a festive wall display. Think creatively (and safely) about how you can use them to their best potential.
Something as simple as a well-edited arrangement of candles and seasonal ornaments can add festive flourish to Christmas wall decor, as demonstrated in this beautifully rustic scheme, but you could take it one step further by adding shelf risers, or mounting hooks underneath to hang stockings or garlands from. Bear in mind any adaptations you make should be easily hidden so you don't have to look at them all year round, unless you're inspired enough to incorporate them into your day-to-day wall decor, too!
5. Add pizazz with paper pendants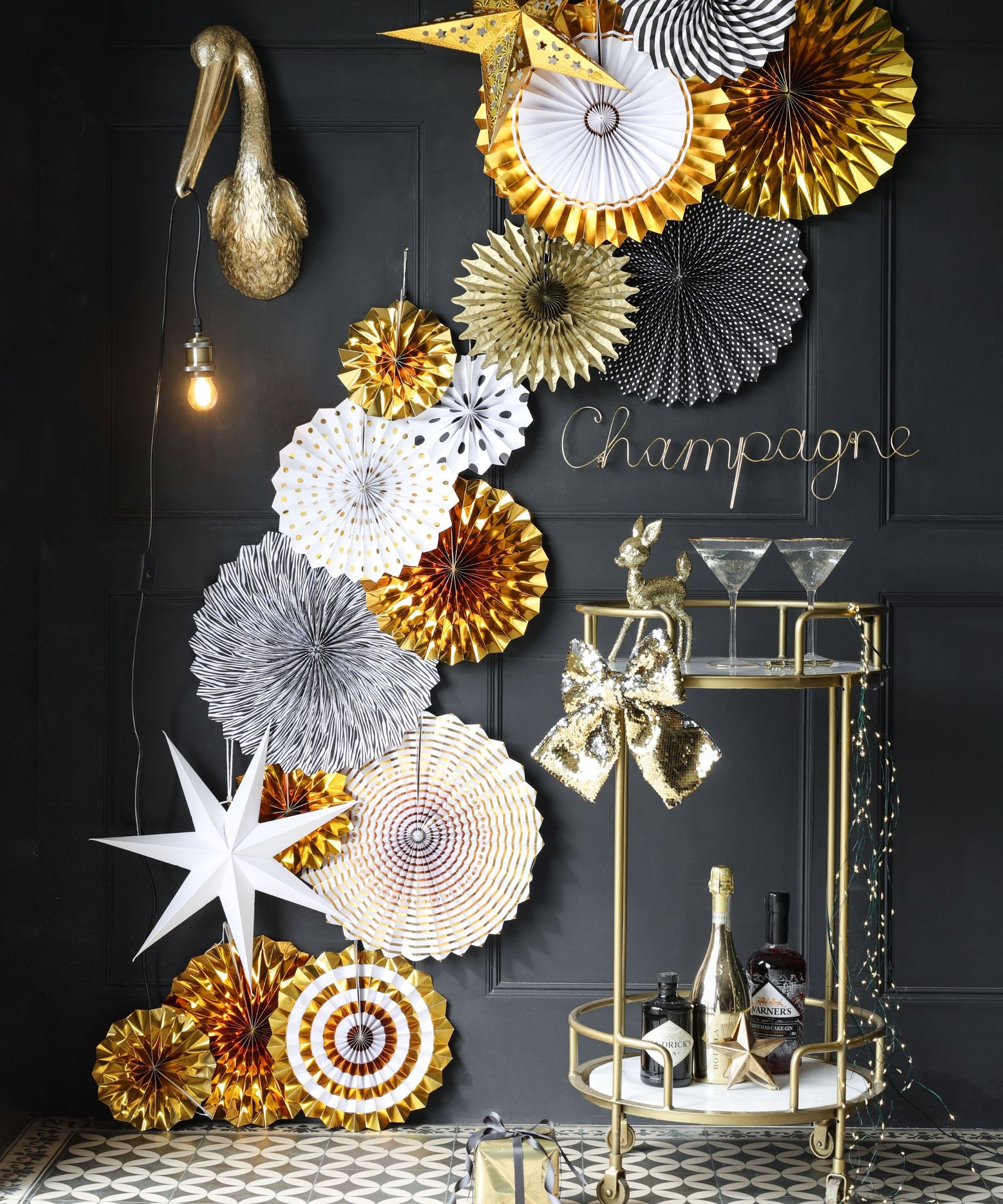 Old-fashioned paper decs have been an ongoing Christmas trend, but every year sees them grow a little bigger… in size, as well as in popularity. We're not just talking your typical paper chains either – designs have moved on to all manner of shapes and styles: think paper fans, stars, honeycombs, waffle spheres, all just as easy to hang. Their versatility means you can create an eye-catching display on any scale, large or small.
'Display a small cluster together in place of framed posters or create a full festive display with paper decorations tacked to the wall in a cascading design. You can also hang stars from the edge of picture frames to bring a hint of seasonal sparkle to existing gallery walls,' says Lucy St George, co-founder of Rockett St George.
Their eco-friendly credentials, along with their versatility also make them a great choice: 'the beauty of paper decorations is that they're easy to store, and you can bring them out for other special occasions throughout the year,' adds Lucy.
You can explore Amazon's vast selection of paper decorations for ideas like those above.
6. Pile gifts high
Christmas wall decor ideas don't have to be purely decorative, they can be functional, too. If you receive beautifully-wrapped presents ahead of Christmas Day, consider stacking them up against a blank wall to add a temporary festive touch, and to show off pretty Christmas gift wrapping ideas.
This idea can be used in any room, but when it comes to Christmas hallway ideas, Suzy Humphreys, founder of Layered Lounge, recommends adapting it a little.
'Instead of using real presents, wrap up empty boxes in festive gift wrap and dot along a console table or bench', she says. 'This means we don't have to take gifts from under the tree and if they get damaged in a busy hallway it won't matter as they're just props.'
7. Spell it out
Bunting is a typical component of classic seasonal decorating, but it's got a place in contemporary Christmas wall decor ideas, too – try swapping traditional triangles for a fun, festive message instead.
Here, a sleek, modern gold design hung on the wall above a fireplace contrasts beautifully with the classic surround for a quirky mix of old and new. Color coordinate your Christmas mantel decor ideas and keep them fairly minimal to let the garland do all the talking – literally.
8. Appeal to the kids
Repurposed tree branches are a designer favorite when it comes to Scandi-style Christmas styling, and when mounted on a wall, offer the perfect spot for hanging up stockings on Christmas Eve – whether you've got a fireplace or not. Children and adults alike will love the novelty, plus with such a neutral backdrop, you can afford to go all-out on colorful decorations without it looking tacky, as demonstrated perfectly by the adorable Christmas characters shown here.
As well as hanging stockings, you could also use a decorative branch for hanging Christmas cards, string lights or even baubles strung up on ribbons. Consider positioning it by a window for a stylish Christmas window decor idea.
9. Make space for outdoor Christmas wall decor too
With so many beautiful wreath designs to choose from, it's almost impossible to limit yourself to just one for the front door – so don't! Decorating external walls with a mismatched selection of wreaths and hanging decorations puts a modern spin on an age-old tradition of outdoor Christmas decor, and is a great way of creating holiday cheer before guests have even stepped foot inside the house.
To ensure you achieve a deliberate look, keep an element of consistency through your choices (think similar colors, shapes and styles) and integrate natural greenery in there too to break things up. If they don't already have them, consider weaving outdoor string lights into some of the wreaths for added sparkle – it is Christmas after all!
This Christmas wreath idea also works well inside. If you've got an existing gallery wall, Suzy Humphreys recommends swapping out frames for a mix of different wreaths instead. 'As well as adding constant interest, it creates a backdrop for friends and family to take photos in front of, guaranteed to create hours of fun at your next Christmas party,' she says.
10. Brighten up bedroom walls for Christmas
While we do love an impactful display, going over the top on decorations isn't the best choice for every room, they can be a little overstimulating. If it's Christmas bedroom decor you're looking for, simpler, more understated wall decor ideas are a better bet.
Simple, gold stars make for a chic, Scandi-style addition and work beautifully when mounted on the wall in groups. Here, they've been positioned at random around a beautiful light fitting, drawing the eye towards it and cleverly incorporating it into the festive arrangement. This technique can be used with any form of understated wall-mounted decorations to highlight existing artworks, shelf displays or architectural details, too.
11. Wreaths are for indoors too
While a festive wreath is a must-have for your Christmas front door, their usage need not stop there. Christmas wreath ideas are a great addition to your home's walls, whether you're adding focus to a fireplace or looking to jazz up an empty wall. The wide range of design possibilities mean they can be suitable for both modern home, and among farmhouse Christmas decor ideas.
'We recommend foraging and working to create a more organic design,' says Holly Gannon, Design Manager at Milc Interiors. 'Our unexpected festive foliage to add is eucalyptus, as it comes in a variety of color tones to suit different palettes. These can be dressed with smaller tree decorations and baubles to give a more elegant feel or to tie in with other décor around the house.'
12. Dress up a fireplace
Cozying up by the fire is even more pleasurable in the winter holidays – so make this part of the house feel extra special with Christmas fireplace decor. As a likely hub for opening presents, playing games and having a snooze after lunch, the walls above and around the fireplace deserve some decorative attention.
In this example, Christmas wall decor features stockings, candles and winter berries are given extra focus with a winding garland of drooping foliage, which frames the heart of the living room.
13. Layer up with garlands
For larger swathes of wall space, Christmas garland ideas are an excellent option for every home. From tinsel to strings of foliage, their variety is matched only by their malleability. Truss them up close to your ceiling or picture rail, or drape them in long loops to cover a wall almost from top to bottom.
In this living room, layers of green garlands have been interconnected for a display that covers a whole wall. Garlands aren't just for walls either – think about making a Christmas garland for a staircase, and quite literally take your festive wall decor scheme to the next level.
14. Modernize paper chains with stylish color schemes
If you're wondering when you should put your Christmas decorations up, perhaps first carve out a time to get crafty and make some of your decorations from scratch. 'We like to use wall decor to also help create a memory, and to have some interactive fun as a family,' says the Grandin Road team.
Paper chains are a simple DIY garland option that you can even rope the kids in to help put together. To make them feel sophisticated rather than childlike: in this example, gold and silver paper is used to add a little bit of festive luxe to a neutral living room.
15. Redecorating? Pick a festive shade
You may be unlikely to repaint a room especially for Christmas, but if you're redecorating anyway, consider living room paint ideas that in themselves feel like festive decor. For a reception room in your home that is perhaps a little shadowy, turn it into the ideal winter nook by picking dark red for the walls – the perfect spot for opening Christmas presents.
'Earthy and mutable, our Primer Red is particularly inviting in shadowy rooms without much natural light,' says Annie Sloan, Founder of her eponymous paint company. 'This intriguing, inviting tone – somewhere between terracotta and burgundy – combines beautifully with warm neutrals and hints of brass and gold.'
16. Light up your wall decor
'Wrapping stringed LED lighting around decorations – like wreaths, for example – helps create a soft ambience down an entryway,' says Michael Miser, President of Lumilum. 'If you're looking to be even bolder with your lighting, you can drape LED curtain lights on your walls for a Pinterest feel, or even bannisters to provide a soft hue that illuminates your stairs.'
Among the Christmas living room decor ideas in this example, strings of lights have been hung down one wall, leading to twinkling deer sculpture, adding a glow to the room from day to night.
17. Forage for your DIY decorations
Holly, berries, pine cones and branches are all enduring symbols of Christmas – but to include them in your decor, you don't necessarily need to head to the store. As well as making your own decorations, consider gathering the materials to do so yourself, by foraging on the ground during winter woodland walks.
Pine cone decorations – particularly a garland like this – are often the star of DIY decorations, and could easily be made from foraged cones collected in the weeks before the big day.
18. Bring festive focus to a cozy corner
Alongside the obvious decor hubs like the dinner table and the fireside, simple pieces of Christmas wall decor can be used to dot little festive surprises throughout the house.
While miniature Christmas tree ideas can be used to spruce up a cozy corner, consider also making the most of forgotten wall space, like over the desk in this bedroom.
'Utilize hanging decorations such as wreaths, garlands and wall hangings inside to help add a festive element to blank wall space,' suggests the team at JYSK.
19. Pair on-trend green decor with foliage
Green room ideas have been a huge trend among paint colors over the last year or so – but as well as conveying spring-like freshness, Christmas foliage ideas are also a fabulous base for festive decorations. If you've recently gone green, consider building on it with more verdant tones from organic sources.
'Sage is a gentle shade, and at Christmas it pairs wonderfully with natural foliage,' says Sloan. 'For an extra magical touch, apply gilding wax to the edge of the branches and leaves. It's a cost-effective way to breathe fresh life into your traditional wreath.'
20. Display Christmas cards imaginatively
Thinking alternative Christmas trees this year? It's the perfect opportunity to combine Christmas wall decor and Christmas card display in one. We love this simple idea – of course, it look better with all the cards in complementing colors, but Christmas is all about color, so go to town and create your own fun decor.
How can I decorate my wall for Christmas?
The easiest way to make your walls look festive this Christmas is to use a mixture of wreaths and garlands. These are easily positioned across all sorts of rooms around the house – wreaths can be hung from picture hooks, so consider swapping out artwork for wreaths. The sheer length of a garland means you can cover a lot of visual space with ease by draping them the whole way across a blank wall.
'Another way to decorate a wall space is to make use of existing shelving and furniture, with additional Christmas decorations and ornaments to give the space a festive lift,' adds the team at JYSK.
What should I hang on my wall for Christmas?
You can hang anything on your walls for Christmas that you might do on your Christmas tree: think wreaths, foliage, baubles, string lights, and even pretty Christmas tree ribbon ideas. Don't miss the chance to use Christmas cards to create an imaginative display, too: hanging them so that they create the outline of a Christmas tree or star is fun and easy to do.
Sign up to the Homes & Gardens newsletter
Decor Ideas. Project Inspiration. Expert Advice. Delivered to your inbox.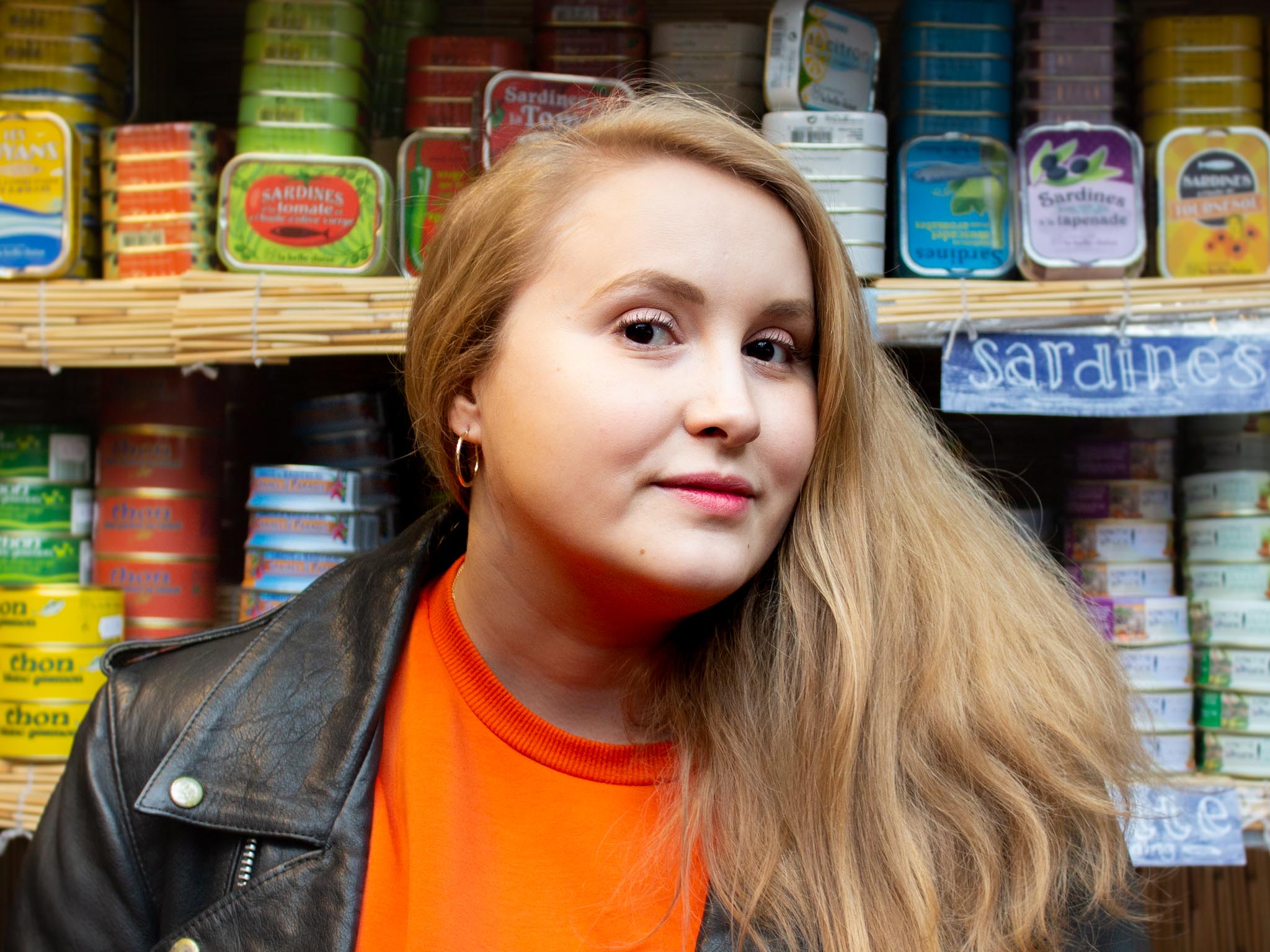 Ailis started out at British GQ, where a month of work experience turned into 18 months of working on all sorts of projects, writing about everything from motorsport to interiors, and helping to put together the GQ Food & Drink Awards. She then spent three years at the London Evening Standard, covering restaurants and bars. After a period of freelancing, writing about food, drink and homes for publications including Conde Nast Traveller, Luxury London and Departures, she started at Homes & Gardens as a Digital Writer, allowing her to fully indulge her love of good interior design. She is now a fully fledged food PR but still writes for Homes & Gardens as a contributing editor.