Christmas wall decor ideas – 10 ways to add a festive flourish to your walls
Make Christmas wall decor ideas a priority in your festive scheme, and you'll be well rewarded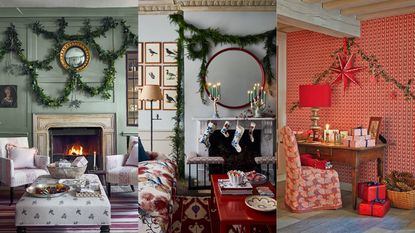 (Image credit: Simon Bevan/Future/Jan Baldwin)
For Christmas wall decor ideas that turn a blank canvas into a veritable festive fresco, look no further.
After the tree, the fireplace, the dinner table and the front door, walls can often get left behind among Christmas decor ideas – but paying them some care and attention will pay dividends.
'When you're decking your halls for the holidays, it is important to not overlook the walls in your home,' says the team at Grandin Road (opens in new tab). 'They are a huge canvas, and by switching out your wall decor for the holidays, you can create a special festive moment for your family and friends alike.'
Christmas wall decor ideas
Wall decor ideas can make a house feel unique and curated year-round – but at Christmas they really come into their own. From garlands of foraged foliage to fairy lights and indoor wreaths, we found some inspiring Christmas wall decor ideas and asked the experts to share their top tips.
1. Wreaths are for indoors too
While a festive wreath is a must-have for your Christmas front door, their usage need not stop there. Christmas wreath ideas are a great addition to your home's walls, whether you're adding focus to a fireplace or looking to jazz up an empty wall. The wide range of design possibilities mean they can be suitable for both modern home, and among farmhouse Christmas decor ideas.
'We recommend foraging and working to create a more organic design,' says Holly Gannon, Design Manager at Milc Interiors (opens in new tab). 'Our unexpected festive foliage to add is eucalyptus, as it comes in a variety of color tones to suit different palettes. These can be dressed with smaller tree decorations and baubles to give a more elegant feel or to tie in with other décor around the house.'
2. Dress up a fireplace
Cozying up by the fire is even more pleasurable in the winter holidays – so make this part of the house feel extra special with Christmas fireplace decor. As a likely hub for opening presents, playing games and having a snooze after lunch, the walls above and around the fireplace deserve some decorative attention.
n this example, Christmas mantel decor ideas featuring stockings, candles and winter berries are given extra focus with a winding garland of drooping foliage, which frames the heart of the living room.
3. Layer up with garlands
For larger swathes of wall space, garlands are an excellent option for every home. From tinsel to strings of foliage, their variety is matched only by their malleability. Truss them up close to your ceiling or picture rail, or drape them in long loops to cover a wall almost from top to bottom.
In this living room, layers of green garlands have been interconnected for a display that covers a whole wall. Garlands aren't just for walls either – think about making a Christmas garland for a staircase, and quite literally take your decor scheme to the next level.
4. Modernize paper chains with stylish color schemes
If you're wondering when you should put your Christmas decorations up, perhaps first carve out a time to get crafty and make some of your decorations from scratch. 'We like to use wall decor to also help create a memory, and to have some interactive fun as a family,' says the Grandin Road team.
Paper chains are a simple DIY garland option that you can even rope the kids in to help put together. To make them feel sophisticated rather than childlike: in this example, gold and silver paper is used to add a little bit of festive luxe to a neutral living room.
5. Redecorating? Pick a festive shade
You may be unlikely to repaint a room especially for Christmas, but if you're redecorating anyway, consider living room paint ideas that in themselves feel like festive decor. For a reception room in your home that is perhaps a little shadowy, turn it into the ideal winter nook by picking dark red for the walls – the perfect spot for opening Christmas presents.
'Earthy and mutable, our Primer Red is particularly inviting in shadowy rooms without much natural light,' says Annie Sloan (opens in new tab), Founder of her eponymous paint company. 'This intriguing, inviting tone – somewhere between terracotta and burgundy – combines beautifully with warm neutrals and hints of brass and gold.'
6. Light up your wall decor
'Wrapping stringed LED lighting around decorations – like wreaths, for example – helps create a soft ambience down a hallway,' says Michael Miser, President of Lumilum (opens in new tab). 'If you're looking to be even bolder with your lighting, you can drape LED curtain lights on your walls for a Pinterest feel, or even bannisters to provide a soft hue that illuminates your stairs.'
Among the Christmas living room decor ideas in this example, strings of lights have been hung down one wall, leading to twinkling deer sculpture, adding a glow to the room from day to night.
7. Forage for your DIY decorations
Holly, berries, pine cones and branches are all enduring symbols of Christmas – but to include them in your decor, you don't necessarily need to head to the store. As well as making your own decorations, consider gathering the materials to do so yourself, by foraging on the ground during winter woodland walks.
Pine cone decorations – particularly a garland like this – are often the star of DIY decorations, and could easily be made from foraged cones collected in the weeks before the big day.
8. Bring festive focus to a cozy corner
Alongside the obvious decor hubs like the dinner table and the fireside, simple pieces of Christmas wall decor can be used to dot little festive surprises throughout the house.
While miniature Christmas tree ideas can be used to spruce up a cozy corner, consider also making the most of forgotten wall space, like over the desk in this bedroom.
'Utilize hanging decorations such as wreaths, garlands and wall hangings inside to help add a festive element to blank wall space,' suggests the team at JYSK (opens in new tab).
9. Pair on-trend green decor with foliage
Green has been a huge trend among paint colors over the last year or so – but as well as conveying spring-like freshness, Christmas foliage ideas are also a fabulous base for festive decorations. If you've recently gone green, consider building on it with more verdant tones from organic sources.
'Sage is a gentle shade, and at Christmas it pairs wonderfully with natural foliage,' says Sloan. 'For an extra magical touch, apply gilding wax to the edge of the branches and leaves. It's a cost-effective way to breathe fresh life into your traditional wreath.'
10. Give your guest bedrooms a festive flourish
Christmas decorations should be about surprising and delighting your guests – especially the younger ones. Ensure you bring the decor into your guest bedrooms too, so that visitors wake with the spirit of Christmas all around them. In this twin room, a stylish garland, bedecked with miniature presents in matching colors to the rest of the decor, is sure to make any child even more excited for Christmas morning than they already are.
How can I decorate my wall for Christmas?
The easiest way to make your walls look festive this Christmas is to use a mixture of wreaths and garlands. These are easily positioned across all sorts of rooms around the house – wreaths can be hung from picture hooks, so consider swapping out artwork for wreaths. The sheer length of a garland means you can cover a lot of visual space with ease by draping them the whole way across a blank wall.
'Another way to decorate a wall space is to make use of existing shelving and furniture, with additional Christmas decorations and ornaments to give the space a festive lift,' adds the team at JYSK.
How can I make my house feel Christmassy?
Decorating your walls is not the only way to fill the house with Christmas cheer. Alongside the obvious addition of a Christmas tree and a beautifully bedecked festive dinner table, add smaller decorations to your tables, sideboards and mantelpieces. Think about using scented decorations too, to make for an immersive festive experience that dazzles all five senses.
Ailis started out at British GQ, where a month of work experience turned into 18 months of working on all sorts of projects, writing about everything from motorsport to interiors, and helping to put together the GQ Food & Drink Awards. She then spent three years at the London Evening Standard, covering restaurants and bars. After a period of freelancing, writing about food, drink and homes for publications including Conde Nast Traveller, Luxury London and Departures, she started at Homes & Gardens as a Digital Writer, allowing her to fully indulge her love of good interior design. She is now a fully fledged food PR but still writes for Homes & Gardens as a contributing editor.