Christmas gift wrapping ideas – 24 products and ideas to elevate your presents
Wrap your presents in style this holiday season with our favorite Christmas gift wrapping ideas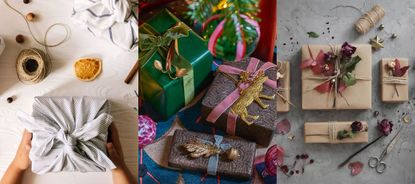 (Image credit: Getty Images | Sarah Kaye Representation Ltd)
Christmas gift wrapping ideas can not only create an element of thrilling surprise and intrigue, but they are an opportunity to enhance your gift giving with added color, pattern, material and texture; creating a pretty and unique design that can sit beautifully under the Christmas tree.
It's safe to say that presents often become part of our Christmas decor ideas, with the exchanging of gifts leading to our homes becoming filled with colorful bundles of joy to open over the holiday period.
For many of us, the act of wrapping presents, and exploring how to wrap gifts, is a fun and creative experience that helps us to get in the festive spirit, and creates an uplifting atmosphere where we feel excited at the prospect of sharing meaningful gifts with loved ones.
With so many styles of gift wrap to choose from, we have curated a collection of our favorite Christmas gift wrapping ideas to help with that all important part of preparing your presents for Christmas.
Christmas gift wrapping ideas
From beautiful printed paper, to gift bags and accessories, explore our favorite Christmas gift wrapping ideas below.
1. Elevate classic brown paper
The timeless simplicity of using brown paper has so much appeal come the festive season. For one, it can be recycled so you get eco points, and we love the nostalgia it brings. It can also be used year-round, so if your wrapping paper drawer is becoming chaotic, limit it to a few rolls of brown paper and accessorize with tags, ribbons and even Christmas foliage.
2.
Etsy Brown Kraft Paper Sheets
Get 20 of these 24" x 36" sheets kraft paper sheets for easy wrapping – we hate cutting paper so love this in place of a roll. It is made in the USA from recycled paper and can be recycled after use. Finish with ribbon, string, a decorative tag, or a stamped label.
3.
These birch plywood tags by Clouds and Currents are made to order – just specify what letters you want, and how many of each. After gifting, they can be reused for crafting or decoration. They are so simple they will work with traditional or contemporary looks and you could even paint them for more interest.
4.
Vitalizart Handmade Ribbon
These gorgeous chiffon silk ribbons are a fabulous final flourish to your gift wrap. Each is 7yd long and 1.5" wide, making them perfect for creating a place to tie on a gift tag or tuck in a Christmas card. The subtle greens will be perfect with on-trend botanical holiday decor.
---
5. Try Furoshiki where the wrap is a gift in itself
Furoshiki is the traditional Japanese art of cloth wrapping, and is becoming an increasingly popular Christmas gift wrapping idea due to it being both beautifully elegant and eco-friendly. What's more, if you choose a beautiful scarf or linen, the wrap itself becomes a gift, too.
6.
Founded by designer Ashley L. Fouyolle in her Brooklyn apartment, Unwrp creates fabrics in collaboration with artists from around the world. This design comes in small or medium and can be worn or displayed, too. Design-forward friends will adore them.
7.
Furoshiki Block Print Cloths
This two pack of eye-catching, red and blue patterned cloths have been crafted from cotton, and are handmade by artisans in Jaipur. The colorful patterns are created through hand-block printing and repeated by eye so each is a little unique.
8.
Floral Gift Wrapping Cloth
Our other Furoshiki wraps could be used all year, so if you are after a more seasonal design, choose one of these 100% cotton cloths. They come in wine or green and measure just over 27 inches – a good size for most gifts.
---
9. Let nature shape your Christmas gift wrapping
Make your Christmas gift-wrapping ideas a talking point this holiday season with a more unique style that takes a cue from the natural world. Adorn your gifts with items foraged from the world around you – a sprig of thyme, a cutting of eucalyptus – for a personal look that works well with basic gift wrap and tissue paper.
10.
The Letter Loft UK Gift Wrap Kit
This eco-friendly gift wrap kit contains everything you need to create a bespoke wrapped design and is perfect if you don't have a garden to take your own cuttings from. It contains gift tags, string, petals, dried flowers – and bells!
11.
Pressed Flowers Handmade Paper
Containing delicate pressed flowers, this wrap is made from renewable Lokta paper. The result is a truly distinctive design that feels rustic, organic, and unique, whatever the occasion.
12.
Anvin 984 Feet Cotton Twine
Stock up on jute twine to make posies from your hedge clippings and tie your gifts. This set of three (each measuring 328ft) will see you through many a gift wrapping session and comes in three classic colors.
---
13. Be bold with contemporary gift wrap
Bright colors and striking, bold patterns and shapes take center-stage in our collection of contemporary Christmas gift wrapping ideas. Don't be afraid to shun the usual red, green and gold of the holidays – future festive seasons should be a rainbow of color.
14.
Garden Party Wrapping Paper
This colorful design is made from eight feet of metallic gold paper with floral illustrated accents. Style with velvet ribbon for the festive season (but we can see it at our wrapping station any time of year).
15.
Present Perfect Wrapping Paper
This heavyweight paper gift wrap from Dear Annabelle features a simple yet fun, modern present illustration, and is a versatile choice perfect for presents for loved ones of all ages. Six sheets in every roll.
16.
Green Neon Wrapping Paper
There's no chance of mislaid gifts with this neon offering. The 100lb smooth matte wrap is sold in sets of five sheets and each premium sheet is an ample 20 x 29 inches.
---
17. Embrace classic Christmas gift wrapping ideas
If Christmas always makes you cast your mind back to simpler times, relive the joy of a traditional holiday season with elaborate florals, plaid or tree designs, wrapped with luxe velvet ribbons.
18
Pauline de Roussy de Sales Wrapping Paper Roll
Choose between two different roll prints from NYC based artist, Pauline de Roussy de Sales, at Anthropologie. Both prints, available in Blue / Green or Sapphire, feature illustrations inspired by The Nutcracker.
19.
Wondershop Plaid Gift Wrap
This gift wrap roll from Target comes in a timeless plaid pattern and embodies, for many, the traditional colors of Christmas. The 30-inch wide FSC-certified paper comes in a roll that is 40ft long, great for large gifts.
20.
Christmas Trees Christmas Gift Bag
Simplify wrapping awkwardly-shaped presents with this stylish tree-print gift bag. It is made using at least 50% environmentally certified materials and with processes that reduce pollution and waste.
---
21. Choose a personalized gift wrap
Personalized gift wrap, whether that's a name, photo or drawing, can create a joyful element of fun before the recipient has even opened the present!
22.
The Handmade Christmas Co. have a collection of gift wraps that feature fun festive scenes and spaces to add in the name of a loved one. We love this as a fun and personal way to wrap gifts that also saves the need for tags.
23.
Child's Drawing Gift Wrap
Not On The High Street seller, HoobyNoo lets you take personalization one step further by adding a drawing to their red and green polka dot paper. So, why not wrap grandparent's gifts with pictures by your kids?
24.
Christmas Lights Gift Wrap
For what must be the most personalized option, add your own photos with this design from Gift Wrap My Face. They even produce smart gift wrap where your chosen photo moves with the help of your phone!
What is a unique way to wrap presents?
As we have explored, there are many unique ways to wrap presents for your Christmas gift wrapping ideas.
From traditional brown paper to modern, artistic printed designs and fun accessories, there are many options to choose from to make your wrapped gift utterly unique.
In recent years we have seen a shift in individuals making more sustainable, eco-friendly decisions with their gift wrapping, so choosing a design that can bed used again and again, such as a fabric cloth, or purchasing easily recycled wrapping paper, can create a gift that not only looks good - but is better for the environment too.
If you're thinking of creating your own, home-made gift wrap design, explore how guide on how to decorate wrapping paper.
Why is wrapping gifts important?
A wrapped gift is one of those Christmas traditions that will continue to create moments of joy throughout the holiday season.
Creating a fun element of surprise and keeping you guessing until your Christmas celebrations begin with your friends and family, a wrapped present may not seem important to some people – maybe they're just not that good at wrapping - but for many, it is a chance to reflect on meaningful purchases for loved ones, and spend time creating a unique wrapped design that looks almost too good to open.
Zara joined Homes & Gardens in February 2022 as a Content Editor. After studying English Literature at University, she worked as an Ecommerce Website Editor, Content Writer and Buying Intern at multiple independent businesses within the luxury retail and lifestyle sectors. Her role at Homes & Gardens unites her love, experience and passion for the world of design and desire to create inspiring written content. She enjoys nothing more than discovering new trends, brands and products, whether that be in fashion, interior design or lifestyle.