Furoshiki: the only way to wrap presents this Christmas
Make your gift wrap elegant and eco friendly with furoshiki - the art of wrapping with fabric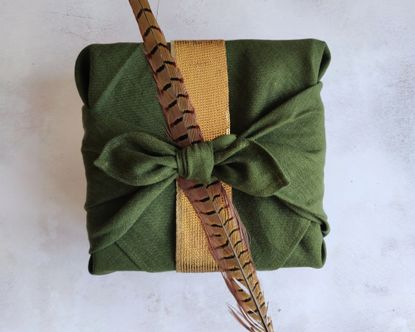 (Image credit: Fabric Wrapping Co)
As we all become more eco-aware it's time to reassess how we wrap our gifts for friends and family this Christmas. Enter furoshiki - the Japanese art of wrapping with fabric.
Although a relatively new concept to the western world, this form of wrapping is thought to have existed in Japan since around AD 710, when fabric was used to wrap precious jewels for storage.
Yet as long as it has existed, it's certainly boosted in popularity recently. 'Google searches for furoshiki are up 16 fold compared to this time last year,' says Natasja, Co-Founder of The Fabric Wrapping Co.
'Why? Firstly, giving loved ones thoughtful gifts is a way of showing love, even when we can't be with them,' notes Natasja. 'Secondly, there is a positive shift amongst more people to actively make choices that are good for the planet. Finally, people have been getting creative and this is a chance to learn a new skill resulting in particularly beautiful gifts.'
How do you wrap a gift with fabric?
So how do you actually wrap a gift, furoshiki-style? The easiest way is like this:
1. Place the gift in the middle of the cloth on a diagonal.
2. Fold the top and bottom corners over the gift, then the second two corners, tying them in a knot.
3. Tuck any untidy edges into the cloth folds.
Use Natasja's tips to help get the right result, too.
'Start with what you have,' advises The Fabric Wrapping Co's Natasja. 'Is there scrap fabric, old scarves or even some clothing that you were thinking of moving on?'
Natasja also notes that, 'when wrapping in fabric, it is best to use fabric in a square shape - common sizes are 50cm, 70cm and 90cm.'
'A top tip would be to start simply with wrapping a book or a bottle to start with,' adds Suzie Hackney from the Creative Direction team at Lush. 'Even the simplest wrapping styles look pretty impressive.'
'Different materials create different wraps too,' continues Suzie. 'An organic cotton for example will create a stiffer more pert bow, whereas a lighter material like our Recycled plastic bottle knot wraps will create a bow with a softer look.'
Remember you can finish off your wrap with decor. Try a satin bow, a feather or perhaps some seasonal herbs, like a sprig of rosemary.
To learn how to create more complex wraps, including wrapping bottles, check out Furo and Shiki's How To Wrap (opens in new tab)page.
Why use Furoshiki – or fabric as giftwrap?
Typical gift wrap, as gorgeous as it can appear, unfortunately isn't just paper.
Modern wrapping materials are likely to contain materials that are either tricky or impossible to recycle, such as glitter, other plastics and foil. Even the tape you use to bind the paper together makes the recycling process difficult. In fact, in the UK around 227,000 miles of gift wrap end up in landfill every single year.
If you are given a present in store-bought wrapping paper, a good rule of thumb to work out if recyclable is to screw it up into a ball, and if it remains scrunched up then you should be able to pop it into your recycling bin. Paper which opens up is likely to contain those unrecyclable microplastics.
Furoshiki is more than just an eco-friendly alternative to wrapping paper, but it's nearly an extra gift in itself.
'Giving and receiving a beautifully wrapped gift is one of the joys of Christmas,' says Judith Harris, Head of House and Home at TOAST (opens in new tab). 'We love the idea that the receiver can not only enjoy a beautifully wrapped gift but can then reuse the cloth to give a gift of their own.'
Additionally, this fabric can be twisted to crated handled bags, bandanas or face coverings, so it can have a secondary life outside of a wrapping material.
If you receive a furoshiki wrapped gift from Lush, you can also take part in the Knot Swap scheme, where you can exchange one of their wraps to receive 50% off a new one. The used wrap will be washed, refreshed and sold again. New wrapping fabric, less landfill.
Even the queen of getting rid of things, Marie Kondo, is a furoshiki fan.
'You can use furoshiki to wrap just about anything,' says Marie. 'They look beautiful around a bottle of wine, candles and even the most oddly shaped items. But best of all, they're reusable, which makes them a gift to the earth as well. So, if you're wondering what to do about gift wrapping this holiday season, try picking some fabric squares that spark joy for you and use them furoshiki-style.'
Get started with these Furoshiki fabrics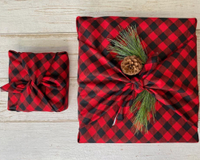 (opens in new tab)
Olsenolsen Design Fabric Gift Wrapping, From £7.25, Etsy (opens in new tab)
This pretty flannel fabric will add the perfect rustic look to your gifts this Christmas.
This brand includes videos to help you learn the art of furoshiki wrapping.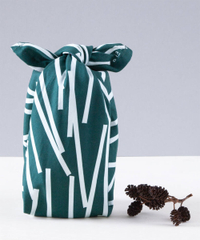 (opens in new tab)
OLA Organic Cotton Wrap, £11, Not On The High Street (opens in new tab)
This wrap is made from silkscreen printed onto lightweight organic cotton in collaboration with an Indian social enterprise to create livelihoods for rural women.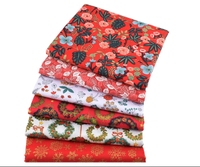 (opens in new tab)
Japanese Sakura Fabric Bundle, £16.99, Amazon (opens in new tab)
If you can't decide on a pattern, choose a selection instead.
This cotton fabric has been pre-cut into handy-sized 18 x 22" sections.
What is Furoshiki fabric?
Furoshiki fabric is a type of traditional Japanese wrapping cloth for transporting clothes, gifts or other goods. You needn't have the exact replica cloth for your Furoshiki wrapping – any cloth will do.
Thea Babington-Stitt is a Content Editor at Future. She has been an interiors journalist for nearly 10 years and has held positions at LivingEtc, Country Homes & Interiors and Homes & Gardens. Currently, she is writing for Ideal Home and Style At Home's websites and magazines.