Christmas card ideas – 15 beautiful designs and the best places to shop
Find the perfect cards to send this Christmas with our collection of unique Christmas card ideas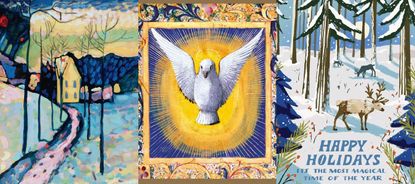 (Image credit: The Met Store | Liberty London | Papier)
From traditional messages to modern, artistic prints, our Christmas card ideas show a range of unique, festive designs.
A timeless Christmas decorating idea, a Christmas card is one of the most personal ways you can spread merry Christmas cheer to your loved ones, and choosing the right card design can often be a tricky decision!
To help with your Christmas card ideas this holiday season, we have created a list of our top 12 favorite designs and the best places to shop online.
Whether you want to create a personalized design with a family photo or choose a classic Christmas scene, there are many different ways you can send season greetings to your friends and family.
Christmas card ideas
You can trust Homes & Gardens. Our expert reviewers spend hours testing and comparing the latest products, helping you choose the best for you. Find out more about how we test.
Explore our curated collection of Christmas card ideas below.
Classic Cards
From picturesque holiday snow scenes, to classic card assortment boxes, there are many classic Christmas card ideas that will always prove timeless.
1. Hallmark UNICEF Card Assortment
If you are planning on sending a large amount of cards this Christmas, a large assorted box of cards can be the perfect choice. This Hallmark UNICEF set from Amazon contains twenty different festive designs, with a portion of the sales donated to UNICEF, the United Nations International Children's Emergency Fund.
2. The Holy Spirit Christmas
A striking, powerful Christmas card by Liberty London, who are renowned for their iconic Christmas shop, this design details an illustrated dove surrounded by a gold-edged floral border. Sold in a box of eight.
3. Snowy Street Christmas Boxed Cards
Featuring a painted snowy street scene with swirling snow at twilight, with decorated trees, glowing street lanterns and wrapped up passersby, this traditional design by American Greetings is guaranteed to make you feel cozy and Christmassy. Sold in a pack of fourteen.
Contemporary cards
A contemporary Christmas card can be anything from a bright, artistic painted design to a classic festive scene with a more colorful and modern twist.
Lifestyle brand, Rifle Paper Co. are known for their stylish stationary, with an artistic collection of greeting cards. This snowy skating in the city scene on a unique, rounded card shape, can sit on a mantel or window ledge just like a pretty snow globe.
As the saying goes, sometimes less is more, and these Christmas note designs by Anthropologie, from calligraphy artist Matthew Agrall, unite a pretty color palette with a simple holiday sentiment message in an elegant calligraphy style. This set includes five cards and five envelopes.
A more modern take on a traditional Christmas scene, this colorful, forest reindeer Christmas card by stylish stationary brand Papier, designed by Hartford Prints, can be customized with messages and even photos on the inside and back, enhancing the artistic design with a subtle personal touch. The card can come folded or flat and is in a minimum order of ten.
Unique Cards
From cards that can grow into plants (you heard that right!) to fun pop-up designs, choose a unique Christmas card idea to really make an impact.
With many card companies now only using recycled paper, why not take a sustainable message one step further and send a plantable Christmas card - yes really - this card grows! Brands such as Cute Root create cards embedded with seeds, so they can be planted to create beautiful floral and botanical displays. This Christmas Leaves design contains wildflower seeds for Alyssum, Catchfly, Siberian Wallflower, Black-Eyed Susan and Baby Blue Eyes.
'Dont just send a card, send art!' Is the message behind Quilling Card designs. Quilling art is defined by rolled, shaped and glued pieces of paper, creating a unique, textured decorative design. Each card comes with a coordinating envelope and a short history of quilling on the back of the card.
9. Festive Christmas Pack
Why not add a playful element of surprise with your Christmas card ideas and choose a fun pop up design. With a festive front cover and an ornate, 3D decorative display on the inside, Love Pop have an extensive, creative collection of unique pop designs. This pack includes seven different cards, with a mix of beautiful and humorous designs.
Personalized cards
There are a range of companies who specialize in creating personalized Christmas cards where you can add your own photos and messaging, making your Christmas card ideas that little bit more special and meaningful.
A bespoke design can add an enhanced level of personality and meaning to a Christmas card. A lovely option to send to friends and family, especially those who you may not see for a little while, this design by Copper And Toad on Etsy can be personalized with your names, hairstyles and even your pets! Minimum order of ten cards.
11. Personalized with Ornamental Accent Set
As Christmas is a time to spend with friends and family, for those who you don't see over the festive season, a personalized Christmas card featuring your own collection of photos can be a great way to keep in touch and send a meaningful update. Paper Culture specialize in personalized designs, with a huge array of templates on offer. this card unites unique photos with festive artwork and messaging.
Artistic cards
Whether your favorite artist has created a selection of Christmas cards, or there is one painting or artist style that sums up what Christmas means to you, an artistic Christmas card can stand out from the crowd.
13. Lux Greeting Holiday by Kelly Wearstler
Designed by interior designer Kelly Wearstler, this modern Christmas tree design, available at Paper Source, is defined by an uplifting, colorful watercolor print, creating a stylish and contemporary Christmas card design. If digital Ecards are more your style, this card can also be sent via Paperless Post.
14. Kandinsky Winter Landscape
Who doesn't love a museum gift shop? Often filled with a beautiful curated collection of gifts, books and objects, in galleries, you can often by small postcard prints of your favorite works of art - a great option for your Christmas Card ideas. With this Kandinsky Winter Landscape abstract scene offering a more unique card design, the artistic print, available at the The Metropolitan Museum of Art Store, will be sure to stand out in a Christmas card display.
16. Carmen Herrera Tree Holiday Cards - Set of 12
Designed by Cuban-American artist Carmen Herrera, this simple, graphic card design embodies the colors of Christmas, and makes for a unique take on a traditional Christmas tree design. Available at the MoMA Design store, this Christmas card celebrates the beauty of modern art.
How do you display cards at home?
A timeless Christmas tradition, a collection of Christmas cards can create a beautiful Christmas decorating idea in the home, and there are many creative ways you can display them.
From simply placing them on a mantel piece and lining them on the window sill, to attaching them to garlands and ribbons for Christmas wall decor ideas, the different designs, colors and shapes of the cards can create a beautiful festive feature in the home.
If you are more of a crafter, there are many DIY card display creations you can make, such as a Christmas card wreath, homemade pegboard or even a gallery wall, with cards framed with tape and wrapping paper.
Once Christmas is over and the sad packing away of the decorations begins, remember to recycle your Christmas cards or embrace a fun little craft project and turn them into bespoke tags for next year's Christmas gifts!
Why do people buy Christmas cards?
A Christmas card is one of the most traditional ways to celebrate Christmas. Even though we live in a digital first world, with some viewing cards as a waste of paper and time, it can be a simple and meaningful way to connect with loved ones; with many of us still celebrating the festive season through a card in the post.
As we have explored, there are so many card Christmas card ideas to choose from, with many embodying much more than 'just a piece of paper', rather, they can be unique works of art, a personal collection of photos and memories - and even transform into plants and flowers!
Plus, most card companies offer sustainable, recycled card designs - with some even planting trees for every card they sell.
Sign up to the Homes & Gardens newsletter
Decor Ideas. Project Inspiration. Expert Advice. Delivered to your inbox.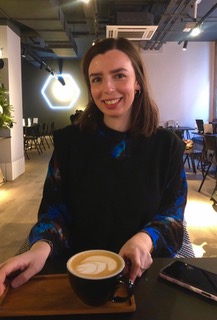 Zara joined Homes & Gardens in February 2022 as a Content Editor. After studying English Literature at University, she worked as an Ecommerce Website Editor, Content Writer and Buying Intern at multiple independent businesses within the luxury retail and lifestyle sectors. Her role at Homes & Gardens unites her love, experience and passion for the world of design and desire to create inspiring written content. She enjoys nothing more than discovering new trends, brands and products, whether that be in fashion, interior design or lifestyle.