How to wrap gifts this Christmas – plus 20 stylish gift wrapping ideas for Christmas Day
Guarantee your gifts look as gorgeous as the tree on Christmas Day with help from these beautiful present wrapping ideas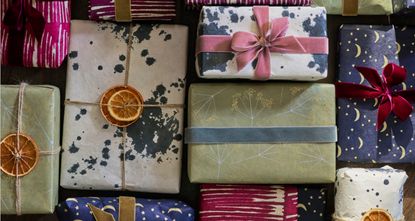 (Image credit: Rowen & Wren)
With so many other things to organise and tasks to complete in the run up to Christmas, learning how to wrap gifts – and gift wrapping itself – is usually pretty low down on everyone's list of priorities. So it stands to reason that the gorgeous packages you may have planned to create are cast aside for something a lot easier.
If you're not one of those super organised people and haven't been wrapping presents as and when you buy them, you're inevitably faced with a mountain of items to wrap in the days before Christmas, and quite frankly, there's little chance you'll give each and every gift the creative flair that you had planned from the outset.
It's quite possible haven't found any wrapping paper you've loved either – yes, there's a vast array of designs available but a great deal of them tend to be quite thin or ugly – and will clash with your beautiful tree and festive decor.
We've collated a list of our favorite (and more importantly, easy to achieve) wrapping ideas to help you present beautifully wrapped gifts that will make Christmas morning and the gifts you give all the more special - scroll down and prepare to be inspired...
How to wrap gifts this Christmas – Homes & Gardens' favorite gift wrapping ideas
As every gift is different, both in shape and size, the rules for wrapping are quite loose and pretty much anything goes.
Depending on how to plan to wrap your gufts you will need to arm yourself with some essentials - gift wrap (obviously) or fabric if you choose to have a go at Furoshiki; while ribbon, tissue paper and sticky tape will come in handy, too. Ultimately the choice is yours in how to wrap them and how creative you get.
So if you want to know how to wrap gifts elegantly – and get instant gift wrapping inspiration – these stylish and super easy ideas are a great place to start.
1. Choose a color theme and mix it up
If you have a clear and defined color theme for your tree and surrounding decor, why have presents that clash?
Snap up a host of different wrapping papers in similar shades, together with ribbon to match and wrap each gift with contrasting colored paper and ribbon so that there's a clear visual through line and the presents look like an gorgeous extension of the tree.
2. Finish it off with a pretty decoration
The simple addition of a charm, bauble or decoration lifts a wrapped present from good to gorgeous. These pretty nature-inspired charms by Joules are a fun way to zhuzh up a plain package, but a small bauble or tree decoration will work just as well.
3. Make your own marbled paper
Wrap your gifts in marbled paper for something a little different this year. You could make your own using a marbling kit from Etsy . Choose different patterns, then finish off with a host of pretty ribbons in contrasting colours.
'I'll be wrapping presents in my hand-marbled paper, so each family member and friend will have their own unique gift.' says artist and designer, Susi Bellamy. 'We always have one present at the table for lunch for everyone, so the marbled packages will make for a pretty Christmas table. Maximalism at its best.'
4. Have a go at Furoshiki
A wonderful way to wrap gifts is using Furoshiki. A Japanese tradition of gift wrapping using fabric instead of paper, it not only ensures you can use the wrapping again and again, thus saving on wasted paper, but it's far easier to wrap something awkwardly-shaped like a bottle, using fabric.
You can find ready-made Furoshiki wraps at both Etsy and Notonthehighstreet.com or if you can easily make your own using spare pieces of fabric or even a new tea towel.
When wrapping a bottle, lay the fabric face down and put the bottle centrally on top. Draw the middle points of the side edges of the tea towel to the bottle and secure with sticky tape.
Cut a length of string ready to use. Use both hands to draw the front and back of the tea towel up and around the bottle, carefully shaping any folds for neatness.
Hold in place with one hand and wrap the piece of string around the bottle neck to keep the ends of the tea towel in place and tie off.
Take your choice of decorative twine, ribbon or string and wrap around the bottle top, knotting off at the back for the perfect finishing touch.
5. Stamp your own wrap
Cant find a gift wrap you like? Why not make your own? Invest in festive-themed stamps and decorate sheets of plain craft paper in a variety of colours. Alternatively, if you're artistically gifted, draw a freestyle design on a wide sheet of paper using a single color.
Nature themes always work well, as do abstract designs, and you can even personalise the paper to each person should you wish.
6. Finish with handmade decorations
The gold decorative detailing on this plainly wrapped present lifts the whole look to new heights and adds a touch of sophistication to your gifts. They can all be made well in advance too, so wrapping the gifts is both easy and straightforward.
To create a metal leaf decoration you will need thin metal foil embossing and engraving sheets. Cut out a leaf shape, you will need tin snips or good scissors for this. Then use an embossing or engraving tool to mark out the veins.
Attach the wire stem with contact adhesive or a polyurethane-based glue such as Gorilla Glue. To get the aged look, water down white all-surface primer or a wash of white chalk paint wax and wipe over.
Bend them into shape, bind the leaves to a length of wire and drape around the chair back.
7. Add plenty of colorful ribbon
Plain paper and bold colored ribbon is always a winner so why not ramp up the drama by overloading your gifts with an excess of ribbon, too?
You don't have to be too neat either - the trick is to layer as much as possible to for a Marie Antoinette-style vibe.
It'll also raise a smile on Christmas morning when everyone struggles to open their gifts hidden under an abundance of ribbon.
8. Get creative with wool and trimmings
Try to think laterally, avoiding the obvious choices for gift wrap. Try using wool, ric rac, pom pom trims... anything you may have to hand or can pick up easily in a fabric store.
You can make your own woollen pompoms instead of bows, double up lengths of wool in place of ribbon - anything goes as long as you have a clear color theme to tie the look together.
9. Add a touch of gold
Adding a touch of gold to anything decorative usually elevates it to become something far more special.
Gold decor and Christmas go hand-in-hand too (think The Three Kings!) and finishing off a wrapped present with a shiny touch of gold makes it all the more festive.
Choose papers with gold highlights and echo the metallic touches with small decorations tied to the ribbon or a gold name tag.
10. Bring the outdoors in
Try finishing off wrapped gifts with springs of fresh greenery or flowers for a natural feel? Avoid using ribbon, especially on smaller gifts - it's important to scale down the decor to match the size of the gift so it doesn't look too overloaded. Simply secure in place using string or twine and don't forget to add a name tag.
'I love making Christmas decorations from organic materials - 'things I've foraged for in my garden or in my larder,' reveals colour and paint expert, Annie Sloan . It's traditional and it's so much better for the planet. All you need is a few basic items and your imagination.'
11. Ditch the tape for a handcrafted look
Not keen on adhesive tape? Why not try securing your gifts together using a simple sewing needle and thread?
Begin by wrapping your gift in tissue paper to prevent sharp edges tearing the wrapping paper and so it stays in place.
Place your wrapping paper (wallpaper off-cuts work well here, too) face down and put the gift on top. Draw the desired shape around, allowing enough extra space to fit around the gift and for the stitches.
Cut out and use as a template to cut another shape to match. Using a bodkin, thread with string or twine and begin to stitch the shapes together, around 2cm in from the edge, leaving a long thread end at 
the start.
When halfway around, insert the gift then continue to stitch. When complete, tie off the ends in a knot or bow and add a hand-stamped label. For extra detail, insert a layer of decorative paper cut just larger than the template.
12. Pick a ribbon per person
When wrapping gifts this year, why not skip the name tags altogether and decorate each present with a different color-coded ribbon for each person instead?
Wrap the gifts using just one wrapping paper and vary each look with different colored ribbon. And make sure you let each person know what colour to look out for!
13. Involve your kids
Get your kids to help by asking them to create their own wrapping paper.
This sturdy paper from Eat Sleep Doodle already features a design that's crying out for color, but you could find some black and white designs online and print them out for smaller children, while older kids could design their own pattern.
15. Print your own paper
Channel your childhood by printing your own paper with colorful paints and simple potato stamps. Keep the look loose and relaxed - no-one's looking for perfection here - and choose a specific color scheme or pattern for each person. Finish the wrapped paper off with a simple ribbon.
16. Make simple hanging cones
Have a go at wrapping smaller gifts like stocking fillers in handmade decorative hanging paper cones. First, cut out a square of paper. With the pattern side of the paper showing outermost, curl and shape into a cone, making sure the pointed end has no gaps and the outer edge of the paper finishes at the back.
Stick in place with either decorative tape or double-sided tape for neatness. Before adding the gift, fold down the top corner to enclose the gap, then fold back and put the 
gift inside.
Place a length of string or decorative twine inside across the top, securing in place with tape. Fold the top down and keep in place with a sticker. Finally hang up, knotting and tying off the string at the desired length.
17. Decorate plain wrap
Channel your inner Jackson Pollock and create your own personalised wrapping paper using paint on plain paper.
Splash to your heart's content, paint stripes or spots freehand for a loose artisan look. Stick to one shade or layer up color if you prefer, making sure you leave each color to dry before applying another shade.
18. Add plenty of subtle pattern
Prefer a more subtle scheme? Pick one color theme for the paper but mix it up with a wide variety of pattern - from spots and stripes to plain or embossed papers.
Finish each wrapped gift with ribbon in a single similar shade but use a variety of designs from thin and thick to velvets, grosgrains and even picot edged designs to keep the look varied and dynamic.
19. Personalise each package
Run out of gift tags? Don't worry. Cut out the initials of the person you're giving the gift to and secure them to the wrapped present with glue.
Better still, use spare Scrabble pieces (you can find these for sale on Amazon) or if you have good handwriting, personalise a small bauble using a thin tipped Sharpie pen and secure it to the gift with ribbon or string.
20. Stick to a minimal palette
Narrow down your papers and ribbon to a core collection of colors and patterns to guarantee an elegant mix of packages. Choose up to four papers - some with pattern some without - and around four ribbons in varied thickness.
If you do add embellishment - pick ones that are similarly colored, like these simple fresh fir and eucalyptus sprigs.
Sign up to the Homes & Gardens newsletter
Decor Ideas. Project Inspiration. Expert Advice. Delivered to your inbox.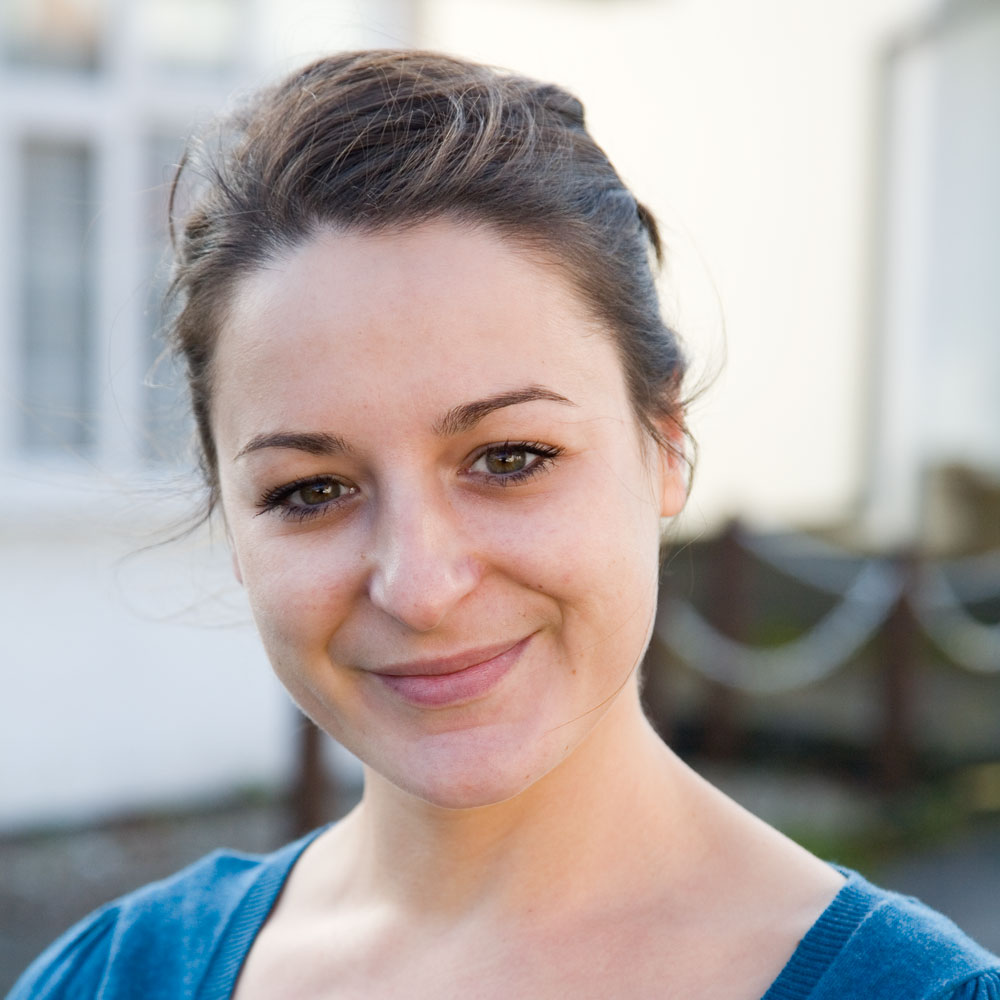 Ginevra Benedetti is Associate Editor on the Homes Content Team at Future. She has been writing about interiors for the past 16 years on the majority of Britain's monthly interiors titles, such as Ideal Home, Country Homes & Interiors and Style at Home, as well as Livingetc and of course, Homes & Gardens. This naturally lead her into writing for websites like HomesandGardens.com.