Best luxury candles: 9 impressive scents to invest in this year
Immerse yourself in the scent of these best candles, to imbue luxury into your home – in an instant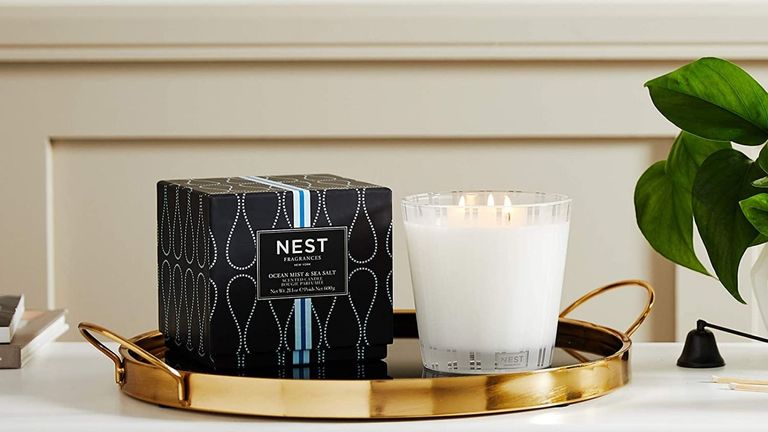 (Image credit: Nest New York)
In search of the best candle to burn at home? Or, perhaps you are lusting after a luxury candle to flood your rooms with a sublime scent to impress guests? Here, we've handpicked 9 luxury candles that you can buy online. From floral scents to fruity fragrances and candles that are best suited for burning during fall, these scents are an easy way to transform the atmosphere inside your home. Choose something that suits your interior style for a drastic effect.
Whether you are redecorating a room or you need to replace a recently finished candle that sits on your coffee table, home fragrance has a way of lifting our spirits and mood in a matter of moments. These scents have become escapism at their finest, and they are simply exquisite for anywhere from your kitchen to your bathroom, your living room, home office, and even your entryway.
Whether you dream of rustic relaxation or you are hoping for a brighter, more uplifting scent, these aroma-filled candles are worth a browse. You won't be surprised to hear that the options in our list are some of the best home fragrances money can buy, as rated by the Homes & Gardens team.
The best luxury candles to buy for your home
1.
Diptyque Baies Scented Candle
Scent: Berries, Roses
Sizes: 190g
Enable the tangy coolness of freshly picked blackcurrant berries to transform any room with this Diptyque's Baies candle. The best-seller is a fan-favorite choice, regardless of your age or personal aesthetic. Aside from being the brand's most popular and well-known scent, its aromatic scent seamlessly blends splendidly with flowery accents of roses with a fruitiness that's subtle throughout. You'll never have to worry about bearing overcome by an overbearing fragrance.
2.
Skandinavisk Lempi Candle
Scent: Peony, Rose, Strawberry, Moss
Sizes: 65g, 200g
Lempi is without a doubt our favorite floral candle on the market, and its fragrance is perfectly balanced with fruity notes from strawberries and earthy notes from moss. Otherwise, this candle smells just like peonies mixed with roses. It's never overpowering and will be sure to get your guests talking. Housed inside a white recyclable glass vessel, this eco-friendly fragrance is created using sustainably sourced, non-GMO rapeseed oil. Plus, it has a cotton wick for a clean burn.
3.
Diptyque Tubereuse Candle
Scent: Tuberose Flower
Sizes: 70g, 190g, 300g, 1500g
One of Meghan Markles' favorite candles and for good reason, this Diptyque scent in its largest size has a total of 5 wicks. Made in France and scented using essential oils, it's the perfect floral addition to your home for spring. This floral scent comes from, you guessed it: tuberose, and it's floral yet fresh and a little milky. Well balanced, this scented candle is designed to impress.
4.
Nest New York Ocean Mist & Sea Salt Luxury Candle
Scent: Ocean Mist, Sea Salt, White Tea, Coconut
Sizes: 57g ,230g, 600g,1239g
If it's a refreshing fragrance that you are searching for, then this bestseller from Nest New York is our top recommendation. It'll be sure to inject a peaceful vibe into your home, and we think it's especially ideal for hallways, to flood each and every room with its scent. With immediate fragrance notes of ocean mist, combined with hints of sea salt, white tea, and coconut, it's great for burning in spring and summer. It sits inside an elegant etched vessel. We recommend the 1239g size for complete luxury — it has 4 wicks for a powerful effect.
5.
Jonathan Adler Vice Envy Candle
Scent: Citrus Mélange, Pink Peppercorn, Damask Rose, Neroli, Amber, Vanilla, Musk
Size: 210g


This sublime Jonathan Adler candle looks as good as it smells. And for anyone who owns one of their vice canisters, you can now match your home fragrance to your decor! This fragrance is a healthy mix of citrus, floral and woody scents, and overall it's smooth yet peppery. In short: it's statement-worthy in looks and fragrance. This soy/paraffin blend is hand-poured inside a high-fired porcelain canister that has been hand-painted, glazed, and dipped in a gloss finish. Complete with a lid to prevent your candle from dusting, and to make it look elegant when not in use, we love it for year-round home scenting. The best part? It arrives beautifully presented, and ready to gift, inside a box.
6.
Maison Margiela 'Replica' Springtime in a Park
Scent: Lily of the Valley, Pear Accord, Rose Damascena
Sizes: 165g
The Replica Springtime in a Park Scented Candle by Maison Margiela is a luxury candle that offers aromas comparable to the corresponding floral atmosphere implicative of wandering through the park during spring. This extravagant candle opens with the floral fragrances of lily of the valley and jasmine to produce a joyful springtime sensation amplified by notes of pear that is effortless. Poured inside a white glass adorned with the iconic REPLICA fabric label, it has pink wax and is designed to trigger any happy springtime memories that are kept in your mind.
7.
Tom Ford Fucking Fabulous Candle
Scent: Bitter Almond Oil, Leather Accord, Orris Accord
Size: 21oz
This artisanal designer scent is a self-indulgent oriental leather fragrance that's perfect for burning during the colder months — and especially in fall. When burning, this candle fills any room with a mix of clary sage and fresh lavender. Well-balanced with bitter almond and vanilla inflections to give richness to the scent, it even gives nods to floral notes with the addition of orrisroot — from the iris flower. With a creamy close, this decadent candle looks as good as it smells, inside a black glass curved vessel, and its wax is black for added luxury.
8.
The Laundress No.723 Candle
Scent: Damask Rose, Geranium, Jasmine, Lily of the Valley, Guaiac Wood, Amber
Size: 6.5fl oz
Eco-friendly cleaning and laundry brand The Laundress has entered the candle sphere, and the 'No.723' candle is their first and latest installment. The minute you unwrap this candle, your senses are in for a real treat; there's Damask rose at the heart of the candle, surrounded by a chorus of geranium, jasmine, and lily of the valley, deeply grounded with the velvety, spicy warmth of guaiac wood and amber. Reminiscent of the brand's best-selling laundry detergent, we particularly love how it completely transforms your space. The sharply designed vessel is clean and concise and looks outstanding on any counter or console; the white and black add just enough to any current display without adding too much. More so, the formula is a soy blend and it's hand-poured in NYC.
9.
The Little Market Garden Candle
Scent: Lavender, Sage, Rosemary, Cedarwood
Size: 10oz
Back in 2013, Lauren Conrad and Hannah Skvarla launched The Little Market, a non-profit fair trade shop. Their purpose was to spotlight artisan women in underserved communities who make beautiful handmade goods locally in Los Angeles, nationally, and globally. If you're looking to invest in one of their bestselling items, we recommend their Garden candle. With floral notes of blooming flower beds to relax your mind, body, and soul, the delightful scents of lavender, sage, rosemary, and cedarwood are all meticulously compounded collectively to execute a welcoming, tranquil fragrance. These candles don't just smell good, but each purchase does good for women in need. They are also poured inside recyclable glass vessels.
---
What to consider when choosing a candle for your home?
It's imperative to consider the location of where you're looking to display your candle.
For the living area: it's best to consider your aesthetic or decor; minimalists will want to reach for woody scents, whereas traditional settings require a scent floral-based.
With kitchens: it's best to reach for something lighter and airier; the last thing you want to do is compete with food aromas, so we suggest a spicy scent or subtle aqua.
Now, in the case, you're shopping for your bedroom: opt for an aroma that's lavender or vanilla-based; you'll want to calm your senses and create a peaceful oasis.
Otherwise, if you have pets or inquisitive children, or if you are worried about the safety worries that come with burning a candle, a reed diffuser is an elegant alternative.
How do we choose these candles?
We selected these luxury candles based on two factors: reviewers' opinions, and our thoughts. Yes, we've managed to get hands-on experience with a few of these scents, so we can recommend them even after testing inside our homes. Rest assured, though, the ones that we've not yet tested came highly recommended by happy fragrance lovers far and wide.
Annie is Deputy Ecommerce Editor at Homes & Gardens. With a penchant for shopping, a first-class Journalism degree, and four years of eCommerce experience behind her, she is our shopping guru when it comes to what to buy for your home, when to invest — and where to do your shopping. Her eCommerce experience has inspired countless online purchases across the titles of Ideal Home, Livingetc, Gardeningetc, Real Homes, and Woman & Home. Annie and her team currently curate shopping content for Homes & Gardens, so whether you're searching for luxurious towels to spruce your bathroom or a pantry organizer to maximize space and add style, they can recommend a product (or 10).