Best home fragrance: 9 fabulously fresh fragrances to invest in
By investing in some of the best home fragrances, you can instantly transform your home's mood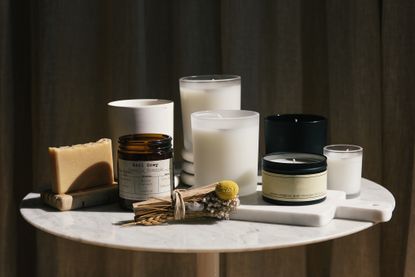 (Image credit: Getty Images)
The one thing we've learned from these unprecedented times is that we need to be easier on ourselves and know when to take a second, step back, and practice self-care. One excellent way to do just that: curling up to a best-selling novel and enjoying the soothing effects of the best home fragrance – it's escapism at its finest.
Aromas such as lavender or vanilla create a safe and relaxing atmosphere, working wonders on the mind, body, and soul. A handful of us might seek out cinnamon-based scents reminiscent of childhood days; others drift towards rose petals and find themselves transported that way.
Of course, when choosing a home fragrance, it all boils down to personal preference, but the upside to that is some fail-safe scents are guaranteed to make your home smell nice and bring comfort and joy into your rooms (and lives) – that's why we're here.
Whether you're looking for a subtle, striking, or in-between scent, we've rounded up a handful of scents so versatile that they're excellent for frequent use or on the days you demand a little self-care. Here, we've listed both reed diffusers and candles so that you can choose a fragrance that suits your home decor.
The best fragrances to invest in
Why you can trust Homes & Gardens Our expert reviewers spend hours testing and comparing products and services so you can choose the best for you. Find out more about how we test.
From the best candles to diffusers, fan favorites, and best-sellers, we've composed a carefully curated list of the best home fragrances that are worth the investment.
1. Diptyque Baies Candle
The best home fragrance: the best-selling fan-favorite that reigns supreme
Specifications
Scent: Berries
Family: Fruity
Burn time: 50 to 60 hours
Size: 190g
Reasons to buy
+
A long-lasting candle that's one of the brand's best-sellers
+
A worthwhile investment with a longer burn time
+
Subtle tones opposed to overwhelming fragrances
Enable the tangy coolness of freshly picked blackcurrant berries to fill the air with Diptyque's Baies Candle.
Why do we love it
Aside from being the brand's most popular and well-known fragrance, its aromatic scent seamlessly blends lovely, flowery accents of roses with a fruitiness that's subtle throughout. You'll never have to worry about being overcome by the distinct fragrances.
Extra-long burn time
Sure, this candle is undoubtedly on the pricier side; but this candle is also one of the best investments any scent lover can make. With a burn-time running from 50 to 60 hours, it's clear to last longer than most other candles in your possession.
2. LAFCO New York House & Home Candle, Breakfast Room/Citrus Berry
The best home fragrance: the perfect breakfast candle to wake-up with every single morning
Specifications
Scent: Yuzu, Grapefruit and Berry
Ingredients: Soy Wax and Essential Oils
Formula: 100% Cotton Wick
Vessel: Glass
Burn-time: Up to 90 hours
Reasons to buy
+
Long-lasting burn-time
+
Beautiful glass vessel
+
The formula features essential oils for relaxation
Picture this: perched by bright corner by the window, with the sunshine signaling the start of a new day – sounds marvelous, don't you agree? We do, and this LAFO New York Breakfast Room/Citrus Berry Candle can make that vision ring true day-in, day-out.
Why do we love it
This candle arrives in a beautiful turquoise speckled glass vessel that will instantly update any kitchen counter or side table. When lit, the light reflects onto the outer glass covering, creating a peaceful environment that will start the day off on the right note.
What it smells like
Sparkling yuzu and tart orange pulp blend with fresh grapefruit and lychee to create an uplifting mood. Lively and joyful, delicious forest berries add a sweet finish.
Additional notes
With a burn-time of up to 90 hours (that is nearly a week straight of continuous use), this soy wax candle and 100% cotton wick features a formula that includes essential oils that ensure a relaxing experience.
3. Tom Ford 'Fucking Fabulous' Candle
The best home fragrance: the best artisanal scent to invest in year-round
Specifications
Fragrance Family: Warm and Spicy
Scent Type: Woody Spices
Key Notes: Bitter Almond Oil, Leather Accord, Orris Accord
Burn Time: 40 hours
Reasons to buy
+
A perfectly woodsy scent to burn throughout cold weather
+
A 40 hour burn time
+
Designer-made
Tom Ford's Fucking Fabulous Candle is a decadent oriental leather fragrance with an intoxicating grip – capturing a rarefied air.
Why do we love it
This candle evokes the private exchanges and insider moments where fantasies come true. With a name that says it all – the vibrant opening makes an instant statement.
What it smells like
This candle fills any room with clary sage and fresh lavender – both of which will command attention with their aromatic foreplay. The delectable bitter almond and vanilla inflections infuse textural richness to the leather heart. Drenched in orrisroot – from the iris flower – this candle's bountiful luscious body of the supple Italian plunge reveals exquisite beauty, as the addictive tonka bean and lavish leather drive the scent.
Finally, amber undertones reverberate with a warm ultra glow, while the ultra-fine blond woods create a confident expression of pure luxury with a creamy finish.
Additional notes
With a burn time of up to 40 hours, this 21oz candle is explicit, exclusive, and fabulous.
4. Maison Margiela 'REPLICA' Springtime in a Park
The best home fragrance: the best seasonal scent to invest in
Specifications
Fragrance Family: Floral
Scent Type: Fruity florals
Burn Time: 40 hours
Reasons to buy
+
The long-lasting scent isn't overwhelming
+
Reasonable burn time that makes this a worthwhile investment
The REPLICA Springtime in a Park Scented Candle by Maison Margiela is a luxury candle that offers aromas similar to the same floral atmosphere reminiscent of walking through the park during spring.
What it smells like
This luxury candle blooms with the floral scents of lily of the valley and jasmine to create a joyful springtime sensation magnified by notes of pear that is effortless. It's both subtle and striking without being overpowering.
Why do we love it
With their white glass adorned with the iconic REPLICA fabric label, the candles will beautifully light up your home. With an emphasis on specific colored wax, this candle is reminiscent of the scented memory.
Additional notes
The brand recommends not burning this candle for more than three to four hours at a time, as the flame will not be as strong if done more than that.
5. NEST New York Grapefruit Reed Diffuser
The best home fragrance: the best fruity diffuser on the market
Specifications
Fragrance Family: Floral
Scent Type: Fresh florals
Keynotes: Grapefruit
Size: 5.9oz
Reasons to buy
+
A perfect springtime blend that will lift spirits in seconds
+
Larger size for anyone looking for longevity
If you are in the market for something fruity and floral-inspired but notice a candle is not your cup of tea, let us recommend the NEST New York Grapefruit Reed Diffuser.
What it smells like
This diffuser offers an exhilarating blend of pink pomelo grapefruit and watery green notes with lily of the valley and coriander blossom. Fabulous and fresh, it's springtime-in-a-bottle and one of the brand's best-selling fragrances.
Why do we love it
This expertly crafted diffuser offers users the highest-quality fragrance oils; this reed diffuser releases an exquisite scent slowly and evenly to fill the air for up to 90 days, deeming it a worthwhile investment.
6. Bath and Body Works 3 Wick Scented Candle Wildberry Jam Donut
The best home fragrance: to make you reminiscent of your childhood days
Specifications
Fragrance Family: Wildberry with a hint of cinnamon
Features: Essential Oils
Type: 3-wick candle
Reasons to buy
+
A warm, comforting scent
+
This long-lasting candle offers a three-wick model
+
The vessel doubles as home décor
For those wondering how a Bath and Body Works candle made it on our must-have list, you've never smelt the Wildberry Jam Donut. It's the comfort and joy-induced candle that makes you feel so warm and toasty inside, impossible to resist (no matter how hard you try).
What it smells like
During these unprecedented times, we're all looking for ways to find comfort – and the sweet wildberry jam notes in this candle will get the job done.
With top-notch concentrations of natural essential oils in its formula, alongside hints of powdered donuts and brown sugar crumble, this scent is reminiscent of childhood days baking cookies with loved ones or going into your favorite bakery shop on the weekends; it's the familiar scent that makes you feel at home (and at peace).
Why do we love it
The three-wick candle is lead-free, soot-free, and offering a long-lasting, clean burn that's brighter for extra ambiance. With a burn-time of up to 45-hours, it's the sweet-smelling scent that you'll want to treat yourself to day-in-and-day-out.
7. Capri Blue Reed Diffuser Oil
The best home fragrance: the vacation-in-a-bottle to cure every homebound traveler's wanderlust
Specifications
Fragrance Family: Tropical fruit
Size: 0.5
Type: Essential oil/ reed diffuser
Dimensions: 3.25 x 3.63 x 1.31 inches
Reasons to buy
+
A light and airy scent that will instantly transform rooms
+
A long-lasting size
+
Affordable
For any homebound travelers looking to cure their wanderlust, we highly recommend turning your attention to the Capri Blue Reed Diffuser – it's the vacation-in-a-bottle that cures your travel woes.
Why do we love it
This long-lasting unforgettable fragrance will fill your space all day long. Unlike candles that require a wick and lighter to dispense their aroma, this reed diffuser slowly-yet-effectively releases its relaxing scent in a classy silhouette. The iconic signature blue vessel offers instant gratification and a liveable fragrance, making it the ultimate investment.
What it smells like
This fragrance diffuser comes available in three different renditions, but our suggestion is the 'Volcano' option; its tropical fruits and sugared citrus blend offer a punch of fragrance, pop of color, and statement for your senses.
Additional Notes
Aside from the fact reviewers compare the scent to 'living on a tropical island,' we should also mention the scent's range and how far it will reach in homes.
8. diptyque Orphéon Eau de Parfum
The best home fragrance: the best in-between when you don't want a candle or diffuser
Specifications
Style: Woody, aromatic
Scents: Tonka beans, cedarwood, juniper berries
Size: 75ml
Type: Spray
Reasons to buy
+
A subtle scent that is perfect for those who want something easier than a diffuser or candle
+
It's a best-seller
+
Long-lasting scent
For those looking for the best home fragrance – but are on the fence over a candle or diffuser, the Orphéon Eau de Parfum is the latest and greatest release from diptyque, and it comes highly regarded on our end.
What it smells like
Paying tribute to Paris in the late '60s, this scent pays homage to the immortalized bar in the olfactory portrait that bears its name: Orphéon. Freeze frame: curls of tobacco smoke mingle with powdery trails of blusher, lingering on burnished wood, creating warmth through the tonka bean, the depth of cedar, and the vivacity of juniper berries.
Why do we love it
This fragrance is the perfect in-between when unable to decide whether to reach for a diffuser or candle. With an easy-to-use spray top and a 75ml bottle, this sultry scent is sensational when used on pillows, blankets, or as a mood-boaster in any room.
9. Apotheke Sea Salt Grapefruit Reed Diffuser
The best home fragrance: the best way to immerse yourself in summer scents year-round
Specifications
Fragrance Family: Tropical
Notes: Grapefruit, Tropical, Mint, Floral, Marine,Musk, Lactonic, Coconut, Amber, Peach, Berry,
Size: 6.7floz
Lasts: 3 to 4 months
Reasons to buy
+
The perfect way to jet off to a tropical location with no travel required
+
It Will last up to four months
+
Fresh smelling scents
Dreaming of an endless summer? Apotheke's Sea Salt Grapefruit Reed Diffuser will do the trick. The smell is citrusy but elevated with clean notes reminding us of a lavish hotel lobby in Miami Beach.
What it smells like
At first instinct, you'll notice that grapefruit is leading this scent, but thanks to pepper, mint, and tarragon, this diffuser also provides depth. It's more fresh than fruity. As for the strength of the scent, it'll fill up a large room (but isn't overpowering) and has a longevity of up to four months.
Why do we love it
Besides the scent, which has become one of our go-to's, we love that Apotheke is female-centric; the founder started out selling handmade soaps at farmer's markets, and that the products are still produced at a small factory in Brooklyn.
Additional Notes
The frosted glass bottle feels minimalist and modern, but it's simple enough to suit any style.
How to select the best home fragrance?
It's imperative to consider the location of where you're looking to store your fragrance. For the living area: it's best to consider your aesthetic or decor; minimalists will want to reach for woody scents, whereas traditional settings require a scent floral-based.
With kitchens: it's best to reach for something lighter and airier; the last thing you want to do is compete with food aromas, so we suggest a spicy scent or subtle aqua.
Now, in the case you're shopping for your bedroom: opt for an aroma that's lavender or vanilla-based; you'll want to calm your senses and create a peaceful oasis.
How to tell the difference between a diffuser and a candle?
Compared to candles, diffusers are much safer, more efficient, straightforward, and sometimes more effective. If you strive to experience aromatherapy with ease, buy yourself an essential oil diffuser.
It's believed that the benefits are not just more sustainable than oils but much more in-tune with our senses than candles; but in total, it boils down to personal preference.
Brittany Romano wrote for Homes & Gardens as a U.S. Shopping Editor. A graduate of New England College, Brittany started her career as a freelance fashion market assistant at Marie Claire. She later joined AMI, where she designed a highly profitable commerce vertical. Noted for her award-winning content, she's covered everything from celebrity beauty hacks to the most lavish home decor.