I'm a sleep editor − here's where to buy the best comforters
For cozy convenience, there's nothing like a comforter. Here's where to find the very best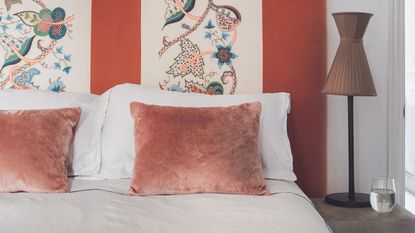 (Image credit: Homes & Gardens)
A high-quality comforter is the bedrock of a good night's sleep. The best comforters are filled with lots of little air pockets to enhance breathability, keeping you cool in the summer and warm in the winter. They're soft to the touch and gentle on your skin. Since they come without a cover, the right comforter has to be seriously stylish, too.
You can shop for comforters by material. Down comforters are filled with real feathers, while down alternative comforters are stuffed with soft and spongy synthetic fill. There are lightweight layers for the warmer months, as well as heavy-duty comforters for cooler climates. With so many options, it can be difficult to find the comforter that suits your sleep needs.
As a sleep editor, I know where to buy the best duvet inserts and comforters. I've spent hours researching the top bedding retailers and taking stock of their selection. I've found six stores that sell comforters to suit all sleep styles and seasons.
Whether you're shopping for a down alternative or the real thing, these sleep stores have got you covered.
Best places to buy comforters 2023
1. Saatva
Saatva sells some of the best comforters for sensitive sleepers. Each of their three comforters is stuffed with a synthetic fill known as down alternative. This material is hypoallergenic and prevents the buildup of dust, mold, and mildew in your mattress. Where real down can be a little high-maintenance, these alternative comforters are much easier to maintain. You can put them straight in your washing machine and dryer for easy cleaning.
+Hypoallergenic
-May not suit all sleepers
Filled with a unique blend of down alternative and porous lyocell, this comforter creates the perfect balance between warmth and breathability.
+Great for warmer climates
-Less suitable for colder nights
This comforter comes with a lighter fill and the same luxurious feeling. It's the perfect pick for warmer climates.
2. Brooklinen
Brooklinen offers something for every sleeper. You can choose from down and down alternative comforters and select your favorite warmth and weight level. Hot sleepers will appreciate the Lightweight Comforter, while the Ultra-Warm option is more suitable for colder climates. Instead of individual feathers which can scratch the skin, Brooklinen uses down clusters for a softer feel. Each of their comforters is wrapped in a cotton sateen shell for ultimate comfort.
Brooklinen Down Comforter
+Sustainably sourced
-Machine washing not recommended
All of this down has been sourced from Canadian flocks using sustainable farming practices, so that you can sleep easy.
BrooklinenWeighted Comforter
+Silky-soft
-May not suit all sleepers
This comforter is filled with thousands of glass microbeads, which add gentle pressure to calm your heart rate and your breathing.
3. Plushbeds
Plushbeds craft their comforters from high-grade organic and natural materials, so they're kind to your skin and kind to the planet. These comforters are filled with extra-large down clusters, which hold air to make your bedding feel bouncy and light. Hypoallergenic and chemical-free, these comforters are suitable for sensitive sleepers, and their eco-credentials are top-notch, too. Each comforter is covered in organic cotton to wick away moisture and keep you cool.
+Moisture-wicking
-Machine washing not recommended
Handcrafted in California, this wool comforter is non-toxic and sustainable.
+Easy to clean
-Not suitable for vegans
These machine-washable covers combine comfort and convenience.
4. SlumberCloud
If you know you want a comforter, but you aren't quite sure which sort will suit your needs, you should take the SlumberCloud Comforter Quiz. All you need to do is answer five quick questions about your sleep habits, and SlumberCloud will pair you with your perfect product. If you prefer to consider your options, you can consult the Comforter Comparison Chart. SlumberCloud have outlined the specifications and special features of all their comforters, so you can make an informed choice.
+Suitable for year-round use
-May not suit all sleepers
This lofty comforter retains large pockets of air, balancing cozy comfort with much-needed breathability.
SlumberCloud Lightweight Comforter
+Ideal for warmer climates
-Less suitable for cold nights
This comforter incorporates NASA-endorsed technology to regulate your body temperature.
5. The Company Store
Of all the brands on my list, The Company Store offers by far the widest selection of comforters. There are 12 down comforters to choose from, each of which comes in four levels of warmth. With light, medium, extra-, and ultra-warm options, The Company Store has something for every sleeper. Each of their comforters features corner loops, which means that they can be used alone or as a duvet insert with a coordinating cover. The only downside is that there are no down alternative options. If you're shopping for a vegan comforter, you're better off buying elsewhere.
+Hypoallergenic
-Not suitable for vegans
This comforter comes in true white, charcoal gray, and a range of jewel tones in between.
+Premium cotton shell
-Not suitable for vegans
Filled with 100% Hungarian white goose feathers, this down comforter is warm and fluffy.
6. Parachute
Parachute produces some of the best down alternative comforters on the market. Each of their comforters is stuffed with 100% recycled polyester fill and covered with an organic cotton shell. There's even free carbon-neutral shipping for each sale. Parachute ranks each of their quilts, comforters, and coverlets on a warmth scale to help you find the product that suits your sleep needs. Just bear in mind that there are no real down comforters for sale.