Best duvet inserts and comforters 2023: tested by experts
We've tried out the best duvet inserts for every type of sleeper and climate. These comforters made the cut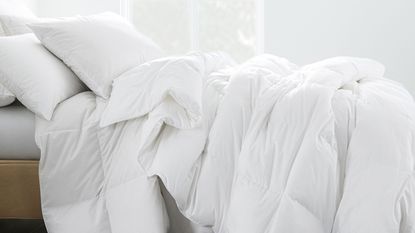 (Image credit: Boll and Branch )
From all the bedding I've tested, nothing makes your bed cozier than a good comforter. The pièce de résistance of any bed, a duvet brings the plush, luxurious look and feel you find in beautifully styled bedrooms. But while most comforters may make your bed appear inviting, only the best duvet inserts will upgrade your sleep too.
Often used interchangeably, the key difference between a duvet and a comforter is that a comforter doesn't need a cover. Both are made with a channelled or baffle box construction keeping the filling in place, be it feather, down, polyester, wool, or even silk. The type you choose is completely up to you, but the best duvets and comforters should be comfortable, easy to take care of and offer great value for money.
After testingall sorts of dreamy duvets, I've found the best to suit every need. Whether you're wanting a comforter to keep you warm at night, a lightweight duvet insert for the summer months, or one that does both, I've got you covered. Paired with the best bed sheets, you're well on your way to perfect sleep.
Best duvet inserts 2023
You can trust Homes & Gardens. Our expert reviewers spend hours testing and comparing the latest products, helping you choose the best for you. Find out more about how we test.
Best duvet insert overall
1. Boll & Branch Down Duvet
Best duvet insert overall
Specifications
Fill Type: RDS Down
Material: cotton, down
Sizes: Full/Queen, King/Cal King
RRP: $408-$588
Reasons to buy
+
Available in three densities according to needs
+
Hypoallergenic
+
Eco-friendly
+
Also available in down-alt
Why you should buy it
Cozy and comforting, while also airy and breathable.
What we loved on test
The Boll & Branch duvet insert marries indulgence with ethical credentials for a duvet that does good and feels good. Filled with down that meets the responsible down standard and sourced from American farms, it's also washed with eco-friendly, Bluesign certified detergent, making the down two times cleaner than the government standard.
The baffle box construction keeps the fill in place while corner ties securely attach to a duvet cover of your choice. It's available in three densities, each with a 650 fill power, depending on your warmth preferences of lightweight, midweight, and ultra-weight.
Good to know
Beyond price, the only other drawback is that there is no twin size for single beds.
Best all-season duvet
2. Coop Exhale All-Season Adjustable Comforter
Best all-season duvet
Specifications
Fill Type: 100% Polyester Microfiber
Material: 300 thread count cotton sateen
Sizes: Full/queen, king/Cali king
RRP : $279–$310
Reasons to buy
+
Fully adjustable for all seasons
+
Fully machine wash and dry
+
OEKO-TEX Certified
Reasons to avoid
-
Not cheap
-
Won't give you the fluffy full look of down
Why you should buy it
The best all-season comforter.
What we loved on test
As someone who doesn't have a huge amount of storage, it's not an option for me to have one summer and one winter duvet. But as someone who also suffers from overheating at night, an all-season duvet could pose some problems. The Coop customizable duvet is both lightweight and cozy, working to perfectly regulate my temperature no matter the season. I also love how I can detach and wash each side separately, which is great if, like me, you've got a small washing machine drum.
Good to know
Being a down alternative option, I expected this one to be more 'feather-like' than it is. It's not as fluffy as other down-alternative ones I've tried, and I found it didn't dry as well in the machine, but was fine when air-dryed.
Best down duvet
3. Brooklinen Down Comforter
Best down duvet
Specifications
Fill Type: Down
Fill Power: 700
Material: cotton/ duck down
Sizes: Twin/Twin XL, Full/Queen, King/Cal King
RRP: $259-$479
Reasons to buy
+
Ethically sourced duck down from Hutterite Farms in Canada
+
Also available in light and heavy weights
+
1 year trial period
+
Also offer a down-alt option
Reasons to avoid
-
Doesn't give a super full look
-
Spot clean or dry cleaning recommended
Why you should buy it
The best down duvet for every season.
What we loved on test
This all-season option is the Goldilocks model. It's not too hot and not too cold. However, if you need a lighter or heavier version, there are three down-weight options to choose from. This mid-weight design is perfect proof that you can have one duvet for all weather. Despite Jaclyn testing this one in the middle of a Georgia heatwave, it felt light and airy. The fill is evenly distributed and she said she doesn't feel like it needs shaking out every morning. Covered in 100-thread count long-staple cotton in a sateen weave, it feels luxurious to the touch too.
Good to know
This is tricky to clean; as with most down duvets, this one is spot-clean or dry-clean only.
Best down-alternative duvet
4. Saatva All-Year Down Alternative Comforter
Best down-alternative duvet
Specifications
Fill Type: Lyocell
Material: certified organic percale cotton
Sizes: Twin/Twin XL, Full/Queen, King/Cal King
RRP: $225-$295
Reasons to buy
+
Just as luxurious as down
+
Blend of cloud-like 3D down alternative fiber and naturally moisture-wicking lyocell fill
+
Machine Washable
+
Hypoallergenic
Reasons to avoid
-
Only one weight available
-
Expensive
Why you should buy it
The best ethical alternative to a down duvet.
What we loved on test
Because the duvet is called the 'All-Year' we tested it in the middle of June, a time when you'd typically swap duvets out for lighter-weight quilts. The fill, which is partly made of sustainable lyocell fiber, proved to be much more comfortable in summer temperatures than the down blanket we'd been using, but it may be too warm for hot nights if you don't have AC. But if you do? This blanket will keep you snuggled up and sweat-free. A few other details we appreciate: the cotton loops at the corners that secure it to a duvet cover and the fact that it's Fair Trade-certified.
Good to know
Washing the duvet was simple enough - we washed it alone, because the queen size blanket took up almost the entire drum of our front-load washer, and transferred it to the tumble dryer immediately after. It will need fluffing in between dry spins.
Best duvet insert for hot sleepers
5. Slumber Cloud Lightweight Comforter
Best duvet insert for hot sleepers or warmer weather
Specifications
Fill Type: 50% Outlast® Polyester Fiberfill / 50% Polyester Fiberfill
Material: Cotton
Sizes: Twin XL, Queen, King
RRP: $159-$219
Reasons to buy
+
Great for hot sleepers
+
Machine Washable
+
Good price
Reasons to avoid
-
No Full size
-
Not for those looking for a very lofty look
Why you should buy it
The Slumber Cloud Lightweight Comforter is the coolest option you can buy.
What we loved on test
Slumber Cloud's exclusive ClimaDry by Outlast fiberfill has that down-like feel but also regulates heat and moisture as you sleep wicks away any need to kick your leg out of the bed. Its technology, developed by NASA, is designed to regulate the temperature, humidity, and microclimate of your bed to keep your body cool and adjusted. With this duvet, you wouldn't even need a fan on in the midst of a heatwave.
Good to know
Because this blanket is geared toward hot sleepers, it has a thinner loft - about a quarter-inch - so it's not for people who seek a weighty duvet. It's still plush, but don't expect to feel wrapped up and snug.
Best eco-friendly duvet
6. The Company Store Company Conscious Down Comforter
Best eco-friendly duvet
Specifications
Fill Type: 75% white duck down/25% white duck feathers
Material: 400-thread count, 50% cotton & 50% TENCEL™ Lyocell
Sizes: Twin, Full, King/Cal King
RRP: $299-$429
Reasons to buy
+
Recycled down
+
Sewn-through box construction keeps down fill in place
+
Machine washable
+
There is a down-alt option
Reasons to avoid
-
May sleep too warm for some
Why you should buy it
An eco-friendly duvet made with recycled down.
What we loved on test
This excellent duvet brings down without the ethical worries, recycling old feathers for the comfort of down with none of the guilt. Jaclyn found the soft sateen cover, a combination of cotton and TENCEL, to be incredibly soft and breathable, as both materials are temperature-regulating, naturally hypoallergenic, and dust-mite resistant. Once placed on the bed, the duvet is quite lofty and the baffle box construction manages to hold the fill in place to avoid clumping.
Good to know
The duvet loses its loft by the end of the night, but nothing a good shake can't do to make it look like new again.
Best luxury duvet
6. Scooms Hungarian Goose Down Duvet
Best luxury duvet insert
Specifications
Fill Type: 90% Hungarian goose down & 10% selected small Hungarian goose feathe
Material: Cotton
Sizes: Single, Double, King, Double King
RRP: $232.50- $534.13
Reasons to buy
+
Three comforters in one, a lightweight, mid-weight, and combined together
+
Delightfully fluffy and heavy
+
Made with responsibly sourced Hungarian goose down
Reasons to avoid
-
Can be confusing to choose a size
-
Very expensive
-
No loops when two duvets are connected
Why you should buy it
This luxurious duvet is the best choice for a heavyweight duvet.
What we loved on test
Jaclyn tried the mid-weight duvet which combined a 9 TOG and a 2.5 TOG. Together, they are heavenly warm; this duvet almost feels like a weighted blanket is on top. Once separated, you have one duvet perfect for warmer nights and a mid-weight for when in between seasons. The feather-down feel is much more luxe feeling than the others she tested. What's more, the Hungarian Goose Down and Feathers are responsibly sourced from a single origin and a by-product of the food industry.
Good to know
The two duvets connect with snap fasteners. You won't notice them as you sleep, but they're small and easily lost, so you'll want to be vigilant about losing them amongst the duvet or falling onto the floor.
Best wool duvet insert
8. Woolroom Organic Washable Wool Comforter
Best wool duvet
Specifications
Fill Type: 100% organic, washable and traceable British wool
Material: unbleached, organic cotton
Sizes: Twin, Queen, King
RRP: $232.50- $534.13
Reasons to buy
+
Wool is traceable
+
No wool odor
+
Available in light, medium, warm, and all-season with recommendations based on room temperatures
Reasons to avoid
-
Recommended washing on wool cycle with wool detergent... LINE DRY ONLY
-
Won't give you the fluffy full look of down
Why you should buy it
The best wool duvet you can get, sustainable and farm.
What we loved on test
It doesn't get much more sustainable than wool, especially when it can be traced to the source. Woolroom is the first to offer a washable and organic wool product, paving the way for easier care. Jaclyn loved how the medium-weight duvet is made of 100% organic, washable, and traceable British wool and encased in an unbleached 300-thread count organic cotton cover. It's not fluffy like down, but still breathable and insulating when you need it. To make the wool washable, it goes through a treatment that combines natural minerals, water, and oxygen to allow the wool fibers to flex when washing.
Good to know
While it's machine washable, you can only wash it a wool cycle with a wool detergent and then line dry. Luckily, wool doesn't need to be cleaned often, and a stint in the sun can cure any bacteria build-up.
How we tested duvets and comforters
Homes and Gardens' review process is editorially independent and not influenced by any third parties. All our reviews are based on the real-life experience of using these products at home for months, if not a year. We came to our decisions by considering factors like the quality of construction, warmth options, breathability, and ease of care.
For more insight into our hands-on review process, refer to our Homes & Gardens review guidelines.
Tested by
Our former sleep ecommerce editor, Jaclyn frequently tests out and stays up to date on all things mattresses and bedding. In addition to Homes & Gardens, you can find her work in Real Homes, Livingetc, Apartment Therapy, MyDomaine, and The Spruce. She lives in Atlanta, GA.
FAQs
What's the difference between a duvet and comforter?
Duvet inserts are typically white, and the most durable designs have a baffle-box or channeled construction to keep the fill in place. They should have corner loops to attach the duvet cover. Their covers, purchased separately, can come in a range of materials and styles. The cover can easily be taken off to be washed or changed with the seasons without having to launder the entire duvet. Duvets will give you the most options when it comes to filling and warmth levels and can provide the loftiest feel. However, sometimes people don't like the feeling when the insert comes apart from the cover or bunches up.
Comforters, by comparison, are a single quilted piece filled with down or down alternative materials. They come in many styles, colors, patterns, and textures and are simply placed on the bed. Many are machine washable, but if you're wanting to change up the look of your bedroom, you'll have to buy another design.
What are down duvets?
Down refers to the fluffy cluster of down clusters - feathers - typically from ducks and geese. Down products tend to offer the highest levels of warmth and are regarded for their ability to provide excellent insulation. However, they won't suit vegans or those with allergies. When choosing down products, look out for certifications like the Responsible Down Standard (RDS), which confirms down products comply with animal welfare laws.
What are down alternative duvet inserts?
Down alternative products mimic the look and feel of down but are typically made of a synthetic material like polyester, microfiber or rayon or natural materials like bamboo. They're typically considered a hypoallergenic option that's super easy to care for – it can be popped in the wash with the rest of your bedding. They're also animal-friendly.
What are wool duvets?
Wool duvets, as the name implies, are duvets filled with wool. Wool is an all-natural and sustainable design gaining market share, especially among hot sleepers, for its temperature-regulating abilities. Wool is also moisture and odor resistant, and some organic options are available too. Wool is also naturally hypoallergenic and resistant to dust mites and allergens. A drawback to wool is that it does not offer the fluffy loft of standard duvets.
What are silk duvets?
Silk duvets and comforters definitely fall on the luxury end of the bedding spectrum, but provide many benefits including being naturally moisture-wicking and thermoregulation, and long-lasting (when cared for properly they can last for decades). Note that silk tends to have a more demanding care and upkeep as it's typically not machine washable, compared to other materials.
How much does a duvet insert cost?
I'd budget $150-$200. The best duvet inserts can get expensive, so it's important to have a budget in mind to help you find the right option. I think this range will get a high-quality duvet that won't cost too much. My biggest tip is that an all-season option is the best value for money. They may be at a slightly higher price point, but it saves you buying multiple seasonal duve inserts.
What duvet inserts do hotels use?
Most hotels will use goose-down duvets. The most luxurious option, down or feather-filled comforters are light and fluffy but also warm enough to keep you cozy during the night. They make for the plushest-looking bed also, which is why hotel beds tend to be the most welcoming. If you want a hotel-quality bed, team down with the best bed sheet material, percale, which has a silky smooth finish and cool-to-the-touch feel.
---
Finish off a beautifully styled bed with one of the best sheet sets. Cover your duvet insert in linens, cottons or bamboo covers in pretty colors and patterns, and match your sheets with your shams for a bed that's so comfy, you'll want to dive right into it.
Louise is your eCommerce Editor and sleep specialist to help you wind down well. A connoisseur of the mattress world, Louise previously covered sleep and wellness (as well as the occasional organizational buy) at Real Homes, and has tried, tested, and reviewed some of the buys for your bedroom. With an MA in International Journalism and PR experience, Louise brings bags of bedding expertise and enjoys nothing more than helping readers find solutions and products that best suit their sleep needs.