Best reed diffusers: 6 enticing scents to match the mood of your home
With help from one of the best reed diffusers, you'll create an inviting environment in any room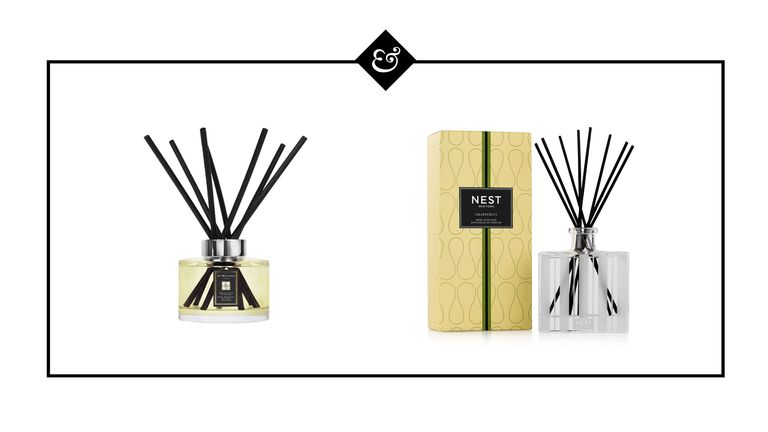 (Image credit: Future)
Allow yourself to invest in the best reed diffuser, to introduce luxurious scents into your home subtly — and to put the finishing touch to your rooms. Safer than candles and with no effort to produce an aroma, reed diffusers are a must-have at all times. Whether for flooding fragrance through your entryway, for scenting your bathroom, or alternatively using as a piece of home decor in a master bedroom, they offer the best of both worlds.
With a myriad of scents on offer when it comes to selecting a reed diffuser, from citrus-based to floral aromas, all you have to do is select which scent boosts your mood in your home. These aesthetically pleasing additions simply sit on your chosen countertop or windowsill and disperse a sumptuous scent into the air, for a relaxed way to make your home more inviting.
If you don't want to worry about whether you blew your last candle out before bed, or dislike the idea of open flames in your home, then there simply isn't a better option than a reed diffuser. You won't be surprised to hear that the options in our list are some of the best home fragrances money can buy, as rated by the Homes & Gardens team.
---
The best reed diffusers for an impressive effect
1. Homesick 'Pumpkin Picking' Reed Diffuser
The best reed diffuser for fall
Specifications
Fragrance Family: Fresh
Scent Type: Citrus
Size: 40z
Reasons to buy
+
Subtle scent to immerse yourself in fall year-round
+
Handcrafted with essential oils
+
Long-lasting
Picture: the perfect fall day where the weather is just right as you sip your favorite pumpkin spice beverage – that is Homesick's Pumpkin Picking Reed Diffuser in a nutshell.
What is smells like
Layered with pumpkin, and nutmeg this reed diffuser adds nods of gingers, cinnamon, clove, vanilla, tonka bean, and sugar. It's a sweet-smelling concoction that is not too overpowering.
Why do we love it
Aside from making every day feel like a cool fall day with hot apple cider and pumpkin spice, this reed diffuser lasts anywhere from two to three months and comes available in a 4oz size.
2. Capri Blue 'Volcano' Reed Diffuser
The most iconic long-lasting scent that's nice and fruity
Specifications
Fragrance Family: Fruity
Scent Type: Citrus
Size: 8oz
Reasons to buy
+
An iconic scent that is long-lasting and subtle
+
A sleek blue vessel that will look sensational on any mantel or tabletop
Reasons to avoid
-
Fruity fragrance isn't for everyone
The Capri Blue 'Volcano' Reed Diffuser is the hassle-free way to enjoy the already-iconic scent.
What is smells like
With nods of tropical fruits and sugared citrus, it's the paradise-in-a-jar that so many of us are craving for this year.
Why do we love it
The simple blue bottle adds an air of modern elegance while the long-lasting reed diffuser in itself is just as powerful as the candle, but with the added safety of being flameless. Plus, the 8oz size is reasonable and more than accommodating for those looking for a worthwhile investment.
3. Jo Malone London English Pear and Freesia Reed Diffuser
The best fruity and floral find for spring
Specifications
Fragrance Family: Floral
Scent Type: Fruity
Size: 5.6 oz/ 165 mL Diffuser
Reasons to buy
+
A long-lasting fruity and floral scent
+
A sleek vessel that will look great on display
+
Will last up to three to four months at a time
The Jo Malone London English Pear and Freesia Reed Diffuser is so sleek in design. This reed diffuser effortlessly and continuously adds an enveloping scent to any space.
What is smells like
Fully capturing the essence of autumn, the sensuous freshness of just-ripe pears is wrapped in a bouquet of white freesias and mellowed by amber, patchouli, and woods for a luscious and golden olfactory sensation.
Why do we love it
This reed diffuser lasts from anywhere to three to four months; this long-lasting vessel will not only look stunning on display, but it will repeatedly add a fresh smelling aroma to any space or living quarter that's impossible to resist.
4. Nest New York Grapefruit Reed Diffuser
The best fresh reed diffuser
Specifications
Fragrance Family: Fresh
Scent Type: Fresh Citrus
Size: 5.9 fl oz | 175 mL
Reasons to buy
+
A best-selling iconic scent that will uplift senses
+
Features eight all-natural rattan reed sticks
+
Long-lasting
+
Vegan
Reasons to avoid
-
A strong scent that might be too much for some
Allow the Nest New York Grapefruit Reed Diffuser to uplift and exhilarate moods wherever, whenever. It's even vegan and cruelty-free, just to top it off.
What is smells like
Belonging to the fresh/citrus family, this reed diffuser features nods of pink pomelo grapefruit and watery green notes combined with lily of the valley and coriander blossom.
Why do we love it
It arrives housed in a glass vessel etched with elegant, frosted stripes and utilizing eight all-natural rattan reed sticks. It's expertly crafted with the highest quality fragrance oils. This reed diffuser releases an exquisite scent slowly and evenly into the air for approximately 90 days, delivering a continuous fragrance uninterrupted.
5. The White Company Wild Mint Reed Diffuser
A calming herbal blend that looks as elegant as it smells
Specifications
Fragrance Family: Herbal
Scent Type: Peppermint and Spearmint
Size: 6.8 fl.oz
Reasons to buy
+
A calming blend to awaken and relax senses
+
It will last up to three months
+
A stunning handcrafted vessel
Reasons to avoid
-
Best for bathrooms and kitchens
The White Company's Wild Mint Reed Diffuser is a must on our list. Created to capture the unbeatably cooling aroma of wild mint on a calm day, it's suitable for anyone, anytime. Make use of this reed diffuser whether it's warm or cold outside, and we say that it works best when placed in a bathroom or kitchen, thanks to its refreshing aroma.
What it smells like
A cocktail of just-crushed peppermint and spearmint leaves is muddled with a touch of silky, delicate white tea, creating this decidedly bright and refreshing fragrance that's perfect for the kitchen, bathroom, and utility room.
Why do we love it
This lovely scent diffuser is a subtle and stylish way to softly fragrance your home all day. It uses natural reeds to draw up the aromatic oil and release its lovely fresh scent, plus it comes presented in a gorgeous glass apothecary vessel. What's more, is the 6.8fl oz vessel will last up to three months, making it a worthwhile investment.
6. P.F Candle Amber and Moss Reed Diffuser
An apothecary-style option with a unique scent
Specifications
Fragrance Family: Woody
Scent Type: Mossy wood
Size : 3.5 oz.
Reasons to buy
+
Unique
+
Masculine and outdoorsy
Reasons to avoid
-
Not a typical scent - might not be for everyone
This distinctive and quirky scent will gain you compliments from all of your guests. The apothecary aesthetic of the bottle is understated too and would fit subtly into your home. This fragrance should transport you to a sunlit outdoorsy setting.
What it smells like
The top notes of this diffuser are moss and lavender, which give it a different edge from other classic scents. This pairs with sage, orange, amber, and musk, to bring together a wonderfully curated smell. We say to use it when it's cold outside for the best effect.
Why do we love it
Branching out into more masculine smells can feel risky, but this scent is interesting and subtle enough to pull it off. You'll see your choice of scents in a whole new light with this diffuser.
---
What to consider when buying a reed diffuser
Choose your scent wisely
Selecting a reed diffuser means finding a scent that complements your space — and the mood you are trying to create. We recommend buying a reed diffuser to replicate the season. It's worth noting that rich scents like wood and spices usually warm up a room making these scents great for winter and fall, whereas fresher scents like mint, apple, and citrus will cool a space. Use these fragrances in the spring and summer.
Which room your new diffuser will be living inside?
The majority of people like to place a reed diffuser in a living room, where they spend lots of their time, or an entryway to flood all of their rooms with a subtle fragrance. Otherwise, a reed diffuser works well in a bathroom for a constant aroma, and to balance odors.
Are refills available?
Unlike candles, the majority of reed diffusers can simply be refilled once the fragrance has finished, to help save the environment and to save you a little money. Be sure to check that the reed diffuser you've picked can be refilled, otherwise, if you like it, you'll have to buy the entire vessel time after time, instead of just a bottle of the fragrance.
How often does a reed diffuser need to be changed?
On average, a person will need to replace a reed diffuser's sticks every six months. Specific circumstances might call for substituting them sooner, or they might exceed six months. But in most cases, that is the duration you should be thinking and a good rule of thumb to follow.
It would be a smart idea to check, before buying, that the reed diffuser you would like to buy comes with refills available. This will mean that you need only buy the vessel once, and then you can refill it forever with your favorite fragrance. Saving the planet — and a little money.
Molly is the Ecommerce Writer for Homes & Gardens and spends her time searching the internet for the next best thing for your home, with a focus on shopping edits and buying guides. Before joining Homes & Gardens, Molly graduated from the University of Exeter with a degree in English Literature, with previous internships undertaken at The Economist in her summer breaks.