7 things people with nice-smelling entryways always do
Achieving a nice-smelling entryway is all down to cleaning and finding great fragrances, and you can get creative with this task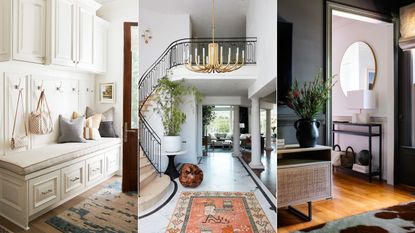 (Image credit: Alice Lane Interior Design/Nicole Hill Gerulat Photography / Jamie Ivey / Ansel Olson)
Sign up to the Homes & Gardens newsletter
Decor Ideas. Project Inspiration. Expert Advice. Delivered to your inbox.
Thank you for signing up to Homes & Gardens. You will receive a verification email shortly.
There was a problem. Please refresh the page and try again.
A nice-smelling entryway is extremely important: it is the first thing space you enter after a long day of work, it is your guests' first impression of your home, and it sets the tone for all your other rooms.
When thinking about making an entryway more inviting and what you need in a home entryway, it's easy to neglect considering how it smells. Banishing odors from your entryway is step one; for this, cleaning an entryway regularly is vital. Fragrance layering is step two.
We spoke to experts to find out what they do to make their entryway smell nice.
How to keep your entryway smelling nice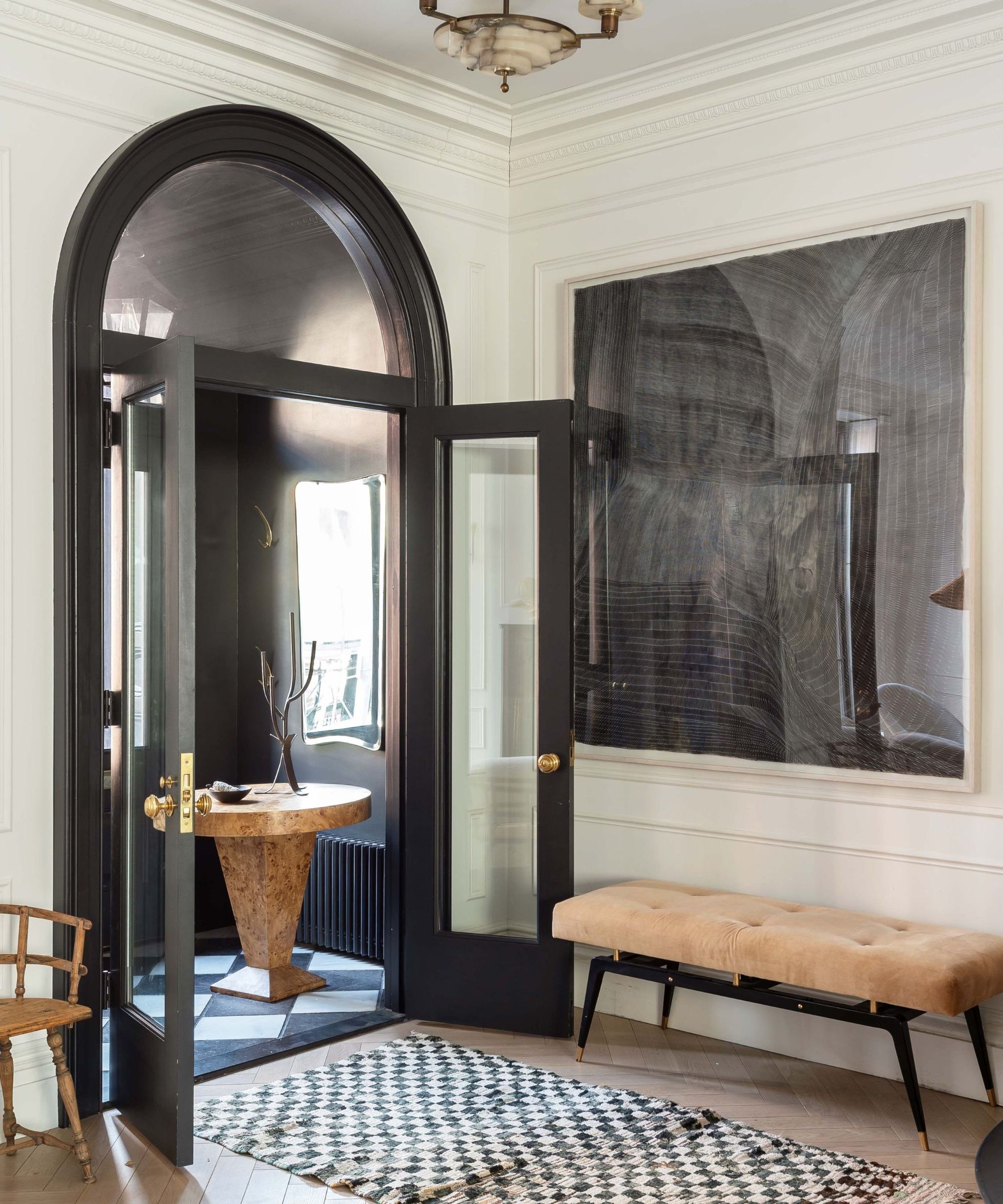 Keeping your entryway smelling nice involves regular deep cleaning and sanitizing. Since entryways play host to odor-emitting culprits, from shoes, to wet coats, to dirty mats, it's important to police those carefully. Then, you need a great signature scent to make it smell nice.
1. Keep furniture clean
One of the easiest ways odors will work their way into your entryway is in furniture, rugs and doormats, so make sure you give them a regular deep clean so they exude a nice fragrance. Deep cleaning is important since you can't simply mask a bad smell with a nice one because it will still linger underneath.
Entryway mats can easily get mucky, and that's kind of the point of them. From mopping up after muddy dog walks, to catching outdoor debris and even catching fall leaves, they can quickly start smelling. So, the first step is giving your entryway mat a deep clean.
There are a few different ways to clean a doormat, starting with shaking and vacuuming it to sprinkling some baking soda over it to absorb the bad smells. Leave this to sit for about an hour and then vacuum it off. You can also create a carpet deodorizer with one to two cups of baking soda and 10 to twenty drops of essential oils. Sprinkle it onto your mat and then vacuum it off to leave it smelling nice.
You should also clean any rugs in your entryway. How often you should deep clean your area rug can depend on the amount of traffic your entryway sees and the kind of rug you have. You can also steam clean your rugs or furniture just to make sure you have lifted all odors.
Make sure to check after taking the trash out that they haven't leaked onto the entryway floor. If so, clean immediately, since this is the number one way to reverse your efforts. Do the same with muddy or wet foot prints.
2. Banish shoe smells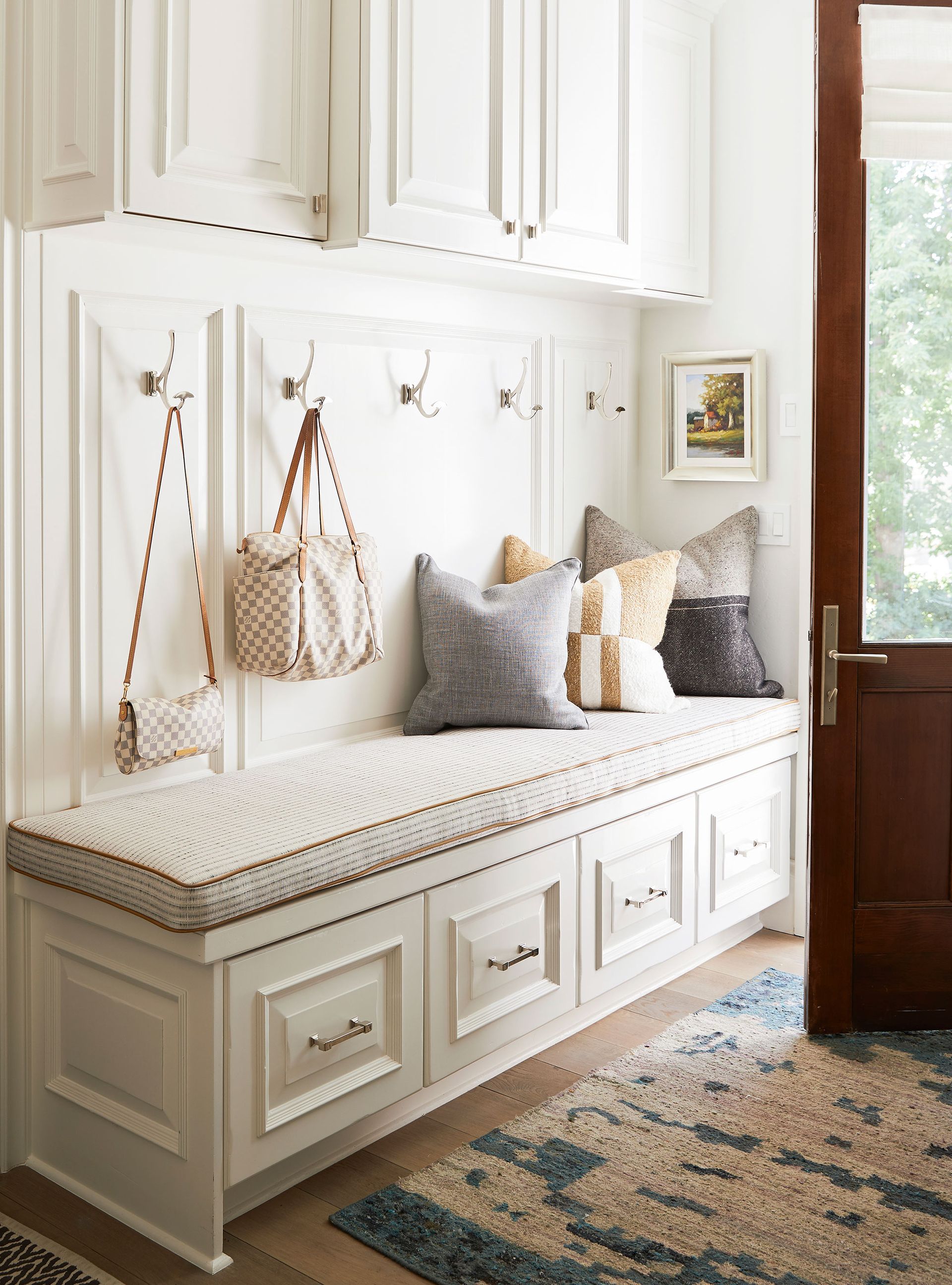 As one of the biggest sources of entryway odors, shoes should be regualrly deodorized. There are a few ways to do this including treating the shoes directly and closed-door hallway shoe storage ideas to banish shoe smells.
To avoid odor build up in shoes, you should ideally not put recently worn shoes in a drawer or closet, since they should be aired out first. A good idea may be to have daily-worn shoes out on a shoe rack or in a basket designated for shoes by the back door, and have less often worn shoes away.
Or, put some pieces of charcoal in your shoes overnight (do so in a pair of black socks to avoid staining your shoes and feet next time you wear them); this can absorb the moisture and smell in shoes. We recommend using these Bamboo Charcoal Bags Odor Absorber, at Amazon for a slightly easier way to do this.
Alternatively, you can use baking soda or a cotton ball soaked in vinegar in your shoes to absorb odors overnight.
The next step is choosing a well-aired shoe cabinet to circulate out any shoe odor build up. Materials like natural wood are great breathable options.
You could also invest in an air purifier, such as this HIMOX Small Air Purifier from Amazon, to put near your shoe storage to help keep it smelling fresh.
3. Keep your entryway well ventilated and dry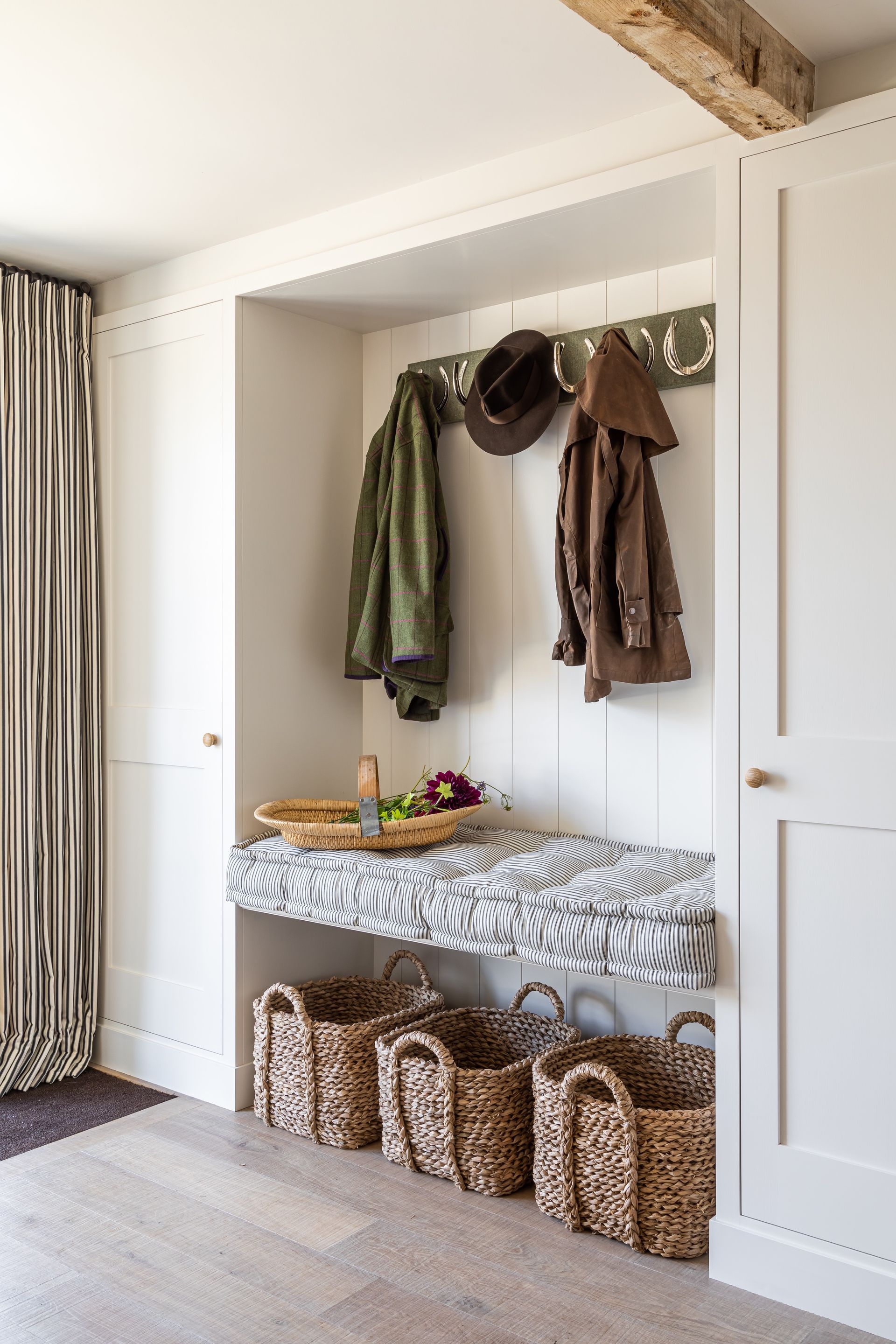 Tom Nolan, home improvement expert and founder of All Star Home, suggests, 'One of the most important features of any nice-smelling entryway is moisture management. This might be unexpected, but one of the primary
causes of odors in an entryway is caused by moisture.
'Liquid can get into your entryway in a few different ways. If your front door isn't properly sealed with weather stripping, you might have rain or humidity creeping in around your doorway, collecting in the space and contributing smells. You also might be bringing the water in with you through your clothing and shoes. Leaving wet boots on the welcome mat and hanging a damp coat in the entryway can make this part of the home humid.
'A wet welcome mat can mildew, releasing a musty or damp odor. High humidity in your entryway can also make the air feel heavier, making any foul odor seem thicker and more potent.'

Make sure your entryway has good ventilation and air flow. This can include a ceiling fan, air conditioning, or simply leaving your front door for a few minutes.
Tom adds, 'If you have a fabric welcome mat, you can use a mat that effectively drains and dries, preventing mildew from growing on the surface. Make sure to weatherproof your front door, so water doesn't enter from around your door, exacerbating the humidity in the entryway.'

'Finally, if the smell continues to hang around, you can wipe down the walls with a disinfectant, making sure to kill any bacteria or mold that may be hanging around the space. These steps, combined with drying out your entryway, should help to relieve any odors hanging around.'
Tom Nolan is the founder of All Star home, a home improvement company with services from cleaning, roofing, pricing and tailored solutions to anyone's home requirements.
4. Keep pet areas clean
If you have pets then owning one of the best vacuums for pet hair and using it regularly to keep fur and dander from making its way into furniture and upholstery where it is harder to clean, trapping the smell, is a msut.
For pet owners deciding how to clean their entryways, finding flooring that can be easily wiped clean is preferable, since it will help you to avoid needing to deep clean muddy paw stains off surfaces every other day.
If pets sleep in the entryway, regularly wash their blankets, beds and toys, and find pet-friendly odor eliminating sprays. We recommend this Rocco & Roxie Supply Co. Pet Stain Odor Remover, at Walmart.
Try to carry dirty doggies to where they will get cleaned up rather than letting them traipse through your entryway, spreading dirt and debris.
5. Choose a fragrance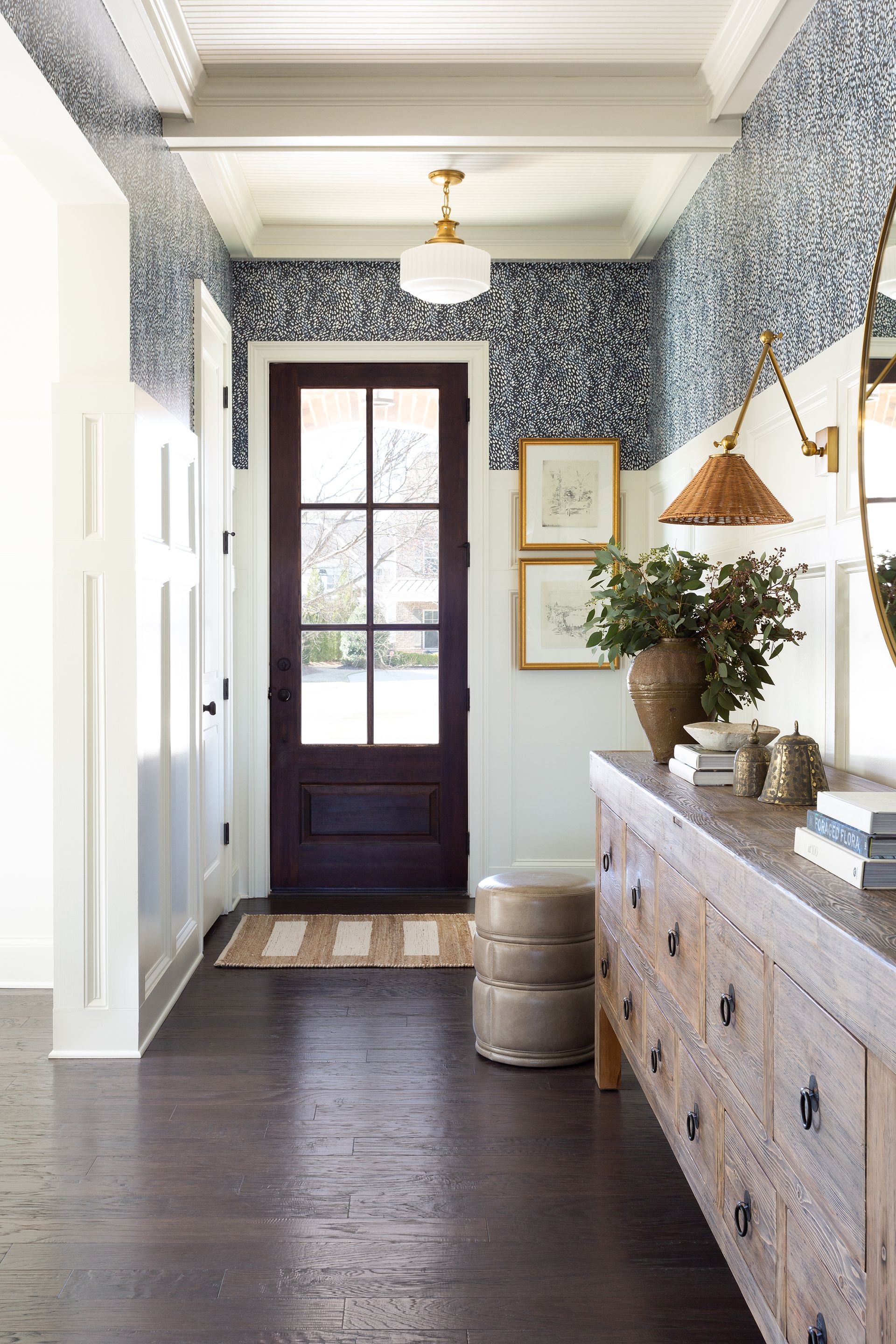 Now for the fun bit: choosing the best home fragrance for your entryway!
Laili Kafi González, Feng Shui expert and interior designer at Meazured Life suggests, 'Selecting a signature scent will set the tone for you and your guests as you enter your home. Whether you like to choose candles, diffusers or even fresh flowers to set this scent, ensure they are high quality non synthetic fragrances and that they are regularly replaced or refilled.
'I don't recommend things that are chemically based like plug in air fresheners. Even items like a nice essential oil diffuser is a great option to allow for a specific scent for your entryway.'
You may want to make your own homemade room spray which may last you even longer than store-bought spray. Making a DIY spray can allow you to customize the kind of fragrance you want in your entryway. You can use essential oils, witch hazel and distilled water to do so. There are a wide range of fragranced oils to choose from, including lavender, vanilla, peppermint, citrus and more. We recommend these Guru Nanda Essential Oil for Diffusers from Walmart for a wide range of scents to try. Find Basics Witch Hazel on Amazon.
You can also find pre-made oil infused room sprays such as this Essential Oil Infused Room Spray from Walmart.
You can also use incense, scented candles or make potpourri using fresh herbs such as rosemary and lavender, citrus peel, cloves and cinnamon sticks to add fragrance to your entryway. You may even want to learn how to make candles, so you can customize the fragrance you want.
Laili Kafi González is an Interior Designer with nearly 20 years experience working in the US and Europe. As a designer and Feng Shui Expert working with clients worldwide, Laili helps her clients to create intuitively designed and energetically aligned homes that look and feel beautiful. She is currently based in the Boston area where she lives with her three children.
6. Embed scents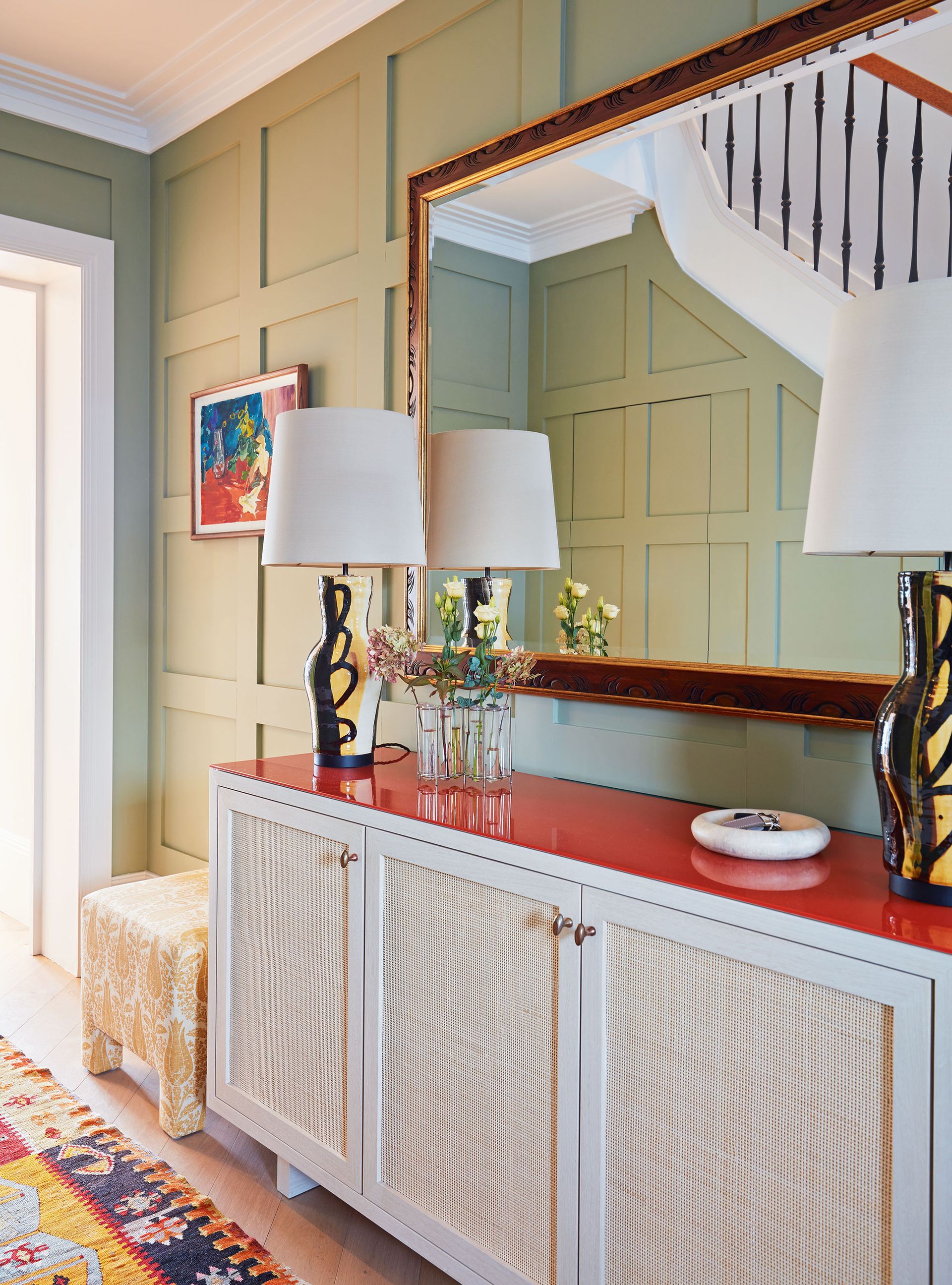 Joseph Melara, owner and interior designer at Residential Brokers recommends, 'Add fragrant accents to the design of your foyer. For instance, you might utilize fragrant drawer liners in your console table for the foyer', or in shoe and coat cabinets.
'Another strategy that you might want to consider is the use of natural textiles. In my experience, materials like wool, silk, and cotton are great at absorbing scents,' advises Julio Arco, interior designer and the founder of Bark and Chase. You can occasionally spray these materials with your chosen scent to create a long-lasting and subtle aroma. This is an excellent solution for entryways as these materials can be used in the form of rugs, curtains, or upholstery.
'You can also consider a more permanent solution, like embedding scent into the materials of your entryway. Fragrance-infused paints are a novel and long-lasting method of maintaining a pleasant aroma. For instance, lavender-infused paint not only emit a calming scent but also have the added benefit of being a stress reliever,' continues Julio.
You can also find scented wallpapers and furniture polish. While these are not essential options, they are the ultimate investment for ensuring your entryway has a long-lasting pleasant fragrance, meaning you won't need to stock up with scented candles and diffusers as regularly.
Joseph Melara is the Managing Broker and owner of Residential Brokers. Residential Brokers aim to organize local community information and make it universally accessible and useful to home buyers and sellers in the Palm Springs California Region.
Julio Arco is an architect and interior designer with over 10 years of experience in the industry and the founder of Bark and Chase, a Pet-Friendly Design interiors company. Julio has a Bachelor of Architecture from ITESM University and a Masters Degree in Urban Design and Housing from McGill University. He is also a member of the Royal Architectural Institute of Canada and a Professor of Architecture at ITESM.
7. Use air freshening plants
Using air cleaning indoor plants can be a great natural way to improve air quality, while fragranced blooms can mask odors and make your entryway smell nice. Plants that can naturally purify the air include peace lilies, spider plants, and gerber daisies.
In combination with plants that reduce air pollutants and make your entryway more breathable, use fragrant plants that infuse the space with pleasant aromas.
Joseph Melara, owner and interior design expert at Residential Brokers advises, 'Place aromatic flowers near your entryway in vases or attractive pots, such as roses, lavender, or jasmine. The soft scent will greet visitors with a blast of the natural scents.
'Use fragrant herbs like rosemary, eucalyptus, or thyme to make or buy herbal wreaths. To fill the air with enticing herbal scents, hang the wreaths on the walls or the door of your foyer. These wreaths not only smell amazing but also give the room a sense of elegance.'
FAQs
How to make your entryway smell seasonal?
Another fun way to make your entryway to smell nice is choosing potpourri fragrances based on the season, such as making it smell like fall with spices and cinnamon, using citrus scents in summer and pine during winter.
---
There is a whole host of ways to maintain a nice-smelling entryway, and besides some boring cleaning and maintenance tasks, finding effective and aesthetically pleasing ways to add fragrances to your entryway to make it welcoming and relaxing can be an exciting task.
Sign up to the Homes & Gardens newsletter
Decor Ideas. Project Inspiration. Expert Advice. Delivered to your inbox.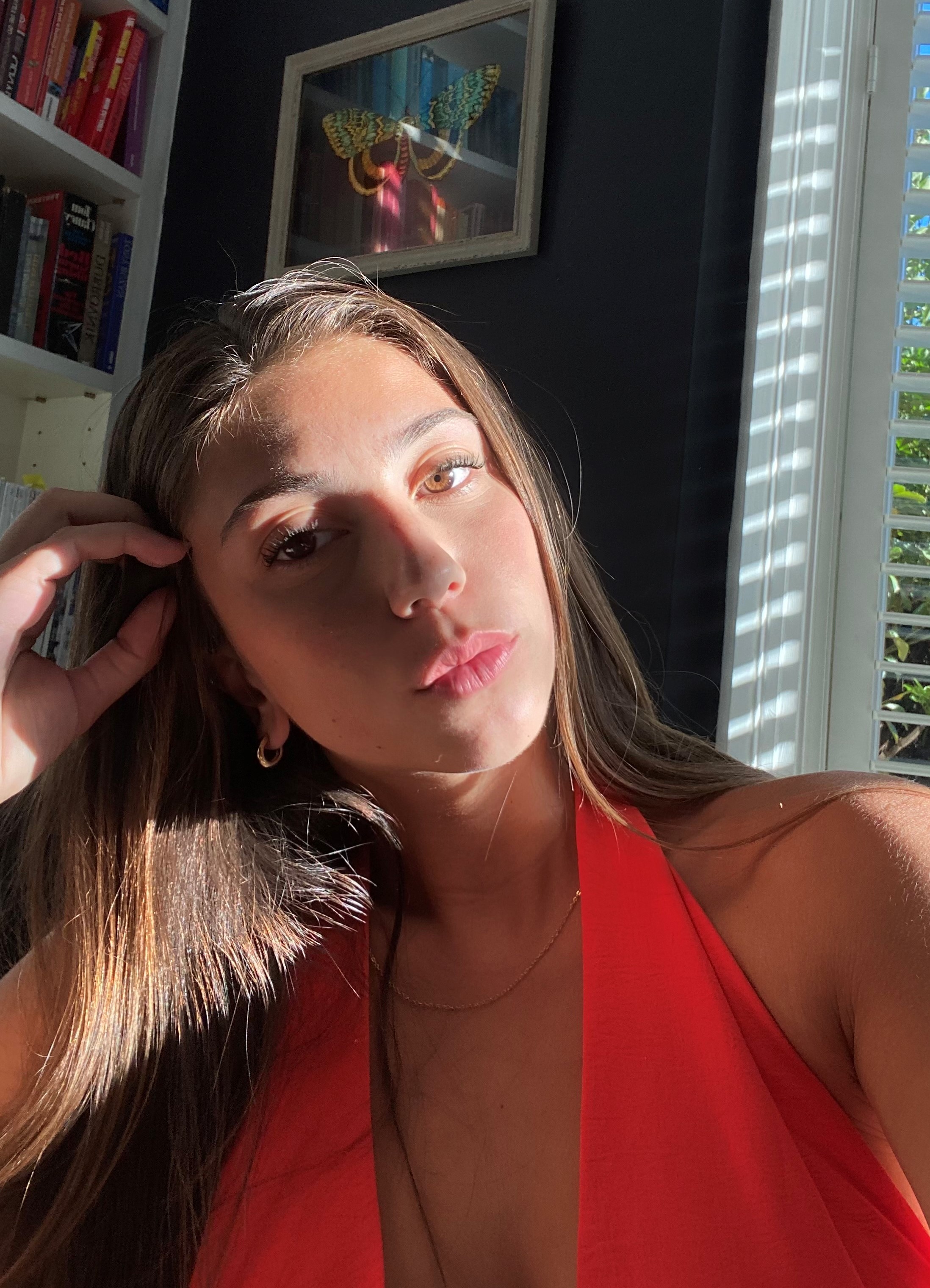 Lola Houlton is a news writer for Homes & Gardens. She has been writing content for Future PLC for the past five years, in particular Homes & Gardens, Real Homes and GardeningEtc. She writes on a broad range of subjects, including recipe articles, reviewing products, writing 'how to' and 'when to' articles. Lola now writes about everything from organization through to house plants. Lola is a graduate student, who completed her degree in Psychology at the University of Sussex. She has also spent some time working at the BBC.