Fragrance layering: how scent-scaping can transform your home and wellness
Fragrance layering – also called fragrance zoning or scent-scaping – is the new at-home wellness trend you need to know about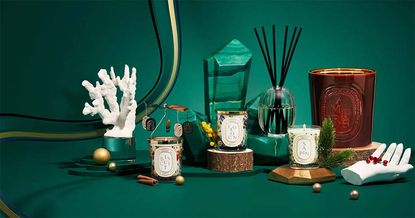 (Image credit: diptyque)
When decorating our homes, we often prioritize the visuals. However, with the increasing popularity of fragrance layering, experts are focusing on scent. Using the evocative powers of the the best candles and reed diffusers, you can set different moods for each room in your home.
Even before I was a master perfumer, I was meticulous with my home fragrance. Each room had its own dedicated scent, specific to the mood and visuals of that space. I didn't realise it had a name until I was told about scent-scaping.
Also known as fragrance layering or fragrance zoning, scent-scaping is a way to structure your home through fragrance. Using the best home fragrances, you assign each room a dedicated zone, dividing up your house by scent and setting a specific tone in each room.
If you work from home or spend a lot of time in your house, this could be helpful for your mental health. Compartmentalizing your space like this can help to set boundaries redefine your spaces. You can use an energizing citrus candle for working hours and a lavender diffuser when it's time to wind down.
What is fragrance layering?
Scents are incredibly personal and can transport you to different moods and memories in an instant. If you use your natural associations of different scents, you can use diffusers, candles, and room sprays to set distinctive tones and moods in your home.
'The key to successfully fragrance-layering depends on finding a scent that accompanies your plan for that time of the day. For example, you may look to an energizing, fresh fragrance to revitalize your senses to work alongside your coffee as you begin work in the morning, while a muskier scent will help you detox and fall asleep when night falls,' says Mark Winstanley, Chief Creative Officer at The White Company.
'I recommend using one scent for working hours, and a totally different one when it's time to wind down,' says Maxine Brady, Interior Stylist at Floral Street. 'You can even incorporate a different fragrance for workout hour, for energy or for relaxation too. I find changing aromas really helps me to switch between work, family and leisure so I light different candles at different times.'
You might know that you want to feel energized in the morning, but it's not always that simple. I spoke with experts to find out the best scent notes and fragrance families to help you set the tone.
Chief Creative Officer at The White Company
Chief Creative Officer at The White Company
Mark Winstanley
Mark has worked at The White Company for 17 years. He is involved in all the fragrances, ensuring that they smell, look, and perform perfectly for different settings and moods.
Interior Stylist
Interior Stylist
Maxine Brady
Maxine is an interior stylist who has worked with Floral Street. They make vegan, sustainable fragrances for you and their home. I love the packaging on Floral Street's products, so would recommend taking a look.
Fragrance Layering For Mornings
If your morning matcha isn't enough to wake you up, a fresh and zesty scent might be your next, most needed way to start the day. 'If you seek energy and inspiration, I would recommend invigorating scents, such as the effervescent character of our Jo Malone London Grapefruit Home Candle' says Emma South, Fragrance & Lifestyle Expert at Jo Malone. I'm a big fan of grapefruit scents, because the zesty notes are always incredibly uplifting. You can buy pure grapefruit candles or ones which have a blend of herbal and earthy notes too.
'Ginger and citrus notes are also invigorating, and the choice of many as a work from home scent,' continues Mark Winstanley. This combination sounds like a healthy drink, but as a scent it's soothing and calming. I always associate these pure, crisp notes with meditation. So if you like to do yoga or meditation in the mornings, this could suit you really well.
These morning fragrances also suit bright and colorful interiors. If you have garden-inspired prints or bold and bright colors, using these scents could be a way to make your space more three-dimensional.
Sharp and Fruity
Scent families: fresh, cirtus
Scent notes: grapefruit, peppermint, rosemart
Size: 0.44lbs
Wax: beeswax, coconut, and soy wax
Wick: cotton
Estimated Burn Time: 45 hr
With its abundance of sun-kissed grapefruits, complemented by rosemary and peppermint, finished with a twist of earthy moss, this uplifting and refreshing candle is perfect for a kitchen or living room.
Citrus and light
Scent families: citrus, fruity
Scent notes: citrus kumquats, berries
Size: 100 ml
Zesty and sweet, this blend of citrus kumquats and ripe berries harmonize with vanilla to give a round and refreshing scent. I tried this in a number of rooms and settled on it in the bathroom. It's light, so works better in smaller spaces and the decorative glass looks great in a bathroom.
Green and fresh
Scent families: green, woody
Scent notes: pine, fir, birch sap
Size: 200 ml
Skog, Norwegian for forest, is calm, green and earthy. It's a an easy scent to gift to men or women, with notes of pine, fir, birch, and lily — the perfect complement for any house. It's really strong and lasted longer than the promised three months (I've had mine for four months in with some left) and you can buy re-fills too.
Fragrance & Lifestyle Expert
Fragrance & Lifestyle Expert
Emma South
Emma is Jo Malone's Fragrance and Lifestyle expert. She knows all the details of each fragrance and cultivates each special scent with a moment and mood in mind.
Fragrance Layering for Energy or a Pick-Me-Up
These scents are often very similar to the ones that I would recommend for the morning. However, you can play with some softer tones when you need a pick-me up. I like to make the most of ozonic, aquatic, and green fragrances when I need a pick me up, because it emulates getting outdoors or standing on the cliffs, facing the sea. When your find the right fragrance, it can be like bringing a bottle of blue sky into your home.
Maxine Brady from Floral Street recommends 'vanilla bloom with its warm and joyful ingredients, guaranteed to enliven your mood'. As the day passes, sweeter, more floral notes will suit your mood better. In the morning, lots of people find these can be too sweet for your nose, but as the day passes the subtle sweetness can be comforting.
As with the invigorating, morning fragrances, these scents suit bold and colorful interiors. They're also well-matched with lighter, bigger, and brighter spaces. Maxine Brady, interior stylist, recommends choosing 'a zesty uplifting scent in a leafy green container, especially if you are loving the cottagecore trend with its big blowsy blooms and garden-inspired prints'.
Clean and calming
Scent families: ozonic and aquatic
Scent notes: fresh lotus, sea grass, and amber
Size: 250 ml
With notes of fresh lotus, sea grass, and amber, this refreshing scent is well-suited to bedrooms and bathrooms. Our expert, Jacyln, found that it was fresh and luxuriously packaged. The essential oil-based fragrances can last up to a year and from there you can order a refill or repurpose the handblown glass vessel into a vase.
Best cotton wick
The White Company Seychelles
Scent families: ozonic, aquatic, fresh
Scent notes: bergamot, orange, coconut, jasmine, vanilla
Size: 4.9 oz
Wax: mineral
Wick: cotton
Ozonic fragrances smell like the sea air. They're fresh and uplifting, but this candle is also slightly sweet. It reminds me of holidays without seeming out of place on a normal day.
Bright and fruity
Scent families: sweet citrus, fruity
Scent notes: tropical fruits, jasmine
Size: 236 ml
This iconic scent was described by one of our experts, Annie, as 'intoxicating'. The blue bottle looks modern and elegant, whilst lasting a long time. It's powerful, so you won't need to use it constantly and you can buy refills when you need to, which should be around about six months. It's also really reasonably priced.
Fragrances for relaxing
When thinking about winding down, take yourself into the spa. Herbal notes are excellent at relaxing your body. Mark Winstanley recommends 'soft lavender and juniper in your bathroom or bedroom'.
If those herbal notes aren't for you, Maxine Brady likes 'spiciness elevated with damask rose and other delicate florals'. She says that these woody floral fragrances can create 'that cozy, intimate feeling which is the perfect snuggle-on-the-sofa accompaniment'.
These muted, deeper and richer fragrances will travel well in large spaces. Whether you have light or darker rooms, these are versatile across them all. I'd put them in my living area, especially the spaces where I spend time in the evenings.
Best eco-friendly candle
Skandinavisk's Hygge Scented Candle
Scent family: Aromatic and rich
Scent notes: black tea, mint leaves, dried apples, and cinnamon
Size: 200g

This cozy candle sets the scene for evenings snuggled on the sofa. It smells soft and sweet and it isn't too overpowering. The candle is re-fillable and vegan friendly too.
Elegant and floral
Scent families: green, floral
Scent notes: bluebell, lily of the valley
Size: 165 ml
This is one of Megan Markle's favorites and it's my favorite diffuser. I love it, because, if you close your eyes, it's exactly like standing in the middle of a bluebell wood. It's delicate and earthy, not overpowering at all.
Best rich candle
Harlem Candle Co's Speakeasy
Scent families: aromatic, rich, spicy
Scent notes: cardamom incense, saffron, plum, tobacco, patchouli
Size: 11 oz
This candle is packed with the rich notes of plum and chocolate, but these aren't cloying. The cardamom, incense, and tobacco give this a deep scent, perfect for moody evenings and darker color schemes.
Fragrances for sleep
When you're seeking the ultimate relaxation, you'll be trying to sleep. It's no secret that herbal, spa-like scents are the best option. 'To help you sleep, a soothing spritz of lavender or eucalyptus on your pillow or your robe as you step out of the bath' says Mark Winstanley. I would make sure not to select a fragrance too strong.
When you're sleeping, you want to create a gentle atmosphere, so I would always look for lighter mists and room diffusers. For example you can spray the Jo Malone London Lino Nel Vento Linen Spray directly on to your bedsheets. This will subtly scent your room, so when you fluff your comforter or make your bed, you'll be reminded of that soporific serenity. Emma South, from Jo Malone, says 'each individual will have different scents that relax them, but lavender has a universal claim in this arena as being one of the few scents proven to have soporific qualities and reduce anxiety.'
Best floral candle
Jo Malone's English Pear and Freesia
Scent families: fresh and fruity
Scent notes: pear, melon, freesia, rose, patchouli, rhubarb, and amber
Size: 0.44lbs
Jo Malone makes some of my favorite candles. They're never overpowering and always exactly as they should smell. This floral fragrance isn't typical for sleep, but it's light and gentle and it's the one in my bedroom now.
Best for relaxation
Jo Malone Lavender & Moonflower Diffuser
Scent families: herbal, fresh
Scent notes: lavendar and moonflower
Size: 165 ml
This was originally a limited edition fragrance, but it was so popular, Jo Malone had to keep it. The scent is really delicate and calming. It smells exactly like lavender and moonflower. I recommend pairing it with their camomile pillow mist.
Best large candle
Scent families: herbal, fresh
Scent notes: thyme
Size: 750g
Wax: vegetable
Wick: cotton
Estimated Burn Time: 100+ hr
This is a really fresh fragrance. Loewe designed it to be burned outside, so if you have an urban courtyard or patio, this is perfect for smelling greener climes, even if you're in the center of the city.
FAQs
What is fragrance zoning?
Fragrance zoning, or scent-scaping is how people create distinction between spaces in their home. Using candles, mists, and reed diffusers, you can choose different scents for each room. You'll end up associating these with the mood and tone of your room, which is particularly helpful if you work from home.
Is fragrance zoning good for my mental health?
If you spend a lot of time at home and often struggle to relax where you have been working, scent-scaping can be really useful. Even if you change the scent that you're using and stay in the same room, that different stimulus will register as change in your brain.
---
Final Thoughts
Scent affects our memories, moods, and feelings, so it's important that you get it right in your home. You can complement your interiors with a well-chosen scent, whilst creating distinction between each room in the house.
Given that fragrance-zoning allows you to indulge in new candles and diffusers; brighten your home; and help your mental wellbeing, everyone should be bringing this wellness trend into their lives right away.