How to clean an entryway – 11 steps to smarten up your hall
An entryway is dirtier than you think, here is how to clean it from top to bottom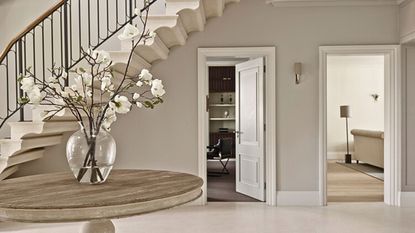 (Image credit: Sarah Kaye )
First impressions count, which is why a dirty entryway is the last thing you want to be welcoming your guests into.
Although we may not spend much time in our entryways, they accumulate dust and dirt just as fast, if not faster, than elsewhere in our homes thanks to the constant movement of outdoor shoes and coats, and packages through the space.
We have put together a series of the best expert cleaning tips for entryways, so you don't miss any spots in this space.
How to clean an entryway
There are a few things you can do to make this high-traffic spot easier to clean. For a start, it is a good idea to keep some regularly used cleaning tools to hand in entryway closets.
Some good essentials could be a mop or broom, a multi-purpose cleaner and microfiber cloth, and a vacuum, suggests Ahmad Jamal, cleaning expert at CleanersAdvisor. On top of this, consider establishing a regular cleaning routine to help prevent dirt and debris from accumulating and becoming harder to clean.
Once you have your supplies, these steps make it simple to clean from top to bottom.
Ahmad is a self-proclaimed 'clean-freak', with years of experience tackling tough cleaning projects and advising others on how to deal with the worst of messes.
1. Start at the top and dust shelves and light fittings
When it comes to cleaning, it is a good idea to clean from the top of the space down to the bottom so that dust and dirt can fall down without muddying your past hard work. This method is one of the best expert tips for successful spring cleaning for a reason, after all.
When working in an entryway, start by using the long stick attachment on your vacuum cleaner to remove any cobwebs from the ceiling, before using a duster like a Swiffer, from Walmart, to dust your entryway lighting.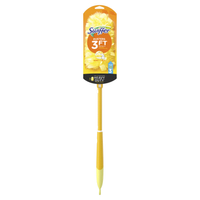 Swiffer Duster with refills | $10.33 at Walmart
The Swiffer heavy-duty duster has a three-foot-long handle making cleaning high-up spots without a ladder or step super simple.
2. Clean the inside of your door and its handles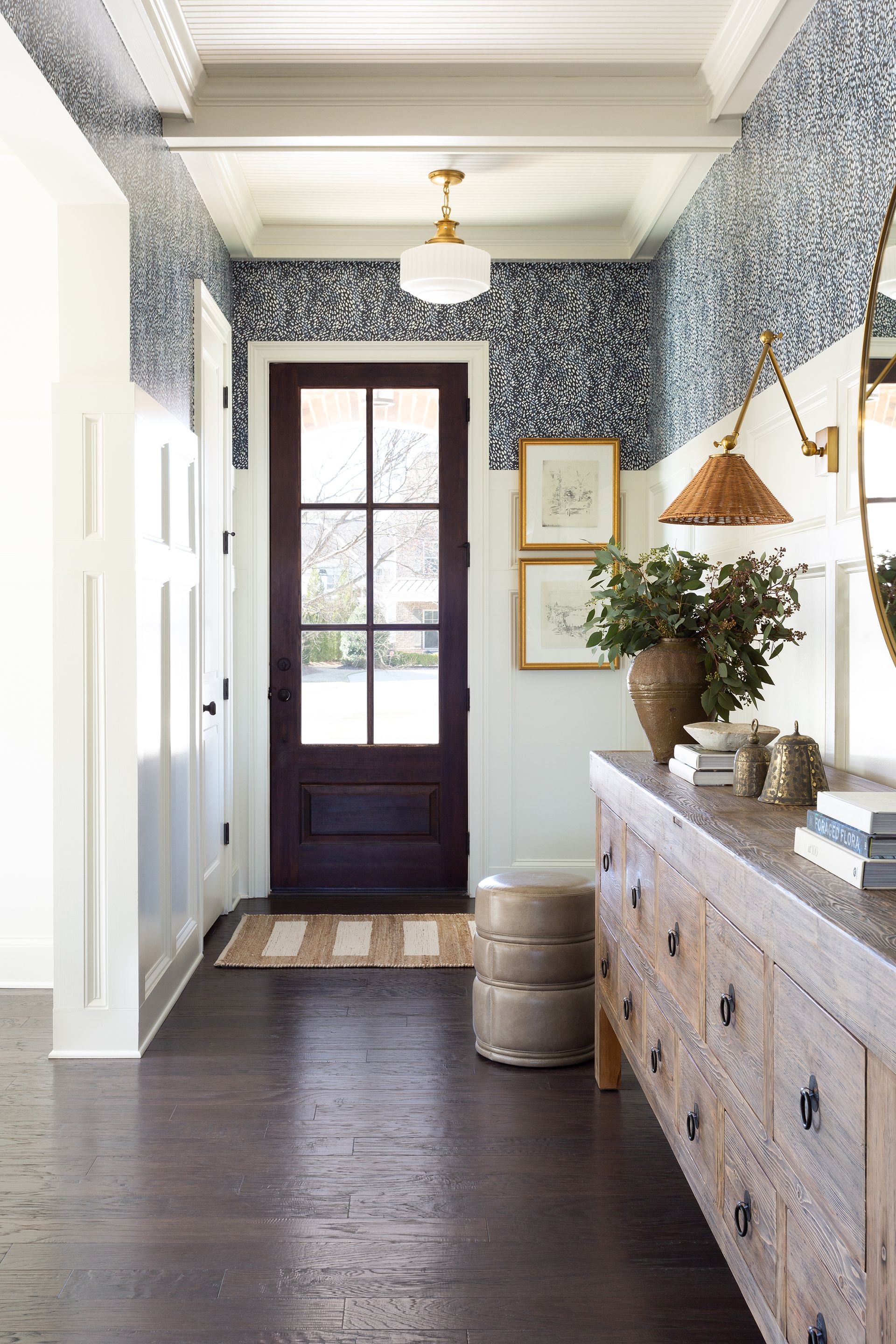 Cleaning your front door may not be the first task that comes to mind when cleaning an entryway, but it is likely to be one of the dirtiest spots in the space. You should make sure to both dust and disinfect the inside of the door with a microfiber cloth and a mild cleaning solution, says Adam Moore, professional cleaner and owner of Paradise Home Cleaning.
Once you have dealt with the bulk of the door, it is a good idea to focus on the handles, which are a breeding ground for bacteria and germs, points out Chi Ip, professional cleaner and owner of Tidy Here Cleaning Service, Boston.
'Be sure to disinfect them as often as you can with a clean cloth and antibacterial cleaner,' he recommends. 'You can also use isopropyl alcohol but apply it with caution as it can dull certain materials, like brass.'
3. Wipe down entryway walls, especially behind hanging coats
Once you have finished with your doors, it is time to work on the other vertical spots in the entryway, such as the walls – particularly those behind your coats if you have any hanging in the open.
These spots can quickly get scuffed and dirty, says Adam Moore, professional cleaner. To tackle these areas, you can use a 'soft-bristled brush and mild cleaning solution to scrub away any marks or stains.' He recommends using a magic eraser, at Amazon, for spot-cleaning walls, just be careful as they sometimes remove paint.
You should also make sure to clean your baseboards, as these too are likely to be scuffed and quickly collect dust and dirt. 'Dust them regularly with a microfiber cloth or feather duster,' Adam advises, 'or use a soft-bristled brush and a mild cleaning solution for tougher dirt or stains.'
4. Declutter shelves and baskets
An entryway can quickly amass a range of odd bits either that do not have a home, or that you keep meaning to get rid of but don't pick up as you walk through the door. Use your cleaning time to also declutter your entryway – specifically focusing on floors, entryway closets, and side tables.
Try to keep the entryway area free from clutter, such as shoes, coats, and bags, to make it easier to clean and maintain,' says cleaning expert Ahmad Jamal. This can help not only make the space practical for moving in, out, and through your home, but makes your entryway more inviting too, he says.
5. Confine shoes to the entryway
To keep a clean home, it is a good idea to ask family and friends to remove their shoes at the door. This is not only a good idea to prevent dirt from being tracked through the space, but keeps all the footwear together in one spot for easy shoe organization and cleaning, says Ahmad Jamal, a cleaning expert. You may want to provide some slippers or house shoes as an alternative for guests too, he adds.
With the shoes all in one spot, consider giving them all a clean too, or spraying them with a linen spray, to help deodorize the footwear and keep your entryway smelling sweet, not sweaty.
6. Sanitize your sideboards
A good entryway will likely have a sideboard or table to rest bags on, collect keys and mail, and display a few interior decor pieces to add warmth to the entryway. These spots are often touched more frequently than you realize, so it is important to use a disinfectant spray and a cloth to clean the surface regularly.
7. Clean entryway mirrors to remove smudges and streaks
Likewise, a hallway mirror is essential to a well-designed entryway – as is keeping it clean and streak-free. To clean mirrors, use a soft microfiber cloth and a multipurpose spray to wipe the mirror working from side to side, before buffing with a dry clean cloth to remove any lines and scuffs.
8. Beat doormats and entryway rugs before vacuuming
To make vacuuming your entryway easier on your vacuum cleaner, it is a good idea to occasionally beat your entryway mats and rugs outside to help loosen any dust and dirt, and allow them to air out to remove odors, experts say.
'To clean a doormat, shake it out and vacuum it to remove loose dirt, then use a scrub brush and mild detergent to remove any stubborn stains,' suggest the cleaning experts at KK Cleaners. 'Rinse the mat thoroughly and allow it to air dry before putting it back in place.'
9. Vacuum entryway carpets or wash floorboards
Whether you have lush carpets or hardwood floors, entryway flooring is subject to a lot of use and abuse, making them one of the dirtiest floors in your home. It is best to vacuum and mop these spots regularly, especially in wet weather, says Adam Moore, professional cleaner. This will likely need to be done more regularly than your other cleaning tasks, so keeping the tools nearby will make the process simpler, and remind you to do it as you pass through.
10. Add an air purifier to trap incoming pollen and allergens
Your entryway doesn't just let your family and guests into your house but a whole variety of allergens and dust, too. Adding a great air purifier to the space will help to catch these allergens as they come into your house on a breeze, or on your clothing and shoes before they have a chance to settle around your home. Just make sure to turn it off to save energy as you leave the house.
11. Add in a signature scent
The final step to cleaning an entryway – or any space for that matter, is to add a fabulous home fragrance to finish off the space and leave it feeling and smelling clean.
This could be done by making a reed diffuser with your favorite essential oils or adding one of your best candles on the sideboard to also add ambiance.
FAQs
How can I stop dust coming in from my front door?
Most household dust comes through your front door as you enter from outside. To limit the spread of outside dust and pollen, you can implement a 'shoes-off' household, asking people to swap shoes for slippers at the front door, adding an air purifier to help filter out dust as it enters and setting out rugs and doormats to help catch dust from footwear before it is trodden through the house and onto floorboards where it is more noticeable.
How do I keep my hallway clutter free?
One of the best ways to keep a hallway or entryway clutter-free is to implement smart storage systems for your personal belongings. Every entry space needs the essentials such as a shoe rack or organizer, coat hooks, a bowl to place keys into to prevent them from getting lost, and a basket to contain umbrellas if needed.
Having some essential storage items will give a home to some of the most common causes of clutter in a hallway and prevent it from building up. From there, you may wish to add an organizer for mail that comes through your door or build a habit to open it as soon as you pick it up. You can also create a spot on your sideboard specifically for things you want to take out of the house as you leave and ensure it is emptied every time you walk through the door.
---
Keeping a clean entryway is a great way to make your home feel welcoming and cozy to friends, family, and guests. From deep cleaning carpets to adding a fresh fragrance, keeping this space feeling fresh and well cared for sets the tone for the rest of your home.
Sign up to the Homes & Gardens newsletter
Decor Ideas. Project Inspiration. Expert Advice. Delivered to your inbox.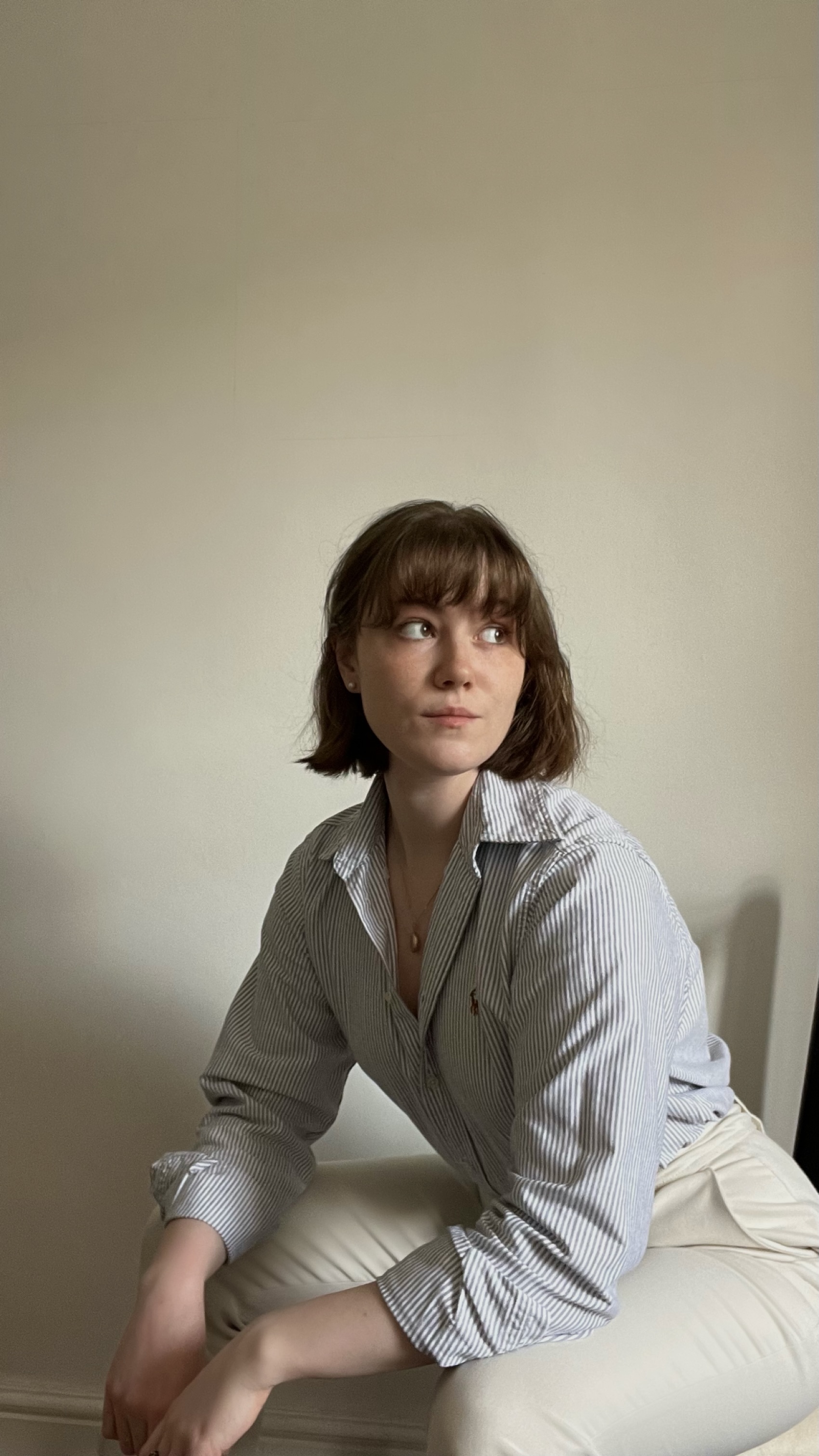 Chiana has been at Homes & Gardens for a year, having started her journey in interior journalism as part of the graduate program. She spends most of her time producing content for the Solved section of the website, helping readers get the most out of their homes through clever decluttering, cleaning, and tidying tips – many of which she tests and reviews herself in her home in Lancaster to ensure they will consistently deliver for her readers and dabbles in the latest design trends. She also has a first-class degree in Literature from Lancaster University.