Best air purifier: the best fans and purifiers for cleaner air in your home
Our ranking of the very best air purifiers to eliminate irritants, pollution and dust from your environment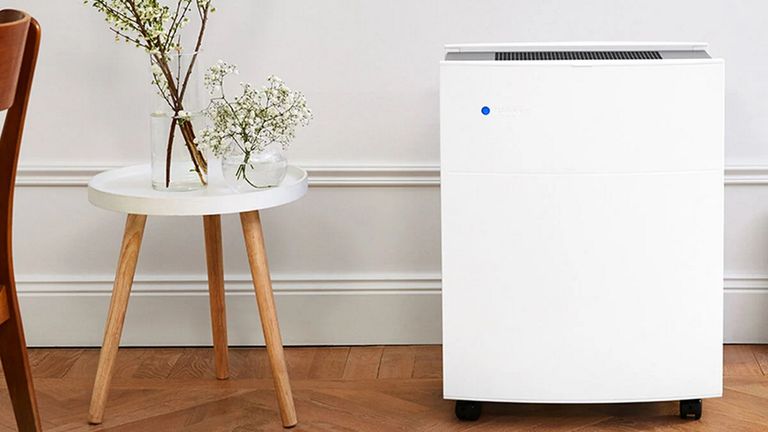 (Image credit: Blueair)
It's understandable that most of us are in a place where we want to know more about the air that we breathe, and what it contains. Nowhere is it more important to take care of what we're putting into our bodies that at home.
Although pollution, dust, pet dander, allergens and germs are an unfortunate part of everyday life, the best air purifiers promise to reduce the amount of unwanted pollutants that linger in the air around us.
They do this by filtering the air in a space, often through several layers of filtration, and pushing out cleaner, less harmful air. This translate into anything from less dust, to pet hair and smoke being eliminated from the environment.
In an effort to help you to choose the best air purifier for your home, we've looked at some of the leading products that are available right now. Whether you're looking for a stylish purifier that will blend in with your carefully chosen décor, or a machine quiet enough for the bedroom, we've got an example in our ranking below. Scroll down to see what we thought.
The best air purifiers 2021
1. Mila Air Purifier
Best air purifier for air quality monitoring
Specifications
Area Size: 1000 sqft
Filter: HEPA
Colors: White
Dimensions: 18.5 x 14.7 x 14.7in
Weight: 17.9lbs
Reasons to buy
+Detailed and comprehensive air quality information+Nice, modern design+Easy to use app
Reasons to avoid
-Large and a little awkward to place-Amount of information may overwhelm beginners
A relative newcomer to the air purification space, Mila has entered strong with it's Smart Air Purifier. Packed with more features than you could wish for and packaged in a modern, Scandi-style rectangular unit, it works as hard at informing you about the quality of your indoor air as it does cleaning it.
The product is quite large, but it's wooden legs and white casing mean it will look smart and stylish in most spaces. The app is the star of the show, with gorgeous graphics that make cleaning the air a fun activity rather than a chore. Settings also allow you to change performance depending on whether you live in an old or new building.
Our only criticism we had is how overwhelming the purifier can be over time, picking up the smallest change in air quality and making it seem at times like you're waging war against pollutants. That could be a positive for many people, however, and in no way diminishes how impressive it is.#
Homes and Gardens rating: 4.5 out of 5 stars
2. Dyson Pure Cool Me BP01 Air Purifier
Best tabletop air purifier
Specifications
Power: 40W
Filter: HEPA, Carbon
Colors: White, Black
Dimensions: H15.7 x W9.6 x D9.6in
Weight: 5lbs
Reasons to buy
+Lightweight+Low energy consumption+Stylish+Night mode
Reasons to avoid
-Precise airflow doesn't cover large areas
You can't go too far wrong with a Dyson product, and the Pure Cool Me Personal Fan is our choice for the brand's best air purifier. Designed for desks, bedside tables or other surfaces such as sideboards, it has a slick, slightly futuristic look coupled with a filtration system that works hard to clean the air in your home.
Not just a purifier, the Dyson Pure Cool Me is also a fan that, despite not being powerful enough to cover large areas, would be perfect for individual use.
To adjust the fan, you simply need to move the position of the dome on top, directing airflow at the desired angle. Perfect for curling up with a book in the warmer months, or for sleeping if you don't want to turn the air conditioning on.
Homes and Gardens rating: 4 out of 5 stars
3. Levoit Core 300 Air Purifier
Best air purifier under $100
Specifications
Area size: 430 sqft
Noise: 24-50dB
Power: 33W
Filter: HEPA, Carbon
Speed settings: 3
Colors: White, Silver, Black
Dimensions: H14.1 x W8.6in
Weight: 9.2lbs
Reasons to buy
+Quiet on lowest settings+Low power consumption+Timer+Sleep mode
Reasons to avoid
-May not perform well in larger spaces
The lowest-cost option on our list, the Levoit Core 300 is a great option for those who are conscious about how much power a traditional air purifier may consume.
Small and compact with a nice design, it's also capable of being tucked away in any room without sticking out too much, and light enough to be moved from room to room if you desire.
The Core 300 allows you to have more control over how you use it, with four different timer settings. With 2H, 4H, 6H and 8H options, you can choose how long you want the machine to run without needing to physically switch it off. Ideal for putting in the kitchen to eliminate food odours after cooking.
Homes and Gardens rating: 4 out of 5 stars
4. Honeywell AirGenius 5 Air Purifier
Best air purifier for medium rooms
Specifications
Area size: 452 sqft
Noise: 48dB
Power: 38W
Filter: ifD
Speed settings: 5
Colors: Black
Dimensions: H26.8 x W9.9in
Weight: 19.7lbs
Reasons to buy
+Washable filter+Auto shut off timer+5 speed settings+Low power consumption
Reasons to avoid
-Plastic casing could make it look cheap
While not the best looking example on our list, the Honeywell AirGenius 5 is a good performer with five speed settings and a coverage of 42m2. The controls are easy to understand and use with a good choice of timers, a filter status light and settings labelled for optimal use.
For example, level one is best for sleep, while getting rid of allergens from the air would require level four.
Unlike most air purifiers that require you to buy replacement filters every so often, the Honeywell AirGenius 5 comes with a permanent washable filter that simply needs to be rinsed under the tab every three months or so. That saves on the hassle of seeking out new filters, replacing it with one quick job.
5. Blueair Classic 605
Best eco-friendly air purifier
Specifications
Area Size: 775 sqft
Noise: 33-62dBs
Power: 15-100W
Filter: HEPA
Speed settings: 3
Colors: White
Dimensions: D13.3 x W19.6 x H25.9in
Weight: 30.8lbs
Reasons to buy
+Large area size covered+Quiet on lowest settings+Eco-friendly power consumption+Works with Amazon Alexa
Reasons to avoid
-Large and slightly industrial looking-No carbon filter
Blueair's largest air purifier is capable of cleaning rooms up to 775 square feet, which is only slightly less than our top place machine, and it impresses in other ways too. There's its HEPASilent tech keeping things quiet, the promise to remove 99.97% of allergy and asthma triggers, and its impressive low energy use.
It's biggest problem is how it looks, which makes it difficult to fit into a carefully designed living space. The purifier has been around for a while and has stuck around because of its impressive performance, but the metal grate on the sides and wheels at the base (which admittedly do make it easy to move around) aren't the most aesthetically pleasing.
It still comes recommended for those who want to clean the air in large spaces, and it also benefits from compatibility with Amazon Alexa smart devices so you can operate it using just your voice.
What is HEPA?
HEPA refers to a type of filter found in most modern air purifiers that remove at least 99.97% of tiny particles in the air. The letters refer to 'high-efficient particulate air' and it's widely understood to be the best option when it comes to air purifiers. Many products, including several on our list, use a combination of HEPA and activated carbon filters, adding to their effectiveness.
How noisy are air purifiers?
This depends on the model you choose, but it's obviously a big selling point for air purifiers to be at least quiet enough to sleep to. The products on our list range from a whisper-quiet 24dB to a rather noisy 52dB but it's worth noting that many in the lower range refer to when an air purifier is in its lowest, and least powerful, mode.
Are ozone purifiers safe to use?
While we have not included any ozone air purifiers on our list, you may be wondering whether these types of filtration systems are safe to use in the home. Generally speaking, purifiers that add levels of this gas - or smog - to the air should not be used as they could impact long-term health. As this is a concern for many consumers, product information usually states that a purifier is 'ozone free', but it's best to double-check if you are concerned.