Best air purifier 2022: the finest filters for cleaner air in your home
Our ranking of the very best air purifiers to eliminate irritants, pollution and dust from your environment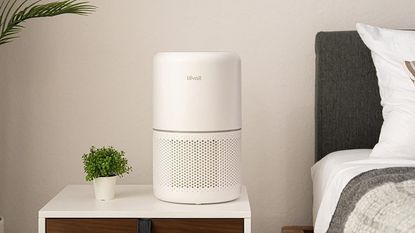 (Image credit: Levoit)
We'd all like to know a bit more about the air we breathe every day but, without the best air purifiers on hand, it's difficult to get to grips with the levels of pollution, allergens, and bacteria that are all around us. This can have an impact on our health, and nowhere is it more important to look after ourselves than at home.
Although pollution, dust, pet dander, allergens, and germs are an unfortunate part of everyday life, choosing the right air purifier means you can reduce the number of unwanted pollutants that linger in the air around us.
They do this by filtering the air in a space, often through several layers of filtration, and pushing out something cleaner and potentially less harmful. This translates into anything from less dust to pet hair and smoke being eliminated from the environment.
In an effort to help you to choose the best air purifier for your home, we've looked at some of the leading products that are available right now. And, if you're looking to invest even further in the air quality of your home, take a look at our rundown of the best dehumidifiers (opens in new tab).
Whether you're looking for a stylish purifier that will blend in with your carefully chosen décor, or a machine quiet enough for the bedroom, we've got an example in our ranking below.
The best air purifiers: tried and tested by us
Why you can trust Homes & Gardens Our expert reviewers spend hours testing and comparing products and services so you can choose the best for you. Find out more about how we test.
1. Mila Air Purifier
Best air purifier for air quality monitoring
Specifications
Area Size: 1000 sqft
Filter: HEPA
Dimensions: 18.5 x 14.7 x 14.7in
Weight: 17.9lbs
Reasons to buy
+
Detailed and comprehensive air quality information
+
Nice, modern design
+
Easy to use app
Reasons to avoid
-
Large and a little awkward to place
-
Amount of information may overwhelm beginners
A relative newcomer to the air purification space, Mila has entered strong with its Smart Air Purifier. Packed with more features than you could wish for and packaged in a modern, Scandi-style rectangular unit, it works as hard at informing you about the quality of your indoor air as it does cleaning it.
The app is the star of the show, with gorgeous graphics that make cleaning the air a fun activity rather than a chore. Settings also allow you to change performance depending on whether you live in an old or new building.
The product is quite large, but its wooden legs and white casing mean it will look smart and stylish in most spaces.
The only criticism we had is how overwhelming the purifier can be over time, picking up the smallest change in air quality and making it seem at times like you're waging war against pollutants. That could be a positive for many people, however, and in no way diminishes how impressive it is.
Homes and Gardens rating: 5 out of 5 stars
2. Dyson Pure Hot + Cool HP04
Best Dyson air purifier
Specifications
Area size: 800 sq ft
Filter: HEPA
Dimensions: 30.1 x 9.7 x 9.7in
Weight: 12.4lbs
Reasons to buy
+
Timers and smart home compatibility
+
Also works as a heater and fan
+
Good air quality data on app
+
10 speeds settings
Reasons to avoid
-
Futuristic design that won't be to everyone's taste
-
Not as quiet as some
When you think of air purifiers, it's possible that the iconic design of the Dyson Hot + Cool range is what first comes to mind. Carving out a significant space in the clean air arena, the HP04 Hot + Air Purifier is still our favorite and ticks all of the boxes despite increased competition from other brands.
The purifier is fantastic if you already have a smart home, allowing you to control it with Alexa voice commands, or you can use the app and remote control provided to set the fan speed, switch to night mode, set timers and so much more. As well as working to clear dust and pollutants from your environment, it's also a cooling fan and heater so is an indispensable tool all year round.
The small display on the front shows you in-the-moment data about any nasties in the air, or you can really dig into the numbers via the app. The only potential problem is the design, which is a little cold for some people, but if you can get past that you'll get a machine that works hard to deliver a more pleasant place to live in.
Homes & Gardens rating: 5 out of 5 stars
Best air purifier for large rooms
Specifications
Filter: HEPA
Dimensions: 19.1 x 16.5 x 14.5in
Weight: 16.2lbs
Reasons to buy
+
Also works as a fan
+
Nice Scandi design
+
Choice of colors
Reasons to avoid
-
Large
-
Can be quite noisy when on higher settings
Dyson may be the most famous brand for combining cooling and air purifying into one device, but Blueair has its own offering in the form of the Blueair Blue Pure Fan. Primarily working as a fan with a HEPA filter built-in, it allows you to be sure that the air you're breathing is as clean as possible.
Impressively, the recommended room size is the best on our list at 1008 square feet, and, despite not having an oscillation feature, airflow is put out across 90 degrees because of the design of the fan's face.
The design is lovely, Scandi-inspired with wood-effect legs and a leather handle on top, and the rear benefits from changeable pre-filters in a choice of colors including blue, pink, and yellow.
Homes & Gardens rating: 4.5 out of 5 stars | read our full review of the Blueair Blue Pure Fan (opens in new tab)
Best air purifier for viruses
Specifications
Area size: 350 sqft
Filter: HEPA, antibacterial, antimicrobial
Dimensions: 18.5 x 11.2in
Weight: 15.4lbs
Reasons to buy
+
In-built AI adapts to your lifestyle
+
Choice of colors
Reasons to avoid
-
Only recommended for smaller room sizes (350 sq ft)
Using technology developed at MIT and designed and made in Switzerland, the Aeris Aair Lite is an advanced air purifier that, according to outside tests coordinated by the company, is able to filter and kill around 94% of the respiratory droplets that spread Covid-19.
Now it's important to understand that no air purifier will eliminate the risk of viruses, but they can provide a little peace of mind. The Aair Lite uses antibacterial and antimicrobial filters alongside its HEPA filter to go the extra mile for the health-conscious.
While we found that the top two speed levels (of five) were a little noisy, the purifier was whisper-quiet on lower settings and perfect for the bedroom or any small space around the home.
Homes & Gardens rating: 4.5 out of 5 stars | read our full review of the Aeris Aair Lite (opens in new tab)
5. Levoit Core 300 True HEPA Air Purifier
Best air purifier under $100
Specifications
Area size: 430 sqft
Filter: HEPA, Carbon
Dimensions: 14.1 x 8.6in
Weight: 9.2lbs
Reasons to buy
+
Quiet on lowest settings
+
Low power consumption
+
Timer
+
Sleep mode
Reasons to avoid
-
May not perform well in larger spaces
The lowest-cost option on our list, the Levoit Core 300 is a great option for those who are conscious about how much power a traditional air purifier may consume.
The Core 300 allows you to have more control over how you use it, with four different timer settings. With 2H, 4H, 6H, and 8H options, you can choose how long you want the machine to run without needing to physically switch it off. Ideal for putting in the kitchen to eliminate food odors after cooking.
Small and compact with a nice design, it's also capable of being tucked away in any room without sticking out too much, and light enough to be moved from room to room if you desire.
Homes and Gardens rating: 4 out of 5 stars
The best air purifiers: more top picks
6. Dyson Pure Cool Me Purifying Fan
Best tabletop air purifier
Specifications
Power: 40W
Filter: HEPA, Carbon
Dimensions: H15.7 x W9.6 x D9.6in
Weight: 5lbs
Reasons to buy
+
Lightweight
+
Low energy consumption
+
Stylish
+
Night mode
Reasons to avoid
-
Precise airflow doesn't cover large areas
You can't go too far wrong with a Dyson product, and the Pure Cool Me Personal Fan is our choice for the brand's best air purifier. Designed for desks, bedside tables, or other surfaces such as sideboards, it has a slick, slightly futuristic look coupled with a filtration system that works hard to clean the air in your home.
Not just a purifier, the Dyson Pure Cool Me is also a fan that, despite not being powerful enough to cover large areas, would be perfect for individual use.
To adjust the fan, you simply need to move the position of the dome on top, directing the airflow at the desired angle. Perfect for curling up with a book in the warmer months, or for sleeping if you don't want to turn the air conditioning on.
How we test the best air purifiers
In our search for the very best air purifiers to recommend to our readers, we try to have hands-on experience with as many models from as many brands as possible. This can be done by editors, staff writers or freelancers, but tests will be conducted with the same methodology wherever appropriate.
However, it is not always possible to test all of the best products, but where we haven't it will be clearly marked in this guide. Those we have tried will have a star rating based on what we thought of its design, performance, sustainability and ease of use, among other things, while you will find other recommendations further down the list.
How to choose the best air purifier for your home
What is a HEPA filter?
HEPA refers to a type of filter found in most modern air purifiers that remove at least 99.97% of tiny particles in the air. The letters refer to 'high-efficient particulate air' and it's widely understood to be the best option when it comes to air purifiers. Many products, including several on our list, use a combination of HEPA and activated carbon filters, adding to their effectiveness.
How noisy are air purifiers?
This depends on the model you choose, but it's obviously a big selling point for air purifiers to be at least quiet enough to sleep to. The products on our list range from a whisper-quiet 24dB to a rather noisy 52dB but it's worth noting that many in the lower range refer to when an air purifier is in its lowest and least powerful, mode.
Are ozone purifiers safe to use?
While we have not included any ozone air purifiers on our list, you may be wondering whether these types of filtration systems are safe to use in the home. Generally speaking, purifiers that add levels of this gas - or smog - to the air should not be used as they could impact long-term health. As this is a concern for many consumers, product information usually states that a purifier is 'ozone free', but it's best to double-check if you are concerned.
You've reached the end of the page. Jump back up to the top ^