The best place to put an air purifier, according to air quality experts
The key is to avoid preventing airflow, consider where in your home is prone to air quality issues, and where you spend the most time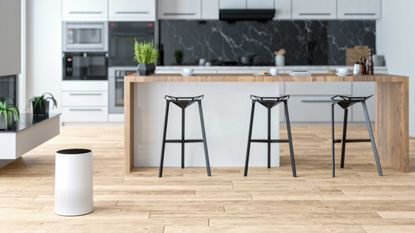 (Image credit: Getty Images)
Air quality issues caused by pollution and wildfire smoke are something we have all become much more aware of in the last year or two, leading to more and more of us investing in air purifiers to reduce the allergens we breathe at home.
A key part of setting up your air purifier to give it the best chance of functioning efficiently is knowing where and where not to put it. We know it shouldn't go up against the wall, but is there an optimal space or room for one?
We turned to air quality experts to find out the best place to put an air purifier in the home, where it's best to position one in the bedroom for better sleep, and mistakes to swerve.
The best place to put an air purifier
As well as helping those with allergies to breathe easily, air purifiers help with dust, so running your air purifier after cleaning or before having guests over is an excellent way to create a home environment that promotes a sense of well-being and cleanliness.
Which room should you put an air purifier in?
In a nutshell, air purifiers work best in the room they are in. So if you have one air purifier, it's recommended to use it in the room where you and your family spend the majority of your time, such as the living room, home office, family room or bedroom.
An air purifier in a bedroom won't be able to clean the area out in the hall, nor will it have an effect on the air quality downstairs. When you purchase an air purifier it will tell you what room size it is designed for, so if you have a large space, the square footage it is able to cover is one of the most important things to look for in an air purifier.
You can also consider purchasing a second one if you want to cover a more than one space, or simply move the air purifier around depending on where you need it.
'The best place to put an air purifier in your house is wherever you feel it is most needed and where the air quality issues are,' adds Jamie Mitri, a chemical and environmental engineer with over 13 years of experience developing and creating air filters. So you may choose to run an air purifier in a room that has had damp or mold issues, or in your home office if you work from home and suffer with hay fever.
Best overall
Best overall
This smart purifier learns the layout of each room it cleans to deliver consistently high performance, whether it's placed in a 150 sq. ft. nursery or a 400 sq. ft family room.
Best smart
2. Dyson Purifier Humidify + Cool
Best smart
This air purifier detects and destroys formaldehyde, a toxic substance found in home goods and household products, so that you can breathe easy.
Best for large spaces
Best for large spaces
The Molekule Air Pro cleans more than twice the square footage of a standard purifier, covering spaces up to 1000 sq. ft.
Where in the room should it go?
'It is best to put it towards the middle of the area or room you are using it in,' continues Jamie. 'An air purifier is made to pull in air from its surroundings to purify, so you can put it anywhere where you feel it is most needed. There are no rules as to if you should place it high or low or in a certain area.'
In terms of using an air purifier in the bedroom, Josh Mitchell, HVAC technician from Air Purifier Labs recommends placing it 'around 6-10 feet from the headboard, ideally opposite the door' to draw air from across the room and filteri it near where you sleep.
'For the living room, keep the purifier away from walls and big furniture,' Josh suggests. 'The more open space around it, the more air it can pull in and clean. As for apartments, the main living space or an open-plan living-dining area would be ideal, especially if you can position it centrally.'
Josh is an HVAC expert and the owner of airconditionerlab.com and has years of experience tackling the challenge of home cooling. Josh has explored various innovative methods to cool down living spaces during hot weather.
Of course, the best place to put an air purifier will depend on how you use your space, for example, Grace Young candle reviewer from House Fragrance likes to keep hers in her reading nook: 'I remember when I first got an air purifier, I was unsure where to put it. After experimenting with different spots, I found that placing it near my favorite reading chair in the living room made a noticeable difference. I could relax and enjoy my book with the peace of mind that I was breathing cleaner air.'
FAQs
Can you leave an air purifier on all day?
'Absolutely! Air purifiers are most effective when left on continuously,' says Josh Mitchell from Air Conditioner Lab. 'This ensures the air in your home remains consistently clean. Most modern purifiers are energy efficient and designed for 24/7 use. If you're concerned about electricity consumption, many models have a sleep or eco mode that uses less energy during quieter periods.'
Can you put an air purifier on carpet?
Air purifiers can be placed on carpet. Whether it's on hardwood floors, tile or a rug, the main thing is to ensure the surface is stable. If the manufacturer's instructions advise against putting the air purifier on carpet, you can add a mat underneath.
---
If you are thinking of purchasing an additional air purifier or replacement but don't want to spend too much money, the Dreo Air Purifier Macro Pro, at Amazon, is H&G's favorite model when it comes to good value.
Sign up to the Homes & Gardens newsletter
Decor Ideas. Project Inspiration. Expert Advice. Delivered to your inbox.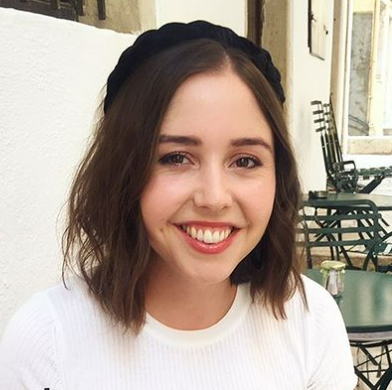 Millie Hurst is the Solved Section Editor at Homes & Gardens. She has six years of experience in digital journalism, having previously worked as Senior SEO Editor at News UK in London and New York. She then gained experience writing for women's magazines before joining Future PLC in January 2021. Millie has written for an array of homes brands including Livingetc and Real Homes and was formerly Senior Content Editor at Ideal Home before taking on the position of Section Editor with Homes & Gardens. She has written and edited countless features on home organization, decluttering and interior design and always hopes to inspire readers with new ways to enjoy their homes. She lives in Sheffield, South Yorkshire and loves to weave nature-inspired decor and nods to time spent in Italy into her own home.