Entryway ideas – 14 ways to make an entrance practical and stylish
Be inspired by entryway ideas that set the tone for a home and are functional, too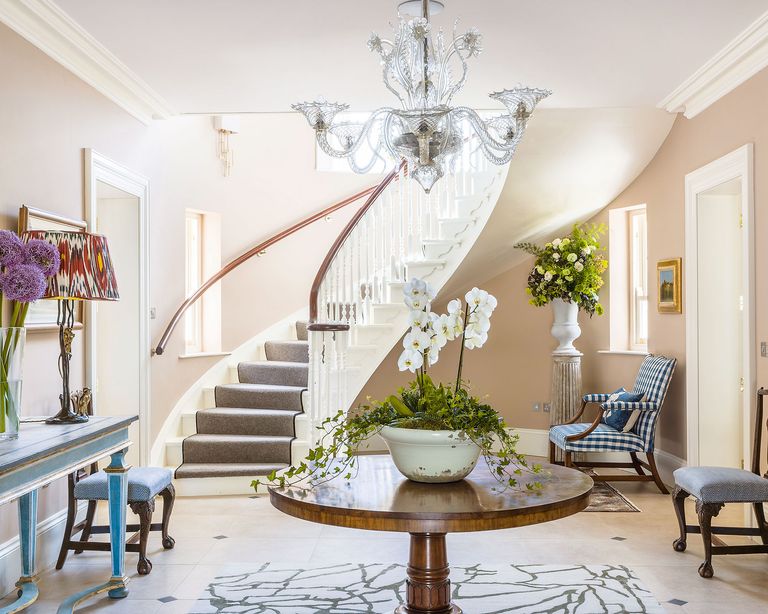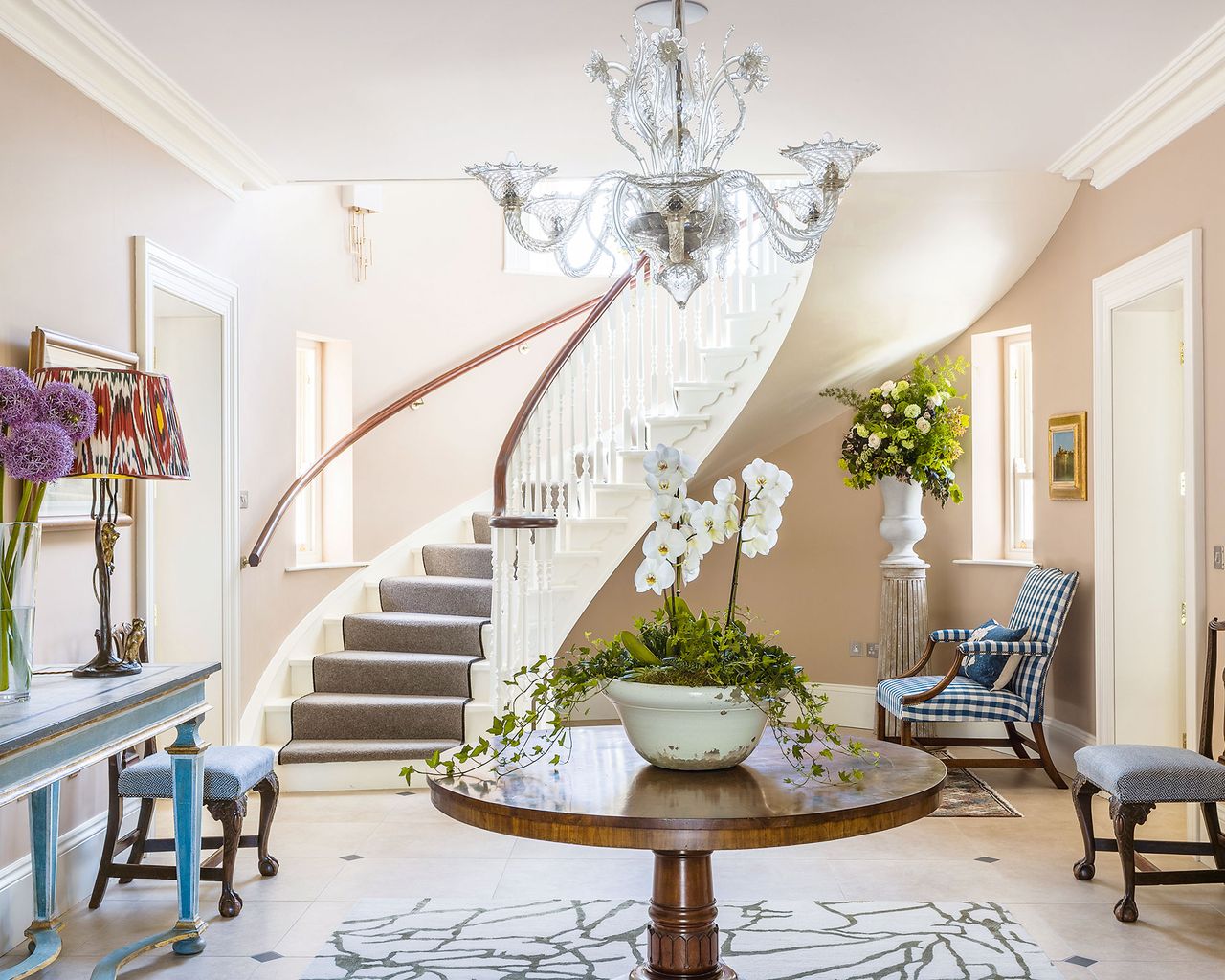 (Image credit: Mark Bolton)
Entryway ideas have a lot riding on them. They give guests first sight of your home, and they're what you're greeted with each time you return.
Rather than merely being a place you pass through, an entryway should create a striking first impression and a warm welcome. Think, too, about entryway decor that complements both the hallway and the front porch to make the best impression.
We've curated ideas for, small entryways, entryway furniture, flooring, artwork and entryway closets that are beautiful as well as practical to inspire your own design.
14 entryway ideas that will sing out
It's easy to overlook designing an entryway properly, but a space like this provides more than just a transition to larger living areas. It sets the tone for the rest of your home. Here, we show you how to combine an inviting atmosphere with functional entryway ideas to make first impressions count.
1. Choose wallpaper that makes an impact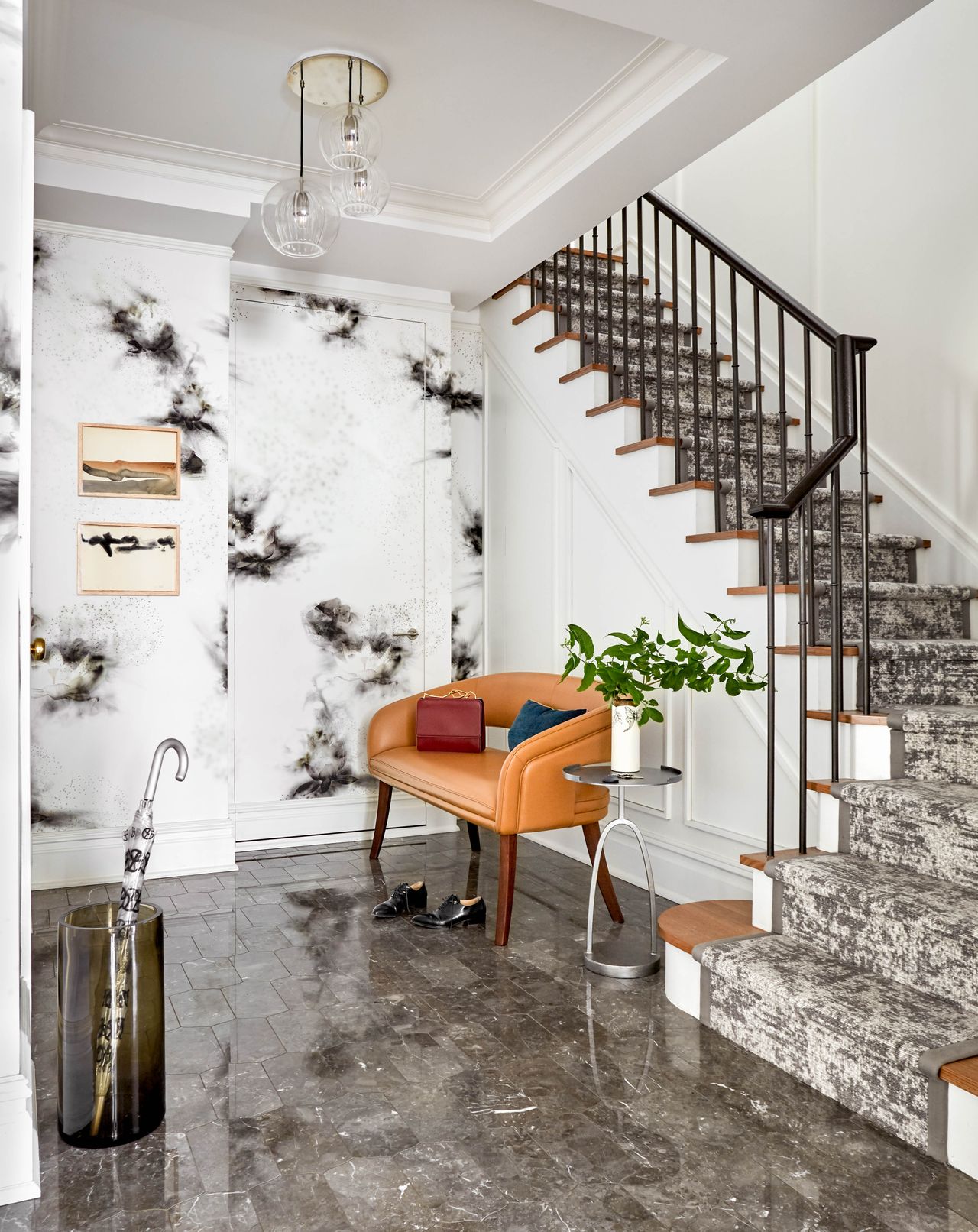 Entryway wall decor can bring character to the area, and set the tone for the rest of your home. Patterned wallpaper will draw the eye, as it does in this design by Kathleen Walsh, principal of Kathleen Walsh Interiors (opens in new tab). But a bold paint color for the walls or painted paneling could be equally impactful.
If the entryway's small or you have younger kids, think practically with finishes that won't show scuffs and marks.
2. Store around the door
Avoid clutter in an entryway by fitting custom storage. This design uses the area above a door as well as the space either side to maximize the space to stash.
'Custom designs can follow the lines of an entryway that isn't conventionally shaped like this one to provide storage from floor to ceiling, making them well worth the investment,' says Lucy Searle, global editor in chief of Homes & Gardens.
Follow the lead of this design with an oak veneer to bring appealing texture and warmth to the entryway.
3. Add an entryway bench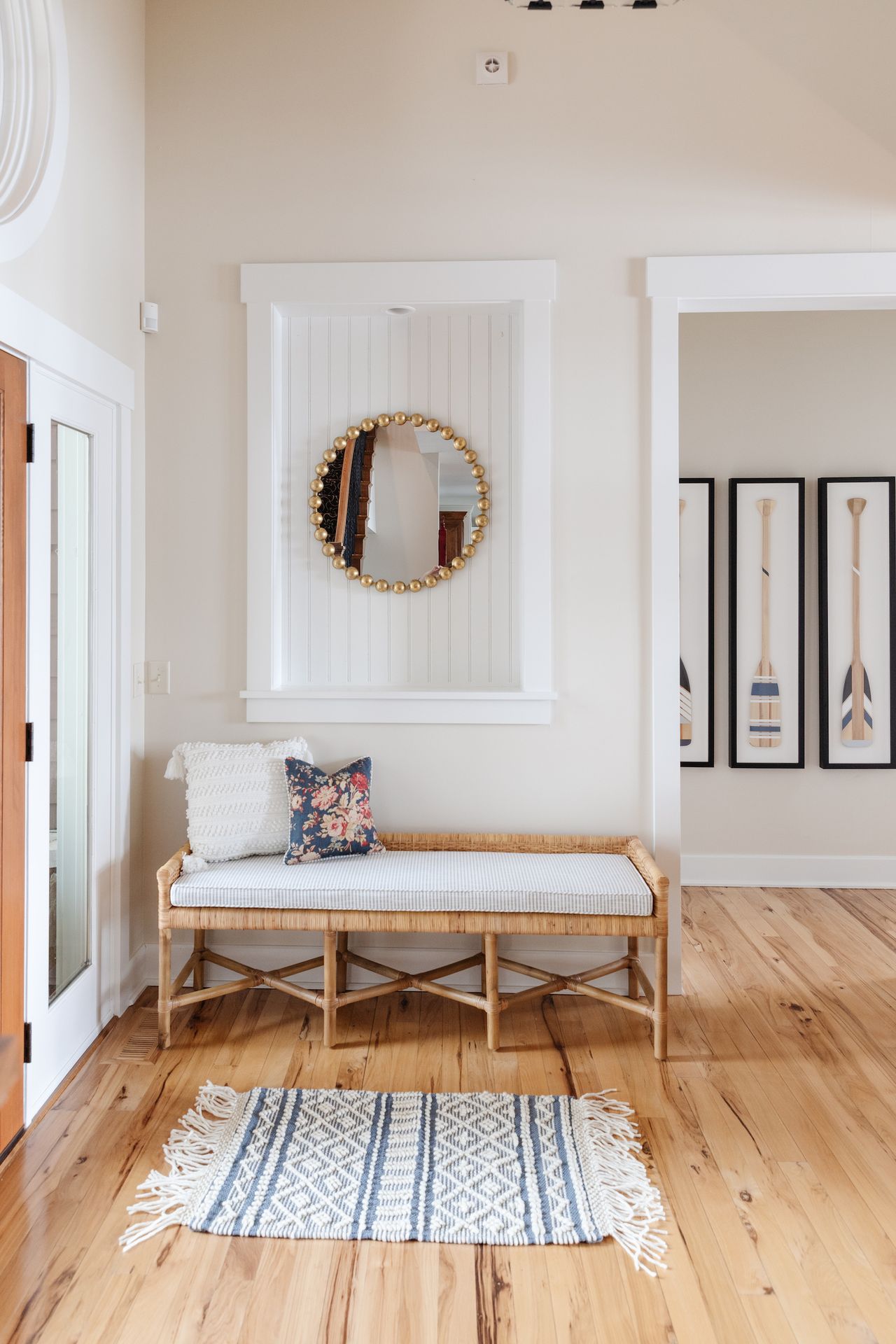 A bench is not only an elegant addition to an entryway, but also a practical feature, allowing shoes to be taken off when coming in and put on when going out with no awkward balancing act necessary.
A design raised on legs keeps the floor on show so the area feels as large as possible, but in a small entryway, it can be preferable to opt for a bench with space inside for shoes and other hallway storage essentials.
4. Consider the view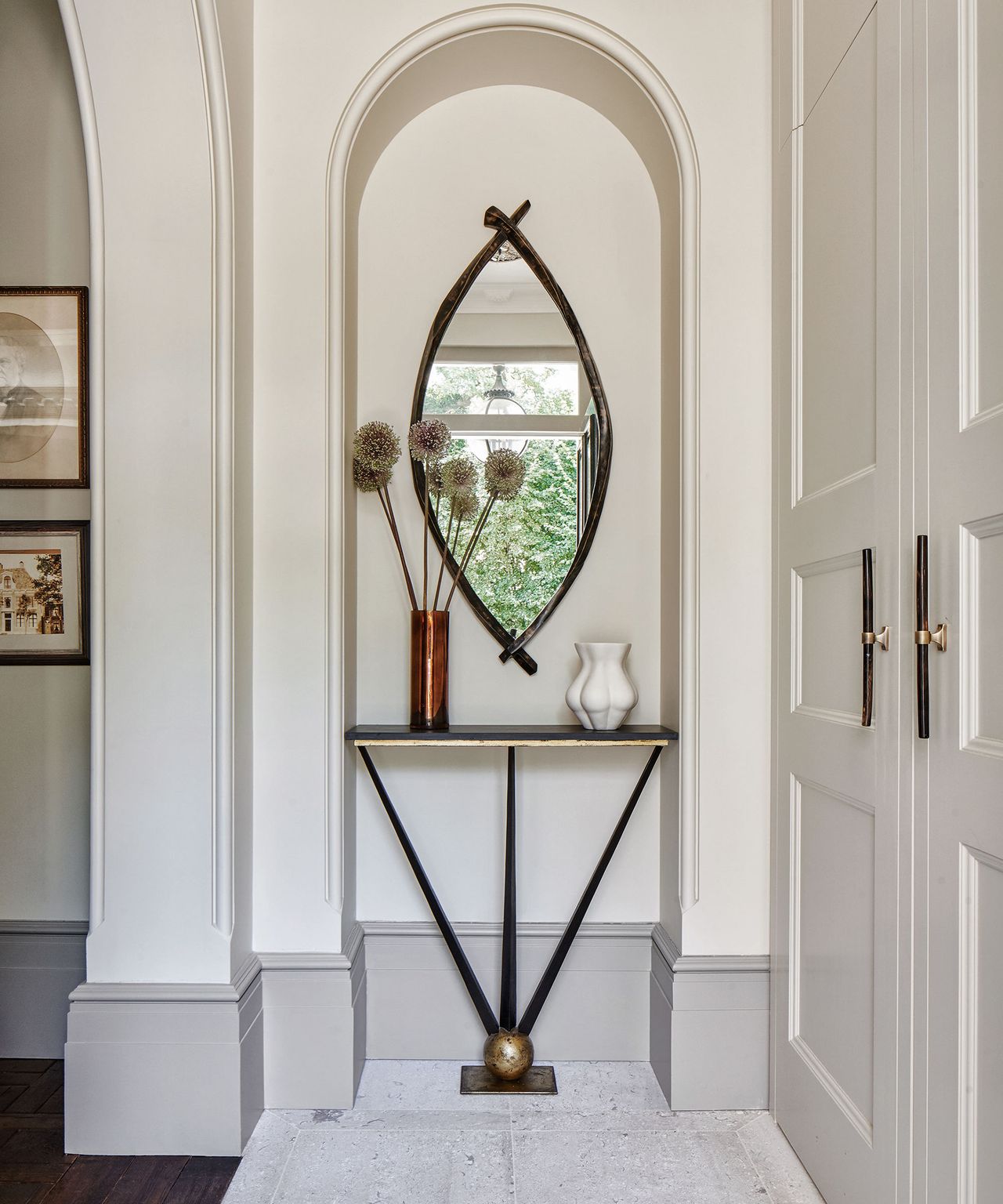 A mirror can be a stylish feature as part of modern entryway ideas or more classic designs. It's also a functional one, allowing those going out to check their appearance. This version picks up the curves of the nook in which it's hung, and draws attention to the height of the space, too.
'Always think view when you hang a mirror – whether in an entryway or elsewhere,' says Lucy Searle. 'What's reflected should be pleasing to the eye.'
5. Create a point of focus
A standout, eye-catching design – and statement color palette – in an entryway not only tells a story, it also draws our attention and sparks wonder.
In this modern hallway, graphic prints hung side by side over a bespoke metal console create a striking impact. Shapely accessories in glass and marble further enhance the ensemble.
'I love using this sort of color on walls as it allows paintings and portraits to really sing out,' says Anna Haines, founder, Anna Haines Design (opens in new tab). 'It feels both calming and quiet and also works as the ideal backdrop for a range of rich textiles, decorative antique rugs and furniture.'
6. Add a statement addition to an entryway
'I always advise using really interesting furniture in hallway ideas – a beautiful console table or a sculptural piece,' says Charu Gandhi, founder of Elicyon (opens in new tab). 'It's unexpected and because it's not a space you're going to sit in for ages, you don't have to focus on functionality or, indeed, comfort, so you can get away with doing something that's quite frivolous.' Here, striking artwork and bold accessories set the scene in this bright entryway.
7. Make furniture the focal point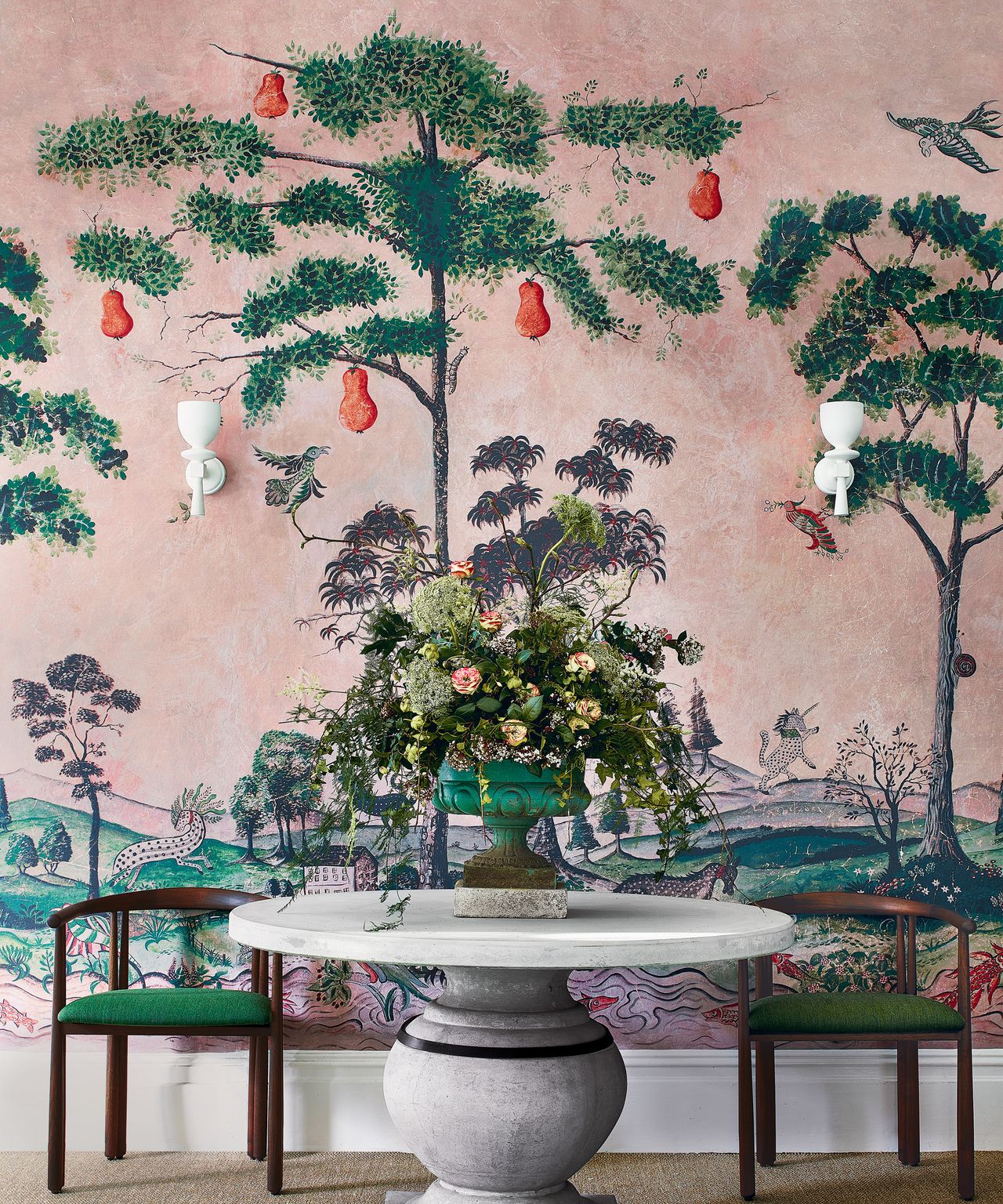 Entryways have a structure to them and you can add a very heavy, monolithic piece of furniture that's going to stay there.
'While you wouldn't necessarily want to have a very chunky, oversized marble table in the living room as you wouldn't be able to move it around, it can stay in place in the hall,' says Charu.
8. Allow space for easy movement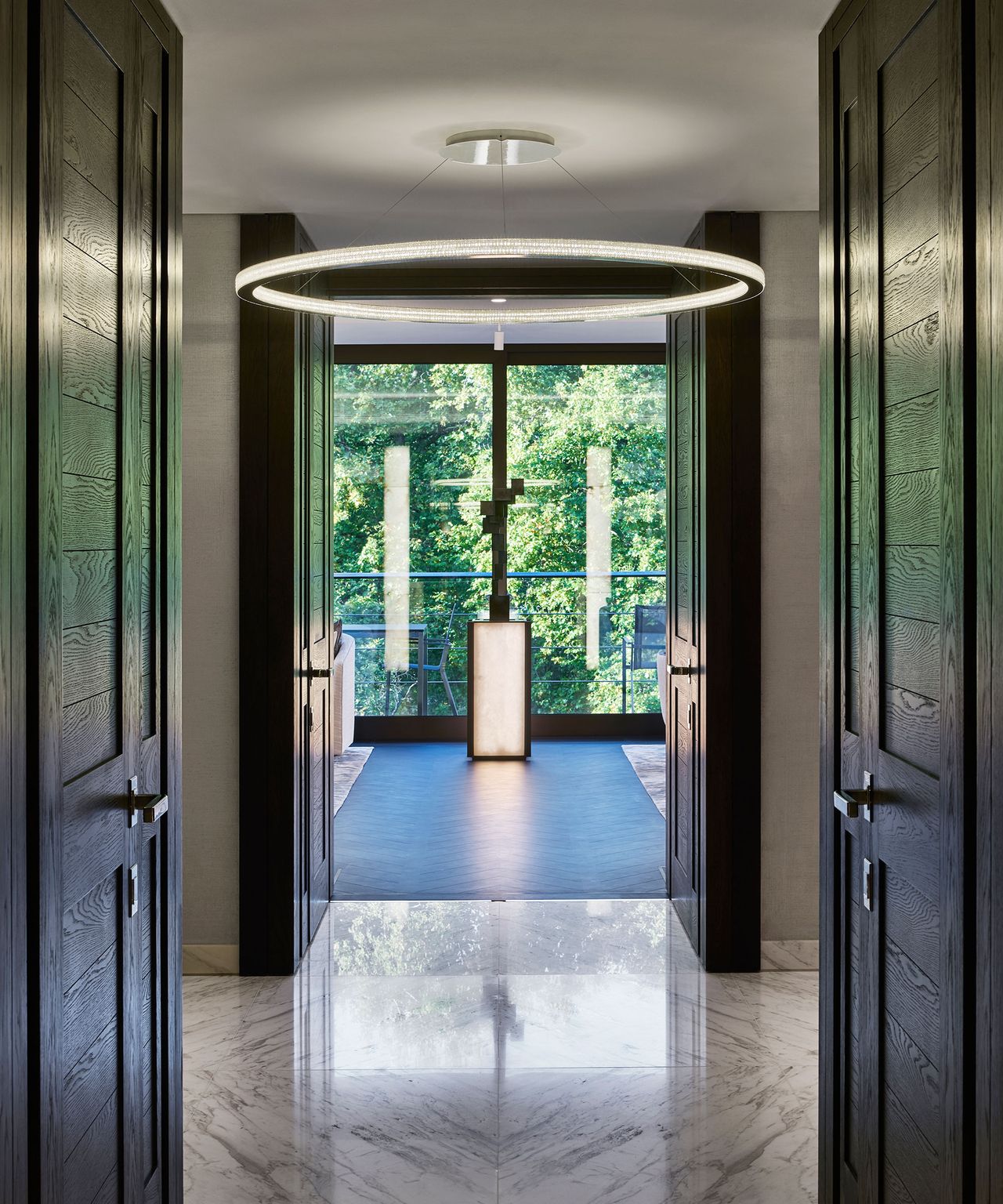 Make sure you don't select furniture that blocks the flow of the space from front porch ideas to entryway to hall. You really want to look at the entire journey and make sure that the flow and movement is protected.
Instead, for interest, invest in clever entryway lighting ideas. Getting your hallway lighting right is possibly the single most important decision you will make when decorating this space. It isn't simply a matter of function. Ceiling lights can be objects of beauty and the right choice can transform the character of your scheme.
9. Add warmth underfoot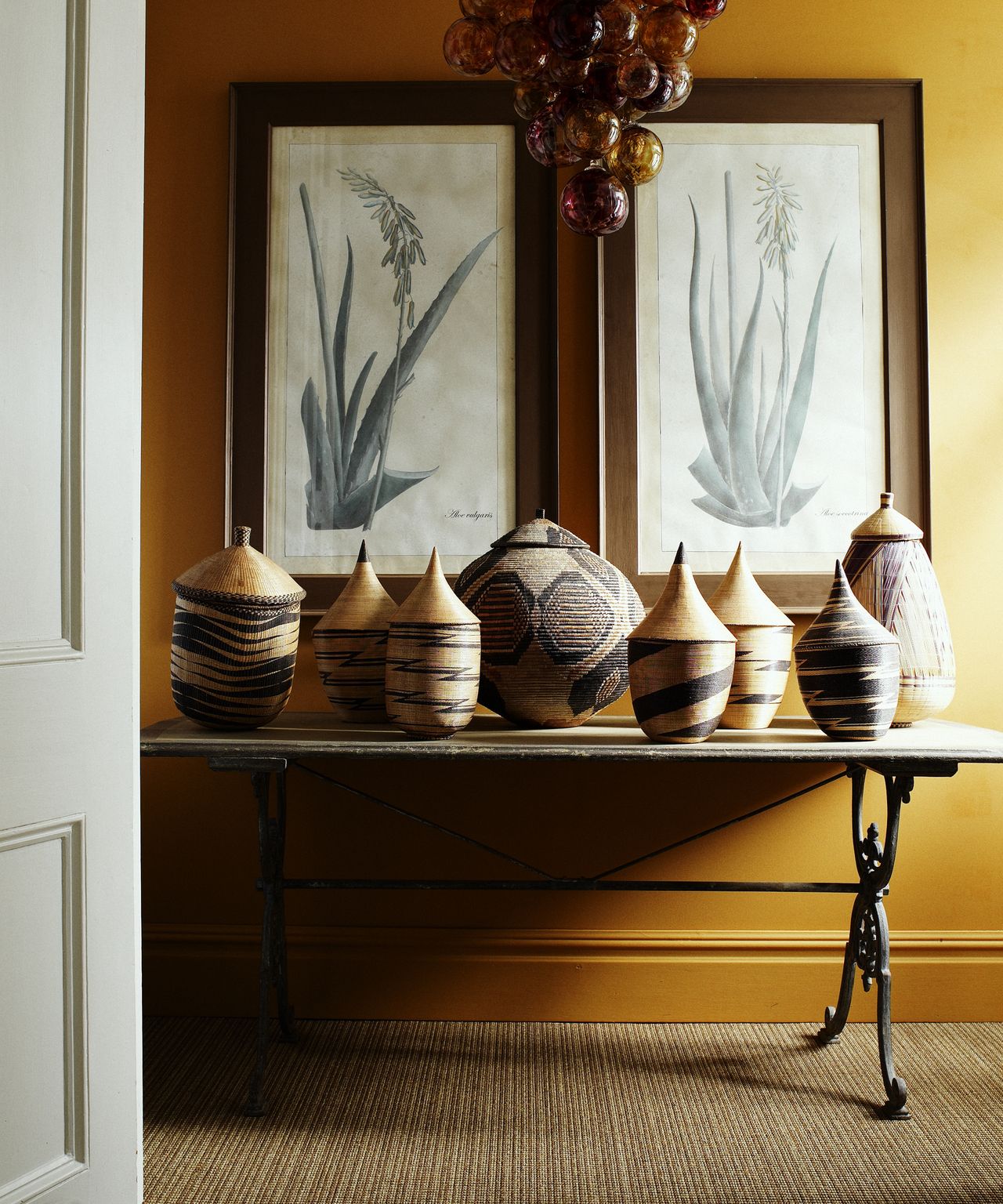 The main advantage of hallway carpet is the incredible range of decorating possibilities that it offers, thanks to the wide variety of colors and textures, as well as the feeling of warmth underfoot. Plus, it is an instant win for anyone hoping to add a seductive softness to their home's entrance, or keep a house's corridors insulated during the winter.
Natural floorings made from plant fibre are a versatile option for a high-traffic entryway. It can be fitted in the same way as carpet, used as a room square or as a rug or runner with a bound or decorative fabric or leather edge.
'For comfort and longevity, a firm underlay is usually used and the flooring is stuck to that,' says Michael Turner of Crucial Trading (opens in new tab).
10. Factor in entryway storage
When in search of extra hallway storage space in an entryway, make the most of ceiling heights available. Built-in joinery or off-the-shelf solutions can provide the perfect amount of extra room to house items only used for special occasions or rarely read books. To break up a large wall of storage, use a mix of closed and open solutions.
Do you have a narrow or small hallway? A clever trick to avoid overcrowding in an entryway is to use a mix of closed and open storage – too many bulky units can make a room appear too practical – and detract away from its beauty. Include stylish entry table decor ideas to counteract this.
11. Keep the color palette neutral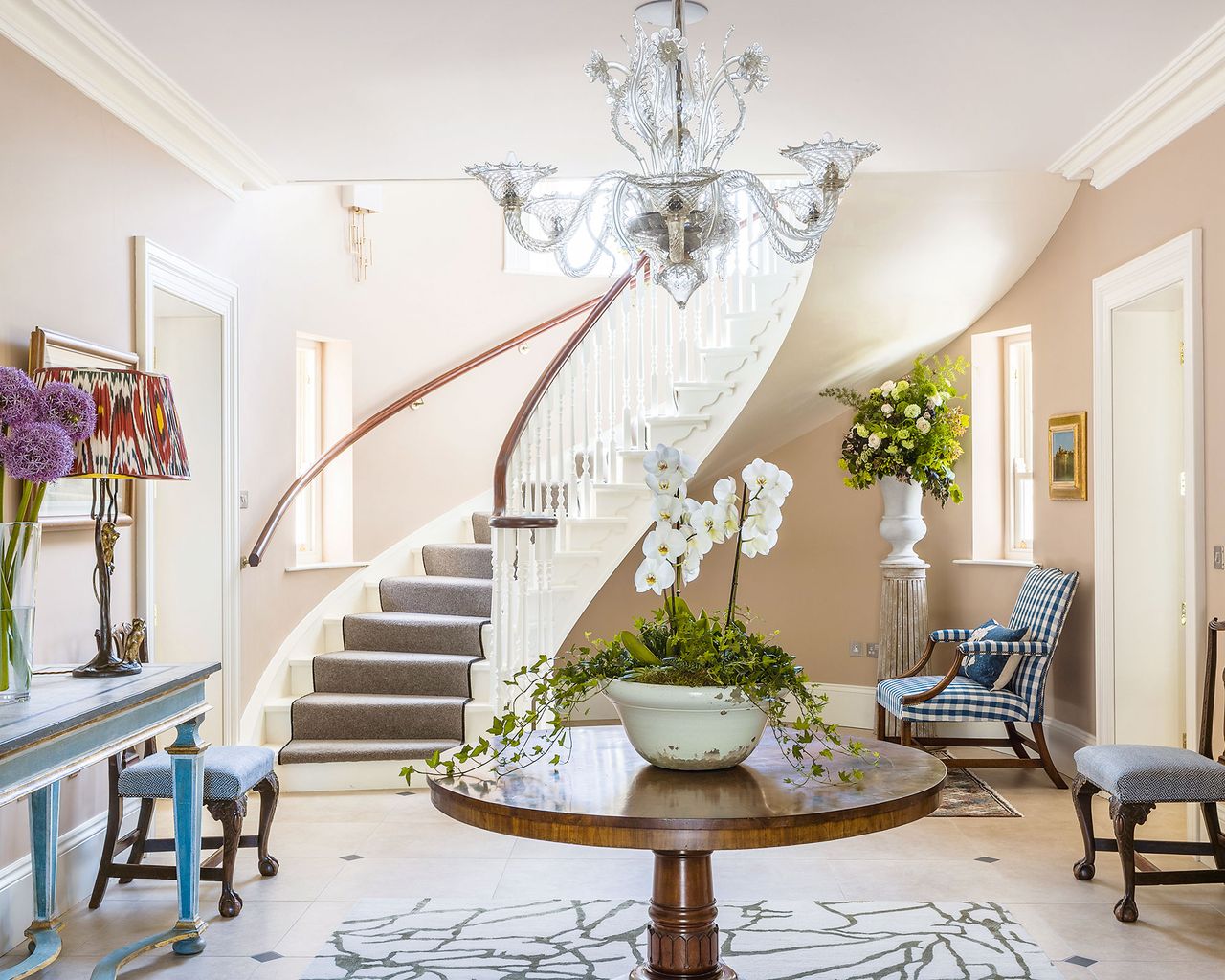 It's a common decorating dilemma, achieving a balance in our entryways between what is beautiful and what is functional, so take a 'less is more' approach when it comes to designing a hallway or staircase.
One important aspect to consider, when decorating with a neutral color in an entryway is to bring in as much texture as possible as it creates interest and layers –important factors when strong colors are out of the picture. After all, this is the first room your visitors will see upon entry.
Invest in unfussy prints on fabrics for seat covers and blinds. Simple organic shape designs – rather than an off the moment pattern – will last the test of time. What's more, choose shades of taupe and mix in chocolate browns, greys and touches of black for a sophisticated take on a natural palette.
12. Evoke a whimsical world upon entrance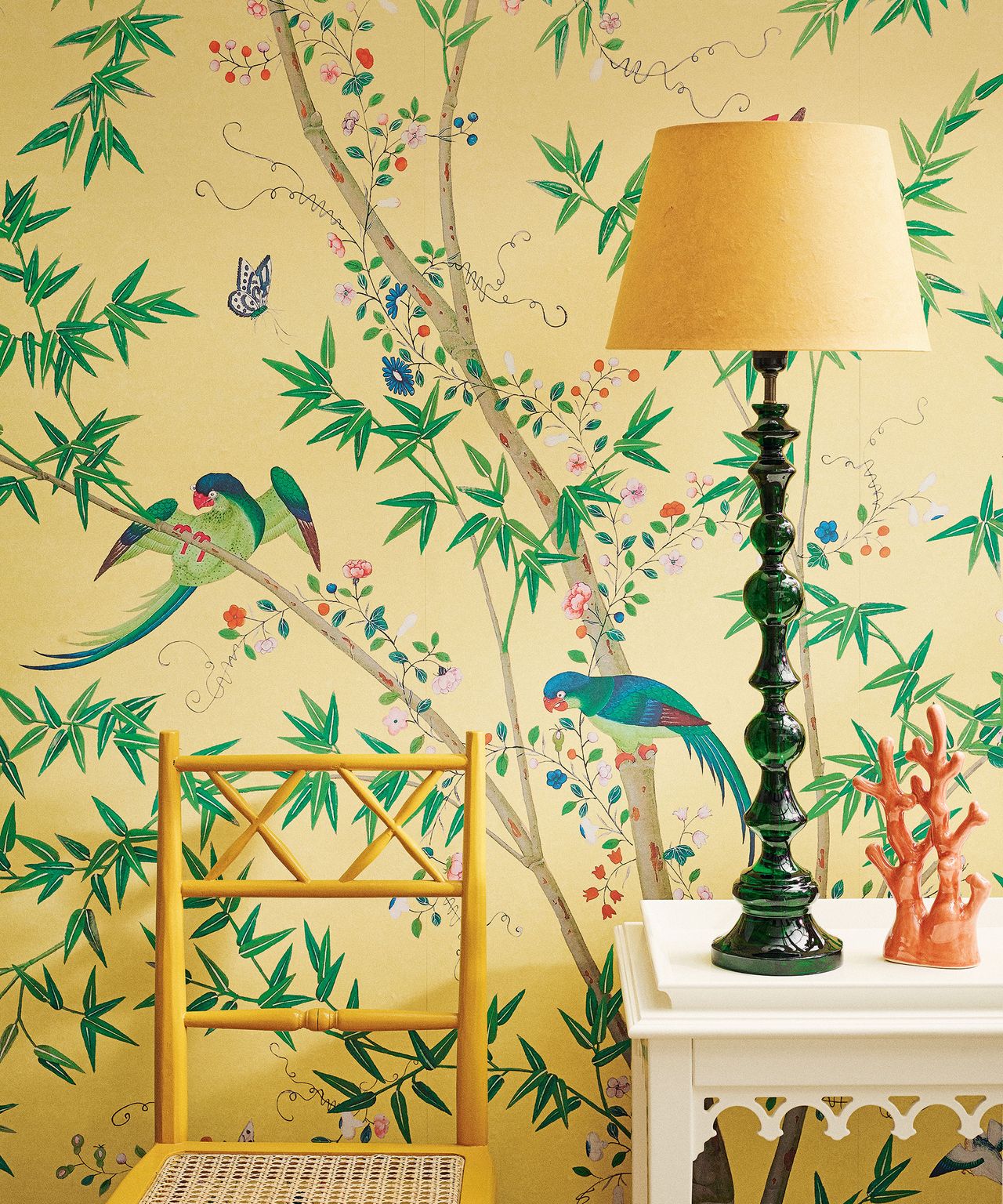 There is something undeniably magical about chinoiserie, especially in an entryway. This cultural phenomenon first swept across Europe and America in the 17th and 18th centuries, flooding both interiors and gardens with all manner of things inspired by the Far East. It was in England that chinoiserie can be said to have been most successfully absorbed into mainstream fashion – and into our homes.
According to Dragons & Pagodas: A Celebration of Chinoiserie (opens in new tab) by Aldous Bertram: 'English chinoiserie took a gentler form, being adapted to complement the existing tastes of the Georgian period. Chinese wallpapers with exotic birds and flowers were put up in all the great houses, accompanied by elegant lacquer chests and small collections of Chinese porcelain over fireplaces.'
13. Paint your entryway in a shade of gray
A gray that straddles the boundaries between blue, green and gray can be many things: front and center or a background to show off art and objects.
In the back entryway of this project by Henriette von Stockhausen of VSP Interiors (opens in new tab), the deep mid-grey background is broken up with a rich damask upholstery fabric and elegant antiques. Easy to live with, this hallway paint idea looks beautiful in west- or south-facing rooms while being suitably moody in spaces with less light.
14. Enchant with a scenic mural in an entryway
Scenic landscape murals are the biggest story in decorating today – wonderfully atmospheric and evocative, an impressive hallway wallpaper or wall mural idea will transform any entryway, hall or landing space.
Dramatic and stylized, this glorious scenic design is reminiscent of a beautifully illustrated storybook. Translate the jewel tones into upholstery and accessories and add in glass, wood and metal pieces.
What should I put in my entryway?
'You do need to consider the practical elements, then design around them so you don''t detract from the beauty,' says interior designer Charu Gandhi. 'Things like where coats, shoes and keys are going to go. If there's space, I think doing a seat or a bench that incorporates hallway shoe storage is great. We nearly always add a tray so you can lay your things out ready to go.'
'I also love putting mirrors in entryways because they can tend to feel quite dark, she says. 'Similarly, do try and add a floor or table lamp, especially when you are entertaining.'
How do I make my foyer brighter?
To make a foyer brighter, first think decor. Pale paint colors are a go-to to reflect the light but you might alternatively choose a wallpaper with a pale ground. If paint is your preference, glossier finishes are more reflective and are a practical choice for a busy area.
Consider the lighting, too. Lamps should supplement ceiling lighting and if there isn't space for a surface on which to set a table lamp, think about installing wall lighting.
Make sure the entryway is clear of clutter, too. If it's crowded with outerwear, achieving a bright and airy feel is out of the question. Plan in storage, and limit what's kept there to daily essentials.
Jennifer is the Digital Editor at Homes & Gardens. Having worked in the interiors industry for a number of years, spanning many publications, she now hones her digital prowess on the 'best interiors website' in the world. Multi-skilled, Jennifer has worked in PR and marketing, and the occasional dabble in the social media, commercial and e-commerce space. Over the years, she has written about every area of the home, from compiling design houses from some of the best interior designers in the world to sourcing celebrity homes, reviewing appliances and even the odd news story or two.