Entryway ideas for apartments – 10 ways to max a small space
Entryways in apartments are often small, but can be beautiful. Here's how to give yours fresh appeal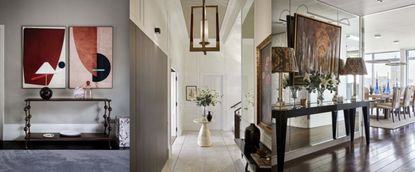 (Image credit: Future)
Entryway ideas for apartments may be limited – by a lack of space, natural light, and just because they're a thoroughfare – but that doesn't mean they have to lack in personality, practicality and pizzazz.
So when you're looking for entryway ideas for apartments, think big. Whatever the size, shape or configuration of yours, these entryway ideas showcase how to take decor to the next level – because, after all, it's the space that creates a first impression on your guests, and greets you when you come home.
Entryway ideas for apartments
Elevate your apartment decor ideas with clever ways with furniture, lighting, storage and decor. No matter the size, it is important to utilize these elements well to make your entryway more inviting. These entryway ideas for apartments include both bold and pared back design options; take note of any clever organizing in a small apartment since this, too, will help you maximize space.
1. Add a bench for practicality and style
Modern entryway bench ideas will make your apartment entryway functional first – but it can be good looking, too.
'Adding a bench at the apartment entry is a great way to gain additional storage below, using baskets to contain items you need like dog leashes or shopping bags,' says Lauren Lerner, founder and principal designer at Living with Lolo.
'The bench seat gives you a place to put on shoes before you walk out and also gives you guests a place to set their bags upon entering.'
It's always worth investing hooks, too, to create a real purpose for this part of an apartment entryway. Note how, in the background, the sliding door saves space in contrast to how a traditional door would.
2. Go all out with textures – the more the merrier
Adding textures to your list of entryway ideas for apartments is a wise move because it will give the room character; they add interest, depth and color too. This apartment entryway is packed full of them – from the walls, artwork and ornaments, to floor, rug and console.
They stimulate your senses and create interest. You don't want your apartment entryway to be a space that goes unnoticed, you want it to be interesting and inviting and that's exactly what this entryway does.
3. Make space for an entry table
You may think your entryway ideas for apartments can't include a console, but with clever shopping or joinery, it can, even in the smallest of space, such as an alcove. And this allows for entry table decor ideas that will give the space personality.
4. Or go dark and dramatic with a touch of Cali style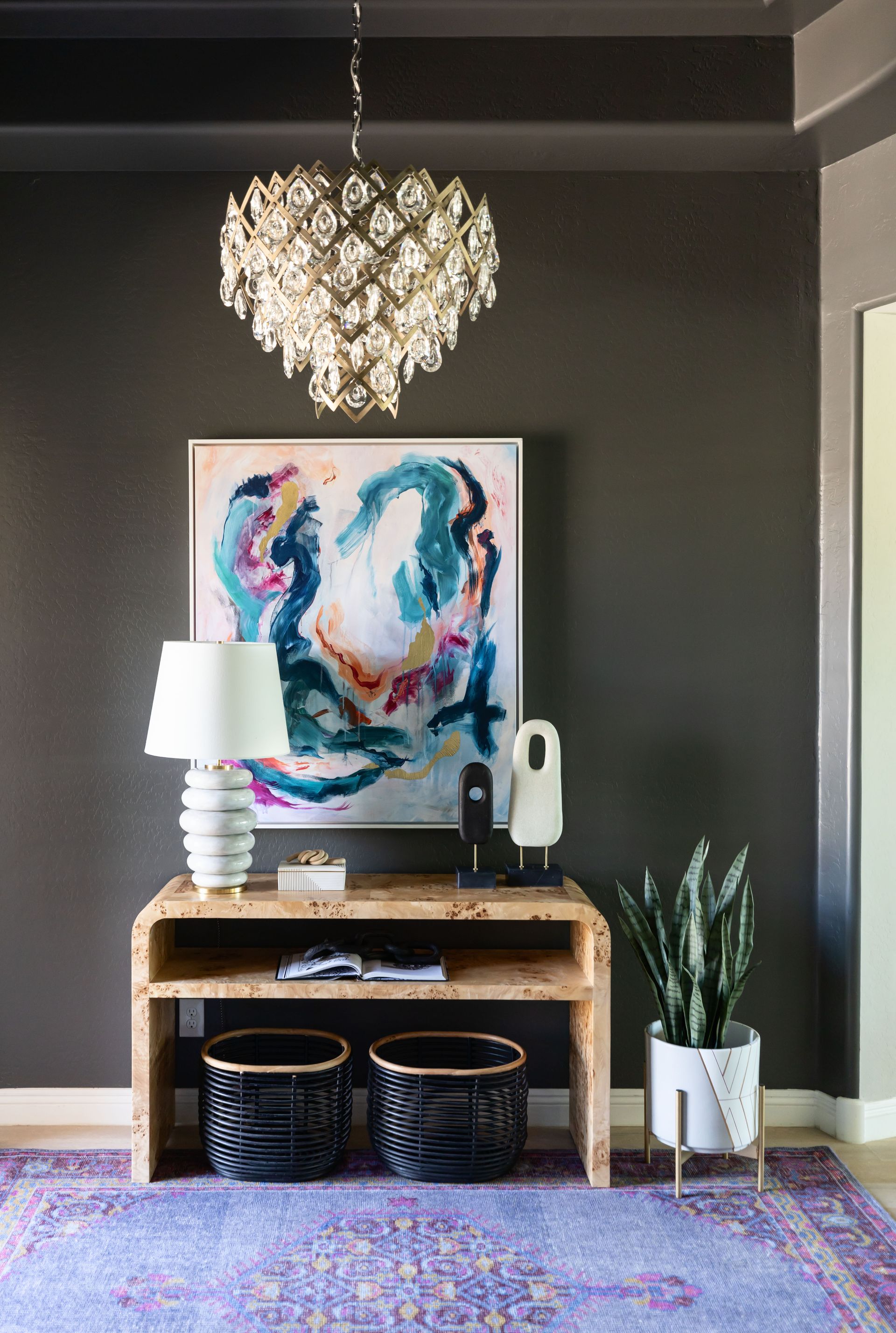 If you are considering hallway paint ideas in a dark color, why not consider decorating both the walls and ceiling? It creates an all-encompassing feel that adds a touch of drama. To bring balance, bright artwork has been added and a textured console that gives warmth and works well with the chocolate brown walls. Consoles are of course, an essential element to an entryway as Lauren Lerner, founder and principal designer at Living with Lolo explains:
'Using a console at the entry of an apartment is always a good idea. This gives you added functionality by giving you a place to set down purses or keys when you walk in the door.'
5. Create a focal point that's subtle yet stunning
Even narrow hallways can be stunning – so if you have space for a focal point, such as a circular table, take advantage.
'For this apartment at Regent's Crescent, Marylebone, Millier has celebrated the building's Regency proportions and neoclassical lines to give an immediate sense of grandeur to the entryway,' explains Helen Westlake, creative director at Millier London.
'Hanging pendant lanterns are a modern interpretation of the elegant gas lights first illuminated in London during the Regency period, whilst the era's Royal Astronomical and Horticultural Societies are subtly referenced through the hallway's gilded specialist ceiling finish and bespoke sideboard with canvas wrapped cabinet fronts featuring hand-painted botanicals in relief.'
6. Choose a hand crafted, hand painted decorative look
We asked color expert Annie Sloan for her advice on how to get creative with an entryway that's on the small size:
'First impressions are everything, which is why your apartment entryway is your opportunity to go all out. Build a space which delights you every single time you return home, and impresses those lucky enough to get a glimpse of its hallowed halls.
'Keep furniture minimal: a console table and a coat rack is essential but do try not to overcrowd the space or it will be harder to keep tidy. Given that the space is small, this is your opportunity to go bold and be holistic. I'd paint everything.
'This will build excitement for the rest of your home and is so much more easily done in an entryway than in, say, a living room or kitchen.'
7. Consider a monochromatic scheme
Entryway ideas for apartments are often best kept sleek and simple, and a black and white scheme in any space is edgy and stylish. These eye-catching floor tiles set the scene and look fabulous against the white that shows off the ornate detailing of the space.
Furniture and accessories are minimal, and if you stick to monochromatic color schemes they'll be a breeze to style; simply pick interesting shapes and don't over clutter. A large mirror is a must – it will reflect light, will accentuate the beauty of the architectural elements and of course, make a small apartment entryway feel larger.
8. Make space for apartment entryway storage
The best entryway ideas for apartments include incredibly well thought-out hallway storage ideas. This is very likely to be for shoes, boots, coats and other outerwear – but if you have a storage cupboard already and a blank wall with enough depth in front of it, why not make space for a library?
Note the nooks for display in this apartment entryway above, and how the back of the shelving is in a warm, reflective finish. This both bounces light around and creates a radiant backdrop that brings glamor and interest.
9. Small entrway ideas for apartments can be perfectly formed
Entryways for apartments come in all shapes and sizes, from the cavernous to the teeny tiny.
So what can you do? There's never a space that's too small to have some kind of interior design application, as this mini space by Nashville based JL Design shows.
The monochromatic wallpaper takes a most likely previously unnoticed space instantly eye-catching, add in a glass console – that doesn't distract from the wallpaper – and pop on a glass based lamp and classic sculpture and you have a stylish entryway nook.
10. Ensure your apartment entryway has a big mirror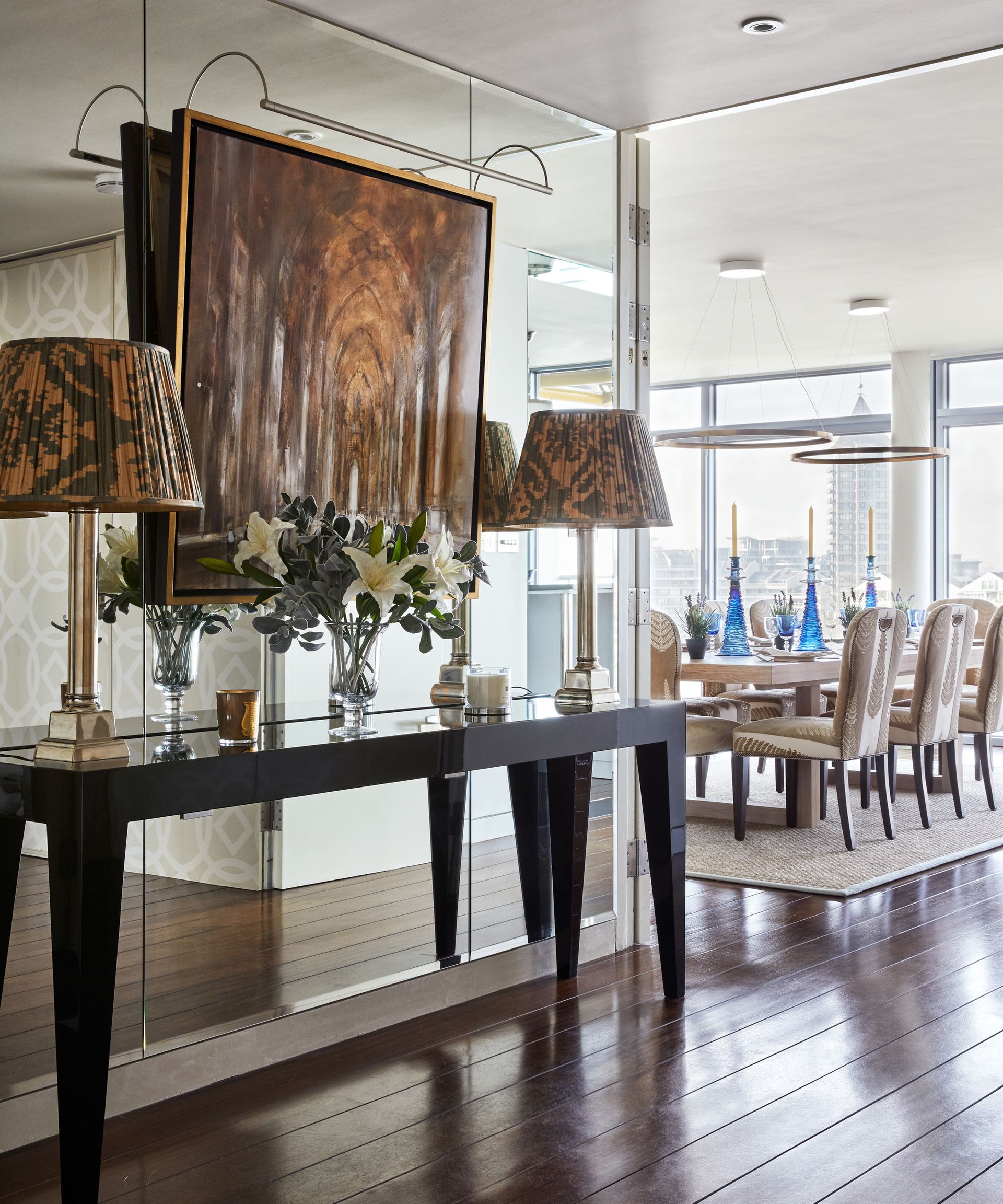 Even the smallest apartment entryway can feel light, and bright – especially if it's open-plan and furnished with a huge mirror. Decorating with mirrors is always a no-brainer when it comes to making a space feel bigger and brighter but having a wall of mirrors as in the apartment above can have a major impact, especially if the entryway is a dark corner but open-plan to the living space of the rest of the apartment.
That said, a wall of mirrors with nothing in front other than a blank opposite wall or one cluttered with coats and shoes won't create flattering reflections, so ensuring either the mirrored wall or the one opposite is well decorated and furnished, as above.
How can I decorate my apartment entryway?
Decorate your apartment entryway in the same way you would any space. Paint and wallpaper can be used, as can rugs and whatever flooring appeals. The entryway in an apartment is the first impression, so make it as inviting as you can with beautiful colors and well designed pieces of furniture – this can be as simple as a single console, mirror and lamp. Your color scheme can be a neutral stand alone, or can create a visual reference to the rooms beyond.
What looks good in an apartment entryway?
The size of your apartment entryway will dictate what you can use. For example, a small space will need a streamlined console and will benefit from a large mirror to help make the entryway appear larger. A bigger entryway can take bolder pieces of furniture that are brightly colored or more sculptural. You can hang an eye-catching pendant to make a statement and artwork on the walls.
Sign up to the Homes & Gardens newsletter
Decor Ideas. Project Inspiration. Expert Advice. Delivered to your inbox.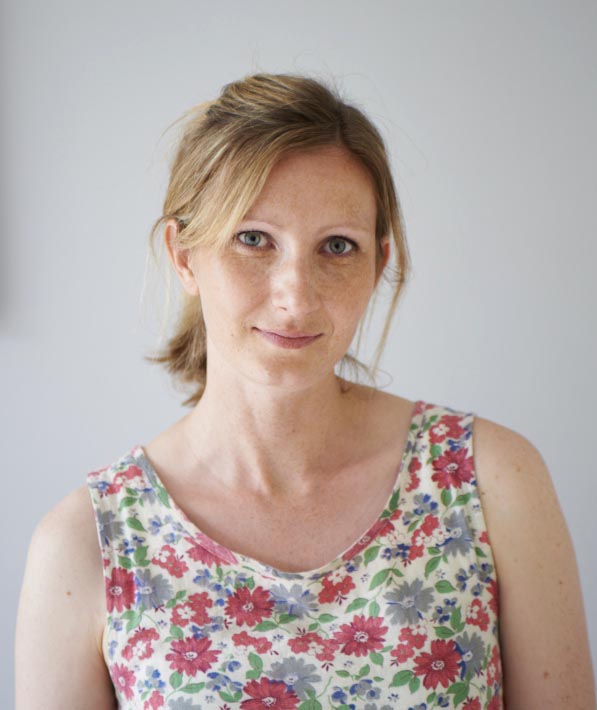 Sophie has been an interior stylist and journalist for over 20 years and has worked for many of the main interior magazines during that time, both in-house and as a freelancer. On the side, as well as being the News Editor for indie magazine, 91, she trained to be a florist in 2019 and launched The Prettiest Posy where she curates beautiful flowers for modern weddings and events. For H&G, she writes features about interior design – and is known for having an eye for a beautiful room.